There are thousands of options for Cabinet Hardwares—it's important to make the right choice! Can't decide on whether you want knobs or pulls on shaker cabinets? Browse Lily Ann's wide selection of both knobs and pulls and narrow them down to your favorites! After reading this blog, you should have a good idea on whether you want knobs or pulls on shaker cabinets and drawers. Keep reading to get inspired on shaker kitchen cabinet hardware ideas!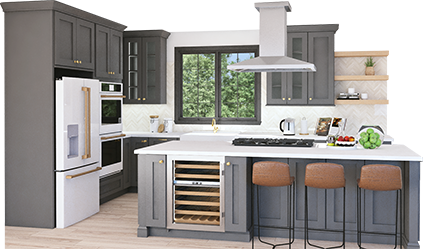 Get your FREE 3D kitchen design today!
Start Now
1. Oil Rubbed Bronze Cup Pulls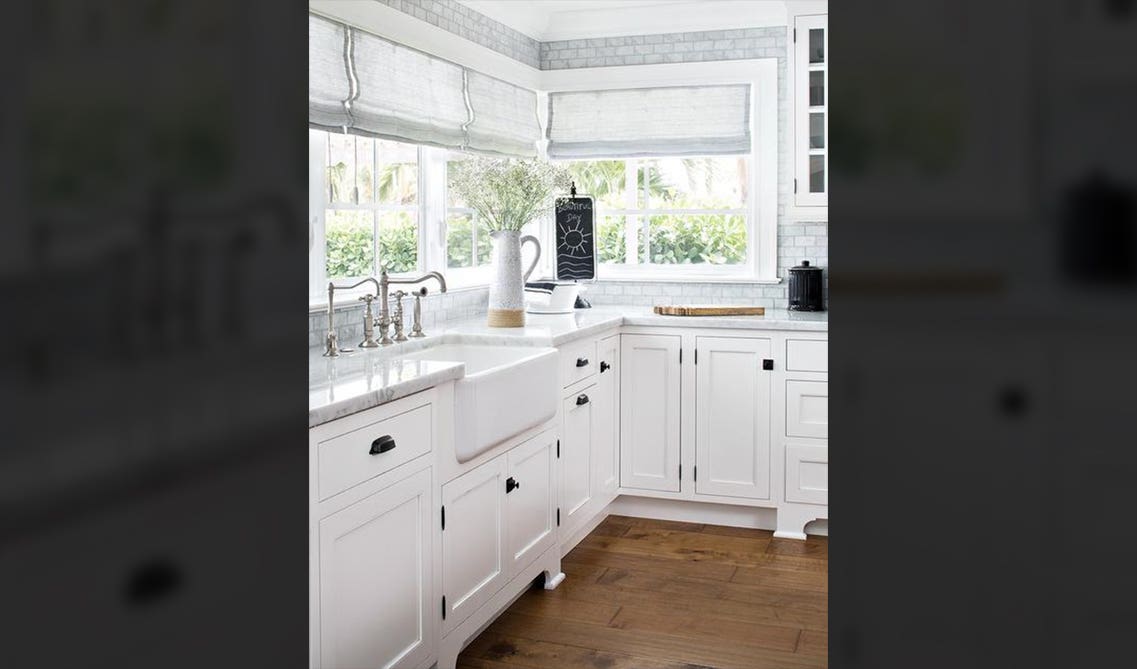 As this farmhouse kitchen demonstrates, cup pulls are a beautiful choice for shaker cabinetry. Oil-rubbed bronze has been a popular kitchen hardware finish since around 2000, and it's easy to see why. This dark brown/bronze shade is subtle enough that it looks good on any kitchen. If you want to mix it up, use both cup pulls and cabinet latches. For rustic kitchens, opt for cabinet door handles finished in a dark oil rubbed bronze.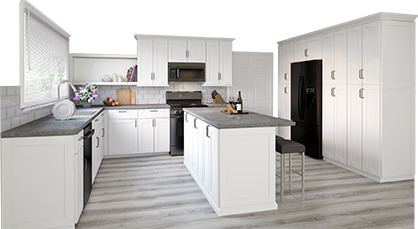 3D Kitchen Visualizer Tool
Bring your dream kitchen to life with our free kitchen visualizer!
Design Now
2. Tubular Bar Pulls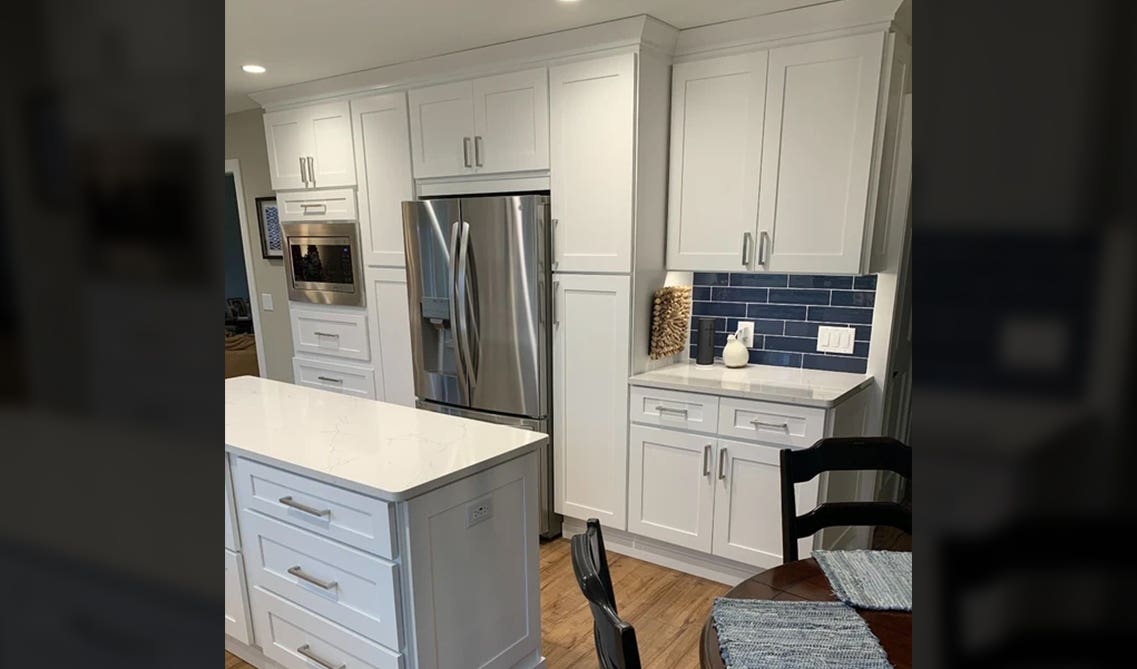 White Shaker Elite
The most popular choice for white shaker kitchen cabinet hardware is the silver tubular bar pull. Sleek and simple, these silver pulls are both convenient and versatile. White shaker doors look best with hardware that runs parallel to their 5-piece flat panel construction. The clean lines of shaker cabinets paired with silver bar pulls lends to a beautiful visual symmetry. Tubular bar shaker cabinet pulls are an excellent choice for your kitchen cabinets and can work with a variety of design styles, from mid-century modern to industrial. They're available in satin nickel and polished brass as well as many colors that can coordinate with your kitchen style.
Also Read:3 White Shaker Cabinets That Can Bring Contemporary Flair To Your Kitchen
3. Flat Bar Pulls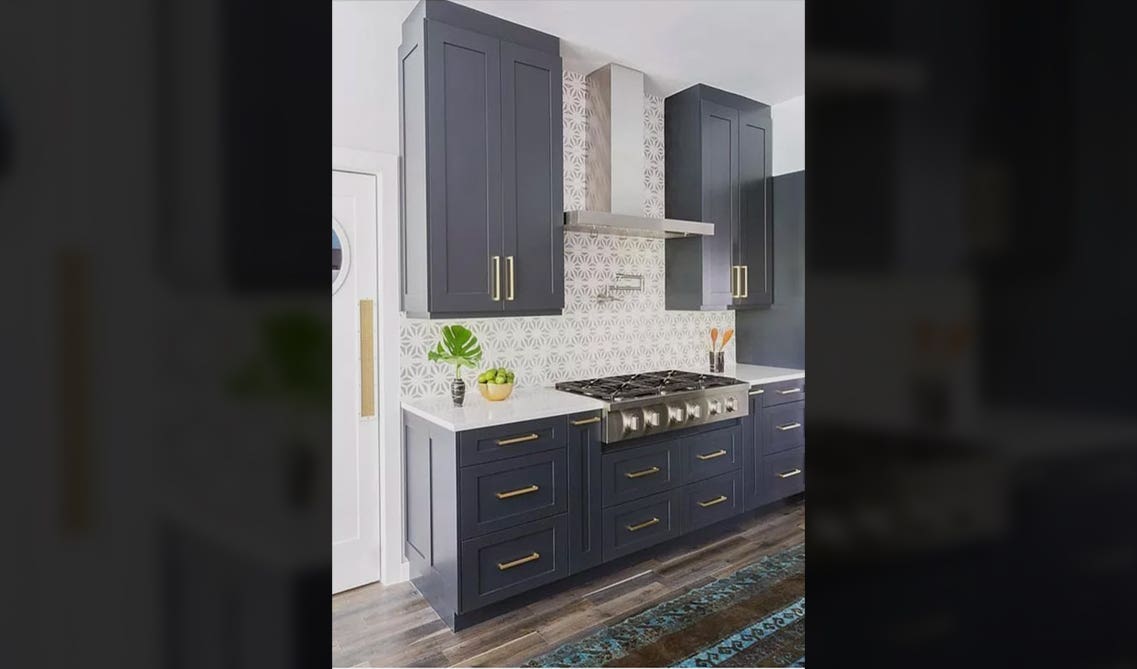 Stone Textile Studio
Flat bar pulls are another popular hardware style for shaker cabinets. Like tubular bar pulls, they can be used for both cabinet doors and drawers to create a cohesive look. A bit more on the modern side, flat bar pulls are the perfect option for contemporary kitchen styles. The design is modern and minimalist, which makes it a good choice when you want to emphasize clean lines. Plus, they're easy to install and usually cheaper than other hardware options. You can easily find flat bar pulls in antique finishes as well as in premium metals like bronze, brass, and silver.
4. Glass Knobs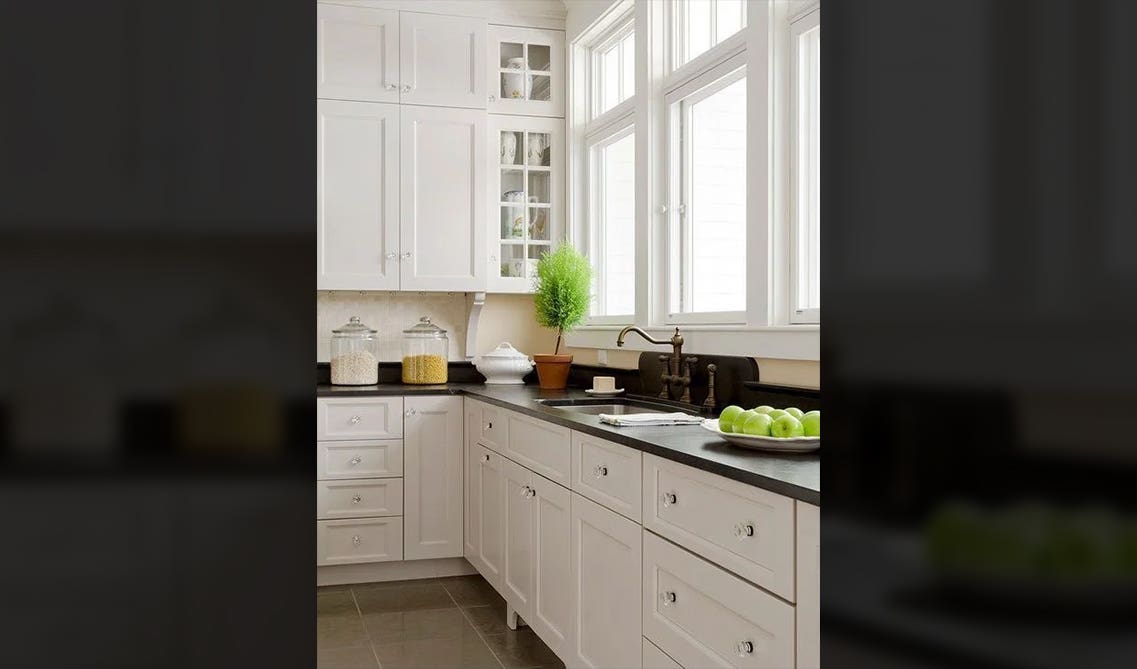 Pinterest
Another elegant option for shaker kitchen cabinet hardware is glass knobs. Whether you want to give your shaker cabinets a vintage look or just love the reflective look of clear cabinet knobs, glass is a classy option for any kitchen style. Or, if you want to save on hardware, opt for acrylic knobs. Acrylic has the same look as glass but is often a more durable and affordable choice. When paired with glass front doors, it can give your room an overall light, airy look that's inviting to friends and family alike. Glass knobs are also affordable, easy to maintain, and fit in with almost any color scheme you choose to use.
5. Classic Metal Knobs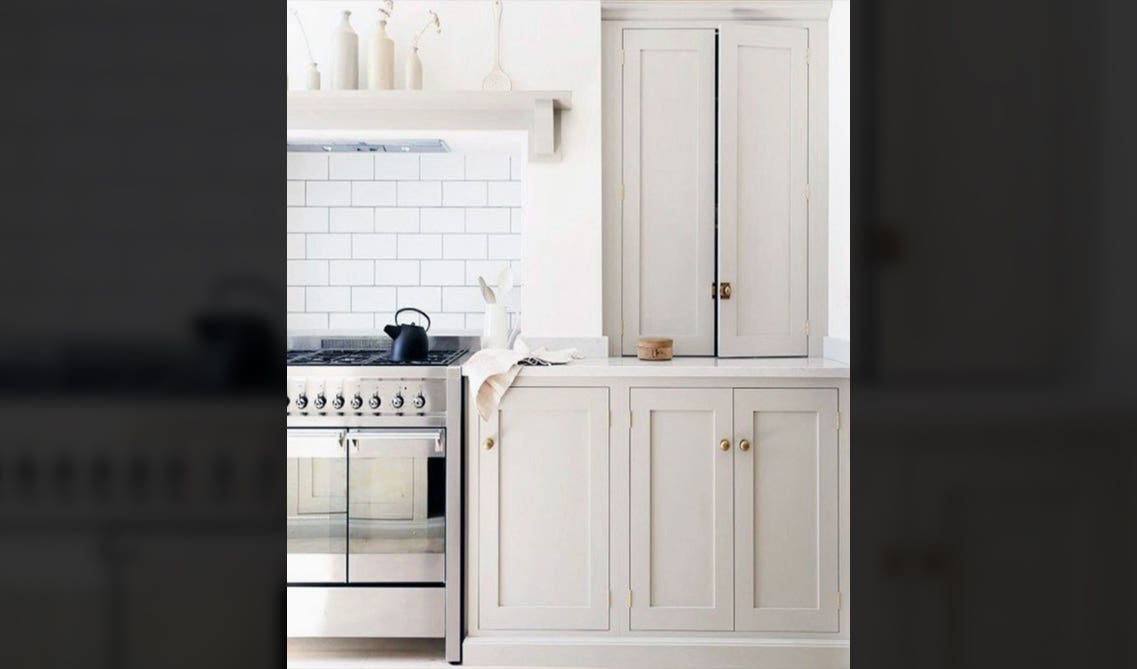 Give your shaker cabinetry a clean and effortless look with plain and simple metal knobs. This shaker cabinet hardware style is perfect for homeowners who want the attention to be drawn to other design elements, like the white subway tile and open-shelving decor in this kitchen. The classic, vintage look of metal shaker cabinet knobs is a popular pick for kitchens with cabinets in classic or shaker style. These hardware options are available in a wide range of colors and finishes, including zinc and brass options that can be custom-painted to match your kitchen's color scheme. If you're looking to update an older kitchen with a more modern aesthetic, these styles may be more your speed. Plus they come at affordable prices – so stock up!
Recommended for you: White Shaker Elite kitchen cabinets (up to 50% off box store pricing!)
6. Industrial Shaker Cabinet Hardware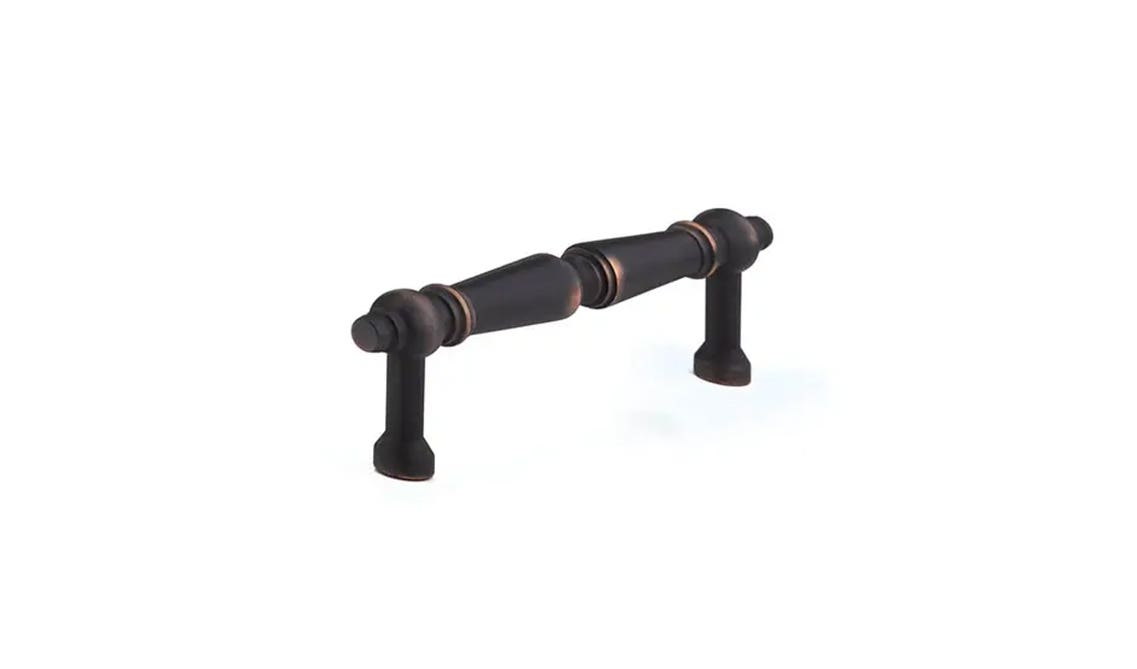 Traditional Brass Pull from Lily Ann Cabinets'cabinet hardware collection
The latest trend in modern industrial kitchen design pulls with exposed screws. Get the ultimate industrial look by combining them with black shaker cabinets, exposed brick, and cement block counters.
7. Curved Wire Shaker Cabinet Pulls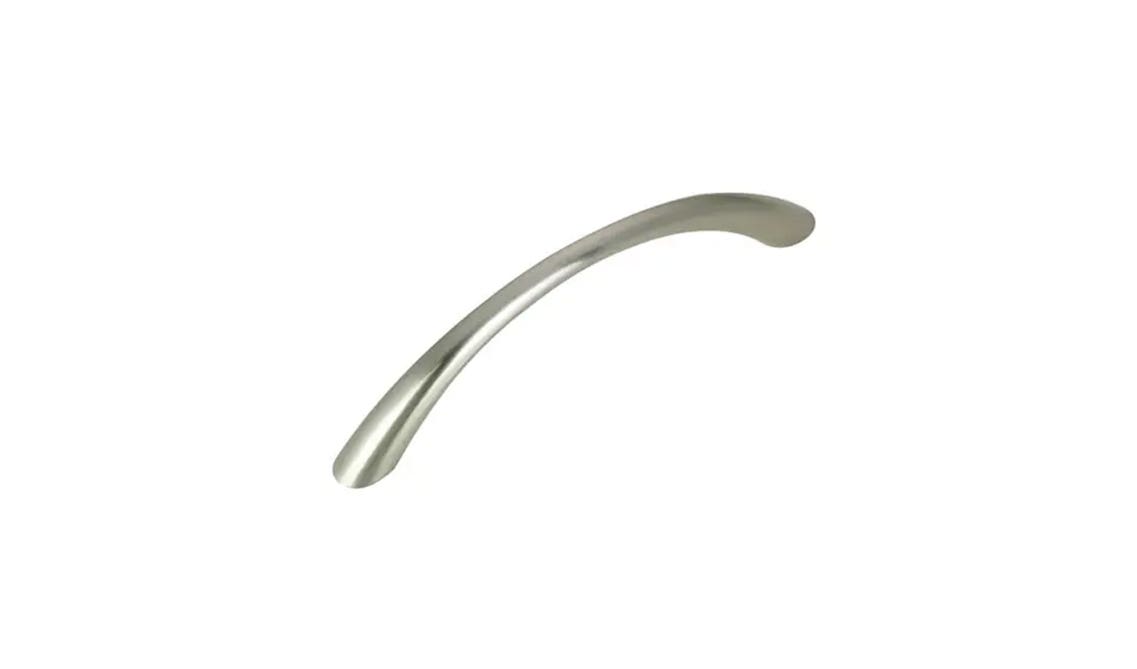 Contemporary Metal Pull from Lily Ann Cabinets'cabinet hardware collection
Curved wire cabinet pulls are tactical, appealing, and provide a good grip. They suit almost any kitchen style but are prominently used in traditional and contemporary designs. For those trying to save on their kitchen renovation, curved wire pulls are typically a very affordable option. They also come in a variety of finishes like chrome, oil-rubbed bronze, matte black, nickel, and brass.
Ready to find the perfect cabinet hardware for your kitchen? Browse our extensive selection of cabinet knobs and pulls today.
8. Rustic Shaker Cabinet Hardware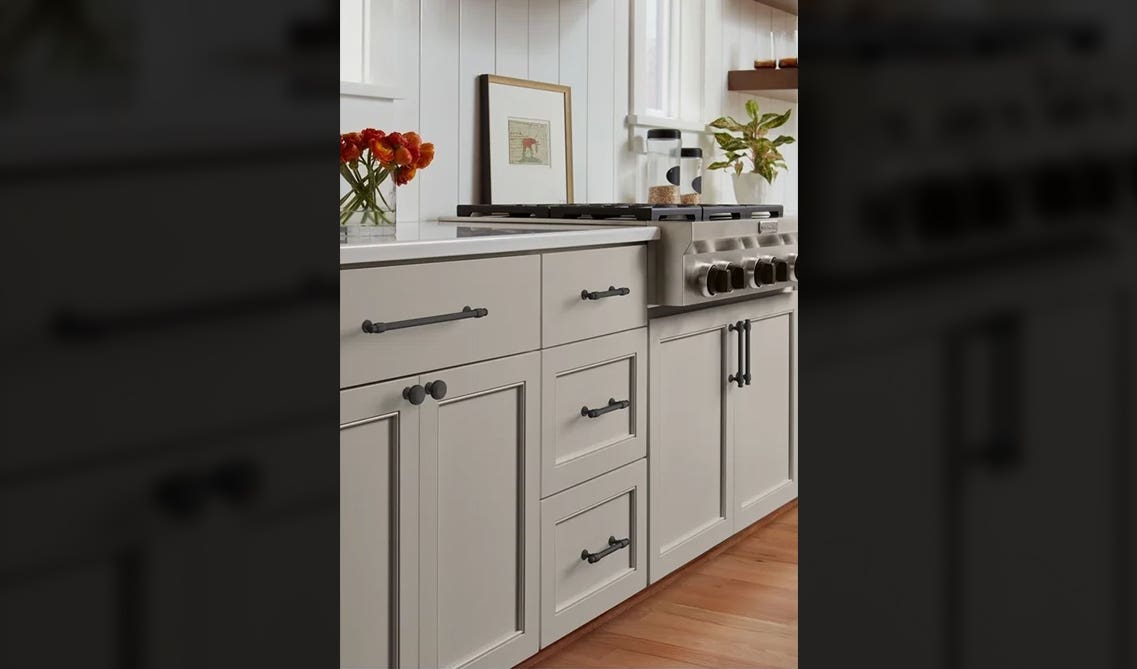 Pinterest
When it comes to rustic cabinet hardware, you can't go wrong with oil-rubbed bronze. Bronze hardware adds to the vintage and weathered look of rustic kitchens. This kitchen features vintage bin pulls to complement the beautifully colored shaker cabinets.
9. Matte Black Cabinet Hardware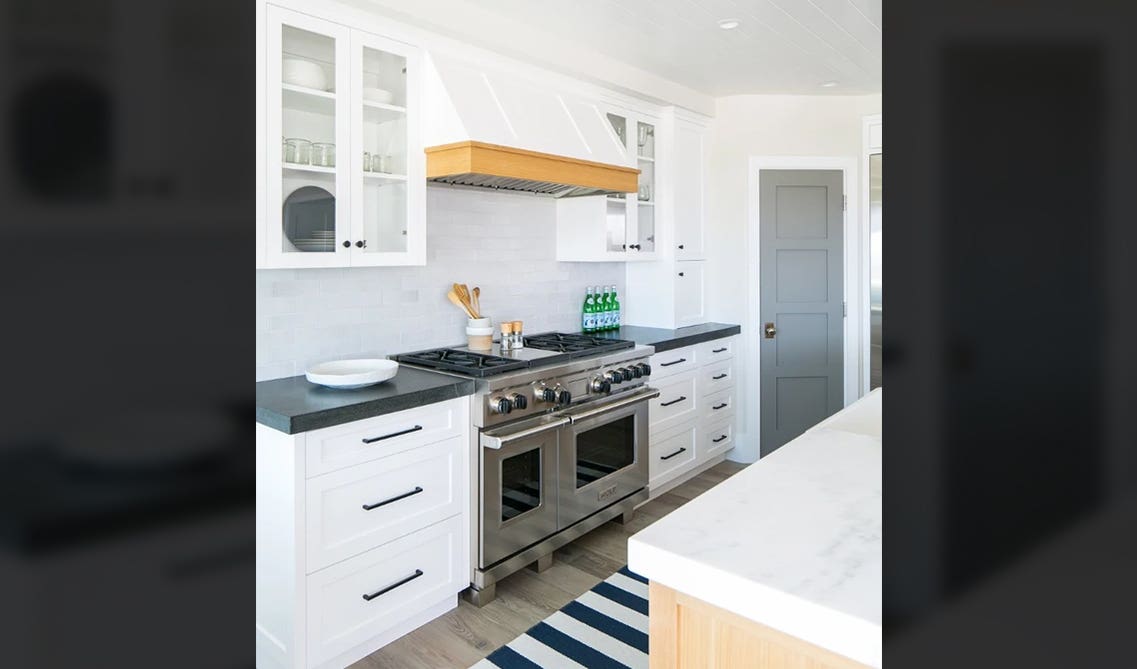 Matte black is another popular choice of hardware for white shaker cabinets. White cabinets with black hardware give a pop of contrast to the kitchen. The matte finish brings a hint of modernity to the kitchen, without causing it to feel sterile or under-decorated. Matte black hardware is also popular in the farmhouse and rustic kitchen styles. Used in both modern and traditional kitchens, White cabinets with black hardware are not going out of style anytime soon. If you want your kitchen to exude elegance and refinement, then matte black cabinet hardware is just right for you.
10. Gold Shaker Cabinet Pulls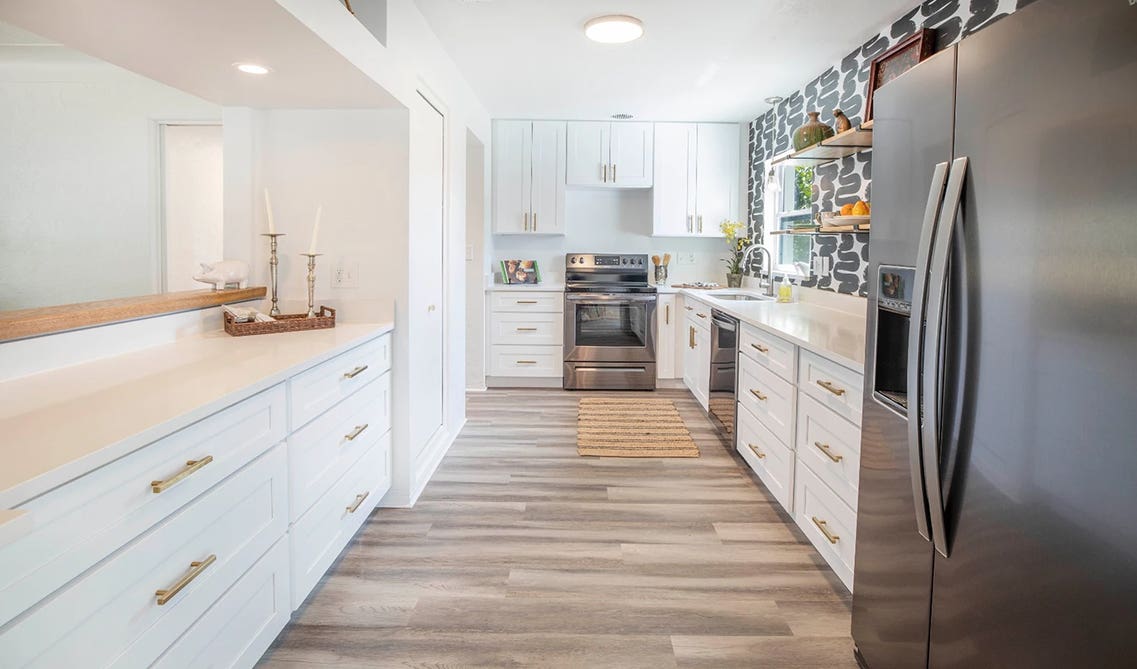 Lily Ann Cabinets White Shaker Elite Cabinet
Currently, the most popular and trendy style of shaker cabinet hardware is gold pulls. Especially when paired with white or blue shaker cabinets, gold pull hardware lightens and warms up the kitchen space. The pull style perfectly matches the flat, modern style of shaker cabinets, making them a perfect choice. With the gold finish, the space will look light and fresh, and also very stylish!
11. Modern Shaker Cabinet Hardware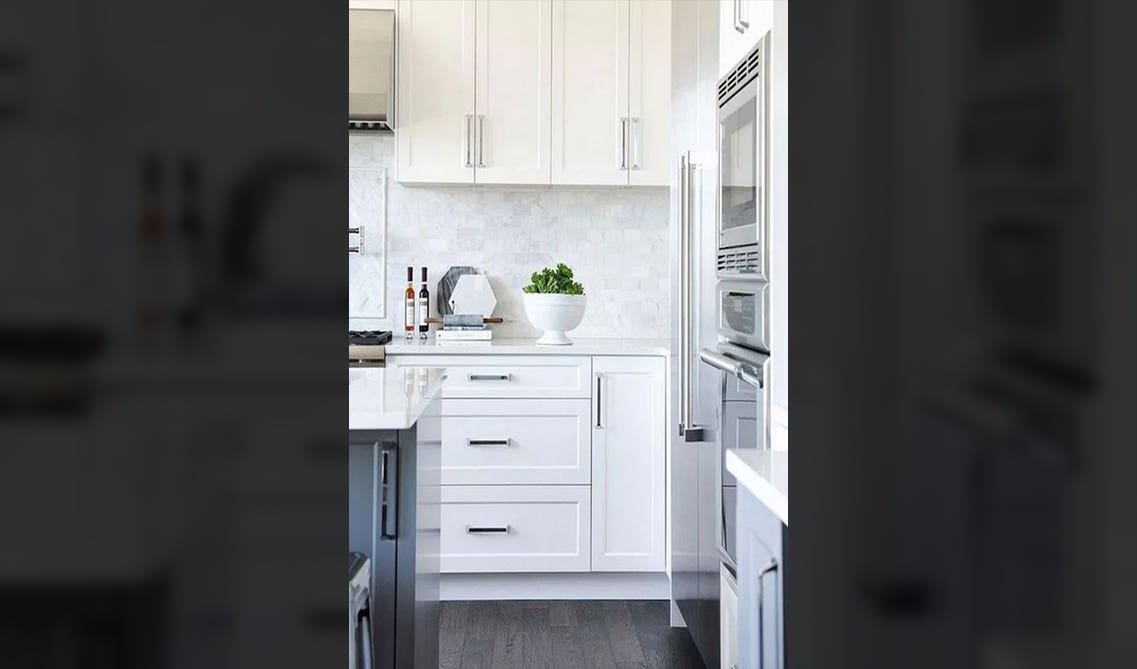 To modernize shaker cabinets, just choose a glossier square-edged metal pull in a silver or chrome finish. Choose a thicker hardware style to create a more dramatic look. Modern shaker cabinet hardware can be simple or bold—either choice will complement the accommodating style of shaker cabinetry.
Also Read: What Are Shaker Kitchen Cabinets, And Why Are They So Popular?
12. Detailed Shaker Cabinet Hardware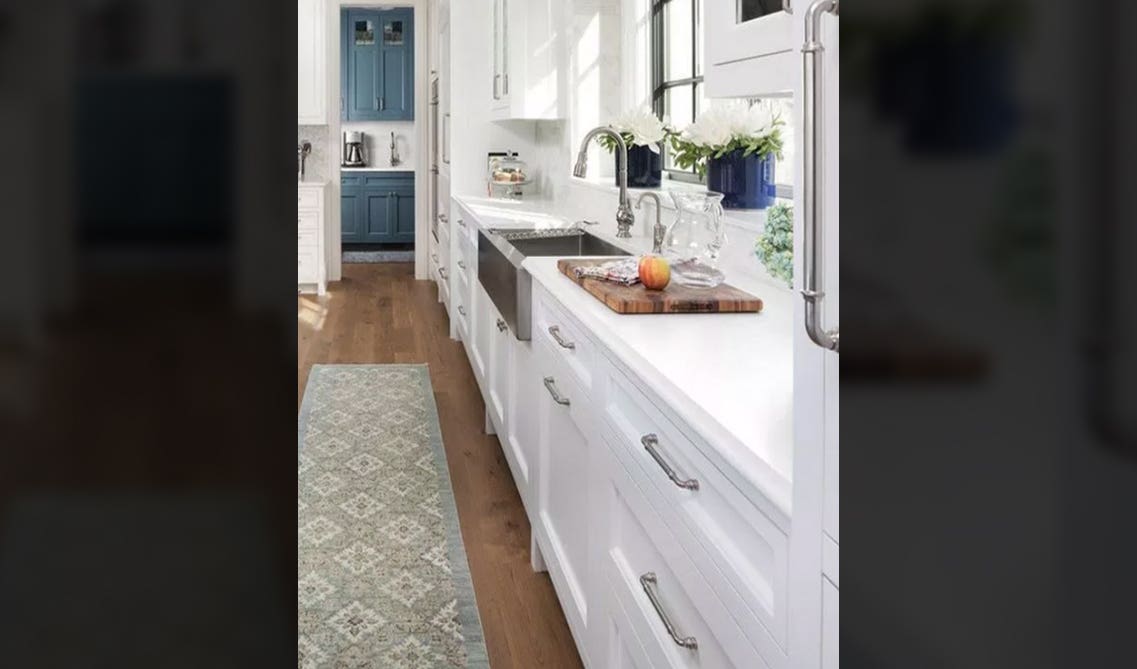 In this coastal kitchen, all eyes are on the cabinet hardwares. With detailed engravings and a stainless steel finish, these pulls steal the spotlight. Detailed cabinet pulls are a great choice for shaker cabinets because they add intricate design to the understated cabinet style.
Ready to get started on your own dream kitchen? Get your FREE cabinet door samples today (including 4 selections of high-quality shaker cabinets!)
13. Black Shaker Drawer Cup Pulls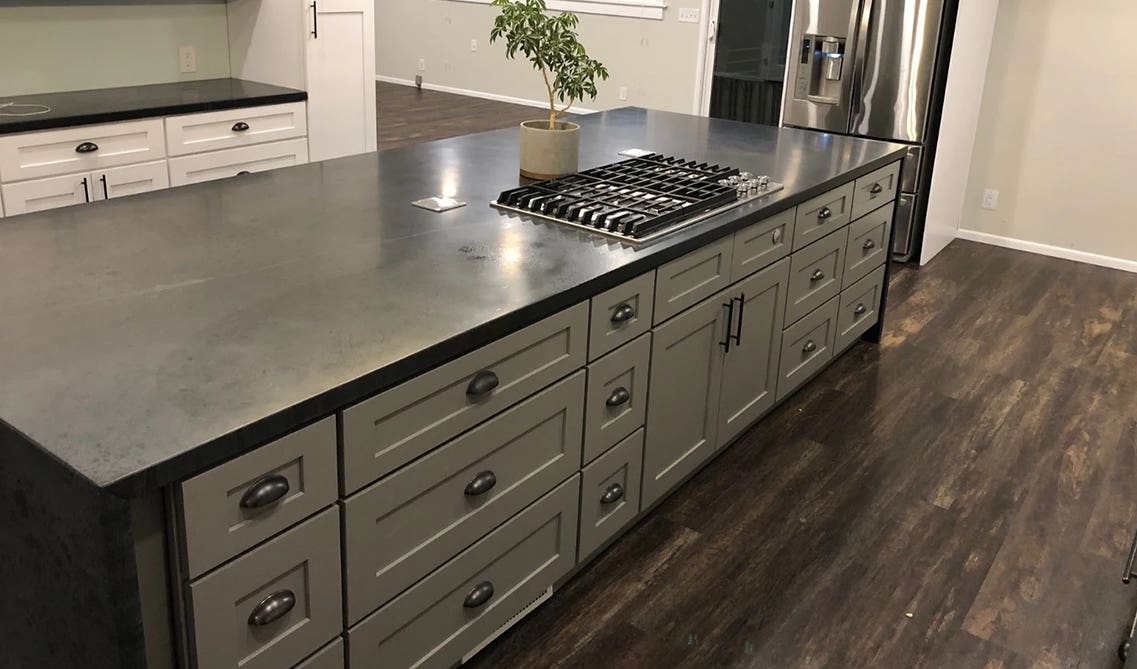 Lily Ann Cabinets Grey Shaker Elite
Want more of an industrial look for your shaker cabinets? One of the best ways to achieve an industrial shaker cabinet look is to incorporate black hardware. For this section specifically, black drawer pulls are a great way to add some contrast to the straight and minimal lines of shaker cabinets. Not to mention they also make opening drawers much easier!
14. Gold Shaker Drawer Cup Pulls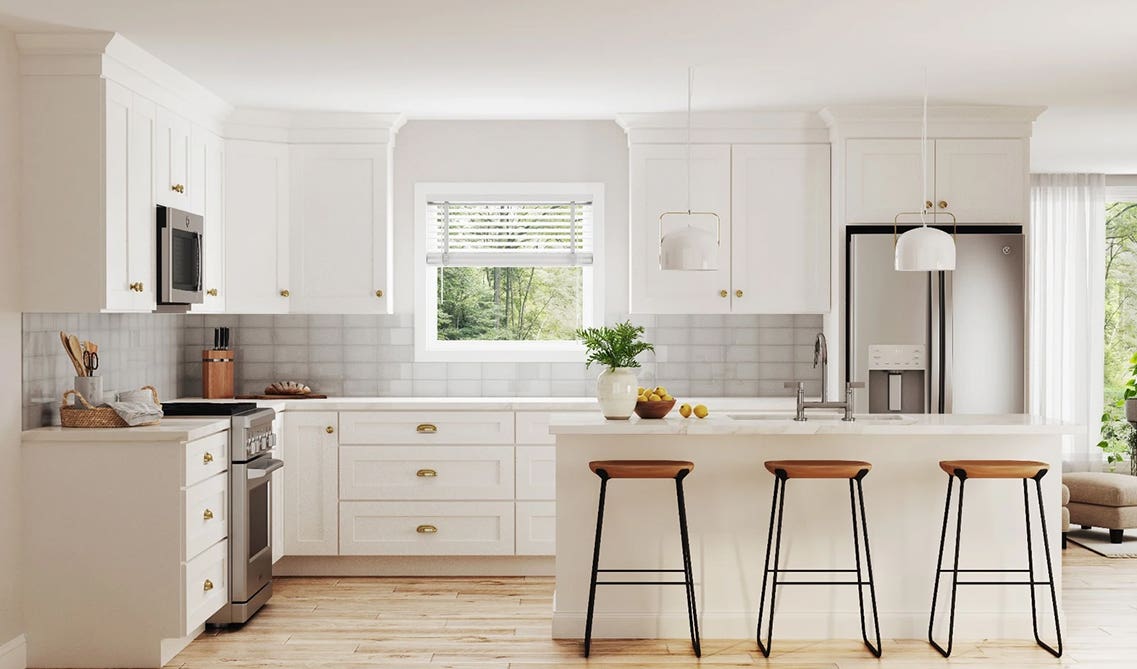 Lily Ann Cabinets Summit Shaker Cabinet
For a warm, bright shaker cabinet kitchen, incorporating gold drawer cup pulls will do just the job! They make opening drawers easy, provide some differentiation with all of the straight lines of the shaker cabinetry, and look amazing while doing it. Gold shaker drawer cup pulls are a great option for your dream kitchen.
15. Shaker Cabinets without Hardware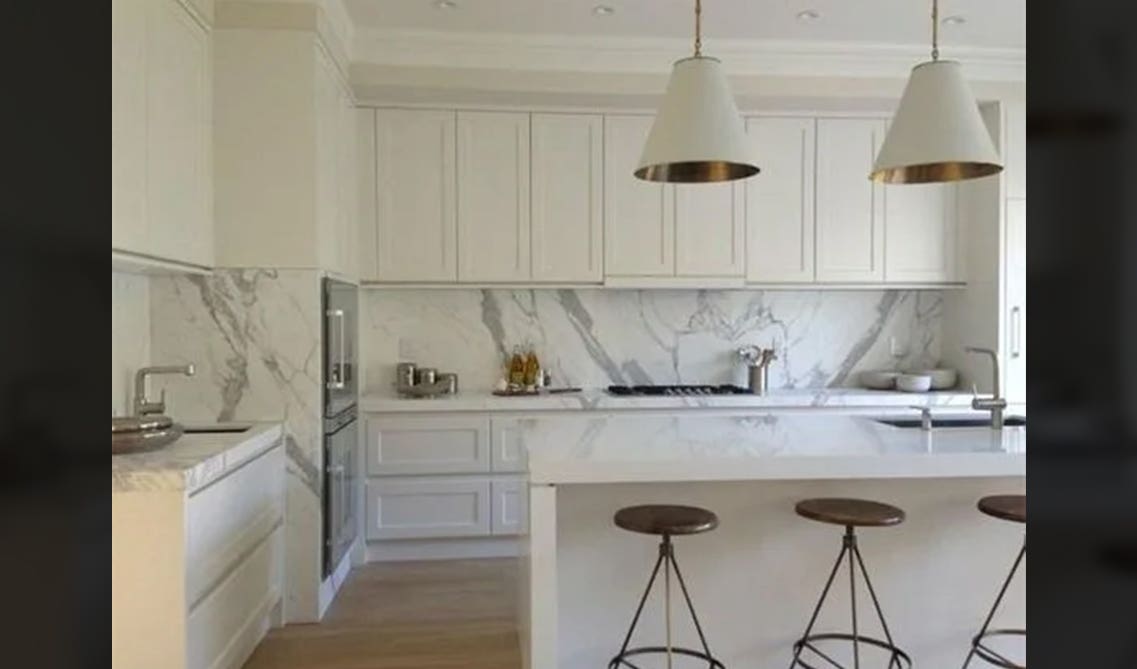 Last but not least, there's the final (and most minimalistic) option: shaker cabinets with no hardware at all. The true minimalist will omit cabinet hardware altogether to give the space the cleanest design possible. Although this can make opening your cabinets a bit of a struggle, it certainly pays off in terms of visual simplicity.
Also Read: How To Match Cabinet Hardware with Kitchen Decor

Save Big On Your Kitchen Remodel with Lily Ann Cabinets
Whether you're shopping for shaker kitchen cabinets or hardware, Lily Ann Cabinets has an extensive selection of premium kitchen products for up to 50% off box store pricing. Need some help finalizing your design? Get a FREE 3D Kitchen Design below!
Get FREE Kitchen Cabinet Samples
FAQs
1. What hardware looks best on shaker cabinets?
All types of hardware look good on shaker cabinets. Yet, the hardware that looks best depends on the style of your kitchen space. For a modern, classic, and simple look, pulls are the best option. For a contemporary or vintage look, knobs or ornate hardware would look best.
2. Where to place handles on shaker cabinets?
The most common spot to place handles on shaker cabinets is at the center of the inset panel.
3. What hardware color is timeless for shaker cabinets?
The most timeless hardware color for shaker cabinets is a brass metal, but take into account the color of your shaker cabinet. Warmer toned cabinets go better with gold, black or bronze hardware. While a cool tone shaker may be better paired with silver, black, or steel.
4. What color hardware looks best on white shaker cabinets?
A few hardware colors that look best on white shaker cabinets is black, gold, silver, and brass. Depending on your style, all of the above are great options when trying to pair hardware with your white shaker cabinets!