When it comes to kitchen design, the color palette plays a crucial role in setting the mood and style of the space. Green, with its soothing and refreshing qualities, has become a popular choice for kitchens. Whether you're looking to create a serene cooking oasis or a vibrant culinary haven, green can be the perfect backdrop. In this blog, we'll explore 20 gorgeous green kitchen ideas to inspire your next home improvement project.
1. Craftsman Lily Green Shaker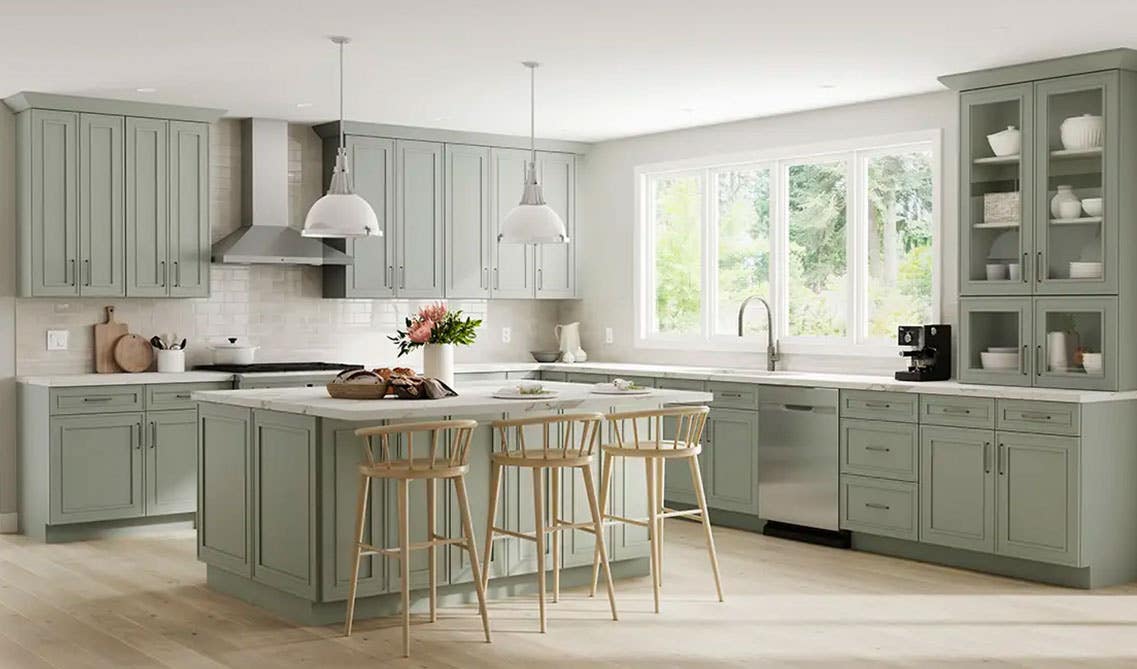 Lily Ann Cabinets: Craftsman Lily Green
If your dream is to have green cabinets in your kitchen, you are in luck! At Lily Ann Cabinets we are adding this stunning new style and shade of green called Craftsman Lily Green Shaker to our lineup. 
2. Forest Green Cabinets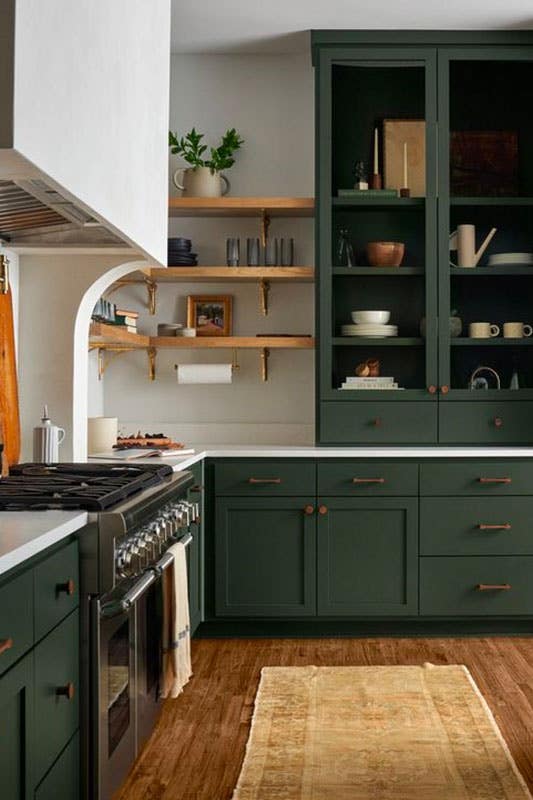 Embrace the enchanting allure of the forest with deep green cabinets. Paired with wooden accents and neutral tones, these cabinets create a cozy and inviting atmosphere reminiscent of a cabin in the woods.
3. Emerald Green Cabinets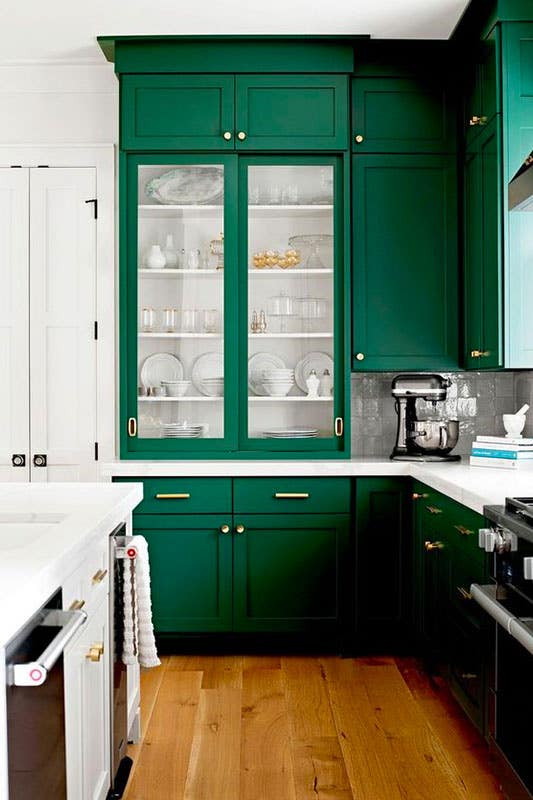 If you crave a rich and luxurious look, go for emerald green cabinets. Paired with brass or gold accents, this combination will elevate your kitchen to new heights of glamour.
4. Olive Green Cabinets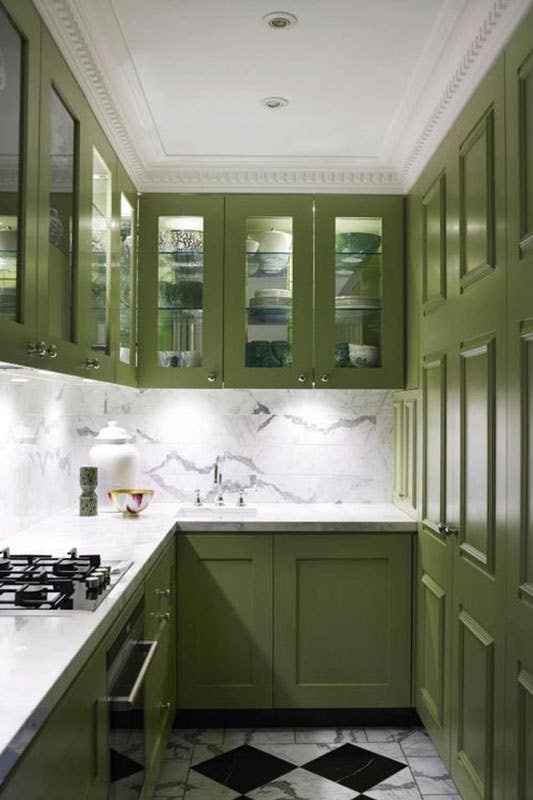 Bring the richness of olives into your kitchen with olive green cabinets. The marble counters, backsplash, and flooring in this kitchen complement the green cabinets and give the kitchen a modern feel.
The lighting under and inside the cabinetry also adds character to the space and helps to brighten the room due to the lack of natural lighting. Light up your kitchen with our Lily Ann cabinet lighting options.
5. Pistachio Green Cabinets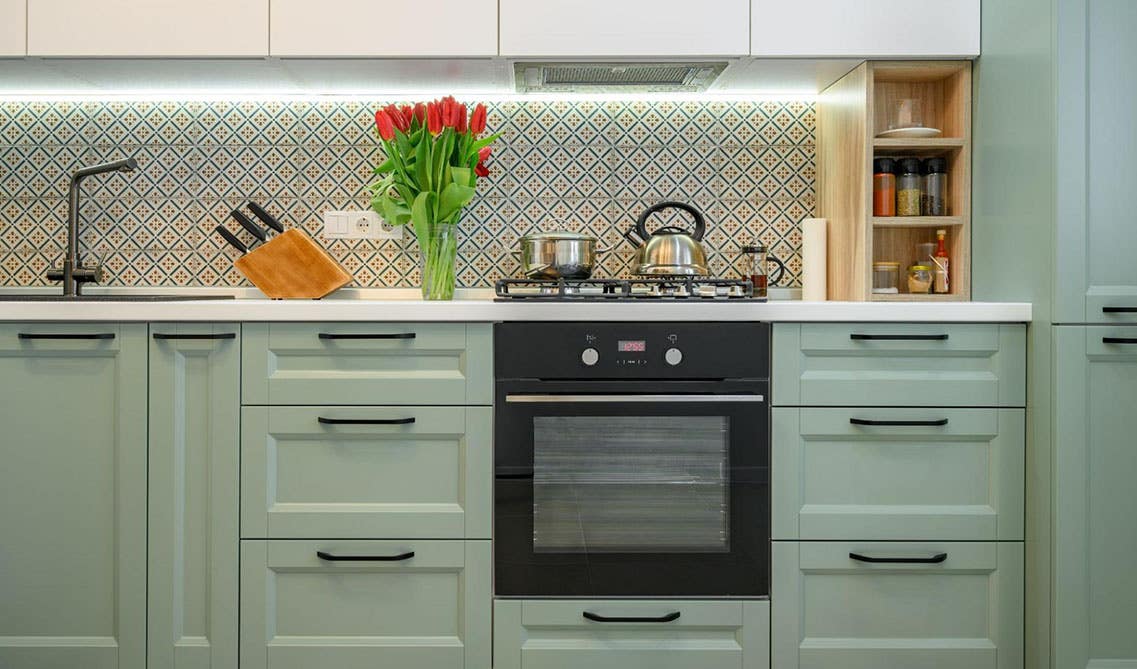 Add a playful and whimsical touch with pistachio green cabinets. This light and cheerful shade infuses your kitchen with a sense of optimism, perfect for those who enjoy a bright and vibrant ambiance.
6. Sage Green and White Cabinets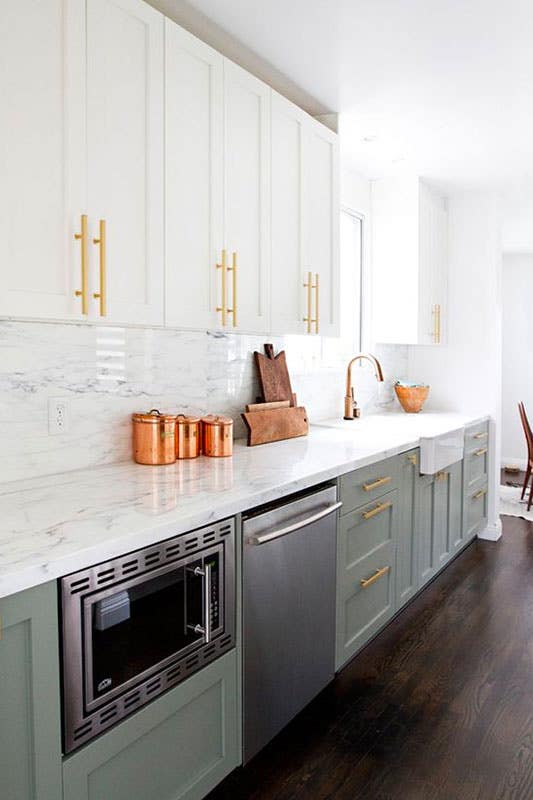 Achieve a timeless and classic look with sage green and white cabinets. This combination strikes a perfect balance between elegance and freshness.
The gold hardware ties the two colors together perfectly. Take a look at Lily Ann Cabinets' large selection of gold knobs and pulls that you can incorporate into your home!
Checkout: Sage Green Kitchen Cabinets: 8 Ways to Make Them Work in Your Home
7. Muted Green Cabinets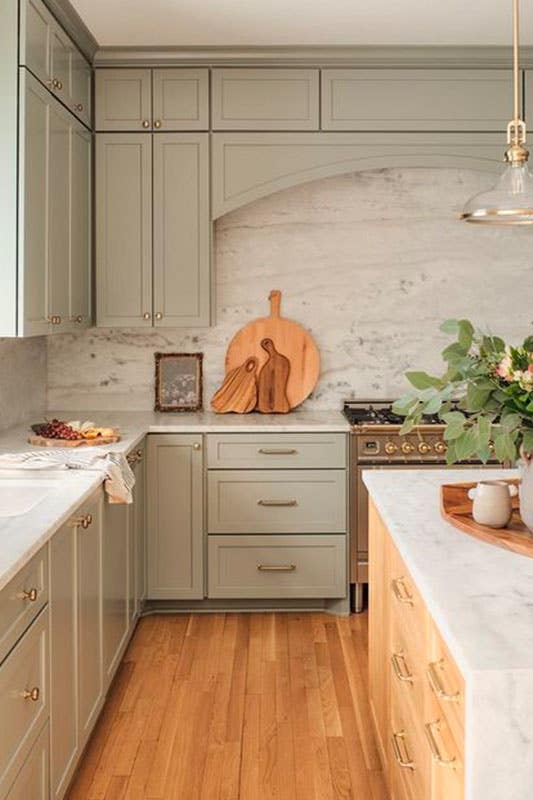 For a subtle and understated style, muted green cabinets are the way to go. These cabinets allow you to incorporate green without overwhelming the space, making them versatile for various kitchen designs.
8. Lime Green Cabinets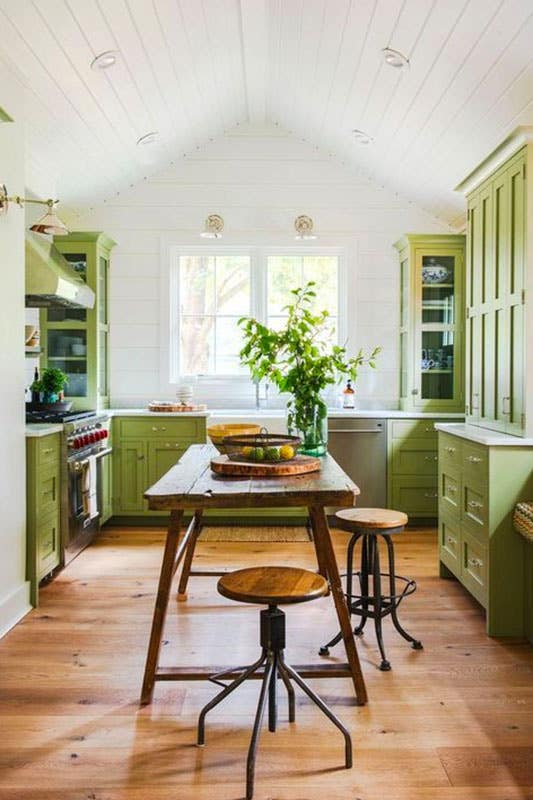 Inject energy into your kitchen with lime green cabinets. This bold shade works well with modern or farmhouse kitchen designs.
9. Army Green Cabinets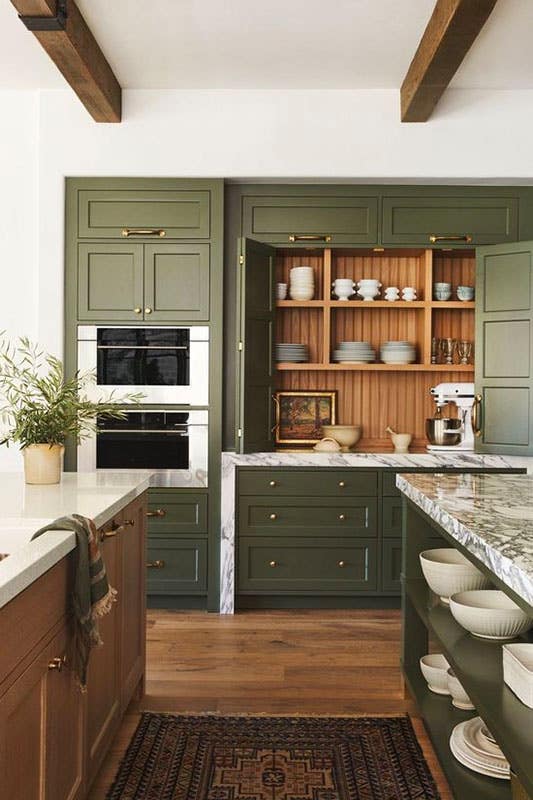 Channel the strength and character of army green cabinets. This earthy hue, paired with wooden elements like exposed beams and flooring, creates a nature inspired kitchen design.
Checkout: Green Kitchen Cabinets – The Ultimate Guide To The Newest Kitchen Trend
Green Kitchen Decor Ideas
10. Green Trim With Green Cabinetry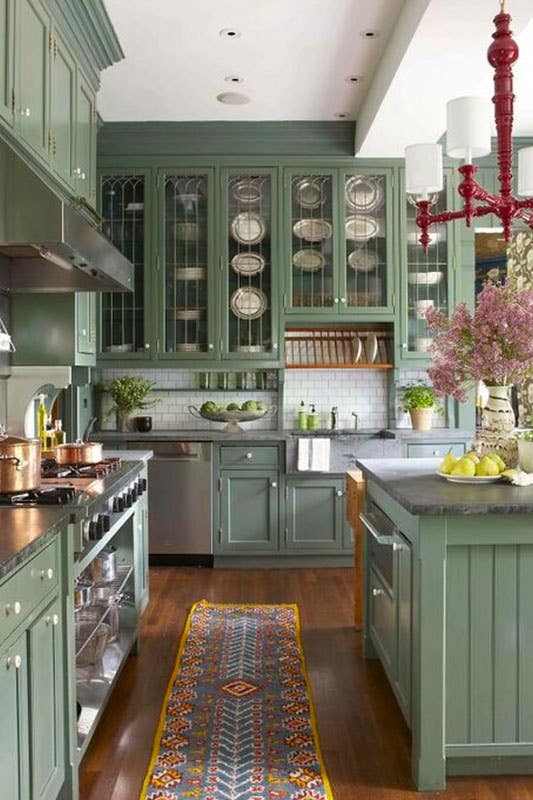 Create a cohesive and harmonious look by incorporating green trim alongside green cabinets. Whether it's green window frames, molding, or tile accents, this design choice ties the entire kitchen together.
11. Add Plants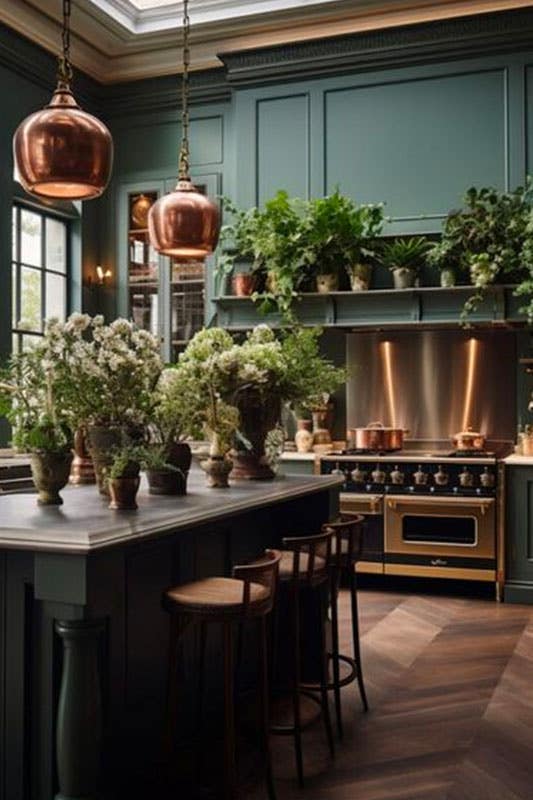 One of the easiest ways to introduce green into your kitchen is by adding plants. Place potted herbs, succulents, or hanging planters in your kitchen to infuse a natural and refreshing vibe.
12. Green Lighting Fixtures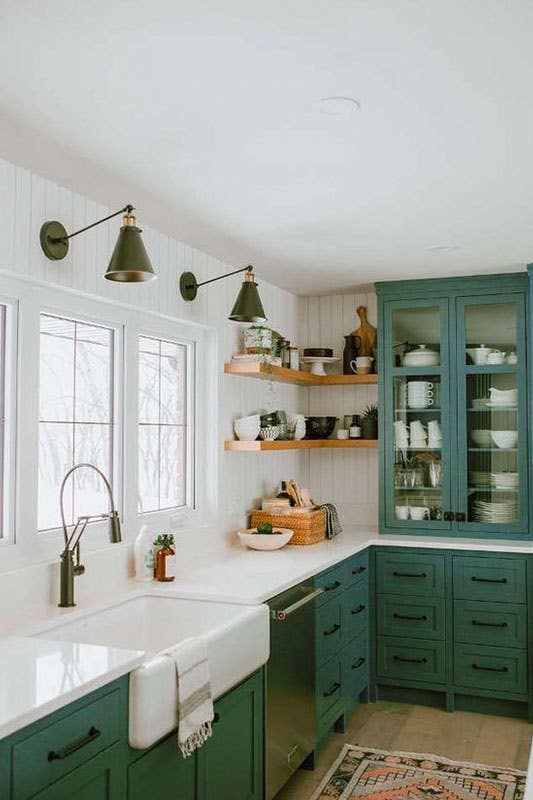 Install green sconces, pendant lights, or chandeliers to add a touch of elegance and illumination to your kitchen.
13. Green Backsplash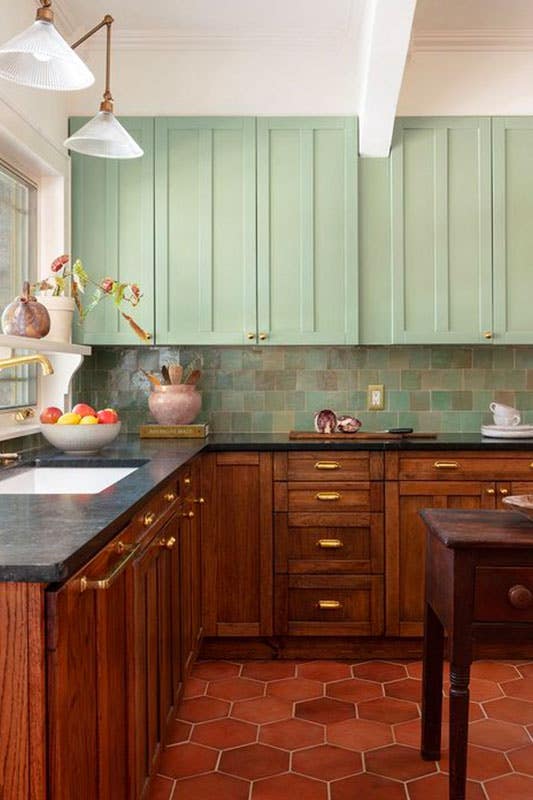 Install a green mosaic tile backsplash to create a stunning focal point in your kitchen. The different shades of green in this backsplash combined with the green upper cabinets and brown lower cabinets add a cozy and mystical feeling to this space.
14. Green Walls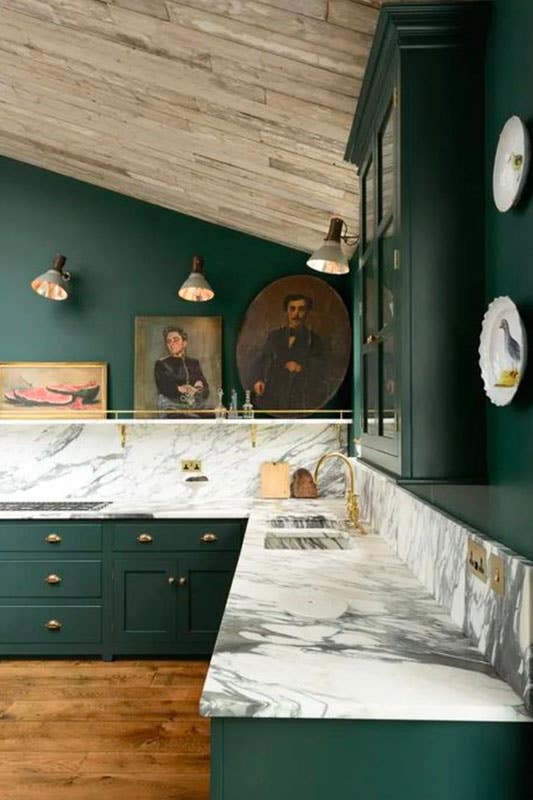 If you're passionate about green, don't shy away from green walls. Choose a shade that complements your cabinets and decor to create a harmonious space. You can also combine different shades for added depth.


15. Green Botanical Wallpaper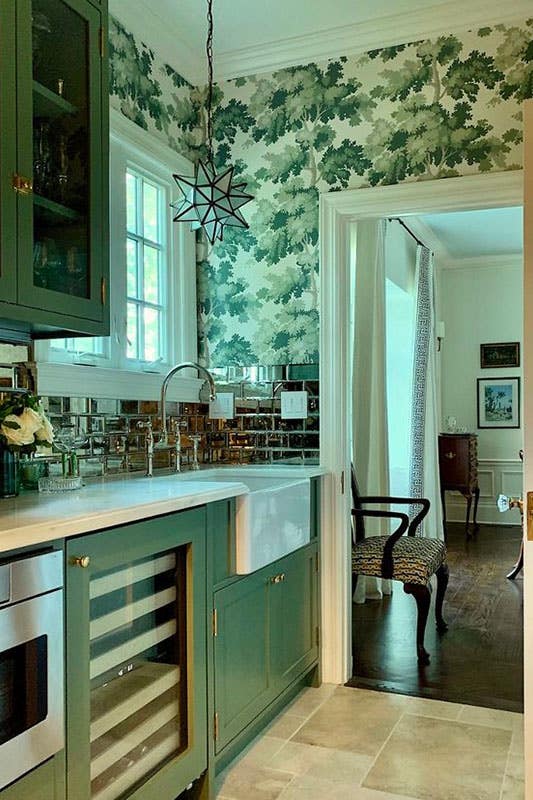 Transform your kitchen with botanical wallpaper featuring lush greenery patterns for a vibrant and natural atmosphere.
16. Green Ceilings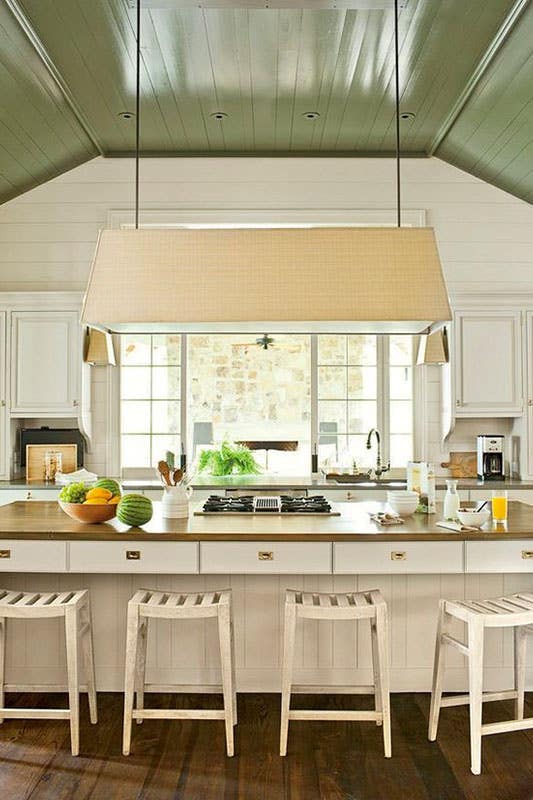 Don't forget the fifth wall! A green ceiling can provide an unexpected pop of color and make your kitchen feel cozier and more inviting.
17. Green Flooring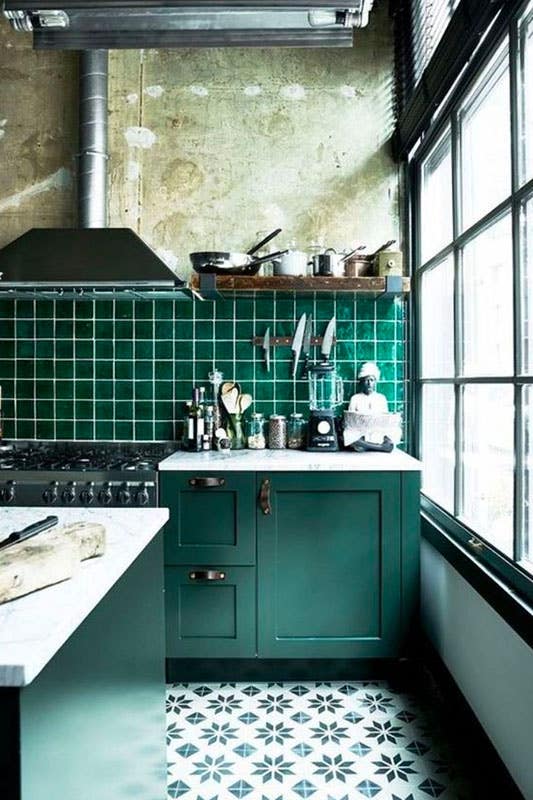 If you're feeling bold, go all-in with green flooring, backsplash tiles, or both! Emerald green tiles as seen above match the cabinets and backsplash. If you are not feeling green cabinetry, incorporate green flooring for a dramatic and eye-catching focal point in your kitchen.
18. Green Cozy Dining Nook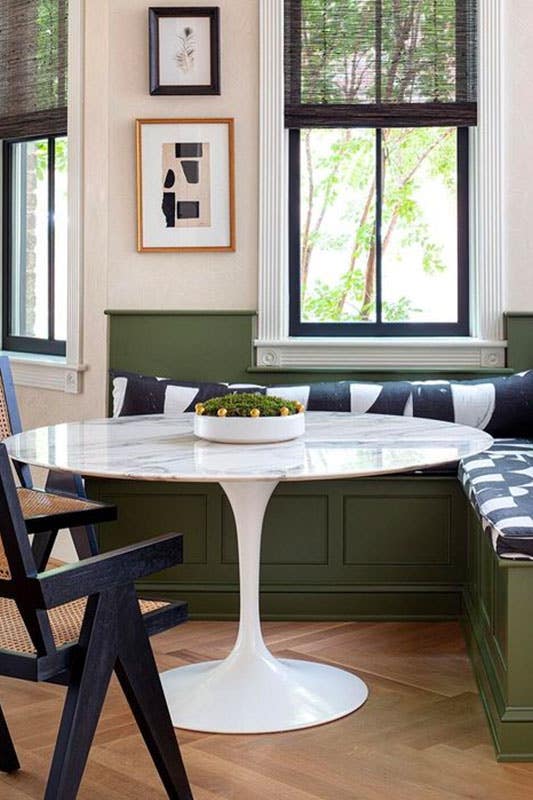 Create a charming dining nook with seating that features green bases. Whether it's dining chairs, benches, or barstools, this adds a touch of color and comfort to your kitchen. You can even add a green accent wall in the nook for a seamless look between the walls and seating.
19. Green Range Hood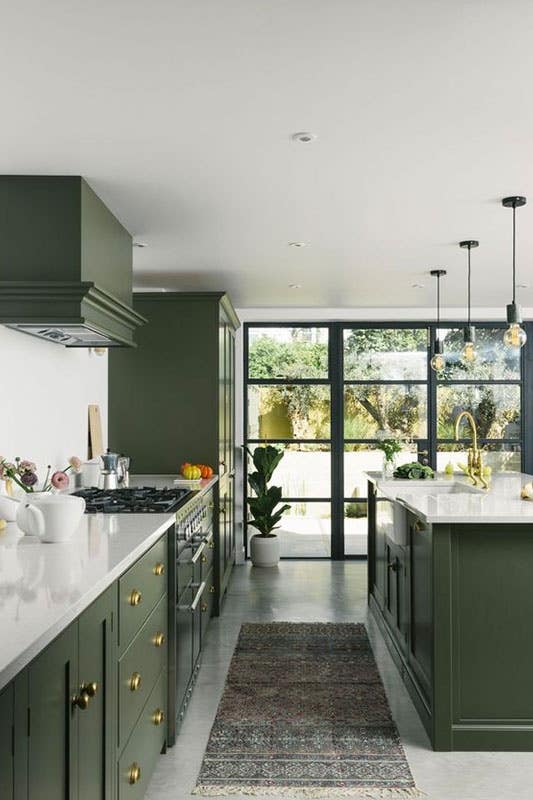 For a bold and coordinated look, pair green cabinets with a matching green range hood. This creates a harmonious and eye-catching focal point in your kitchen.
Related: Ducted Vs. Ductless Range Hoods: Which One To Choose?
20. Green Appliances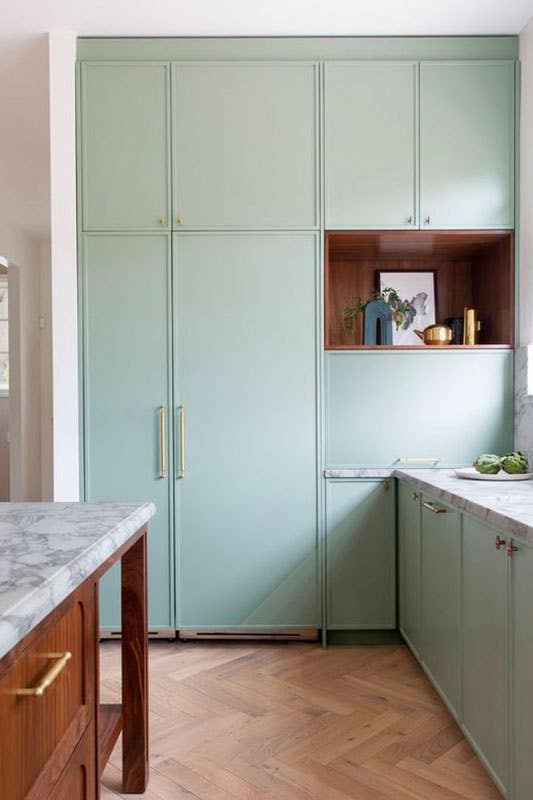 For a seamless look, invest in green kitchen appliances, such as refrigerators or dishwashers, that match your color scheme.
In Conclusion… 
By incorporating these green kitchen ideas, you can achieve a vibrant and stylish culinary space that reflects your personal taste and commitment to a greener lifestyle. Whether you opt for subtle accents or fully embrace green as the dominant color, your kitchen will become a welcoming oasis for cooking, dining, and entertaining. So, don't hesitate to explore these green kitchen ideas and transform your kitchen into a gorgeous green haven.
Whether you're in the market for green cabinets or simply seeking top-notch cabinetry, Lily Ann Cabinets is your trusted partner. As a family brand, we take pride in treating our customers like family, providing exceptional service, and offering quality cabinets at affordable prices. With our commitment to customer satisfaction, we offer FREE samples and FREE 3D designs to ensure you find the perfect cabinets to bring your vision to life. Lily Ann Cabinets is here to make your cabinet-buying experience as smooth and enjoyable as possible because we believe that everyone deserves a beautiful, well-crafted kitchen that feels like home.
Related Blogs: 
FAQs
1. Is green a good colour for a kitchen?
Green is an excellent color for a kitchen because it offers a refreshing and calming atmosphere. It works well with various styles, from modern to traditional, and can be customized to suit your preferences.
2. What accent colors go with a green kitchen?
Neutral colors like white, gray, and beige make excellent accent choices for a green kitchen. Additionally, complementary colors such as shades of blue or yellow can create a balanced and visually appealing look.
3. What is the best shade of green paint for a kitchen?
The best shade of green paint for a kitchen depends on your personal style and the desired ambiance. Soft sage and mint greens are popular for a subtle, calming effect, while deeper shades like emerald and forest green can create a more dramatic and luxurious feel.
4. What colour accessories go with a green kitchen?
White, gold, and wood-toned accessories complement a green kitchen beautifully. They can add contrast and warmth to the space, enhancing its overall aesthetic appeal.