Blue and white, a timeless and classic color pairing, has long been a favorite choice for kitchens, offering a fresh and inviting atmosphere that never goes out of style. Whether you're drawn to the crisp elegance of a predominantly white kitchen with blue accents or the striking contrast of deep blue cabinets against white countertops and backsplashes, this color duo has the power to transform your cooking space into a haven of tranquility and sophistication. 
In this article, we'll explore 12 stunning blue and white kitchens that showcase the versatility and beauty of this beloved color combination. From coastal-inspired designs to modern minimalism, these kitchens will inspire you to infuse your culinary haven with the charm and serenity of blue and white.
1. Coastal Retreat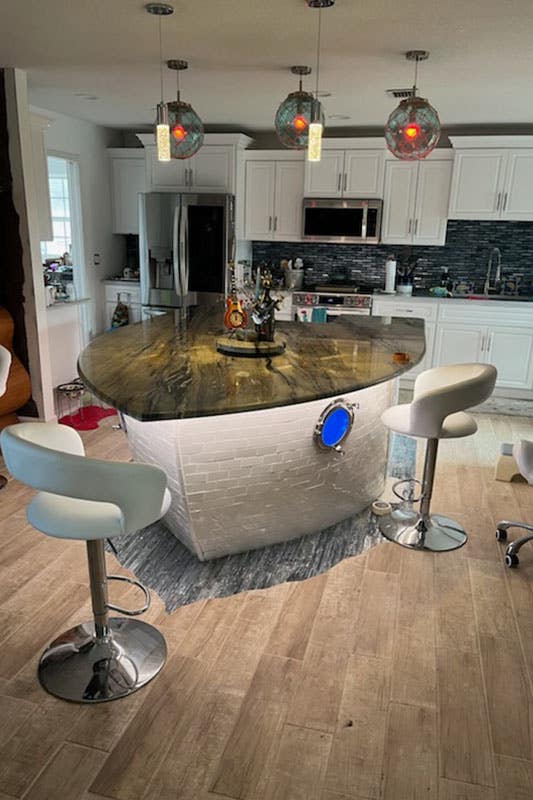 Create a beachy oasis with white cabinets, white mosaic tile or a blue backsplash to resemble shells, and nautical-inspired decor like rope handles, coastal fixtures, and seashell accents. Add a touch of warmth with wooden countertops or floors.
2. Timeless Elegance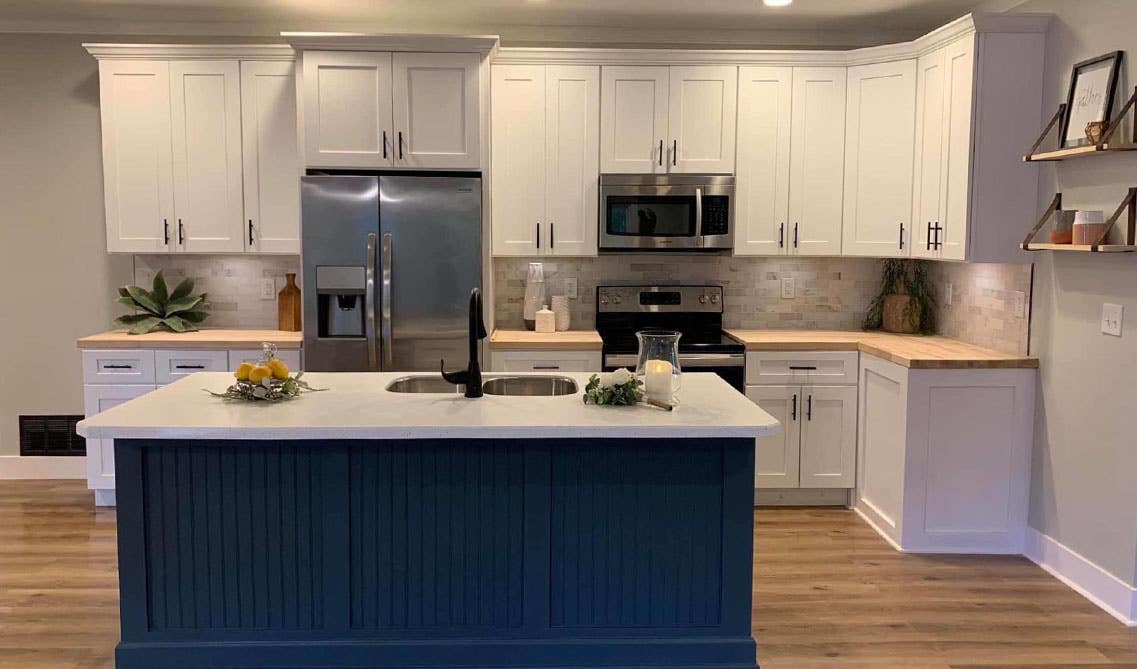 Lily Ann Cabinets: White Shaker Elite & Navy Blue Shaker
Opt for classic white cabinetry and use blue for the kitchen island or lower cabinets. Our favorite blue and white combination is with White Shaker Elite Cabinets on top with Navy Blue Shaker Cabinets on bottom. Marble countertops and brass hardware can elevate the look and give it a touch of luxury. 
3. French Country Charm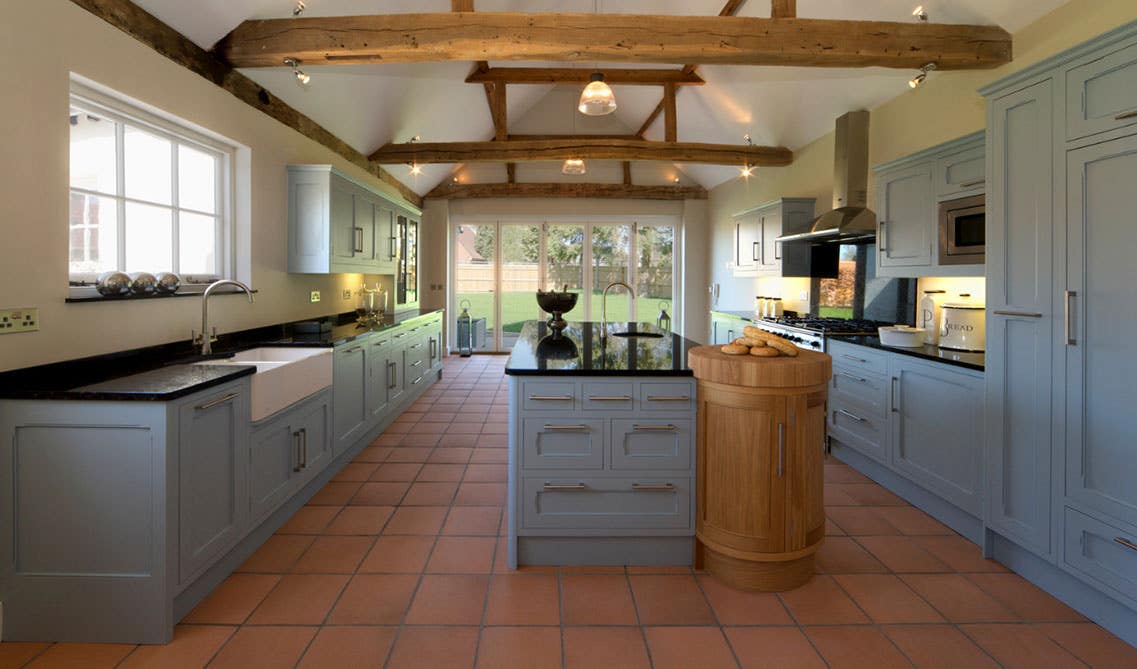 Incorporate soft, pastel blue tones with distressed white cabinets and a farmhouse sink. Decorate with rustic elements like wooden beams and open shelving for a cozy, country feel.
4. Modern Minimalism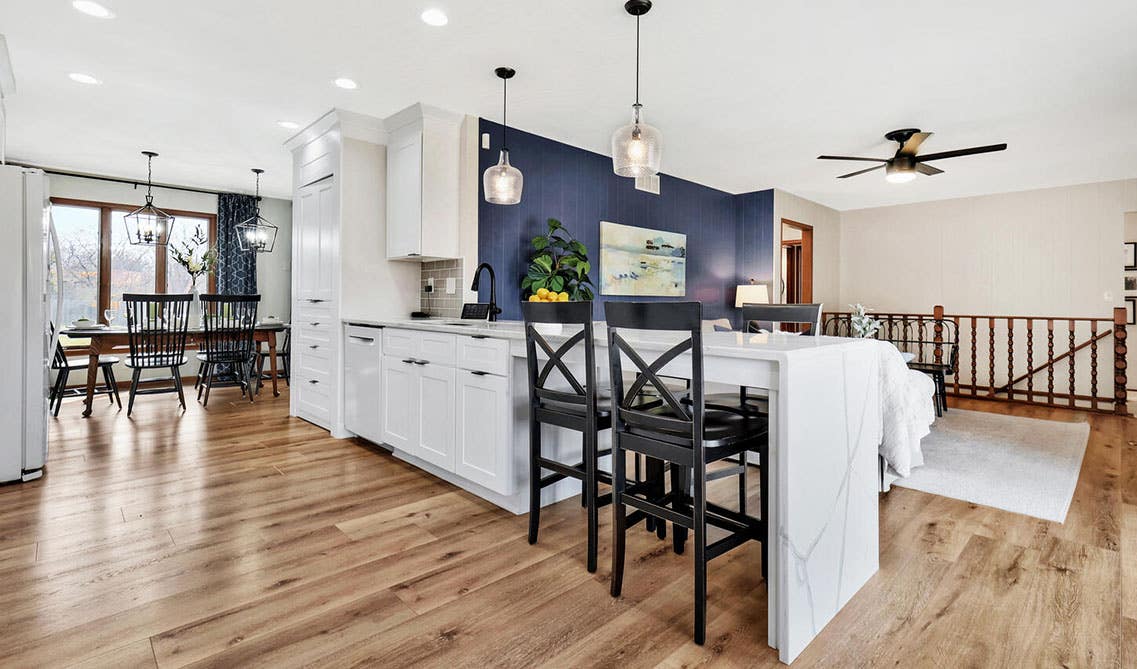 Lily Ann Cabinets: White Shaker Elite Cabinets
Achieve a sleek, contemporary look by combining glossy white cabinets with white waterfall quartz countertops, navy blue accent walls, and stainless steel appliances. Keep the design simple and clutter-free for a minimalist aesthetic.
5. Bold and Beautiful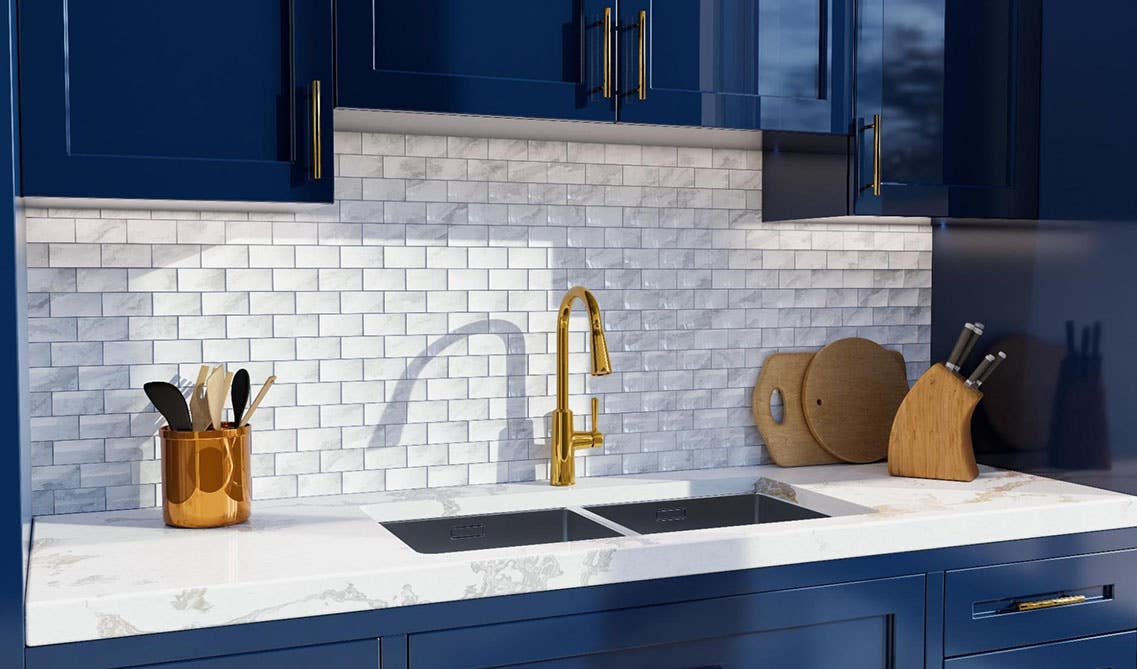 Go bold with deep navy blue cabinets and pair them with bright white countertops and a white subway tile backsplash. Gold or brass fixtures can add a touch of opulence to the space. At Lily Ann Cabinets, we offer a beautiful Navy Blue Shaker Cabinet that pairs perfectly with any white and grey tones. Pair your cabinets with a brass contemporary pull to finish off the look.
6. Vintage Vibes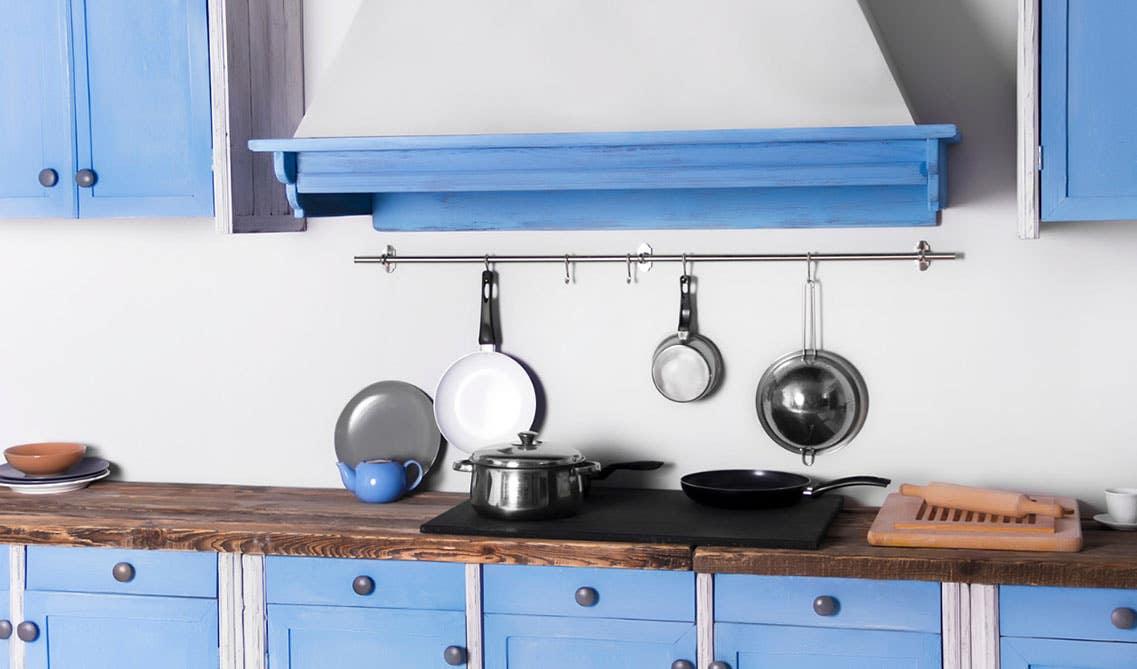 Create a retro-inspired kitchen with powder blue cabinets, white appliances, and checkered or patterned floor tiles. Adding older appliances such as vintage accessories like old-school scales or retro signs can complete the look.
7. Blue Lighting Fixtures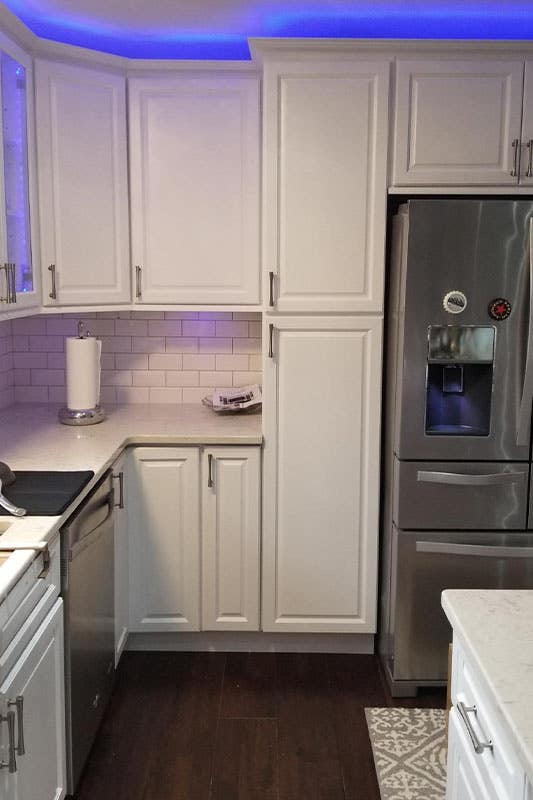 Lily Ann Cabinets: Key Largo
Simply add blue to your white kitchen by adding over or under the cabinet lighting! You can use blue lighting with white cabinets, or regular LED lights with your blue cabinets.
8. Transitional Twist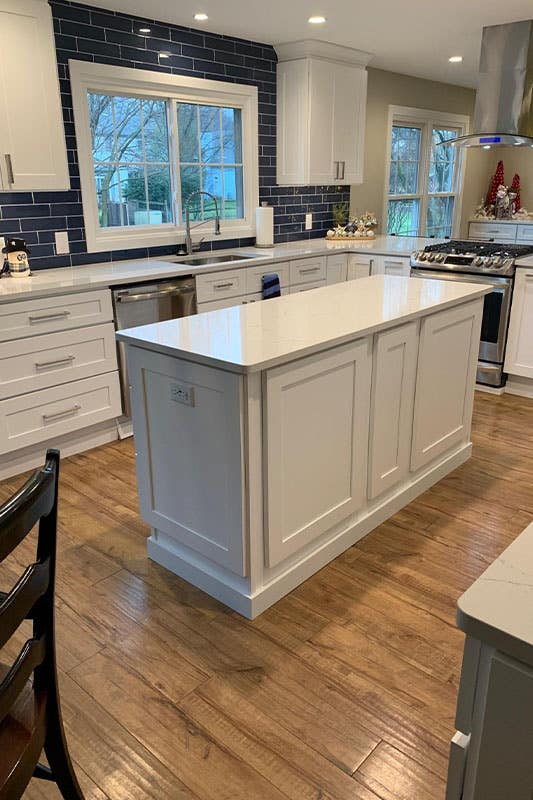 Combine traditional and contemporary elements with shaker-style white cabinets and navy blue subway tile backsplashes. At Lily Ann Cabinets, we offer a variety of white shaker cabinets, customizable to be the perfect fit in each unique kitchen. Our options include White Shaker Elite Cabinets, Summit White Shaker, Colorado White Shaker, and coming soon our Craftsman White Shaker Cabinets! This transitional style offers a balanced and timeless look.
9. Farmhouse Fresh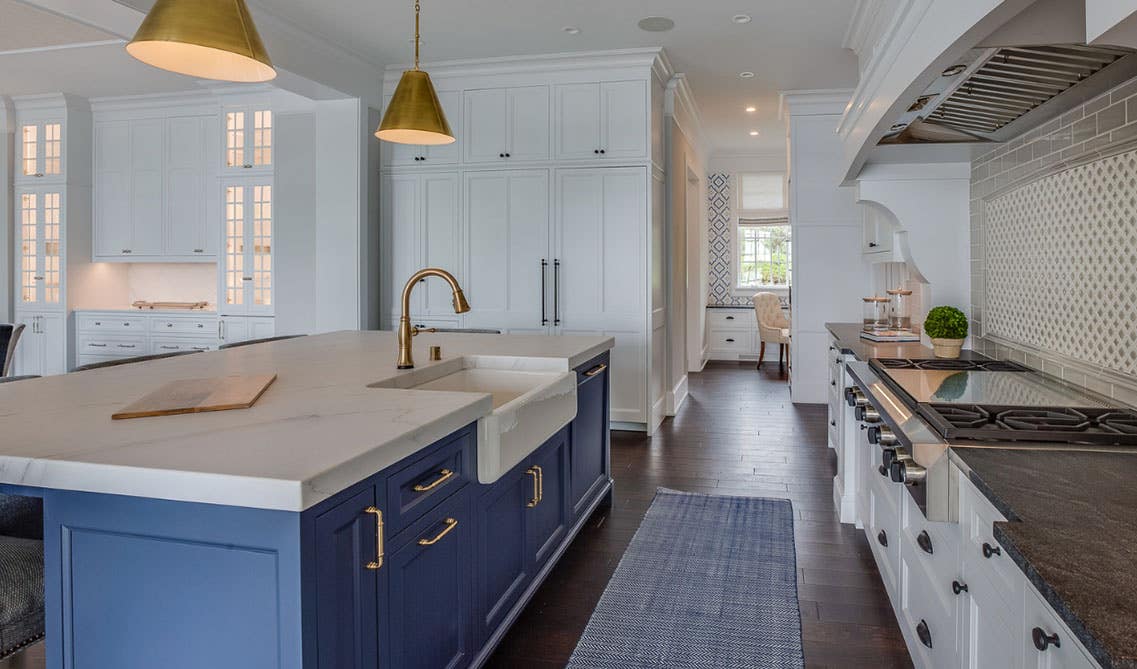 Embrace the farmhouse look with a mix of blue and white. White cabinet walls, extending from the floor to ceiling, a blue cabinet island in the center, and a farmhouse sink create a cozy and inviting kitchen that's perfect for gatherings. Mix your appliances with stainless steel and brass to tie together the overall look!
10. Modern Cottage Comfort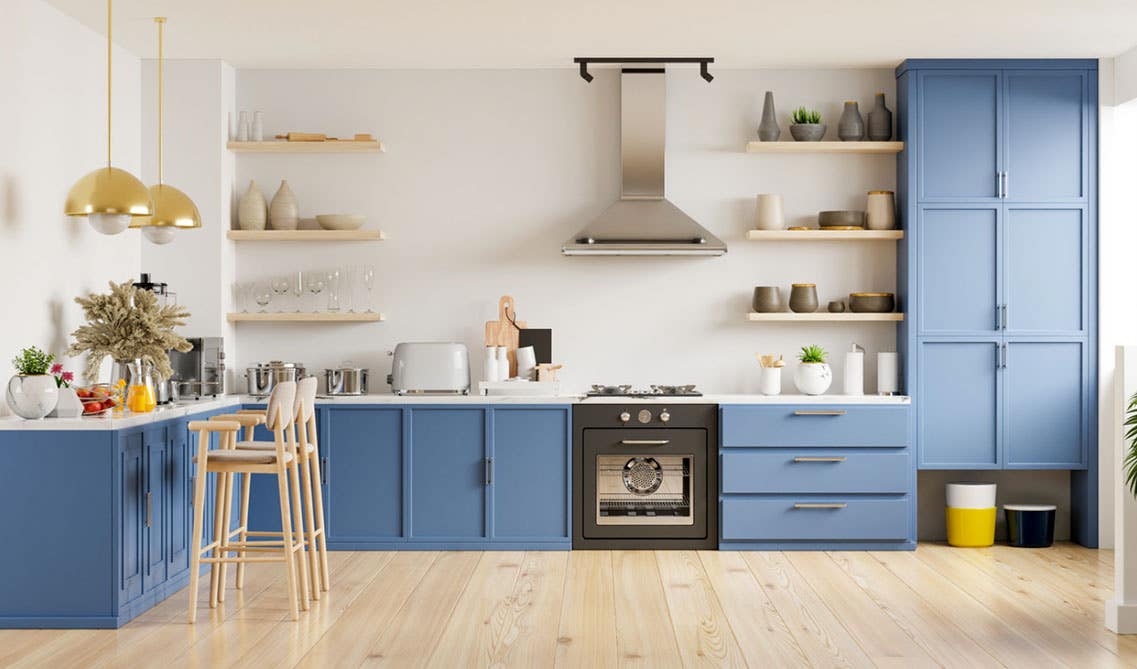 For a cottage-inspired kitchen, use soft blue cabinets, white countertops, open shelving with dishes, and beadboard paneling. We have a wide variety of floating shelves in every color to best fit every kitchen. Incorporate floral patterns in curtains or tableware for a charming touch.
11. Sleek and Serene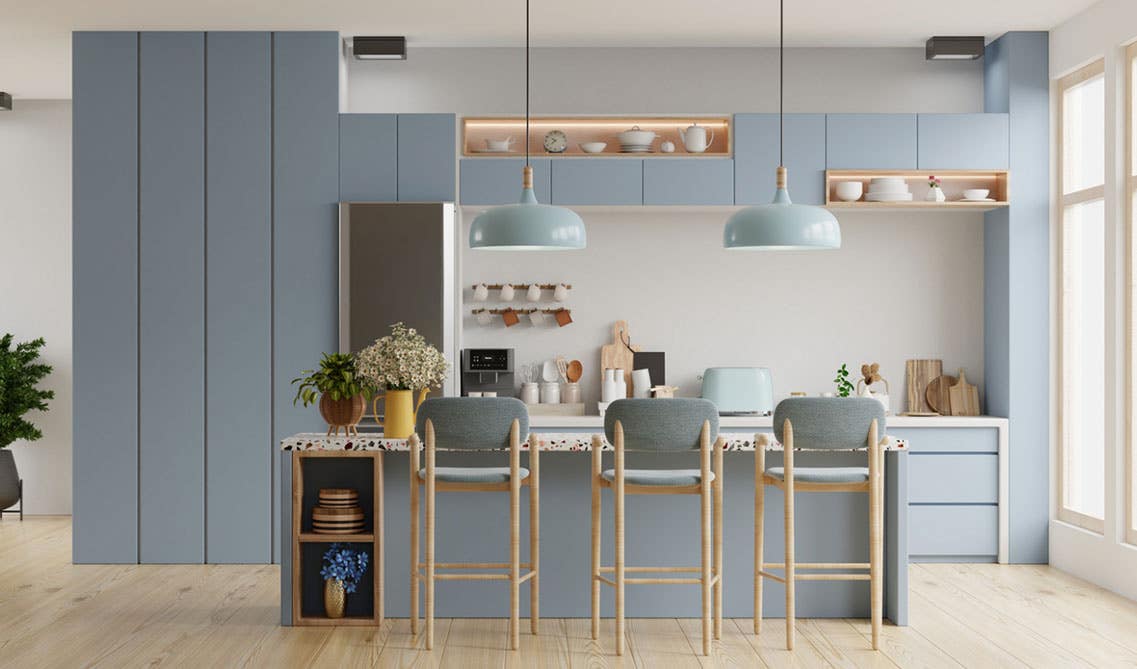 Create a serene and spa-like atmosphere with pale blue-gray cabinets and white quartz countertops. Incorporate plenty of natural light and greenery for a tranquil vibe.
12. Wide Ranging Expression
: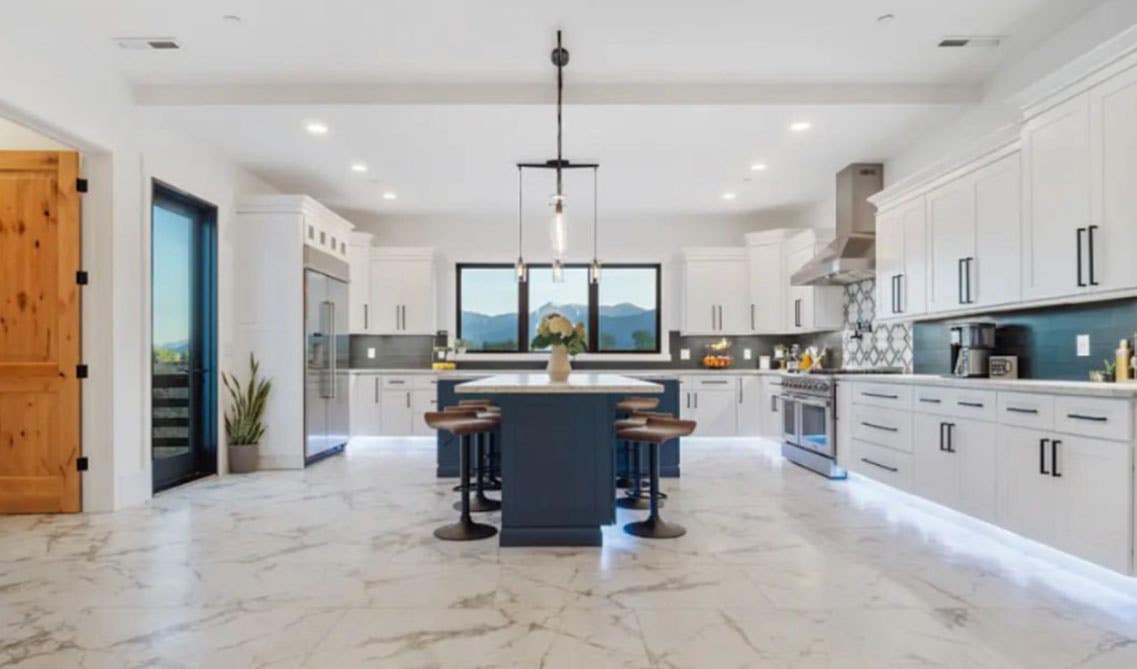 Combine various shades of blue and white to create an eclectic kitchen that's uniquely yours. Mix patterns, textures, and styles for a vibrant and personalized space.
The key to a successful blue and white kitchen is balance. Experiment with different shades, textures, and materials to achieve the look that suits your style and personality best. Please chat with one of our experts through Lily Ann Live, or check out the free 3D design of your own kitchen if you need assistance planning the remodeling of your kitchen!
Related Blog: