Are you looking for a bold way to update your kitchen? Navy blue kitchen design is the perfect way to create a timeless and classic look. From navy blue cabinets to a full navy blue kitchen, there are plenty of options to choose from. In this blog post, we will explore eight different navy blue kitchen ideas to help you create the perfect navy blue kitchen design. With the help of navy blue cabinets, navy blue appliances, and navy blue countertops, you can create a striking and sophisticated kitchen. Let's take a look at the eight navy blue kitchen ideas!
1) Pair With Brass or Copper Hardware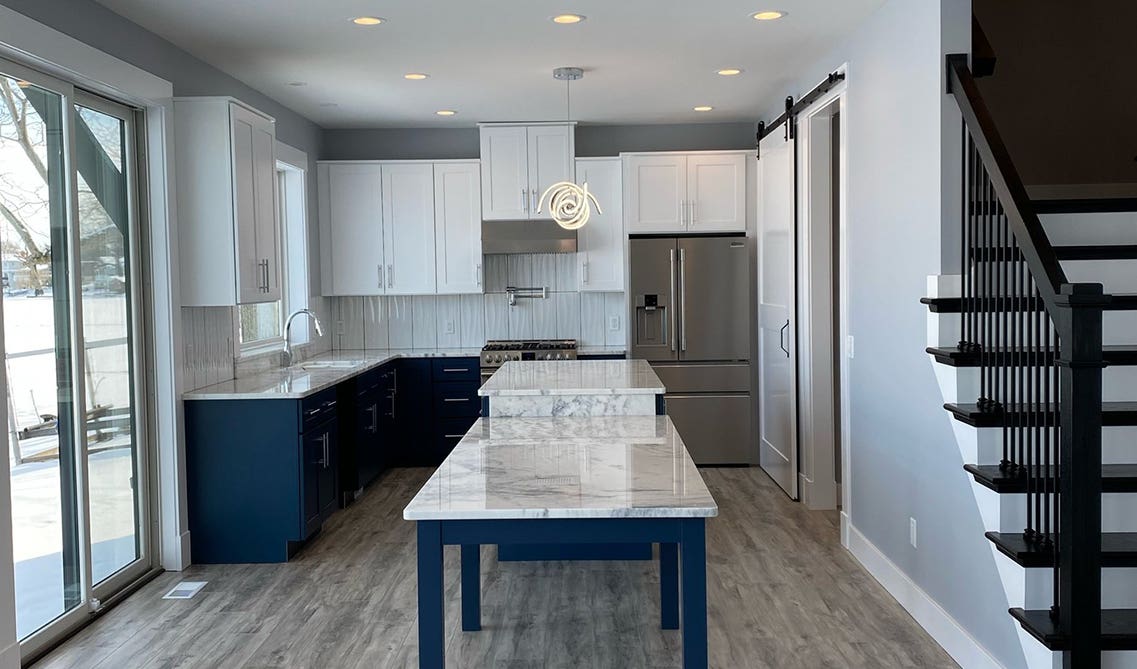 Navy blue kitchen design ideas can be made even more stylish and eye-catching when you pair them with brass or copper hardware. Statement copper and brass pulls and knobs are a great way to bring warmth to your navy blue cabinets or walls. The red and yellow tones in copper and brass both complement and contrast beautifully with deep blues and purples, creating a bold yet sophisticated look. With modern hardware paired with classic navy blue shaker cabinets, you'll have an impressive contemporary design that will stand out from the crowd.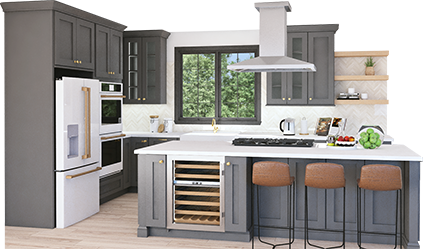 Get your FREE 3D kitchen design today!
Start Now
2) Create Contrast With White Countertops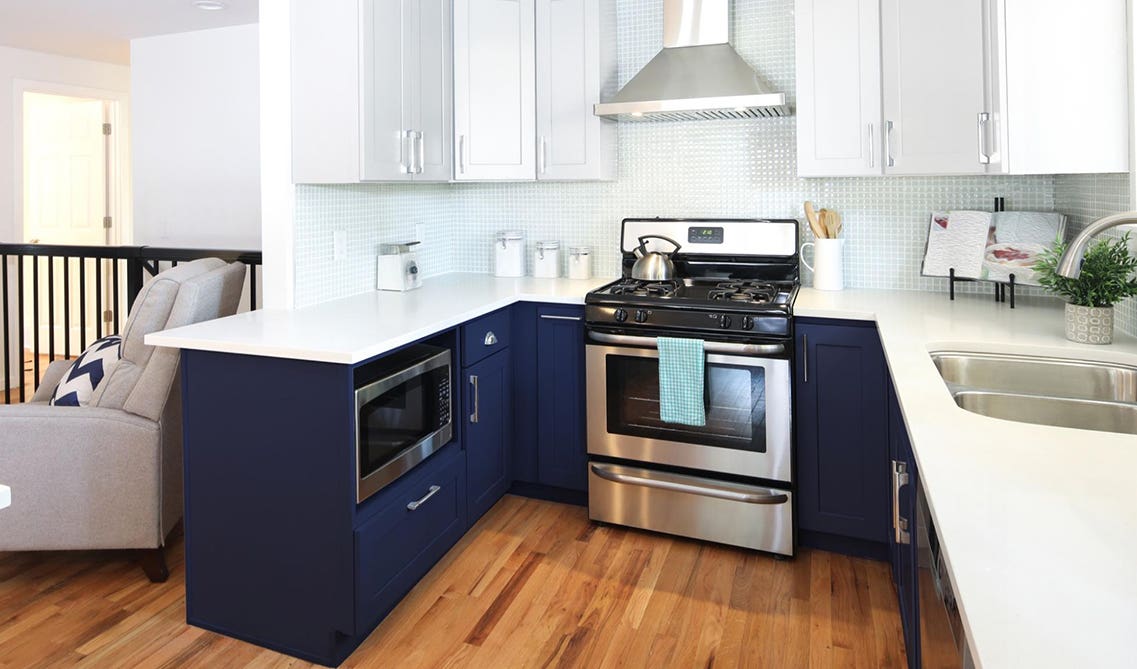 When it comes to navy blue kitchen design ideas, consider creating contrast with white countertops. White countertops provide a great way to balance the darker navy hues in the room and add dimension to the design. Whether you choose marble, granite, or quartz, white countertops are sure to elevate the look of your navy blue kitchen. They also pair perfectly with metal finishes such as brass or copper hardware, providing another layer of contrast to the space.
Also Read: The Top 6 Kitchen Countertop Design Trends
3) Two-Tone Cabinets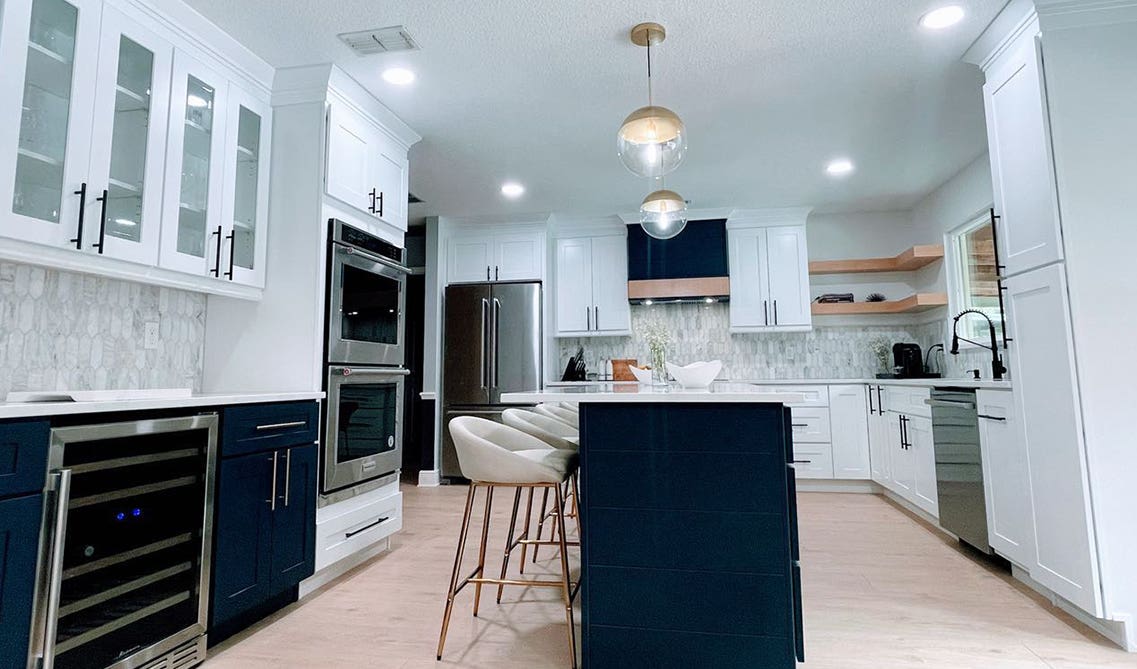 A two-tone navy blue kitchen design is a great way to add some flair and drama to your space. By using a combination of navy blue lowers and uppers, like white or taupe, you can create a stunning contrast that will elevate your kitchen design. Navy blue lower cabinets can be paired with white or taupe upper cabinets, adding some visual interest and height to the room. Alternatively, you can also opt for white or taupe lower cabinets with navy blue upper cabinets, creating a more subtle yet striking look.
Also Read: Get the Two Toned Cabinets Look | Creative Tips & Photos

4) Pair With Subway Tile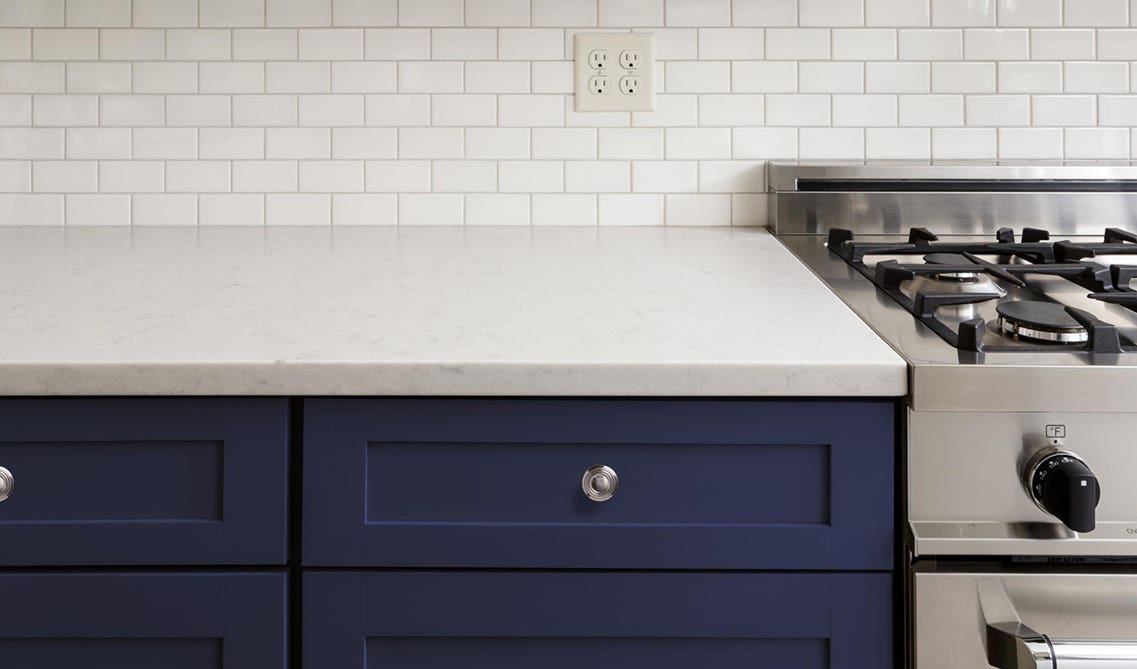 Subway tile is a classic kitchen backsplash that pairs perfectly with navy blue kitchen design ideas. Whether you opt for white subway tiles or choose to add an accent color, like a darker blue, they create a timeless and contemporary look. For an extra pop of color, use blue subway tile to accentuate your navy blue cabinets, like these Lily Ann cabinets. This will add a sense of depth and texture to your navy blue kitchen, making it truly stand out.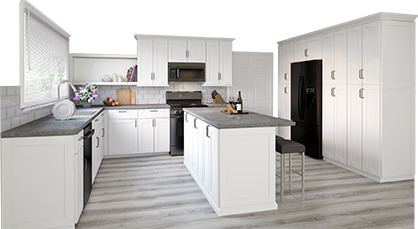 3D Kitchen Visualizer Tool
Bring your dream kitchen to life with our free kitchen visualizer!
Design Now
5) Add An Accent Color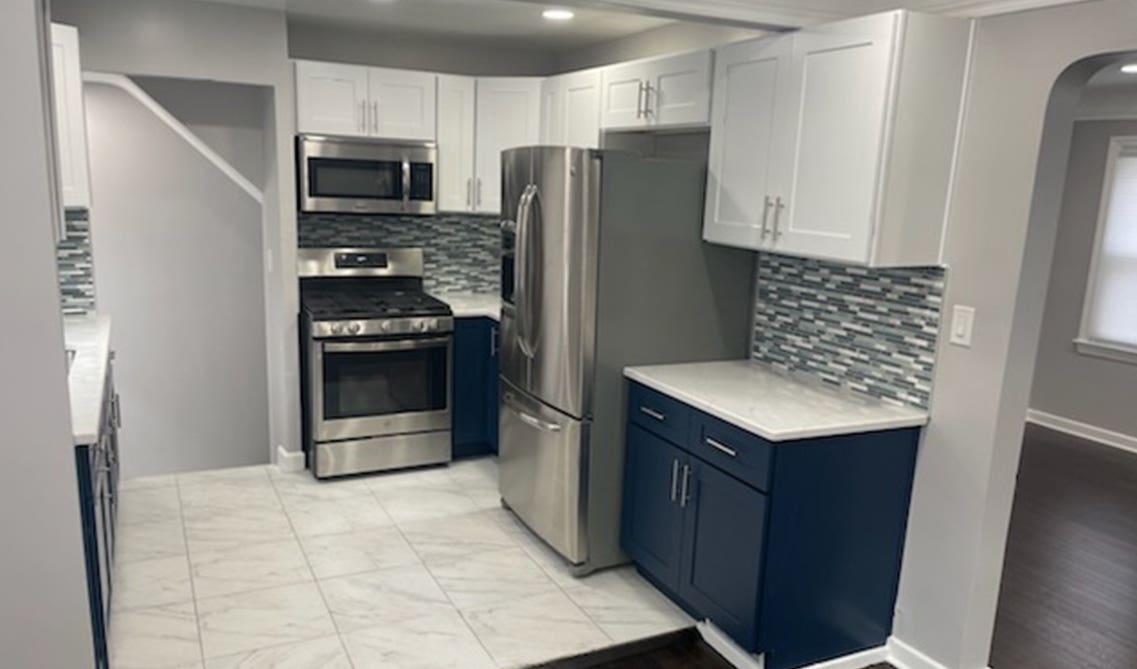 If you want to add a bit of personality to your navy blue kitchen, consider adding an accent color. Accent colors for navy blue can range from bright and vibrant hues to softer, pastel shades. Bright yellows and oranges can bring a pop of fun and energy to the room while pastels such as baby blues, lavenders, and pinks will help to soften the look. You can choose one or two colors that complement each other and then incorporate them into your kitchen with accessories or even a backsplash. You could also choose to add an accent wall in one of the accent colors. Doing so will help tie the look together and give your kitchen a unique and personalized style.
Also Read: Top 8 Kitchen Accent Wall Color Ideas That Can Light Up Any Kitchen

6) Dramatic Statement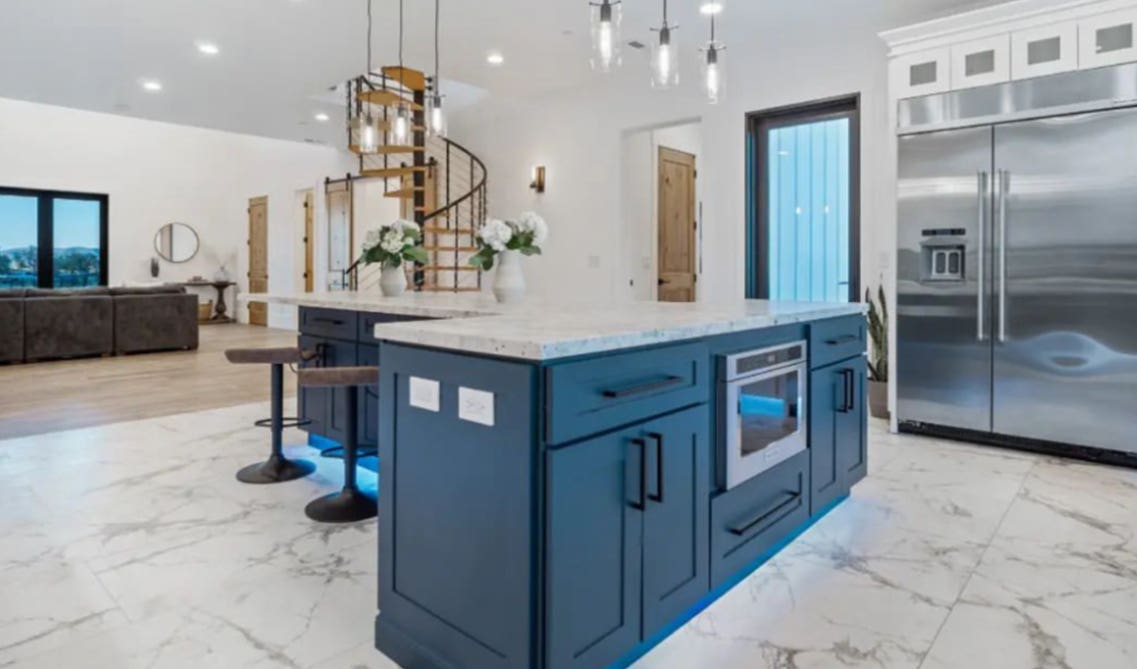 Make a bold statement in your kitchen by using navy blue color for the kitchen cabinets. Dark blue cabinets can help to add depth to any kitchen and create a focal point within the space. You can choose to use the same tone throughout or combine it with lighter shades of blue or white to create contrast and highlight the navy blue. You can also pair the navy blue color kitchen cabinets with hardware and lighting that accentuate the color and give your kitchen an air of sophistication.
7) Use Different Hues of Blue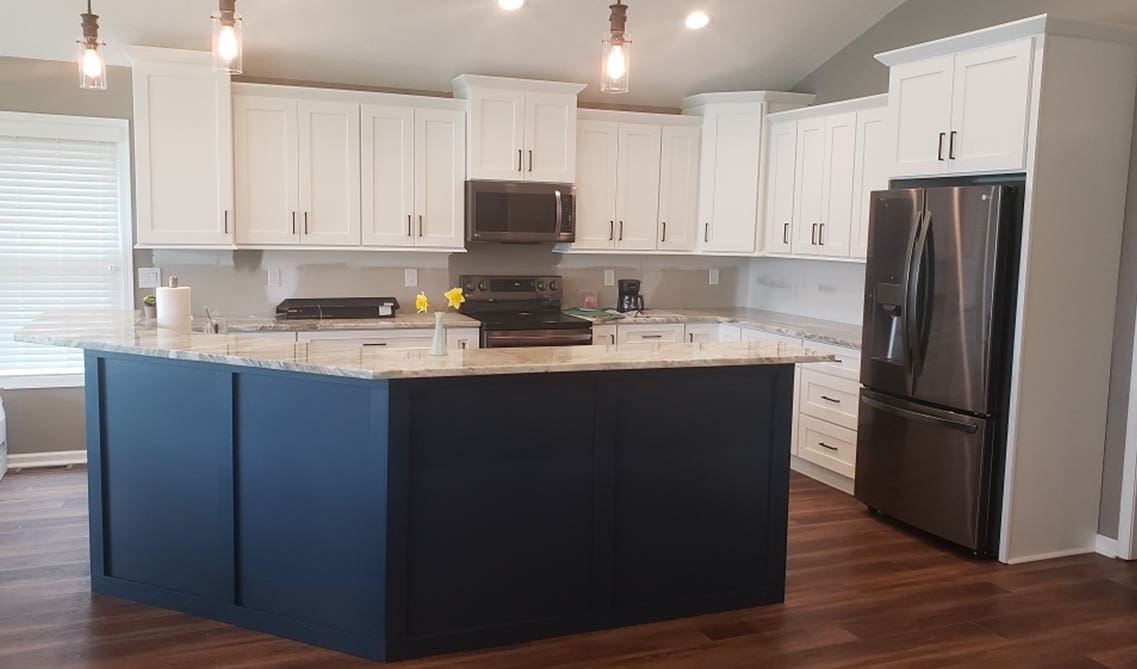 Using multiple hues of navy blue for your kitchen design is a great way to create a bold, statement-making look. This could be achieved by combining shades of navy blue and white, or by pairing navy with other colors like blues or grays. There are countless navy blue kitchen design ideas that you can use to achieve this look. For example, you could use different shades of navy blue on different cabinets, or you could use white as an accent color against a backdrop of navy blue cabinets. You could also combine light and dark shades of navy blue to create a two-tone design, or use navy blue on the upper cabinets and white on the lower ones. Navy blue pairs beautifully with other natural materials too, such as marble countertops, wooden accents, and brass or copper hardware. No matter what your style is, using different hues of navy blue in your kitchen design is sure to make it stand out.
Also Read: Navy Is The New Black! All The Perks Of Navy Cabinets

8) Pair With Natural Colors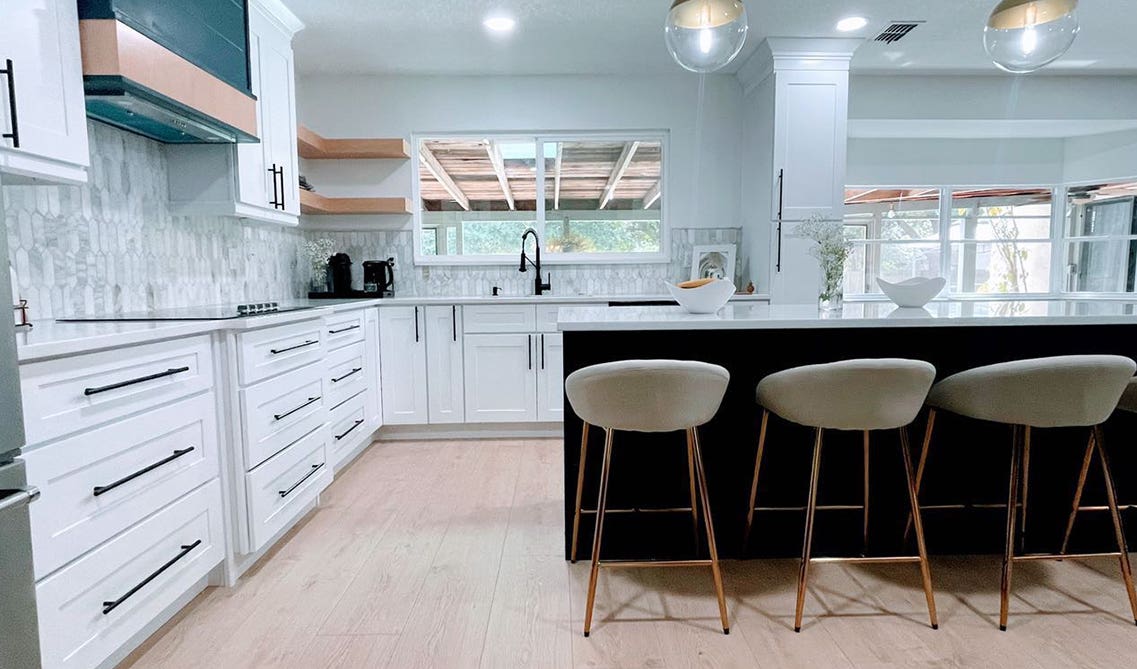 If you're looking to create a calm, soothing atmosphere with your navy blue kitchen design ideas, then adding natural colors is the way to go. Accent colors for navy blue can include wood tones such as light oak, or creamy beiges and whites. This will bring an air of warmth and comfort to your kitchen, creating a cozy yet sophisticated atmosphere. You can also use natural materials such as bamboo or rattan to bring a natural, organic feel to the space. Adding these elements will also add texture and depth to your blue color kitchen cabinets.
FAQ
1. What color goes with navy blue kitchen?
Natural hues and accent colors are beautiful colors that go well with blue kitchens.
2. What color countertop goes with blue cabinets?
A popular color countertop that goes with blue cabinets is white.
3. What Hardware Looks Best On Navy Blue Kitchen Cabinets?
The color hardware that looks the best on navy blue cabinets is brass or copper.