Bold is in! Navy blue kitchen cabinets are a hit in kitchen design in 2023. Keep reading to learn more about this attention-grabbing design trend.
Navy blue is a classic color that is both timeless and sophisticated. A relative of black, navy adds just a hint of mystery and intrigue that isn't found in its much-darker cousin. The deep rich hue punctuates depth into any kitchen and complements a variety of colors, making it the perfect accent to backsplashes, countertops, or walls. Not only is it versatile, but it's a color that will remain stylish for years to come.
Lily Ann Cabinets Navy Blue Shaker cabinets are a stylish and versatile option for any kitchen design. These cabinets combine the classic shaker style with a bold and sophisticated navy blue color, creating a modern and elegant look that is sure to impress.
Figuring out which accent colors complement it best, the perfect finishes to pair navy kitchen cabinets with, and other considerations are all important things to take into account when designing your dream kitchen.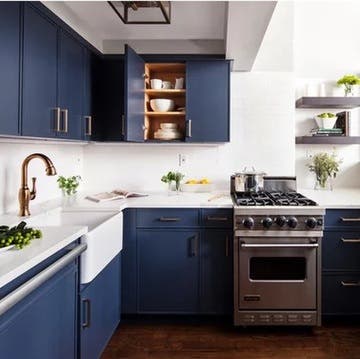 Source: Palette Pro Painting & Renovation on Houzz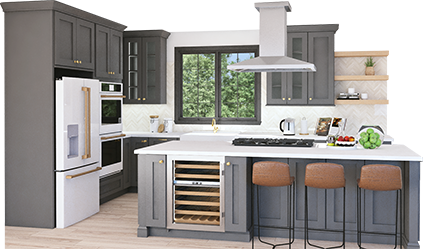 Get your FREE 3D kitchen design today!
Start Now
The Benefits Of Navy Blue Cabinets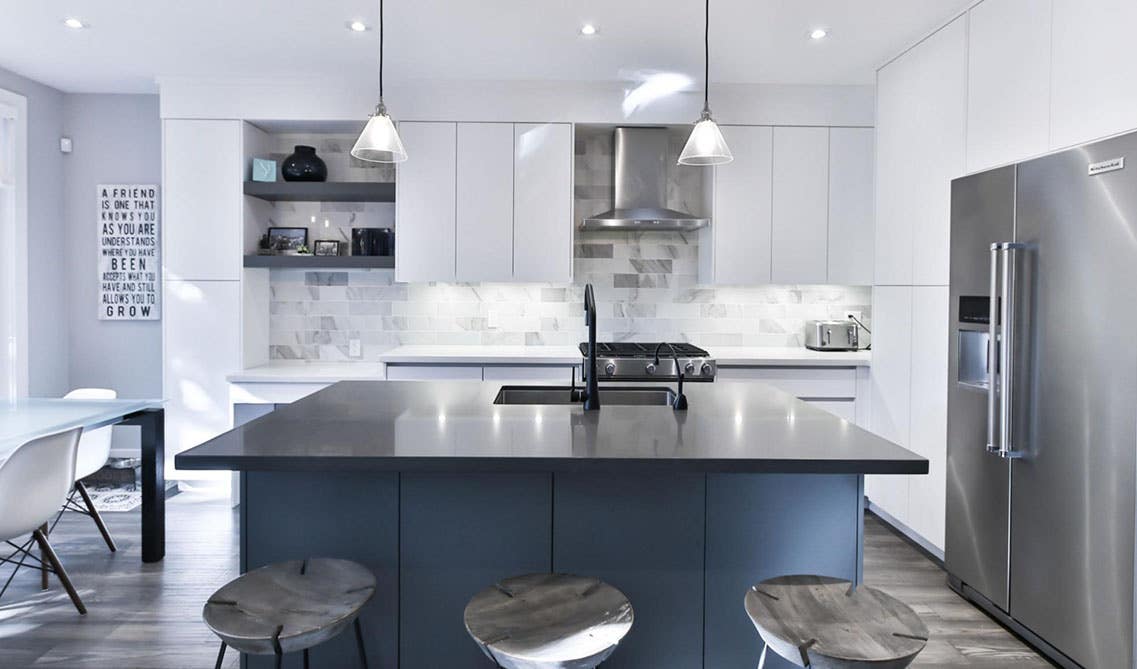 Let's start off by talking about all the benefits of navy cabinets. The most important thing to remember is that navy is, as we mentioned, a timeless color. It's practical in its longevity, as it will never go out of style. It can mesh with any trend, and if you end up selling your home in the future, it will be a valuable addition to potential buyers.
It's also a shade that works well in everyday life, whatever that may entail for you. Kitchens are notorious for a few things: messes, socializing, and comfort. Navy blue cabinets offer a pristine, classy look while feeling homey and comfortable. Kitchens take a lot of abuse in the form of banging pots and pans, spills, broken dishes, smoke, food splashing, and more. Navy blue cabinets are the perfect shade to help hide some of that mess. Unlike white cabinets, you won't see every scuff, mark, and spill on the cabinet doors.
When upgrading your kitchen or building your dream home, it's important to weigh your options, but it's as equally as important not to fall into the trap of the latest and hottest trends. What's here one season and gone the next could actually equate to thousands of dollars spent and time wasted. Navy is a color that never goes out of style. It doesn't matter if it's a year from now, five years, or 20 years! Navy blue kitchen cabinets will still be favored no matter what.
choosing Navy Blue Shaker cabinets from Lily Ann Cabinets is the high-quality construction and materials. These cabinets are made from solid wood, ensuring durability and longevity. Additionally, the shaker style features clean lines and simple details that add a touch of elegance to any kitchen design.
And if you decide that a refresh or an update is necessary, navy blue pairs with various accents and designs.
Want to go the gold route?
You can change the paint color of your walls to a more neutral color (think white or off-white) and add gold handles and accents for a brand-new look.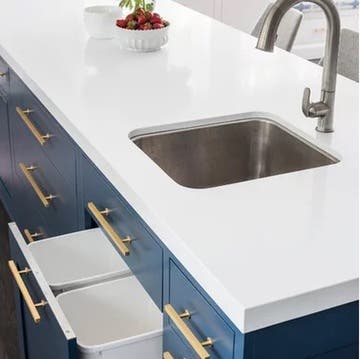 Source: Studio Dearborn on Houzz
Here's an example of a beautiful kitchen with thick, long-handled gold hardware. A simple change like this could create a whole new look in your space.
Paired with a variety of materials and colors
Navy blue kitchen cabinets are a great choice because it is a bold and versatile color that can be paired with a variety of materials and colors. For example, you can pair navy blue shaker cabinets with white or light-colored countertops and backsplashes for a fresh and bright look. You can also pair them with natural wood elements, such as a wood floor or wood ceiling, for a warm and inviting feel.
Go All The Way With Blue Kitchen Cabinet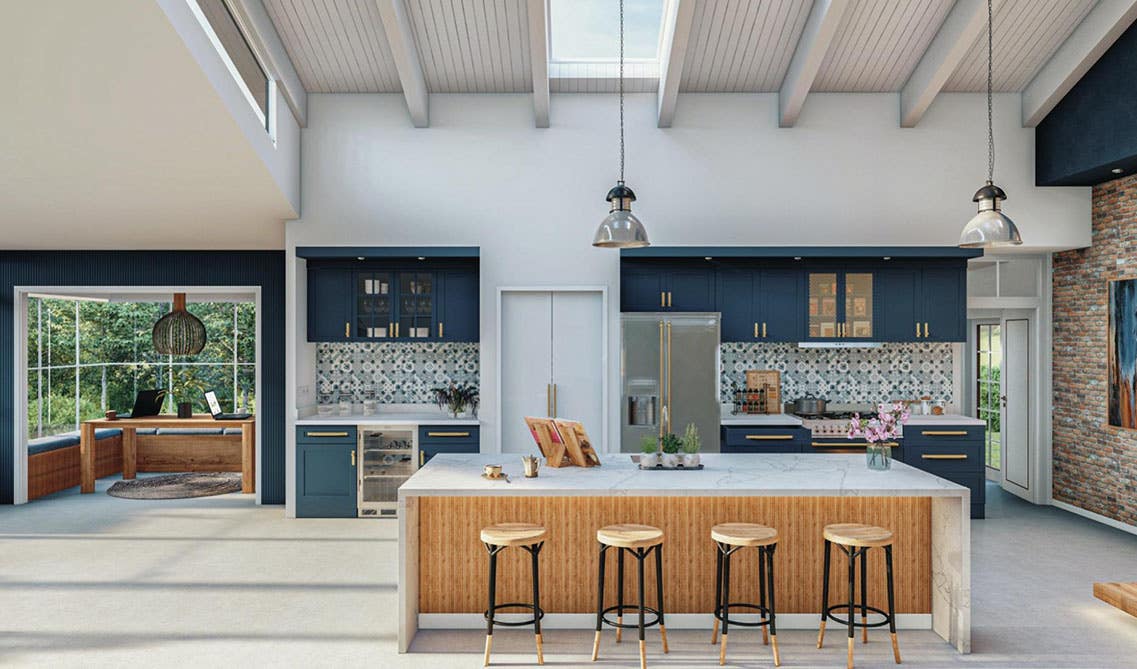 Use blue cabinets as a statement piece by pairing them with neutral-colored walls, countertops, and backsplashes. This allows the blue cabinets to stand out and become the focal point of the kitchen. Mix and match different shades of blue for a playful and eclectic look. For example, pair light blue cabinets with navy blue walls and a sky blue backsplash.
Coastal-inspired Kitchens are in!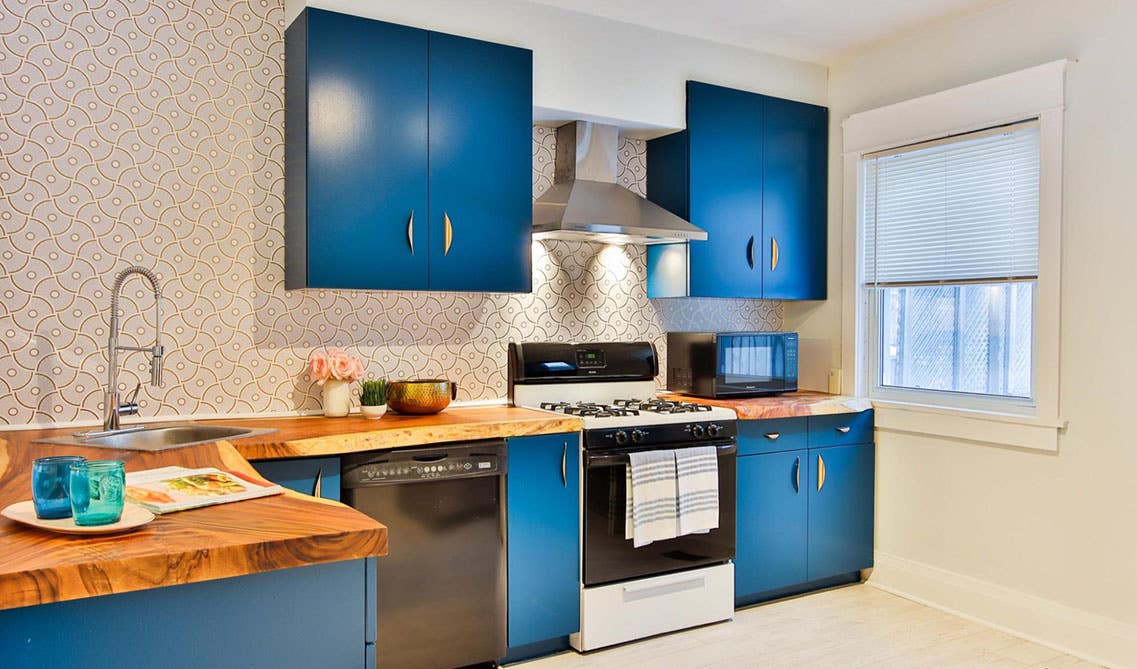 Create a coastal-inspired kitchen by pairing blue cabinets with white or light-colored countertops and backsplashes. Add natural wood elements, such as a wood floor or wood ceiling, to complete the look.
Add a Pop of Color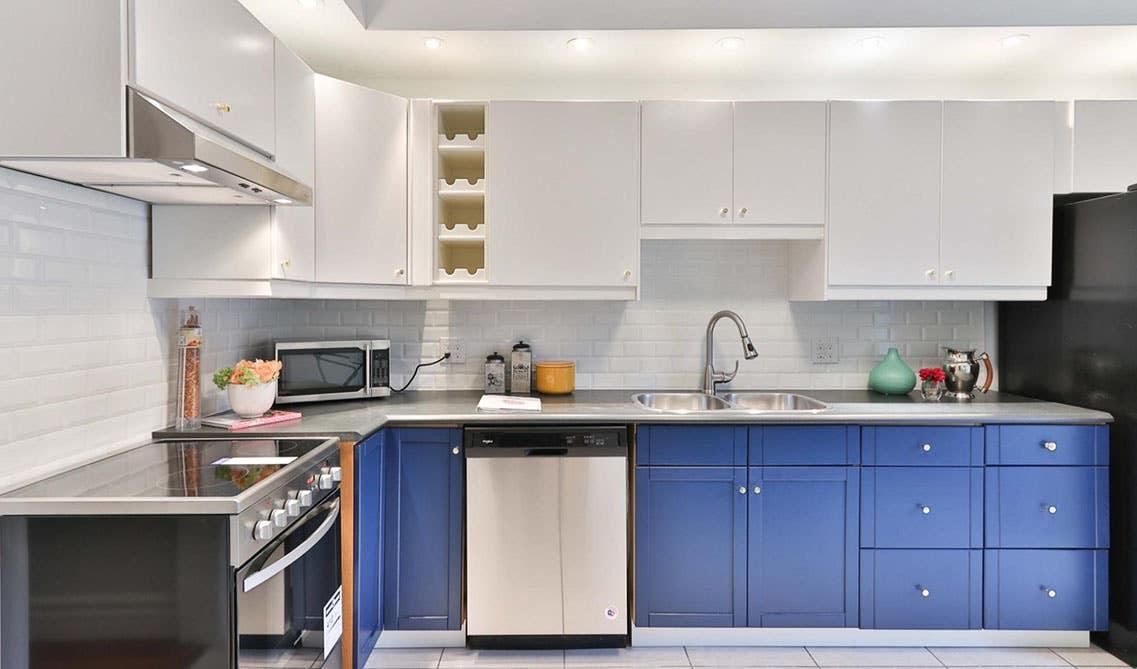 Use blue kitchen cabinet ideas to add a pop of color to an otherwise neutral kitchen. For example, pair white cabinets with blue upper cabinets or blue lower cabinets with white upper cabinets.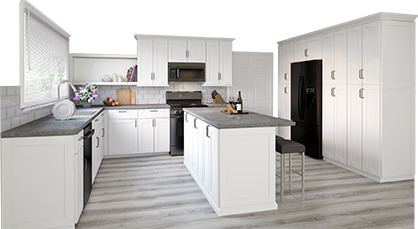 3D Kitchen Visualizer Tool
Bring your dream kitchen to life with our free kitchen visualizer!
Design Now
Best Accent Colors for Navy Kitchen Cabinets
First, you need to make sure you're selecting the right color blue for your intended design. Do you want a deep and moody blue that looks great with brass accents? Or would you prefer a velvety, soft blue that is crisp against white walls and a white and gray marble countertop?
It's all about figuring out what look is best for you. A navy that has more grey in it would pair well with silver or black accents, while a navy with more green undertones would work well with white and gold accents.
Some colors fall between navy and medium blue, providing an energetic and vibrant style to your kitchen walls. A color like that, for example, would pair well with floral wallpaper or bolder paints than just white. It would be a great option for someone that's not afraid of a little color and wants to make their kitchen a focal point of the house! Lily Ann's Navy Shaker cabinets are the perfect rich hue that pairs well with any style you'd like.
Once you have your blue picked out, it's time to pay attention to the rest of the kitchen. Lucky for you, navy blue goes with a variety of styles, colors, and accents. It looks absolutely stunning and eye-catching next to white, off-white, or cream walls, yet looks equally as good next to a lightly patterned navy and white wallpaper or tile as well. The hue works well with woods, stainless steel, and shades of grey as well. If you can think it, it probably matches it!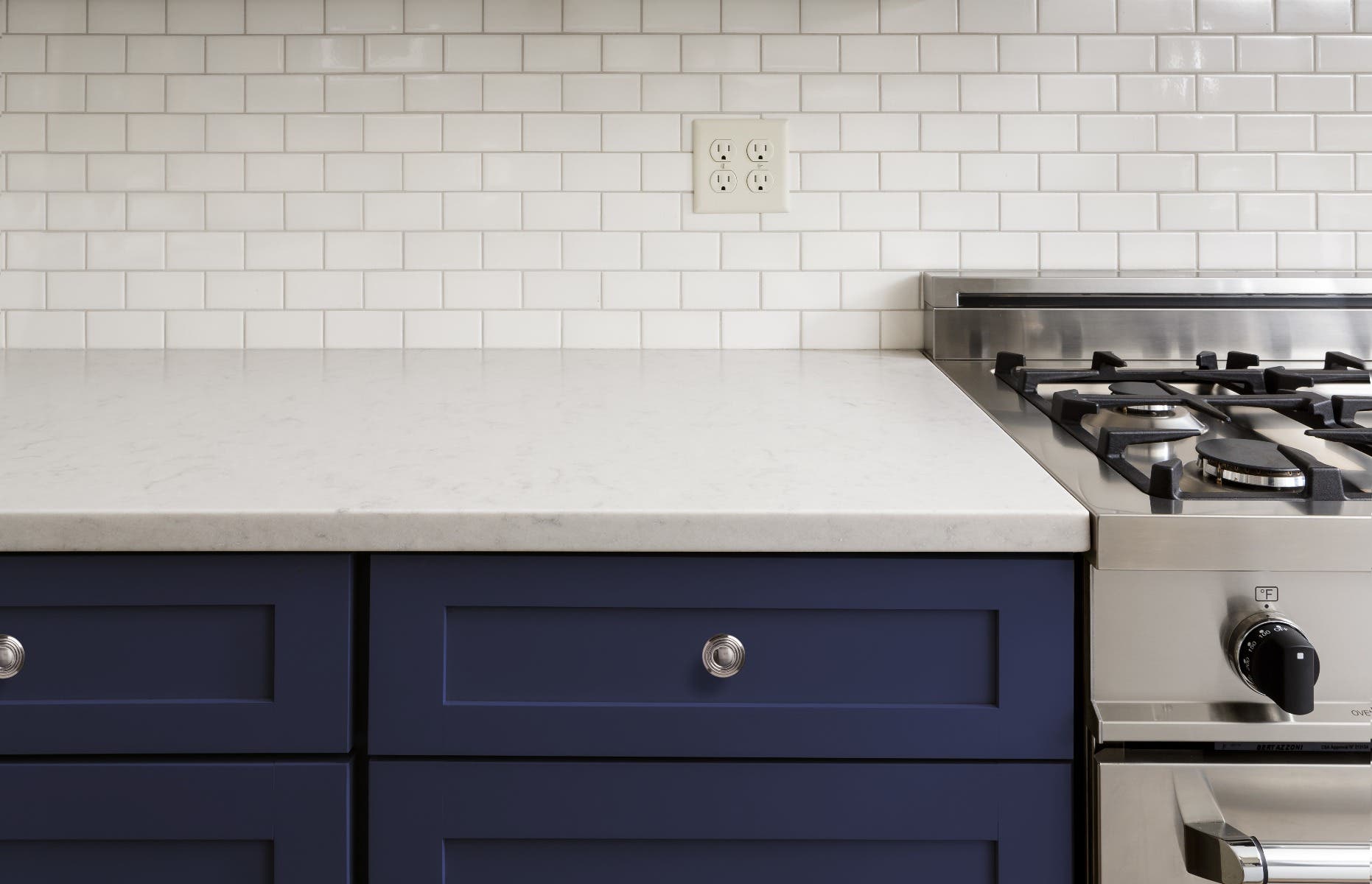 Lily Ann Cabinets' Navy Blue Shaker cabinets
Here's an example of navy blue kitchen cabinets next to a beautiful glossy white subway tile, a white and grey marble countertop, stainless steel appliances, and silver hardware. The blue pairs perfectly with each and every part of the kitchen, and the color instantly pops.
One of the most prominent trends today – and one we've already mentioned in this article – is gold hardware. These two shades are an absolute dream together. You can pick knobs, inserts, drawer pulls, lights, sinks, and more to create a luxurious, gorgeous look in your kitchen.
Best Finishes to Pair With Navy Cabinets
Navy blue cabinets look incredibly sophisticated with either a matte or glossy finish. A more formal cabinet style with a navy finish will take on a classy and elegant look, while an understated matte navy will provide a rustic or classic farmhouse feel.
Another thing to consider would be mixing your navy blue kitchen cabinets with another, more neutral color like white cabinets for an interesting, eclectic look.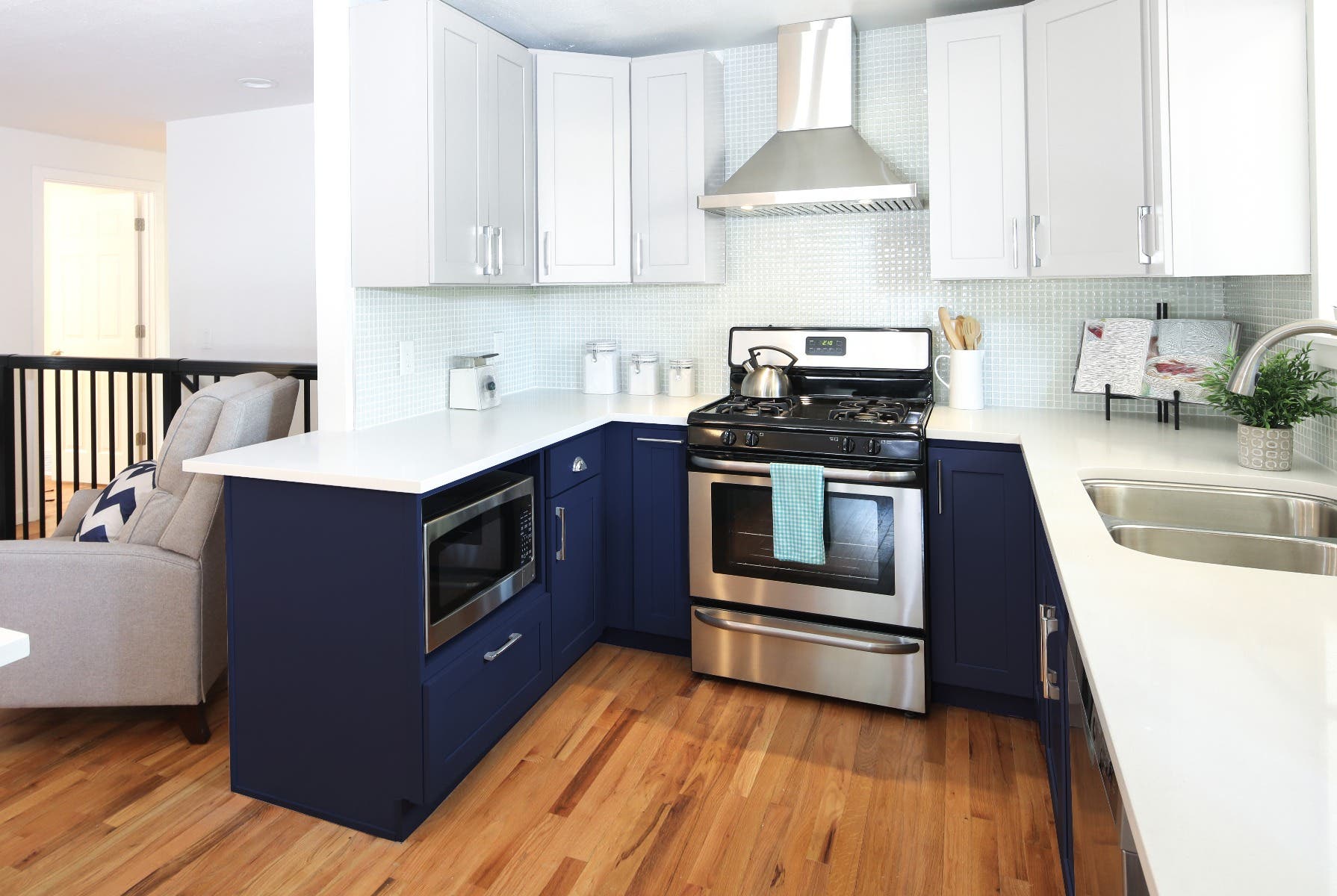 Lily Ann Cabinets' Navy Blue Shaker cabinets
In this picture, you can see that the navy kitchen cabinets are paired with Lily Ann Cabinets' crisp white shaker cabinets. The pop of color creates a dynamic and lively "punch," while still making the kitchen look classy and stylish.
For your cabinets, the hardware can be a variety of colors, sheens, sizes, and more. Navy blue cabinets pair perfectly with marble countertops, yet they're still adaptable enough to work with both polished, clean lines and colors and rustic, dark wooden accents as well.
Maybe you don't want to commit to a full kitchen of navy quite yet. But even a splash of color, say on your kitchen island, provides a subtle hint of boldness.
Lily Ann Cabinets' Navy Blue Shaker cabinets
Check out this kitchen. Here, the homeowners decided to stick with navy blue kitchen cabinets on just their island. It creates the perfect color burst, drawing your eye to it and making it the focal point of the room. Not only does it look clean, polished, and sophisticated, but it also shows creativity.
Whether you have a country home, a tiny apartment, or a gorgeous condo, navy blue is the perfect color for a number of reasons. A timeless color that can take on any style, it provides not only versatility but also beauty.
Size and layout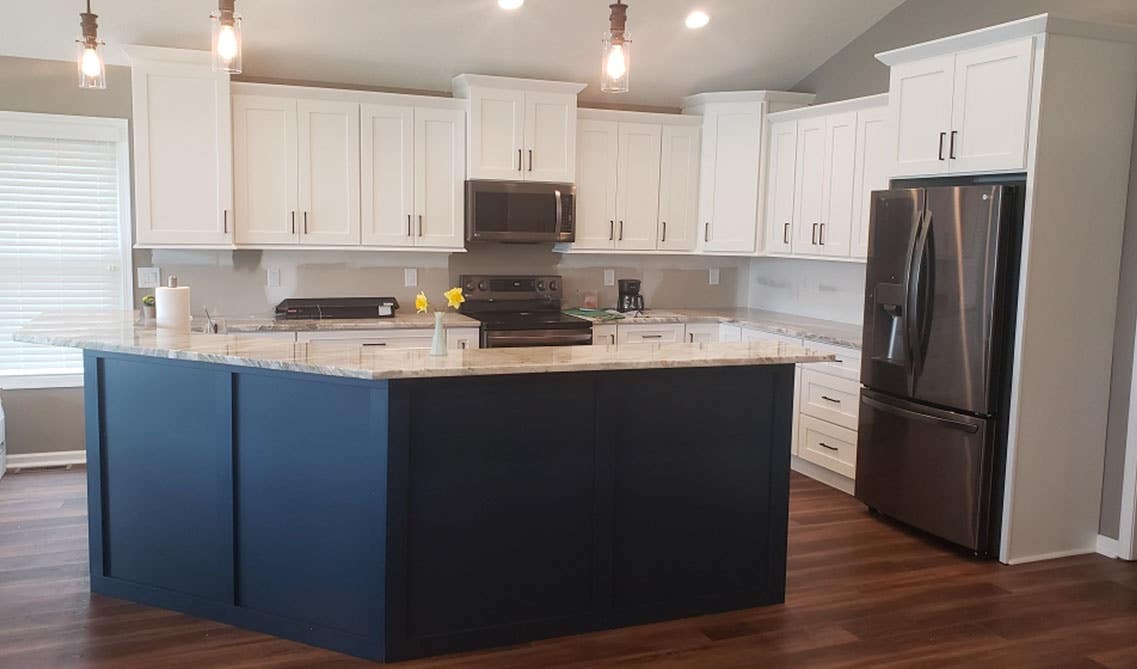 When choosing navy blue shaker cabinets, it's important to consider the size and layout of your kitchen, as well as your personal style preferences. You may also want to consult with a professional designer or contractor to ensure that your kitchen design is functional, practical, and aesthetically pleasing.
In addition to their stylish appearance, Lily Ann Cabinets Navy Blue Shaker cabinets are also functional and practical. The shaker style features a simple and functional design that is easy to clean and maintain. Additionally, the solid wood construction ensures that the cabinets can withstand daily wear and tear.
Shop Discounted Navy Blue Kitchen Cabinets At Lily Ann
Lily Ann Cabinets has recently released a Navy Blue Shaker kitchen cabinet line, complete with a gorgeous deep blue color that is absolutely stunning with a number of accents and finishes. Made of birch, the door is a full overlay flat panel and fully engineered. The cabinet interior is a natural UV-coated finish, with a matching exterior finish. The cabinets are perfect for any kitchen, as they offer a soft close hinge and dovetail construction.
Lily Ann makes it easy to shop too, offering free samples so you can see in person before you buy what navy blue can do for your home.
Not sure where to start? Lily Ann's expert home designers are on standby to help you create the kitchen of your dreams. Get a FREE 3D design today!
FAQ
1. Are blue cabinets in style 2023?
Blue cabinets are a growing style in 2023. Especially in coastal or beachside homes to make you feel as though you live on the beach! 
2. Where to buy blue kitchen cabinets?
Lily Ann Cabinets offers a beautiful Navy Blue Shaker that is always in stock and is 50% off big box stores. 
3. What color hardware looks better for blue cabinets?
The best looking hardware for blue kitchen cabinets is matte black or silver. 
4. What countertop is best with blue cabinets?
A white marble or quartz countertop looks best with blue cabinets.