Are you considering adding some color to your kitchen? Sage green kitchen cabinets are the perfect way to add a subtle yet stylish touch to your home.
Whether you are looking for a fresh and modern look, or something more traditional, a sage green cabinet kitchen can help you get the look you want. With a variety of styles and finishes, there are plenty of ways to incorporate this timeless hue into your kitchen remodel. Here are 10 ways to make sage green kitchen cabinets work in your home.
1. Go Bold with Black
If you want to make a bold statement with your sage green kitchen cabinets, opt for black hardware and accents. Combining the two colors creates a modern, eye-catching look. Consider using black on the knobs and pulls of your sage green cabinets, or install black appliances or countertops. You can also add a few modern sage green kitchen cabinets to your existing decor. Doing so will allow you to transition between traditional and contemporary looks seamlessly. Finally, adding black to your sage green cabinets will provide more contrast and visual interest, making them stand out even more in your kitchen.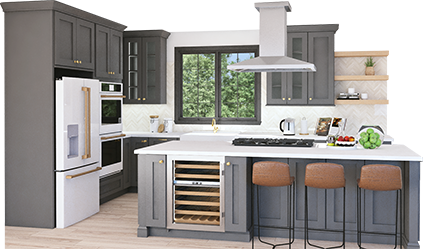 Get your FREE 3D kitchen design today!
Start Now
2. Try Farmhouse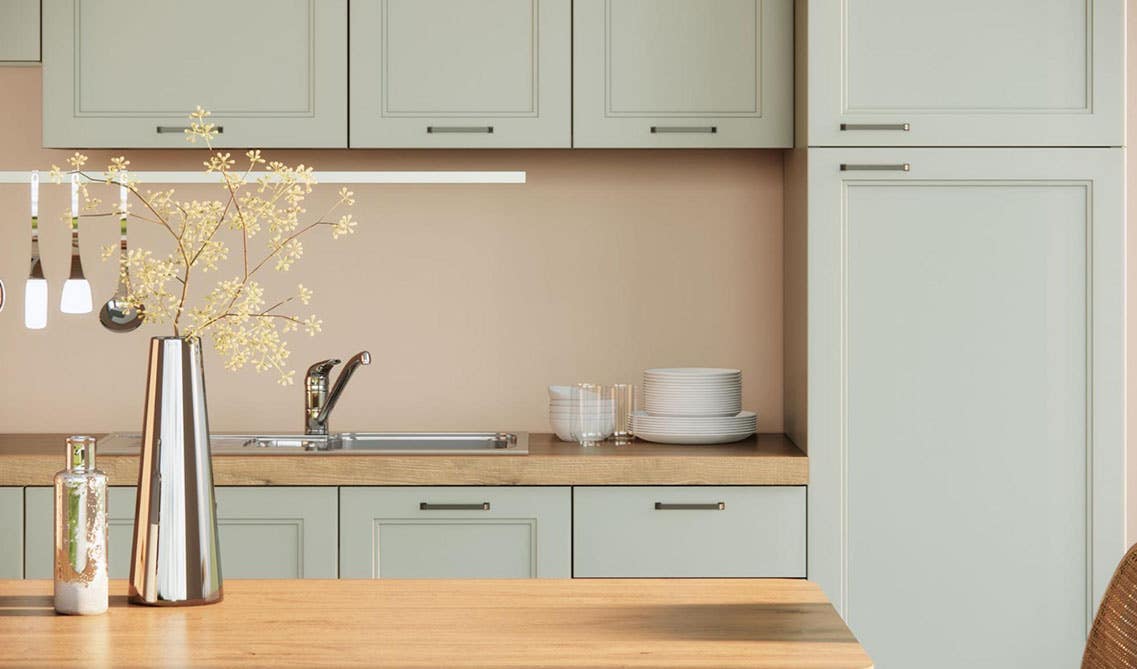 If you want to give your kitchen a homey, classic vibe, opt for farmhouse sage green kitchen cabinets. This color looks beautiful against neutral walls and light countertops, making your space feel fresh and inviting.
You can accessorize your farmhouse sage green kitchen cabinets with stainless steel appliances to add a modern twist. Additionally, try adding simple yet elegant open shelves or distressed wood accents to give your kitchen an extra cozy feel. Consider adding a few plants to the space to further bring out the sage green hue in your cabinets and brighten up the room. With the right touches, your farmhouse kitchen cabinets will turn your dream kitchen into a reality.
Checkout:12 Gorgeous Farmhouse Kitchen Cabinets Design Ideas
3. Bring in Natural Elements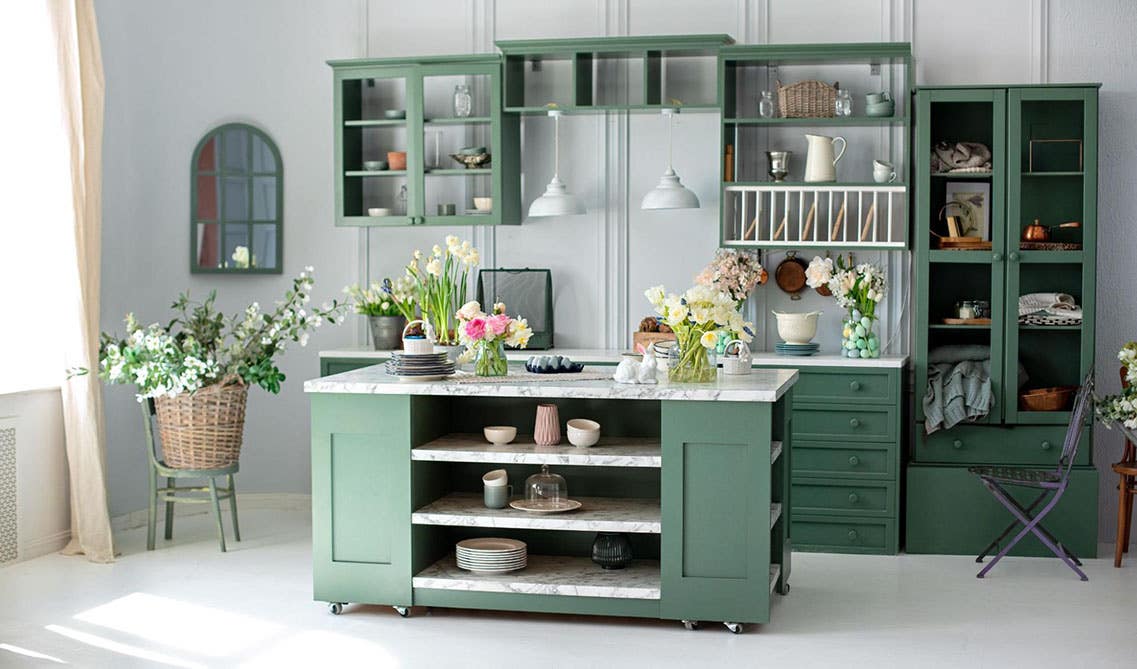 Natural elements, such as wood, stone, and plants, can complement the soft green color of sage and make your kitchen feel more welcoming and inviting. For example, you can add wood accents, such as a wood kitchen island or wood shelving, to create a warm and organic feel. You can also use natural stone, such as marble or granite, for your countertops or backsplash to create a luxurious and timeless look. Additionally, incorporating plants and flowers can add a pop of color and bring life and freshness to your kitchen. Overall, combining sage green cabinets with natural elements can create a beautiful and harmonious design that is both stylish and functional.
Checkout: The Top 6 Kitchen Countertop Design Trends + More Ideas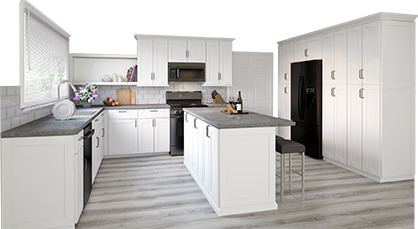 3D Kitchen Visualizer Tool
Bring your dream kitchen to life with our free kitchen visualizer!
Design Now
4. Use Sage Green as an Accent Color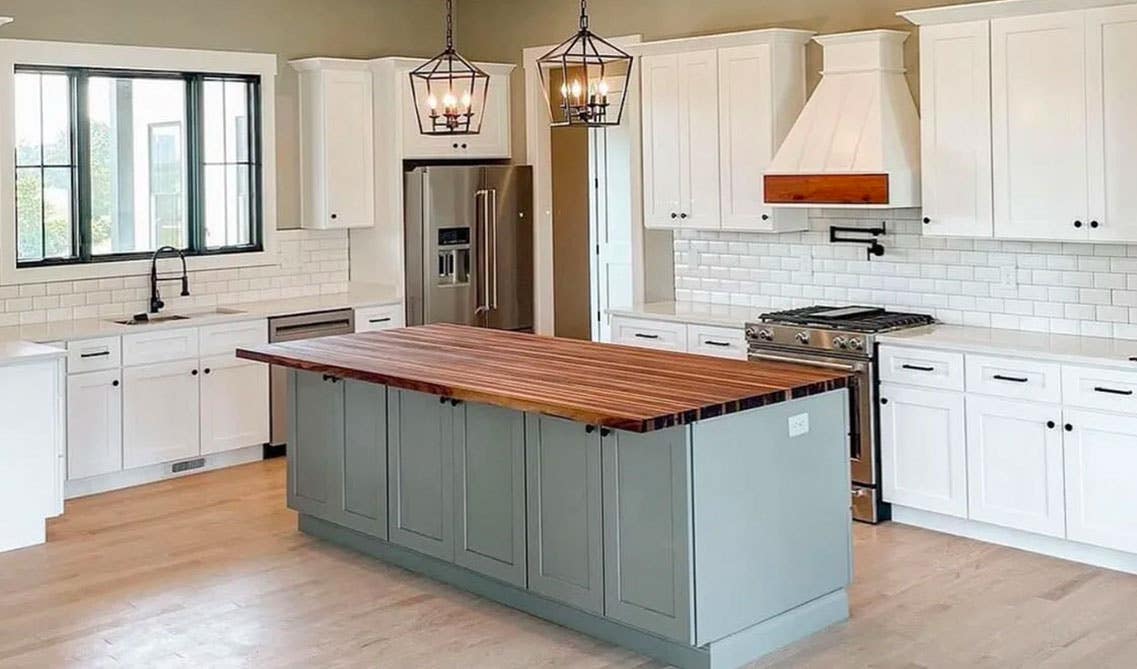 Using sage green cabinets as an accent color is a great way to add a pop of color and create visual interest in your kitchen design. By using sage green on a few cabinets, such as an island or upper cabinets, you can create a focal point and add a touch of warmth and sophistication to your kitchen. This approach works well if you want to incorporate sage green without committing to a full kitchen remodel or prefer a more neutral color palette but still want to add some color to your space.
Checkout: Top 8 Kitchen Accent Wall Color Ideas That Can Light Up Any Kitchen

5. Go Rustic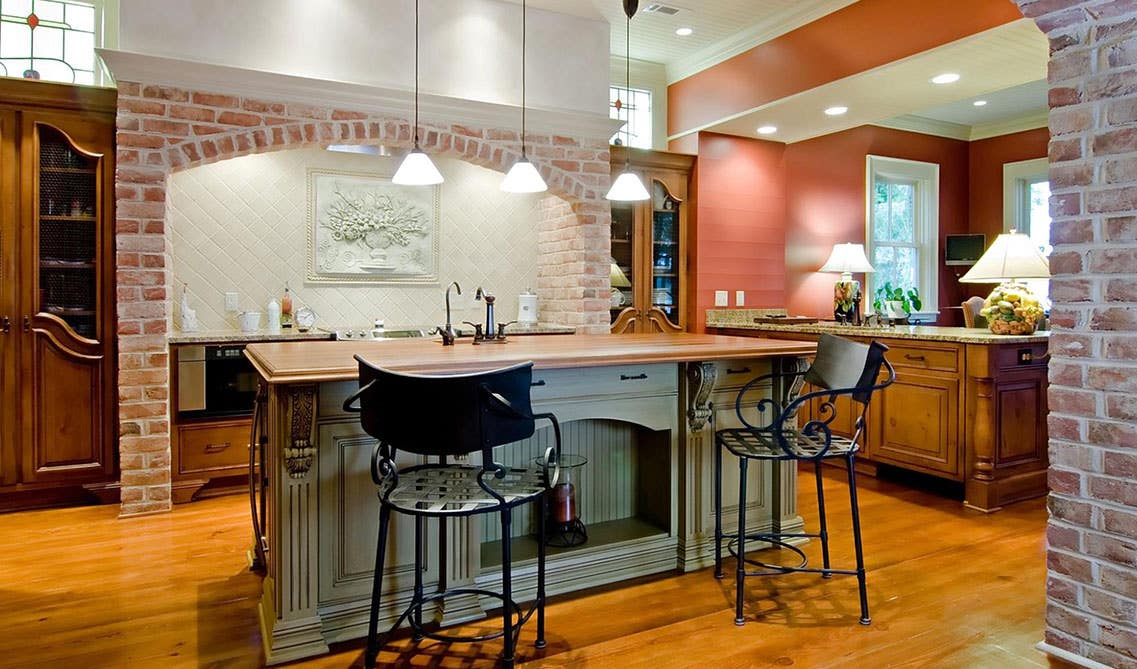 If you're looking for an inviting, warm, and cozy kitchen atmosphere, you may want to consider rustic sage green kitchen cabinets. These cabinets provide a classic look that pairs well with many other rustic decor elements.
Try combining your rustic sage green kitchen cabinets with a distressed wood floor and aged hardware. Consider installing an exposed brick wall or wood beams to complete the rustic look. Rustic sage green kitchen cabinets are versatile, allowing them to blend seamlessly into the rest of your home. With the right materials and accents, you can create a timeless farmhouse look in your kitchen.
Checkout: Guide For The Perfect Rustic Kitchen: 15 Ideas + Tricks

6. Modernize with Stainless Steel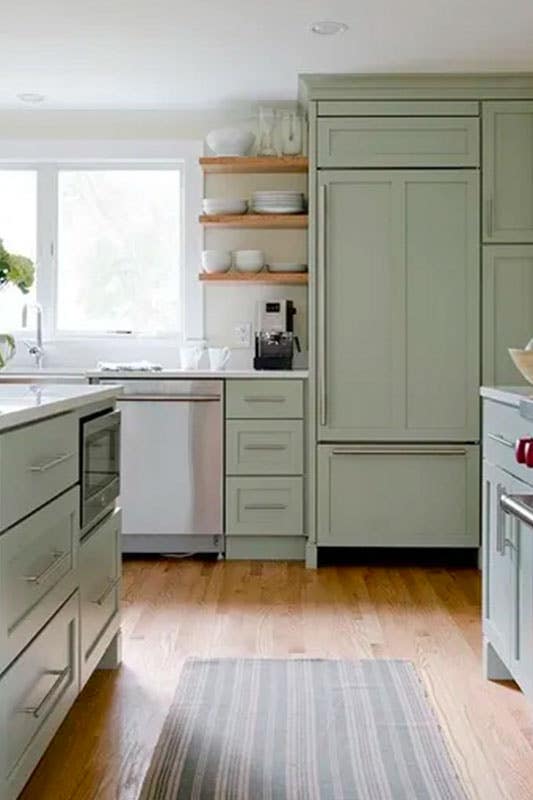 Combining stainless steel with sage green kitchen cabinets is a great way to add a touch of modern sophistication to your kitchen. Stainless steel appliances, fixtures, and hardware can complement the soft green color of sage green kitchen cabinets, creating a sleek and stylish look. The shiny finish of stainless steel can also create a beautiful contrast against the matte finish of a sage green cabinets kitchen, making your space feel more luxurious and elegant.
7. Create Contrast with White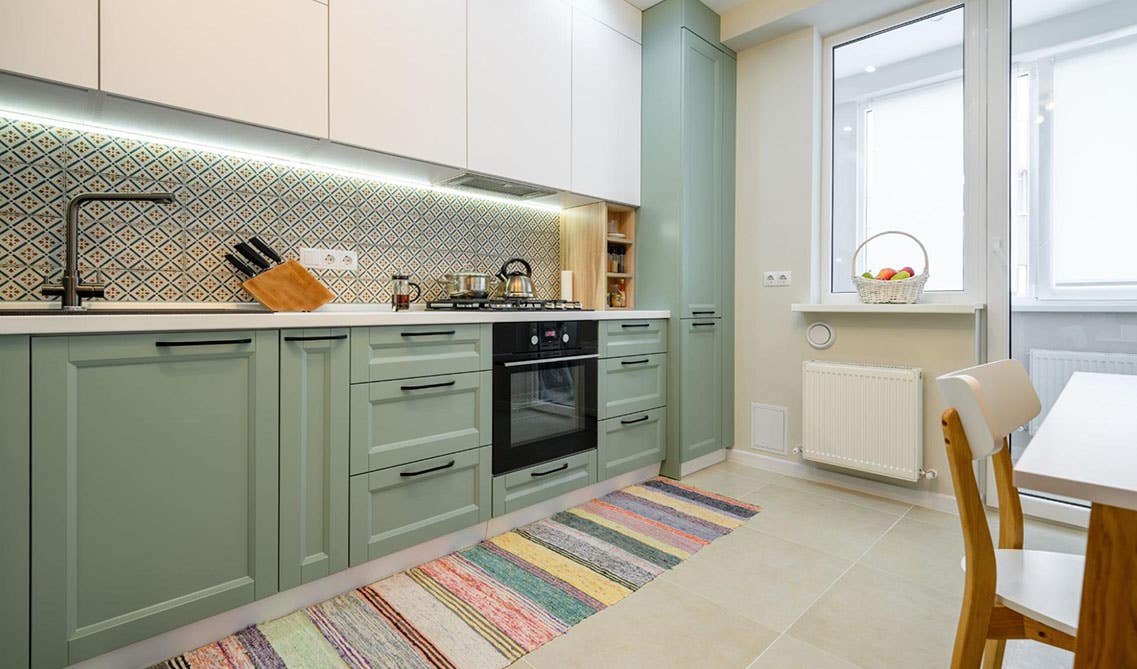 Creating contrast with sage green kitchen cabinets and white cabinets is a popular design trend that can add a fresh and airy feel to a kitchen. Pairing sage green lower cabinets with white upper cabinets can create a beautiful contrast that's perfect for a beachy or coastal-style kitchen. Additionally, combining white countertops with sage green cabinets can create a classic and sophisticated look that's perfect for a modern or traditional kitchen. Whether you prefer a bold or subtle contrast, using a sage green cabinets kitchen with white elements can add depth and character to the layout.
8. Add a Backsplash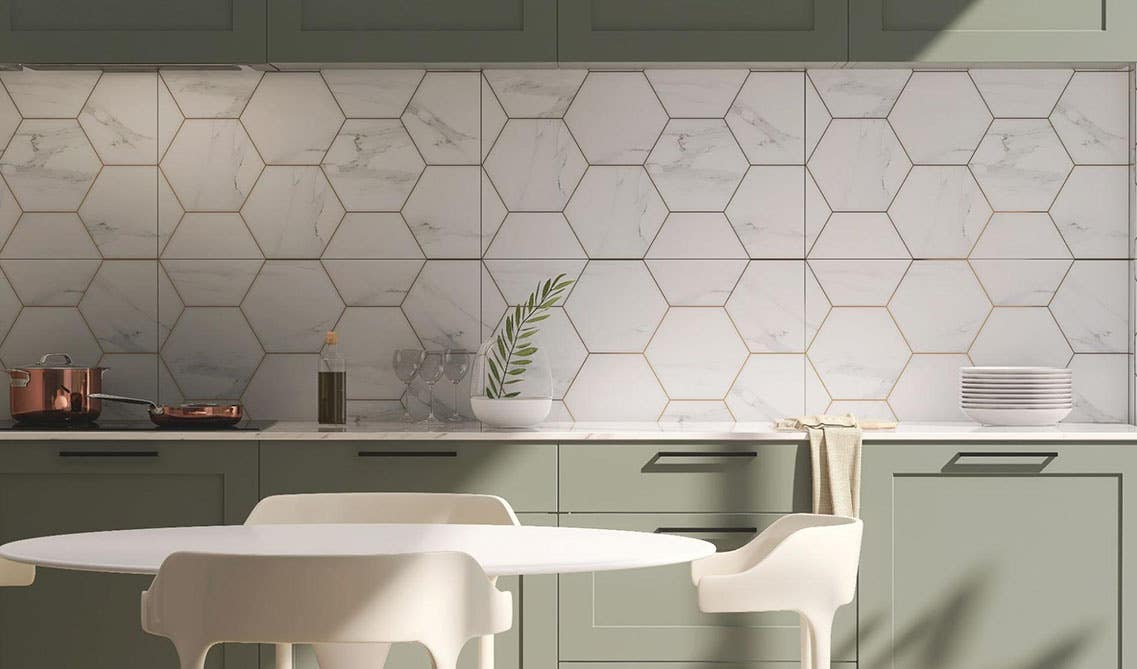 A backsplash can be an excellent addition to a kitchen with modern sage green kitchen cabinets. There are many ways to incorporate sage green into your backsplash design, such as using sage green tiles or incorporating sage green accents into a patterned design. A sage green backsplash can add a touch of color and sophistication to your kitchen and create a cohesive and stylish look with your cabinets.
Checkout: Delightful Kitchen Backsplash Ideas for Every Kitchen Style
In Conclusion…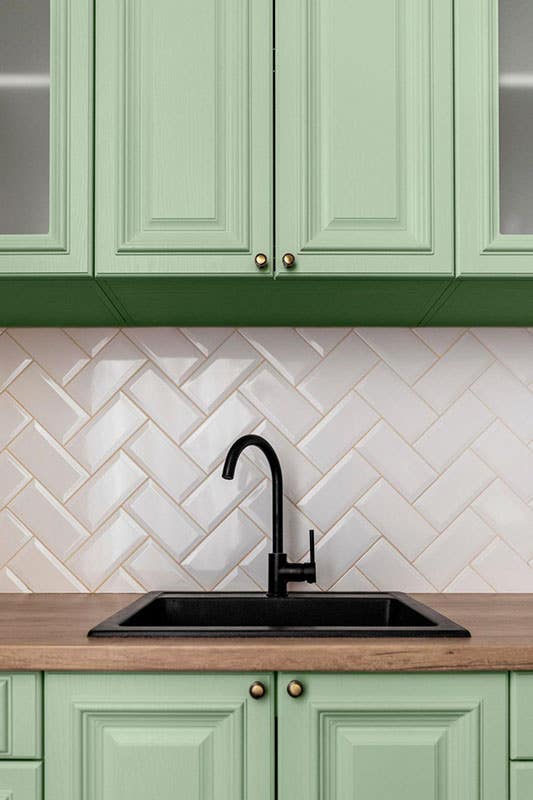 In conclusion, sage green is a versatile and stylish color that can work well in any kitchen style. Whether you prefer rustic, farmhouse, modern, or traditional, there is a sage green cabinet design that can fit your style and preferences.
Ready to begin your kitchen remodel? Contact Lily Ann Cabinets today! Lily Ann Cabinets will be offering a green cabinet late summer of 2023! In the meantime, we have premium cabinetry that is 50% off what big box stores are charging. Grab your free Cabinets door samples today to see which cabinets will look best in your home. When you are ready to update your space, we will be here to provide exceptional service and help you every step of the way.
Related Blogs: 
FAQs
1. Is s
age green a good color for kitchen cabinets?
Yes, sage green is a great color for kitchen cabinets. It's a soothing and versatile color that can create a calming atmosphere in your kitchen. Sage green cabinets can work well with a variety of design styles, such as rustic, farmhouse, modern, and traditional. The color can also pair well with other design elements, such as brass hardware, marble countertops, and open shelving.
2. Where to buy sage green kitchen cab
inets? 
Home improvement stores, such as Home Depot and Lowe's, online retailers that specialize in kitchen cabinets, and local cabinet makers and custom woodworking shops are all places where you can buy sage green cabinets for your kitchen. Be sure to research and compare prices, quality, and customer reviews to ensure you're getting the best value for your money.
3. What colours compliment sage green kitchen?
White, black, and Neutral colors, such as beige, cream, or gray, can work well with sage green and create a balanced and cohesive look. Warm wood tones, such as oak or walnut, can also work with the soft green color. Choosing a color palette that complements sage green cabinets depends on your personal preferences and the overall style and design of your kitchen.