Green kitchen cabinets are one of the newest and hottest trends in kitchen design, but the truth is that green kitchens are actually an old trend, with a new twist. This trend has been popular in Europe for many years, and it's only now becoming popular in the United States because of the recent emphasis on eco-friendly kitchens.
If you're thinking about going with green kitchen cabinets as your next design choice, or if you just want to know more about this trend, read on to learn some great things about green kitchen cabinets and how they can help you build the greenest and most environmentally friendly kitchen possible.
Which Shades of Green Cabinets Are Most Popular?
Creating a kitchen that's attractive and comfortable is a design challenge that all homeowners face. Color can be an extremely important aspect of interior design, whether you like to keep things neutral or prefer bolder hues. If you're thinking about remodeling your kitchen in shades of green, there are plenty of options available, and choosing one might not be as hard as you think. There are four different shades that are trending right now, so read on these green kitchen cabinet ideas to learn more!
Sage Green Kitchen Cabinets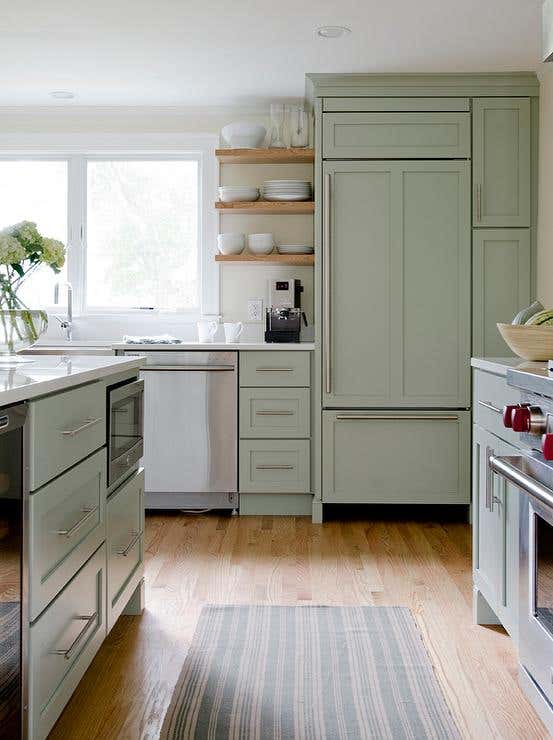 They're not quite as popular as white or wood kitchen cabinets, but green kitchen cabinets are catching on in a big way. With the soft pastel shade of sage green, the hues offer a comforting look that also works well with traditional décor. If you're planning to give your kitchen an update soon, then it's time to consider adding some sage green to your space.
Checkout: Sage Green Kitchen Cabinets: 8 Ways to Make Them Work in Your Home
Dark Green Kitchen Cabinets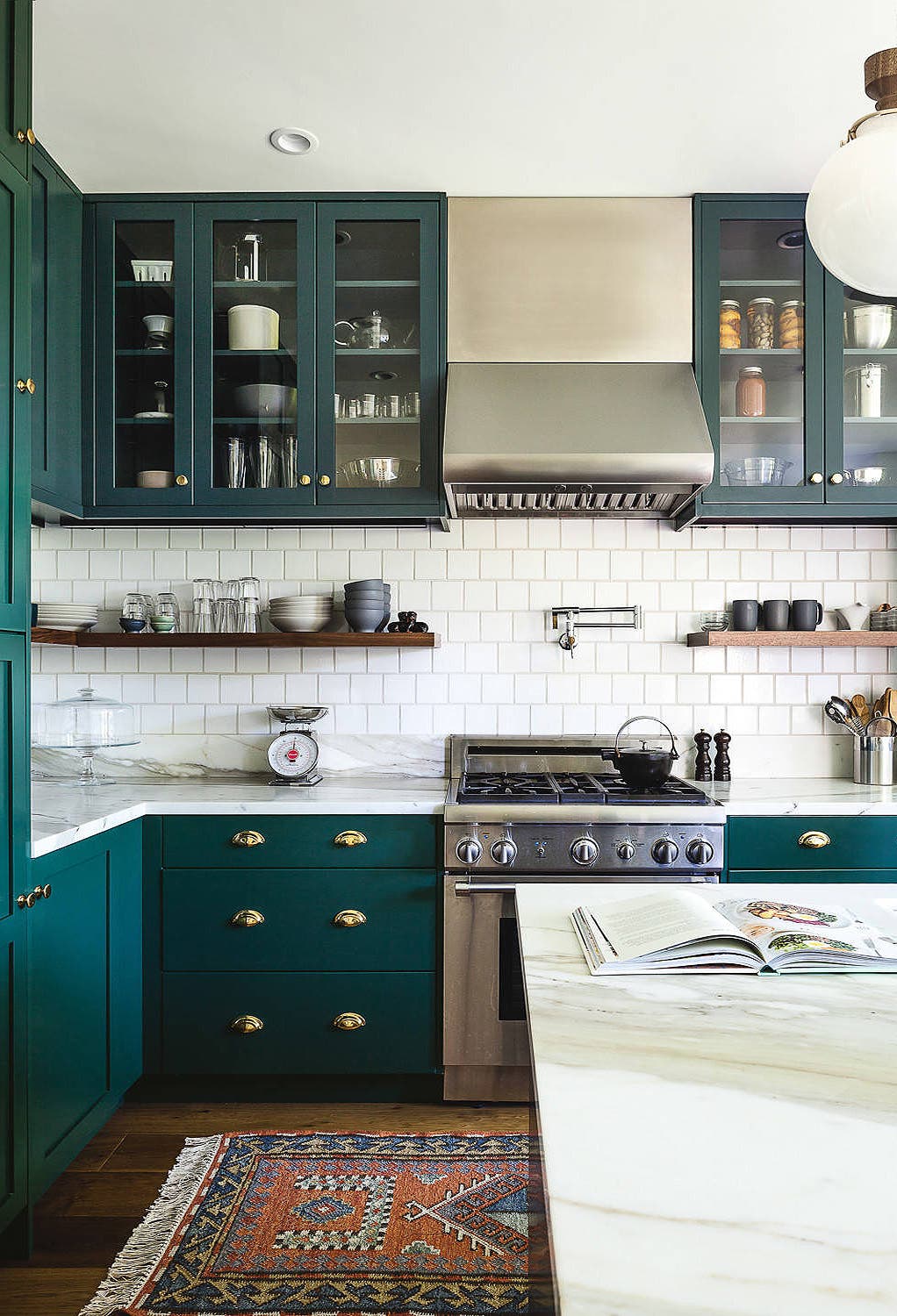 Dark green cabinets aren't for everyone. But if you like a bit of drama in your kitchen, consider trying out bolder shades like an emerald green. Because they are so different from more neutral colors and pastels, dark green cabinets can really stand out against lighter countertops or backsplashes and light-colored floors. 
Pastel Green Kitchen Cabinets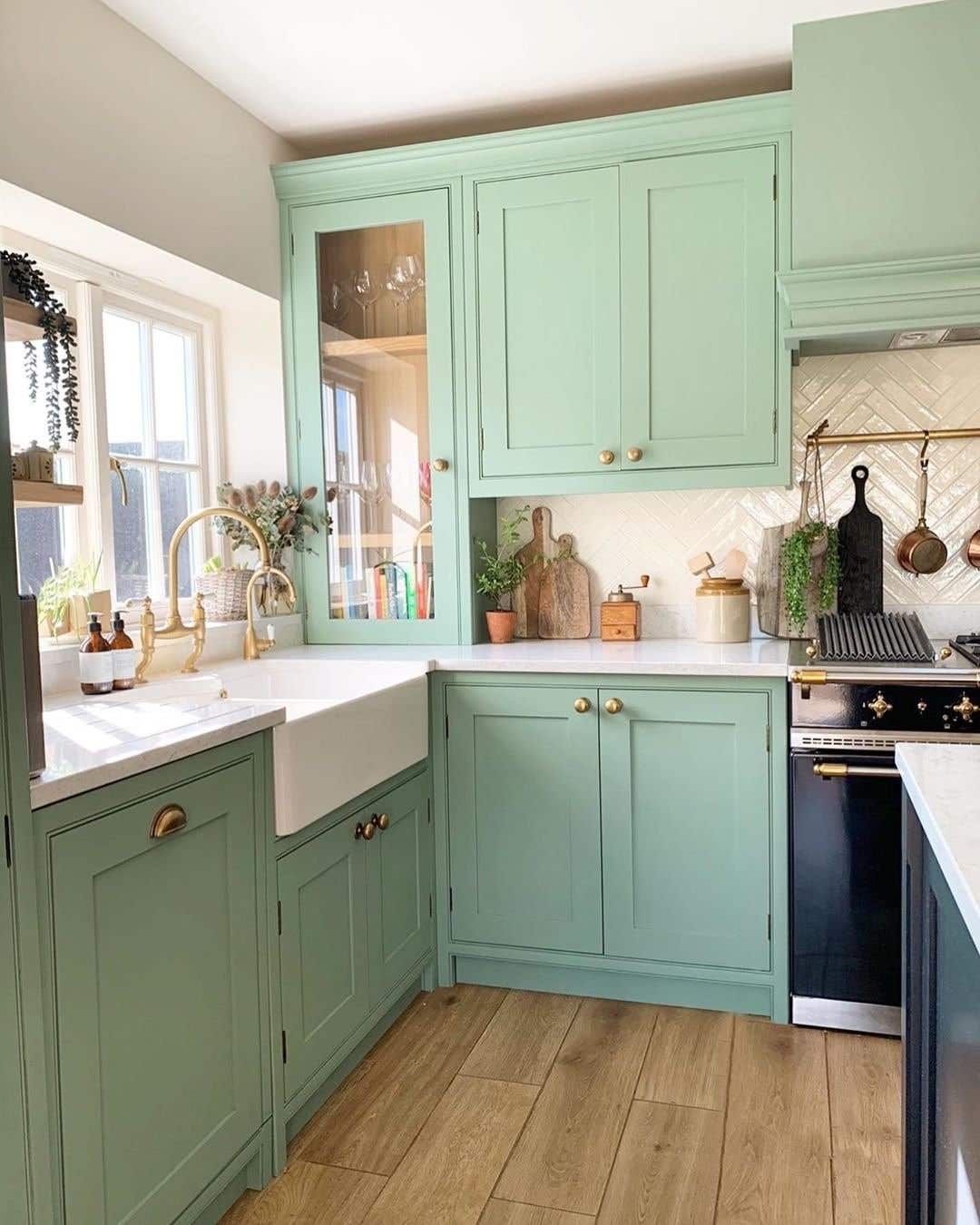 Pastel green cabinets are a wonderful option for a large or small kitchen. You'll want to stick with soft greens and avoid bright lime greens or teals, but other than that it's all fair game. Pastel green is a great choice if you are looking for an organic color scheme within your kitchen space. Pair them with white countertops, a white backsplash, and neutral flooring and you will have a beautiful, inviting space!
Gold hardware is all the rage in interior design right now. Give your kitchen a quick facelift by installing gold cabinet hardware today!
Greige Kitchen Cabinets – What is 'Greige' Why Is It So Popular?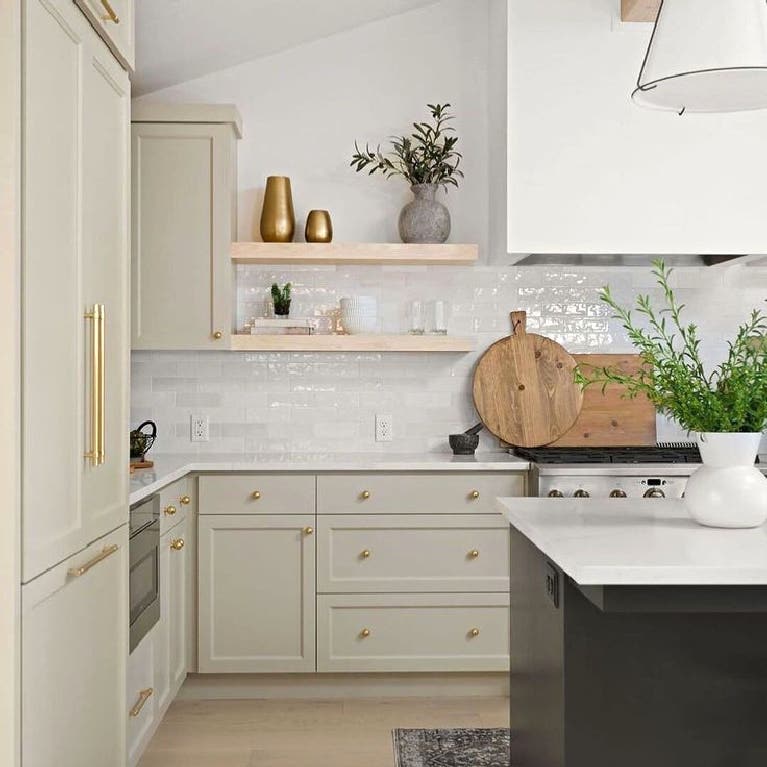 Greige (pronounced Grey-zh) is a shade of green that's a neutral color - it doesn't lean too green or gray. This color is exactly what you see in nature, so if you are looking for a natural shade for your kitchen cabinets, look no further. If you like brown hues but don't want to darken up your room with oak wood tones, greige may be right for you.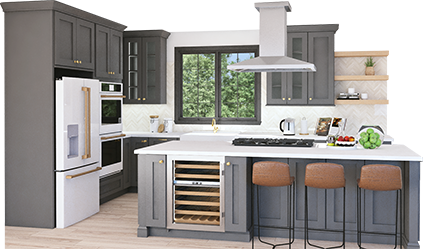 Get your FREE 3D kitchen design today!
Start Now
Two-Toned Green Kitchen Cabinets
Two-toned kitchen cabinets are becoming increasingly popular with homeowners who want to switch up their kitchen's look without installing all new cabinetry. Adding a second color of wood to your existing cabinets is an affordable and effective way to transform your space. To create an eye-catching two-tone effect, you will need to choose another color that will pair well with the original cabinets, usually gray, white, black, or stained wood. 
Green and White Kitchen Cabinets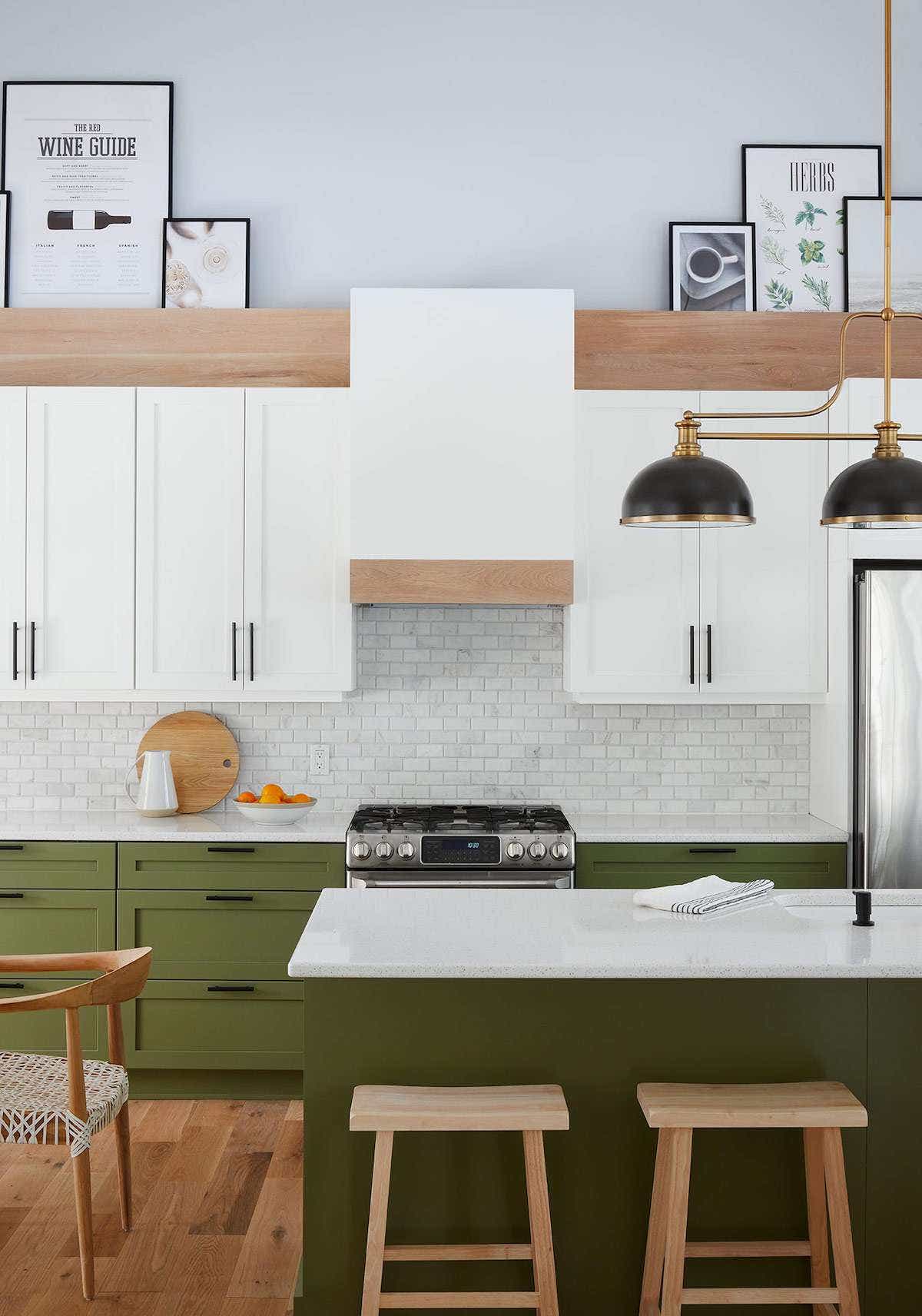 White is a neutral color that works with anything, so a kitchen of green and white cabinets is perfect for any décor. It's also a fantastic way to incorporate more style and color into the space where it may have been lacking before. Green and white cabinets pair amazingly well with natural wood tones and gold, black, and white materials. 
Find high-quality, durable, ready-to-assemble white shaker cabinets at Lily Ann Cabinets.
Green and Natural Wood Kitchen Cabinets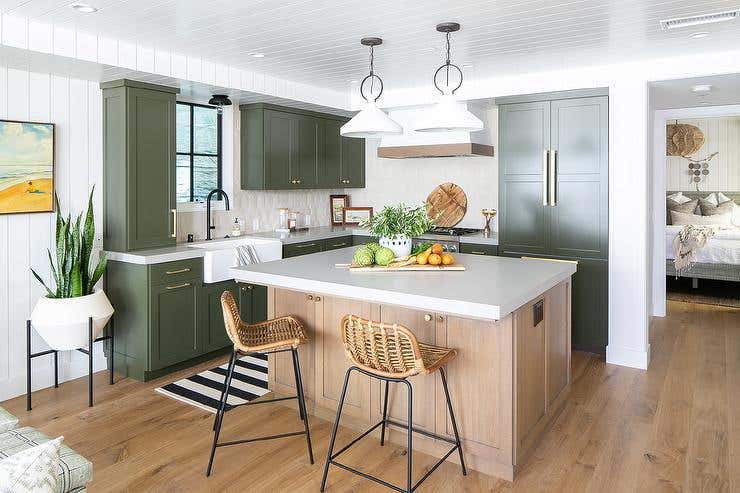 Green kitchen cabinets are an exciting trend in kitchens; they're a departure from traditional colors, like white and beige, which have been popular for a while. But green kitchen cabinets aren't just bold; they work well with neutral-colored materials as well. If you're thinking about trying a two-toned green look in your kitchen, natural or stained wood cabinets are a great choice to pair them with, softening the boldness of the green cabinets.
Get a similar look with Lily Ann Cabinets Craftsman Natural Shaker Kitchen Cabinets!
Countertop Ideas for Green Kitchen Cabinets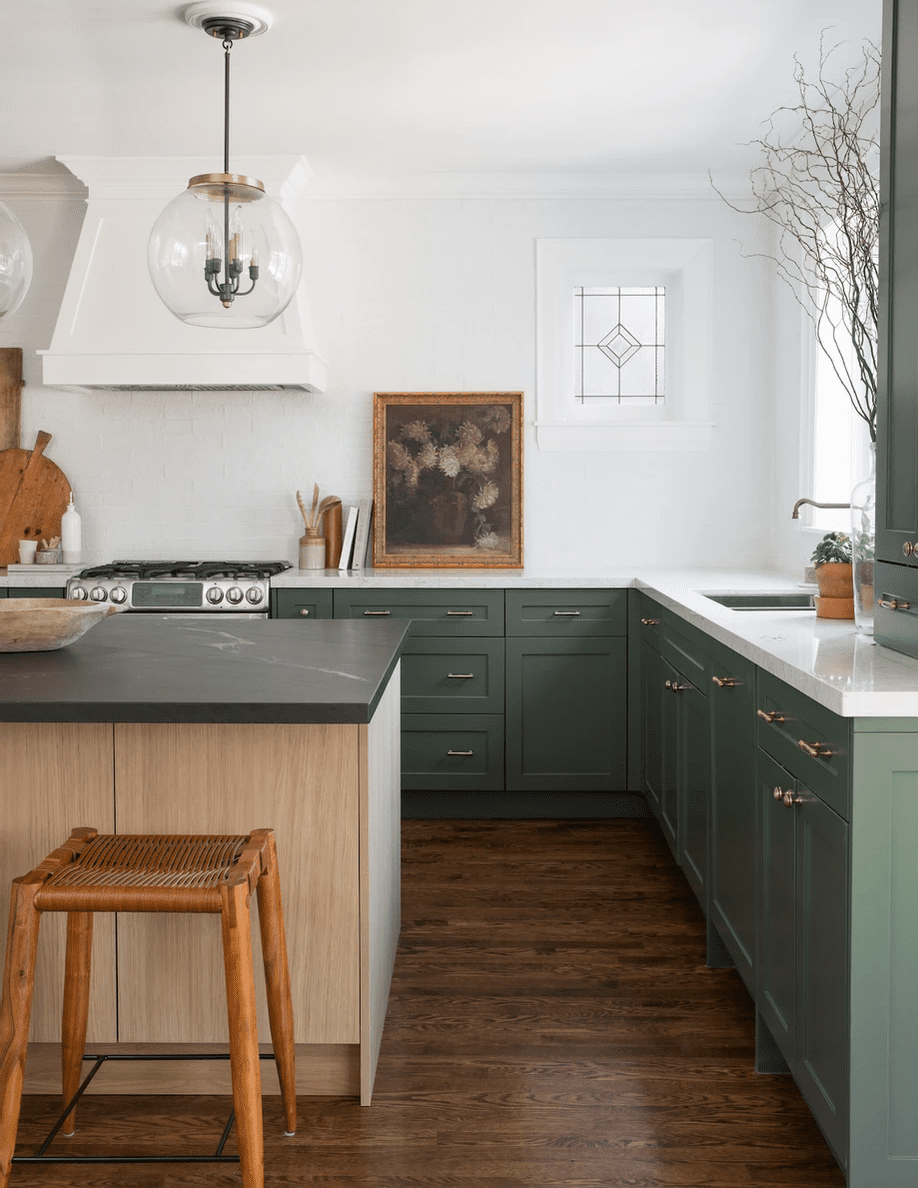 Match your green kitchen cabinets with a contrasting countertop. Dark-colored countertops, such as black or dark gray, pair nicely with light green or medium-green cabinets. In particular, look for stone countertops in shades of gray, brown, or black. You can also choose a dark wood like cherry to contrast against lighter-hued cabinetry; just make sure it's stained in a darker shade than your cabinet color and that it has at least some distressing to tie together all of your design elements. Another great option, and also one of the most popular, is pairing green cabinets with a white countertop– timeless!
Best Hardware Choices for Green Cabinets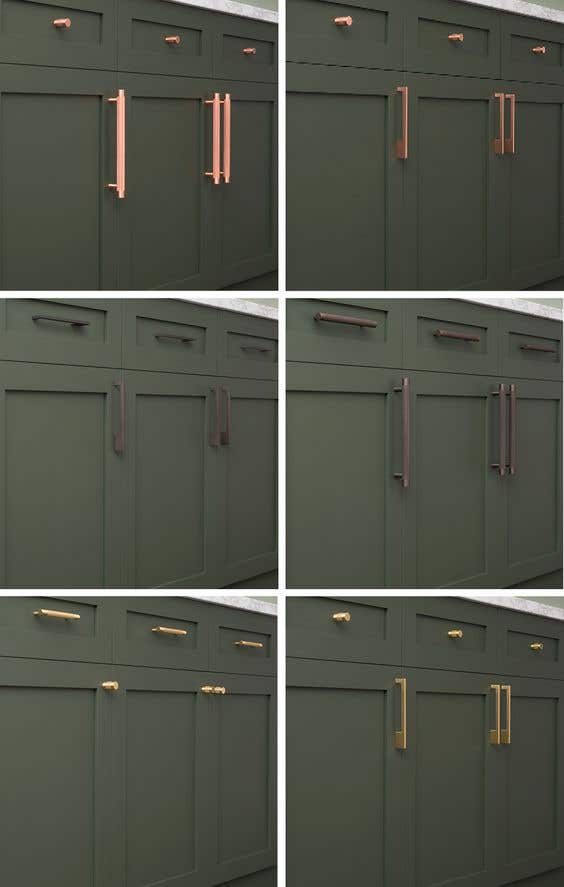 Without a doubt, green cabinets are a striking focal point in any kitchen. They provide an eye-catching backdrop to other design elements like backsplashes and countertops. But you don't want your new focal point to clash with your hardware choices; that's why it's important to know what options are out there for hardware that matches green cabinets. Depending on the style you are going for, any finish of hardware will do the trick.
For more ideas on hardware options, check out Lily Ann Cabinets' wide selection of cabinet hardware.
Backsplashes Ideas That Work with Green Cabinets
Here are some of our favorite kitchen backsplash ideas that compliment green kitchen cabinets. They add a touch of color and a unique aesthetic to any kitchen.
Light Blue Backsplash
 
Light blue is a great color that can be incorporated with more neutral tones. In kitchens, light blue is often paired with darker grays, browns and blacks to create a soothing but modern atmosphere. Light blue backsplashes look especially nice when combined with countertops in lighter shades like white, cream or similar pastels. Paired with an earthy green cabinet, a light blue backsplash will complete the whole look of the kitchen space!
White Backsplash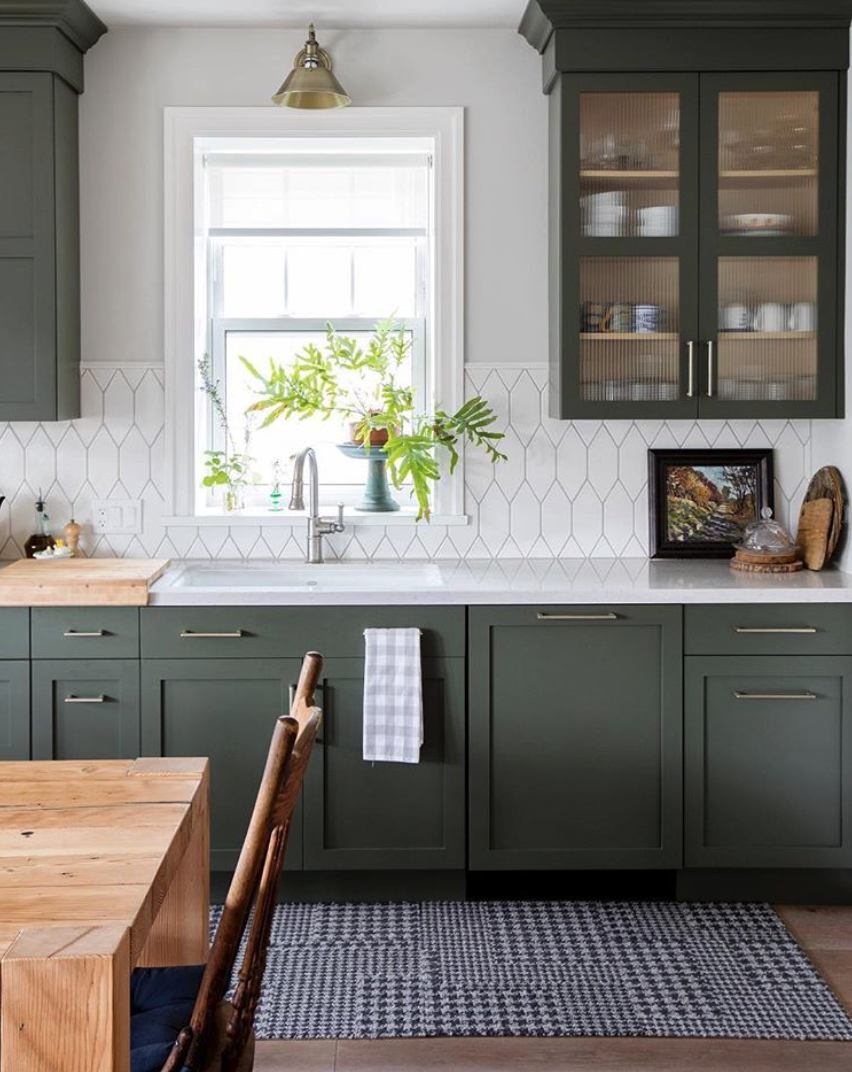 White is a popular choice for many kitchen backsplashes. This stark contrast between a white backsplash and dark green cabinets looks eye-catching, and gives your room a contemporary feel. If you are looking to give your space a modern edge, then think about pairing cool green kitchen cabinets with white. There are many different shades of green, so it shouldn't be hard to find one that fits in with your existing decor or design plan.
Black Backsplash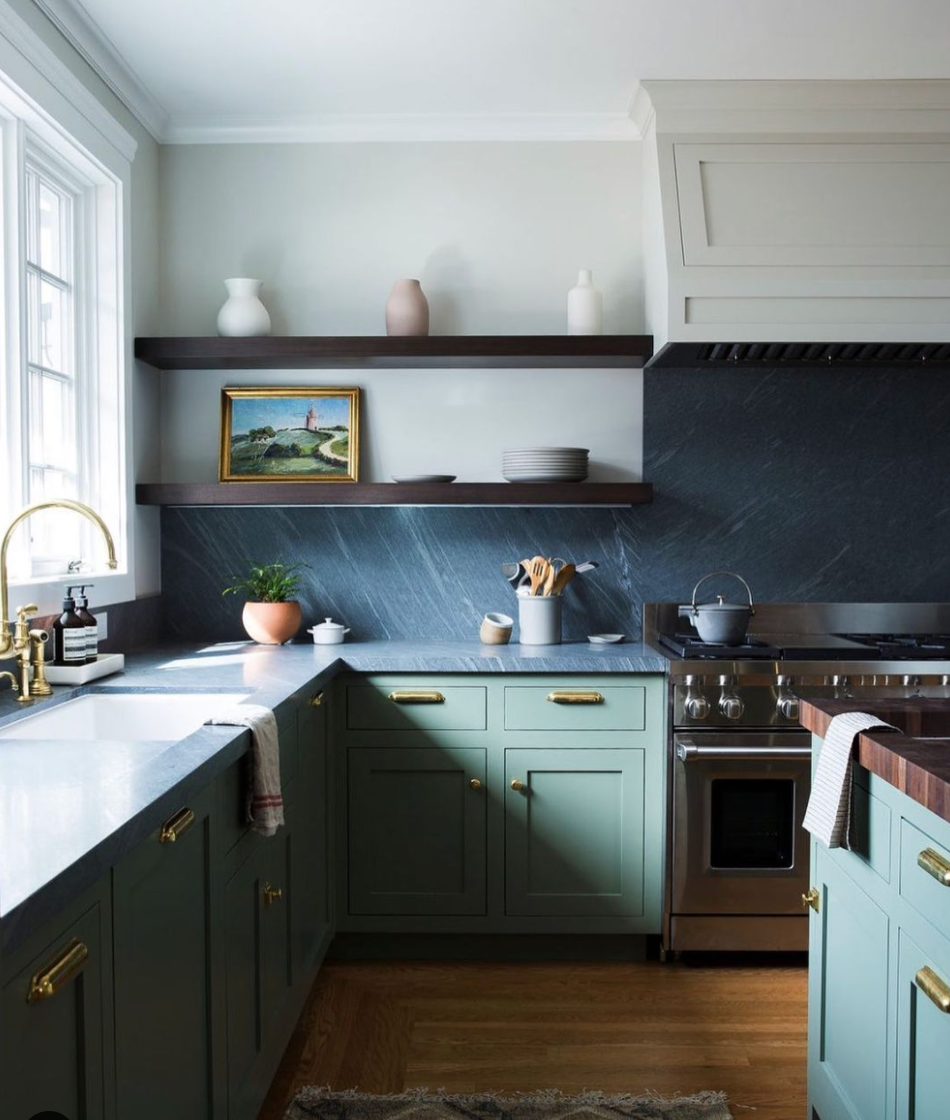 Black and green are opposites on the color wheel, so they go really well together when you decide to combine them in your kitchen. This dark backsplash with green cabinets idea is a timeless classic that has stood the test of time. Adding black elements to your light-colored kitchen walls can help ground lighter tones and make them appear richer, brighter, and bigger. It's especially useful for kitchens with little natural light coming in from outside.
Recommended For You: 18 High Quality Cabinet Options For Any Kitchen
Create Your Dream Kitchen With Lily Ann Cabinets
We offer a wide selection of premium cabinetry, hardware, shelving, and more to help you create a room that stands the test of time. Pick from our large array of kitchen and bathroom cabinetry, including white shaker cabinets that come with soft-close hinges. Our professional designers are on standby to work with you — we offer FREE samples and FREE design and quote. Visit our FREE 3D design tool to get started today!
Related Blogs:
FAQs
1. What shade of green is best for kitchen cabinets?
If you like a bit of drama in your kitchen, consider trying out bolder shades of cabinets like an emerald green and pairing them with a mix of dark and light materials. Sage green presents an earthier, more contemporary look. Pastel green cabinets are a brighter option, but you'll want to stick with soft greens and avoid bright lime greens or teals. Greige is a shade of green that's a neutral color - it doesn't lean too green or gray. This color is exactly what you see in nature, so if you are looking for a natural shade for your kitchen cabinets, look no further.
2. How do I incorporate green cabinets into my kitchen?
You can incorporate green cabinets into your kitchen by either replacing or painting your existing cabinets green, using the two-toned kitchen cabinet look, or by only making your kitchen island cabinets green. Depending on your personal preference, these are all ways to incorporate green cabinets into your kitchen.
3. What are the best countertop options for kitchens with green cabinets?
The best countertop option for a kitchen with green cabinets would be white countertops. White countertops will match any shade of green cabinet. If you are looking for something a little different– butcher block, concrete, black, gray, and beige-toned countertops will also create a beautiful, earthy look in your kitchen space.
4. What are the best hardware options for kitchens with green cabinets?
Green kitchen cabinets are a great option because they can match almost any other material or finish. Hardware options for kitchens with green cabinets include silver/chrome, brass, gold, black, and even rose gold if that matches the style of the rest of the space. 
5. What are the best backsplash options for kitchens with green cabinets?
The best backsplash options for kitchens with green cabinets are light blue, beige tones like natural stone, black, white, and light gray.