One wall kitchens, as the name suggests, refer to kitchens that are designed with all the elements of the kitchen placed along a single wall. This layout is perfect for homes with limited space as it maximizes the use of the available space. While one wall kitchens may seem challenging to design, there are several tips that you can use to create an efficient and beautiful kitchen.
Benefits of One Wall Kitchens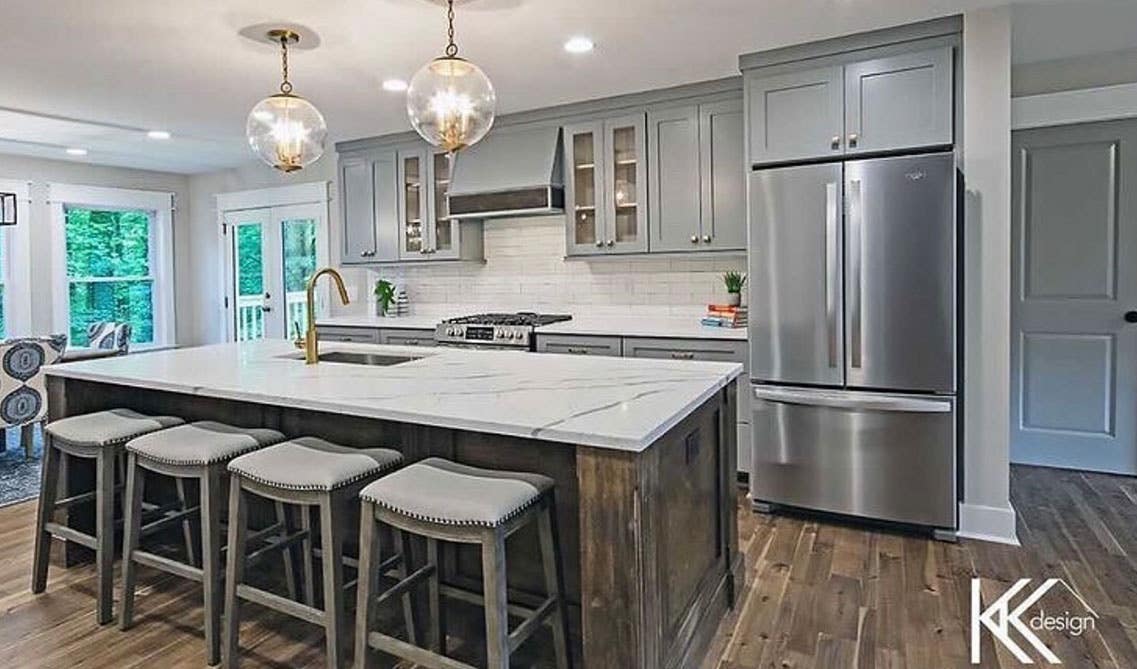 Space Saving
One wall kitchens are perfect for small spaces as they help to maximize the use of available space. By placing all the kitchen elements such as the sink, stove, fridge, and cabinets on a single wall, you free up space that can be used for other purposes.
Efficient
One wall kitchens are efficient because everything is within easy reach. There's no need to walk across the room to access the stove or sink. The layout also ensures that the kitchen work triangle, which connects the sink, stove, and refrigerator, is well maintained.
Easy to Clean
One wall kitchens are easy to clean because there are no corners or edges that can accumulate dirt and debris. Cleaning becomes a breeze, and you'll spend less time cleaning up after meals.
Checkout: How to Clean Kitchen Cabinets Step-by-Step
Tips for Designing a One Wall Kitchen


Tip 1: Plan Your Layout Carefully
Before designing your one wall kitchen, you need to plan the layout carefully. Consider the location of the sink, stove, and fridge, and ensure that they're all easily accessible. You also need to consider the placement of the cabinets and drawers, as well as the countertop space. If the space you are working with isn't that limited, you can also try a one wall kitchen with an island for more counter space.
We always consider getting a processionals option on a big ticket item such as cabinetry. Lily Ann Cabinets offers FREE professional 3D designs, so you can visualize your space before you purchase. Their award winning designers can also help you create a functional space that is custom to your wants and needs. 
Checkout: Lily Ann Cabinets FREE 3D Design Tool
Tip 2: Use Light Colors
One-wall kitchens can sometimes feel cramped or claustrophobic, particularly if you have limited space to work with. To combat this, consider using light colors on your walls, cabinets, and countertops. Lighter hues will help to create a sense of openness and brightness, making your kitchen feel larger and more inviting. Additionally, light colors can make it easier to spot spills and messes, helping you to keep your kitchen clean and tidy.
Tip
3: Incorporate Storage Solutions
In a one-wall kitchen, storage can be a challenge. To make the most of your space, get creative with your storage solutions. For example, consider installing a pull out pantry or spice rack to maximize your storage capacity without taking up valuable floor space. If you go for a one wall kitchen with an island, the island can be used for extra space. Additionally, using magnetic knife strips, hanging fruit baskets, and other clever storage solutions can help you to keep your kitchen organized and clutter-free.
Tip 4: Optimize Lighting
Lighting is key in any kitchen, but it's especially important in a one-wall kitchen where natural light may be limited. Consider installing a combination of overhead and under cabinet lighting to ensure that your kitchen is well-lit and easy to work in. Additionally, adding a mirror or two can help to reflect light and make your kitchen feel brighter and more spacious.
Tip 5: Choose Your Appliances Wisely
One wall kitchens have limited space, so it's essential to choose your appliances wisely. Opt for smaller appliances that are designed for small spaces. You can also choose appliances that are multifunctional, such as a stove that also doubles as an oven.
Checkout: How to Match Cabinets and Appliances in Your Kitchen
In Conclusion…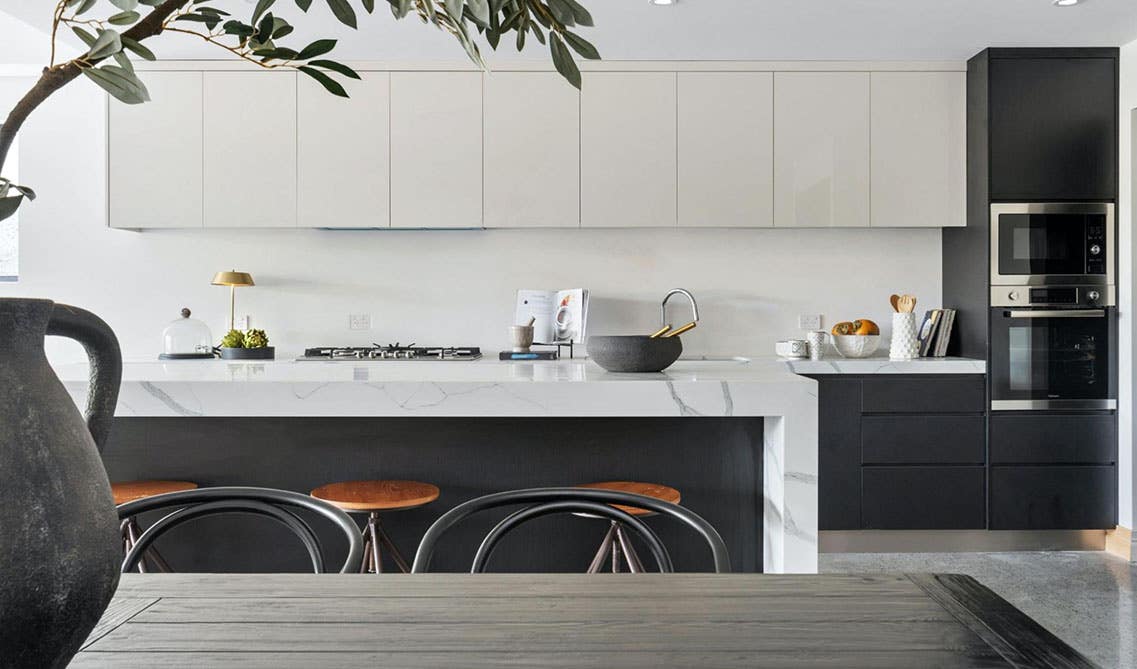 A one wall kitchen layout is an excellent option for homes with limited space. By following the tips provided in this blog, you can design a functional and stylish one wall kitchen that meets all your needs. With careful planning, you can create a space that's efficient, easy to clean, and a joy to cook in.
Want to see what a one wall kitchen layout will look like in your home? Work with our experts and get a FREE 3D design and quote today. Lily Ann Cabinets also offers a free kitchen visualizer tool to bring your kitchen cabinet ideas to life before making a purchase. This allows clients to experiment with different cabinet styles, colors, and configurations to create the perfect space for their needs. With excellent customer service and a commitment to quality, Lily Ann Cabinets is an excellent choice for anyone looking to upgrade their cabinets and create the kitchen layout of their dreams.

FAQs
What is a one wall kitchen?
A one wall kitchen layout refers to a kitchen design layout where all the kitchen elements, such as the sink, stove, fridge, and cabinets, are placed along a single wall. This layout is suitable for homes with limited space as it maximizes the use of available space.
What size is a one wall kitchen?
There is no fixed size for a one wall kitchen layout, as the layout can be adapted to fit different sizes and shapes of spaces. One wall kitchens are often found in apartments or small homes where space is limited, but they can also be used in larger homes where a more compact kitchen layout is desired. Some larger homes will incorporate a one wall kitchen with island into their space as well.
Are one wall kitchens cheaper?
One wall kitchens can be cheaper than other kitchen layouts, but it depends on several factors, such as the quality of materials, the type of appliances used, and the size of the kitchen. It's essential to work with a professional kitchen designer to determine the most cost-effective options for your specific needs and budget.
Intro: In the world of kitchen design, trends come and go, but some elements have an enduring appeal that stands the test of time. One such element is antique white cabinets. These classic and elegant cabinets have a unique charm that can transform any kitchen into a timeless haven.
1. Rustic Charm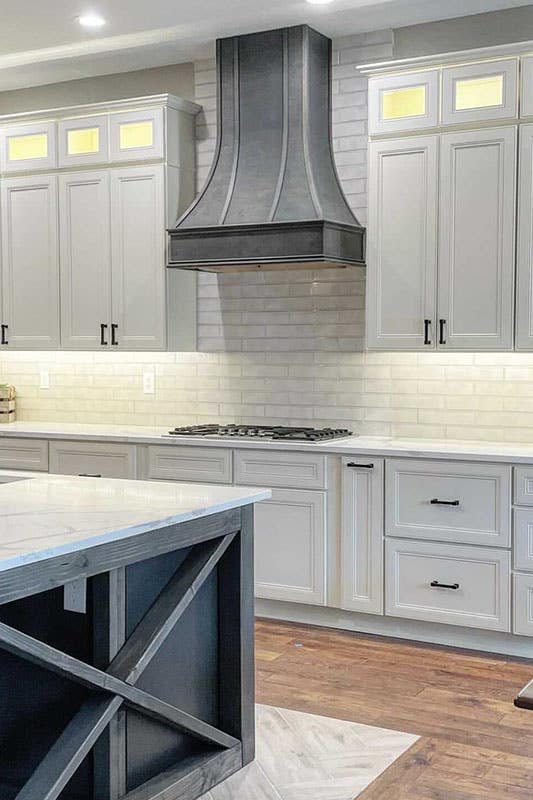 Rustic kitchens often incorporate natural elements such as wood, stone, and sometimes exposed brick. Combine Lily Ann Cabinets York Linen with grey cabinets to create a farmhouse-style design. Add a distressed finish to the cabinets and pair them with warm wood accents, such as wood flooring or a rangehood. Rustic charm style is known for its timeless quality. It transcends trends and can maintain its appeal for years to come. This makes it a great investment as it won't go out of style quickly. 
2. Add Paneling For A Vintage Vibe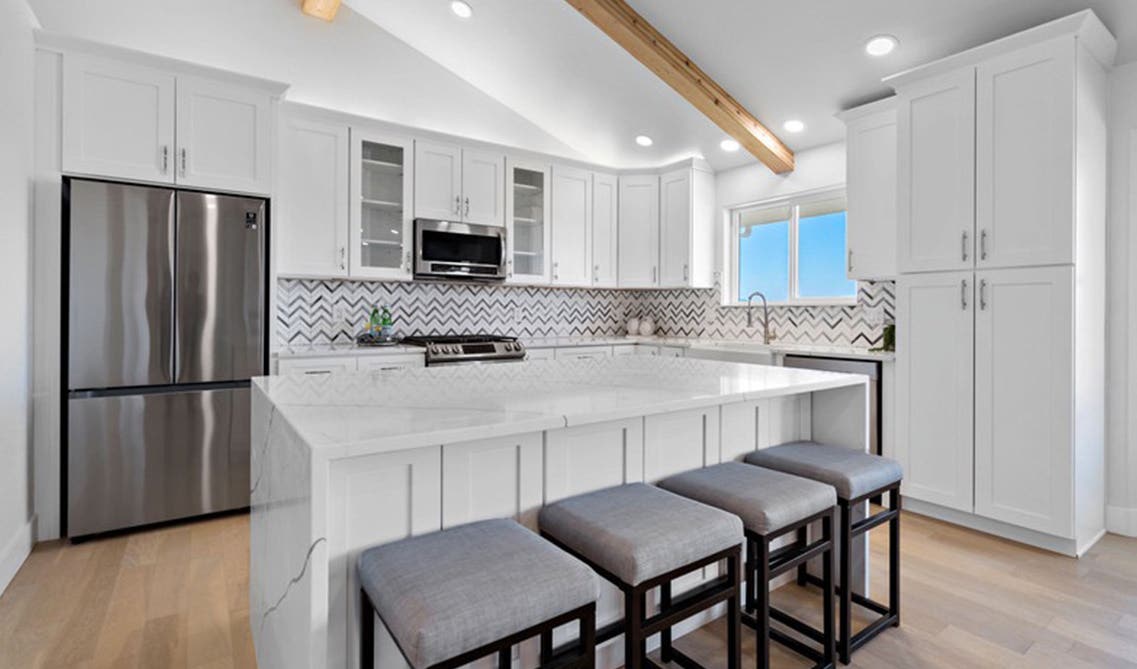 Adding paneling to the kitchen can make the space beautiful and elevate its overall aesthetic. When paired with antique white cabinets, paneling adds depth and texture to the walls, creating visual interest and enhancing the overall appeal of the space. Whether you choose beadboard, shiplap, or raised paneling, the added dimension brings a sense of vintage character and charm to the kitchen. Paneling can serve as architectural detail, giving the kitchen a more polished and refined look. It can be applied to various areas, such as the ceiling, island, or even the entire wall. 
3. Modern Style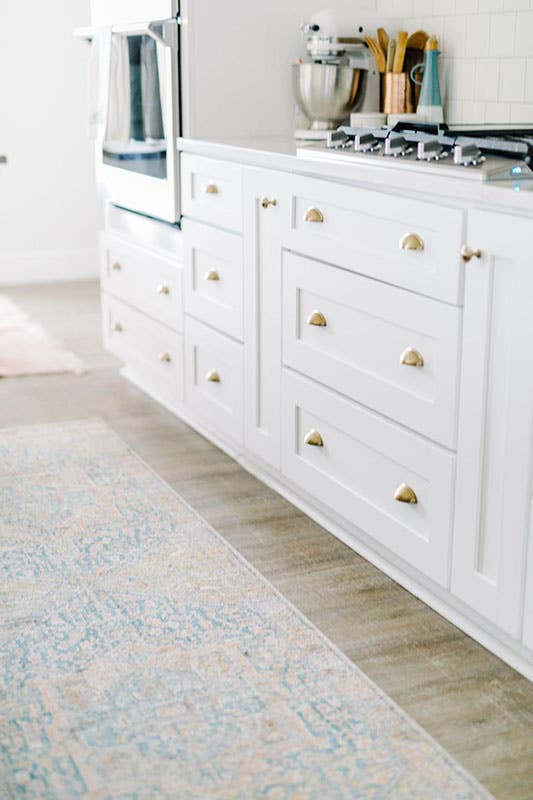 Create a sleek and contemporary kitchen by combining Lily Ann Cabinets antique white shaker cabinets with light countertops and stainless steel appliances. This color scheme adds a modern touch to the traditional cabinets. This style is highly versatile and can be adapted to various design preferences. Whether you prefer a minimalist approach with sleek hardware and clean lines or a more industrial-inspired look with metal accents, the modern contrast style allows for personalization and customization. Get a free cabinetry sample from our website today!
4. Timeless Traditional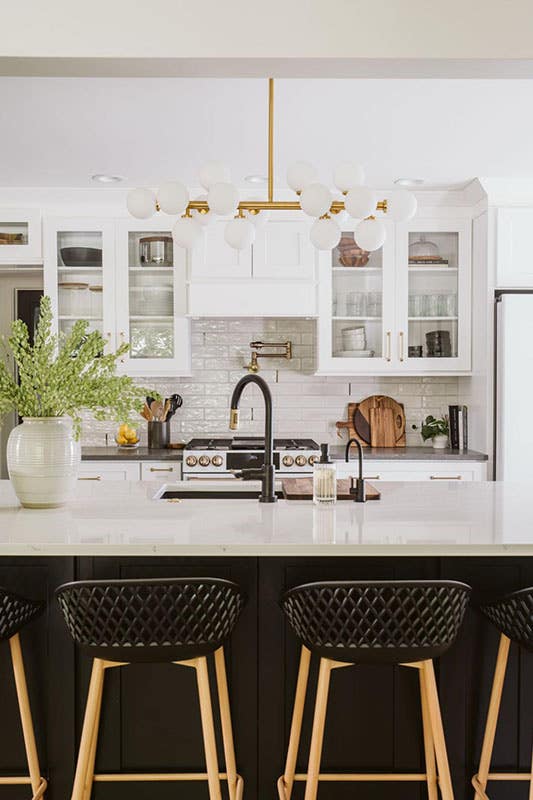 Embrace the classic appeal of antique white cabinets by keeping the overall design traditional. Incorporate details like crown molding, glass-front doors, and decorative accents to enhance the elegance. Timeless traditional style kitchens with white shaker cabinets offer a classic and enduring appeal that never goes out of style. The benefits of this style are plentiful. White cabinets provide a clean and neutral foundation that allows for endless design possibilities. They create a timeless backdrop that can be easily complemented with various colors, finishes, and decorative elements. This versatility ensures that your kitchen can evolve and adapt to changing trends and personal preferences over time. 
5. French Country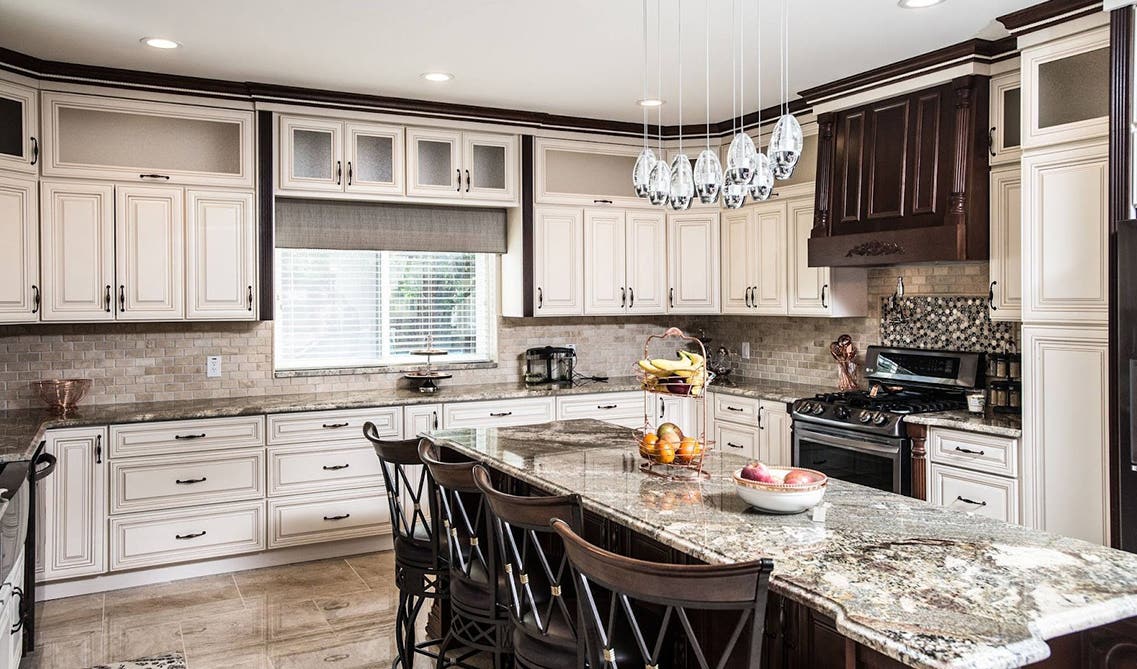 Using Lily Ann Cabinets Charleston Linen, capture the charm of a French countryside kitchen by pairing your antique white cabinets with warm-toned countertops, such as butcher block or honed granite. Add open shelving with vintage dishware and incorporate soft pastel accents. French country style kitchens with white cabinets offer a combination of elegance, warmth, and practicality. This style creates a space that is not only visually appealing but also functional and inviting. With its rustic charm and timeless beauty, a French country kitchen is a place where you can enjoy the pleasures of cooking and gathering with loved ones.
6. Cottage Chic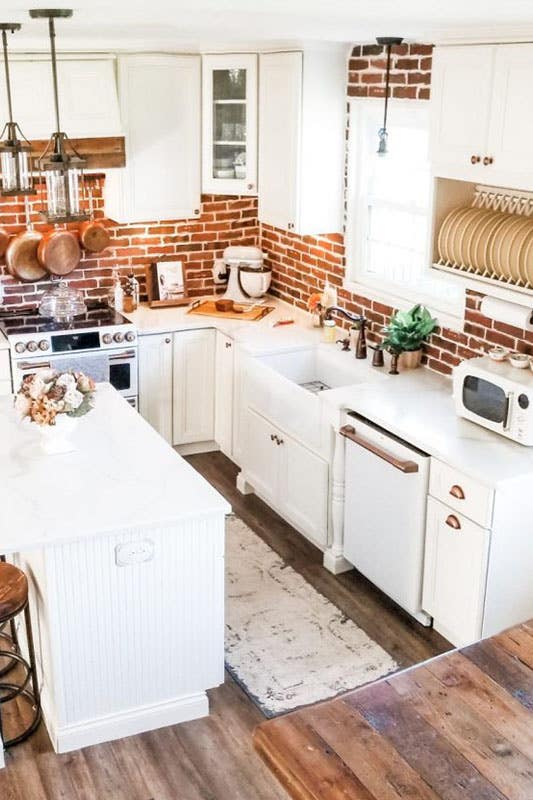 Create a cozy and inviting kitchen with antique white cabinets and shabby-chic details. Use distressed finishes, floral patterns, and vintage-inspired accessories to achieve a cottage-style ambiance. The benefits of this style are plentiful. Firstly, the combination of white cabinets with cottage-inspired elements creates a light and airy atmosphere. The white cabinets serve as a clean and neutral backdrop, allowing other design elements such as distressed finishes, floral patterns, and vintage-inspired accessories to shine and enhance the overall charm of the space. 
Remodeling your kitchen may seem stressful, but our professionals at Lily Ann Cabinets are here for you every step of the way. We recommend starting your kitchen renovation off with getting a sample of the cabinetry you plan to use so you can see the color and quality of the cabinet for yourself in your space. We also recommend getting a professional 3D design. A professional designer may think of things you did not and will be able to show you exactly how your new kitchen will look. At Lily Ann Cabinets, we know that a kitchen remodel is expensive, so we offer our samples and professional 3D designs, and quotes for FREE! All you need to do is send us your kitchen measurements and any ideas you may have and our award-winning designers will create a functional and beautiful kitchen for you to enjoy for the years to come. 
FAQ's
1. Is white a good color for kitchen cabinets?
You can never go wrong with white. The most popular color for kitchens is white because they give a timeless look to any space.
2. What colors go with antique white cabinets?
Dark and light tones pair well with antique white cabinets, you can create a french country style or a more modern look depending on what works best for you.
3. How to get antique white kitchen cabinets?
We recommend starting your kitchen renovation process with a sample of the cabinetry you plan to use so you can see the color and quality of the cabinet for yourself in your space.