A brick backsplash can add a touch of rustic charm, urban chic, or timeless elegance to your kitchen. The versatility, durability, and visual appeal of brick make it a popular choice for homeowners looking to enhance the character of their kitchen. Whether you're aiming for a vintage farmhouse vibe or a modern industrial look, these 24 stunning brick backsplash ideas are sure to inspire your next kitchen renovation.
1. Brown Brick Backsplash with Brown Countertops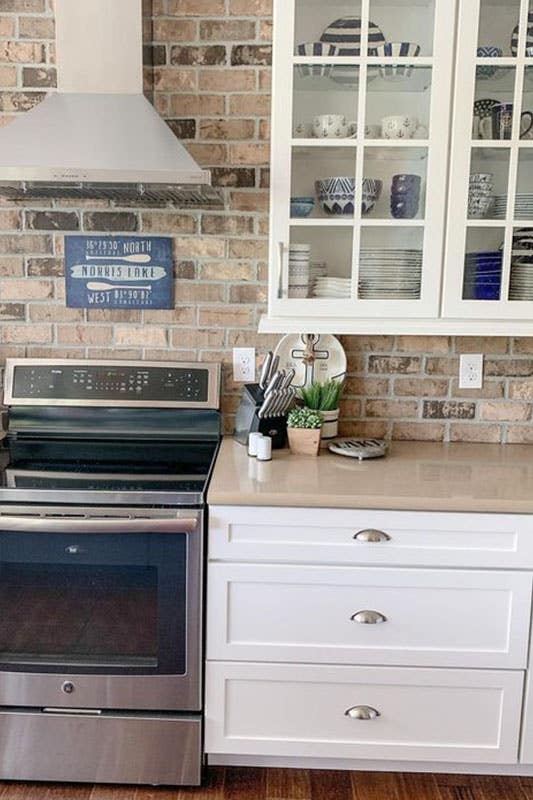 Brown brick brings in a textured and rugged element, while brown countertops can vary in material, from wood to stone or other composite materials. This combination of textures adds complexity and visual depth to your space.
2. Beige Brick Backsplash With Grey Countertop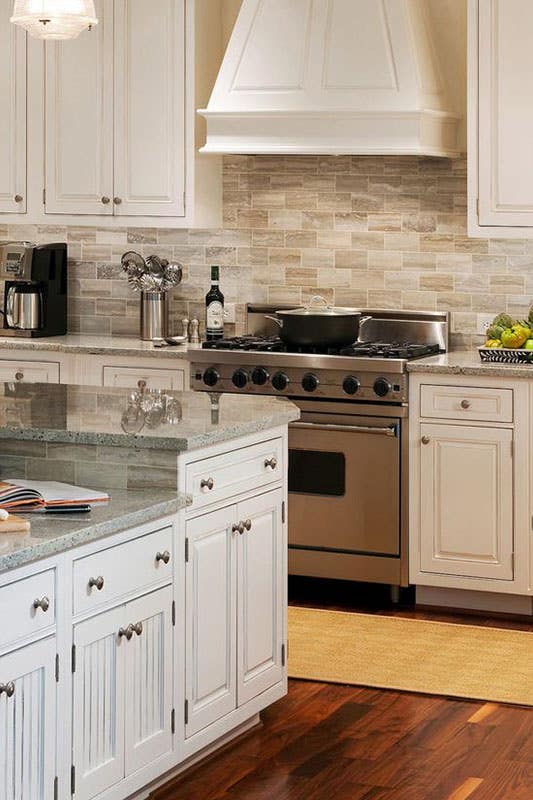 Grey is often associated with a modern and contemporary design, while beige has a timeless and classic appeal. Combining these two colors can result in an elegant and sophisticated aesthetic that is suitable for various interior styles.
3. Painted Brick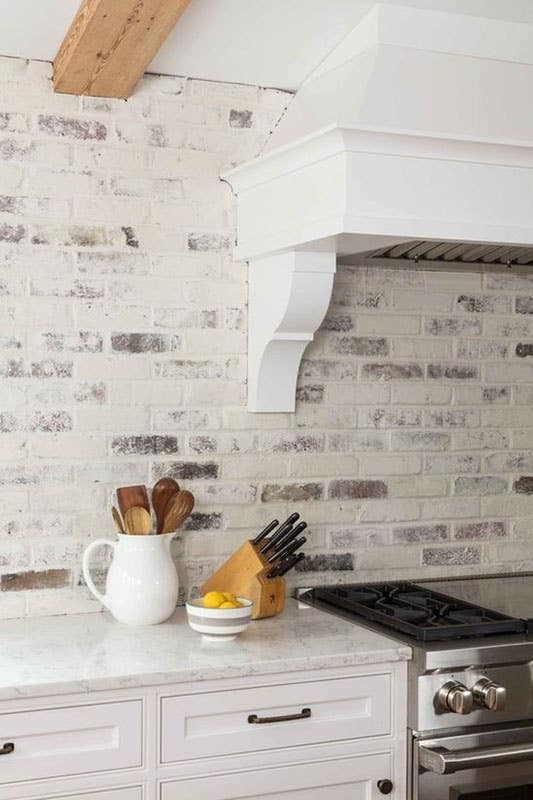 Painting the brick in a color that complements your kitchen can enhance the space making it feel more inviting and comfortable. Painting brick can instantly refresh and update the appearance of a space. It also allows you to choose a color that suits your style and complements your overall design.
4. Classic Red Brick Backsplash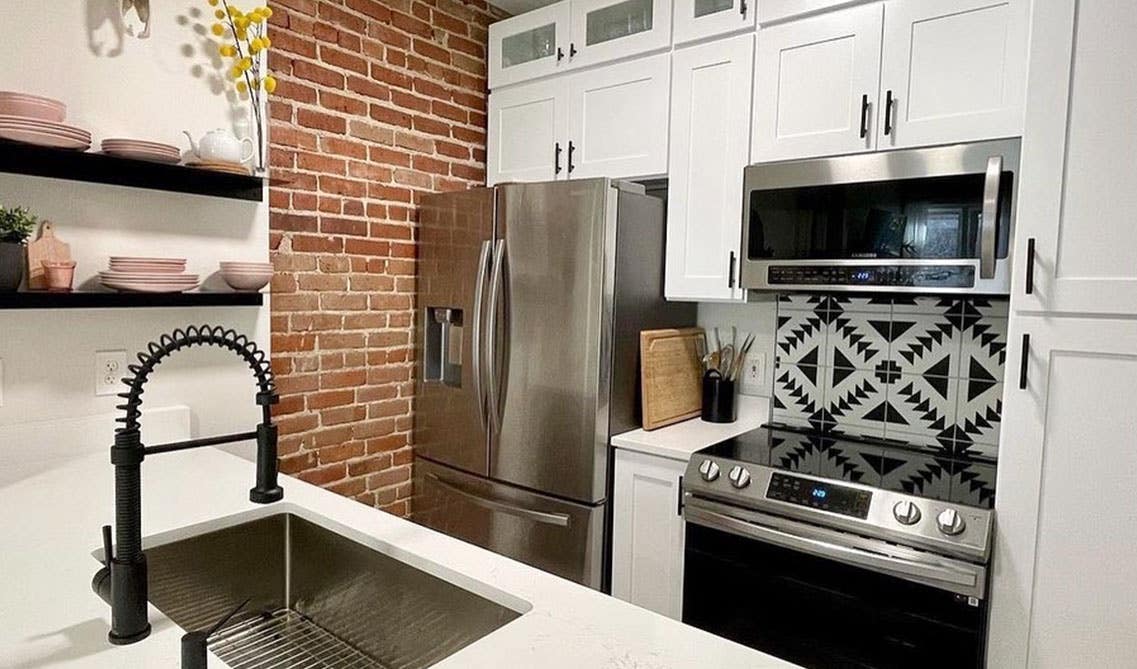 While red can be a bold color choice, classic red brick is a versatile choice and can work well with various design styles, from traditional to modern. It complements a range of colors and materials, allowing you to create a cohesive look.
5. White Brick Backsplash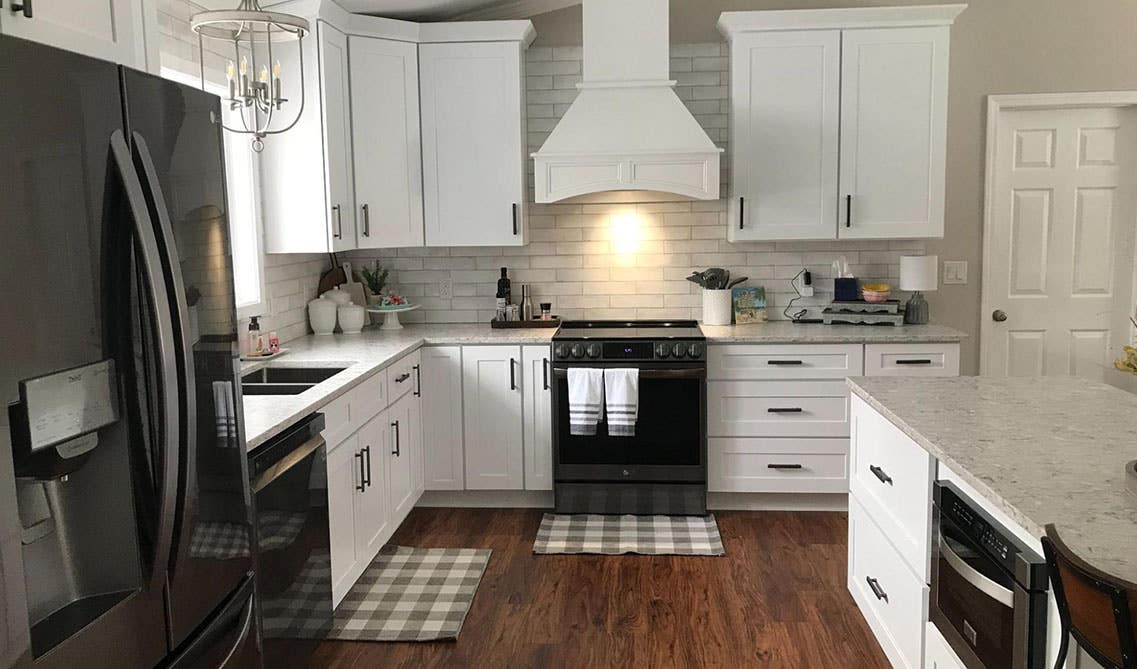 White is a classic color choice that never goes out of style. A white brick backsplash can lend an elegant and timeless appeal to your kitchen or other areas. It allows you to easily change or update the look of your space by introducing different accent colors, accessories, and decor. 
6. Red Brick Backsplash Paired with Shiplap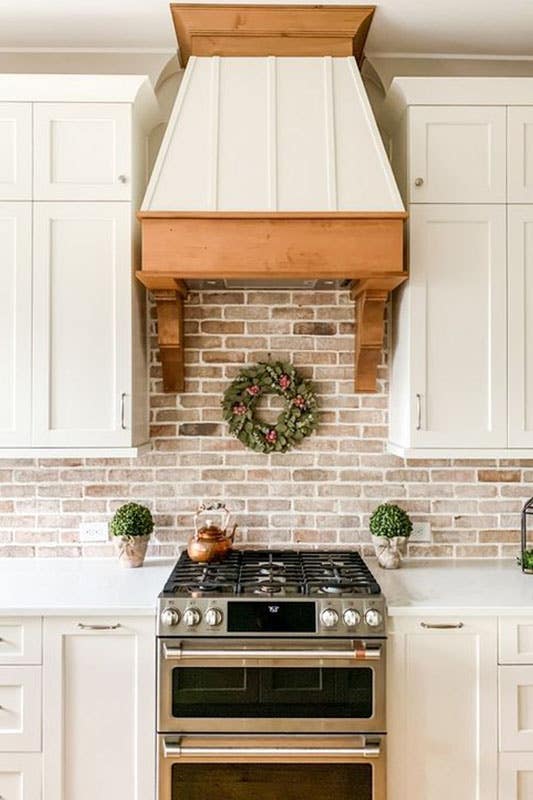 The red brick backsplash can serve as a focal point in the kitchen, drawing attention and becoming a central design element. The shiplap, on the other hand, can provide a subtle and understated background that highlights the brick. Both red brick and shiplap have timeless qualities that can transcend trends. 
7. White Brick Backsplash with Floating Shelves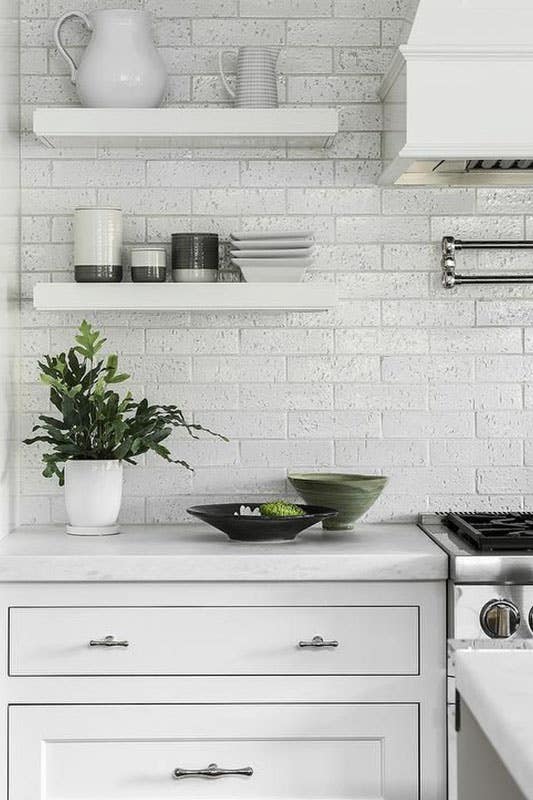 The combination of white brick and floating shelves can have a strong design impact, making a statement in your kitchen or living area. It's a way to infuse personality and style into the space. Floating shelves create a sense of continuity and flow, connecting the vertical lines of the brick and allowing the eye to move seamlessly across the space.
8. Eclectic Mix and Match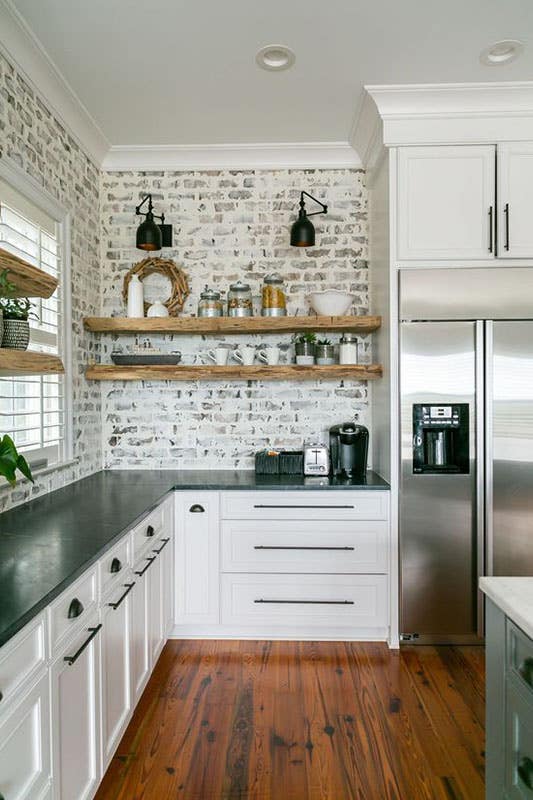 Start by choosing a color palette that includes both neutral and vibrant colors. The brick backsplash will provide a warm, earthy tone as a base. Consider adding pops of color through your accessories, appliances, and decor items. Combine the brick backsplash with contrasting elements like sleek stainless steel appliances, and rustic wooden shelves.
9. Wood Rangehood with Red Brick Backsplash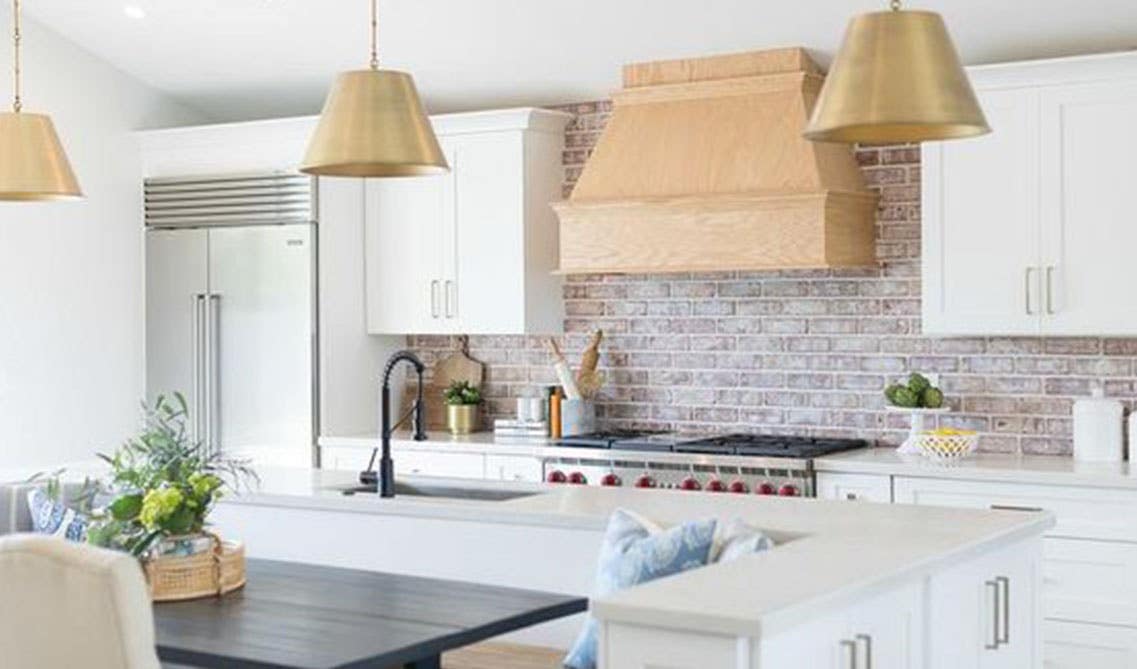 The texture of a wood range hood contrasts with the rough texture of the red brick, adding depth and visual interest to the space. This contrast can make your kitchen design more dynamic and engaging.  The combination of wood and red brick is often associated with rustic and farmhouse styles. This pairing can bring a touch of vintage charm and character to your kitchen, creating a space that feels timeless and inviting.
10. Brick Backsplash with White Rangehood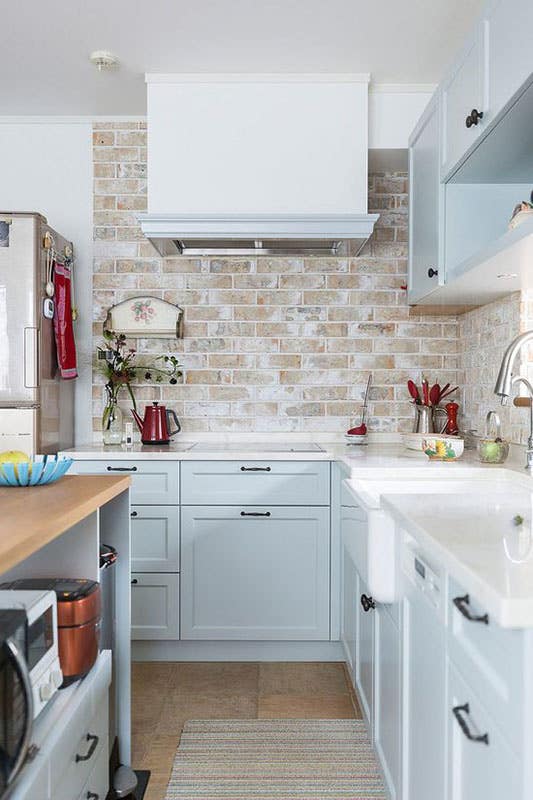 The contrast between the textured brick backsplash and the clean, crisp white of the range hood can create a visually appealing balance. This contrast adds depth and interest to the space while maintaining a harmonious look.
11. Black Brick Backsplash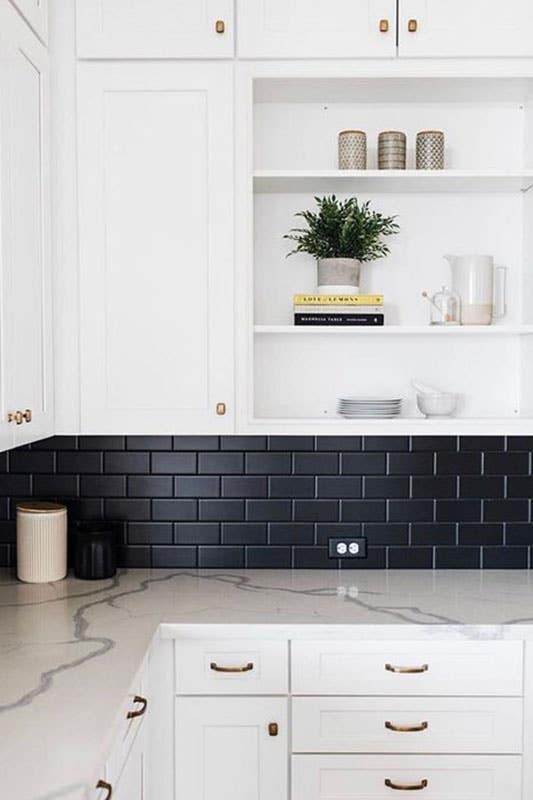 Black is a strong and powerful color that can create a bold and dramatic effect in a room. A black brick backsplash can add depth and contrast to a lighter or more neutral color palette, making it an eye-catching focal point. 
12. White Brick Veneer Backsplash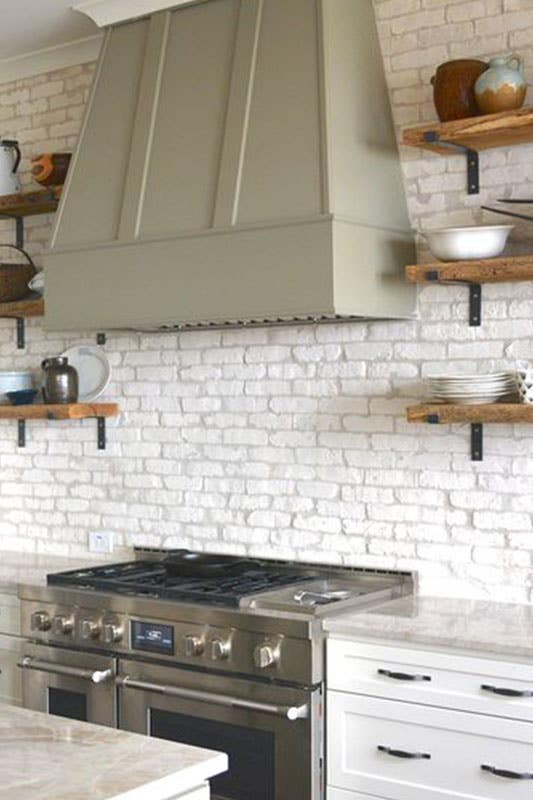 White is an extremely versatile color that can easily adapt to various design styles, from farmhouse and rustic to modern and minimalist. A white brick veneer backsplash can complement a wide range of color palettes and décor choices. A white backdrop can serve as a neutral canvas for other design elements in the room. It allows you to showcase your personal style through décor, furniture, and accessories without clashing with the backdrop.
13. Vintage Charm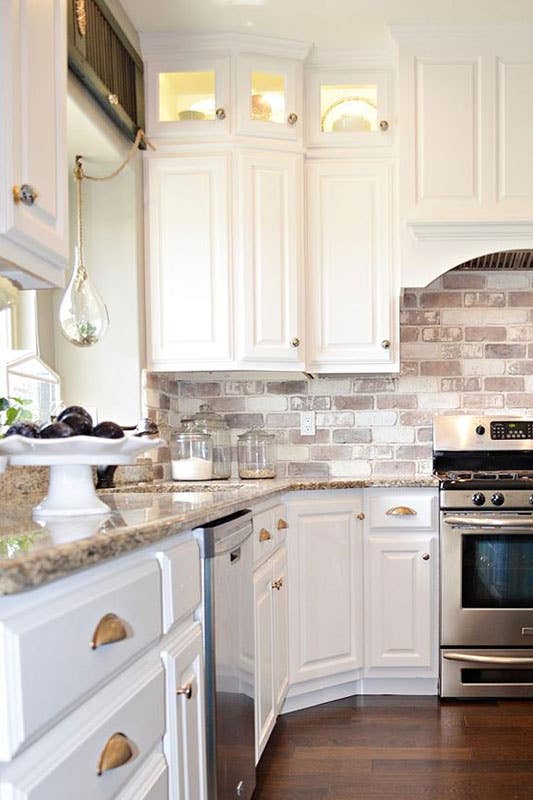 Opt for a color palette that reflects the vintage era you're inspired by. Soft pastels, muted earth tones, and warm neutrals are commonly associated with vintage aesthetics. Since you're working with a vintage brick backsplash, let it be a focal point. Look for reclaimed or aged bricks that have an authentic, weathered appearance. The uneven texture and warm tones of the brick will contribute to the vintage charm.
14. White Brick Backsplash and Stainless Steel Appliances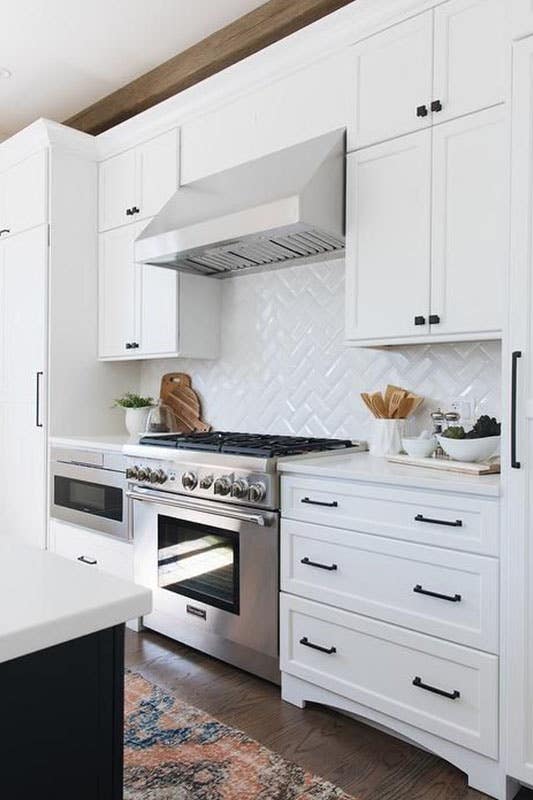 The contrast between the white brick backsplash and the sleek, reflective surface of stainless steel appliances creates a visually appealing balance. The warm and textured appearance of the brick complements the cool and modern look of stainless steel.
15. White Shaker Cabinets and White Brick Backsplash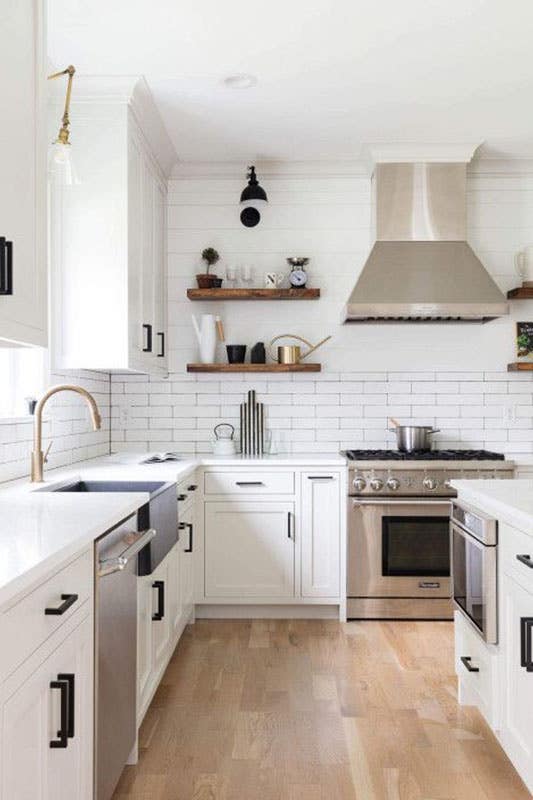 The textured surface of the white brick backsplash contrasts beautifully with the smooth and clean lines of shaker cabinets. This contrast adds depth to the kitchen without overwhelming the space. Even though both elements are white, the subtle variation in texture between the cabinets and the backsplash can create a subtle yet visually engaging interplay of light and shadow. 
16. Rustic White Brick Backsplash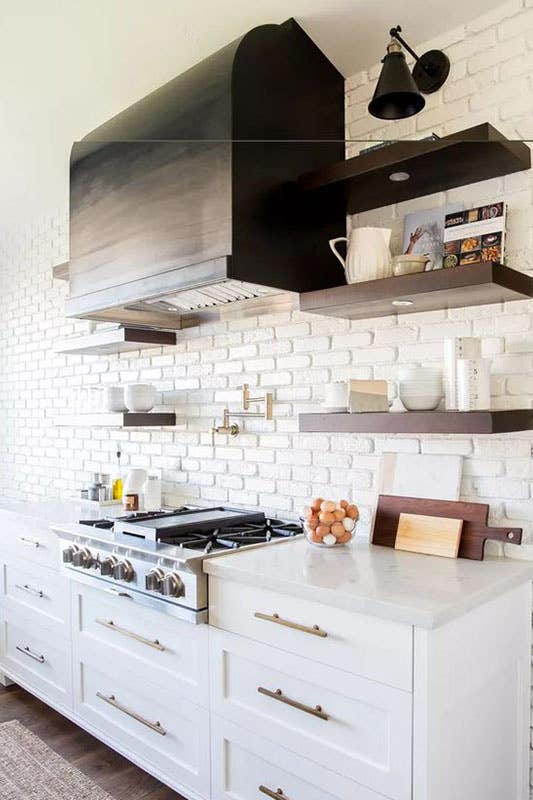 A rustic white brick backsplash can be used to accentuate other design elements, such as wooden cabinets, or colorful accessories. It provides a complementary backdrop that highlights these features. The rustic quality of white brick can evoke a cozy and inviting country or cottage charm, making your space feel warm and welcoming.
17. Grey Brick Backsplash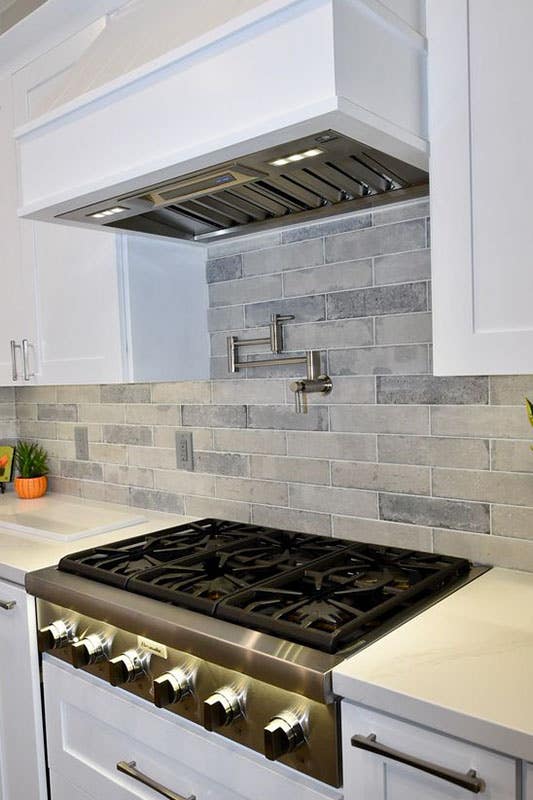 Grey is a neutral color that exudes elegance and sophistication. A grey brick backsplash can add a touch of refinement to your kitchen, or any other area where you choose to install it. Grey brick provides a subtle contrast compared to traditional red or brown brick. This can create a more understated and modern look while still retaining the charm of brick texture. 
18. Brick Archway Illusion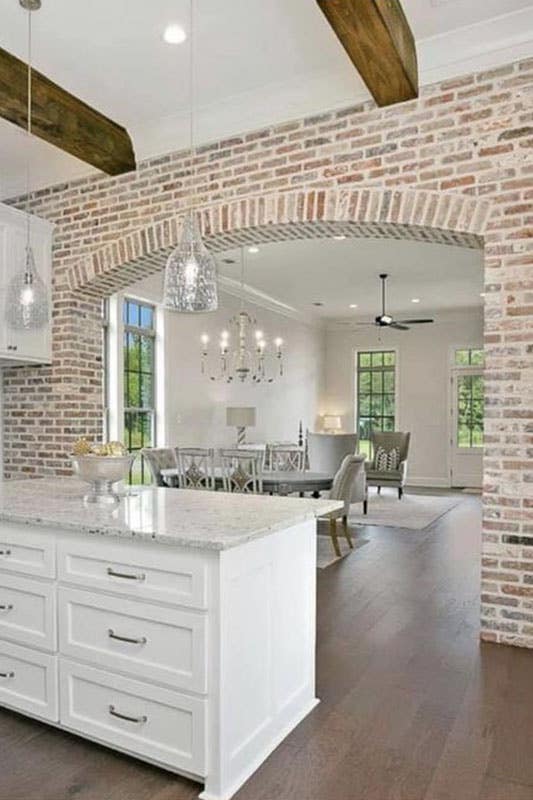 The brick archway adds a unique architectural feature to your kitchen, making it stand out and contributing to the overall design and character of the space. The illusion of a brick archway adds depth and dimension to the room, making the space feel larger and more dynamic. The appearance of brick brings warmth and texture to the kitchen, creating a cozy and inviting atmosphere.
19. Glossy Brick Backsplash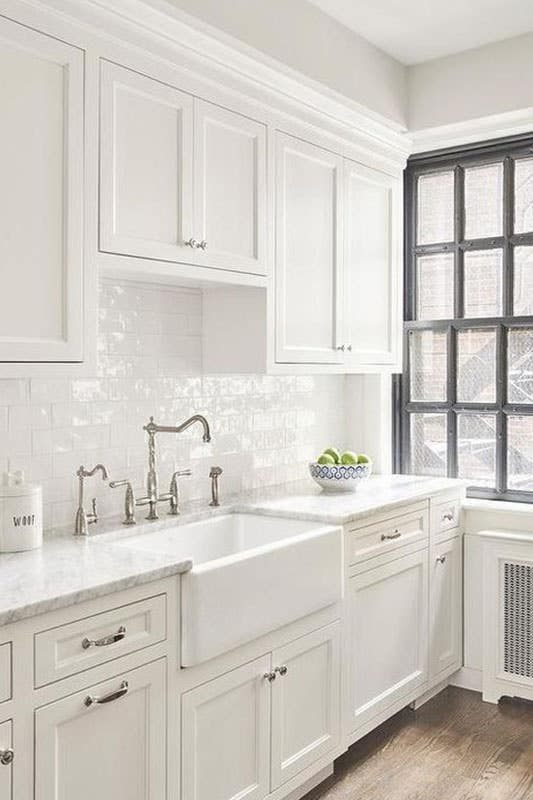 Glossy brick backsplash can bring a unique and contemporary twist to your interior design. The glossy finish adds a sleek and modern touch to the traditional brick texture. This combination of classic and contemporary elements can create an interesting visual contrast. The glossy surface reflects light, making your space appear brighter and more open. This effect can be particularly advantageous in smaller rooms or kitchens with limited natural light.
20. Brick and Marble Fusion
The rough and earthy texture of brick contrasts beautifully with the smooth and polished surface of marble. This contrast adds depth and visual interest to your space, creating a dynamic and engaging design. Brick brings warmth and a sense of coziness to a space, while marble exudes luxury and sophistication. 
21. Industrial Brick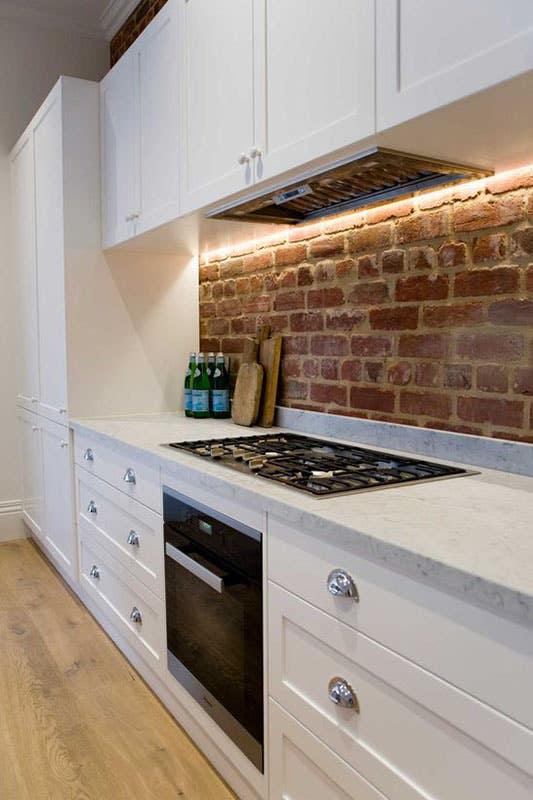 Authenticity is key to achieving an industrial look. Opt for real brick or brick veneer to create the exposed brick appearance that is a hallmark of industrial design. The natural texture of brick adds depth and character to your space, enhancing the industrial ambiance. Leave the brick unpainted to maintain its raw and weathered look.
22. Chic Subway Brick
Choose subway-style brick tiles that mimic the classic rectangular shape of traditional subway tiles. These tiles typically have the texture and color variation of brick while maintaining the clean lines of subway tiles. Opt for a chic color palette that compliments your overall design style. Neutral and muted tones like gray, white, beige, or even soft pastels can create an elegant and refined look.
23. Whitewashed Brick Backsplash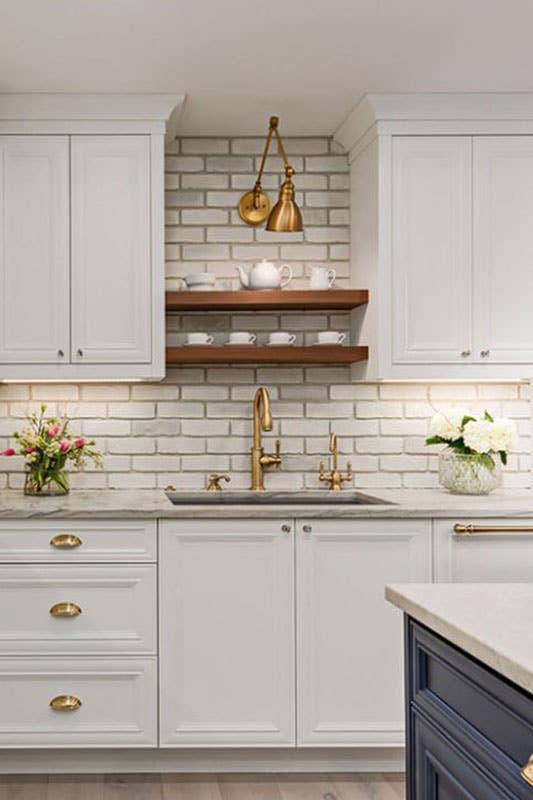 Whitewashed brick creates a lighter and brighter backdrop compared to traditional brick, making it an excellent choice for smaller or dimly lit spaces. Whitewashed brick exudes a cozy and inviting feel, making it well-suited for farmhouse, cottage, or shabby chic aesthetics. Pair your whitewashed brick backsplash with other natural materials like wood, stone, or metal to create a harmonious and well-balanced design.
24. Gray Shaker Cabinets With Red Brick Backsplash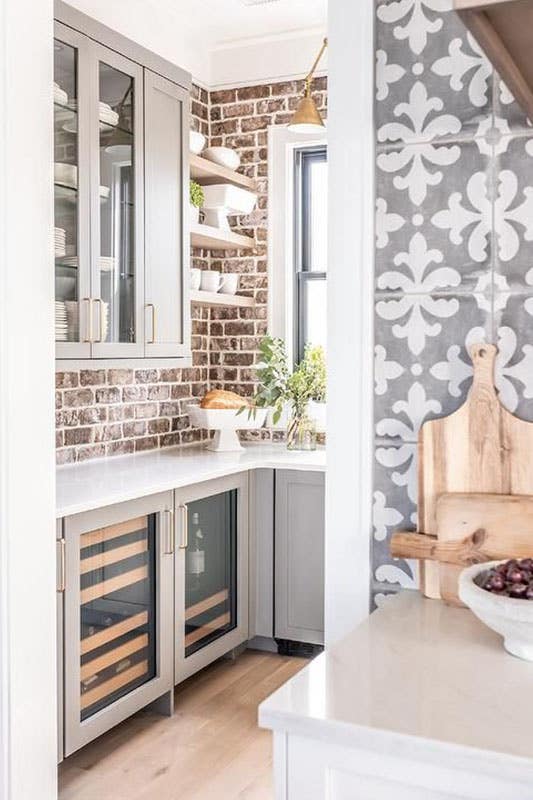 Gray comes in various shades, from light to dark. Opt for a shade that complements the red brick backsplash. Lighter grays can create a softer contrast, while darker grays can offer a more dramatic look. Since both gray and red are strong colors, balance the palette with neutral tones such as white, beige, or cream. Consider using these neutrals for countertop surfaces, wall paint, and accessories.
FAQ's
1. Is brick good for the kitchen backsplash?
Using brick for a kitchen backsplash can be a unique and stylish choice that can work well in farmhouse, rustic, industrial, or even contemporary kitchen designs.
2. Is brick backsplash expensive?
The cost of a brick backsplash can vary. While the material itself might not be very expensive, the installation process and potential sealing can add to the overall cost.
3. Can you use thin brick as a kitchen backsplash?
Yes, you can definitely use thin brick as a kitchen backsplash. Thin brick is a popular option for creating a brick backsplash without the weight and space requirements of traditional full-size bricks. Thin bricks are essentially cut from full-sized bricks, resulting in a thinner profile while retaining the look and texture of traditional brick.