One of the simplest ways to open up and add the extra liveliness to your kitchen that you are looking for is with shelves. A functional, yet beautiful addition to any kitchen is through the inclusion of shelves, and there are several different ways to pull off this look. The issue that most people run into when incorporating these into their homes, is finding a different and appealing approach to separate it from the average, repetitious look.
Here are some ideas delving into the art of transforming your kitchen shelves into captivating and functional spaces. Kitchen shelves are more than just storage; they offer an opportunity to showcase your creativity and bring life to your culinary haven. Whether you have open shelves or glass-front cabinets, mastering the art of styling them can elevate the entire look and feel of your kitchen. At Lily Ann Cabinets, we offer the addition of glass front cabinet doors on any order at your request. 
From striking a balance between form and function to incorporating decorative elements that reflect your personality, we've curated ten inspiring ways to help you revamp your kitchen shelves and turn them into stunning displays that will leave everyone in awe. 
So, let's dive in and discover the secrets to making your kitchen shelves a true focal point of your kitchen!
1. Farmhouse Style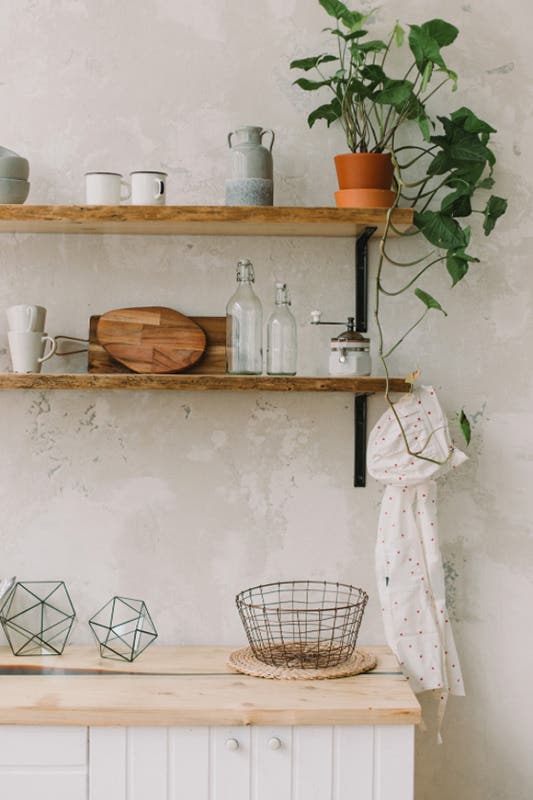 Farmhouse style shelves are a classic look and gives any space a rustic design look. The shelf itself is usually made up of wood and has black brackets to secure it to the wall. This is a more natural looking design and meshes well with any kitchen, making it a great choice for any home.
2. Blended Shelf Design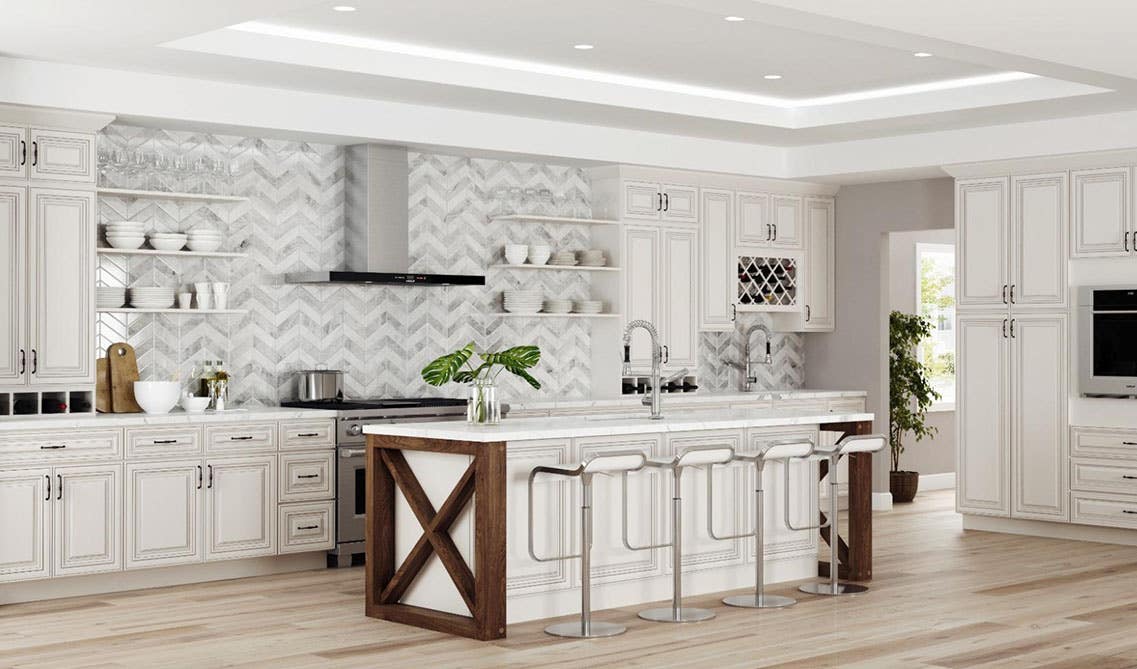 Lily Ann Cabinets: Bristol Linen
A blended shelf design can be pulled off in more than just one way. Some ideas include: painting the shelf the same color as the wall to fully color match, fully uniform colors, painting it the same color as the contrasting wall or cabinets, which would make the color reoccur and blend better overall, or you can match the shelves with backsplash. With a blended shelf design, you can hardly notice the shelf is there, other than the fact that it is used to display your kitchen decor, such as vases, flowers, pictures, or functional products such as spatulas, tongs, and larger spoons.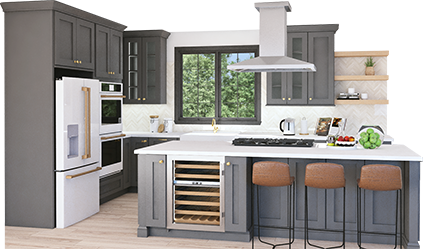 Get your FREE 3D kitchen design today!
Start Now
3. Long Lengthed Shelves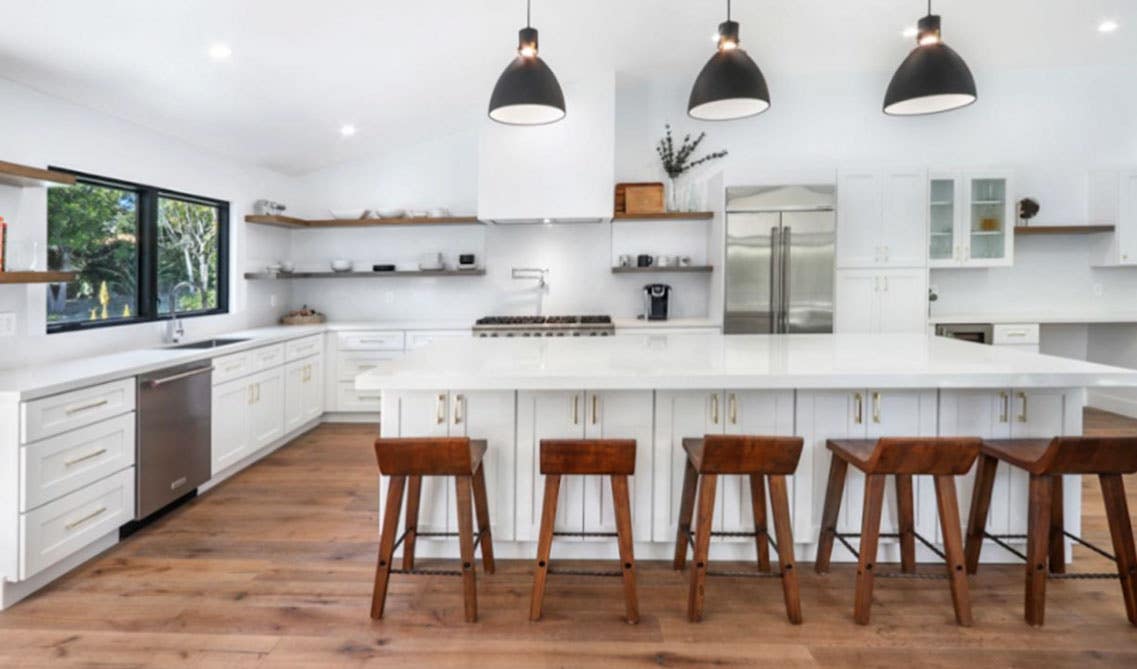 Lily Ann Cabinets: White Shaker Elite
Consider adding a less commonly lengthed shelf that stretches from wall to wall or from cabinet to cabinet. With a fully extended shelf, you are provided with more than enough shelf space to help take away the stress and hassle of cooking with plenty of space to store your cooking and baking necessities such as utensils and ingredients. With a stretched out shelf, it acts as an upper cabinet and would look best with clear glass containers to hold your kitchenware.
4. Mix and Match Multi-toned Shelves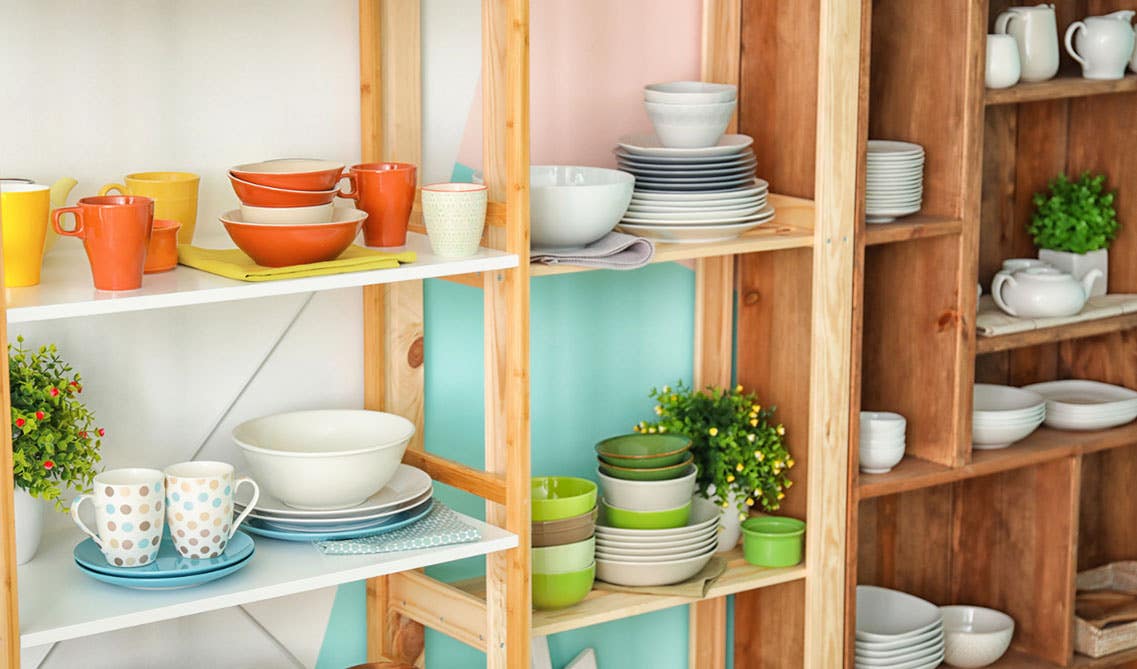 For kitchens that are looking to include more contrasting colors, try adding three painted shelves or three different tones to match your kitchen! This can help turn a boring wall into an eye-catching focal point to create a topic of conversation with any of your guests!
5. The Chef's Kitchen Shelves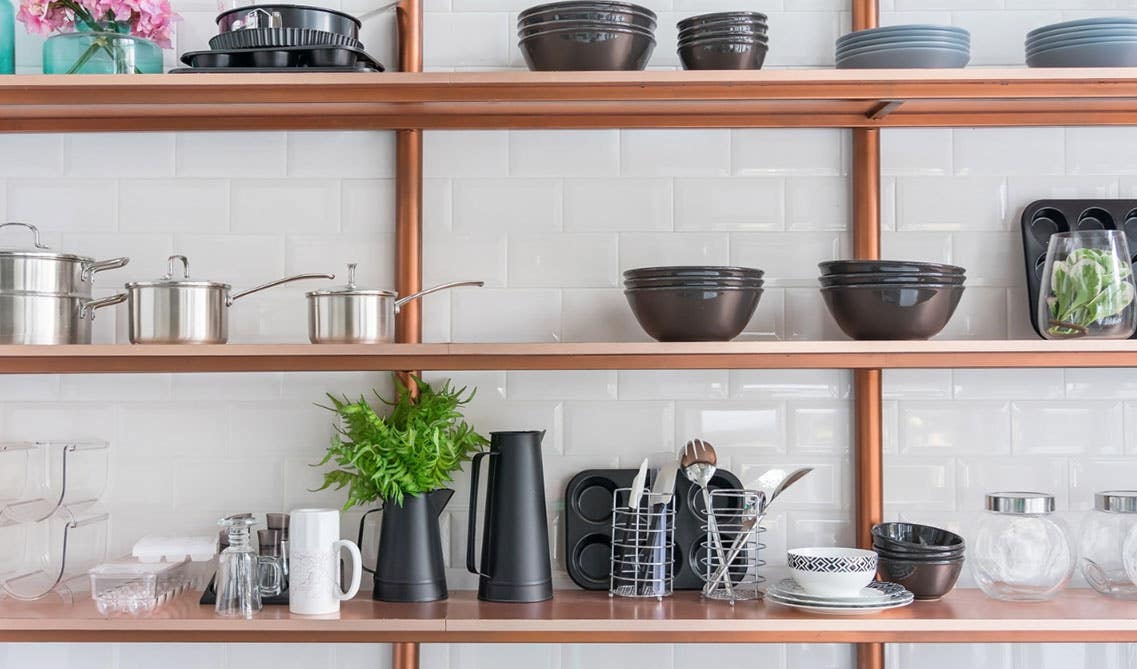 If cooking fancy meals for your family is your ideal situation, try creating a wall of shelves dedicated to the chef! This can be a great and unique look as long as it is executed correctly by being kept neat and well maintained. With matching plates and bowls on one shelf, pots and pans on another, and glassware kept all together, this is a perfect and practical design in any cook's home!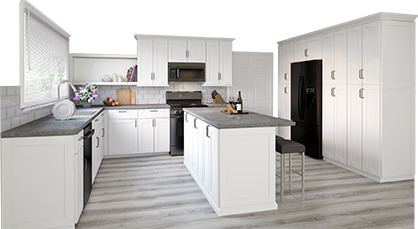 3D Kitchen Visualizer Tool
Bring your dream kitchen to life with our free kitchen visualizer!
Design Now
6. Cut-Out Design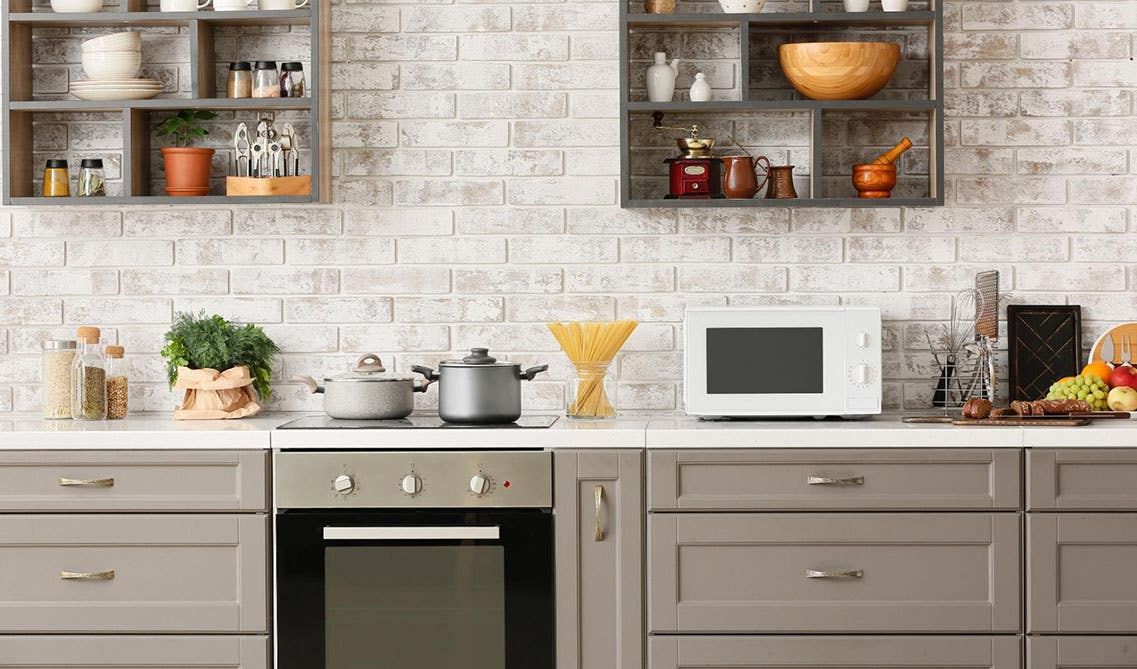 A cut out design shelf is perfect for a minimalistic look. Each cubby area offers a small portion of space, so the amount of storage is limited. This provides a perfect area for small kitchen decor, such as cook books, storage bins, or tableware to display and keep your items in place. 
7. Mini Shelves
Exhibit bits and pieces of your home decor around your kitchen with mini floating shelves. This can be as small as desired and is ideal for any greenery or little decorations you want to incorporate in your kitchen.
8. Corner Shelves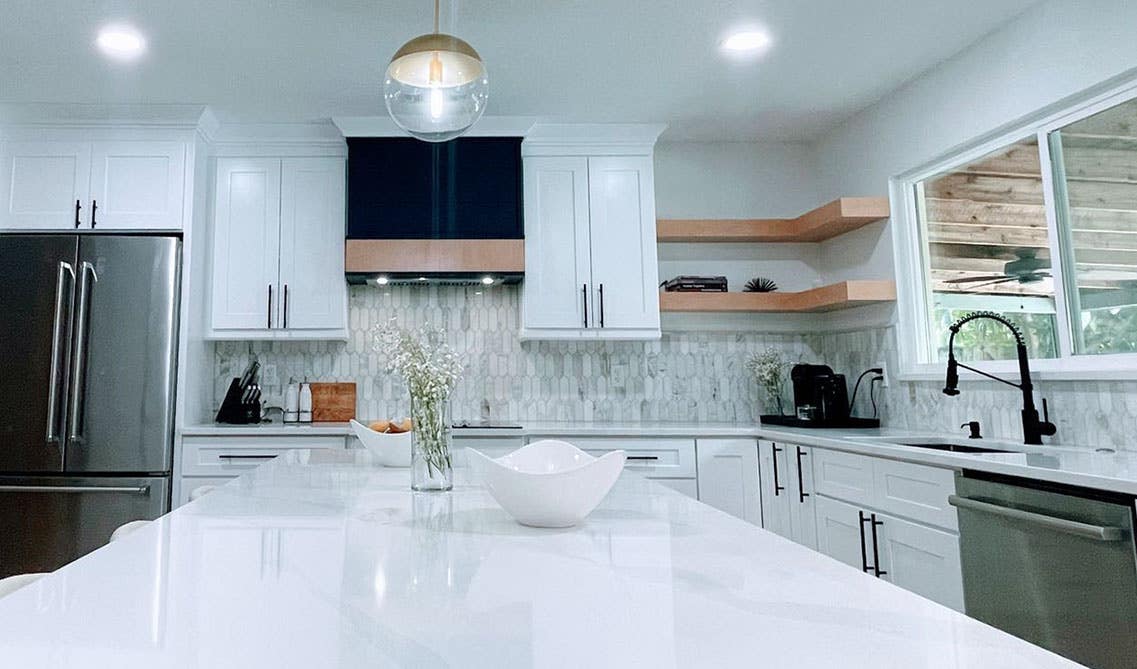 Lily Ann Cabinets: Colorado White Shaker
Corner shelves can be one of the most convenient shelves in a kitchen as they save space and stay out of the way while they are over base cabinets. They are a timeless option and will not go out of style.
9. Different Measurement Shelves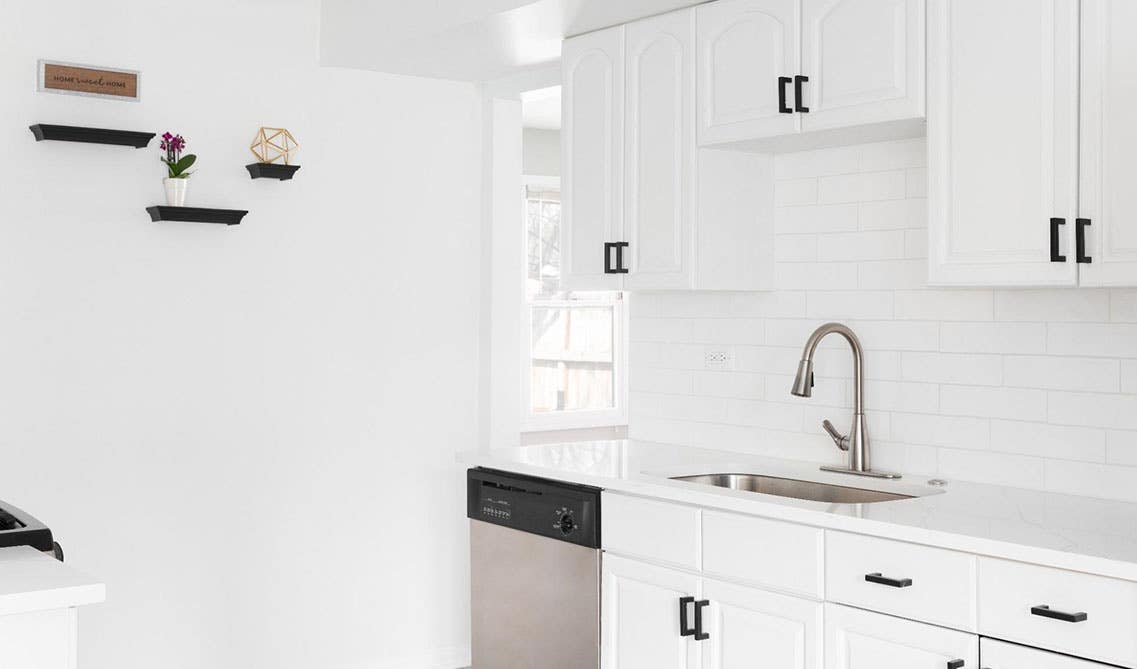 Include shelving at different heights, as well as different sizes. Instead of creating a uniform, straight lined shelf, try taking three slightly different sized floating shelves and adjusting them to be relatively close but staggered amongst each other. This takes up more wall space, making the space look more fulfilled without being cluttered.
10. Above The Sink Display Cabinets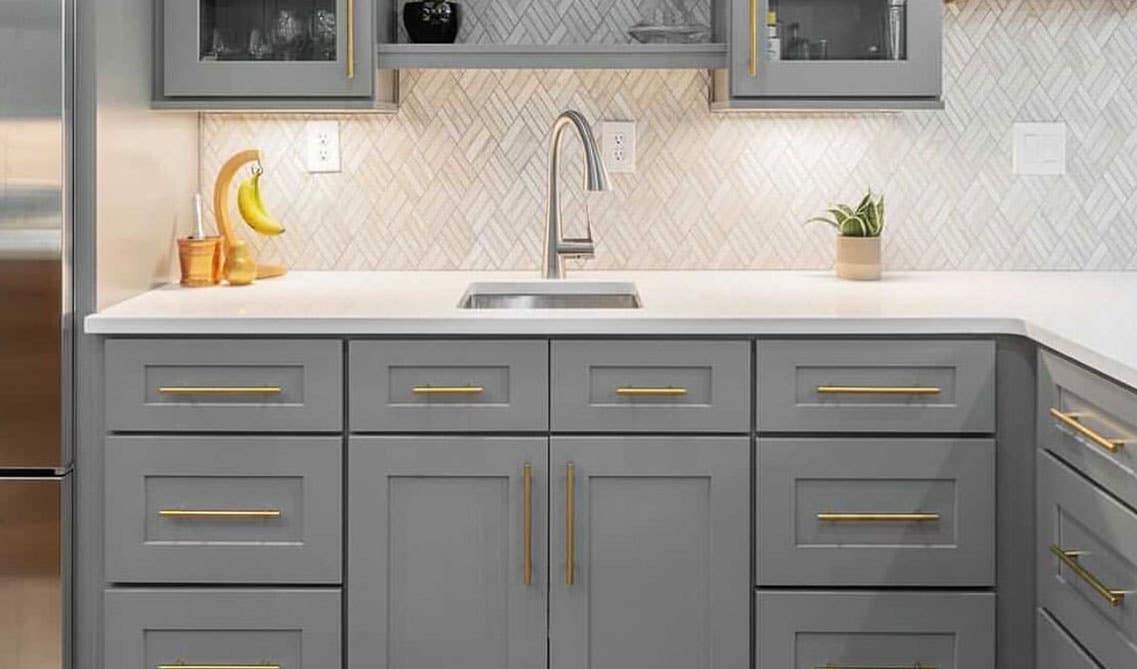 Lily Ann Cabinets: Grey Shaker Elite
Many kitchens have lots of extra space above sinks, along the wall or backsplash. Installing a shelf to fill this space is a great addition in any home because it creates a functional atmosphere and shows off your decorative kitchen elements.
In Conclusion
…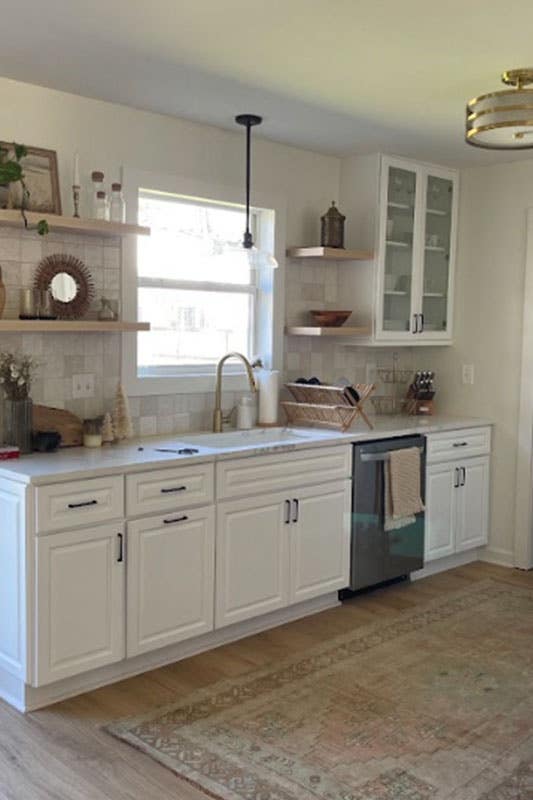 Lily Ann Cabinets: Key Largo
  Styling your kitchen shelves is a fantastic opportunity to infuse your culinary space with personality and creativity. By incorporating a mix of functional elements and decorative touches, you can create a beautifully organized and visually appealing display that not only showcases your favorite items but also enhances your overall kitchen ambiance. Whether you opt for a minimalistic approach or a vibrant display of colors, the key is to strike a balance between aesthetics and practicality. So, roll up your sleeves, unleash your imagination, and embark on a journey to transform your kitchen shelves into a delightful showcase that reflects your unique style and culinary passions.
If you are considering adding shelves to your kitchen, check out the floating shelves that Lily Ann Cabinets, a family owned business, has to offer. With a variety of colors and sizes, our experts are ready to help you find your ideal shelf design, and even have the option to customize any of our products!
Related Blogs: 
FAQ'S
1.
Are floating shelves in a kitchen a good idea?
Floating shelves in a kitchen are a great idea especially if the space in your kitchen is limited. They take up minimal space and add to the aesthetic of the room, as well as provide storage solutions.
2. What is the trend in shelves in 2023?
The most trendy shelves in 2023 are floating shelves and gallery rails with your shelves. Floating shelves with gallery rails are perfectly paired with one another as they tie the unique look together and keep your items safe and secure in place.