The kitchen is the heart of the home, so it's important to make sure it looks its best. Floating shelves are a great way to add stylish and functional kitchen top shelf decor to your space. With so many contemporary options available, you can easily find the perfect look for your kitchen decor. In this blog post, we'll be exploring 8 of the most stylish floating kitchen shelf design ideas to help you find the perfect kitchen storage solution.
1) The Boho Look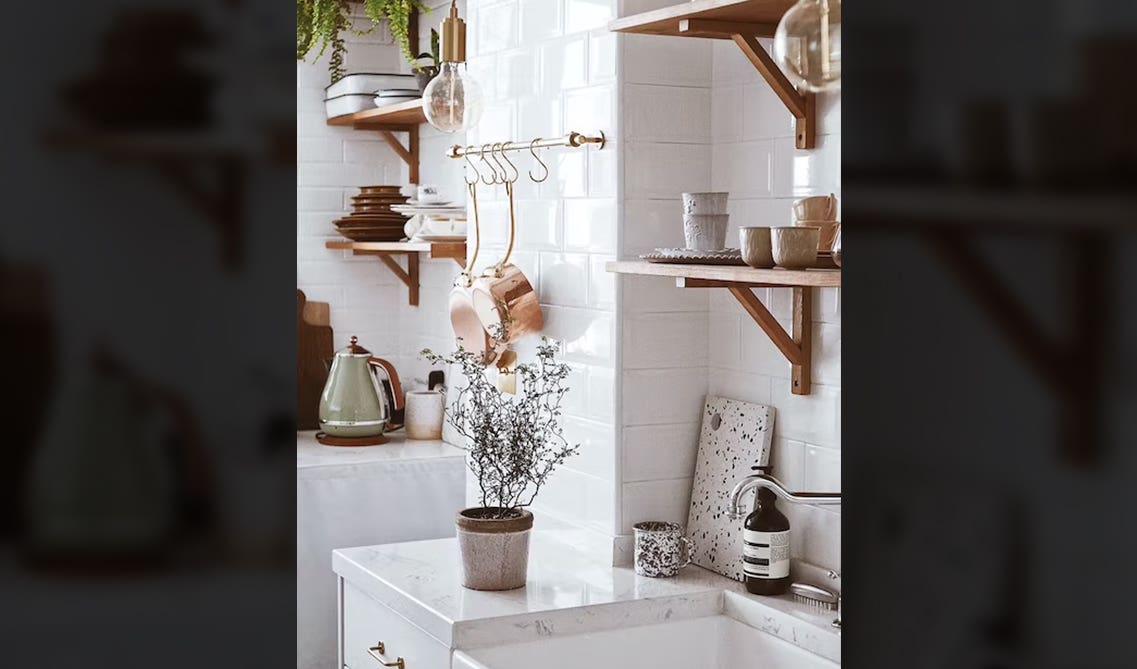 For a unique, boho look in the kitchen, consider decorating with floating shelves. Floating shelves are a great way to bring character and charm to your kitchen without taking up a lot of space. By using boho kitchen decor, you can create a look that is both warm and inviting. With pieces like woven baskets, rustic wood accents, colorful textiles, and various plants, you can easily create an atmosphere that reflects your personal style. Add a few of these decorative items to your floating shelves and you'll have a modern boho kitchen in no time!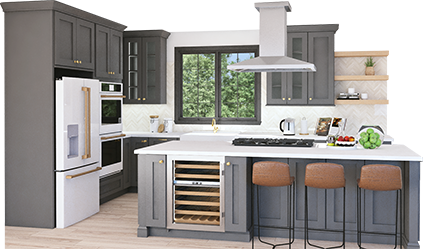 Get your FREE 3D kitchen design today!
Start Now
2) The versatility of white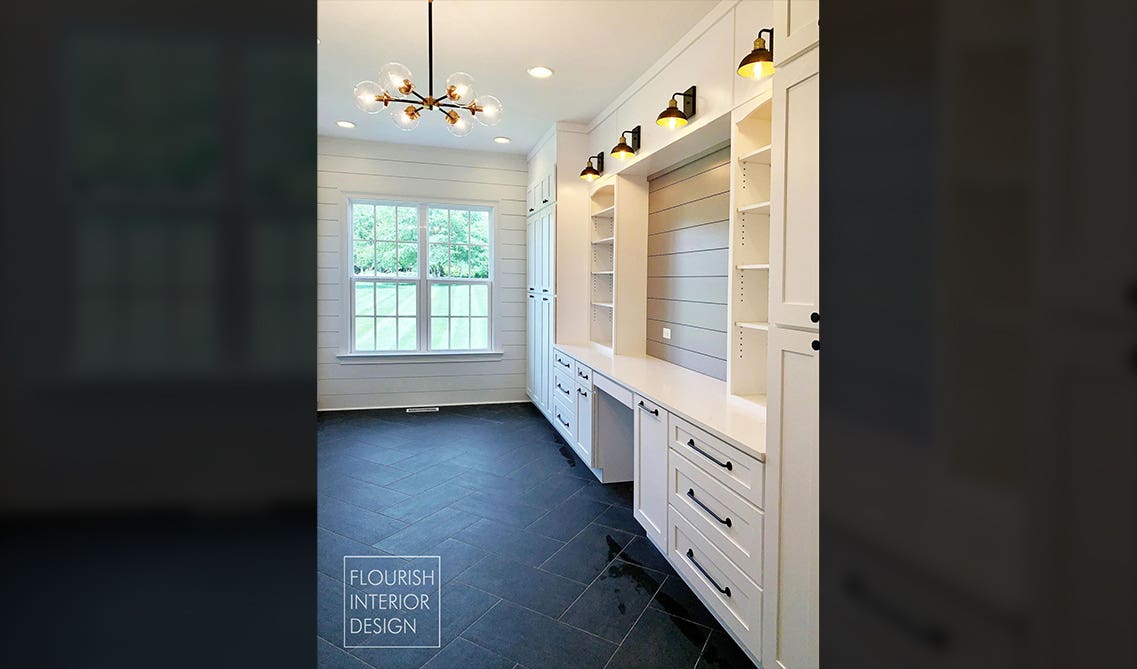 White floating shelves are an excellent way to spruce up a kitchen with white cabinetry. Whether they are used to store cookbooks, display knick-knacks, or hold decorations, these shelves bring a sleek and modern look to the space. They can also be used as a practical kitchen top shelf decor option. Not only do they provide more storage space but they also create visual interest when used to display plants or colorful dinnerware. White floating shelves give the kitchen a light and airy feel while adding texture and depth to the walls. With their versatility and modern aesthetic, these shelves can easily be integrated into any kitchen design.
Also Read: Open Shelving: Better Than Upper Cabinets? Pros Vs. Cons

3) The benefits of open shelving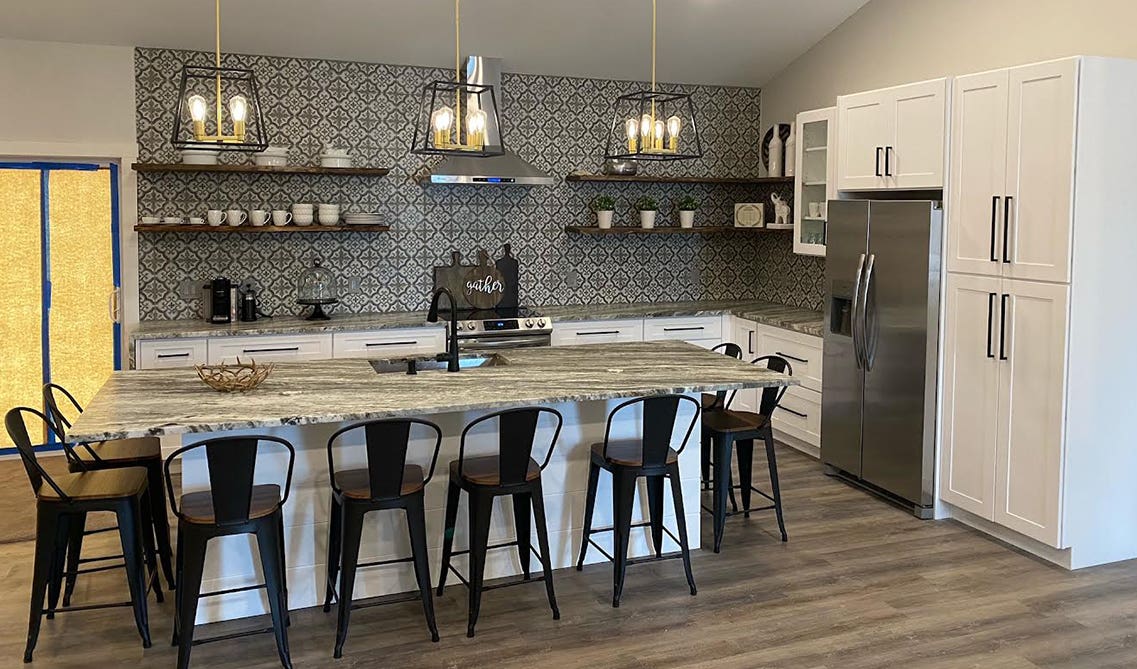 Open shelves kitchen design is an increasingly popular trend in modern kitchens. Utilizing open kitchen shelves gives your kitchen a more spacious, airy feel and brings extra storage opportunities to the space. Not only do they make a kitchen look bigger and less cluttered, but they also create a great place to showcase decorative items. Here are some of the benefits of open shelves kitchen design:
1. Easier access – Open shelves provide easy access to ingredients, cookware, utensils, and other items that you need in the kitchen. Having these items readily available helps speed up meal prep time and makes cooking more efficient. 
2. Maximizes space – Open shelves are great for maximizing available kitchen space. Without having to account for bulky cabinets and drawers, you can fit more storage into a smaller area.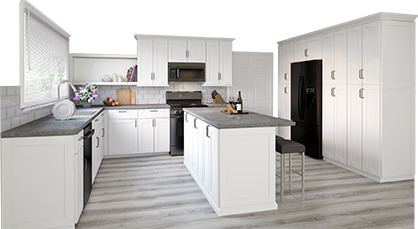 3D Kitchen Visualizer Tool
Bring your dream kitchen to life with our free kitchen visualizer!
Design Now
4) The simplicity of wood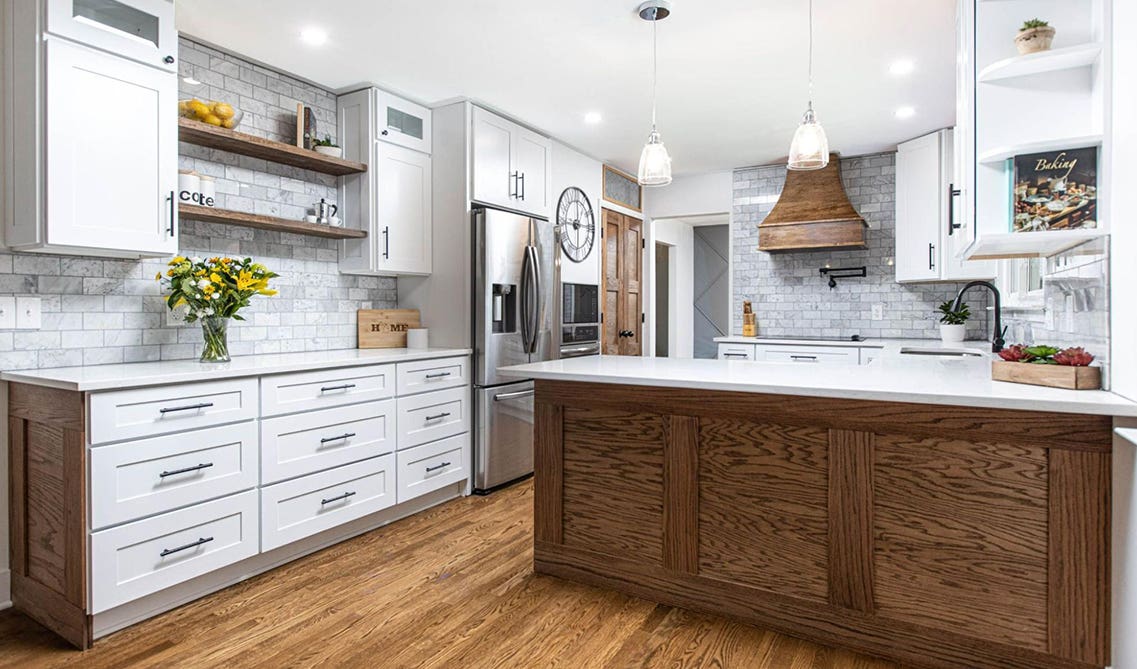 The beauty of wood shelves lies in their ability to add an open, airy feel to any kitchen. Open kitchen shelves create an inviting, uncluttered look, allowing the eye to wander across the room and appreciate its features. The natural warmth of wood can be used to contrast other colors and materials in the space, giving it a modern, contemporary flair. Wood open kitchen shelves also provide more storage than traditional cabinets, freeing up counter space and creating a great place to display dishes, small appliances, and home decor. With a variety of materials, finishes, and designs available, there is sure to be a style that fits your needs.
5) Implement colored shelves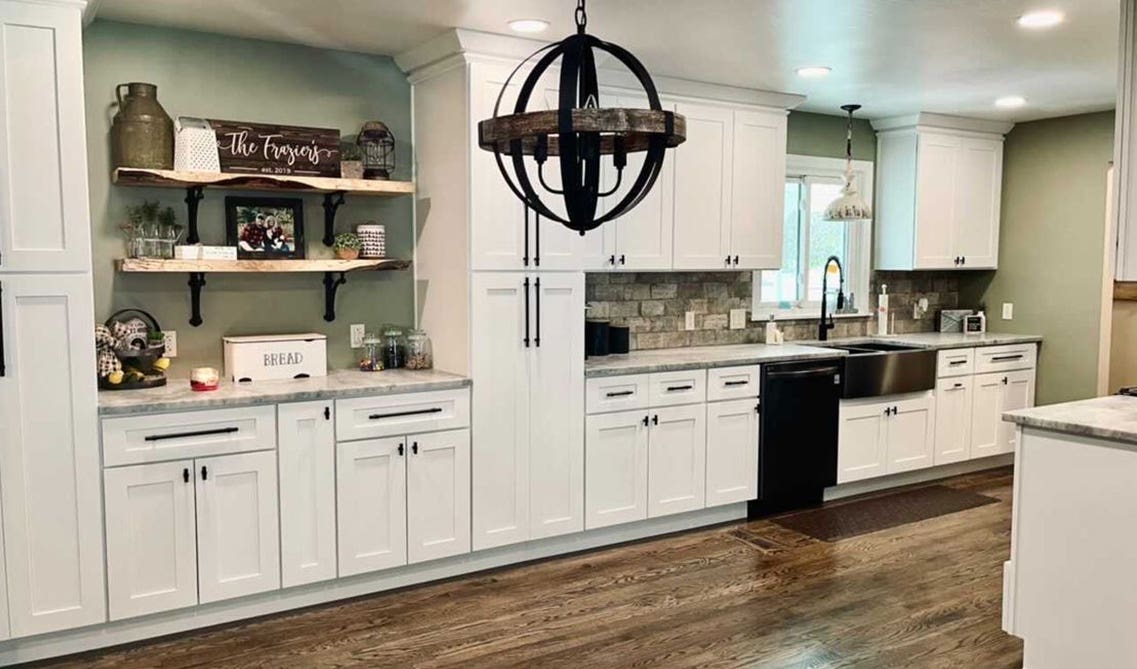 One of the most fun and eye-catching elements you can add is colored floating shelves. Whether you're looking to make a bold statement or just bring a splash of color to your open kitchen shelves, floating shelves are a great way to bring some vibrant colors into the mix. So if you're looking to spruce up your open kitchen shelves and make your kitchen design stand out, why not try adding some contemporary colored floating shelves? You'll be sure to bring some personality and charm to your kitchen with these stylish and practical additions.
Also Read: 9 Seasonal Kitchen Decor Ideas To Freshen Up Your Home

6) Create a statement wall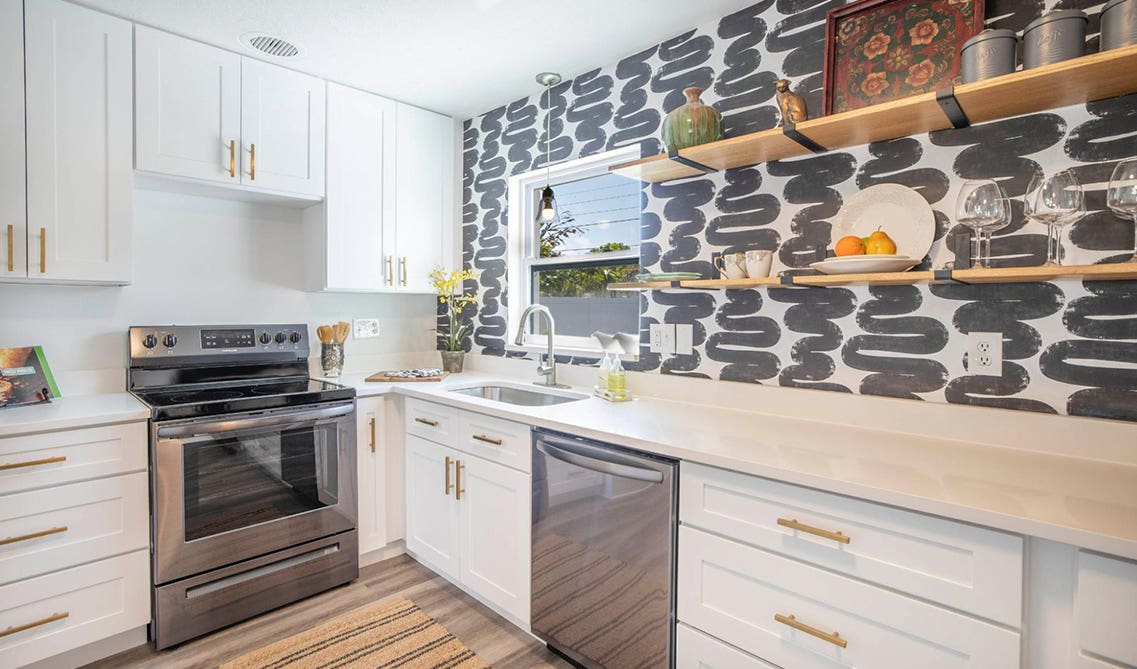 Creating a statement wall with floating shelves is a great way to add an extra design element to your kitchen. Floating shelves can be used to display items and create an interesting focal point in the room. Whether you're looking for a minimalist design or something more ornate, there are plenty of options available. With a little creativity and thought, you can create a statement wall with floating shelves that make a big impact in your kitchen. So get creative and enjoy the transformation!
Also Read: Kitchen Decor Dilemma: Should Your Kitchen Furniture And Cabinets Match?

7) Use natural wood shelves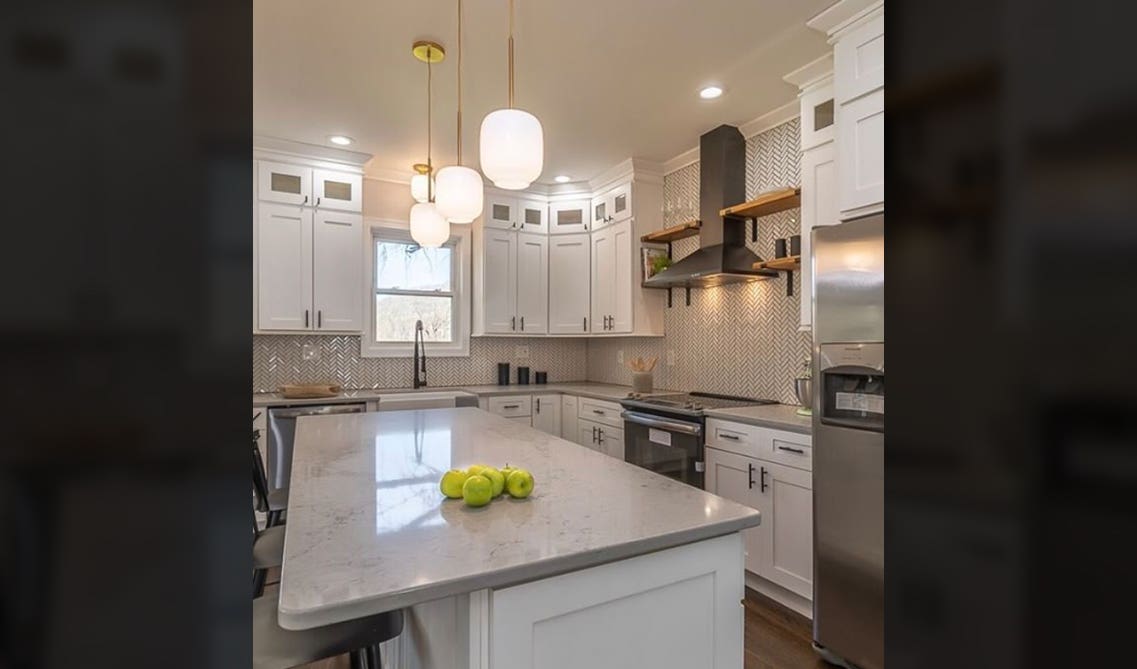 Adding natural colored wood floating shelves to your kitchen is a great way to add style and storage to any space. Not only are these kitchen top shelf decor pieces eye-catching, they provide practical use as well. Natural wood floating shelves can be used to hold spices, utensils, cookbooks, dishes, or even serve as an interesting piece of wall art. Whether you're looking for a modern or rustic feel, floating shelves made from natural wood can easily fit into any kitchen decor. Plus, when properly sealed with a water-resistant finish, these pieces of furniture can last for years to come. So don't be afraid to experiment with natural wood floating shelves in the kitchen. You'll be sure to find the perfect piece for your home.
8) Implement Corner shelves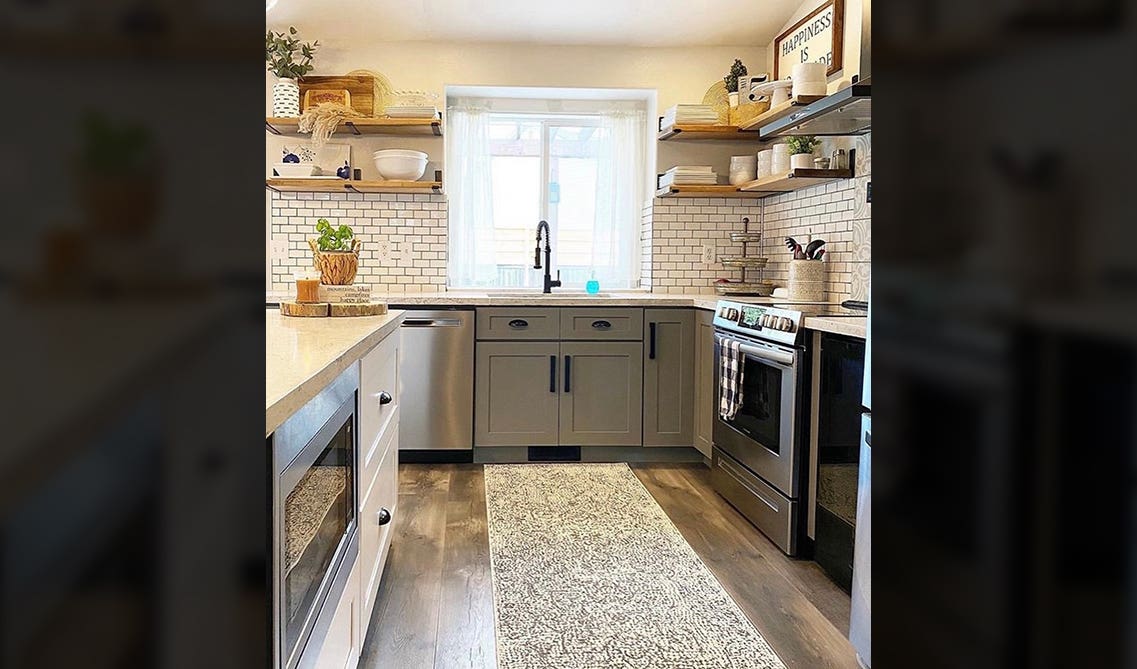 If you're looking for a modern and stylish way to make use of limited kitchen space, consider installing open kitchen shelves. Open shelves kitchen designs are perfect for creating an open and airy feel in your cooking space, while still making the most of the available area. Corner shelves are an excellent option for adding storage and style to your kitchen without taking up too much space. They can be used to display glassware, cookbooks, spices, or anything else you may want to keep within easy reach. Here are a few ideas on how to create a chic open shelves kitchen design with corner shelves:
1. Choose slim corner shelves – Utilize slim corner shelves that are made to fit snugly into corners, maximizing the space and making them look sleek.
2. Hang them higher up – To make the most of the vertical space in your kitchen, hang the corner shelves higher up and utilize the wall space beneath for other items.
3. Make use of corner accessories – Place baskets or small containers on your corner shelves for extra storage and decoration.
FAQ's
1. Are floating shelves outdated?
Floating shelves will never be outdated! They add so much personality and style to the space 
2. How deep should floating shelves be? 
Floating shelves should have a depth of 10 or 12 inches fits most functions without concern of drooping in the middle