When it comes to kitchen designs, few color schemes capture the timeless elegance quite like black and white. The combination of these two contrasting hues creates a striking visual impact, making it a popular choice for many homeowners. In this blog, we will explore elegant black and white kitchen design ideas that are sure to inspire you.
1. Scandinavian Minimalism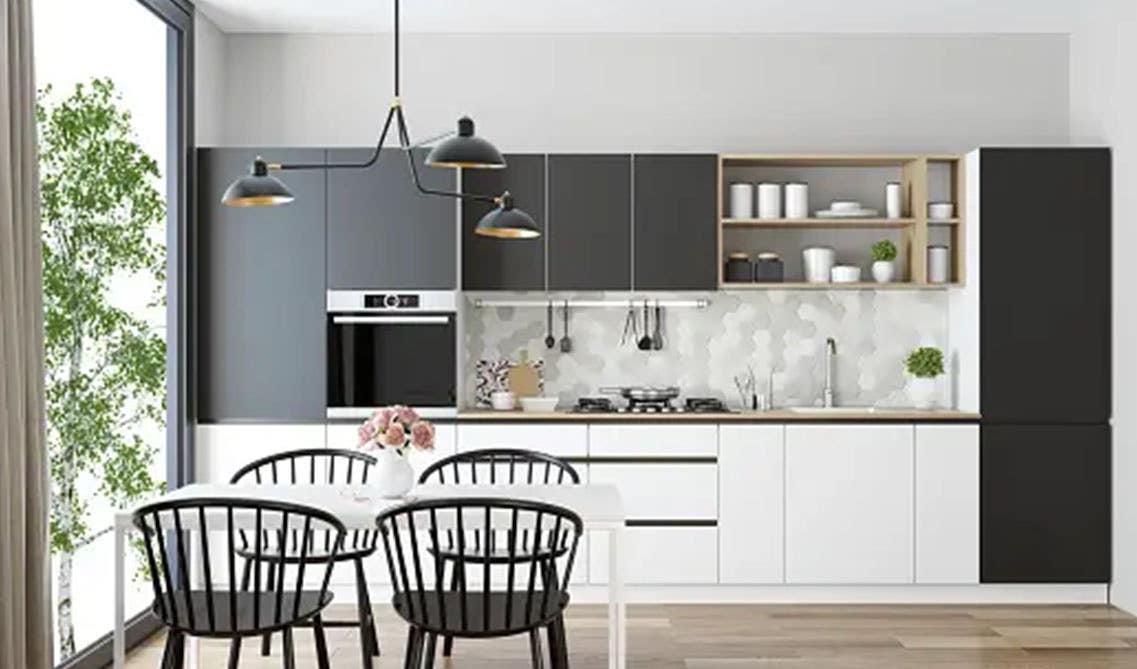 Embrace the simplicity and minimalism of a scandinavian design in your black and white kitchen. To create this black and white kitchen start with white cabinets. Then you can easily add matte black hardware, complemented by a white subway tile backsplash. Add natural textures and greenery to create a fresh and inviting atmosphere. Lily Ann cabinets offer the best cabinetry hardware and white subway tiles to complete this look. 
2. A Rustic Take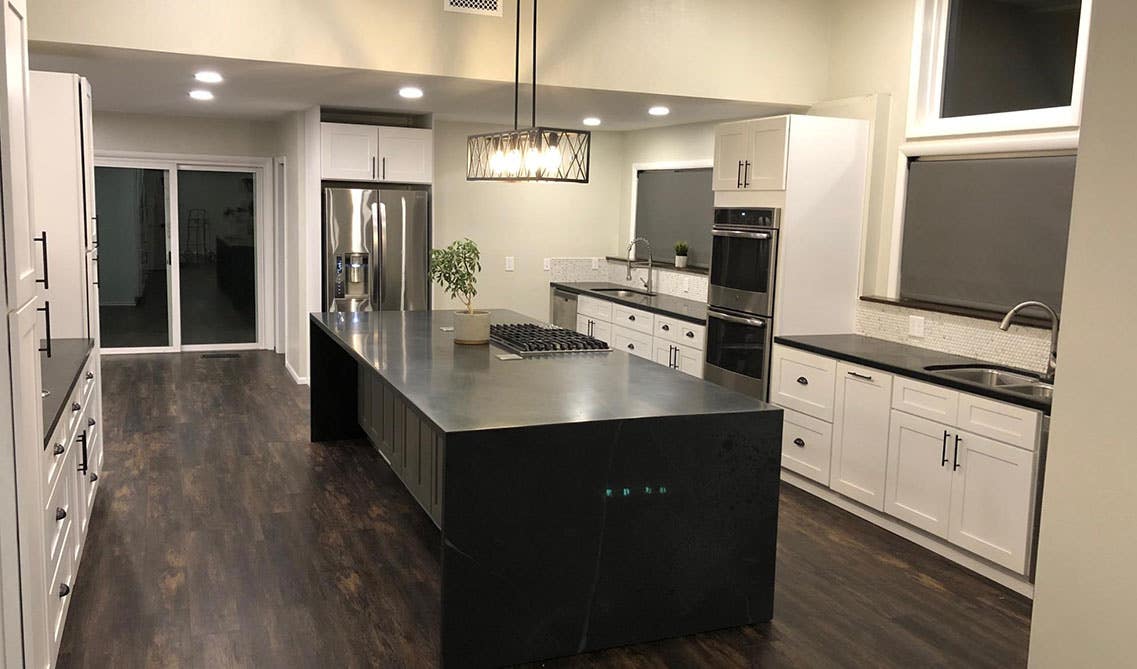 A rustic take on black and white cabinets can be an excellent choice for your home for several reasons. It creates a timeless look that can be seamlessly integrated with various design styles. In a rustic setting, black and white cabinets can serve as a captivating focal point. They draw attention and become a standout feature in the room, becoming a conversation starter and adding character to your home. By opting for a rustic take on black and white cabinets, you can create an inviting space that stands the test of time.
3. Sleek Black And White Kitchen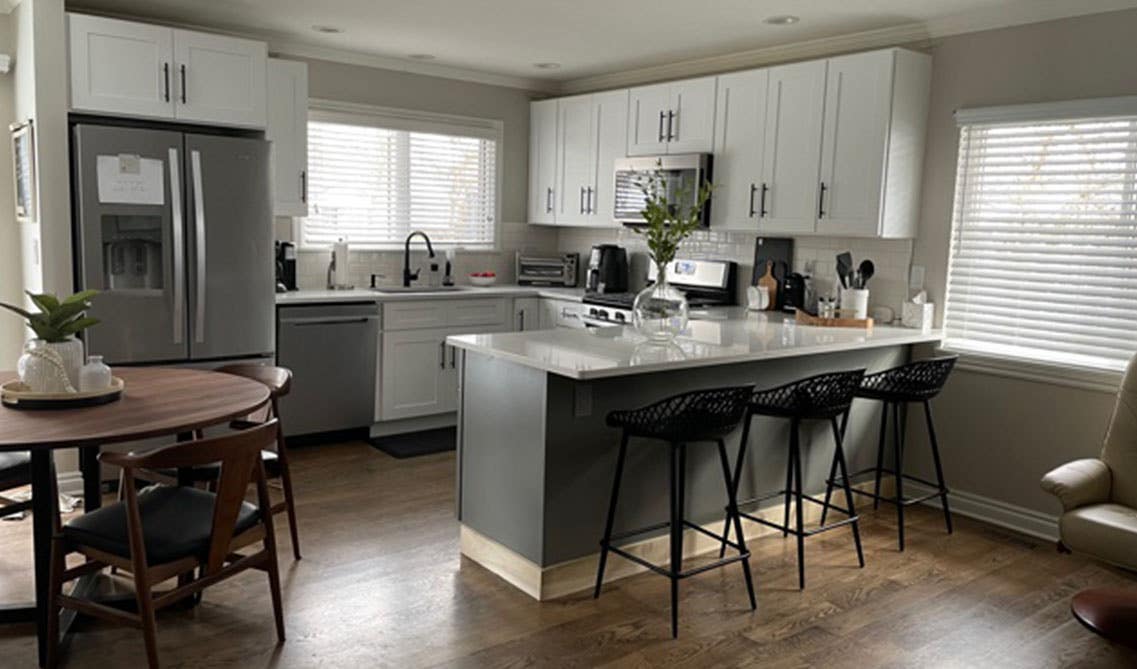 A sleek black and white kitchen idea can create a stylish, contemporary space. Choose stainless steel appliances to complement the black and white color scheme. Their metallic finish adds a sleek touch and creates a cohesive look. Consider appliances with clean, straight lines for a seamless integration with the overall design. Pay attention to the lighting in your kitchen, you can incorporate recessed lighting or sleek pendant lights that provide ample illumination while adding a modern flair. Consider Lily Ann Cabinets under-cabinet lighting to highlight the countertops and enhance the overall ambiance.
4. Charming Black And White Kitchen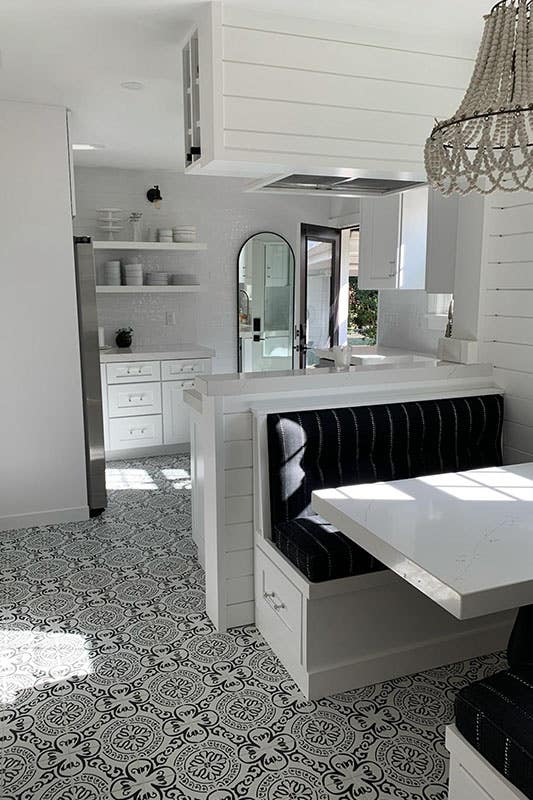 A charming black and white kitchen can infuse your space with a timeless appeal and a touch of sophistication. Choose traditional or shaker-style cabinets in either black or white. Incorporate vintage-inspired fixtures and hardware to enhance the charm of the space. Additionally, choose antique brass or bronze finishes for faucets, drawer pulls, and light fixtures. These details can add character and create a warm and inviting atmosphere in your black and white kitchen. 
5. Incorporate Wood Tones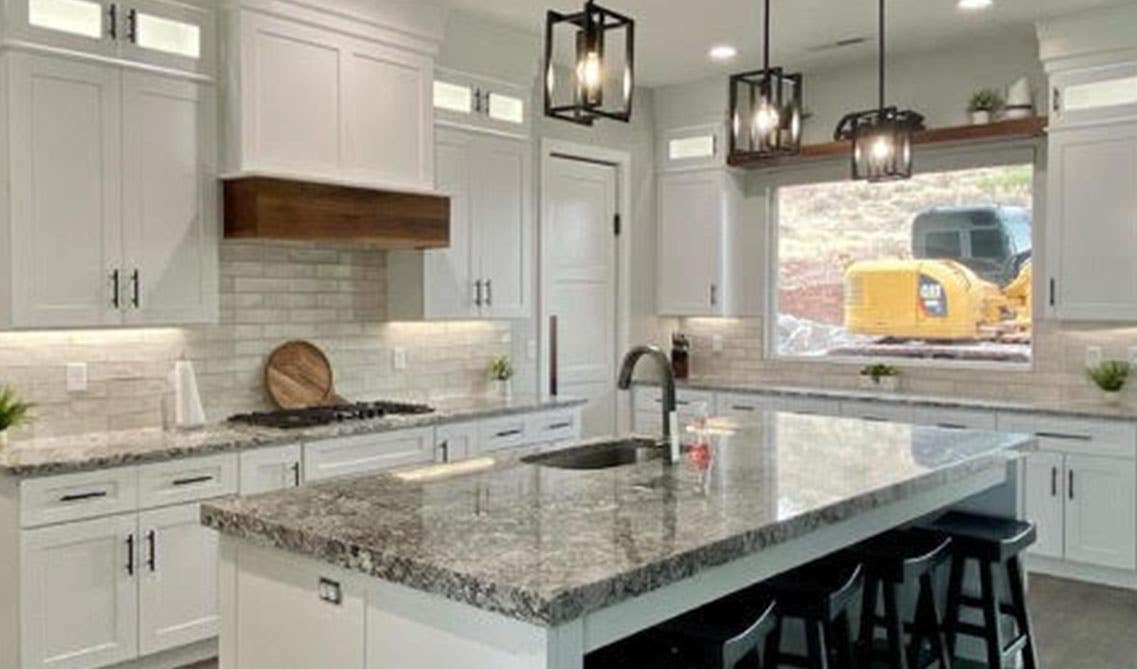 To soften the black and white color scheme and a great way to add warmth is to introduce natural wood elements. Consider incorporating a wooden butcher block countertop, a rustic wooden dining table, or open shelves with wooden brackets. These elements provide texture and create a welcoming and inviting ambiance.
6. Farmhouse Chic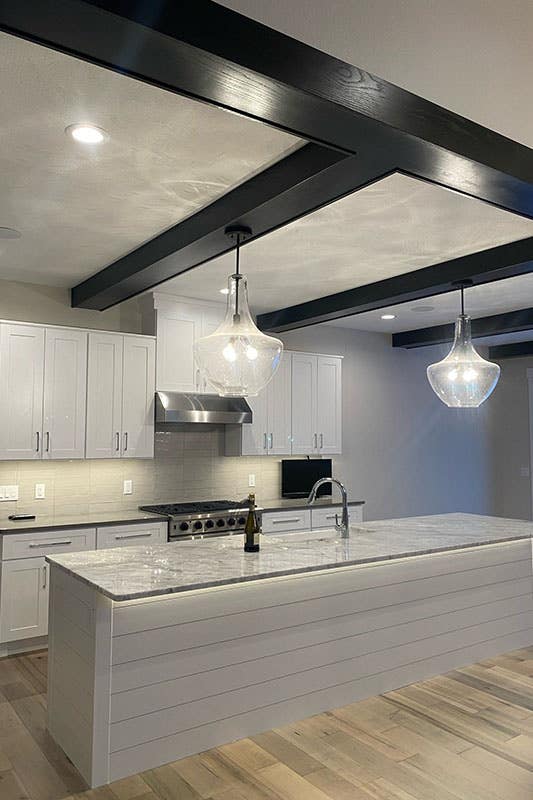 Bring a touch of rustic charm with a farmhouse-inspired black and white kitchen idea. Opt for white shaker-style cabinets and pair them with a black farmhouse sink and black hardware. You can even Include a range hood over your oven to give your kitchen that farmhouse feel. You can incorporate some wooden accents, such as a reclaimed wood dining table or floating shelves, to add a little warmth.
7. Contrasting Island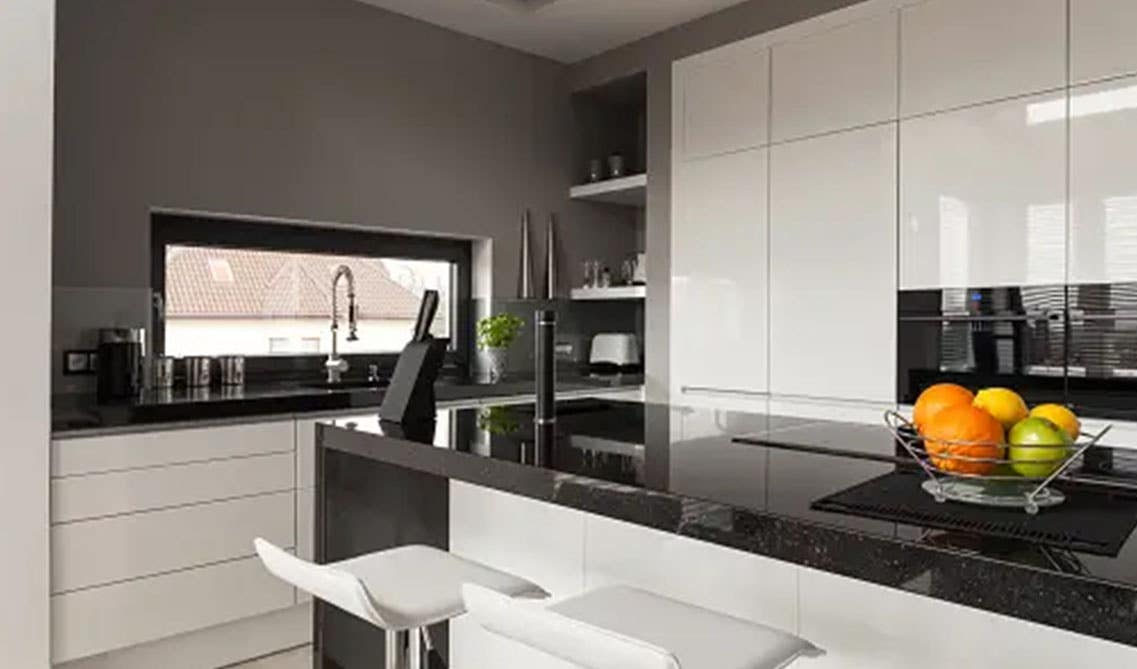 In a black and white kitchen, where the color palette is primarily neutral, a contrasting island creates depth and dimension. It breaks up the monochromatic scheme and adds a layer of complexity to the overall design. Add a striking black island with a white countertop to create a focal point that adds visual interest.
8. Black and White Tiles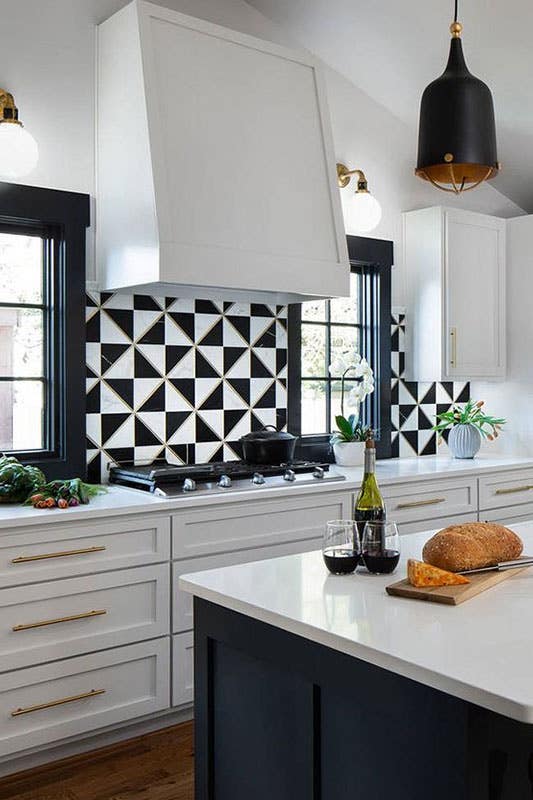 By Incorporating black and white patterned tiles on the backsplash or as a feature wall. You can easily create a beautiful and simple black and white kitchen design. Opt for a geometric or floral design to add visual texture and depth to the kitchen.
9. Herringbone Backsplash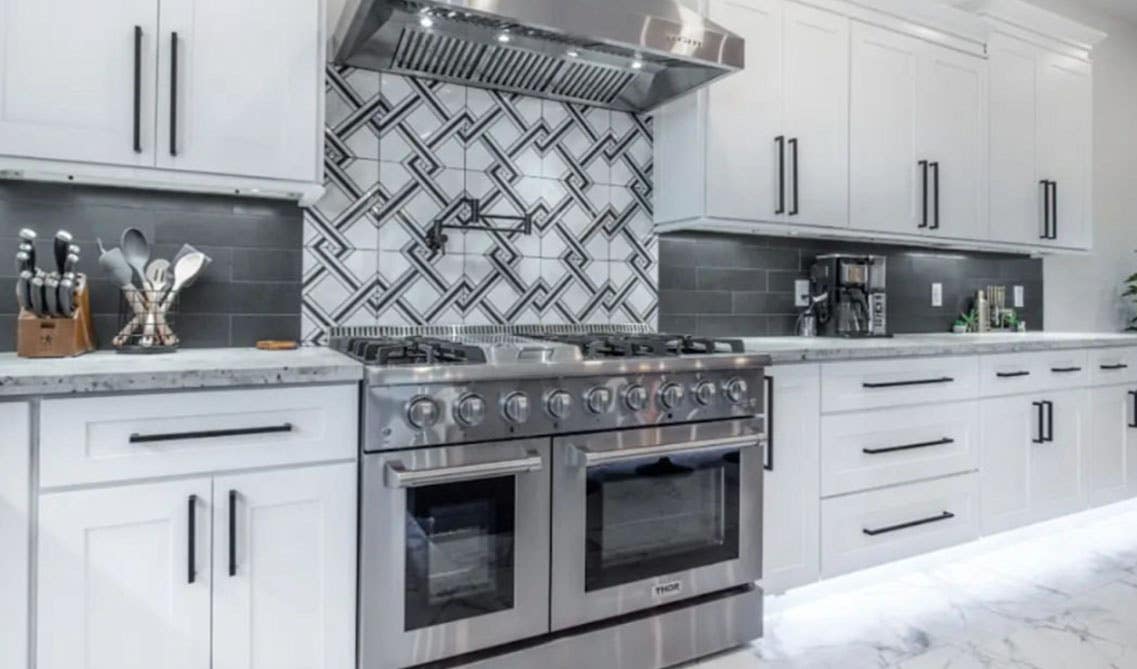 You can also use black and white herringbone patterned tiles for the backsplash. This design adds a touch of elegance and texture to the space, while still maintaining the black and white color scheme.
10. Black Appliances with White Cabinetry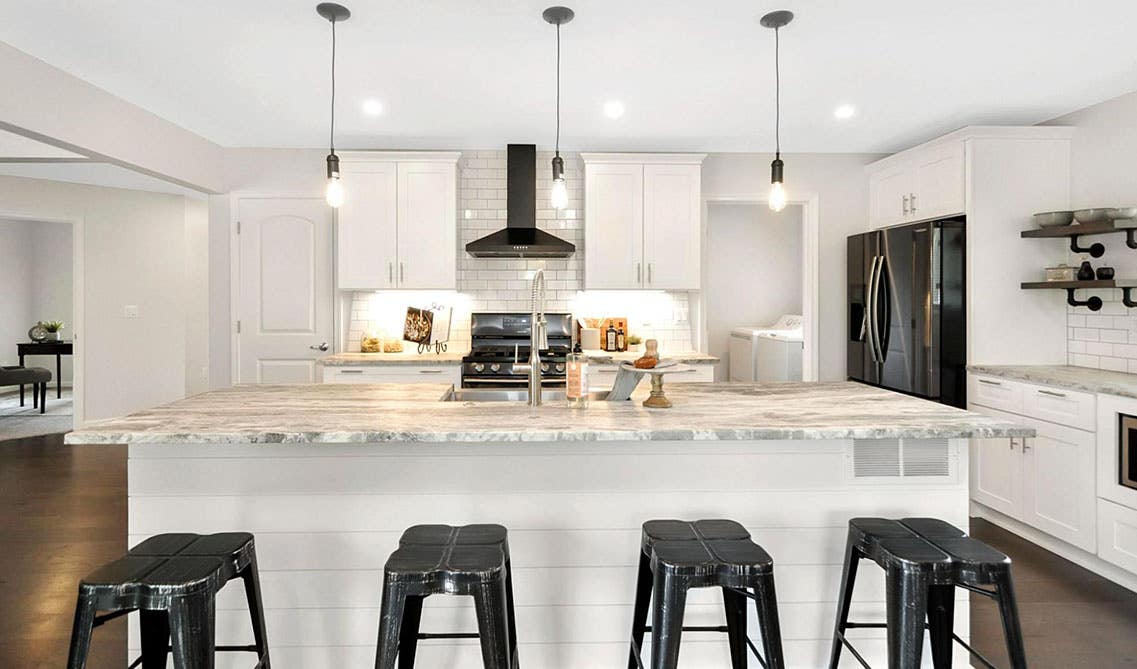 If you prefer a sleek and modern aesthetic, opt for black appliances against white cabinets. This creates a contemporary and minimalist design that looks amazing. White cabinetry serves as a neutral backdrop, allowing black appliances to seamlessly integrate into the overall design.
11. Statement Lighting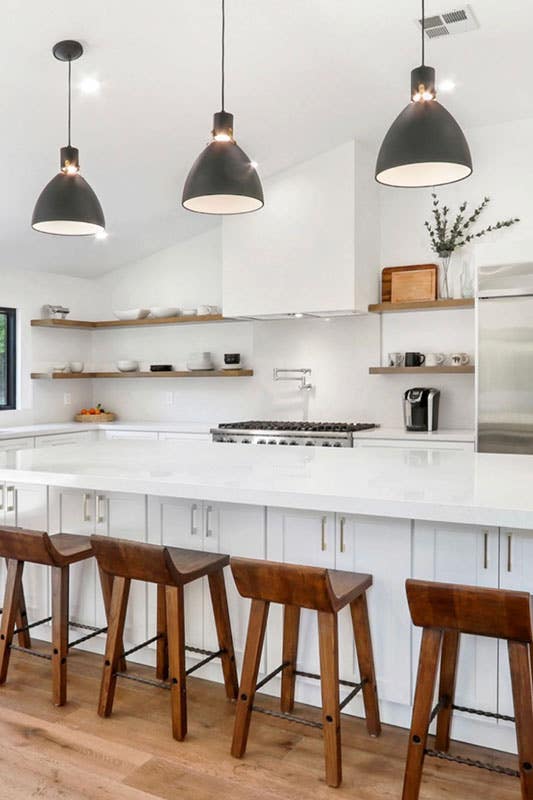 Install a striking black or white pendant light or chandelier above the kitchen island or dining area. This not only provides functional lighting but also serves as a focal point and a design statement.
PRO-TIP: Remember that design preferences can vary from person to person, so it's essential to consider your personal style and the overall aesthetic you want to achieve.Black and white kitchen designs offer a timeless and elegant design aesthetic that can suit various styles and preferences. Whether you prefer a classic, modern, or eclectic look, these design ideas provide inspiration for creating a sophisticated and visually striking space. 
FAQ's
1. Is a black and white kitchen in style?
Yes! The classic color combination of black and white offers a timeless and elegant aesthetic that can fit well with various design styles, from modern to traditional.
2. How do you decorate a black and white kitchen?
You can incorporate black appliances, hardware, backsplashes, and even countertops to achieve a black and white kitchen.