If you're looking for a modern and stylish kitchen design, look no further than Scandinavian Kitchen Designs. These styles have been trending for years and are sure to remain popular throughout 2023. From sleek and modern to bright and inviting, there's something to suit everyone's style when it comes to Scandinavian Kitchen Designs. Read on to discover five stunning examples you'll love in 2023.
1) The Beauty of Simplicity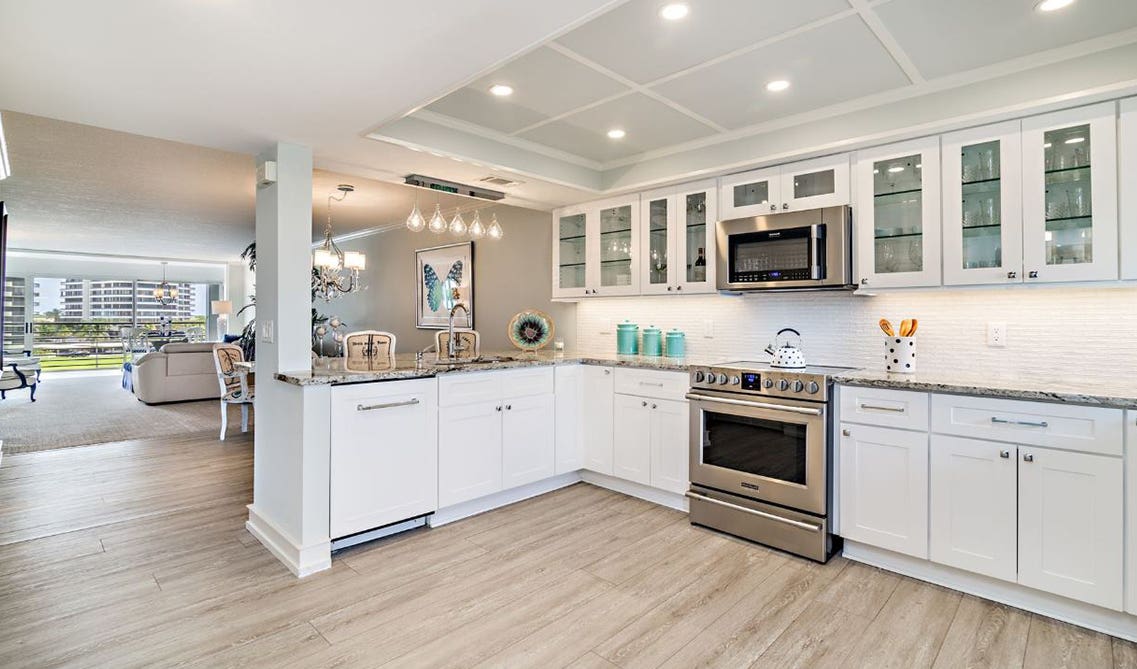 The beauty of a Scandinavian style kitchen is found in its simplicity. With minimalist details and muted tones, it's no wonder this style has gained such immense popularity. Whether you're looking for a modernized take on a classic design or something new, Scandinavian Kitchen Designs are extremely simple to create in your kitchen!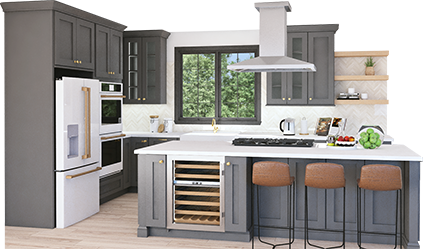 Get your FREE 3D kitchen design today!
Start Now
2) Sleek and Sophisticated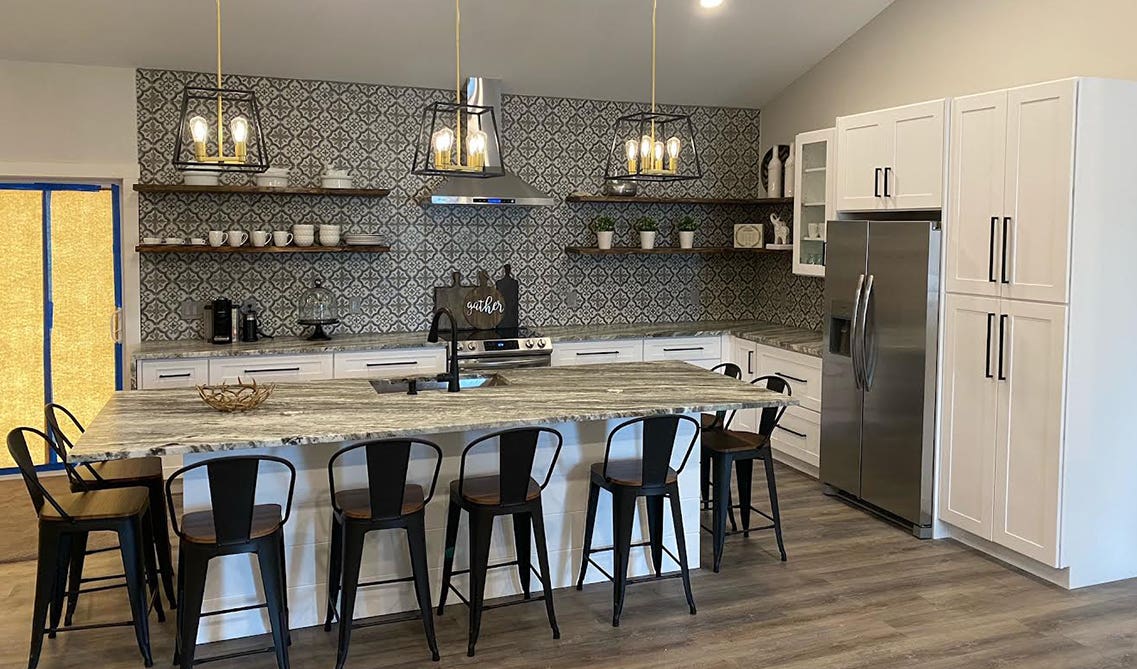 When it comes to designing a Scandinavian kitchen, homeowners are embracing minimalism and focusing on what matters most - function. By doing so, they are able to get rid of the clutter and create a more modern, sophisticated look. When planning a Scandinavian kitchen design, one of the best ways to achieve a clutter-free space is by opting for minimalistic cabinetry. Sleek, shaker style cabinets with open shelving are a popular choice among many homeowners as they create an illusion of spaciousness while also allowing access to essential kitchen tools and equipment. Additionally, Scandinavian kitchen cabinets often feature stylish hardware like brass knobs and handles which add a subtle touch of elegance. For those looking to add a bit more character to their space, another popular trend among homeowners is incorporating reclaimed wood into the kitchen design. Reclaimed wood pieces can be used to create unique open shelving, or used as accents on countertops, backsplashes and other surfaces. Overall, with a few simple changes and additions, homeowners can easily transform their kitchens into beautiful and functional Scandinavian kitchen designs that reflect their personal style. Whether you're looking to install new cabinets or incorporate reclaimed wood elements into your space, these Scandinavian kitchen design ideas will help you make the most of your space while creating a stunning look that will last through 2023 and beyond!
Also Read: Top 10 Shaker Cabinet Styles

3) The Power of Minimalism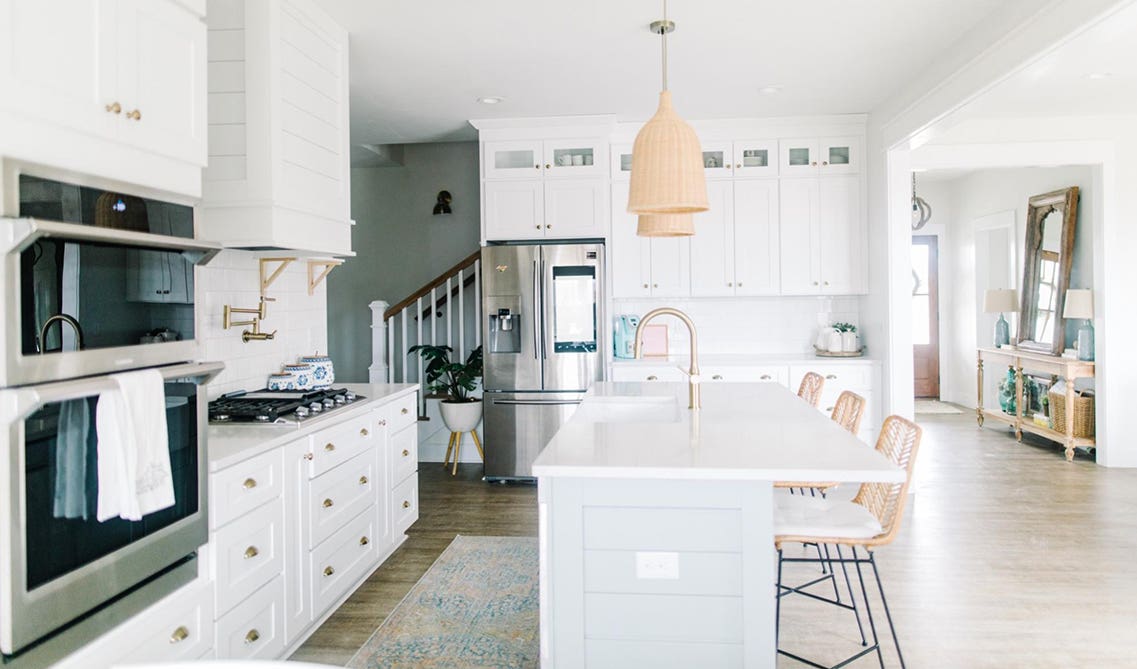 The modern Scandinavian kitchen is the epitome of minimalism and functionality. With sleek lines and timeless finishes, it's easy to see why this style has become so popular. But just because it's a minimalist design doesn't mean it has to be boring. By incorporating unique textures, colors, and finishes, you can create an eye-catching space that will make you proud to entertain guests.One of the best things about a modern Scandinavian kitchen is that it looks amazing no matter what color you choose. For example, pale hues such as soft grays and whites work well with wood accents to create a subtle yet cozy atmosphere. On the other hand, if you're looking for something more vibrant and bold, consider bold blues and greens to liven up your kitchen. To add a little extra charm, look for Scandinavian kitchen design ideas that include natural elements such as exposed brick or reclaimed wood. By using these materials, you can easily create an inviting atmosphere that speaks to the heart of Scandinavian culture. Don't be afraid to get creative with your choices — as long as you keep it simple, you can't go wrong. From the warm tones of aged wood to the timeless elegance of white cabinets, there are plenty of options when it comes to creating a modern Scandinavian kitchen. Whether you choose to go with a classic neutral palette or opt for something more daring, the possibilities are endless. With just a few simple touches, you can bring this beautiful style into your home.
Also Read: 10 Luxurious Kitchen Ideas with White Shaker Cabinets

4) Timeless Elegance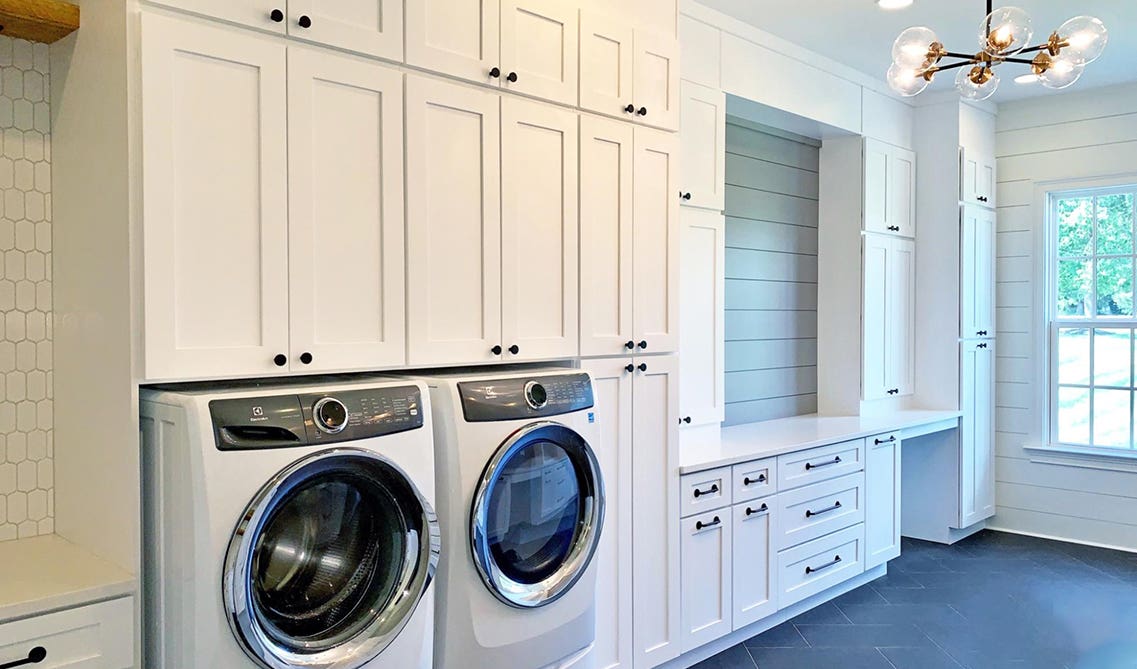 For a timeless and elegant look, Scandinavian kitchen cabinets are the perfect choice. Whether you're looking to brighten up a smaller space or create an inviting atmosphere, Scandinavian kitchen cabinets can provide just the right combination of classic beauty and modern design. Scandinavian kitchen design ideas often involve white or light wood finishes that add a touch of sophistication to any room. Shaker style cabinets are especially popular, with their flat panel fronts and minimal hardware adding a contemporary feel. To bring in more natural light, try pairing these cabinets with glass front doors. This will allow for plenty of natural light, while also creating an open and airy atmosphere. White subway tile back splashes are also often found in Scandinavian kitchen designs. These tiles can be used to create a modern or traditional look depending on your tastes. If you want to bring in more warmth to the space, opt for subway tiles in shades of yellow, tan, or even blue. You can also add texture and interest to your walls by using different tile patterns such as herringbone or basket weave. For an added touch of elegance, consider incorporating dark wood floors into your Scandinavian kitchen design. Darker hues can help create a luxurious and sophisticated atmosphere, while still keeping the space feeling bright and inviting. If you have the space for an island, this can be an excellent way to bring additional storage and prep space into the room. No matter what elements you choose, these Scandinavian kitchen cabinet ideas are sure to bring timeless beauty and sophistication to any space.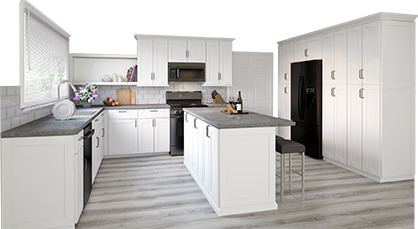 3D Kitchen Visualizer Tool
Bring your dream kitchen to life with our free kitchen visualizer!
Design Now
5) Getting Rid of The Clutter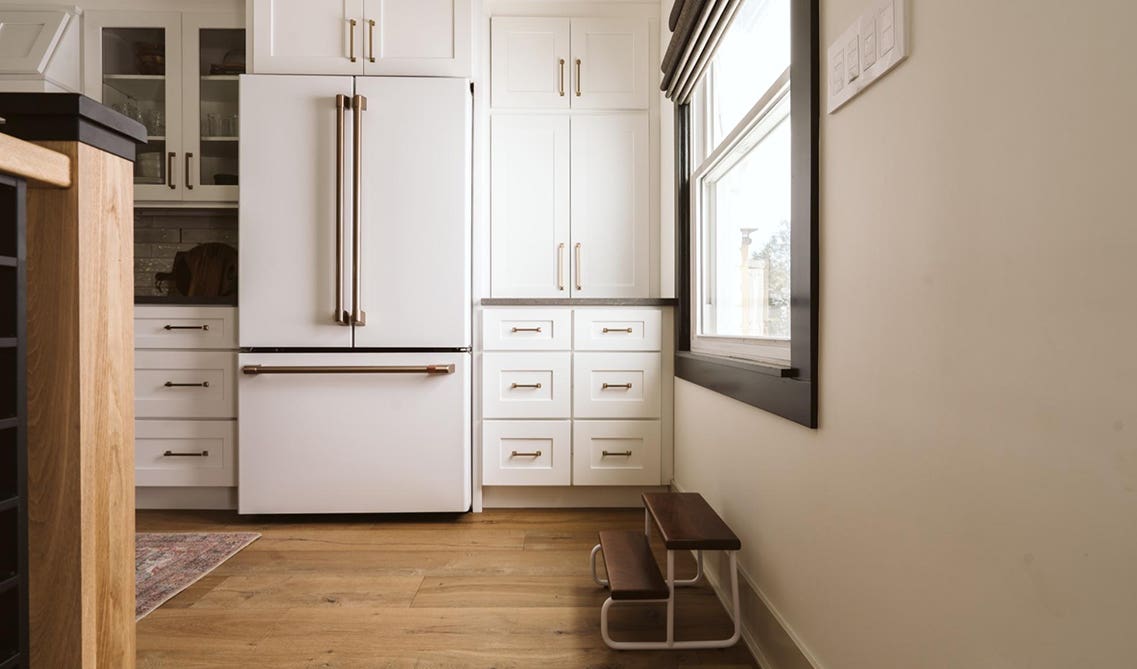 Scandinavian style kitchens provide an ideal way to maximize storage space in a small kitchen while creating a contemporary and inviting atmosphere. To get the look, opt for clean lines and natural materials. For example, an all-white cabinet finish will instantly create a light and airy feel, while accent walls featuring pastel colors add warmth and coziness. Additionally, opt for open shelving and cabinets, rather than closed cabinetry, to reduce the appearance of clutter. Wooden butcher block countertops are both practical and alluring, providing the perfect space for food preparation and cooking. With Scandinavian style kitchens, minimalism is key, so stick to essential kitchen items and get rid of any extra clutter.
FAQ
1. What is Scandinavian kitchen design?
Scandinavian kitchen design consists of maximizing storage space, creating a contemporary and inviting atmosphere. Inviting more natural wood materials as decoration and white-cabinetry.
2. What makes a kitchen Scandinavian?
It's easy to spot a Scandinavian kitchen as it includes natural materials and wood decor, clean lines, and more of a minimalist aesthetic.
3. What is the Scandinavian concept?
It is an approach that combines beauty with functionality.