Explore the most popular cabinet colors for 2020 in our comprehensive forecast guide.
If you're considering a kitchen remodel in 2020, it's imperative to study upcoming design trends to ensure the finishes you choose are up-to-date. There's nothing worse than opting for a kitchen design scheme you love only to realize months later that it's already out of style.
One of the most important elements to consider is your cabinets. What are the best kitchen cabinet colors for 2020? Which styles are timeless? With a plethora of different colors and finishes on the market, choosing the right cabinets can be a challenge. Especially in today's world where kitchen design trends come and go in the blink of an eye, finding the perfect cabinet style to bring value and beauty to your home can be a stressful experience. But—not to worry. That's what we're here for!
Lily Ann Cabinets' team of expert designers is always ahead of the curve when it comes to upcoming design trends. To help you choose the best cabinets for your home, we've put together six of the best kitchen cabinet styles for 2020 in this design forecast guide. For your convenience, we chose cabinets based on timelessness, functionality, and affordability. If you have any questions or would like to get a free 3D kitchen design, please don't hesitate to contact us!
#1. Light Natural Wood Cabinets
One of the most popular kitchen cabinet colors for 2020 will be light natural wood (although this style is typically a stain, not a "color" so to speak). Cabinet doors with natural graining patterns will take dominance over traditional painted cabinets. The reason for the resurgence of natural wood cabinets is the rising popularity of earthy, calming finishes in the kitchen. Homeowners are craving a space that they can return to after a long day of work to relax and unwind. Spaces that are reminiscent of the surrounding environment, whether it's forests or fields, are more soothing and comforting than traditional design schemes. Natural wood grain cabinets pair gorgeously with light wood floors, bright white countertops, and simple, understated cabinet hardware. Some homeowners opt for a two-toned look with a combination of light wood cabinets and white shaker cabinets.
Recreate this look with our rustic Carolina Hickory cabinet line, complete with solid hardwood doors and original wood graining patterns.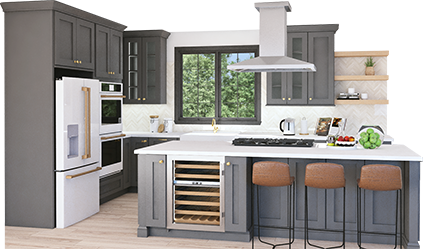 Get your FREE 3D kitchen design today!
Start Now
#2. Distressed Grey Cabinets
Continuing on the theme of earthy, natural tones, distressed grey is another contender for the top kitchen cabinet trend in 2020. Not only does the distressed grey style have more depth and drama than traditional grey cabinet paint colors, it blends in flawlessly with a variety of kitchen finishes. No matter your kitchen's design scheme, distressed grey cabinets will look stunning next to any color of floors, countertops, and appliances. However, to make them appear as seamless as possible, we recommend pairing distressed grey cabinets with either countertops or backsplash that incorporate the same neutral grey tone. This will bring the kitchen design together visually and create a timeless look that will withstand changing design trends for years to come.
Love this look? Get a new set of distressed grey cabinets for less with our York Driftwood Grey line.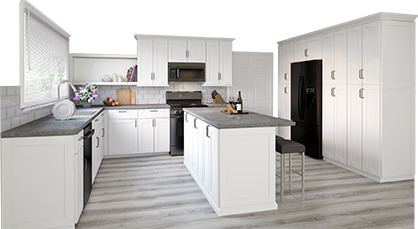 3D Kitchen Visualizer Tool
Bring your dream kitchen to life with our free kitchen visualizer!
Design Now
#3. Blue and White Cabinets
Although blue and white can appear somewhat nautical to certain homeowners, it is catching on as a trendy substitute for the traditional all-white kitchen. More often, homeowners and kitchen designers alike are yearning for a splash of color in monochrome kitchens. The best way to add an eye-catching accent color to your kitchen is to use the island as a visual statement piece. Since the island is the center focal point of most kitchens, it's a great place to mix it up with an added pop of blue. A simple way to achieve this look for less is to purchase white shaker kitchen cabinets and have the island professionally painted. This way, you can choose the exact shade of blue you want and swatch different shades on the island before committing to the perfect color.
Our Colorado White Shaker cabinets are a popular choice for remodelers looking for a bright, stark white cabinet that provides both durability and functionality. Pair with a blue island for a vibrant, contrasting kitchen that wows.
Also Read: What Color Should I Get My Kitchen Cabinets in?
#4. Grey Shaker Cabinets
Grey shaker cabinets remain a staple in modern kitchen designs nationwide. The simple 5-piece door frame of the Shaker cabinet exhibits effortless simplicity, perfect for homeowners who desire a no-fuss cabinet that matches any kitchen design style. Plus, the simplicity of grey allows more room for creativity with other kitchen finishes. Or, you may opt to keep it clean and simple with solid white countertops and matte black hardware (like our recent customer, pictured above). Regardless of what you choose, grey shaker cabinets are a great choice for any homeowner looking for a cabinet that will stand the test of time.
Our Grey Shaker Elite line is the best of the best when it comes to simple, functional cabinetry. Not only are they constructed with premium quality solid birch wood, but they also feature soft-close doors and drawers for ultimate convenience.
#5. Espresso Cabinets
Espresso cabinetry is as revitalizing as its name suggests. The deep, rich color of espresso is both practical and alluring, making it a great choice for any kitchen design style. The dark brown shade creates a stunning contrast against lighter finishes like white countertops. This kitchen trend is picking up pace as homeowners look for cabinet colors outside of the ordinary—in the past, flatter browns with less dimension were the norm. Espresso cabinets add depth and drama to any kitchen design, especially in the Shaker door style.
The Shaker Espresso cabinet line is the perfect choice for homeowners who want to add drama and dimension to their kitchen.
#6. The Classic White Shaker Cabinet
Interior designers have always gravitated towards white shaker cabinets for their versatility and effortless simplicity. This cabinet style is highly agreeable—there aren't many home buyers who don't love the look of a minimalistic shaker cabinet. In 2020, the popularity of white shaker cabinets will continue to rise, especially in newer homes. Since white shakers can be styled to appear modern, rustic, or traditional, there is no end to the options for kitchen finishes and decor. A related trend that is emerging in kitchen design is white shaker cabinets paired with muted brass hardware ( pictured above).
Love the classic look of white shaker cabinets? Explore our popular White Shaker Elite cabinet line.
Also Read: Bright Kitchen Color Ideas To Refresh Your Space
Get Started On Your 2020 Kitchen Today
Now that you know the best kitchen cabinet colors for 2020, it's time to get designing! Your new kitchen is just a click away. Head to our free 3D design tool to get started. Or, to compare your favorite cabinet to your existing kitchen finishes, request a free door sample! If you have any questions or concerns, feel free to email us at info@lilyanncabinets.com or give us a call at 800-551-1438. We can't wait to help you create your dream kitchen!