Bright colors can give your kitchen a feeling of vibrancy and liveliness. Although bright colors aren't everyone's style, they bring a sense of character to any space.
Put your own special touch in your kitchen space with one of these 6 beautiful, on-trend paint colors!
Similar: "Mosaic" by Benjamin Moore (CC-874)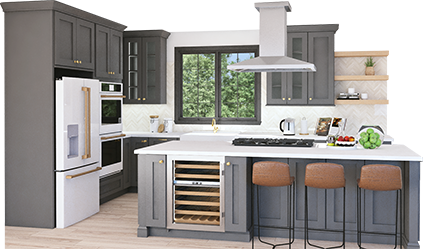 Get your FREE 3D kitchen design today!
Start Now
Looking for white kitchen cabinets to pair with your bright color scheme? Check out Lily Ann Cabinets' white shaker cabinets & white traditional cabinets (up to 50% off box store pricing!)
Bright Yellow Kitchen Cabinets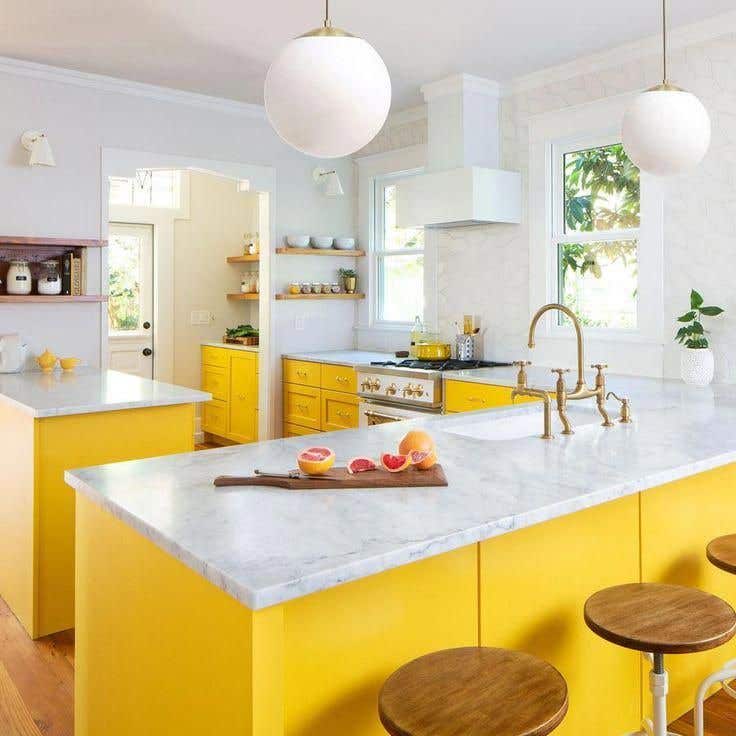 The kitchen above exemplifies how bright yellow cabinets can cheer up a kitchen space. With modern gold fixtures, minimalist decor, and white countertops, the yellow doesn't feel too overwhelming in this design. If the yellow in this kitchen is a little too vibrant for your taste, a lighter shade would look just as bright and uplifting.
Similar: "Bright Yellow" by Benjamin Moore (2022-30)
Browse beautiful, premium-quality gold hardware here.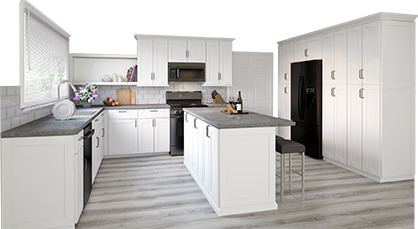 3D Kitchen Visualizer Tool
Bring your dream kitchen to life with our free kitchen visualizer!
Design Now
Subtle Yet Bold Kitchen Colors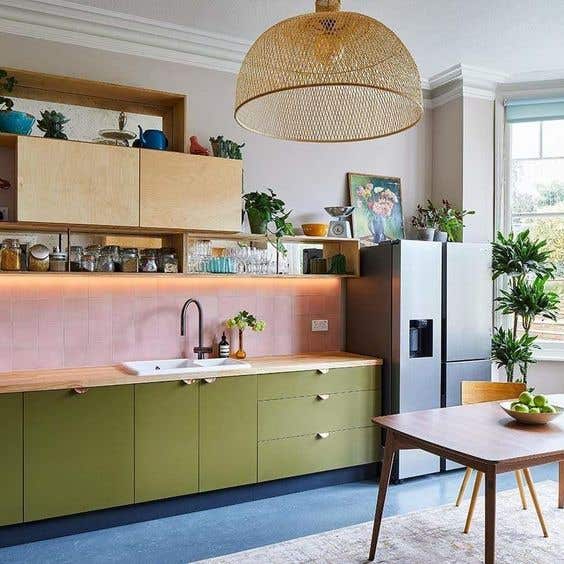 If eccentric, highlighter-like colors aren't your taste, then try going for a more subtle yet bold color. This beautiful army green color is a great example. It's a bold choice without being too bright, and makes the space feel more warm and welcoming. Paired with the light pink backsplash, this kitchen demonstrates that fun colors don't have to overwhelm the space.
Similar: "Olive Moss" by Benjamin Moore (2147-20)
Kitchen Island Color Pop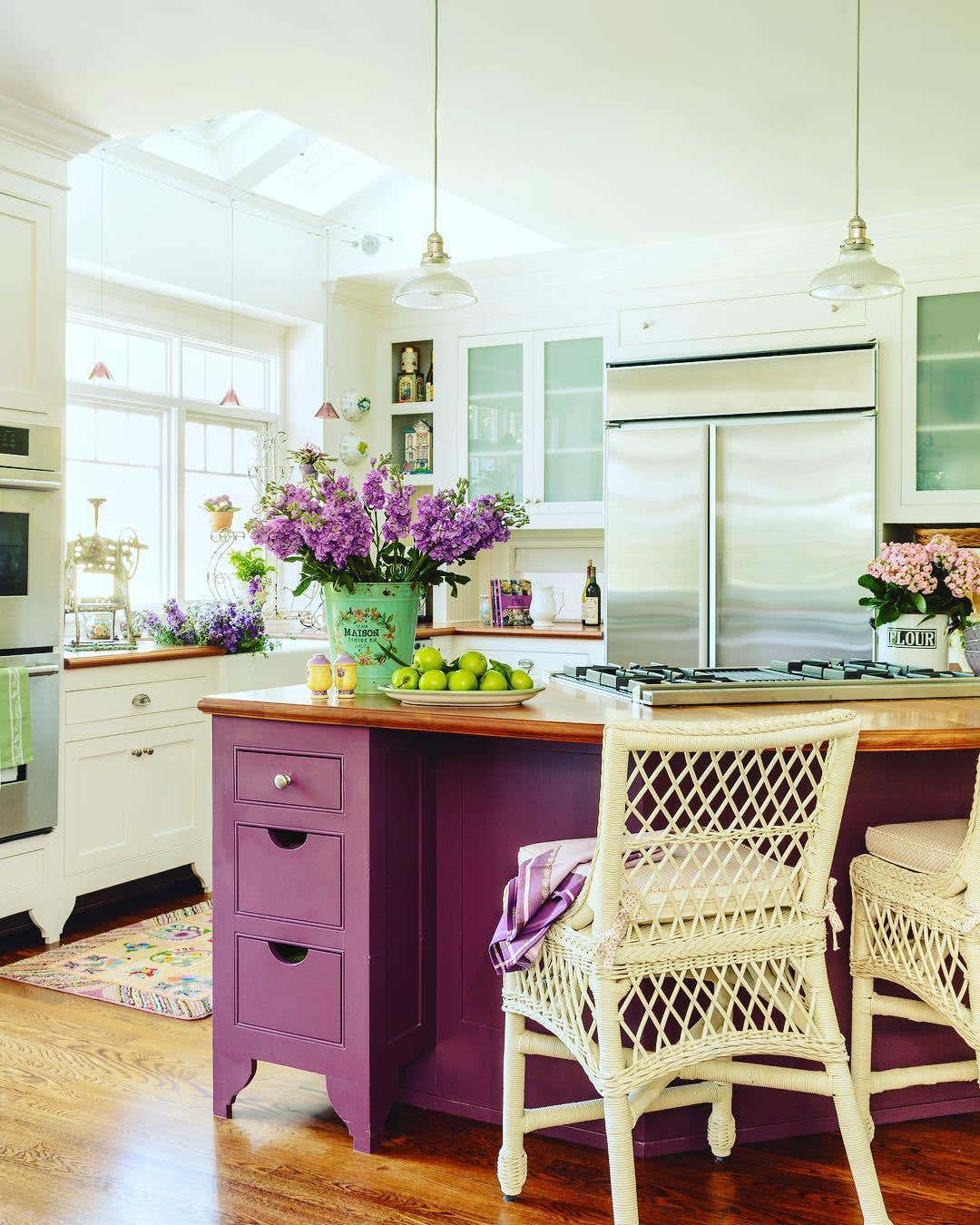 Another great way to add bright color to your kitchen is to paint the kitchen island. If you go for a bold color on the island, white shaker cabinets are a sensible option for the rest of the space. This can be done with any color, yet this bright plum tone is a beautiful option. Two-toned kitchens are rising in popularity as they bring contrast and visual interest to any kitchen size or layout.
Similar: "Mulberry" by Benjamin Moore (2075-20)
Vibrant Blue Kitchen Cabinets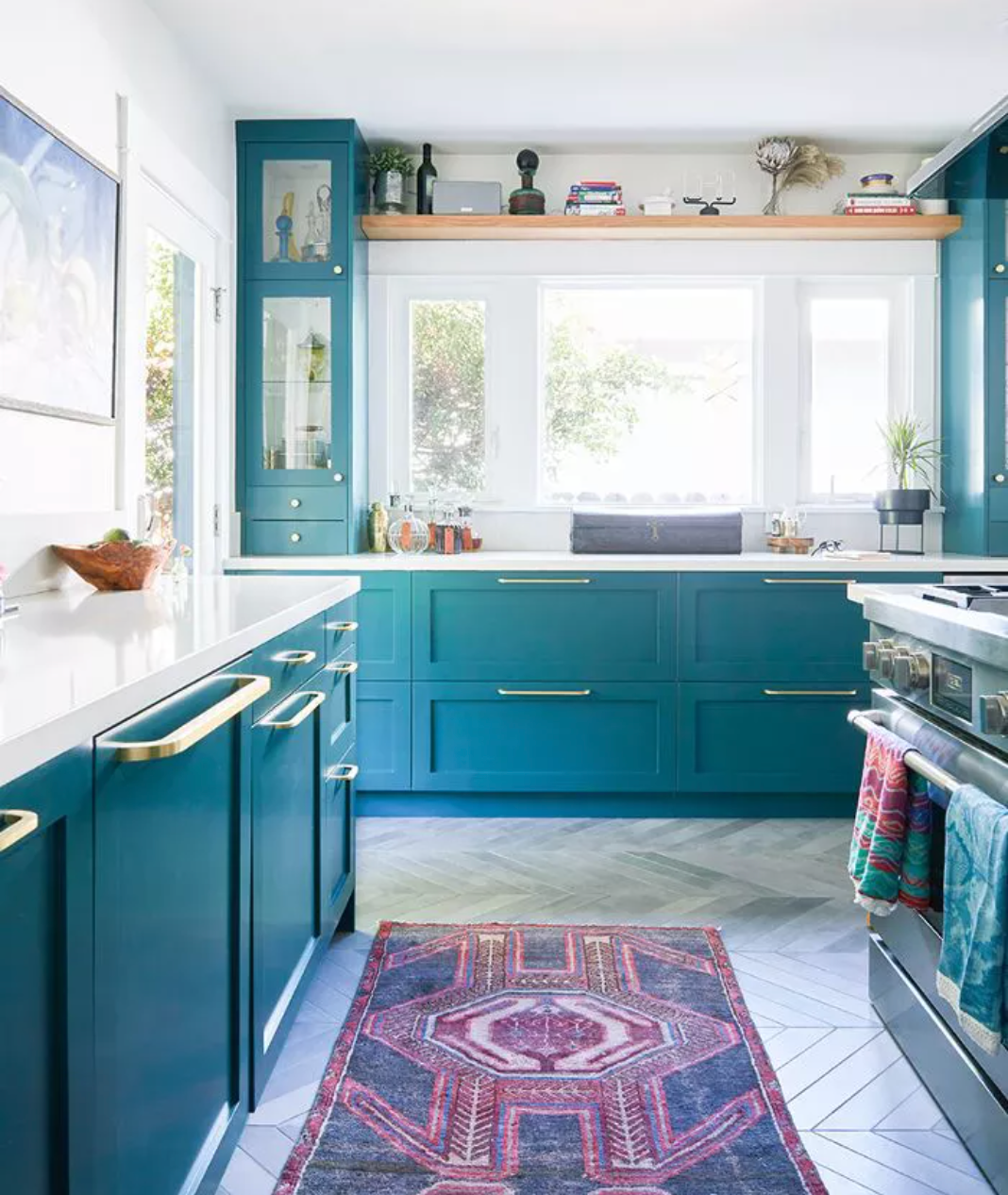 This vibrant blue kitchen feels like a breath of fresh air. Blue cabinets are making a comeback with a refreshing twist. The latest trend is blue-green cabinets in varying shades of turquoise, jade and teal. If you opt for this shade of cabinetry, you can't go wrong with warm gold hardware and white countertops. If you can't find cabinets in this shade, we recommend purchasing our premium ready-to-assemble shaker cabinets and painting them your desired color.
Similar: "Jade Garden" by Benjamin Moore (2056-20)
Love the look? Check out these RTA blue shaker cabinets available up to 50% off box store pricing.
Electric Green Walls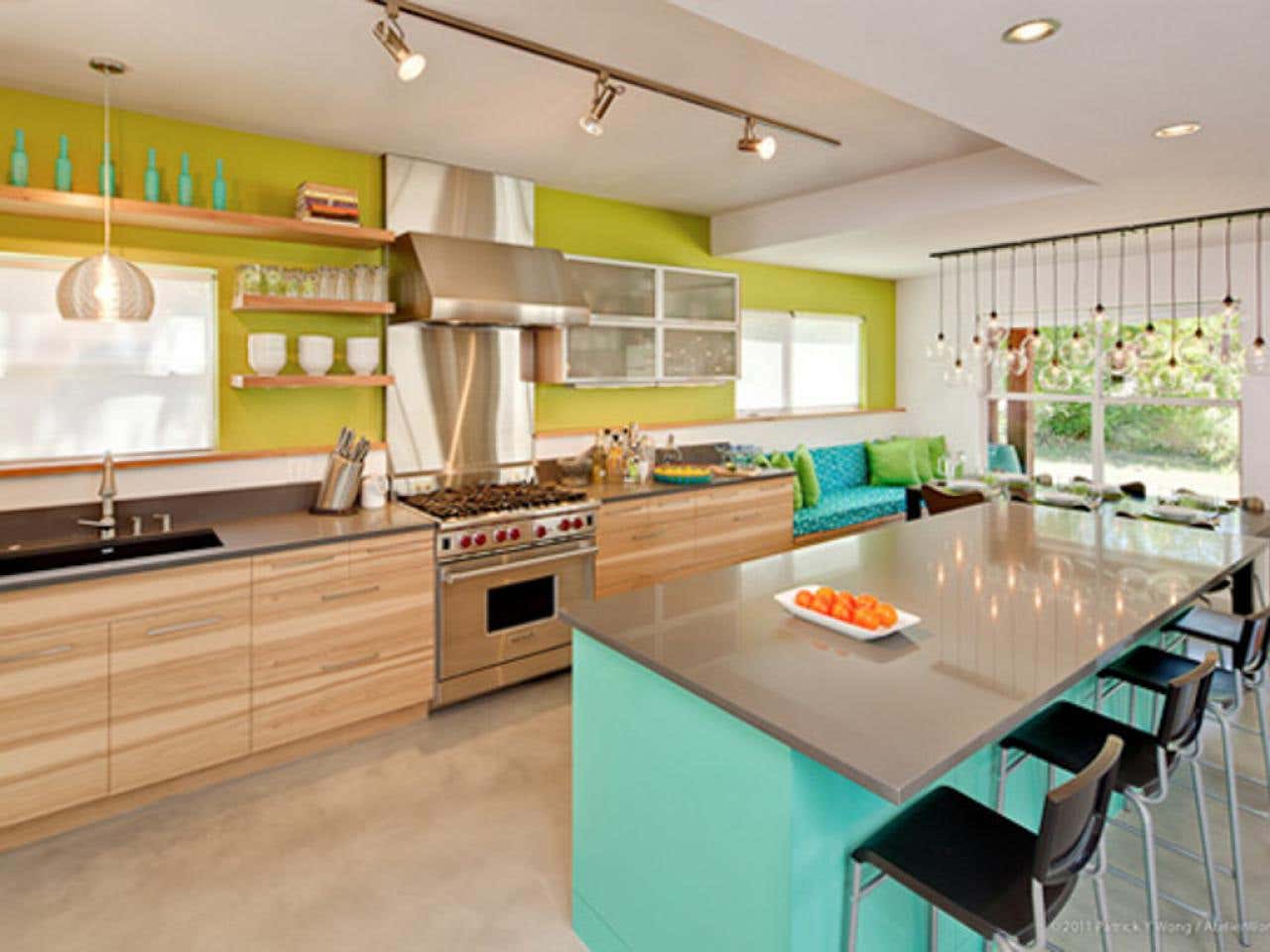 Looking for more eccentric kitchen color ideas? Check out this kitchen, featuring an electric green accent wall and bright turquoise island. Paired with simple materials like grey countertops, open shelving and concrete floors, this kitchen strikes a perfect balance between boldness and minimalism. This look can be achieved with any color combination, just choose whichever you think will look best and that you will enjoy!
Similar: "New Lime" by Benjamin Moore (2025-30)
Minty Fresh Cabinets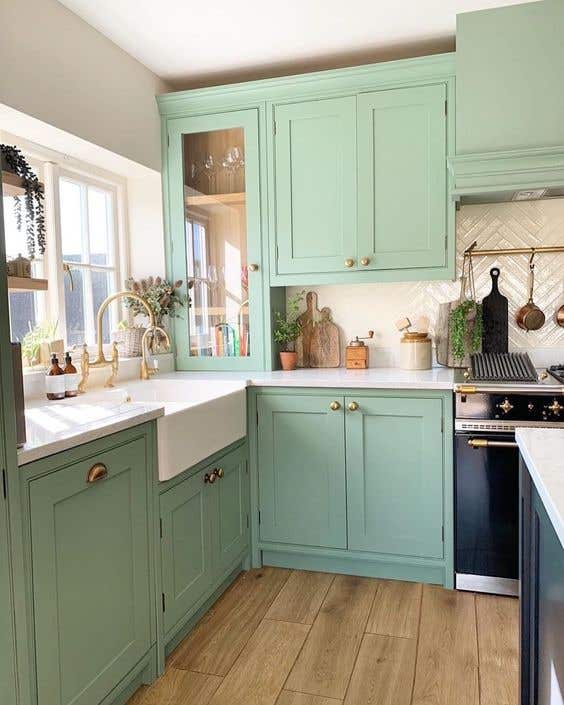 Mint kitchen cabinets are in! This homeowner painted their shaker cabinets a fresh shade of cool mint green. Paired with white countertops, rustic gold hardware and white backsplash tile, these cabinets are perfectly paired with a thoughtful balance of colors and materials. The soft green of these cabinets is bright but not too imposing. Muted greens like this one are a great option for anyone who doesn't want to go too bold with their kitchen colors.
Similar: "Reflection" by Benjamin Moore (850)
Looking for shaker cabinets for your next kitchen or bathroom remodel? Check out our affordable white shaker cabinets!
Refreshing Red Cabinets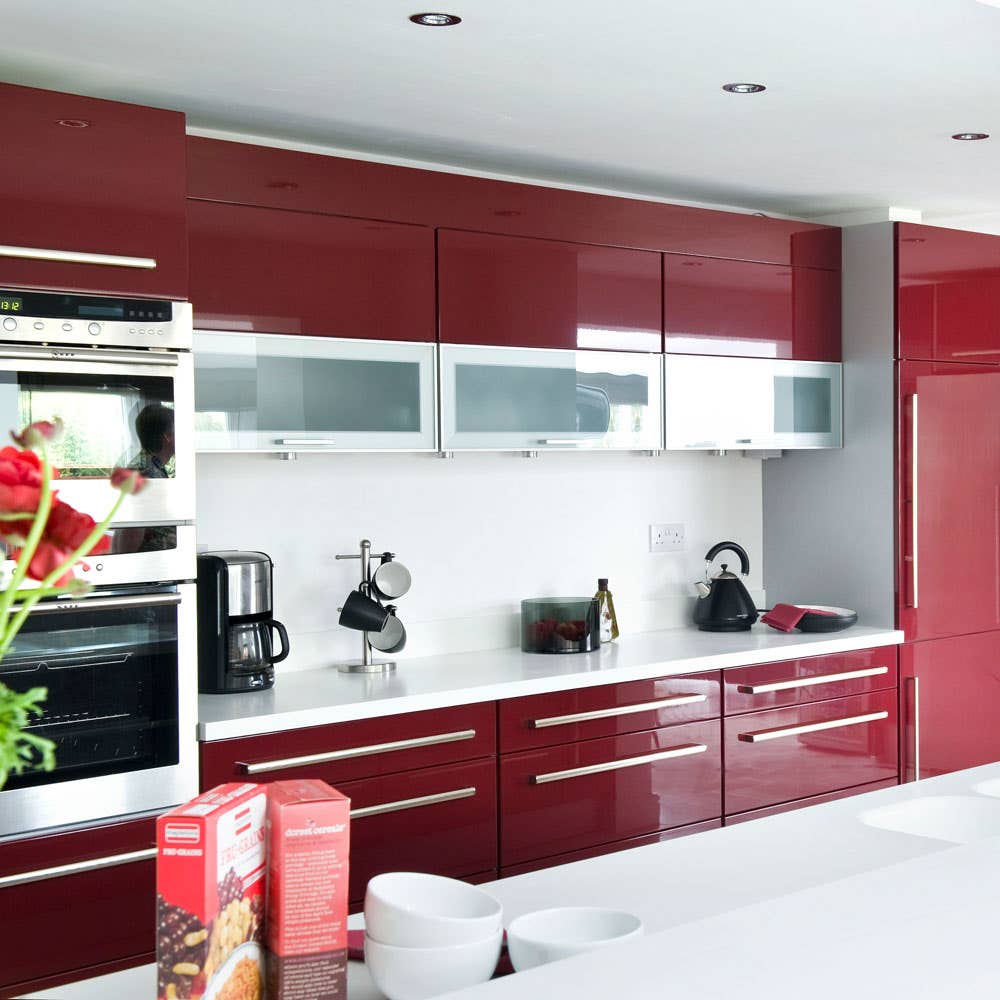 Perfect for a modern home, sleek red kitchen cabinets are a daring yet beautiful choice. Red cabinets are a great way to brighten up your kitchen - just ensure to tone down the surrounding finishes. White accents are the best choice for red cabinetry. For a more traditional style of red tinted cabinets, check out these RTA cherry cabinets!
Two-Toned White And Blue Cabinets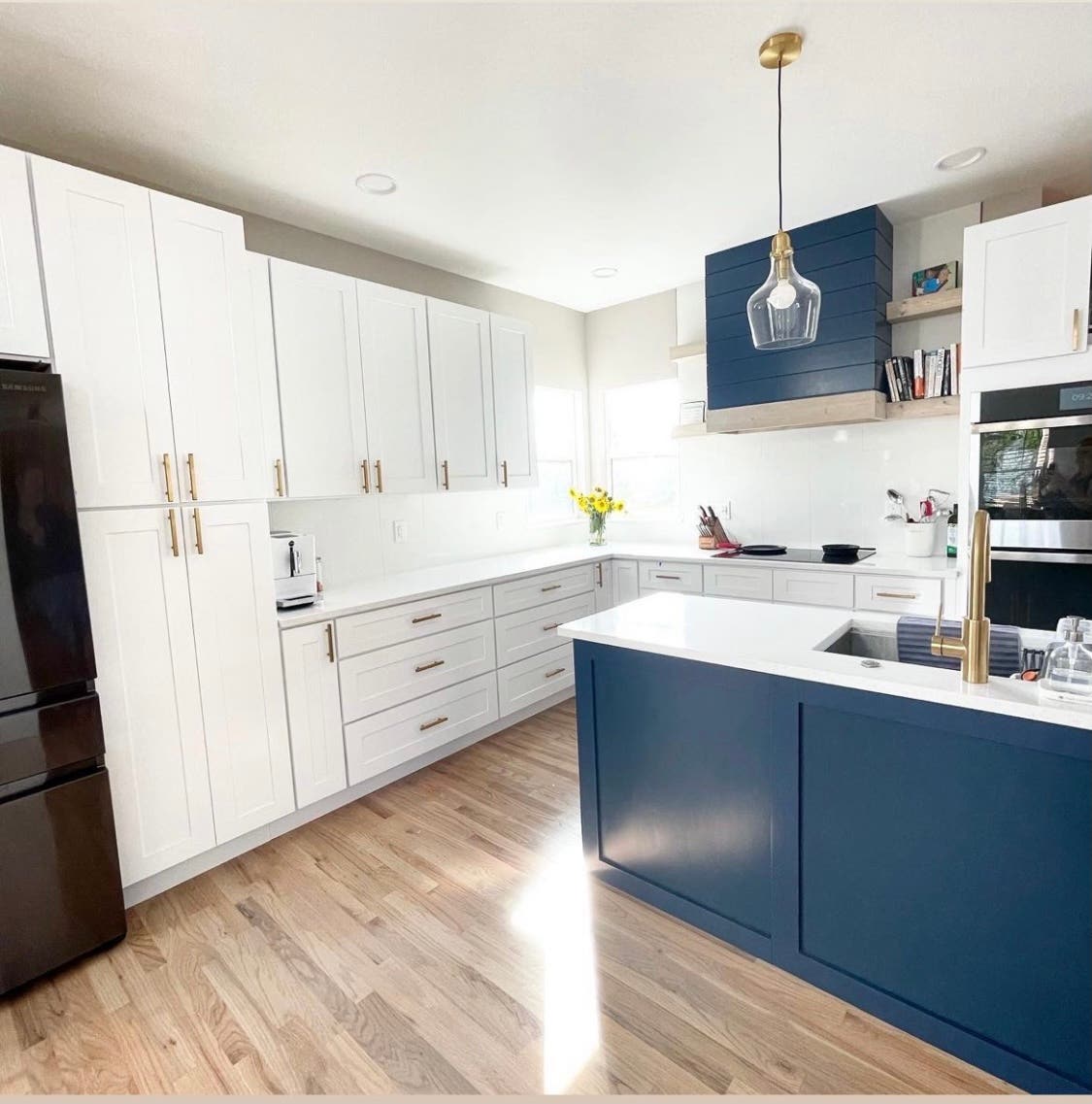 Lily Ann Cabinets - Navy Blue Shaker
White and blue cabinetry is making a huge splash on the modern kitchen design scene! Pairing bright white shaker cabinetry and a navy blue island, like the photo above, creates a gorgeous bright and inviting space. The white cabinets keep the space feeling bright and open, while the navy cabinets add contrast and depth to the design.
Browse Lily Ann Cabinets' Navy Blue Shaker and White Shaker Elite cabinetry (pictured above)
Bright Wallpapered Kitchen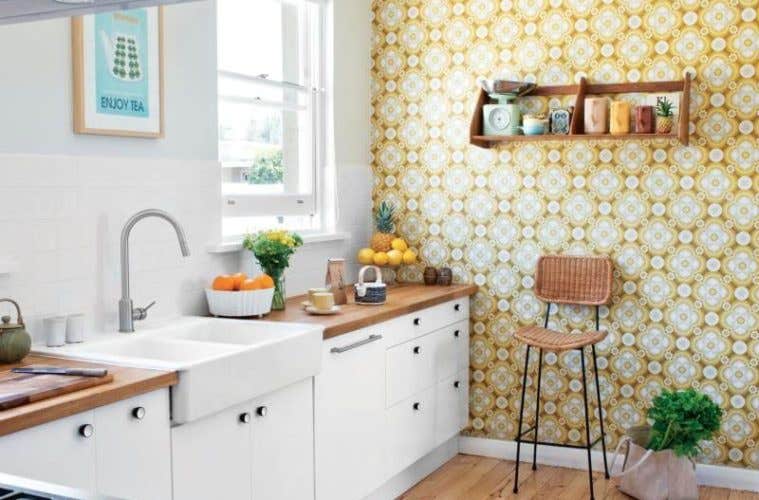 If brightly colored cabinets aren't your thing, you may consider opting for patterned kitchen wallpaper. You can create an accent wall with wallpaper, or choose to wallpaper the entire room. Either way, there are thousands of bright wallpaper patterns available to liven up your kitchen design. Wallpaper is a durable and inexpensive way to bring a colorful, playful feel into any kitchen space.
Create Your Dream Kitchen With Lily Ann Cabinets
We offer a wide selection of premium cabinetry, hardware, shelving and more to help you create a room that stands the test of time. Pick from our large array of kitchen and bathroom cabinetry, including white shaker cabinets that come with soft-close hinges. Our professional designers are on standby to work with you — we offer FREE samples and FREE design and quote. Visit our FREE 3D design tool to get started today!
FAQs
What bright colors are best for a kitchen space?
Almost any color will suffice in a kitchen as long as the rest of the materials are balanced and don't clash with the bright color. Bright blues, greens, and yellows are all great colors to keep a kitchen looking fresh and modern.
What bright colors are trendy for kitchens in 2021?
Bright colors that are trending for kitchen spaces in 2021 are bright blues, greens, yellows, and even shades of purple. Read through this blog for more inspiration and pictures!
How do I incorporate bright colors into my kitchen?
You can incorporate bright colors into your kitchen by painting your cabinets, painting the walls, or incorporating a colored tile as the backsplash or flooring. For an easier way to brighten up a kitchen, incorporating colorful wall art and kitchen decor will also make a difference in the space.