Of all the decisions you make in choosing your new kitchen cabinets, picking the right color is one of the most important. As with any other element of your home, the hue of your cabinets will go a long way towards determining the kind of first impression they make on your guests.
Choosing a cabinet color needs to be based on more than whether a certain shade will wow friends and family. For example, is the style you're attempting for your kitchen more rustic or more modern? Do you have any kids or pets? In what sort of environment is your home located? By thinking about the answers to these questions, you can get a better idea of how the color of your cabinets can add to their all-around functionality as opposed to merely making them look good. Below, we've included a few typical scenarios along with advice on cabinetry colors that best suit their specific needs.
Cabinet Colors For Modern Kitchens
Though we discussed some design tips for the creation of a modern kitchen in a previous post, that advice hemmed to a somewhat limiting interpretation of what a modern kitchen can be. Yes, white is still the go-to for those pursuing that style; the classic elegance of our Summit Shaker White cabinets, for example, achieves the monochromatic contrast integral to a modern kitchen while also adding a measure of sharp, understated elegance to any space. That said, white doesn't mesh with every kind of decor, nor is it appropriate for every region. It's with that in mind that we developed our Grey Shaker Elite cabinets, a style that possesses the same subtle beauty of the Summit Shaker in a hue suited more for a more wintry palette.
We also, however, recognize that light colors aren't the best choice for every kitchen. Furthermore, the elements of your kitchen can absolutely make use of darker colors and still be considered modern. Our Shaker Espresso cabinets, for example, strike a deep, rich note that perfectly accompanies any kitchen dabbling in a darker decor. Looking for something a little warmer? The classic stained-wood look of the York Chocolate can easily be integrated into modern kitchens that embrace darker woods as a major part of their look.
Cabinet Colors For Rustic Kitchens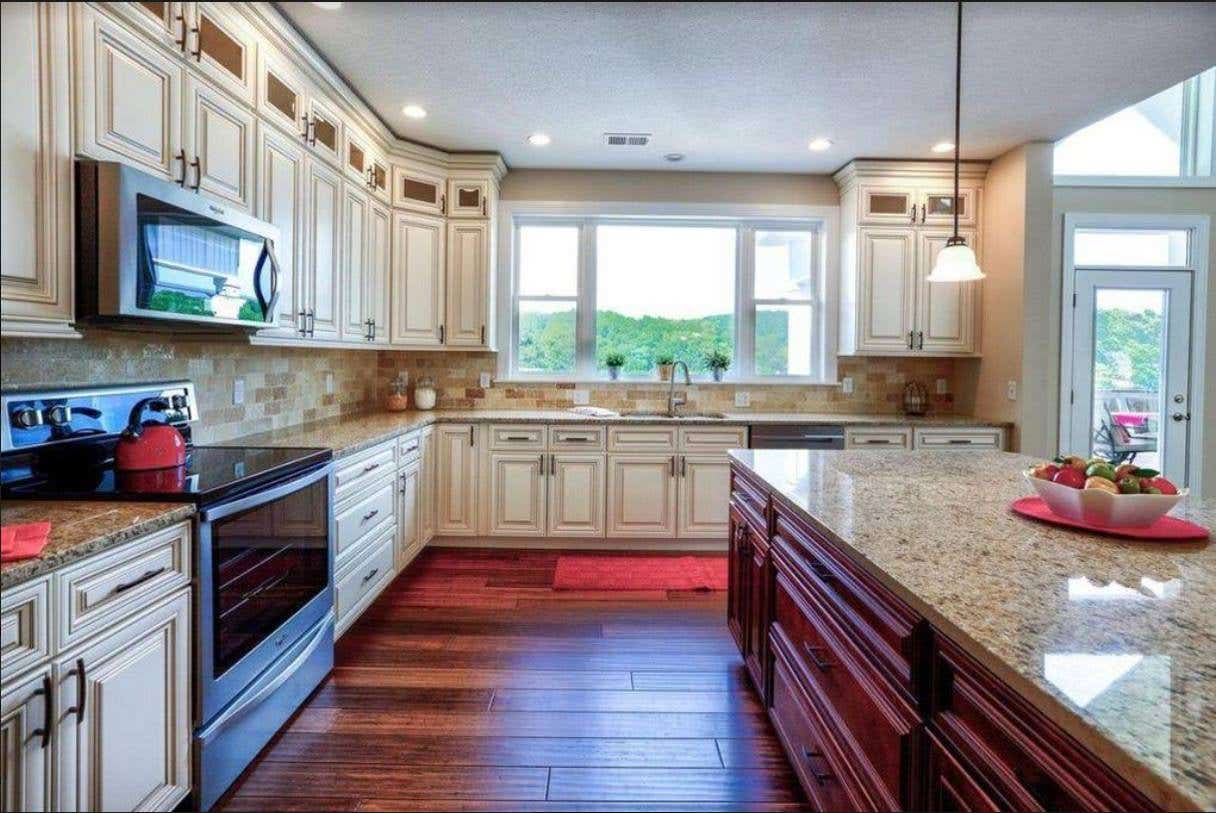 As with modern kitchens, the design of rustic kitchens is often driven by the usage of white cabinets. Unlike modern kitchens, the design of a cabinet used in a rustic kitchen should hem more towards functionality and the precise execution of subtle details. It was with those guidelines in mind that we designed our best-selling Shaker White Elite cabinets, a triumph of simple beauty meant to invoke the wholesome charm of a rustic American farmhouse. We created our classic Charleston Linen cabinets in that same vein, with a bit more rustic charm invoked in the elegant detailing (shown above).
Rustic kitchens also have the luxury of being able to pull off warm, cozy tones that often feel out of place in more modern spaces. Those looking for a romantic color with a more American feel may  opt for our Cinnamon Shaker cabinets, which capture the warmth of the heartland in their subtle staining of North American maple. One of the hallmarks of rustic design, after all, is celebrating the region in which your home is located. The color you choose for your cabinets should be just as much a reflection of your natural surroundings as it is of your home's decor.
Cabinet Colors For Practical Kitchens
At Lily Ann, we recognize that your kitchen cabinets should do more than just look good - they should also be able to stand up to whatever your family can throw at them. Though every model we sell is built to last, certain colors we offer are going to be better than others at hiding those inevitable smudges and stains. A hue that can deal with kids or pets, however, does not necessarily have to be dull or dowdy. Take, for example, the classic coziness of our Charleston Saddle cabinets. Their charming mahogany hue is designed to look as good years from now as it will on the day it's delivered.
Looking to strike a balance between practical and stylish? Look no further than our Driftwood Grey cabinets. Like the Charleston Saddle, their darker color will stand up over time no matter how messy your family may get. The understated nature of the Driftwood Grey tone, however, makes it perfectly suited to homes in coastal regions or in urban environments. Having a family (or a rambunctious pet) shouldn't mean having to compromise on the style of your decor, nor should it mean having to settle for a color that doesn't match the tones of your region or neighborhood.
Conclusion
At Lily Ann, we believe that every homeowner should be able to create a kitchen that fulfills their practical needs and their desired design. This is why we offer our durable, affordable cabinets in a wide variety of stunning colors, to ensure that every one of our customers can create their dream kitchen down to the finest detail. That's also why we offer free usage of our 3D Kitchen Design Tool, so you'll be able to see how our cabinets will look in your kitchen before they're even ordered. If you have any other questions about cabinet colors - or just want to know more about how Lily Ann can help bring your dream kitchen to life - please feel free to get in touch with one of our helpful customer service representatives.