Espresso cabinets are one of the most popular options for those looking to go bold with their kitchen remodel while still retaining a classic ambience. The style can be dressed up for a formal design or distressed to give your kitchen a historical bent.
No matter your taste, your espresso kitchen cabinets can make a statement. Use these tips to play up the drama and energize your space.
Contrast With Light Neutrals
Espresso cabinets already give your kitchen a strong backdrop of rich color, but you can play up the visual interest of your space even more with contrasting neutrals. Choosing light colors for your countertops, backsplash and even your floors adds emphasis to the boldness of your cabinets. It also lends a bright, clean aesthetic to your counters or islands, where the real work gets done.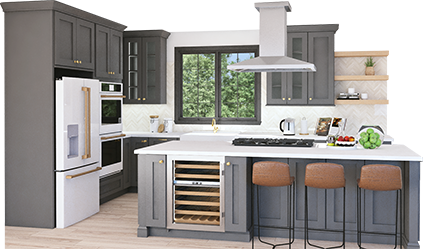 Get your FREE 3D kitchen design today!
Start Now
Sleek Hardware
This tip is especially helpful for styling espresso shaker cabinets, which have a single, simple recessed panel that fits perfectly in a modern or contemporary design. Choosing sleek hardware complements the lines of your cabinets rather than trying to stand out from them. You can also choose to have no hardware at all, giving your cabinets a smooth uniformity that's sure to turn heads.
Pops Of Color
While espresso cabinets have a beautifully rich, dark color, having pops of color that aren't neutrals can make your kitchen feel fun and bright. Choose a multi-hued backsplash or colorful countertop appliances to leave out on display. If you have a green thumb, you can even accessorize with leafy plants to increase texture and bring a little nature into your new kitchen.
Add Under-Cabinet Lighting
Some remodelers worry that choosing espresso cabinets will darken their kitchen too much. This is an easy concern to remedy with under-cabinet lighting. It will light up your space while also illuminating your countertops while you work and even giving a little extra sparkle to your new backsplash.
Insist On Solid Wood
While MDF, aka particle board, can be found in the dark espresso color, it won't look as good or last as long as solid, quality hardwoods. Cabinets with solid wood construction are much sturdier and less likely to crack and splinter over time, or worse, during assembly.
In addition to having a longer lifespan, solid wood cabinets retain the authentic grain that makes every espresso kitchen cabinet unique. The dark wood finish that gives these cabinets their rich color only further emphasizes these unique features while providing a sturdy, protective layer that can stand up to everyday bumps and spills.
Find Your Espresso Kitchen Cabinets At Lily Ann Cabinets
At Lily Ann Cabinets, we offer espresso kitchen cabinets that can fit any design and kitchen space. If you need help envisioning how they'll look in your space, you can request a free sample or get a free 3D kitchen design. We're ready to help awaken the beauty of your kitchen.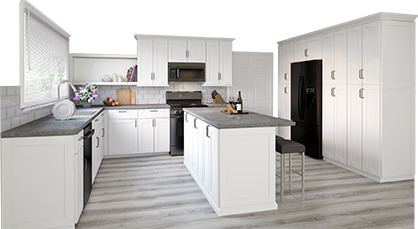 3D Kitchen Visualizer Tool
Bring your dream kitchen to life with our free kitchen visualizer!
Design Now