We're sharing 15 modern kitchen island ideas to inspire your next remodel.
Why Install A Kitchen Island?
Installing a kitchen island solves a number of common homeowner complaints. An island adds extra counter space, more storage, and room to hang out. It's the central hub of a kitchen where friends and family gather around to spend time together, cook and relax. On top of these benefits, the kitchen island can also function as a piece of art. By adding your own creative touch, a custom island design can take your kitchen from drab to dramatic.
How Much Does A Kitchen Island Cost?
Kitchen island costs can vary widely depending on the size and materials used. The average cost ranges from $3,000 to $5,000. However, custom-built islands can easily exceed $10,000. Features like cabinets, countertop material, sinks, dishwashers, and other built-in appliances add up fast, so make sure you decide which add-ons you'd like before getting a quote. Although kitchen islands can be pricey, they are well worth the cost in terms of convenience and resale value.
If you are remodeling your home or building a new one, it's important to get inspired before you make any large kitchen design decisions. We're here to help! Read on to find 15 unique kitchen island ideas that will help guide the direction of your design. If you need assistance finding the right layout, materials or size, feel free to use our free 3D design tool!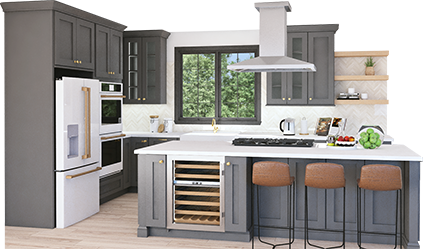 Get your FREE 3D kitchen design today!
Start Now
1. Rustic Retreat
This modern rustic kitchen uses a mix of materials to flawlessly blend the island into the design. The open layout makes the island the focal point of the space, with sleek leather bar stools making it the central gathering hub of the home. Putting a unique spin on the island design, this sitting area features three contrasting finishes: distressed wood, dark-stained wood, and white marble. The kitchen sink is installed in the middle of this massive island for ultimate convenience, creating an efficient kitchen work triangle.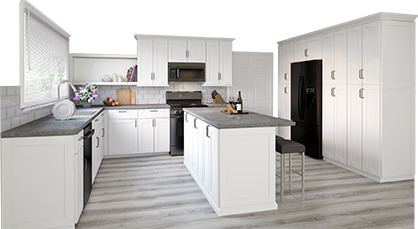 3D Kitchen Visualizer Tool
Bring your dream kitchen to life with our free kitchen visualizer!
Design Now
2. Reclaimed Charm
Sarah Richardson Design
Is reclaimed wood too rural for modern kitchen design? We think not. This island design by Sarah Richardson proves that reclaimed wood can be incorporated into an all-white kitchen without making it look too "country farmhouse." Matched with a sleek white countertop, this custom wood island is an elegant design statement that brings an artistic vibe to this kitchen.
3. Bold Basement
This old-school basement island design is reminiscent of a private James Bond getaway. The retro red bar stools add a bright pop of color, contrasting the white countertop and white cabinets. Constructed with live-edge wood, the base of the custom island is truly a work of art. While most islands utilize base cabinets for extra storage space, opting for an open bottom can really make a statement. It will also make the surrounding space feel more open and airy.
4. Mahogany Magic
Featuring a rich mahogany finish, the matching cabinets and island in this kitchen exude a calming, modern sophistication. To tie the design together, the dark wood panels on the island were also used for the range hood. For an ultra-polished look, three glass pendant lights hang above the island, casting subdued reflections off the soft grey countertop. Space underneath the island is perfect for extra leg room and for storing away bar stools when they aren't being used.
5. A Pop Of Teal
James David Custom Homes
Tired of the same boring kitchen island colors? Paint it bright! Take this vibrant island for example—the lively teal paint color lights up the entire room. Certainly a conversation piece, this island also features a small wine fridge, mini glass-front food cubbies, and a custom butcher block countertop. Paired with a blue and yellow painted tile backsplash, this exciting island makes the whole kitchen shine.
6. Scandinavian Simplicity
If your style is a bit more subdued, take this kitchen island idea into consideration. This island serves as more of an art piece than a storage unit, but the payoff is well worth it. The thick black marble countertop is the perfect size for kitchen prep work, with a small stove burner for cooking. Simple yet functional, this Scandinavian kitchen island design is a unique addition to this modern home.
7. Cutting Corners
Auhaus
Now trending in popular kitchen island design ideas is the use of organic shapes. Say goodbye to traditional angular corners and hello to free-form shapes with rounded edges. Yes, this design style is more difficult to achieve, but the result is undeniably appealing. In this kitchen, the designer wanted to give the island a unique shape that would enhance the flow of the space. With gorgeous paneled siding and a sleek wood countertop, this island does not disappoint in its intent.
Related: 8 Simple Tips For Designing A Modern Kitchen
8. Illuminate the Industrial
Industrial kitchen islands can often seem cold or sterile, seeming unwelcoming to the average house guest. However, it's possible to make an industrial design feel warm and welcoming with a few small tweaks. For example, this oversized center island maintains the old-factory feel with a cement countertop and stainless steel bar stools. However, the light fixture above casts a warm glow on the space that removes the coldness from the design. Additionally, warm-toned wood floors and matching brick backsplash take this kitchen from cold and hostile to cozy and pleasant.
9. California Dreaming
RG Architecture
If counter space is your main concern, get inspired by this immense kitchen situated high in the hills of California. This bright and breezy kitchen has more than enough surface area, with a huge wooden island providing enough room for the whole family to gather around. Open storage on the bottom makes it easy to grab fresh produce and pots for cooking. To store the dishware, a rolling ladder was installed to access a row of white glass door shaker cabinets. The butcher block countertop creates the ultimate space to prepare an enormous feast. Who wouldn't want to cook in this incredible kitchen?
10. Playing with Shapes
The designer of this modern grey and white island was determined to create an interesting shape without sacrificing functionality. The L-shaped island features curved cabinet doors and a custom white marble countertop. The result is stunning: a unique geometric structure that demands your attention upon entering the room. Adding to the grandeur of this space, the grey shaker cabinets offer a gorgeous contrast against the rest of the white finishes.
11. Don't Forget Dining
Paul Craig
What do you do if you don't have enough space for a formal dining room? Simple: turn the island into a kitchen table! This unique center island design features an extension crafted from a slab of ebony wood. Small yet functional, this L-shaped "table" offers enough room to enjoy meals without the need for a dedicated dining space. The island-table combination can even be downsized to use in small kitchens. Ultimately, this design is perfect for the minimalist who doesn't mind a multi-functional island.
12. Mountain Mansion
This rustic kitchen is the ultimate mountain getaway. The gorgeous wood walls and matching shaker kitchen cabinets evoke a rustic yet refined look. However, the massive center island is what really steals the show in this cabin kitchen design. Sided with natural stone and finished with a huge wooden slab countertop, this island is ideal for large family gatherings or get-togethers with friends. A large island is a must-have for any cooking fanatic who loves to entertain. How would you like this rustic kitchen island in your home?
Related: How To Design A Rustic Kitchen: Cabinets, Furniture & Decor
13. Sensational Centerpiece
When working with intricate islands, it's often better to design the kitchen around the island. In essence, you should choose the finishes, shape, and design of the island, then use the same finishes and design style in the surrounding kitchen decor elements.
For the design process of this modern kitchen, the homeowner first commissioned a custom island constructed with marble, glass, and wood. After creating the island design, they chose complementary cabinets, countertops, and backsplash. This ensured the island would stand out and perfectly match the rest of the kitchen.
14. Earthy Element
Remodel West
Raw, natural elements can make a striking addition to a contemporary kitchen. Incorporating earthy materials like wood can take your kitchen from boring and dull to dynamic and innovative. To prove this point, this kitchen was completely transformed with a live-edge wood countertop on the island. Natural wood accents like this can add significant value to the home and match almost any decor style.
15. Sculptural Sublime
Why not turn the kitchen island into a sculptural masterpiece? If you have room in your budget and an eye for creative design, a custom island with artistic flare could be right for you. This stainless steel kitchen island has pointed legs and a carved corner sink that add drama and complexity to the home's otherwise traditional design. If you can find a builder who is willing to work with you on a unique design, a sculptural kitchen island like this is a gorgeous addition to any kitchen.
Your Dream Kitchen, For Less
Lily Ann Cabinets specializes in creating custom 3D designs to help you visualize your dream kitchen. The best part? It's 100% free! Your ideal kitchen island is waiting… Get started today! If you have any questions, feel free to ask our friendly customer service representatives. We're always here to help!


This is a curated post designed to showcase the work of a number of talented designers. If you would like to have an image removed, please let us know!