Do you think your tiny house kitchen layout is too compact for full-time living? These tiny house kitchen design ideas may convince you otherwise.
*cover photo via Shreve Imaging
It's without a doubt that we're living in the age of efficiency. Society is slowly but surely converting to efficient cars, efficient phones, and, most importantly, efficient homes. The switch to efficient living means cutting out the excess and focusing on what's most important. Few phenomena are more telling of this minimalist mentality than the tiny house movement.
Curbed Seattle
Tiny living has taken America by storm as homeowners opt for small, modest homes that are so compact, they are often transported via trailer. Usually around 600 square feet, these miniature homes encourage a simpler lifestyle with less expenses, lower energy use and ease of transport.
You may be wondering; how does one cook a meal in a tiny house? Is there room for appliances? In short, yes! Home builders have gotten very creative in the realm of tiny house kitchen design. You'd be surprised at how roomy and spacious a well-designed tiny home can feel.
Whether you're curious about tiny living or just want to see some creative tiny kitchen designs, read on. In this blog, we're exploring 10 creative and thoughtful tiny kitchens that might even convince you to downsize.
Tiny Galley Kitchen
Tinyhouselistings.com
This incredible galley kitchen appears anything but tiny. With a double basin farmhouse sink and full-sized oven, this tiny house kitchen is perfectly suited for preparing meals. In fact, the appliances form the ideal "kitchen work triangle", with the sink, stove, and fridge all less than one step apart. The bright white cabinets are contrasted by dark stained wood finishes, which when complemented by plenty of natural light, create a surprisingly bright and inviting space.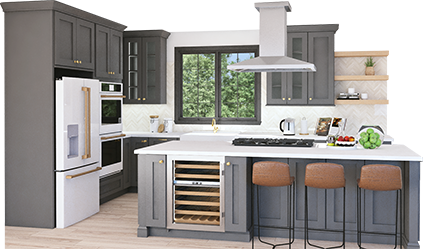 Get your FREE 3D kitchen design today!
Start Now
Making The Most With Modular Furniture
In a 600-square-foot layout, seating and dining space are obviously limited. That's why modular furniture is common in tiny kitchens. In this creative design, a small wooden tray slides in and out of the countertop, functioning as a compact "table for two." Two stackable bar stools turn the small corner into a charming and space-saving dining area. Even in a full-sized kitchen, modular hacks like this can help homeowners save money and free up extra space in the home.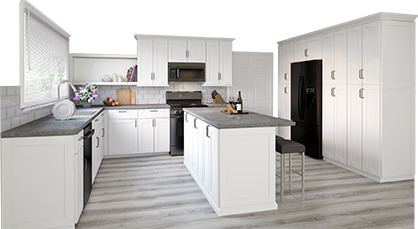 3D Kitchen Visualizer Tool
Bring your dream kitchen to life with our free kitchen visualizer!
Design Now
Tiny Kitchen Suited For A Chef
tinysociety.co
Cooking aficionados can find solace in the fact that many tiny kitchens are actually better suited for food prep than traditional, larger kitchens. As this layout demonstrates, there is still plenty of counter space in a tiny kitchen. Plus, full-sized cabinets are always an option if storage is a concern. When cooking in a tiny kitchen, everything is within arm's reach. Plus, if you plan on designing your own tiny home, you can opt to use a majority of your space and budget on cooking must-haves like top-grade stainless steel appliances and durable countertops.
Decor Matters
Tinyliving.com
This farmhouse-inspired tiny kitchen is both charming and practical. With a full-sized stove and farmhouse sink, the kitchen is as functional as it is tasteful. However, what really sets this space apart is the thoughtful decor. An elegant black chandelier brings an aura of stateliness to the room, while white painted walls and large windows keep the space feeling bright and open. This tiny kitchen proves that, with intentional design, a small living space can appear luxurious and chic.
Farmhouse Chic Tiny Home
mountainmodernlife.com
Contrary to popular belief, playful patterns are not off-limits in tiny spaces. In this tiny kitchen, there's a thoughtful mix of textures and patterns that bring character to the design. From the striped pot holders to the wallpapered accent wall, each pattern contributes a different fun vibe to the space. The look is completed with bright white shaker cabinets and a clean white subway tile backsplash. An added bonus to this layout is a modular seating area that doubles as an extra bed.
(Check out White Shaker Cabinets: The Ultimate Design Guide)
Emphasis On Natural Light
tinyliving.com
What this compact kitchen lacks in square footage, it makes up for in natural light. Windows cover all the walls, making the kitchen appear much larger than it really is. Adding to the attractiveness of the design, white shaker cabinets and dark stained wood create a beautiful contrast. Due to the lighting and upgraded decor, this tiny contemporary bachelor pad feels anything but lacking.
Tiny Rustic Cabin
Tiny House Talk
This whimsical tiny house features a rustic kitchen fit for one. With beautiful espresso shaker cabinets and a full-sized apron front sink, this designer pulled out all the stops to add the right amount of luxury and storage space. The quaint cabin-y feel is accentuated by custom railings above, crafted from tree branches. It's easy to picture this tiny home nestled in a mountainside or a lush forest. The clever design ensures that staying in this house will be a lot more glamorous than your average rustic cabin in the woods.
(12 Popular Hardware Ideas for Shaker Cabinets)
Mini Coastal Hideaway
Tiny Living
This coastal-inspired tiny kitchen design is the ultimate beachside getaway. Full-sized stainless steel appliances and sleek white base cabinets provide all the amenities needed to stay in a tiny home full-time. Dark stained open shelving keeps the upper half of the kitchen free of clutter, creating an illusion of a larger space. Some greenery adds a nice touch, bringing a relaxed and natural look to the design.
Prioritizing Seating Space
Just because a kitchen is tiny, doesn't mean seating has to be limited. Designers simply have to choose what to prioritize in a tiny kitchen. If seating is important, then it's always possible to integrate it into the layout. In this bright design, a delegated seating area extends off of the main cooking space. Two seats pull up to the lengthened countertop, functioning as the perfect table for two.
Grey Tiny Kitchen
Although most would assume that light colors are the only way to go when it comes to tiny kitchen design, darker greys can look striking as well. This tiny home pairs grey cabinets with dark wood floors, with just enough natural light flooding in to feel bright and airy. Another nice element in this home is a countertop eating space that doubles as a desk--talk about multi-tasking!
No Matter Your Kitchen Size, We Have Cabinets For You!
Whether your kitchen is tiny or tremendous, we offer premium ready-to-assemble cabinets that will perfectly suit your space. Find huge savings on your kitchen remodel at Lily Ann Cabinets today! With up to 50% off box store pricing, our cabinets can't be beaten. Browse our selection of styles today, then apply for your FREE 3D kitchen design!