There are many reasons white shaker cabinets are a popular choice for kitchen remodels. Whether it be their simple design style, durable construction, or affordable price point, there's no debating that white shaker style cabinets have taken over the kitchen design front nationwide.
Not only are white shaker cabinets affordable, but they are also often the best choice in terms of home resale value. Since they match almost any kitchen design style from traditional to modern, they are highly marketable when it comes time to sell your home. The timeless look of white shaker cabinets will undoubtedly save you time and money from initial installation to resale!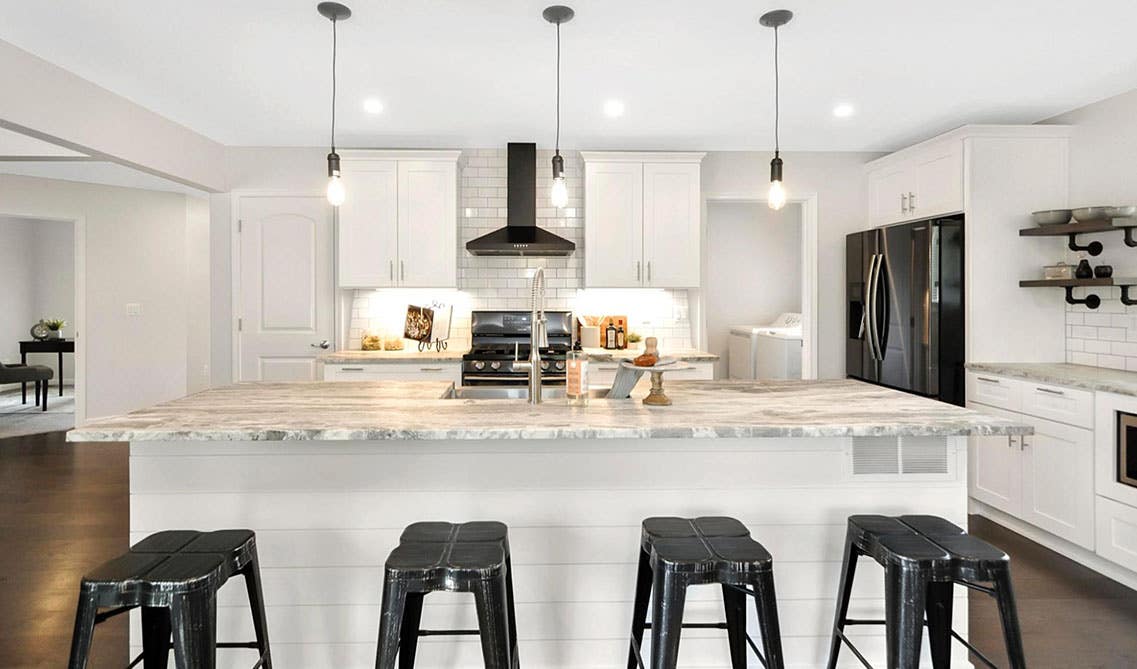 Before we dig into the best kitchen designs for white shaker cabinets, let's explore their build and construction. Shaker cabinet doors are characterized by their five-piece face frame with a recessed center panel. Shaker drawer fronts vary between five-piece and flat panels, depending on the manufacturer. They are available in a variety of stains and paint colors, as well as distressed finishes for more rustic kitchen designs.
Checkout: What Are Shaker Kitchen Cabinets, And Why Are They So Popular?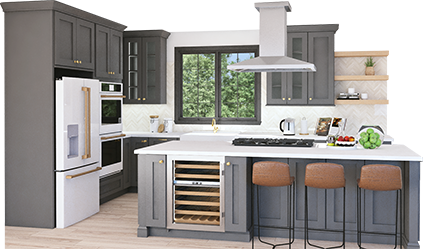 Get your FREE 3D kitchen design today!
Start Now
Features to Look For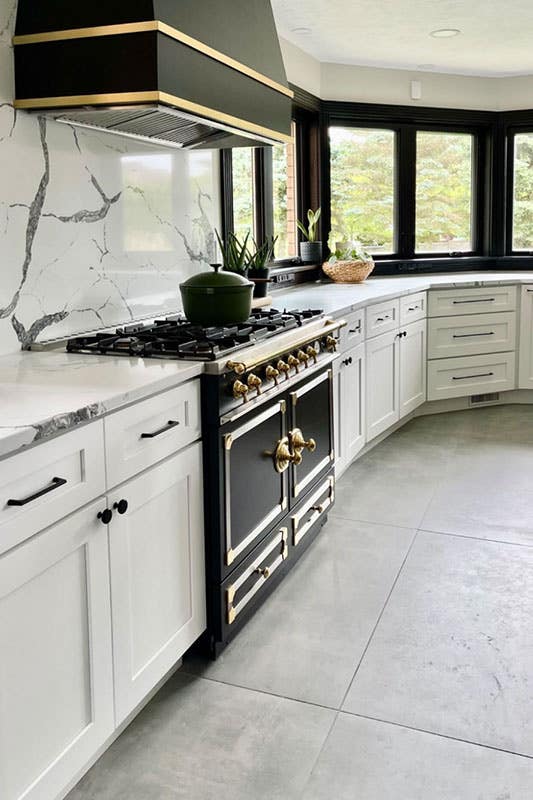 If you want to save money on white shaker cabinets, ready-to-assemble (RTA) cabinets are your best bet. RTA cabinets are significantly cheaper because they can be flat-packed in shipping vehicles and involve less overall labor costs. Lily Ann Cabinets offers affordable RTA shaker cabinets featuring convenient dovetail assembly for quick and straightforward construction.
When it comes to quality, always double-check that shaker cabinets are full extension, soft close, and finished with a hand-painted glaze or stain. Also, be sure to choose solid wood shaker cabinets over particle board. Once you've picked out the perfect white kitchen cabinets, it's time to get designing!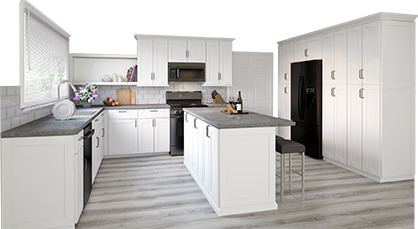 3D Kitchen Visualizer Tool
Bring your dream kitchen to life with our free kitchen visualizer!
Design Now
White Shaker Kitchen Ideas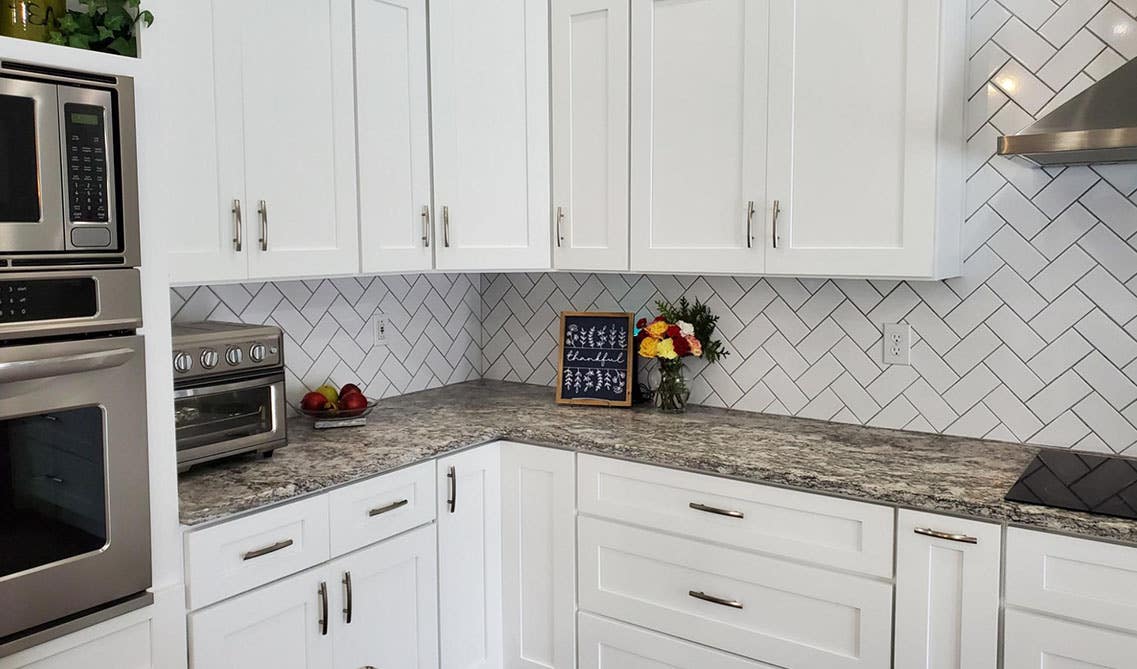 Since the white shaker cabinet style is so versatile, there are hundreds of design options to choose from. Whether you're aiming for an elegant modern look or a more rustic style, there are endless options to create the kitchen you've been dreaming of. Here are some shaker kitchen images to spark your creativity and get your kitchen decorating ideas flowing!
1. Stylish, Sleek Modern Home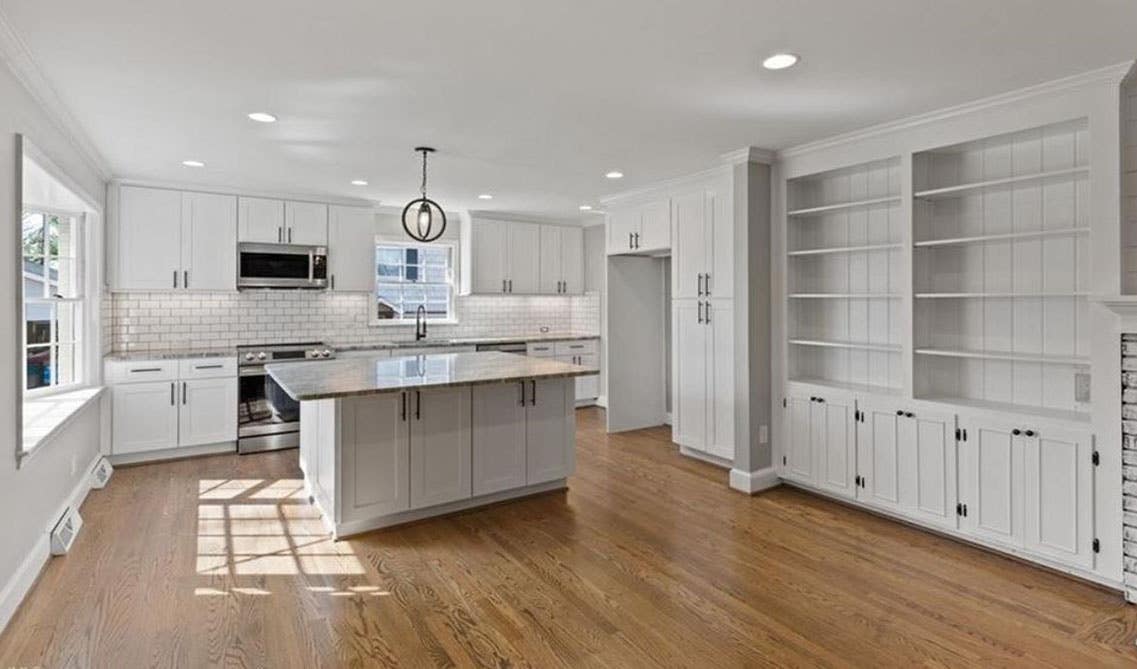 Who doesn't love the fresh look of a white modern kitchen? A full set of white shaker cabinets steal the show in this kitchen, giving the space a bright and beautiful look. Light wood kitchen floors and an oversized white island are carefully selected to complement the white cabinets. Exaggerating the brightness of this space, the ceiling is dotted with recessed lighting, and two elegant glass pendant lights hang above the center island. Just one look at this beaming white kitchen immediately lifts your spirits!
2. Traditional Kitchen with Glass Doors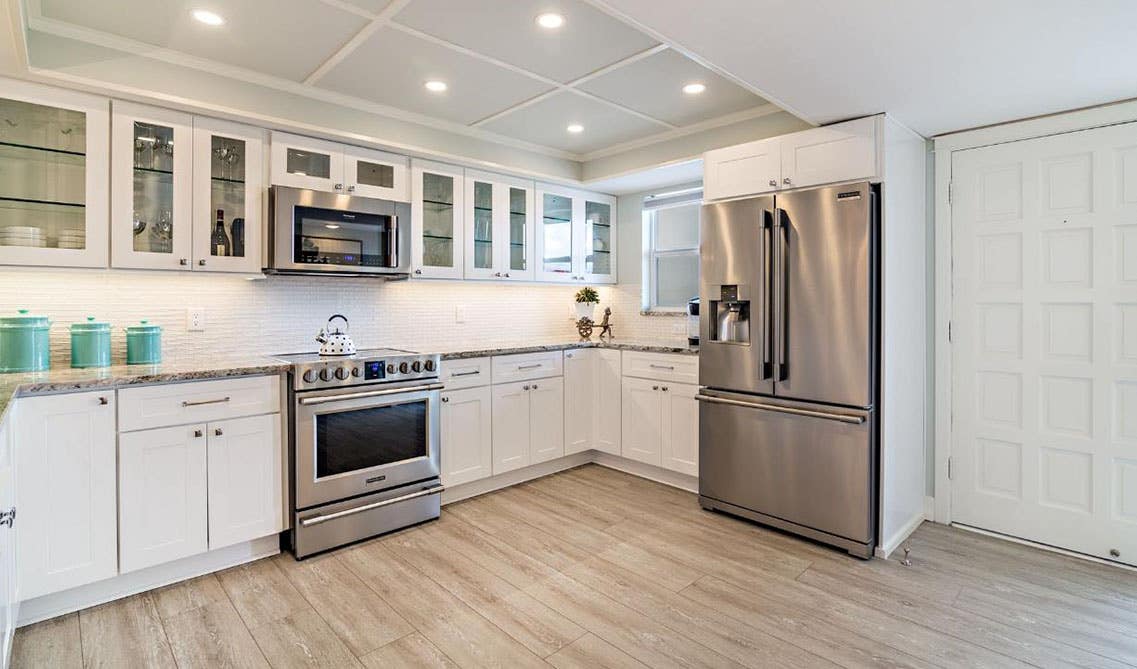 Many remodelers opt to add glass inserts to their white shaker cabinet doors. This homeowner uses their glass door wall cabinets to display white porcelain dishware. White shaker cabinets with glass doors can also be used to display decors like paintings, antiques, and family photos. Paired with glossy white subway tile and elegant golden hardware, these cabinets were made to shine.
3. Gorgeous Galley Design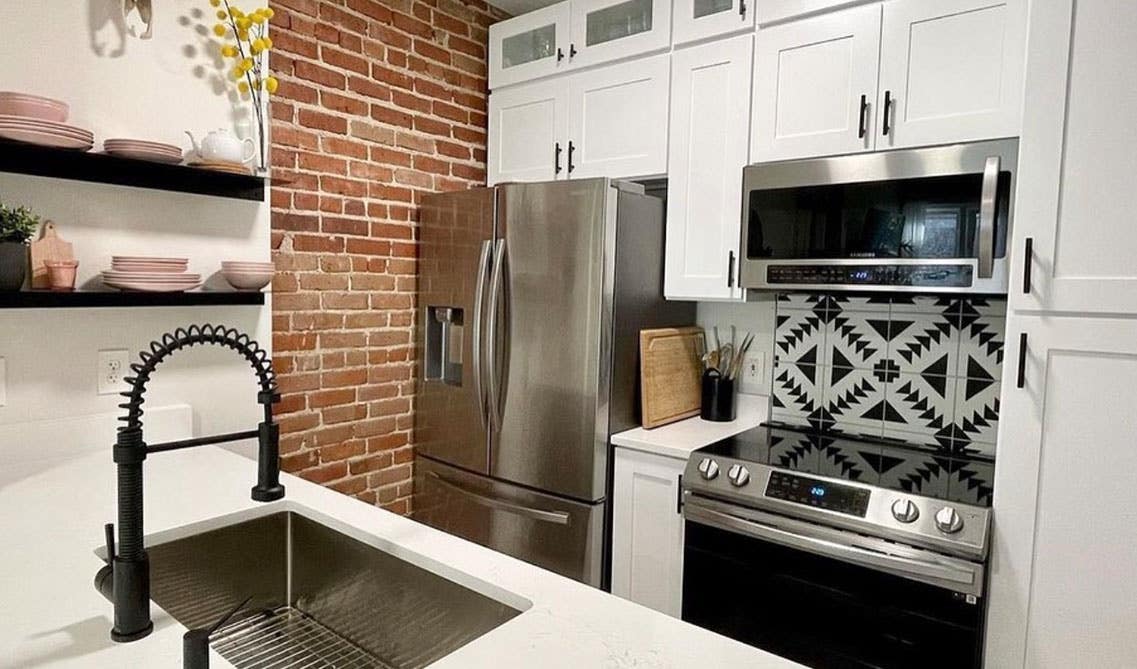 This small kitchen proves that galley styles aren't limited to basic designs. Full overlay white shaker cabinets enhance the seamless look of this traditional kitchen. The clean lines are accentuated by open shelving, invoking a pleasant airy, and spacious feeling. Although simple, this charming space is the pinnacle of white galley kitchen design.
3. Bright White Cabinets with Gold Accents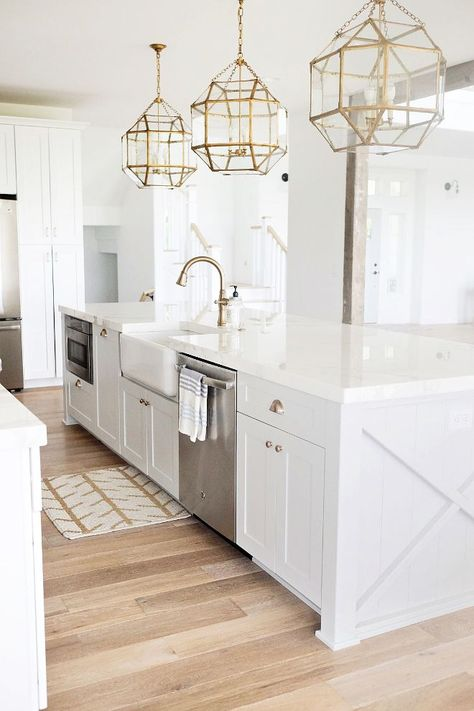 This magnificent white kitchen exudes elegance. For ample storage space, the white shaker cabinets are taken to the ceiling and finished with white crown molding for a seamless finish. Gold knobs and pulls contribute to the luxurious feel of this contemporary kitchen. For the finishing touch, matching marble countertops and backsplash provide a slight contrast against the white cabinetry.
4. Modern Farmhouse Charm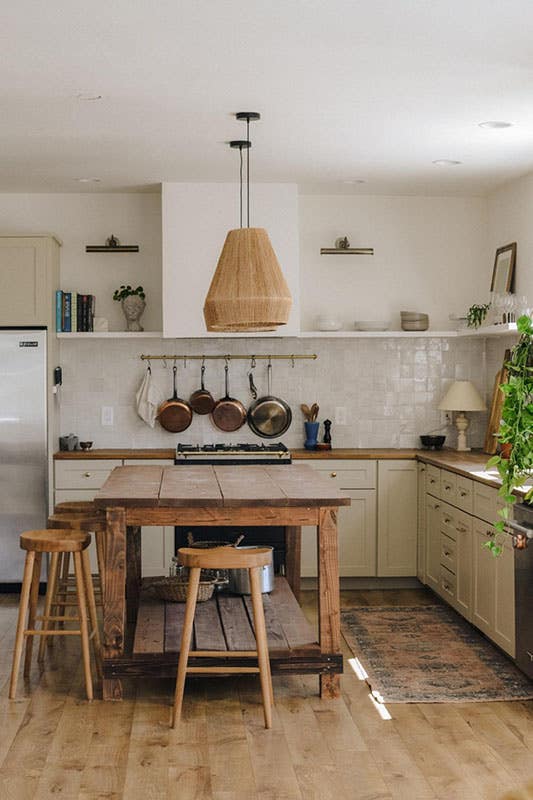 The modern farmhouse is another popular kitchen design for white shaker cabinets. Pulling in elements of both rustic and contemporary style, the modern farmhouse is well-suited for homeowners who love the country style but still desire some updated finishes in their kitchens. A few decor elemenstylests common to modern farmhouse kitchens include open shelving, shiplap, subway tile backsplash, and wood floors. White shaker cabinets are a must to achieve the farmhouse look and are usually matched with matte black or oil-rubbed bronze hardware.
5. Simple Storage Solutions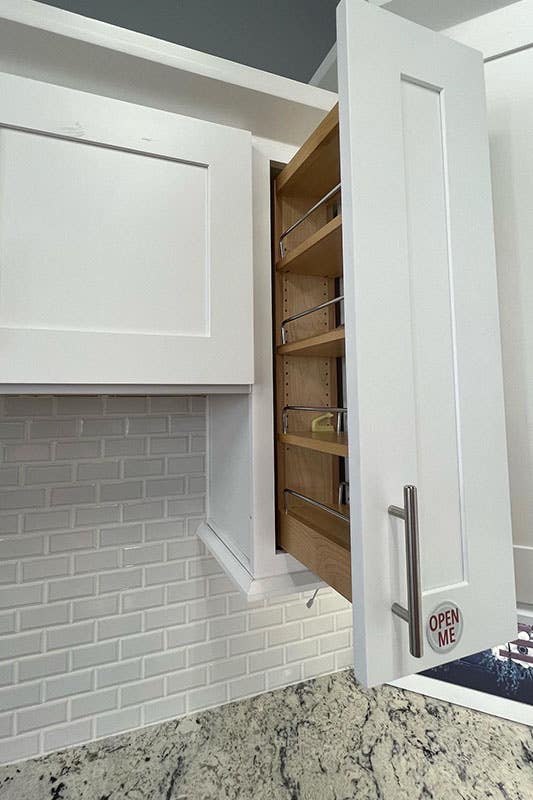 This formerly basic kitchen was given a major update with bright white shaker cabinets and custom storage solutions. For extra storage space, the base cabinets are fitted with clever organizers like this roll-out waste container. Cabinet organizers like these ensure that all focus is on the beautiful shaker cabinets—not on unsightly kitchen clutter. The organization is no issue in this beautiful white shaker kitchen!
6. Rustic Decor Meets Modern Finishes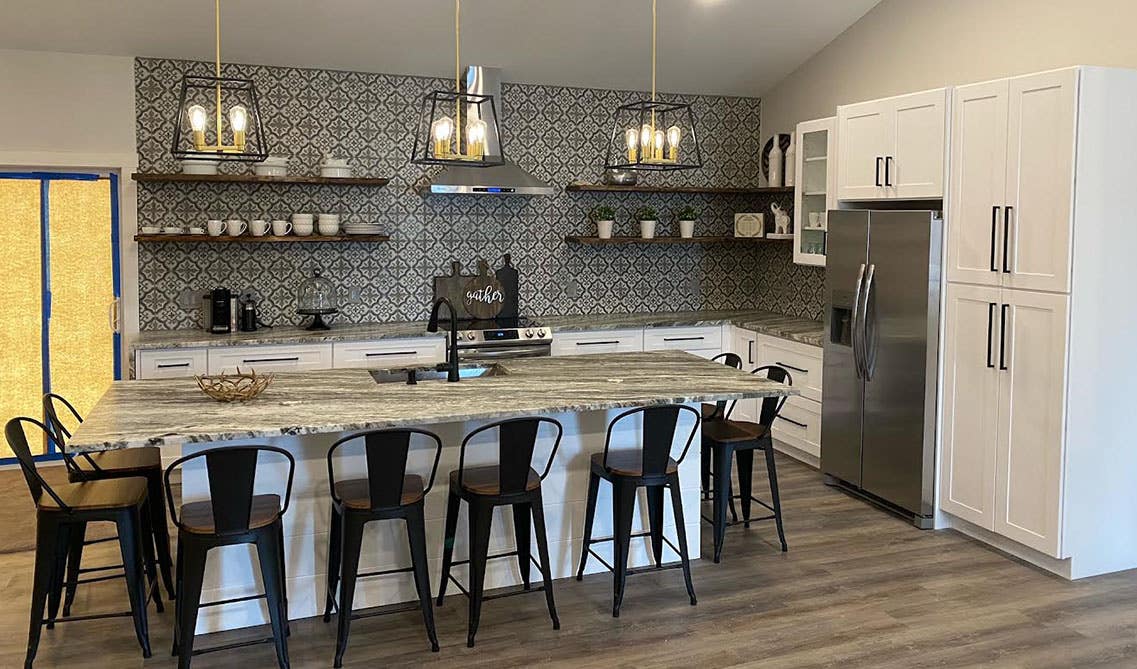 Dark wood floors, black chain pendant lights, and a red brick backsplash give this white kitchen an edgy rustic vibe. A sense of grandeur is felt when taking in the oversized center island and dining room windows, which flood the room with light. Matte black hardware pulls the space together and creates contrast against the stark white shaker cabinets. This warehouse-esque kitchen is a unique twist on modern design.
7. Playing With Contrast
White and grey cabinets are a match made in heaven. Adding in grey shaker base cabinets is a gorgeous way to create contrast if the all-white look isn't your thing. If you decide to incorporate grey cabinets into your kitchen design, just be sure to keep them on the bottom, with white cabinets on top. This will ensure that your kitchen stays visually balanced. This homeowner also added a unique geometric backsplash and silver tubular bar pulls to bring the design together.
8. Make It Shine with Stainless Steel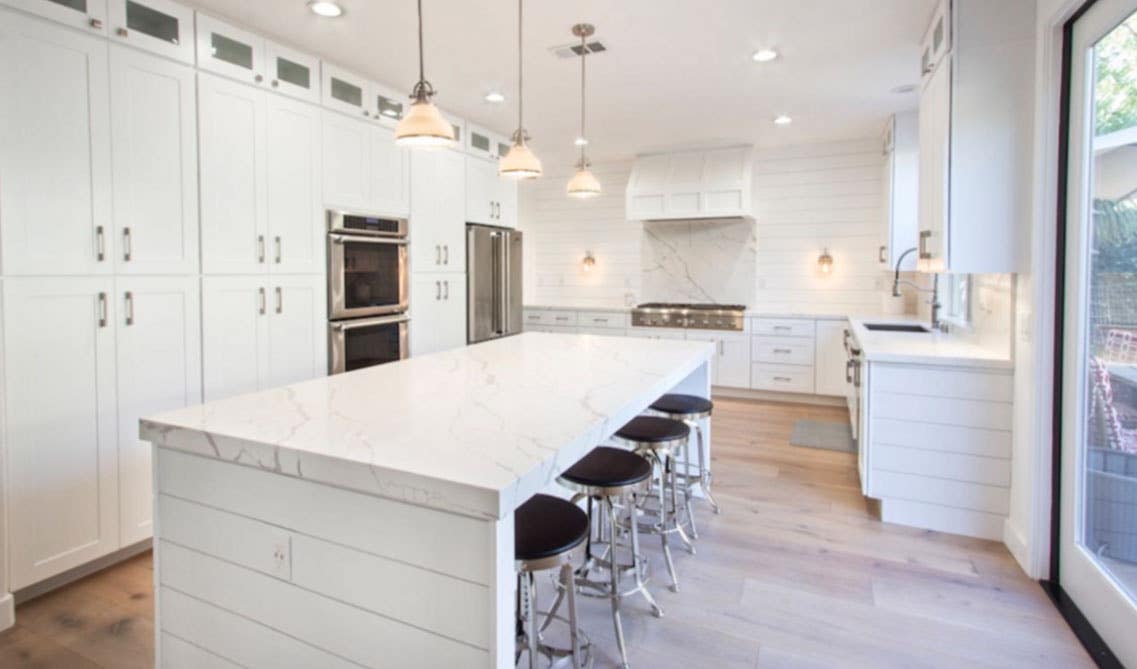 Which appliances go best with white cabinets? In most cases, stainless steel is the best finish to match white cabinetry. Stainless steel appliances go with just about every cabinet color and have an updated, modern appearance. If you live in a family home and want to avoid constant smudges and stains on your appliances, you can also opt for a slate or black stainless steel finish. This will minimize the appearance of unsightly marks while also creating a beautiful contrast against stark white shaker cabinets.
9. The Perfect Pantry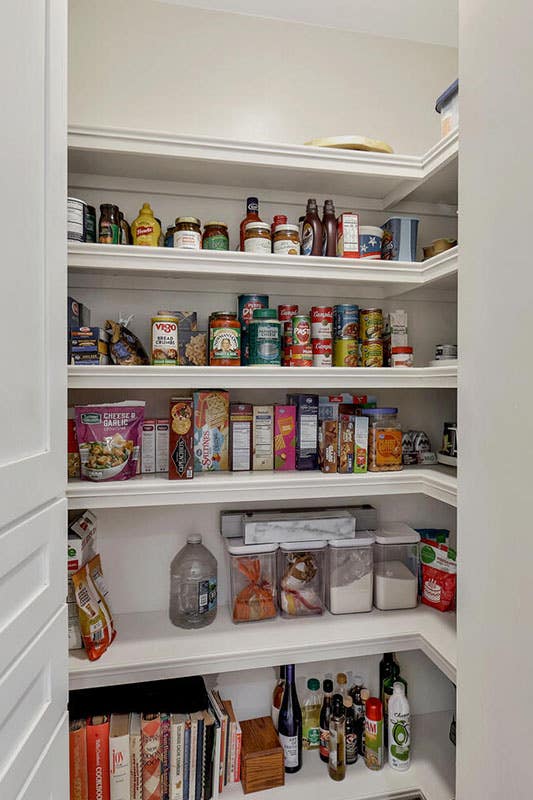 White shaker cabinets shouldn't be limited to the main kitchen area—they're the perfect solution for organized pantries, too! This large walk-in pantry utilizes white shaker cabinet storage on one side with open shelving on the other. For the tight space near the window, narrow cabinets were installed to make the most of every inch of storage space.
Need help designing your shaker kitchen cabinet layout? Get a free 3D kitchen design!
10. Delightful White Accents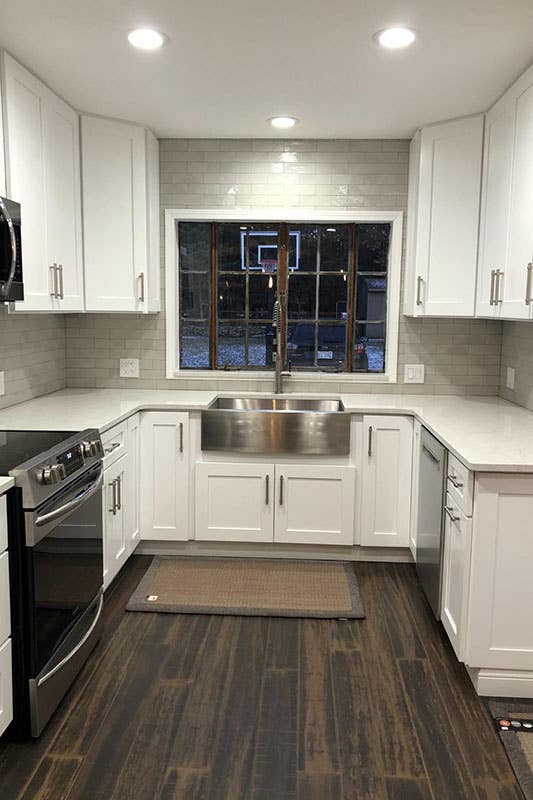 White shaker cabinets look best when combined with other white accents. That's why we love the white countertops and white range hood in this cozy kitchen! Other design elements that enhance the traditional style of this white kitchen are the light grey tile backsplash and crown molding. A fun patterned rug brings a pop of color into the space without distracting from the kitchen's clean lines and seamless design.
white shaker cabinet pictures are a good starting point for designing your next remodel. From hardware for white shaker cabinets to appliances, there are hundreds of options to express your own personal style. Not only are shaker cabinets the most versatile cabinet style in terms of kitchen design, but they will also help you save big on your kitchen renovation. Just remember to keep in mind the quality and construction of the white shaker cabinets you choose.
Related Blogs: 
Find Premium White Shaker Kitchen Cabinets at Lily Ann
Lily Ann Cabinets offers premium solid wood white shaker cabinets for up to 50% off box store pricing. To help you finalize your dream kitchen, we also offer FREE 3D kitchen designs! Visit our website today to connect with a member of our professional design team and visualize your new kitchen. Have questions? Feel free to reach out to our friendly customer service representatives!