Your kitchen is more than just a place to prepare meals; it's the heart of your home, a space where family and friends gather, and a reflection of your style. Whether you're a fan of sleek modern design, rustic charm, or something in between, there are countless ways to infuse your kitchen with your unique personality.
In this blog, we'll explore 38 kitchen decor ideas to help you create a space that truly reflects your style.
Color Palette
1. Neutral Elegance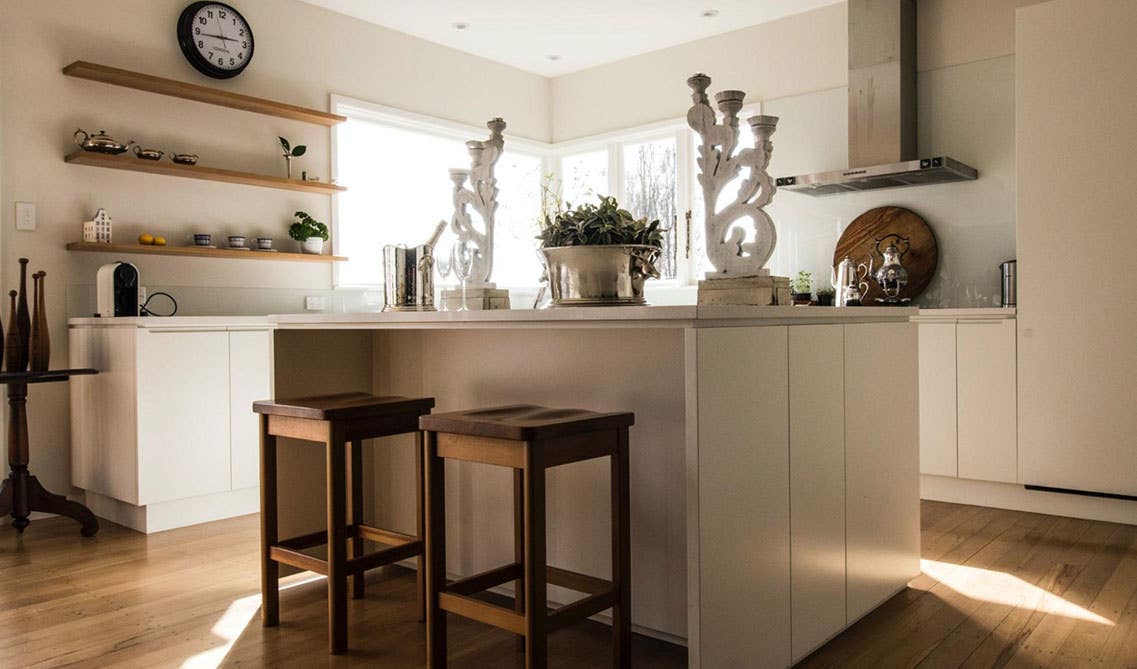 Choose shades of gray, beige, or white for a timeless and sophisticated palette. It's an excellent choice for those who prefer a clean, classic, and elegant aesthetic.
2. Monochromatic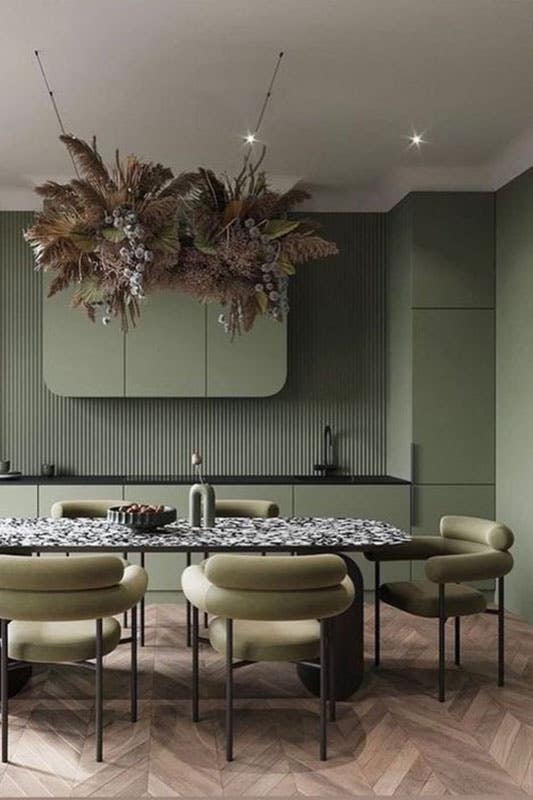 Opt for a single color or varying shades of a single color for a chic and sophisticated look. This choice reflects a taste for minimalism and simplicity.
3. Earthy Tones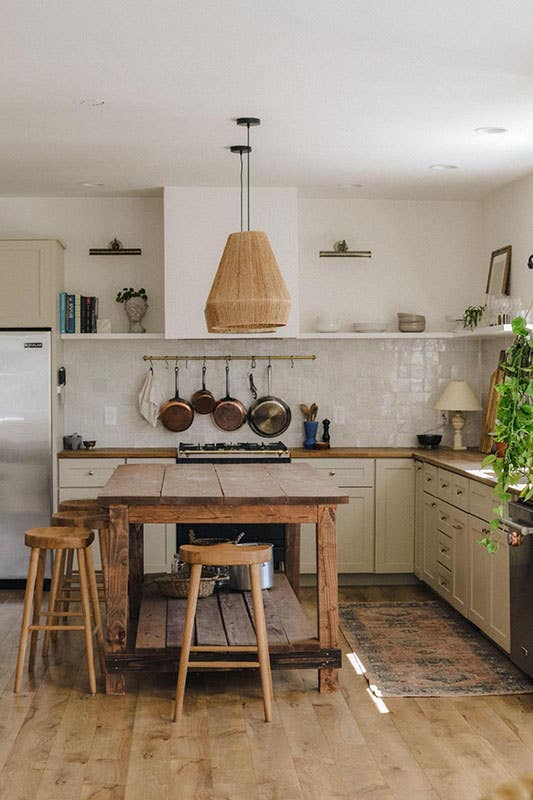 Embrace the beauty of nature with warm browns and greens. Earthy tones create a cozy and inviting atmosphere, ideal for those who appreciate a rustic or organic feel in their kitchen.
4. Bold and Vibrant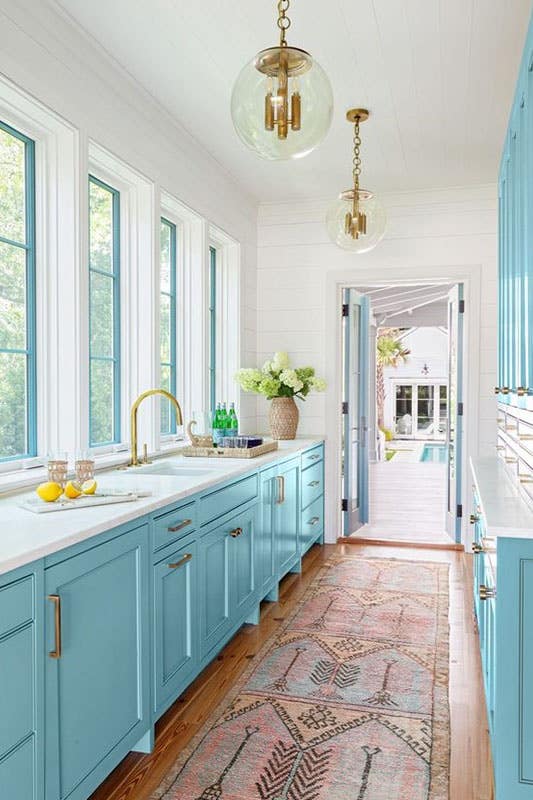 Use intense, lively colors like deep reds, electric blues, or sunny yellows to create a kitchen with a lively and energetic atmosphere. It's perfect for those who have a bold and extroverted personality.
Cabinetry
5. Open Shelving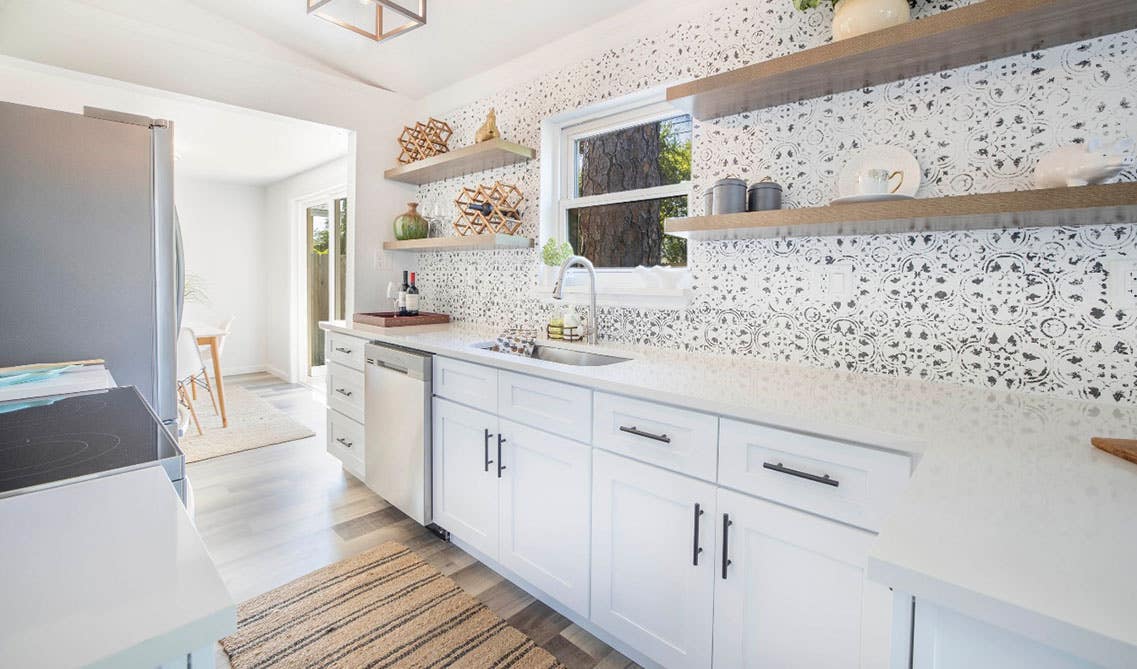 Opt for open shelves to display your favorite kitchenware and kitchen decor. This design choice shows an appreciation for open and inviting spaces and a love for showcasing your beautiful dishes.
6. Glass Front Cabinets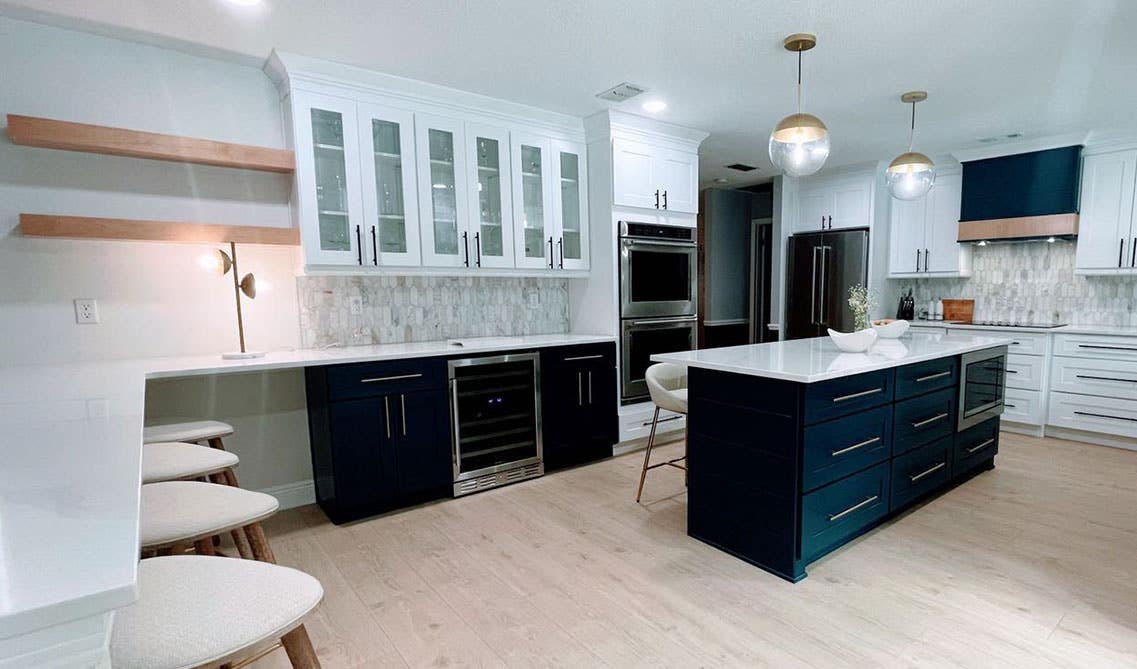 Lily Ann Cabinets: Navy Blue Shaker and Colorado White Shaker
Choose cabinets with glass fronts to showcase your collection of dishes or glassware. It's perfect for those who have a penchant for beautiful kitchen items and want to put them on display.
7. Two-Tone Cabinets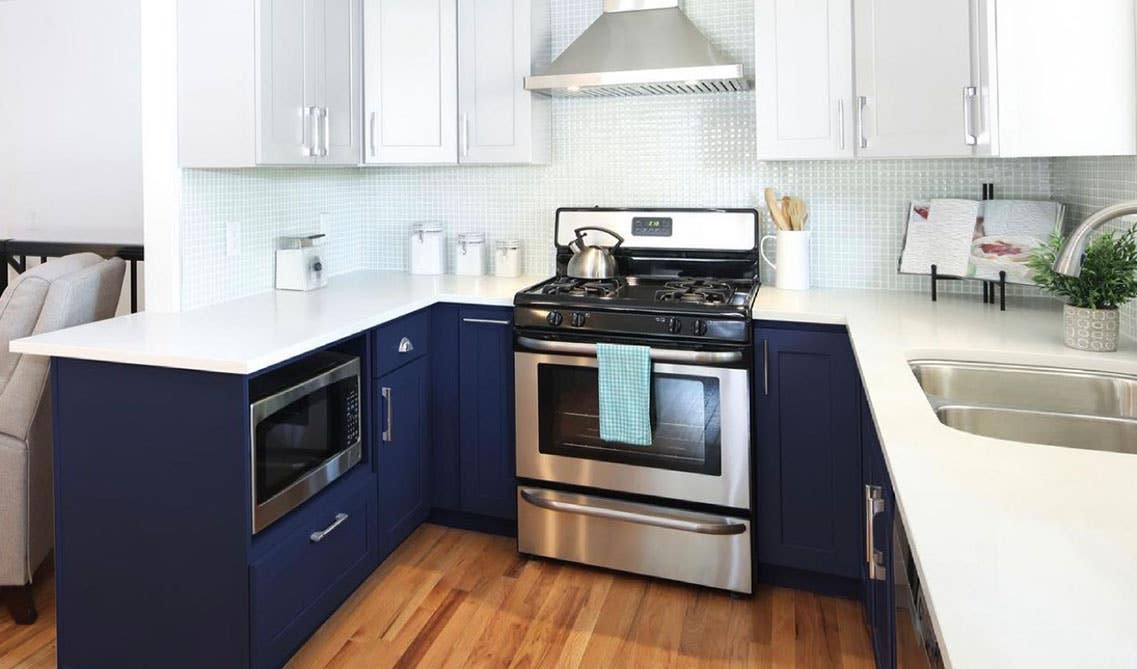 Lily Ann Cabinets: Navy Blue Shaker
Combine two complementary colors for a modern twist. This reflects a desire for a unique and contemporary kitchen design.
Countertops
8.  Granite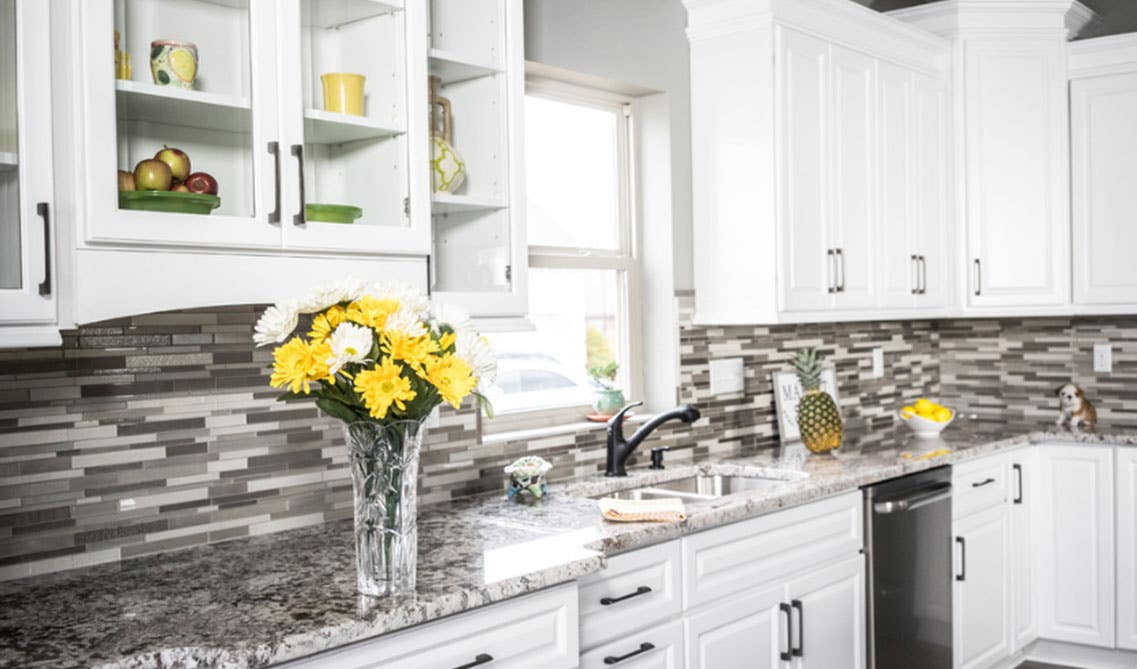 Select granite countertops for a luxurious and durable option. This shows a preference for high-end and long-lasting materials.
9. Butcher Block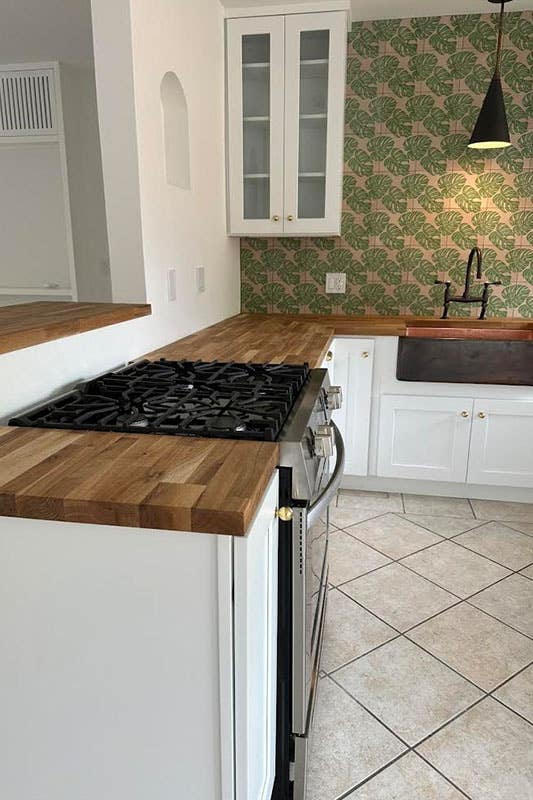 Add warmth to your kitchen with wooden countertops. This choice reflects a love for natural and rustic materials.
10. Marble
Choose marble countertops to bring elegance and sophistication to your kitchen. This signifies a taste for timeless and classic design elements.
Backsplash
11. Subway Tiles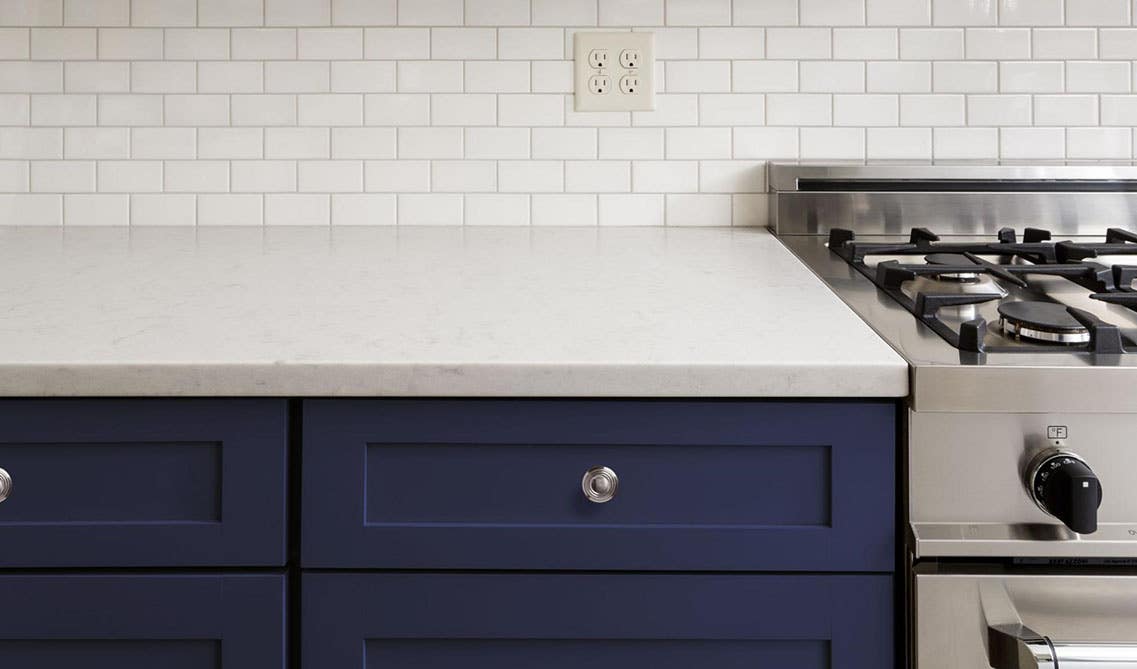 Next on the list of kitchen decor ideas is subway tiles. Use white subway tiles for a classic, clean, and timeless look. It's a choice that suits those who appreciate simplicity and a touch of nostalgia.
Lily Ann Cabinets has both white and grey porcelain subway tiles for you to choose from. Check them out today!
Related: What is subway tile? Everything You Need To Know
12. Mosaic Tiles
Add a pop of color and pattern with mosaic tiles. This shows a love for intricate and artistic design.
Lily Ann Cabinets also offers two pebble stone mosaic tile backsplash options you will love.
13. Brick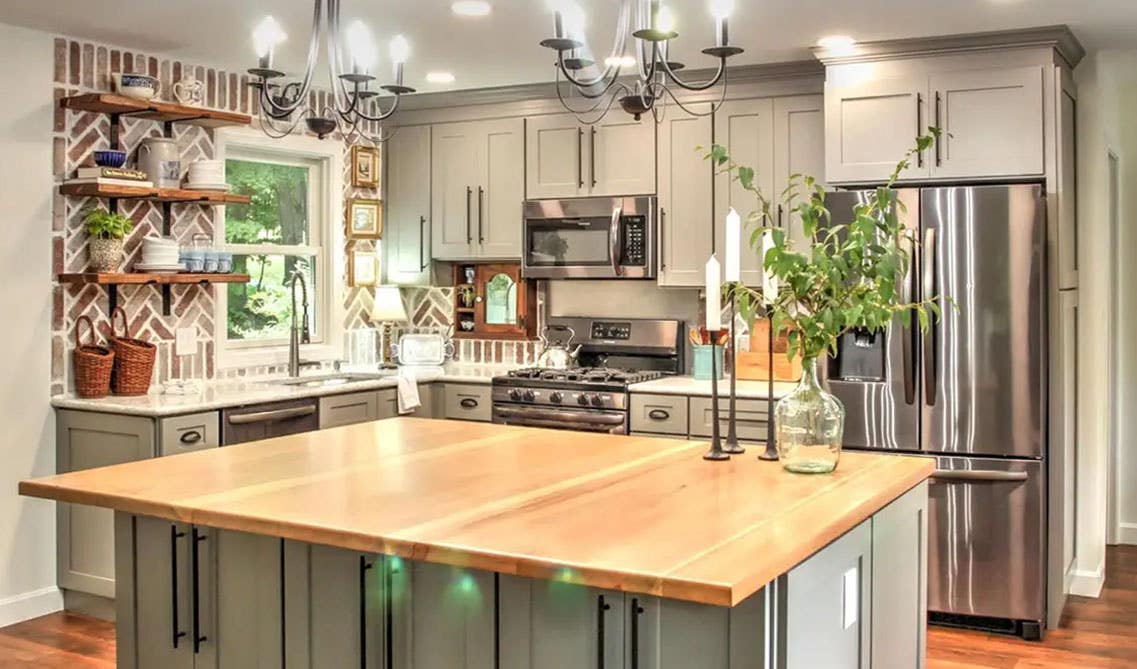 Achieve a rustic and industrial touch with a brick backsplash. This choice adds warmth and character to your kitchen, perfect for those who love a vintage or urban style.
The Grey Shaker Elite cabinets from Lily Ann in this kitchen create a cohesive look with the brick for the ultimate rustic retreat.
Flooring
14. Hardwood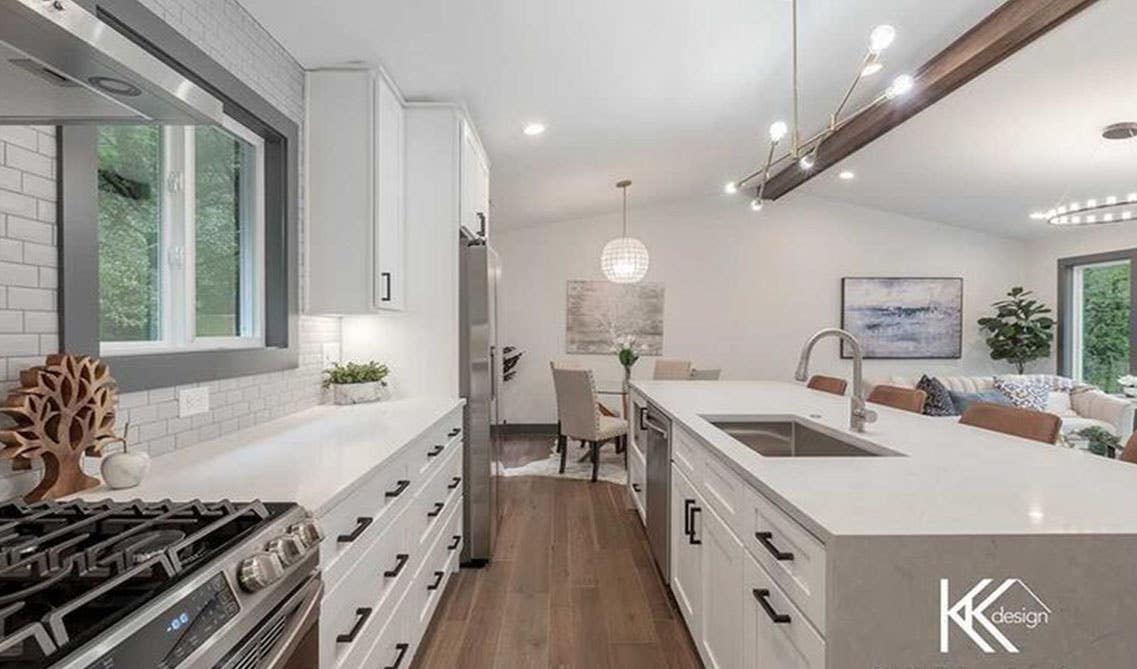 Opt for hardwood flooring for a warm and timeless look. It's perfect for those who enjoy a classic and traditional atmosphere in their kitchen.
15. Patterned Tile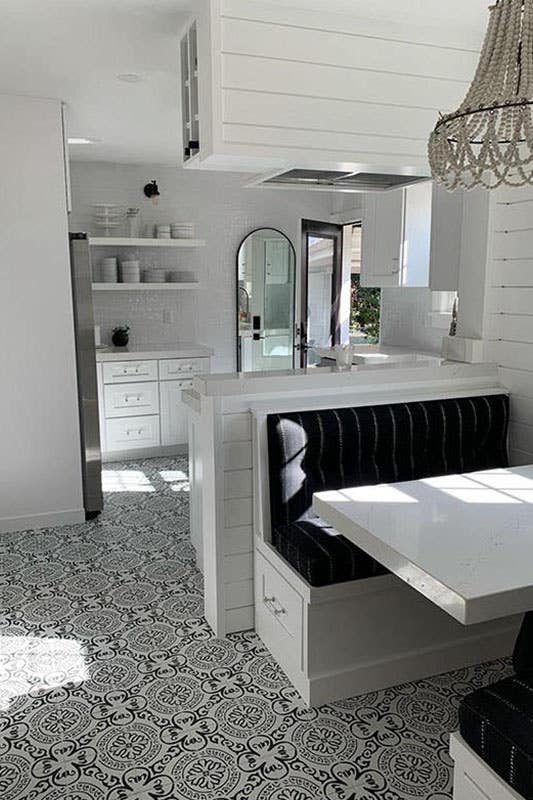 Infuse your kitchen with personality and character with patterned tiles. This choice reflects a bold and creative design style.
16. Concrete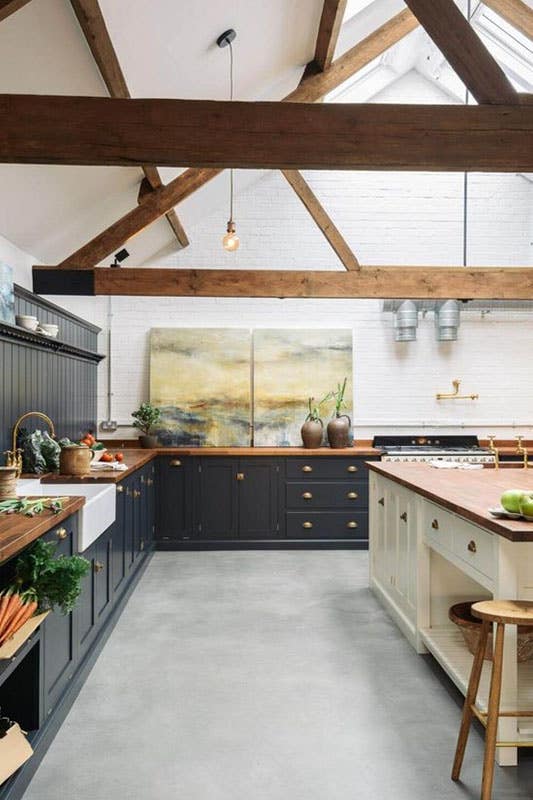 Pinterest
Embrace an industrial vibe with concrete flooring. This signifies a preference for a modern and urban aesthetic.
Related: 10 Kitchen Floor Ideas for the Modern Home
Lighting
17. Pendant Lights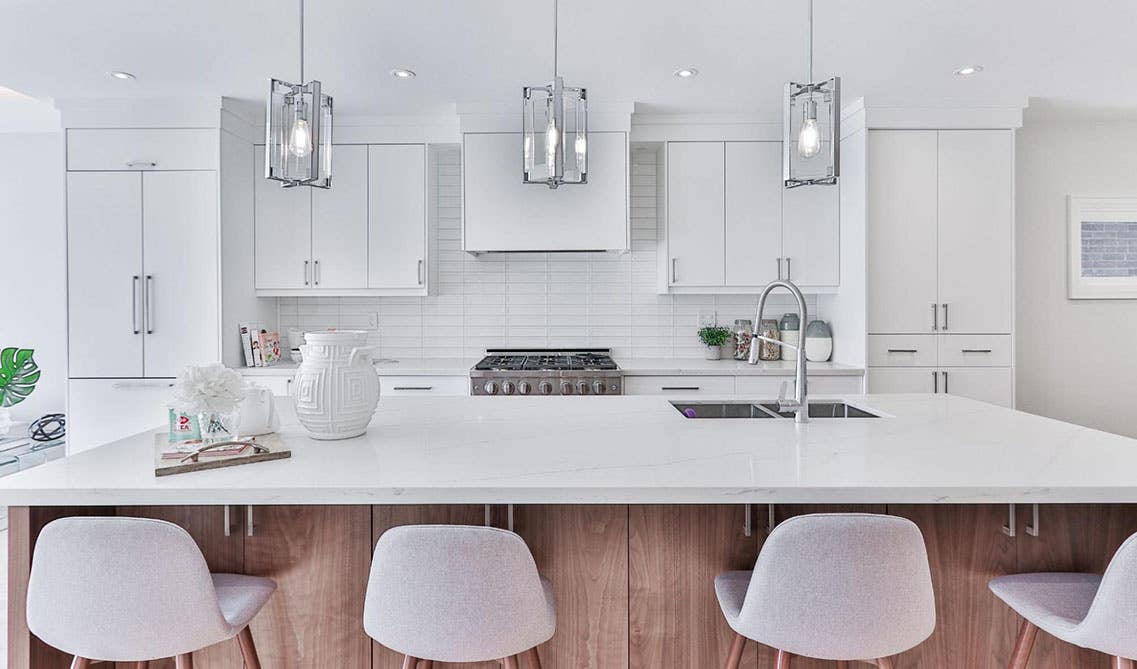 Hanging pendant lights above your kitchen island or dining area not only provide practical illumination but also act as decorative elements, adding a touch of your chosen style.
18. Chandeliers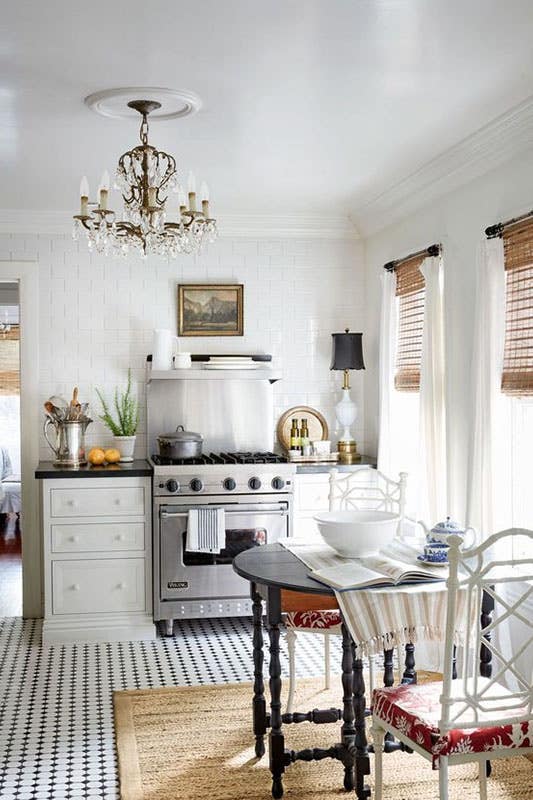 Chandeliers bring a touch of glamour and elegance to your kitchen, making a statement and adding a luxurious feel.
19. Under-Cabinet Lighting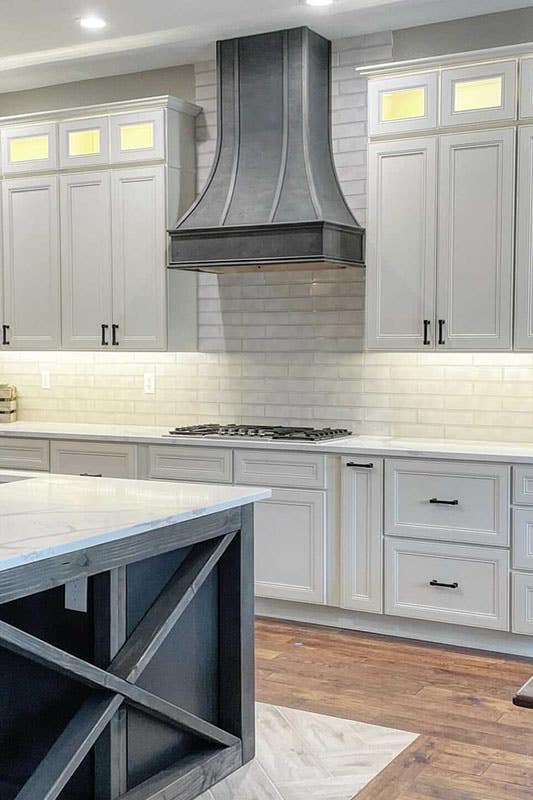 Under-cabinet lighting illuminates your countertops, creating a functional and aesthetic effect. This is ideal for those who prefer a well-lit and organized kitchen.
If you want to fill your kitchen with light but also want it to be discrete, Lily Ann Cabinets has a selection of LED under-cabinet light fixtures to brighten up your space.
Appliances
20. Stainless Steel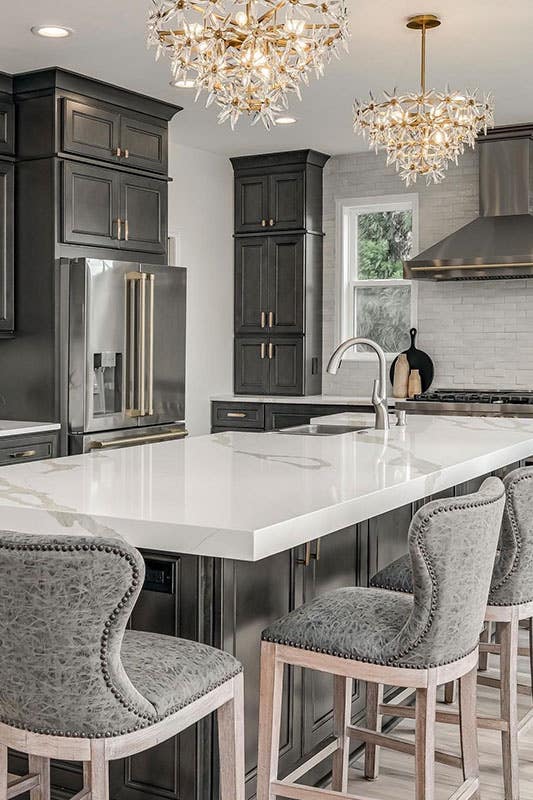 Stainless steel appliances give your kitchen a modern and cohesive look. They are sleek and durable, making them a popular choice for contemporary kitchens.
Related: How To Keep Your Stainless-Steel Appliances Clean And Maintained
21. Retro Appliances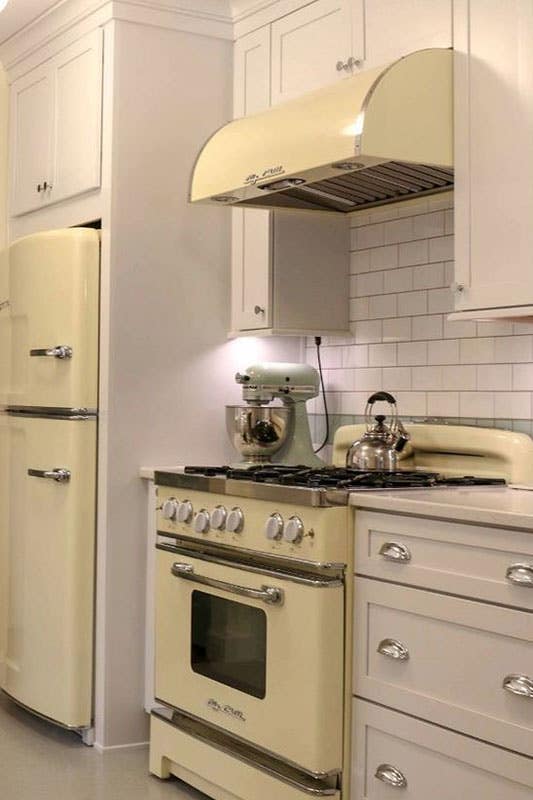 Retro-style appliances add a vintage flair to your kitchen, creating a unique and nostalgic atmosphere.
22. Hidden Appliances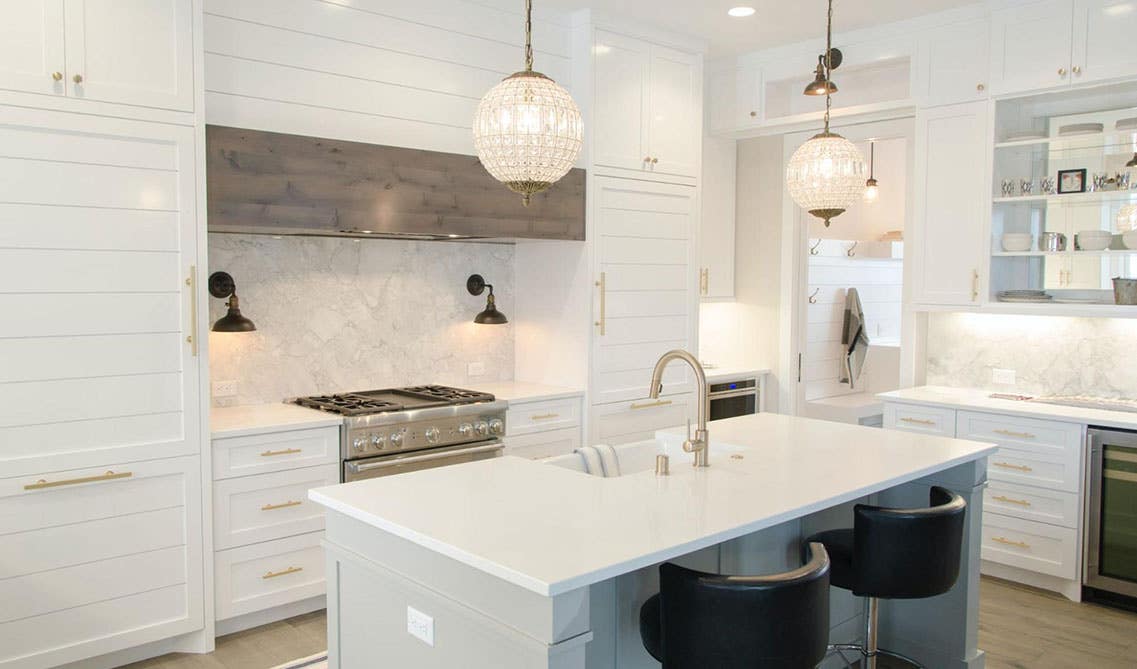 Concealing appliances with cabinet panels or shiplap maintains a streamlined and uncluttered appearance, which is perfect for a minimalist and sleek kitchen design.
Kitchen Island
23. Breakfast Bar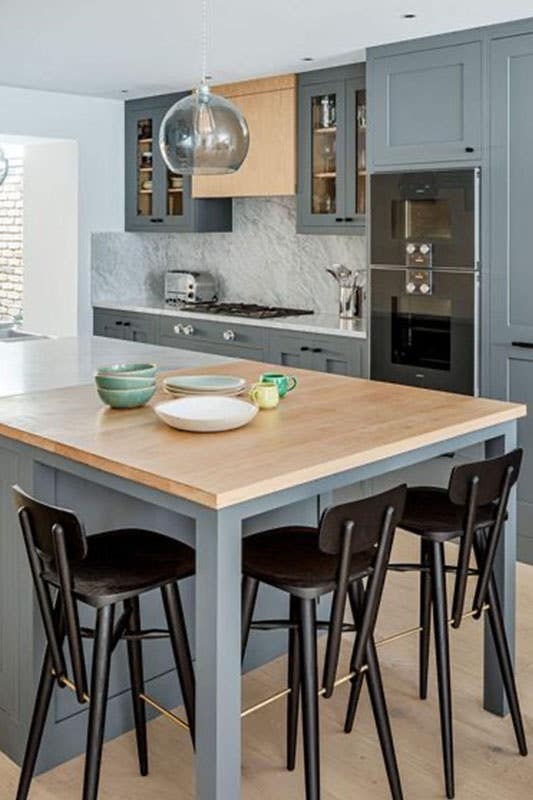 Including a breakfast bar on your kitchen island with seating provides a space for casual dining and socializing.
Checkout: What Type of Kitchen Island Fits Your Home?
24. Waterfall Edge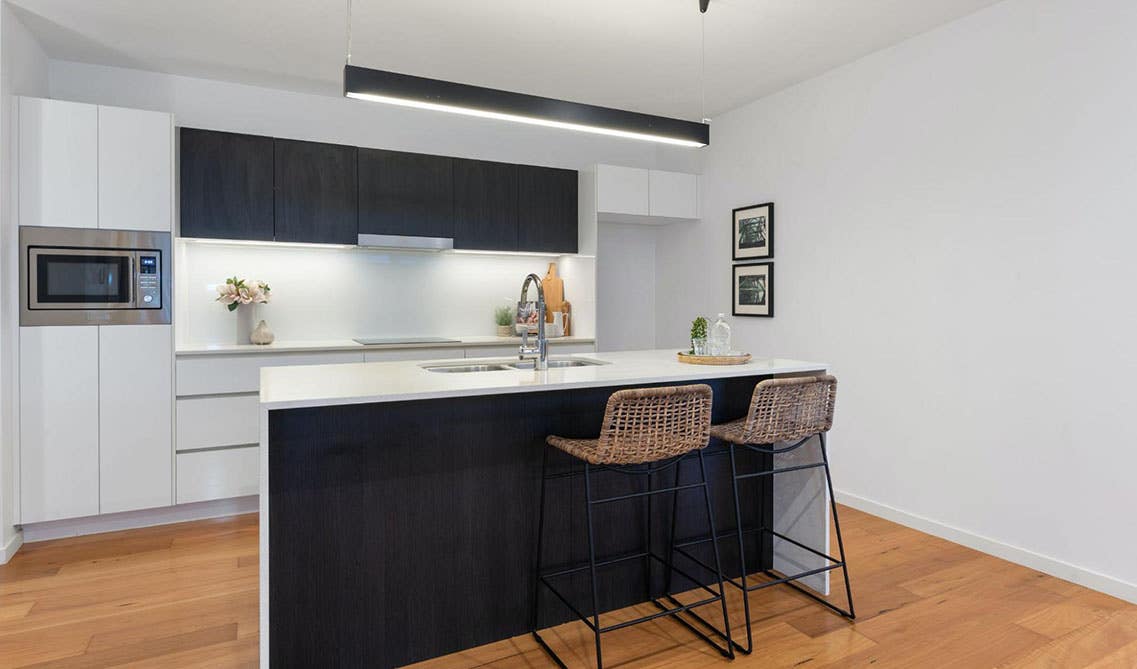 A waterfall edge design for your kitchen island creates a contemporary and seamless look, perfect for those who appreciate modern aesthetics.
Hardware
25. Cabinet Knobs and Pulls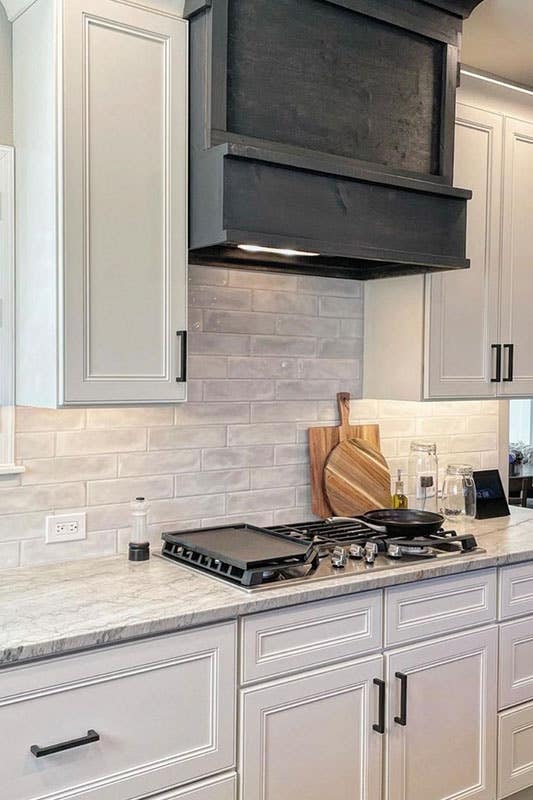 Swapping out standard cabinet hardware for unique and decorative knobs and pulls allows you to personalize your kitchen's aesthetic.
Here at Lily Ann Cabinets, we have a large selection of knobs and pulls for kitchen cabinets. With so many options, you are sure to find one that will match your desired look.
Related: Guide to Choosing Cabinet Hardware
26. No Handles (Push-to-Open)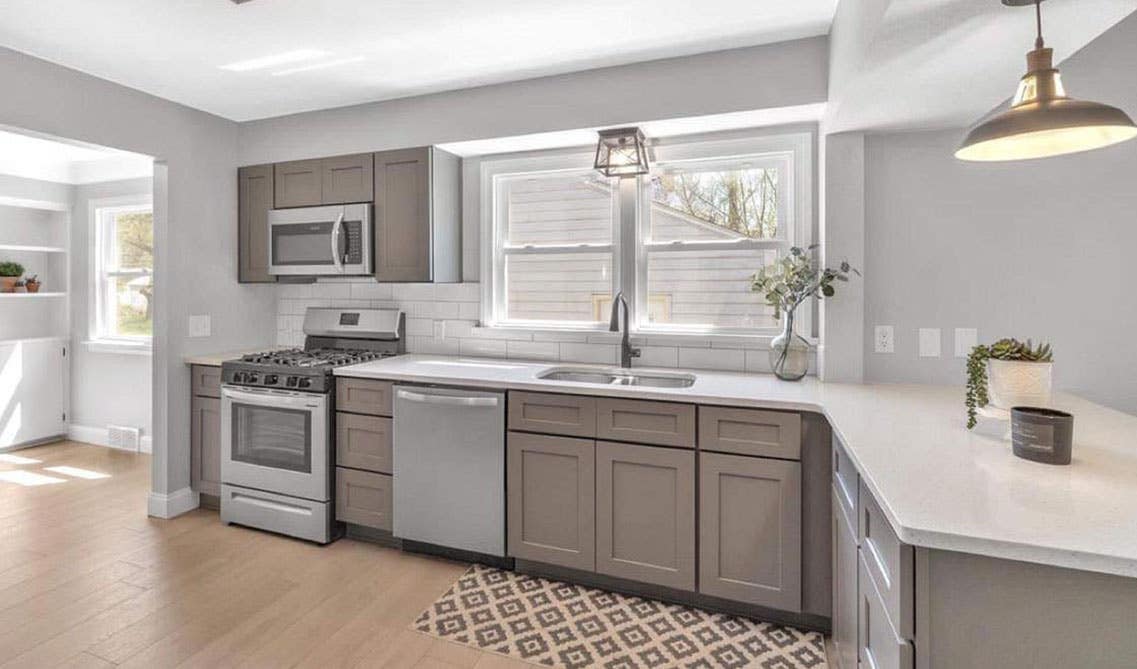 For a modern and minimalist appearance, consider cabinets and drawers with no visible handles. Instead, they use a push-to-open mechanism, offering a sleek and seamless design that's easy to maintain.
Sinks
27. Farmhouse Sink
A farmhouse sink, also known as an apron sink, brings rustic charm and character to your kitchen.
You can bring this rustic charm into your kitchen with our Luxury Stainless Steel Farmhouse Sink.
28. Deep Single Basin Sink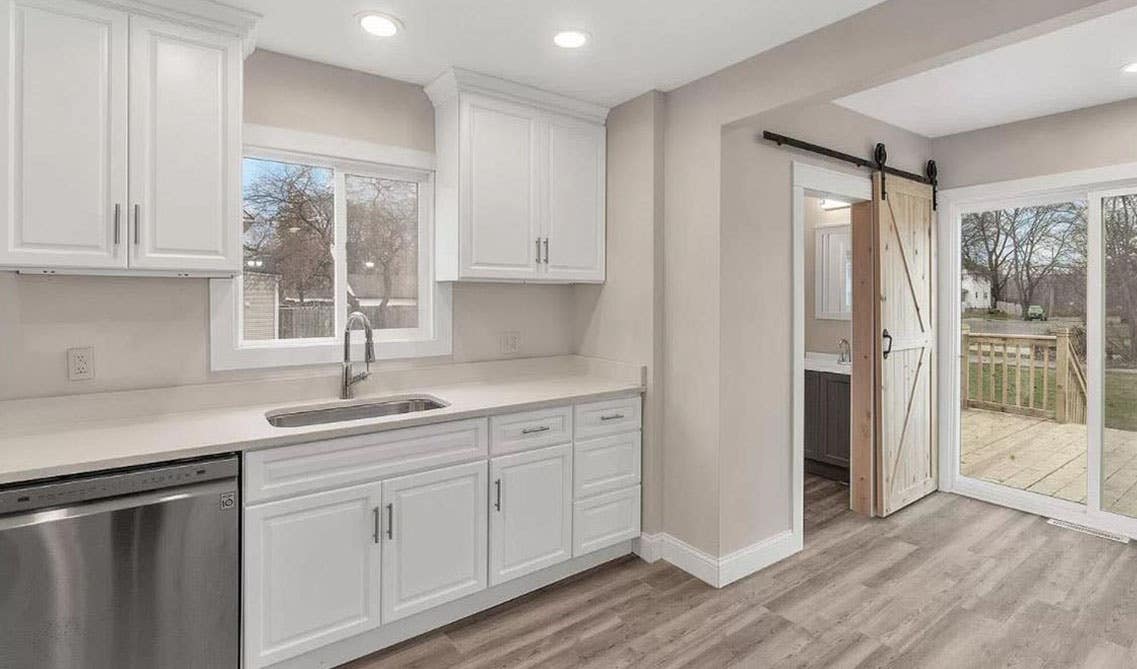 A deep basin sink is a practical choice for those who love simplicity and functionality. This type of sink features a single, deep basin that can easily accommodate large pots and pans, making dishwashing and food preparation more convenient.
29. Undermount Sink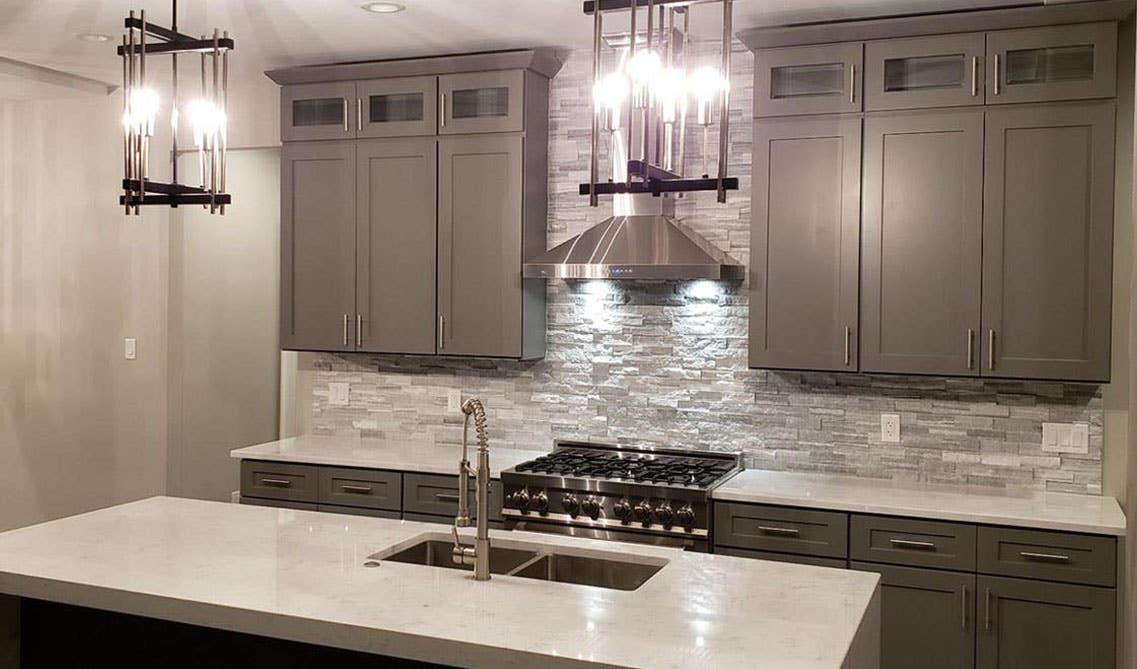 An undermount sink is a sleek and stylish option installed beneath the countertop, creating a seamless transition between the countertop and sink. 
Checkout: 10 Popular Kitchen Sink Styles- Pros and Cons
Plants and Greenery
30. Herb Garden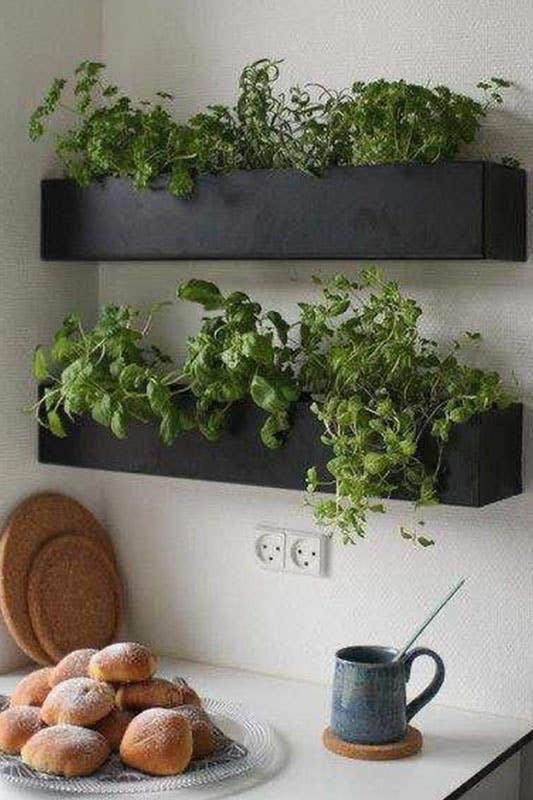 Growing fresh herbs in your kitchen adds a touch of nature and practicality, making it perfect for those who enjoy cooking with fresh ingredients.
31. Succulents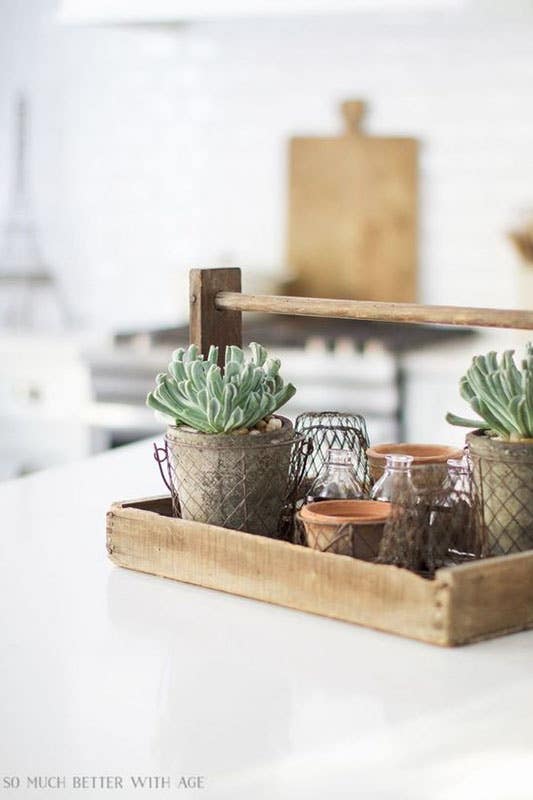 Succulents are low-maintenance and add a touch of greenery to windowsills, creating a cozy and inviting atmosphere.
32. Hanging Plants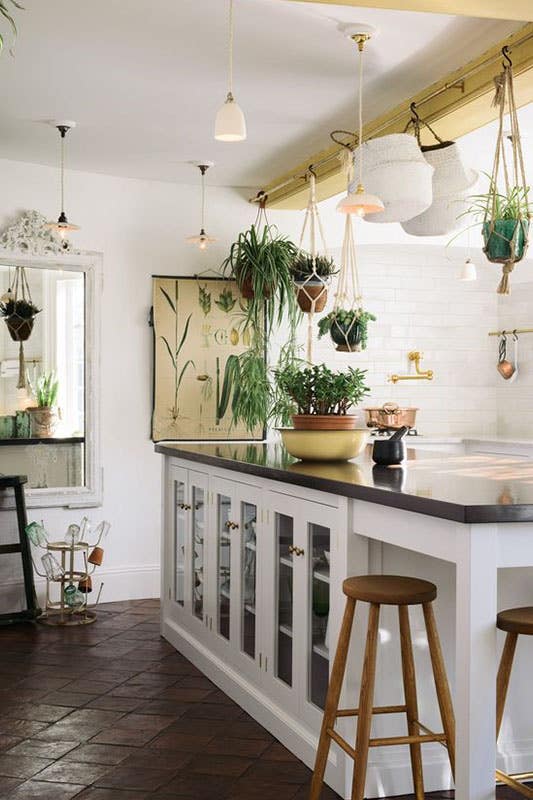 Hanging plants for kitchen decor can bring a lush and bohemian vibe to your kitchen, perfect for those who appreciate a more relaxed and natural ambiance.
Personal Touches
33. Customized Signage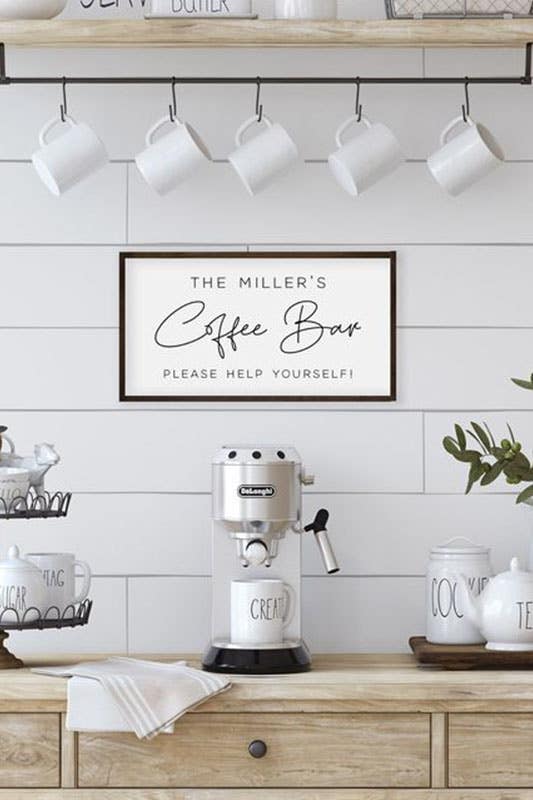 Customized signage in your kitchen can include personalized messages, quotes, or even family names, adding a unique and sentimental touch.
34. Family Recipes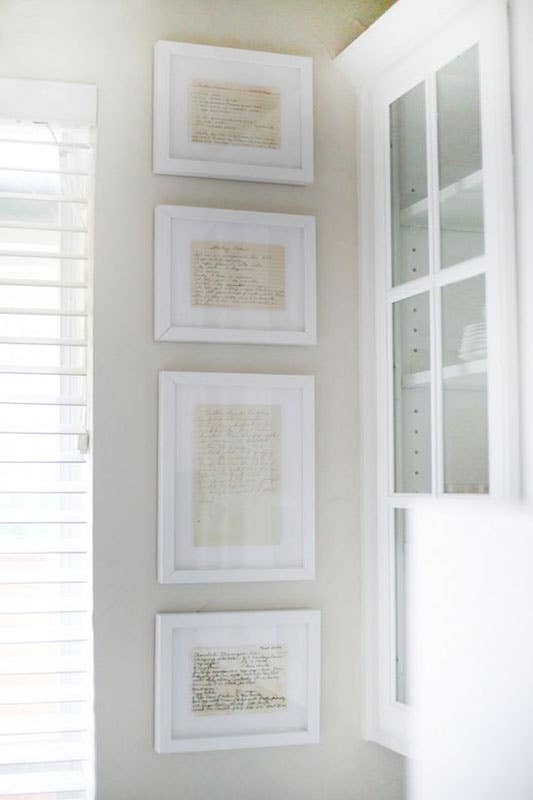 Kitchen decor doesn't just have to be stylish, it can also be sentimental too. Displaying cherished family recipes in decorative frames or on chalkboards not only adds a personal touch but also pays homage to family traditions and history. 
Additional Decor
35. Gallery Wall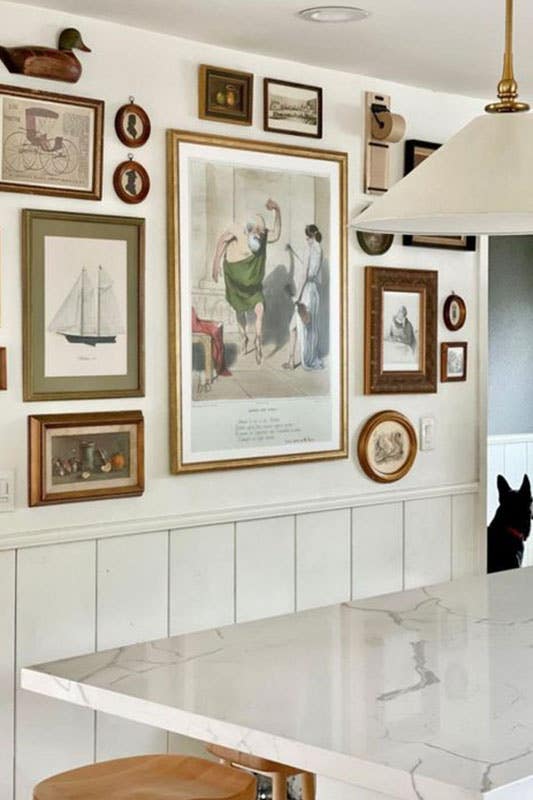 A gallery wall in your kitchen can display art, photographs, or other decorative items that reflect your personal style.
36. Hanging Pots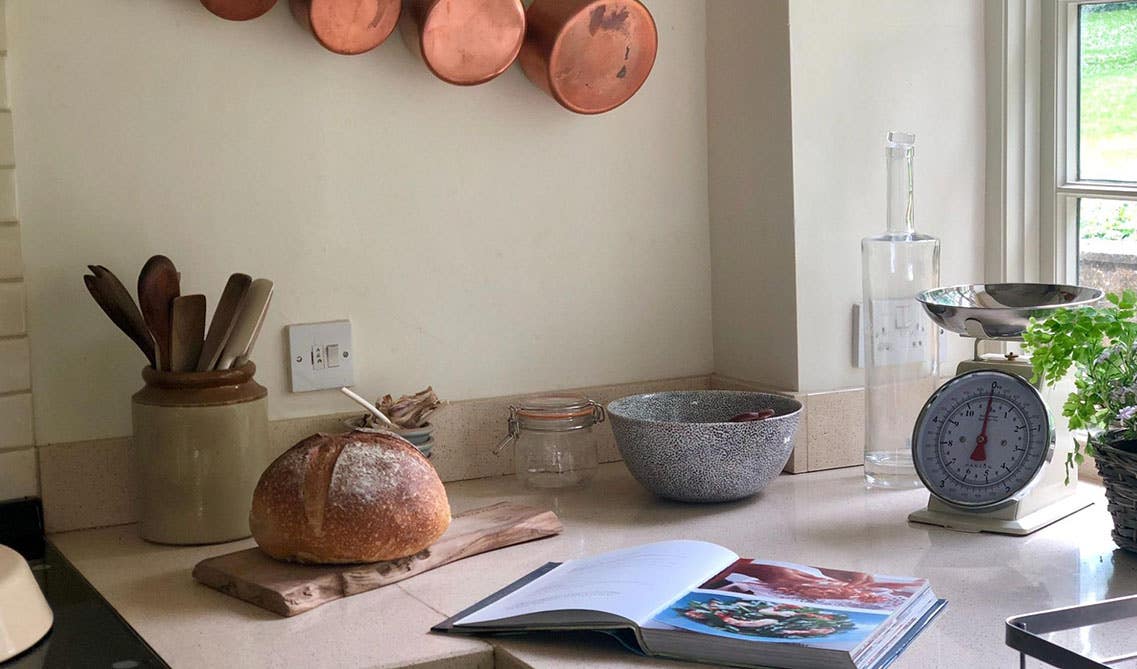 Hanging pots and pans as decor provide a functional and rustic touch, perfect for a kitchen with a cozy and welcoming atmosphere.
37. Decorative Vases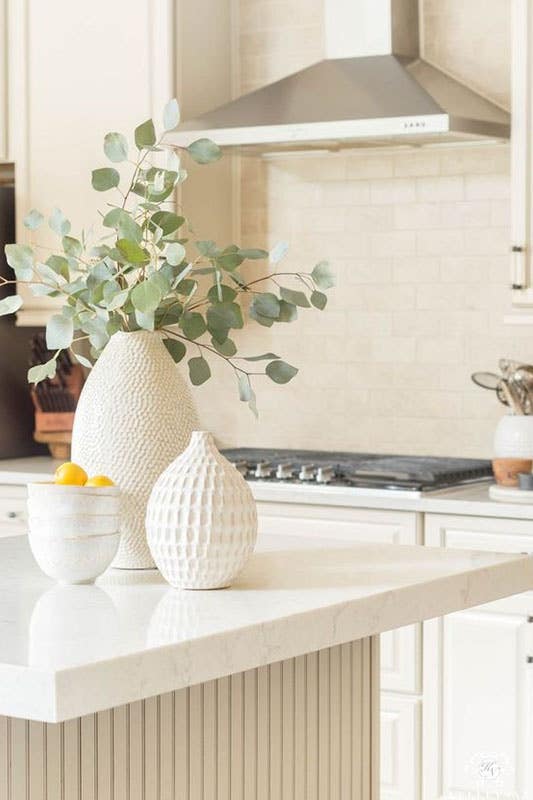 Decorative vases can be used to showcase fresh flowers or decorative items that align with your style, whether it's modern, vintage, or eclectic.
38. Accent Wall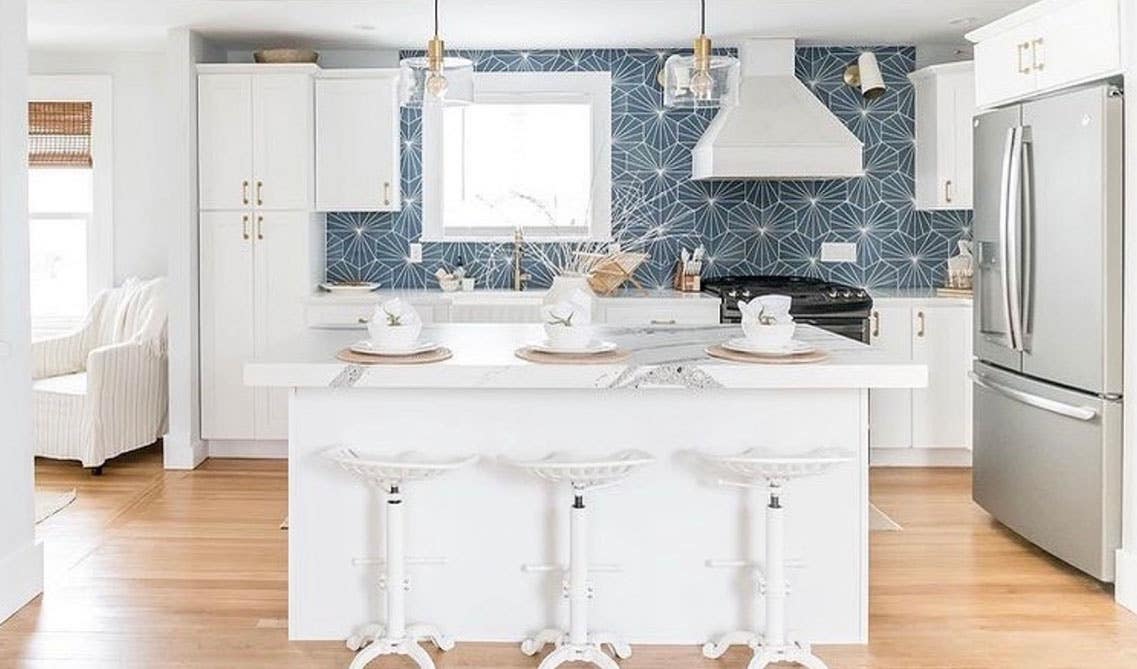 Consider creating an accent wall in your kitchen by using bold wallpaper, a different paint color, or textured materials like reclaimed wood or brick. Whether you choose a vibrant pattern or a rustic texture, it's an opportunity to infuse your style into the space.
Read More: 11 Trending Kitchen Accent Wall Ideas (Tips & Photos!)
In Conclusion…
Remember, your kitchen should be a reflection of your personality and lifestyle. Mix and match these kitchen decor ideas to create a space that not only serves its functional purpose but also brings joy and inspiration to your daily life. Whether you prefer a cozy farmhouse feel, a sleek and modern aesthetic, or something unique, there's a kitchen decor style that's perfect for you. Happy decorating!
Shopping at Lily Ann Cabinets is an excellent choice for anyone looking to transform their space with quality and care. As a family brand, we understand the importance of creating a home that reflects your unique style.
We offer FREE samples to help you make informed decisions, FREE 3D designs to visualize your dream kitchen and a commitment to providing exceptional service and value. Join the Lily Ann Cabinets family and discover how we can bring your vision to life, one cabinet at a time.
FAQs
1. How do you make a small kitchen look classy?
To make a small kitchen look classy, choose a neutral color palette, incorporate open shelving for an airy feel, invest in quality materials, and add subtle, elegant accents like pendant lighting or glass cabinet doors.
2. What should I display on my kitchen wall?
Display art, decorative plates, a chalkboard for notes and recipes, or a gallery of family photos. Choose kitchen decor that reflects your style and makes your kitchen feel inviting.
3. Is it outdated to decorate above kitchen cabinets?
Decorating above kitchen cabinets can be done tastefully. Consider displaying decorative items, plants, or baskets to fill the space without overcrowding. It's not outdated if done thoughtfully and in line with your kitchen's overall design.