What's the best way to give your kitchen personality, character and charm? A unique and eye-catching accent wall! Not only are kitchen accent walls affordable in comparison to a full-scale remodel, they can be a fun way to add your own personal touch to your kitchen design. From bright and whimsical to muted and modern, there are thousands of different ways to create an accent wall that speaks to your own creative vision.
Picking the Right Accent Wall for You
With a plethora of choices, you'll have no trouble finding a number of wallpapers, paint colors, tiles and more to suit your taste. Since the options can be overwhelming, you should narrow down your accent wall ideas by defining your Kitchen style first.
What's your kitchen style?
You can incorporate an accent wall into any kitchen design style—you don't have to live in a modern loft to enjoy the beauty of a decorative wall design. However, you'll first need to figure out which style will best suit your kitchen. By defining your kitchen's style, you'll be able to find the materials that work best with your space and focal point.
Modern: Common elements of modern accent walls include matte black paint, glossy tiles, bright colors, geometric patterns and natural wood.
Rustic/Farmhouse: To achieve a more vintage look, look for elements like shiplap, distressed or reclaimed wood, stone, brick, simple white tiles, and neutral paint colors.
Traditional: Even traditional kitchens can look great with an accent wall! Find a paint color that suits your kitchen's color palette, or a wallpaper that ties in multiple hues from the rest of your kitchen decor.
Coastal: For a bright coastal kitchen, your accent wall should utilize beachy colors like turquoise and seafoam green. Consider wall tiles or wallpaper that incorporate these colors.
Ready to get inspired? Continue on for 11 of our favorite kitchen accent wall color ideas for kitchen renovation.
1. Artistic Twist on a Traditional Kitchen
This stunning navy accent wall in the kitchen doubles as a small gallery for framed art. In this kitchen, navy is the perfect pop of color to contrast the white cabinets. Before the accent wall was added, this kitchen was plain and traditional with a simple white aesthetic. But, with a coat of paint and some unique art, this kitchen was turned into an eclectic and expressive space with much more character.
To recreate this look, pick a color that you love. If you have white cabinets, consider a darker tone to offset the white. Once you paint your wall of choice, find a few photos or art pieces that you want to display. Purchase some mismatched frames and wallah! Your gorgeous kitchen accent wall is complete.
Checkout: Top 8 Kitchen Accent Wall Color Ideas That Can Light Up Any Kitchen
This unique paneled accent wall was constructed with original cypress wood, painted black to match the cabinets. If your style is moody and dramatic, a black accent wall may be the right choice for you. The shiplap panels give the wall a little more texture, and the horizontal lines balance out nicely with the open shelving and countertops.
If you choose black paint for your accent wall, just make sure to include some lighter elements as well. For example, this designer kept the ceilings white and installed a large window to enhance the brightness and invite natural light inside.
Love the look of shiplap walls, but don't want to dish out a fortune to get them? No problem! There are many ways to create DIY shiplap accent walls on a budget. This tutorial by Maison de Pax teaches you how to create a shiplap wall affordably, using plywood planks. Simply follow the tutorial then paint it black to achieve this exact look for less.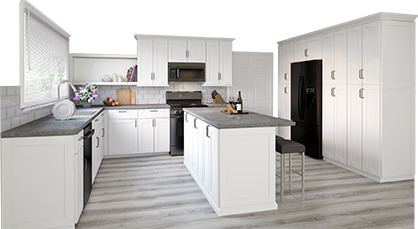 3D Kitchen Visualizer Tool
Bring your dream kitchen to life with our free kitchen visualizer!
Design Now
3. Rustic Farmhouse Charm
Farmhouse fanatics tend to love kitchens with brick accent walls for their rustic, old-world vibe. This beautiful brick wall lends well to almost any kitchen design—it just happens to be more common in country farmhouse homes. The designer of this kitchen paired brick with grey shaker cabinets and organic-edge wood open shelves. The brick spans from the countertop all the way to the ceiling, making it a bold and eye-catching design element.
If you weren't blessed with an original brick wall in your kitchen, you can recreate the look in several ways. For an authentic brick accent wall, you can purchase thinner bricks made of clay and apply them with grout Or, you can simply buy a DIY faux brick backsplash for easier installation. Either way, the look of brick is perfect for a kitchen accent wall and will surely become a conversation piece in your home.
Checkout: Guide For The Perfect Rustic Kitchen: 15 Ideas + Tricks
4. A Touch of Nature
A reclaimed wood accent wall in the kitchen can break up the space as well as bring the beauty of nature inside. The type of wood as well as the stain will largely influence the result—so know your options before you decide on a wood species. For example, Ash or Maple wood will be lighter and cooler in tone. For a warmer appearance, Mahogany and Cherry are popular options. If a rich and dark color is more your taste, look into Walnut or Oak wood.
This charming coastal kitchen pairs a warm wood accent wall with bright white shiplap. Since most of the attention is on the wood paneled wall, the cabinets are kept simple—white and grey shakers. If you decide to incorporate a wood accent wall in your kitchen design, make sure to keep the other decor elements simple and subdued. The focus should be on your hard work, the accent wall!
5. Make a Statement with Stone
This rustic farmhouse accent wall is as stunning as it is functional. The natural stone cladding adds incredible depth to the room, with the wall functioning as a divider between the kitchen and entryway. This stone accent wall immediately demands your attention, compared to the other subdued decor elements like white shaker cabinets and white countertops.
Adding a stone accent wall in the kitchen brings an authentic quality to the space that can't be achieved with traditional building materials. No two stones are alike, and their natural imperfections are what give them their unique grandeur. Not only is natural stone beautiful, it's durable, too.
To create your own stone feature wall, choose a stone type that will complement the existing design of your kitchen. There are plenty of options, from light and sandy to dark and polished. Then simply follow the manufacturer's instructions for installation—usually, the stones will be secured with traditional grout.
Checkout: 10 Stone Backsplash Ideas to Bring the Beauty of Nature Inside
6. Hello, Sunshine!
Tired of plain, traditional kitchen designs? Go bold with a bright yellow kitchen accent wall. Yellow is the color of sunshine and is associated with optimism and creativity. Your kitchen will never lose its cheery warmth with this uplifting color. Instead of paint, consider a unique tile pattern, like this kitchen's triangle tile mosaic.
One plus of choosing a bold color like yellow for your accent wall is that you can keep the rest of your kitchen finishes clear-cut and uncomplicated. For example, this interior designer kept the chairs, table, cabinets and floating shelves consistent with a warm wood finish. It's better to leave the rest of the kitchen design simple because you don't want to distract your visitors from the beauty of the yellow accent wall.
Checkout: Top 10 Wall Paint Colors To Elevate Your Kitchen Space
7. Classic Shiplap
As we mentioned before, shiplap is a popular material for accent walls due to its rustic look and universal appeal. It's hard not to love shiplap! Adding a shiplap accent wall in the dining room can enliven the space with a bright, inviting look. Add a vintage chandelier and distressed wood table for the ultimate farmhouse kitchen design. Using shiplap is also a great way to add an accent wall to a white kitchen. If you don't want to completely throw off the color scheme, a white shiplap wall is the perfect way to add some visual interest without interrupting the overall design.
DIY shiplap accent walls can be created at low cost and with little effort. You can visit the tutorial we linked earlier, or simply find ideas on Pinterest. Regardless, choosing white shiplap for your accent wall is an affordable way to spice up your farmhouse kitchen.
8. Mosaic Masterpiece
If the artist inside of you is yearning for more of an artistic design, a tile accent wall will give you the refined look you desire. Mosaic tiles like those shown above come in thousands of shapes, styles and colors. The tiles come together to form a decorative art piece—making them the perfect choice for a creative kitchen accent wall.
This kitchen design features dark cabinets with brass hardware. The contemporary style calls for a more subtle accent wall, so these neutral mosaic tiles fit flawlessly. However, mosaic tiles can also be colorful and expressive. Red patterned tiles look gorgeous in all-white kitchens. For earthier kitchen designs with natural elements, green or blue tiles make a stunning addition. If you aren't sure which tile will suit your kitchen best, ask for samples—most tile manufacturers will be happy to oblige.
9. Now Trending: Geometric Patterns
This eclectic design features a black herringbone accent wall with natural wood kitchen cabinets. Although the herringbone tiles are more of a backsplash, we're counting them as an accent wall because they truly make the whole space! To ensure the pattern stands out, the designer used glass open shelving instead of upper cabinets. With a wall this beautiful, it's important to let it shine without the interference of large, blocky cabinets.
Geometric pattern accent walls are currently trending all over the world—from herringbone to hexagon tiles to complex mathematical shapes. Those who are drawn to a more modern kitchen style tend to love this design trend. If your kitchen needs a fresh new look, consider adding a geometric accent wall to revitalize it.
10. Cemented in Style
Designed by Joanna Gaines at Magnolia, this one of a kind kitchen features a huge cement accent wall. Cement is making a comeback in modern design due to its industrial appearance and unique texture. The muted grey tone of cement walls looks gorgeous with black cabinetry and appliances. However, it can easily be combined with white cabinets or other neutral tones of decor.
There are more benefits to a cement accent wall than just aesthetics—they're also extremely durable, water resistant, and less susceptible to fire damage. If you don't have room for real concrete in your kitchen remodel budget, you may also consider faux concrete as an easy and affordable alternative.
11. Chalk It Up
In an ideal world, a family home is filled with activities to keep the kids engaged and occupied. However, having toys scattered throughout the house is not always fun (from the parent's perspective!)
These fun DIY wall accent ideas will give the kids a way to use their imagination mess-free. It can be achieved on a budget with chalk paint from your local craft store. Simply paint the wall with black chalk paint, let dry, then it's ready to go. A chalk wall is perfect for kids to let their imagination run wild, plus it can be used to jot down the weekly grocery list or other random to-do's.
Another way to customize a chalk accent wall is with stencils, which you can also find at a craft store. Using stencils, you can easily trace flowers, shapes, and beautiful scripts onto your chalk wall. The options are endless!
Get Your Kitchen Remodel On Track
If you're remodeling your kitchen on a budget, we're here to help. Browse our extensive selection of ready-to-assemble (RTA) cabinets for up to 50% off box store pricing today! If you need advice on getting your kitchen design just right, visit our free 3D kitchen design tool. Don't hesitate to reach out with any questions or concerns.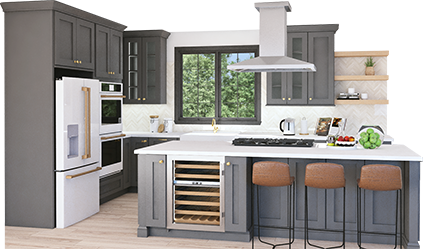 Get your FREE 3D kitchen design today!
Start Now
This is a curated post designed to showcase the work of a number of talented designers. If you would like to have an image removed, please let us know!
FAQ
1. Can you do an accent wall in a kitchen?
Yes! Accent walls have been growing in popularity and can become the focal point of your kitchen!
2. How to choose an accent wall in kitchen.
Choose your accent wall according to your cabinet and wall colors. A color that will either pop or go well with the other colors and decor in your kitchen.
3. Which wall should be the accent wall in kitchen?
If your kitchen only has one entry way, the wall opposite to the entrance which will make your visitors see it first.
4. What is the most popular color for kitchen walls?
Gray is the most popular color for kitchen walls. Its bold and modern and matches well with anything!