Kitchen islands are a popular design trend that can provide storage, food preparation space, and a seating area. There are many different types of kitchen islands so you will definitely find one that fits your home.
Here is a list of kitchen islands to help you decide which design best fits your home.
Bi-Level Kitchen Island
Bi-level kitchen islands are perfect for anyone who wants both extra countertop space and extra seating. Bi-level kitchen islands are made up of two levels and provide just the right amount of space for seating without taking too much space away from your countertops. With this type of island, you also can face your guests while preparing meals. These types of islands look best in open-concept kitchens that may not have easily accessible seating.
Kitchen Island With Raised Bar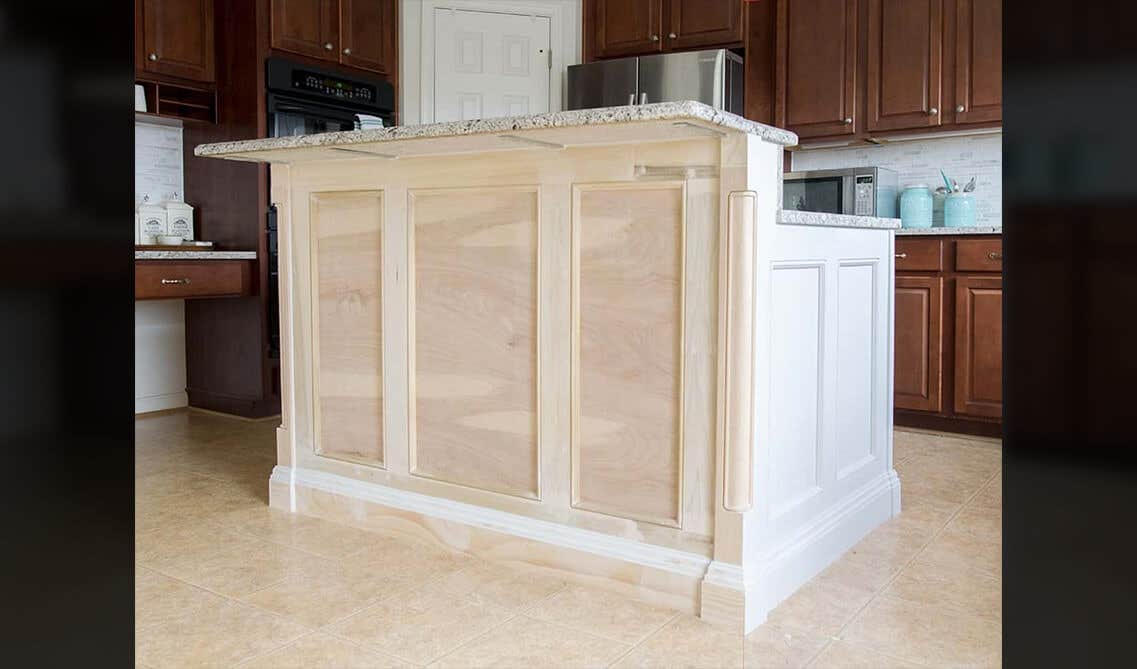 Similarly to the bi-level kitchen islands, this kitchen island comes with a raised bar and is composed of two levels. It is ideal for those looking to entertain. While preparing food or drinks, you can simultaneously speak to your guests. You can also display food and drinks on the upper level while still working on the lower level. This island is also perfect for those looking to install a sink. The upper level provides ample counter space to use the lower level as a sink.
Galley Kitchen Island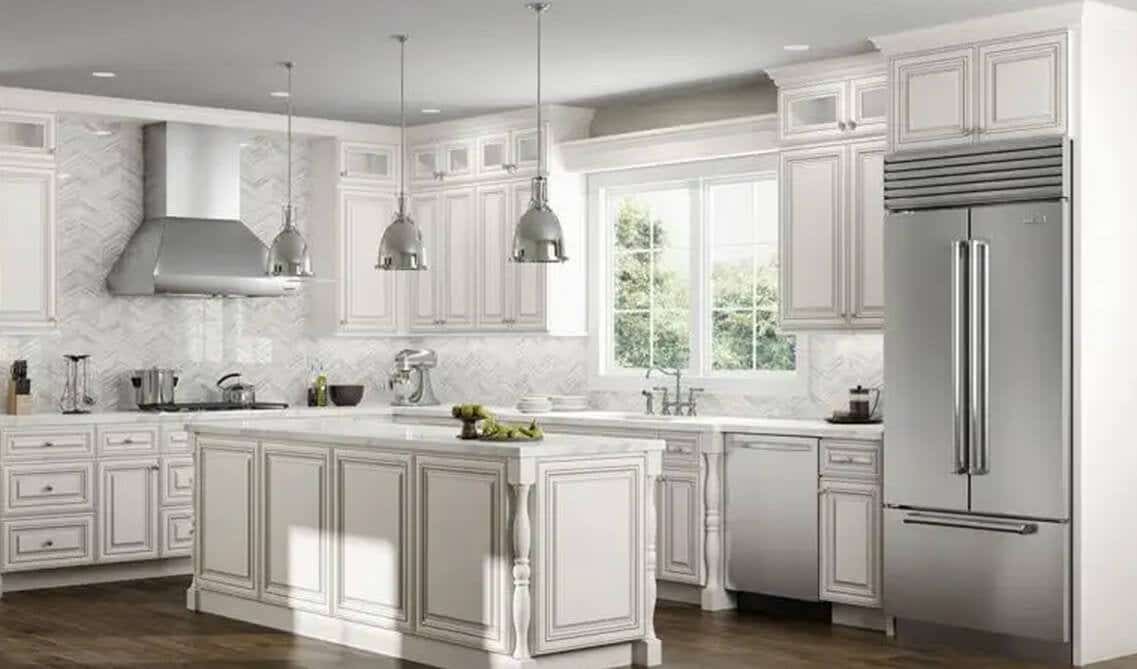 Galley kitchen islands are far more simple than the previous two options. These kitchen islands are more for practical use than decorative. That being said they are still very classic and sophisticated making them a great addition to any kitchen. These kitchen islands are recommended for anyone looking for more storage or countertop space. These islands are also great for those who have smaller spaces because they are more narrow than traditional kitchen islands.
Butcher Block Kitchen Island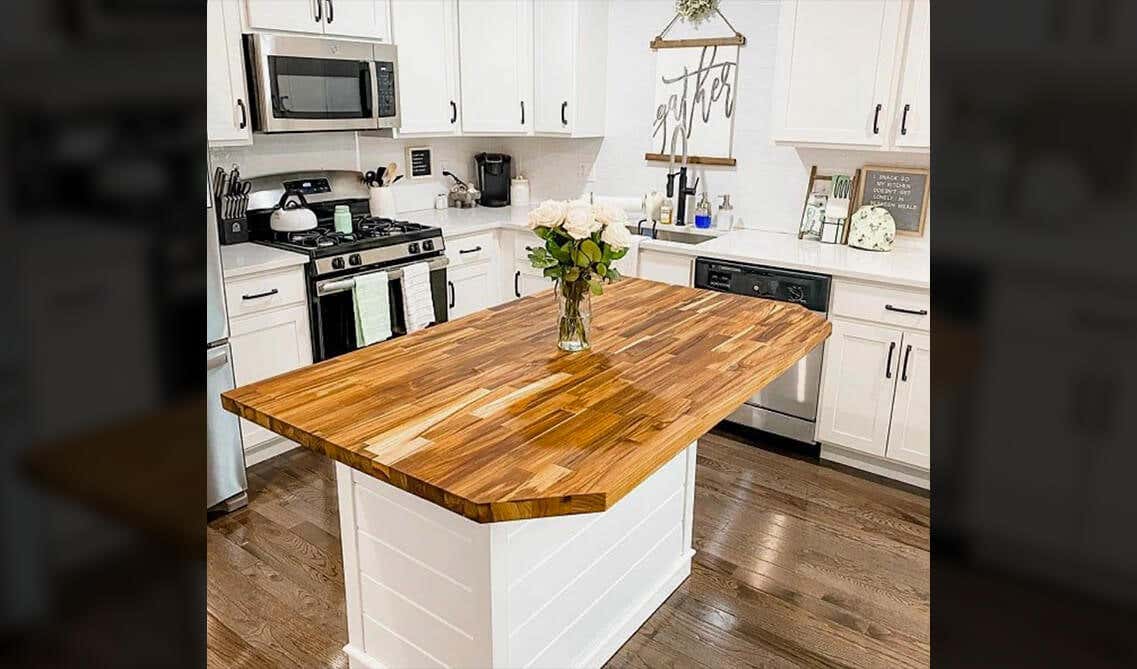 Like the galley kitchen island, the butcher block is also compact. Unlike the galley, it is short in length and provides the perfect amount of additional storage. These types of kitchen islands are perfect for smaller spaces and do a great job at providing storage and countertop space without taking up too much additional room.
Circular Kitchen Island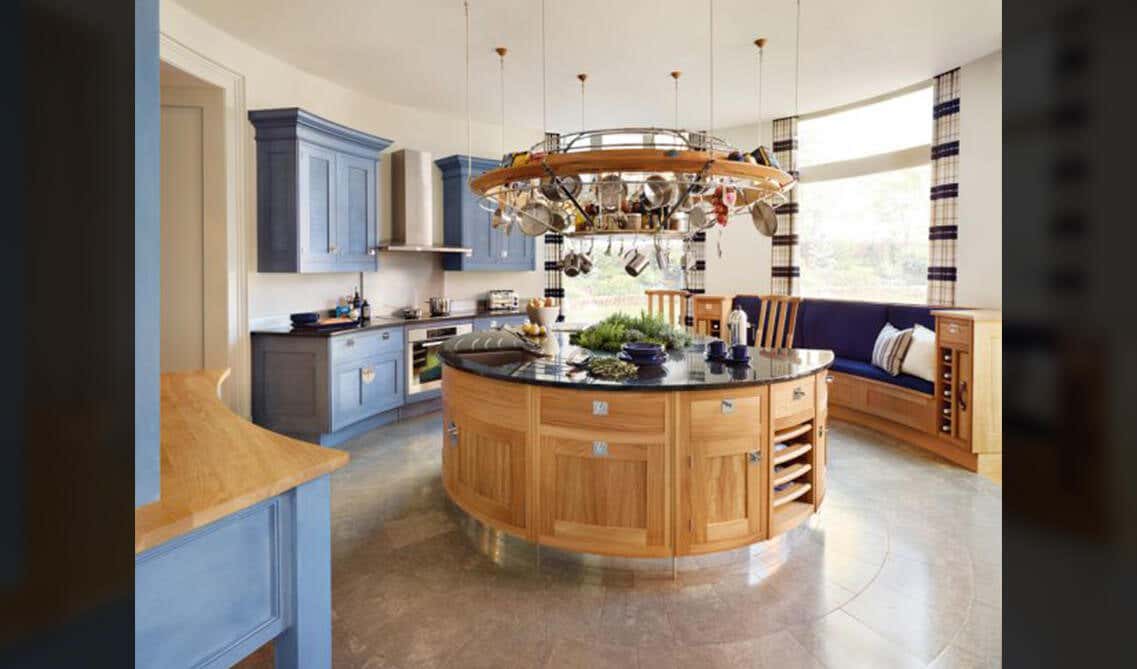 Unlike most kitchen islands, the circular kitchen island is both decorative and functional. These uniquely-shaped islands are great for small spaces and provide extra storage and countertop space. Many circular kitchen islands also have shelves that are perfect for displaying decorative vases or glassware, making them all the more appealing.
Contrasting Cabinet Color Kitchen Island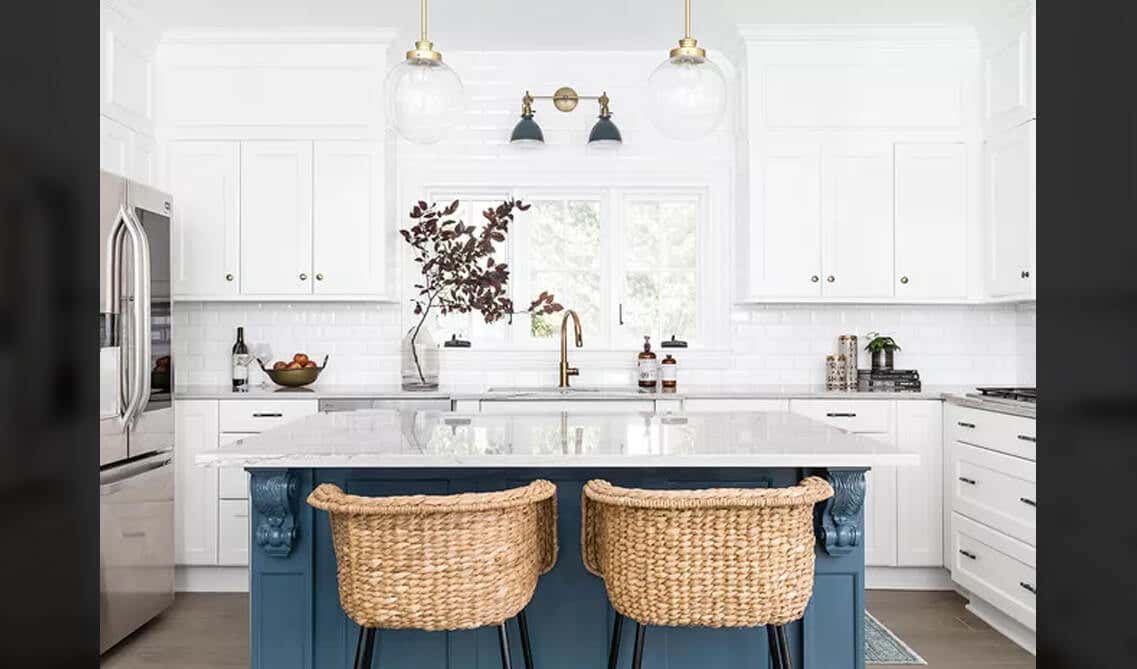 Unlike the kitchen islands listed above, this iteration is not set apart by its shape or features but by its colors. This type of island allows you to play with contrasting colors within your kitchen. If you have all white or grey cabinets, try making your island dark green or blue. This not only adds a pop of color to your space but also dimension and intrigue. These kitchen islands typically have the same countertops as their accompanying kitchen cabinets. This creates a cohesive yet distinctive look that is sure to make your space look great!
Moveable Kitchen Island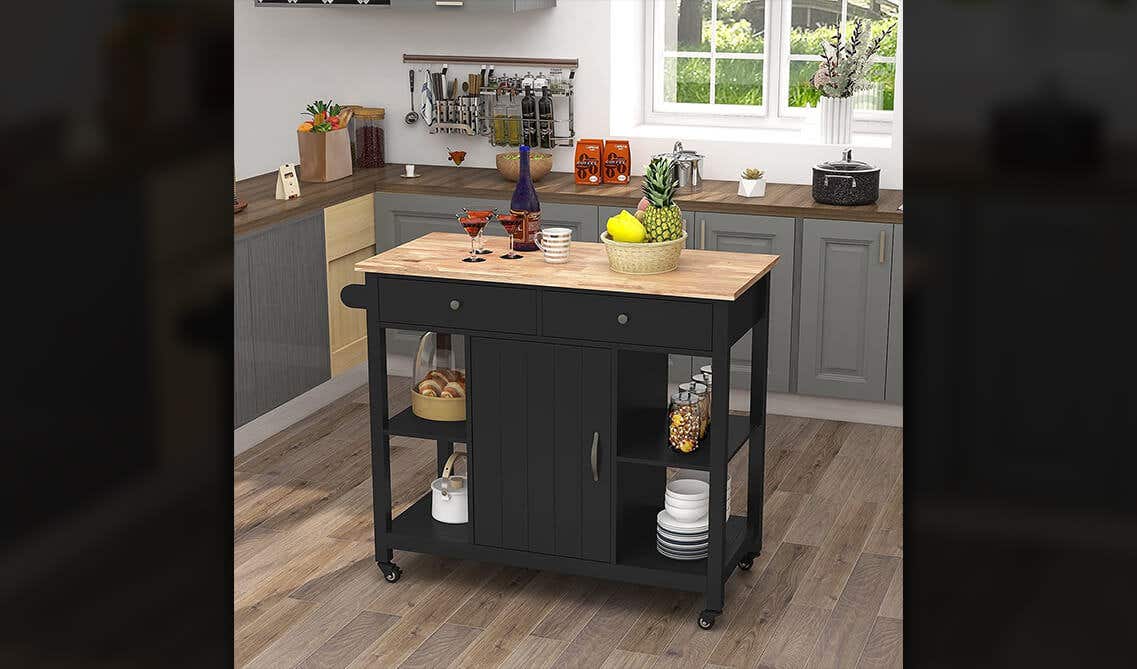 Whether you're someone who moves frequently or you're someone who often likes to change up your space, a moveable kitchen island may be for you! These islands have wheels attached to them making them easily transportable whether it be to another place in your kitchen or another home. These types of kitchen islands are also incredibly diverse and range in color and design making them a great option for those who want flexibility in their design choices.
Appliance Kitchen Island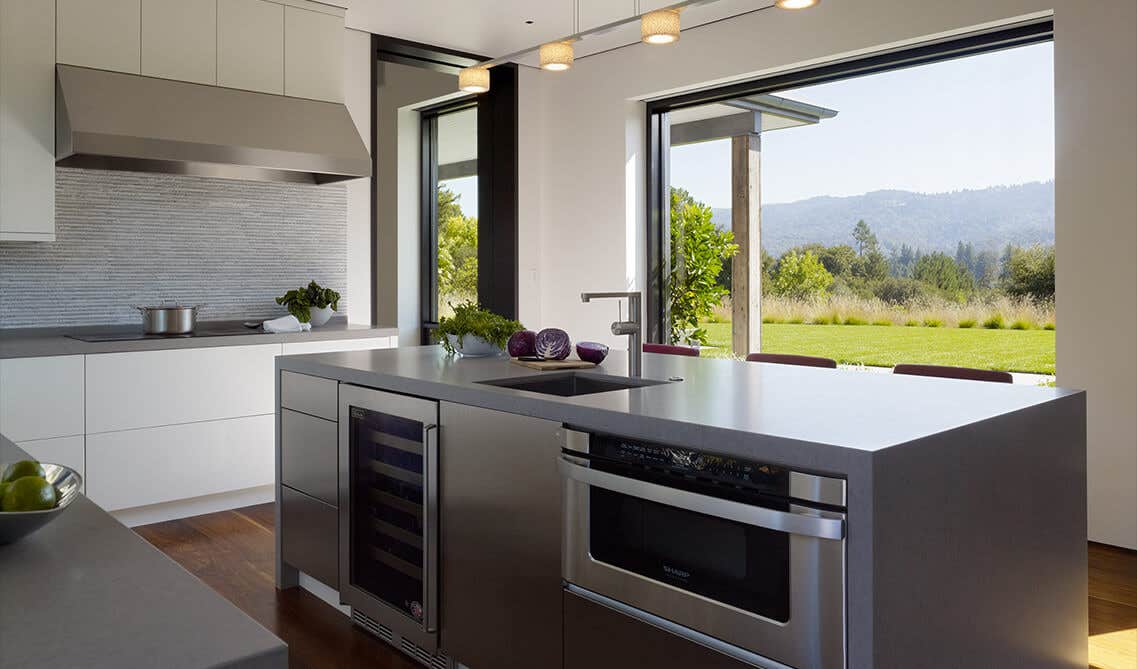 If you're someone who wants to maximize their kitchen space then look no further than to an appliance kitchen island. These types of islands include small appliances such as microwaves or stovetops. These kitchen islands are beneficial and can be a creative solution for anyone looking to create more storage and countertop space in their kitchen. These appliance islands also pair well with sinks, making them even more efficient.
Waterfall Kitchen Island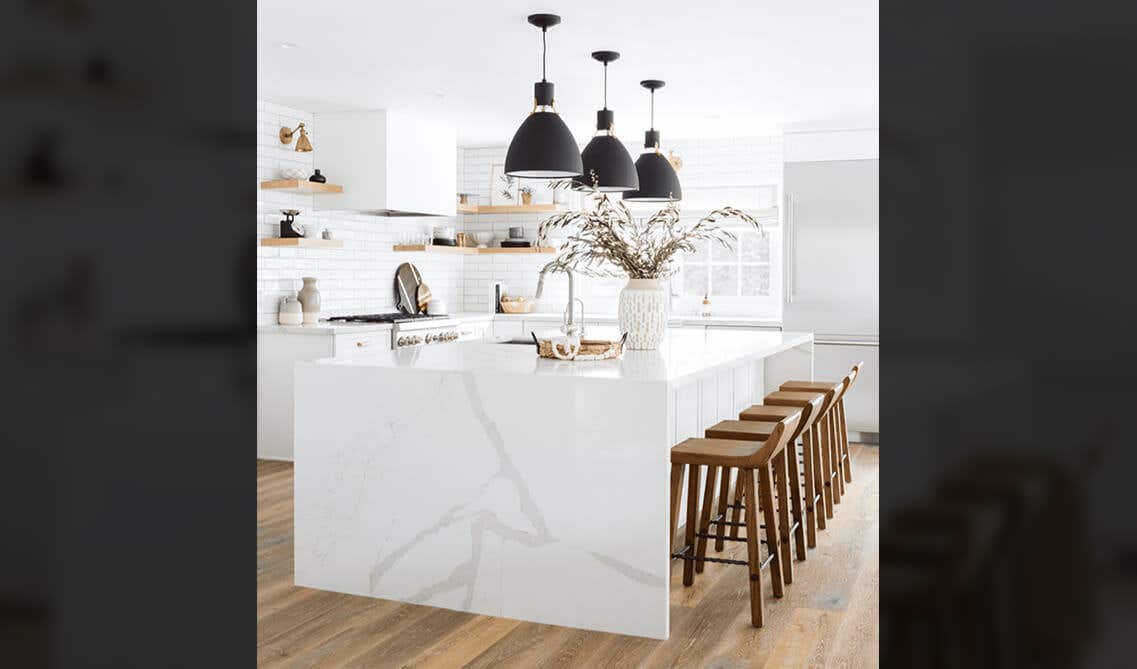 Waterfall kitchen islands are a sophisticated and modern take on typical kitchen islands. These kitchen islands consist of marble or granite that makes up both the countertop and the sides of the island. These kitchen islands may not provide more storage or countertop space but they do make a statement. Try incorporating this type of island into your kitchen to create a polished look.
U-Shaped Kitchen Island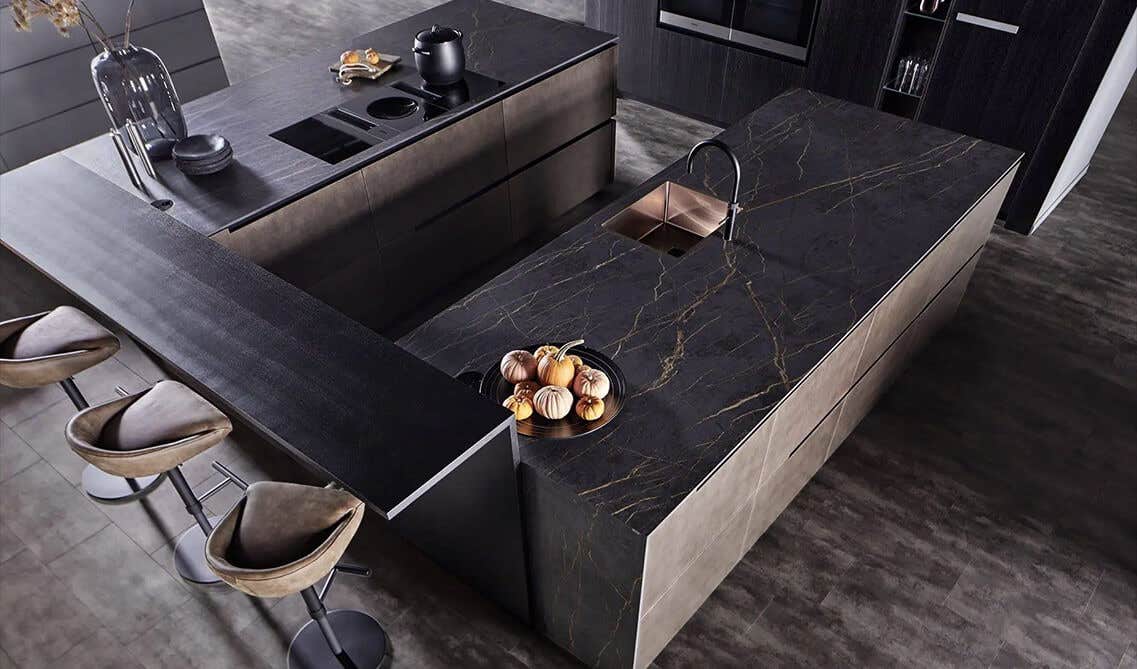 If you have a large space and are struggling to determine what you want to do with it then you may want to consider installing a u-shaped kitchen island. These kitchen islands are large and create a great deal of extra storage and countertop space. Because of their size, you can also install a stove top or sink without fear of losing vital countertop space. These kitchen islands are also great for entertaining. Much like the raised bar kitchen islands, u-shaped islands have outward-facing countertop space that makes it easy to prepare food or drinks and converse with guests.
Deciding on a kitchen island may seem daunting. But because there are so many amazing options to choose from you are sure to find the perfect island for your unique space.
For more information about all things, kitchen and design related please visit Lily Ann Cabinets today.
FAQ
1. How do I choose the right size kitchen island?
You should plan on 20 to 24 inches (50 to 60cm) per person along the island. The standard length of a 4-seat island is 10′. Standard depth with a sink is 42″
2. What is the best shape for a kitchen island?
The most common shape for a kitchen island is the galley kitchen island style. This is functional for most homes and provides added counter space for any kitchen.
3. Can you put an island in a small kitchen?
Of course! There are plenty of options for small islands in small kitchens like a moveable kitchen island that can be easily relocated when not in use to provide for more space to walk in the kitchen.
4. What is the best use of a kitchen island?
Islands are used as a gathering point within a kitchen where you can use the added counter space for food preparation, buffett style spreads for parties, social gatherings, and more! The possibilities for a kitchen island are endless and are an added multifunctional element to any kitchen.
5. How much does it cost to get a kitchen island installed?
According to ThumbTack.com, the national average cost to install a kitchen island is $6,000, but can run for as little as $200 to as much as $20,000, including labor and materials.