Choosing a kitchen color combination can be a fun and exciting process, but it can also be overwhelming with so many options to choose from. It is best to start with the Kitchen Cabinet colors, then transition to your accent colors, for example, your walls and countertops.
A kitchen is a place where you spend a lot of time, so it's important to choose a color combination that makes you feel happy and comfortable in your space. The decision to use lighter or darker paint in your kitchen depends on various factors such as the size of your kitchen, the amount of natural light it receives, your personal style, and the overall design of your home. Lighter colored kitchens can help a small kitchen feel more spacious, while darker kitchens feel more cramped. If your kitchen receives natural light, then darker colors can be an option for your kitchen, but if the amount of light is limited, light toned walls are your best option to help brighten up your kitchen. Keep in mind that darker paint colors may show more wear and tear over time, whereas lighter colors may be more forgiving.
Lily Ann Cabinets offers a variety of kitchen cabinets made with solid birch wood and includes a soft close adjustable hinge, which avoids causing damage over time from opening and slamming closed. Our cabinets come in different colors and finishes that can help bring your vibrant kitchen ideas to life. As of 2023, the new most popular kitchen colors include whites, greys, and creams. Some of our popular options to update your kitchen and achieve that look include:
1. White Cabinets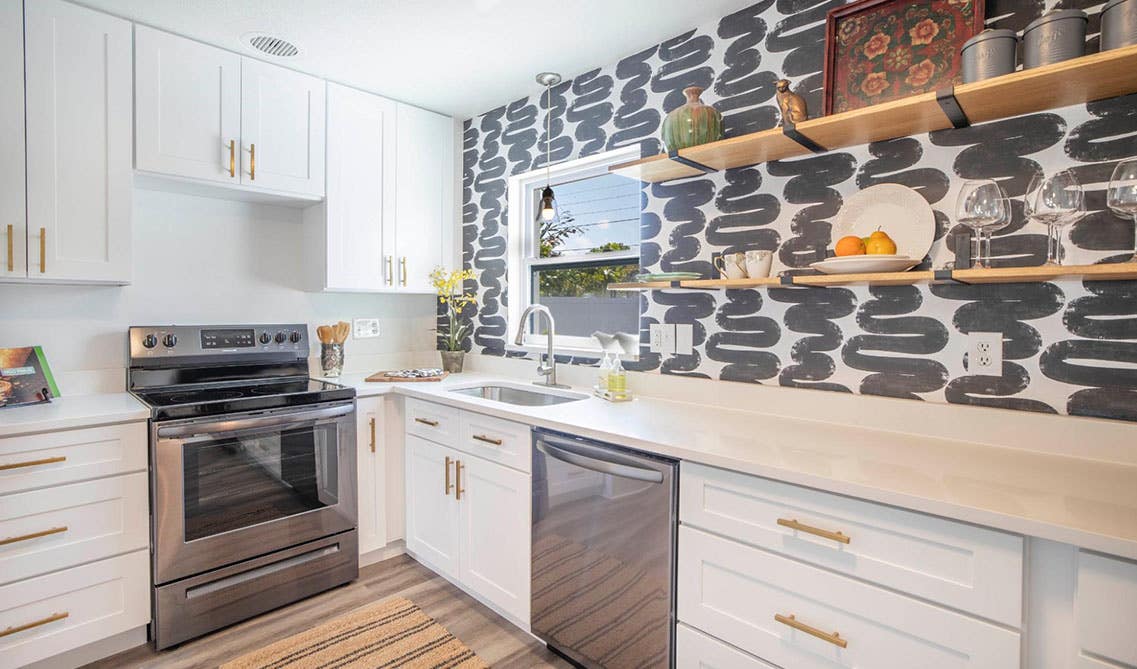 Lily Ann Cabinets: Colorado White Shaker
White cabinets are a classic and timeless choice for any kitchen, and they pair well with any of color for countertops, backsplash, and walls. Our white cabinets are a simple and popular option and make it easy to mix and match colors to create a unique colorful kitchen! 
Lily Ann Cabinets offers four different cabinet options to complete the desire of a fresh and white kitchen cabinet look, starting with the Colorado White Shaker Cabinets, the Key Largo White Cabinets, the Summit White Shaker Cabinets, and the White Shaker Elite Cabinets. Any of these options are perfect for keeping a modern and clean kitchen by using neutral accent colors to make your kitchen appear larger, or you can make more of a statement with a bold color wall and decor! 
2. Linen Toned Cabinets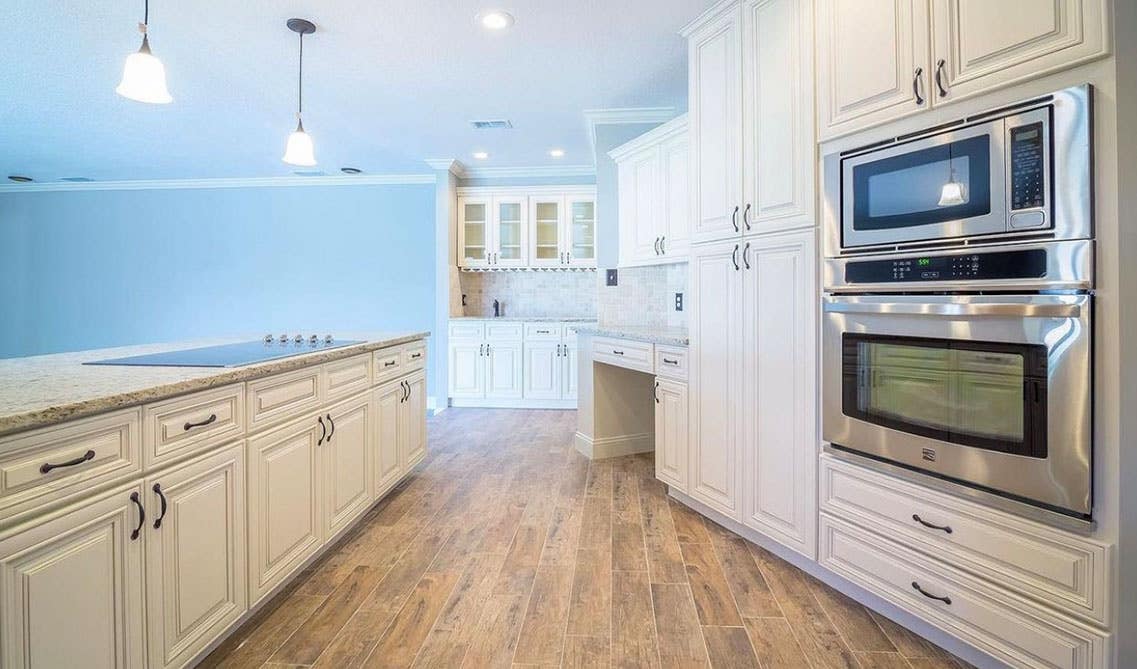 Lily Ann Cabinets: Charleston Linen
If you prefer a more traditional option but are still looking for a light toned cabinet to easily match to your radiant colored paint to brighten up your kitchen, we also offer a softer color of four, off- white toned cabinets. Our linen cabinets can give that cozy and welcoming feeling that everyone loves and allow you to have more flexible options on how you choose to add color to decor.
We offer a variety of options to fulfill that feeling, such as York Linen, Bristol Linen, and Charleston Linen. These natural looking cabinets can be paired well with multiple different kitchen designs. One of our favorite linen toned cabinet kitchen combinations include light or neutral colored countertops paired with pattern designed or textured walls to add personality and create an elegant and protruding kitchen.
3. Grey Cabinets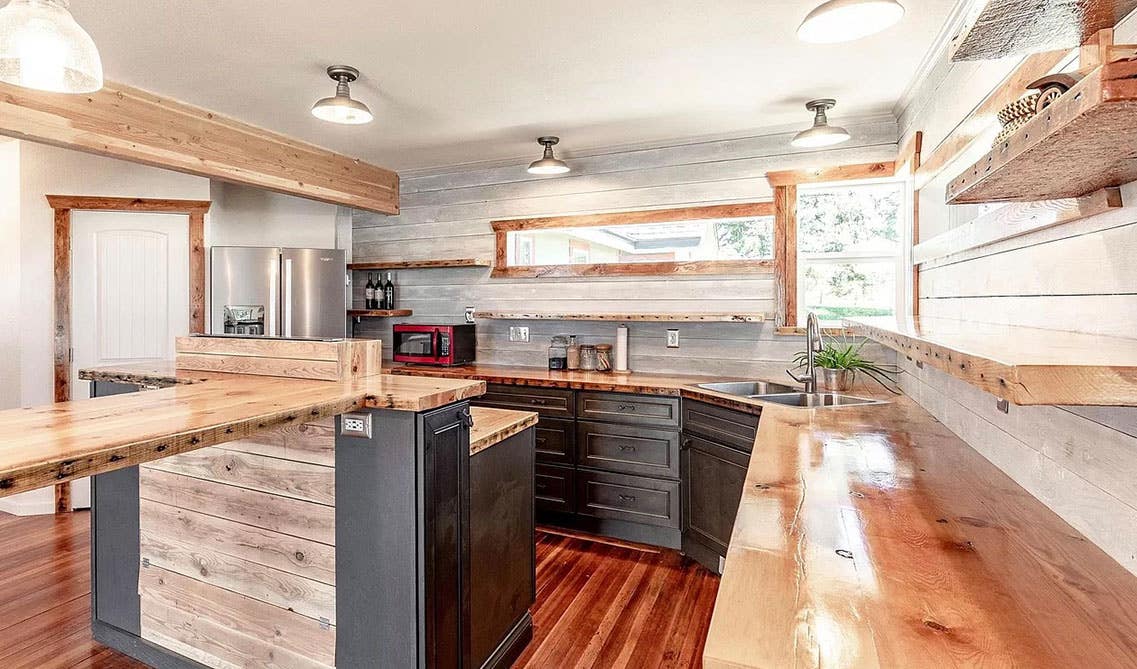 Lily Ann Cabinets: York Driftwood Grey
Grey has been a popular color choice for kitchen cabinets for a while, and it's not going away anytime soon. It is a versatile color that can create a modern and sophisticated look. We  offers Grey Shaker Elite cabinets and York Driftwood Grey cabinets. By adding grey cabinets to your kitchen, cook stress free while not worrying about creating a mess with spills, stains, fingerprints, dirt, etc. that appear on lighter colored cabinets. Ensure that your kitchen stays looking clean with these go- to and durable options. 
Grey cabinets allow you to be more creative with how you choose to add color to your kitchen. It pairs well with most color combinations, especially when added in moderation. One way to satisfy that is with accent walls or one solid colored wall with a touch of pink, navy blue, turquoise, wood or whatever other color you desire to give you a prominent kitchen.
4. Blue Shaker Cabinets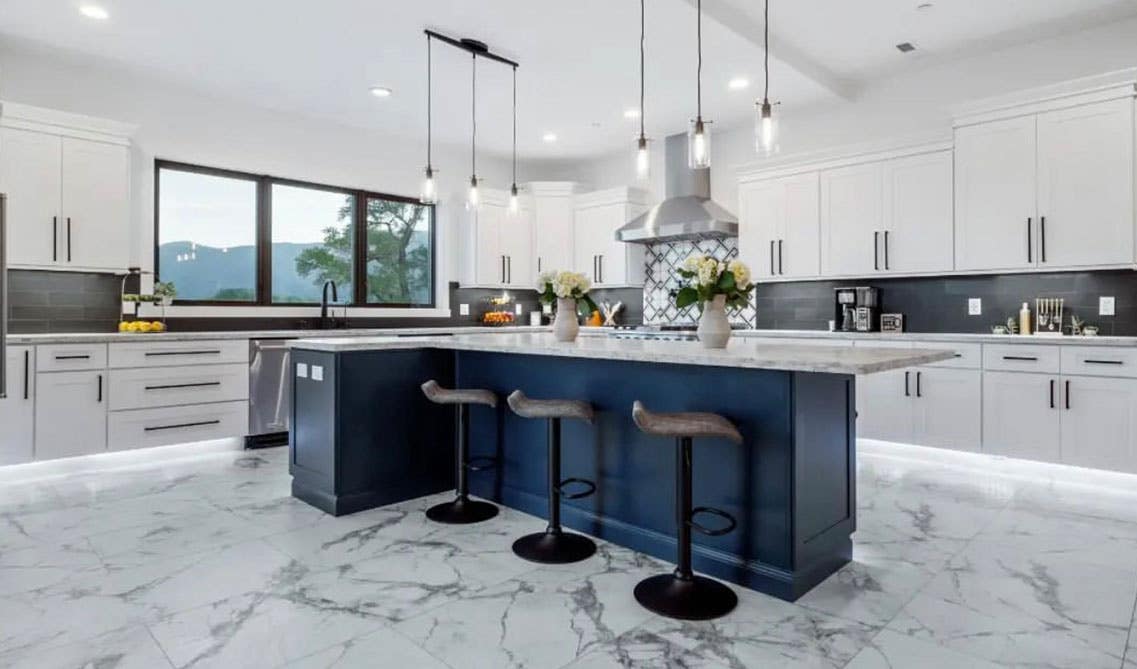 Lily Ann Cabinets: White & Navy Blue Shaker 
Blue is a popular choice for kitchen cabinets. You might consider adding navy blue colored cabinets to your home to help create a dramatic and luxurious look in your kitchen. Pair it with white countertops and backsplash to create a striking contrast and eye catching results. The key to using color in your kitchen is to balance it out with neutral elements like countertops, backsplash, and flooring. This will keep the space looking fresh, inviting, and not too overwhelming.
5. Rustic Cabinets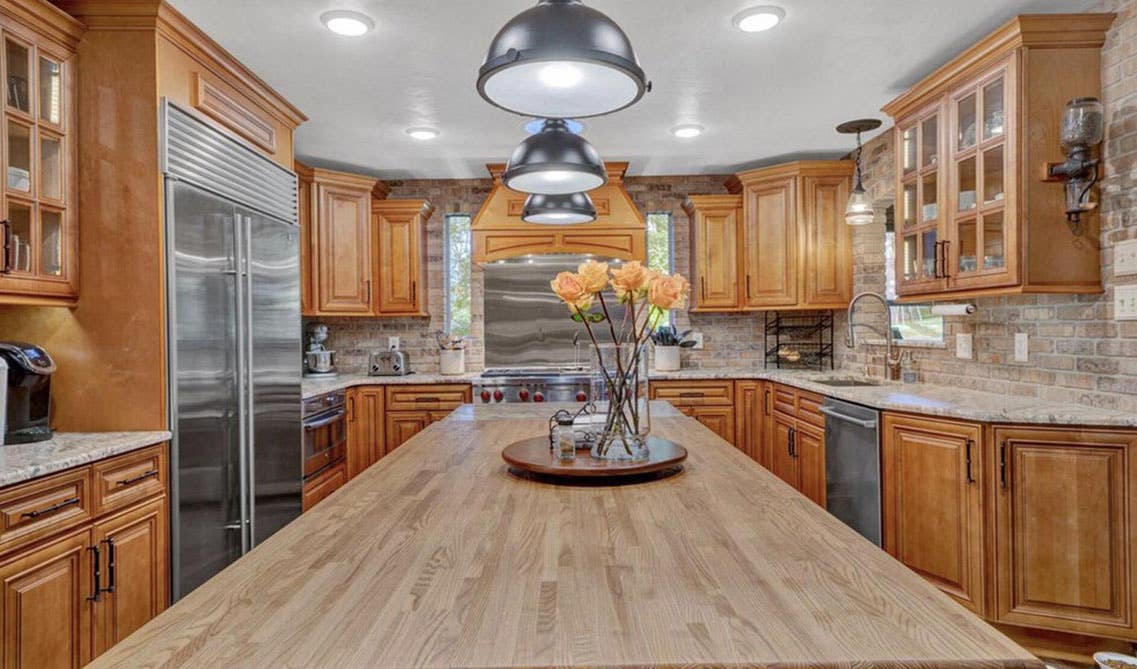 Lily Ann Cabinets: Charleston Toffee
If you're looking for a more natural and rustic look, We offers cabinets in natural wood finishes of any tone you desire from red tones to several different shades of brown, such as Madison Toffee, Madison Chocolate, Bristol Chocolate, York Chocolate, Shaker Cinnamon, Charleston Cherry, Charleston Saddle, and York Saddle. These can be paired with colorful accents for a personalized touch. These colors make it simple for you to match your decor with your traditional cabinets and tie your kitchen together while creating a beautiful and distinctive area to bring your family together.
Along with the cabinets of your choice, don't forget to add on the knob or pull you love to finish off the style and overall look of your kitchen. Lily Ann Cabinets offers finishes of bronze, yellow and brass, matte black, grey and chrome, in a variety of shapes in multiple dimensions. Our popular styles include: Contemporary, traditional, and transitional.
6. Mix & Match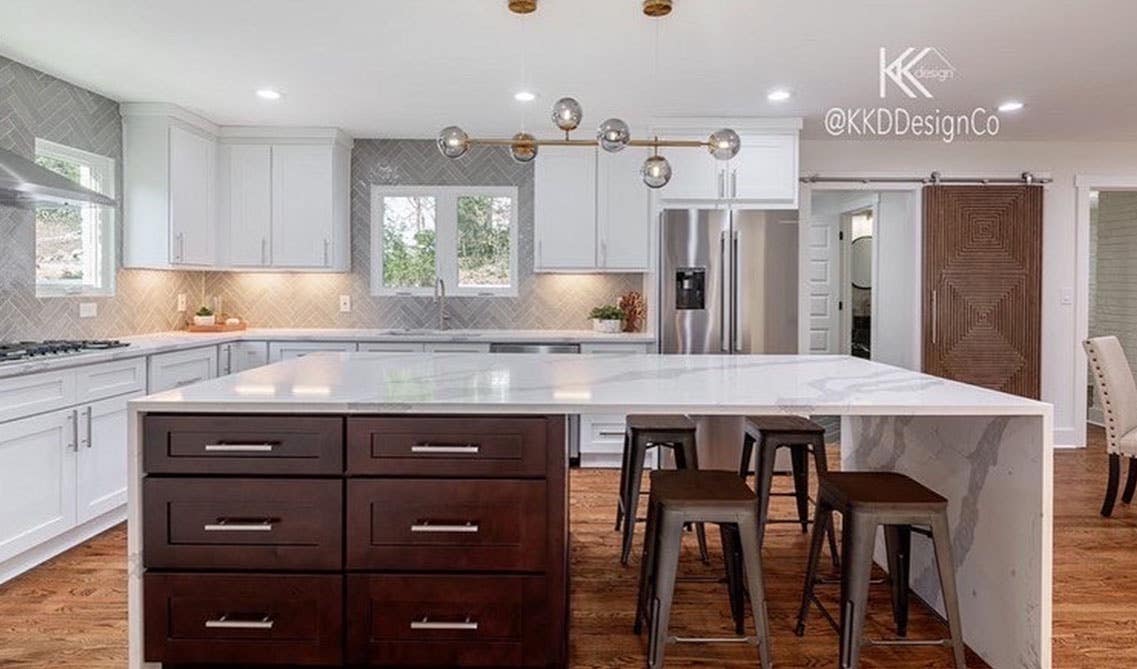 Lily Ann Cabinets: White and Espresso Shaker
Mix and match colors and knobs for your kitchen cabinets to create a unique and personalized look. Match the interior of your cabinets with walls, the exterior, or just add a touch of color to your kitchen in that way. Try pairing a lighter shade with a darker one or a bold color with a neutral tone to create contrast. 
Before you jump into redoing your kitchen, deciding your kitchen color combination is important. Choosing a color combination for your kitchen can be a daunting task. Here are some tips to help you decide on the right color combination:
Consider the size of your kitchen: If you have a small kitchen, it's best to use lighter colors to make the space feel larger. You can use darker colors to create a cozier feel if you have a larger kitchen.
Think about your personal style: Consider your personal style and the overall style of your home when choosing your kitchen color combination. Do you prefer a modern, sleek look or a more traditional, cozy feel?
Look for inspiration: Look for inspiration online, in magazines, or in home decor stores. You can also create a mood board with your favorite images and colors.
Consider the lighting: The lighting in your kitchen can affect how colors look. Make sure you take into account natural light and artificial lighting when choosing your color combination.
Test the colors: Before making a final decision, test the colors you have chosen by painting a small section of your kitchen. This will help you see how the colors look in your space and if they complement each other.
Stick to a color scheme: To create a cohesive look, stick to a color scheme. Choose two or three colors that complement each other and use them throughout your kitchen.
Remember, choosing a color combination for your kitchen should be fun and reflect your personal style.
No matter what color you choose for your kitchen cabinets, Lily Ann Cabinets offers high-quality, affordable options that can help bring your colorful kitchen ideas to life. Lily Ann Cabinets also offers professional free 3D designs and free samples to help you visualize your space before you spend a dime! Get a professional opinion and start on your home renovations with Lily Ann Cabinets today!
Related Blogs: 
FAQ's
What color should you paint kitchen cabinets?
We recommend researching and finding colors you like in your space. However, it's completely up to you what color you should paint your cabinets.
What color hardware for white kitchen cabinets 2022?
You can use any style hardware for white kitchen cabinets, white goes with everything! Gold style hardware is very popular in 2022 and we also recommend matte black hardware!
What is the most popular kitchen cabinet color for 2022?
The most popular kitchen cabinet color in 2022 is white! You can implement white into any space and it pairs well with everything!
What color kitchen cabinets are in style?
All shaker colored cabinets are in style and every other cabinet we offer! It all depends on what style you prefer!