Of all the decisions you make in choosing your kitchen cabinets, picking the right kitchen cabinet colors is one of the most important. As with any other element of your home, the hue of your cabinets will go a long way toward determining the kind of first impression they make on your guests.
Choosing kitchen cabinet colors has to be based on more than whether a certain shade will wow friends and family. For example, is the style you're attempting for your kitchen more rustic or more modern? Do you have any kids or pets? In what sort of environment is your home located? By thinking about the answers to these questions, you can get better kitchen cabinet color ideas that can add to their all-around functionality as opposed to merely making them look good.
Below, we've included a few typical scenarios along with advice on cabinetry colors that best suit their specific needs.
1) York Driftwood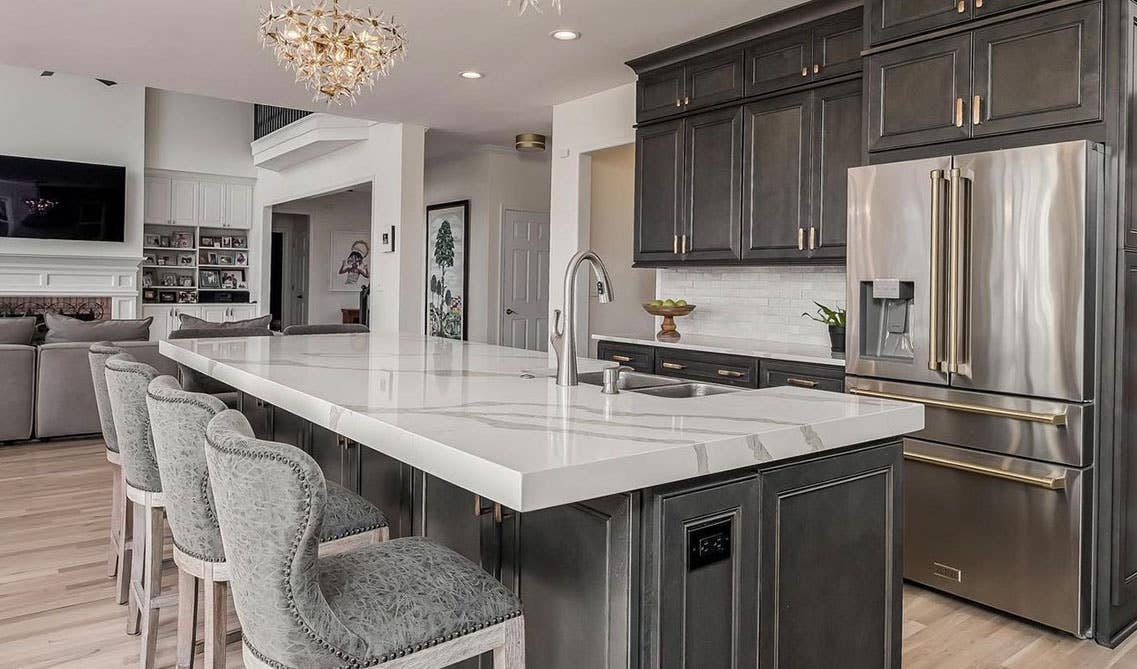 For those who want to achieve a more rustic look without going for the traditional white cabinets, our York Driftwood cabinets may just be the perfect fit for your kitchen. These cabinets are the embodiment of the charming and relaxed nature of a seaside cottage, and the neutral tones make it easy to pair them with different accent colors.

The beautiful gray finish of the York Driftwood cabinets is perfect for creating a calming and peaceful environment in your kitchen. You can pair these cabinets with wooden countertops or natural stone tiles to add to the rustic feel. The gray color also makes it easy to add a pop of color to your kitchen by incorporating colorful backsplashes, curtains, or even plants.

One of the advantages of these cabinets is that they offer a versatile color that can match different design styles. If you prefer a more traditional look, you can pair the York Driftwood cabinets with a classic marble countertop, while a sleek, modern countertop will complement a contemporary design. The options are endless with these beautiful cabinets!

In summary, the York Driftwood cabinets offer a beautiful balance between rustic charm and modern convenience. The color is versatile enough to match different design styles and allows for plenty of opportunities to add personal touches to your kitchen. With these cabinets, you'll achieve a cozy and relaxed atmosphere that is perfect for gathering with family and friends.

Checkout: Create a Rustic Retreat with York Driftwood Grey Cabinets
2) White
When it comes to kitchen cabinet colors, white is often the first choice for those looking to create a modern kitchen. The classic elegance of white cabinets, like our Summit Shaker White, adds a level of sharp, understated sophistication to any space. However, while white may be a popular choice, it's not always the best option for every kitchen or decor style.

For those looking for kitchen cabinet colors that stray from the traditional white, our Grey Shaker Elite cabinets offer the same subtle beauty in a hue that's better suited for a wintry palette. And for kitchens with a darker decor, our Shaker Espresso cabinets strike a rich note that perfectly complements the space.

Ultimately, the best kitchen cabinet colors are the ones that fit your personal style and the design of your home. So, whether you're looking for a classic white or something more unique, we've got plenty of options to help you achieve the perfect look.

Checkout: White Shaker Cabinets: The Ultimate Design Guide
3) Grey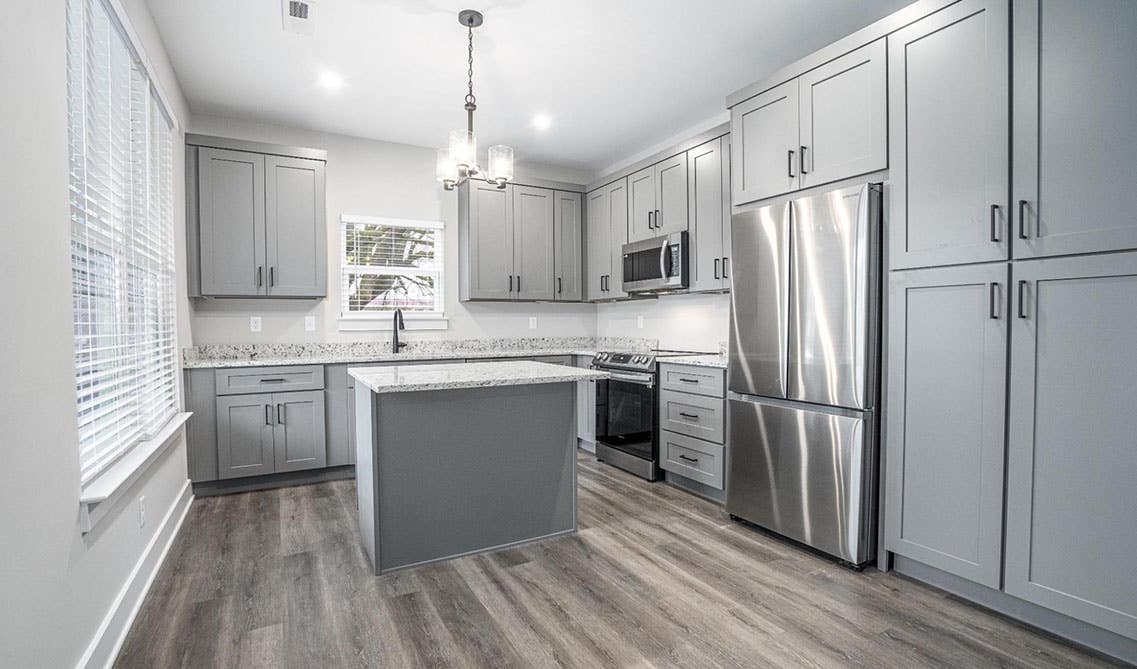 When it comes to choosing the perfect color for your kitchen cabinets, grey is definitely one of the top contenders. It's a versatile shade that can work with a variety of design styles and color palettes, making it a popular choice for homeowners. At Lily Ann Cabinets, we offer the Grey Shaker Elite style, which is a customer favorite. 
This shade of grey has a sleek and modern look, which is perfect for contemporary kitchen designs. It's also a great option if you want to create a neutral backdrop for other bold or colorful elements in your kitchen. Pair it with bright accent colors for a pop of contrast, or use it as a backdrop for natural wood accents or metallic finishes. 
The Grey Shaker Elite cabinets from Lily Ann Cabinets are made with high-quality materials and craftsmanship, ensuring that your investment will last for years to come. Whether you're renovating your entire kitchen or just updating your cabinets, this shade of grey is a timeless and stylish choice that will add value to your home. 
So, if you're wondering which kitchen cabinet colors to choose from, consider the classic and sophisticated look of grey. And when you're ready to shop for cabinets, look no further than Lily Ann Cabinets for a wide selection of high-quality styles and finishes.
Checkout: Everything You Need to Know About grey shaker elite
4) Black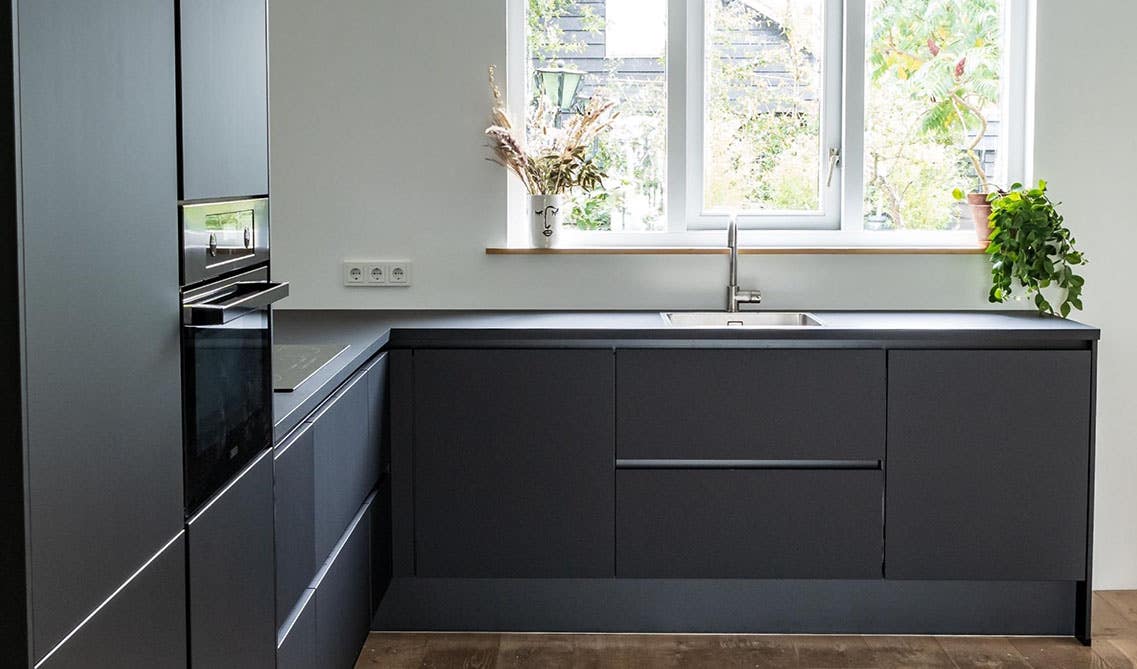 Black is a bold and stylish color that can bring a touch of drama and sophistication to your kitchen. It's a great option for those who want to make a statement with their cabinets. Black cabinets can work well in both modern and traditional kitchens and can be paired with a range of materials and colors to create a unique and stylish look.
One of the main advantages of black cabinets is their practicality. They won't show grime and dirt as easily as lighter-colored cabinets, making them ideal for busy households. However, because black cabinets absorb rather than reflect light, they may not be the best choice for small or dark kitchens. If you're set on black cabinets but have a small kitchen, try to maximize natural light and plan your lighting carefully.
To balance the darkness of black cabinets, it's important to incorporate lighter elements into your kitchen design. Consider using pale flooring or white surfaces to help bounce light around the room. Mirrors can also be a great way to create the illusion of more space and light in a smaller kitchen. However, be careful not to go overboard with too many pale contrasts, as the beauty of a dark kitchen lies in its sophisticated and cozy ambiance.
Overall, black cabinets are a stylish and practical choice for those who want to create a bold and sophisticated look in their kitchen. Just be sure to balance the darkness with lighter elements and carefully plan your lighting to ensure your space feels bright and welcoming.
Checkout: 16 Striking Kitchen Ideas for Black Kitchen Cabinets
5) White Oak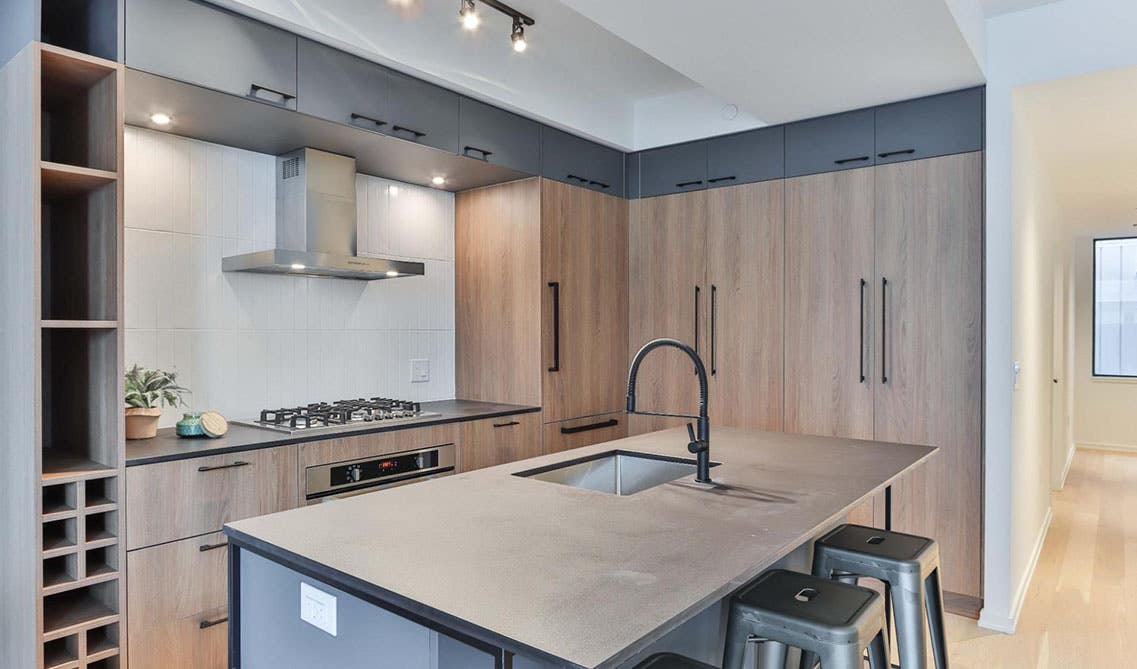 White Oak is a stunning choice for kitchen cabinets, offering a natural wood finish with a subtle grain pattern. It's a versatile option that pairs well with many different color schemes and decor styles, from traditional to contemporary. The soft, light color of White Oak cabinets creates a bright and inviting atmosphere in your kitchen, making it feel warm and welcoming. This classic wood finish is easy to pair with a wide variety of countertop materials, making it a popular choice among homeowners and interior designers alike.
White Oak cabinets are not only stylish, but they are also incredibly durable and long-lasting. They are built to withstand the daily wear and tear of a busy kitchen and can handle spills, stains, and scratches without showing signs of damage. If you're looking for a cabinet that is both beautiful and practical, White Oak is an excellent choice.
6) Navy Blue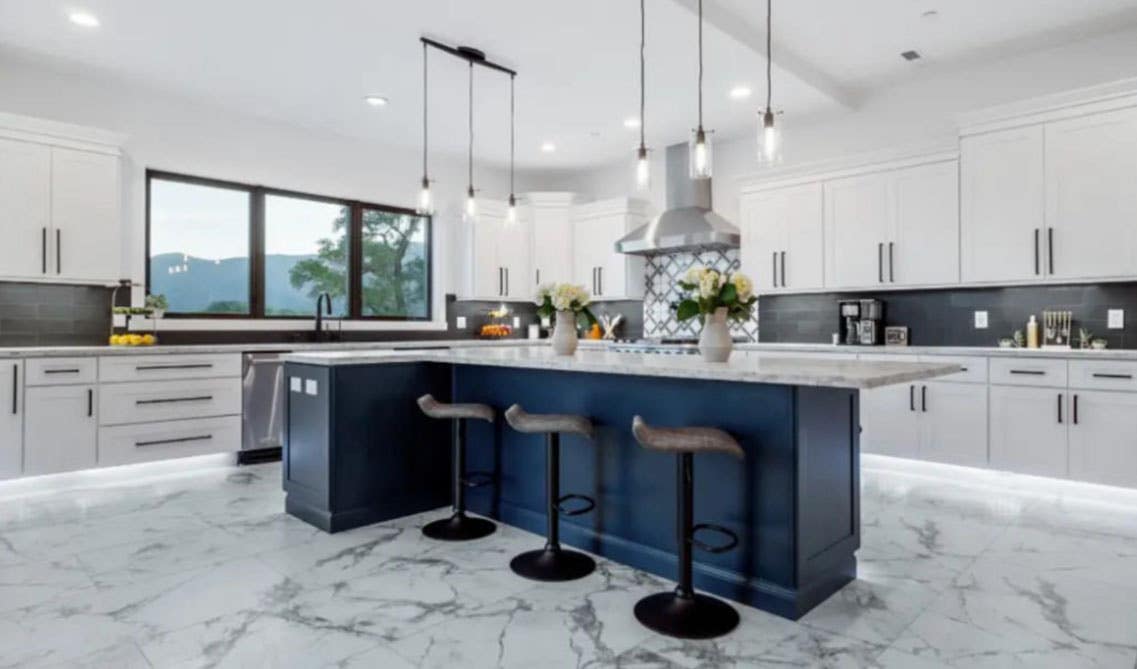 Navy Blue is a versatile color choice that can add a touch of elegance and sophistication to your kitchen cabinets. One of the most popular choices in this color is the Navy Blue Shaker from Lily Ann Cabinets. This shade of blue is a customer favorite and is often used when two-toning kitchens. 
One of the reasons why Navy Blue is such a great choice for kitchen cabinet color is because it pairs well with a variety of other colors. It looks particularly stunning when paired with white, beige, or light gray. The contrast created by this pairing can make your cabinets stand out and bring a modern look to your kitchen.
If you're looking for a way to make a statement with your kitchen cabinets, consider using Navy Blue as an accent color. This could involve using it on a kitchen island, as a backsplash, or even just on one wall. The boldness of Navy Blue will add a pop of color to your kitchen, while still maintaining a sense of elegance and sophistication.
7) Green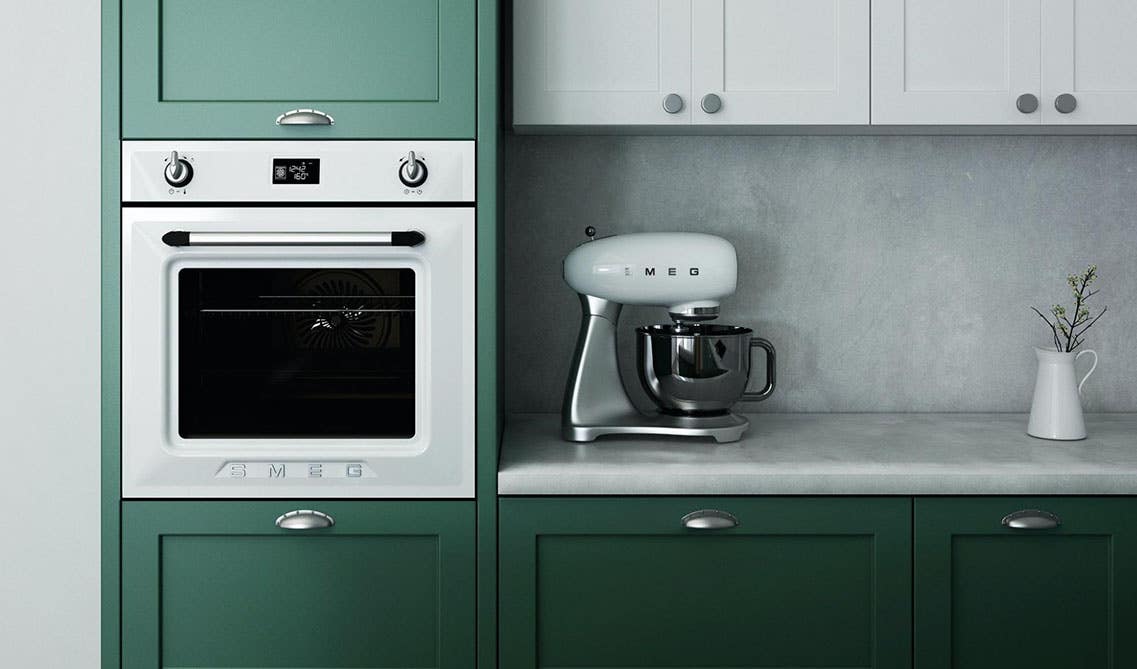 Green is a versatile color that can work well in any kitchen design. It's a popular choice for those who want a fresh and natural feel in their home. If you're looking for some kitchen cabinet color ideas, green might be just the color for you. 
The best thing about green kitchen cabinets is that they come in a wide range of shades, from subtle mint green to deep emerald. Lighter greens like seafoam or sage can create a serene and calming atmosphere in your kitchen, while darker greens like forest green or olive can add a touch of drama and sophistication.
8) Brown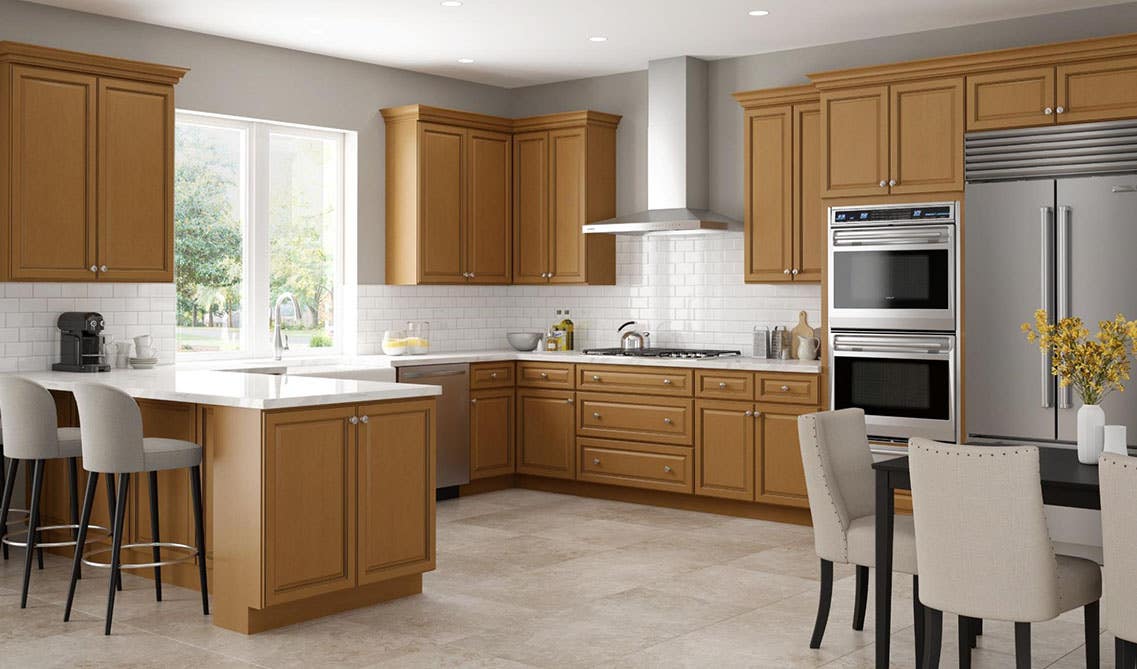 When it comes to kitchen cabinet color ideas, brown is a classic choice that can give your space a warm and inviting feel. Brown kitchen cabinet colors can range from light and natural shades to darker hues, depending on the look you are going for.
One popular option for brown kitchen cabinets is a rich, espresso-colored stain. This creates a sophisticated and elegant look and can be paired with lighter countertops and backsplashes for a striking contrast. Alternatively, lighter shades of brown, such as honey or caramel, can create a cozy and inviting atmosphere.
When selecting your brown kitchen cabinet color, consider the overall color scheme of your kitchen. Brown can pair well with a range of other colors, from neutral whites and grays to bold jewel tones like emerald green or sapphire blue. You can also add interest by selecting cabinets with a textured or distressed finish.
Ultimately, the best kitchen cabinet color for you will depend on your personal style and the overall look you are trying to achieve. But if you're looking for a timeless and versatile option, brown is definitely worth considering.
9) Yellow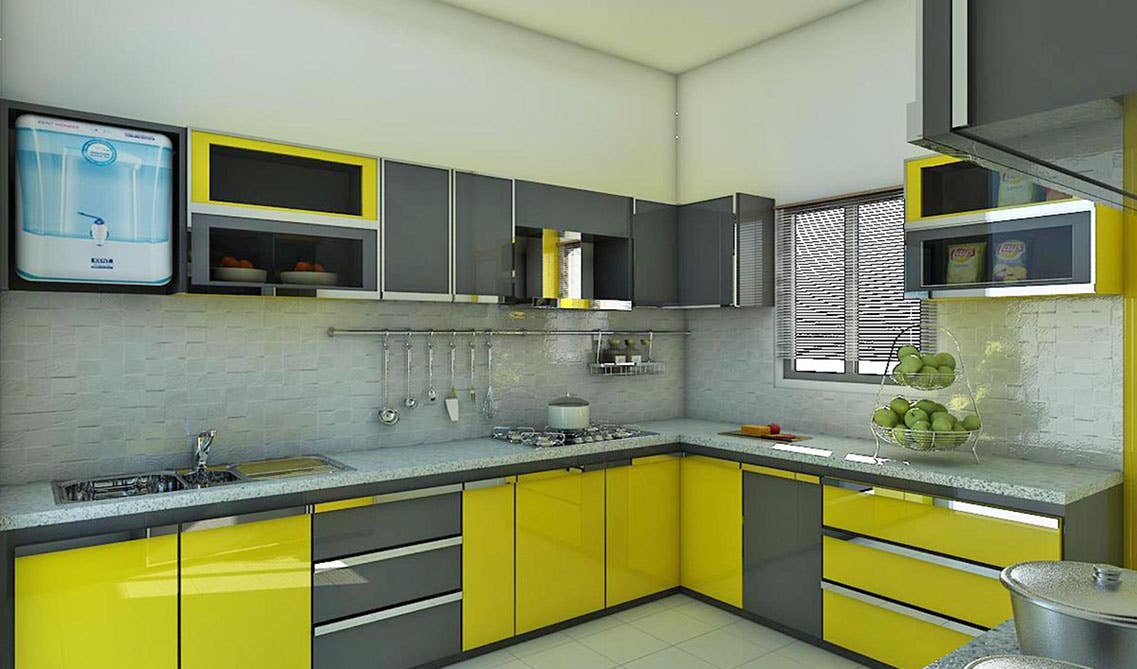 Yellow is a popular choice for those looking to add a pop of color to their kitchen. It's a bright and cheery hue that can instantly lift the mood of the room. Yellow kitchen cabinets work well in both modern and traditional kitchens, making them a versatile choice. 
When choosing a shade of yellow for your cabinets, it's important to consider the overall color scheme of your kitchen. Pairing yellow cabinets with neutral walls and countertops can create a clean and crisp look, while using them with other bright colors can create a bold and playful feel.
One thing to keep in mind when considering yellow kitchen cabinet color is that they can be a bit tricky to maintain. Bright shades of yellow may show scratches and stains more easily than other colors, so be sure to choose a durable finish and clean them regularly.
Overall, yellow is a great choice for those looking to add a sunny and energetic vibe to their kitchen. Just be sure to balance it out with the right color scheme and style of cabinets to achieve the perfect look.
10) Red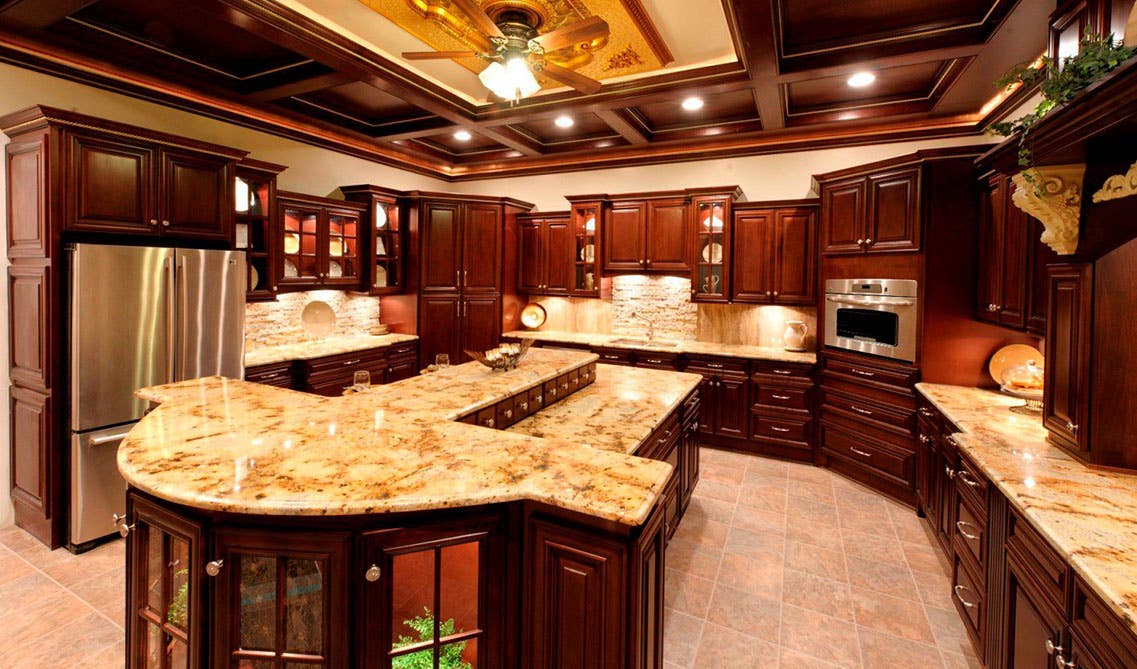 Red is a bold and daring choice for your kitchen cabinets, but it can be done tastefully if executed correctly. If you want to make a statement, then this color might be the one for you. A deep shade of red can add a sense of drama to your kitchen and create a warm and inviting atmosphere. 
One thing to keep in mind is that the shade of red you choose can significantly impact the overall feel of your kitchen. A bright cherry red might be too overwhelming, whereas a more subdued red, such as burgundy, can be a bit more timeless. You can also try pairing your red cabinets with muted accents such as soft beige walls or natural wood tones to balance out the intensity of the color.
It's important to note that red is a color that can clash with other hues if you're not careful. Be sure to consider your other design choices when deciding on a red cabinet color. If you want to create a cohesive look, try pairing your red cabinets with neutral-colored countertops, backsplashes, and floors.
Overall, if you're willing to take the plunge and go bold, red cabinets can add an element of uniqueness to your kitchen and make a statement that is sure to impress your guests.
At Lily Ann, we believe that every homeowner should be able to create a kitchen that fulfills their practical needs and their desired design. This is why we offer our durable, affordable cabinets in a wide variety of stunning colors, to ensure that every one of our customers can create their dream kitchen down to the finest detail. That's also why we offer free usage of our 3D Kitchen Design Tool, so you'll be able to see how our cabinets will look in your kitchen before they're even ordered. If you have any other questions about cabinet colors - or just want to know more about how Lily Ann can help bring your dream kitchen to life - please feel free to get in touch with one of our helpful customer service representatives.
FAQs:
1. What is the most popular color for a kitchen?
White is by far the most popular color for kitchen cabinets. It works for all styles of kitchens, from modern, to traditional, to contemporary, to minimalist and more. Therefore, it is the most versatile and popular kitchen cabinet color, and it will most likely remain this way for years and years to come.
2. What are the best kitchen colors for 2023?
The most popular kitchen colors for 2023 are white, navy blue, green (especially dark green), greys, and even black.
3. What colors are trending for kitchens?
Colors that are trending for kitchens right now are navy blue, dark green, greys, and black.
4. How do I choose a color scheme for my kitchen?
To choose a color scheme for your kitchen, first think of what style the rest of your home is (traditional, contemporary, modern, etc.). From there it should be easy to choose a color scheme for your kitchen. Traditional styles usually stick to beige and tan tones, contemporary styles use greys and whites with small pops of color, and modern styles usually use color schemes that involve any hue of white.
5. What's the best color for a small kitchen?
If you have a small kitchen, white or light neutral tones are the best colors. White paint will reflect light within the space, which gives off the illusion that the space is larger than it actually is.