When you first choose to paint your kitchen cabinets black, you'll realize that there are more decisions to make than just picking a color. There are several different styles of cabinets to choose from, so you'll need to figure out what type will work best with your kitchen's layout and your interior design aesthetic. You'll also have the opportunity to mix and match hardware and other elements, from paint colors to wall colors and more.
To help you figure it all out, here are 16 of the best kitchen design ideas for black cabinets!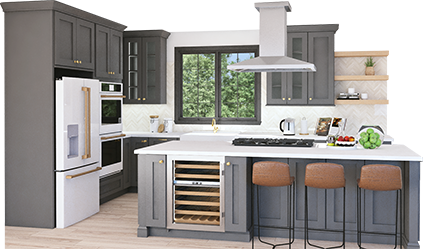 Get your FREE 3D kitchen design today!
Start Now
Black Shaker Cabinets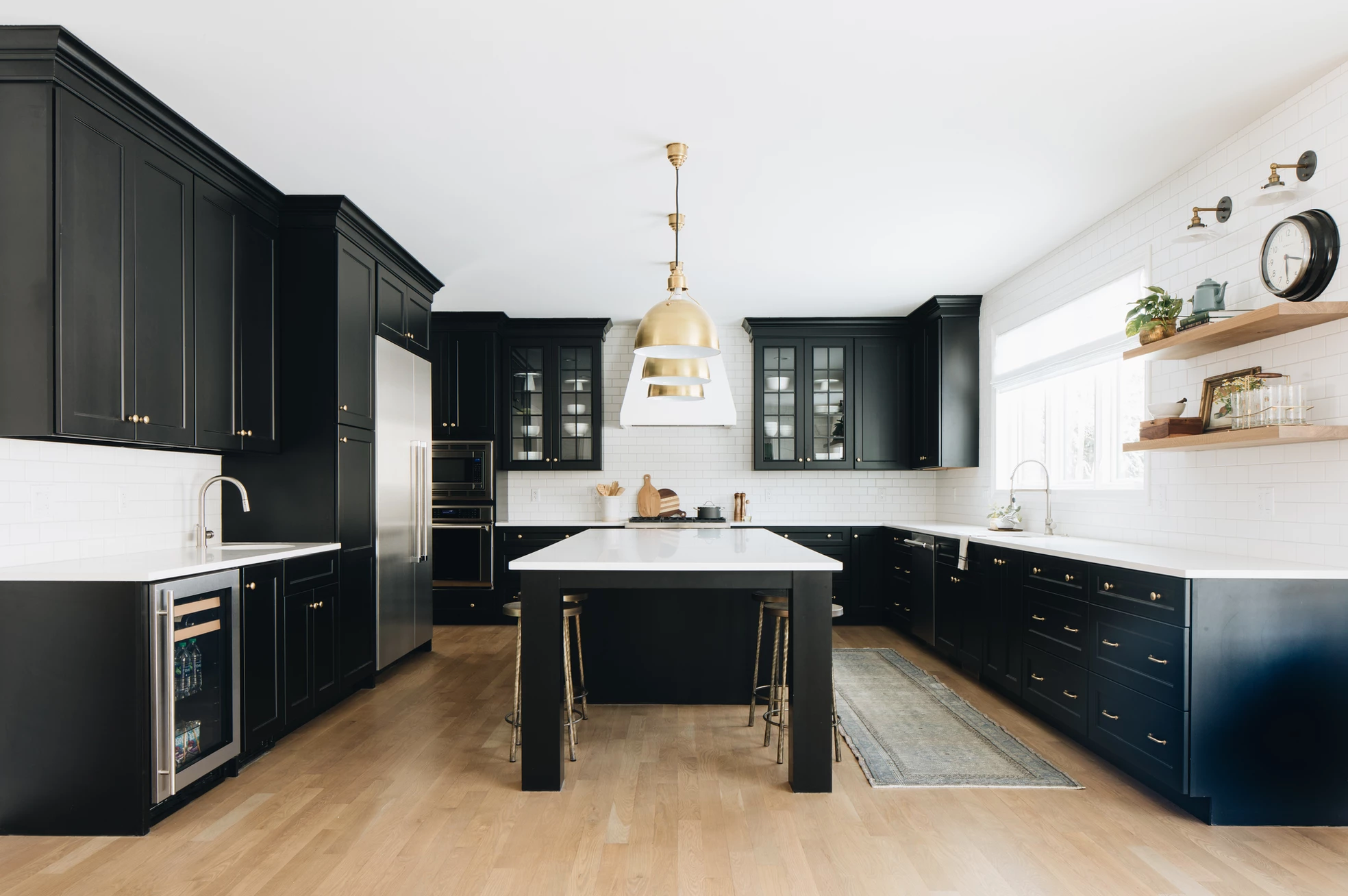 reDesign Home
If you're one of those people who love black cabinets and are looking for something modern, black shaker cabinets are your best option. Shaker cabinets take their name from their style—they lack any ornamentation and have clean lines. With a sturdy wooden framework and simple flat doors, shaker cabinets are classic and easy to maintain. They work well in both traditional and modern kitchens. Black shaker cabinets give kitchens an elegant look with little maintenance required afterward.
Looking for a dark shaker cabinet style? Check out Lily Ann Cabinets' Grey Shaker Elite cabinets!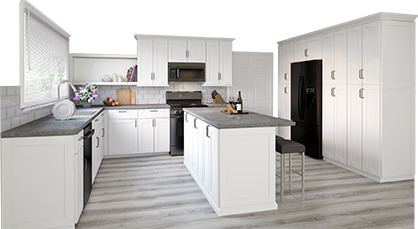 3D Kitchen Visualizer Tool
Bring your dream kitchen to life with our free kitchen visualizer!
Design Now
Black Raised Panel Cabinets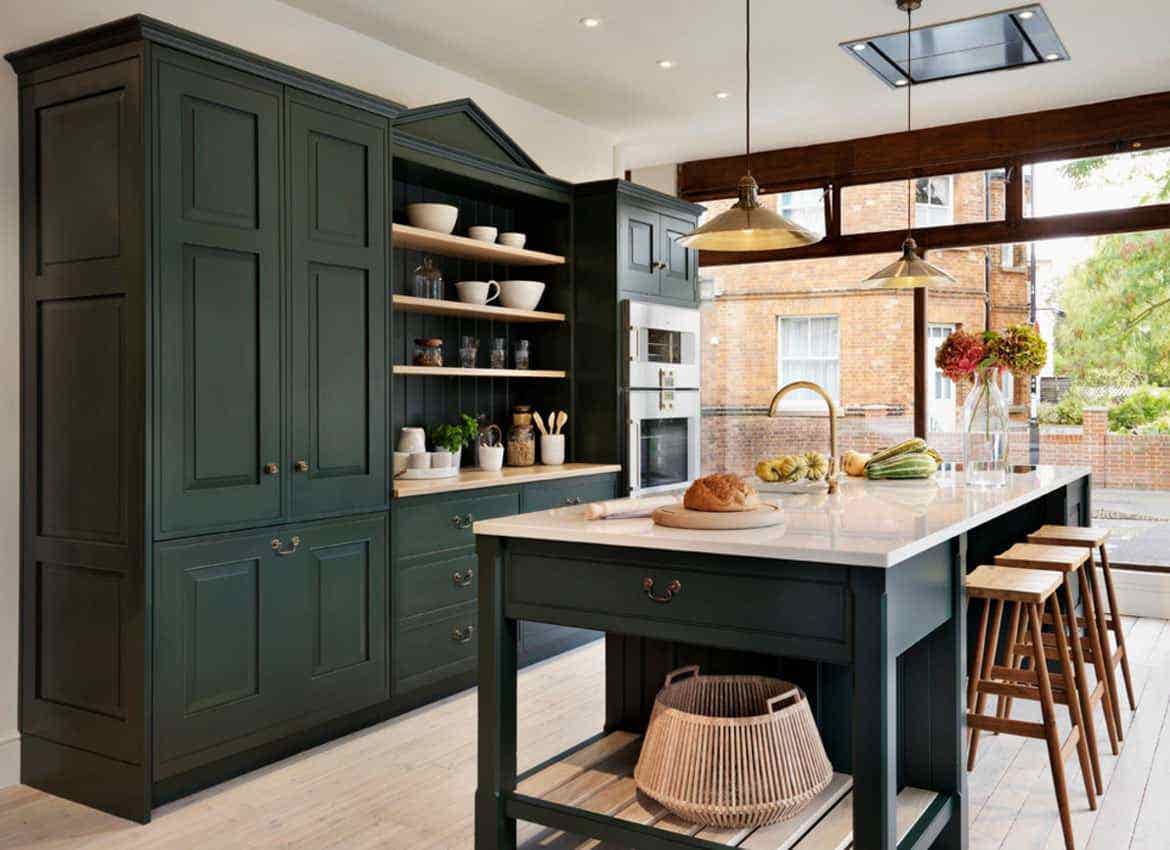 When it comes to black cabinets, people typically think of sleek, modern styles. However, nothing says classic quite like a beautiful wooden raised panel door. This style works great with any color scheme and could easily be painted without damaging its original character. Just make sure you don't paint over your hardware! Instead of painting all of your cabinets, consider creating contrast by painting just one or two raised panels or drawer fronts. This is also a great option if you want to keep some wood tones in your kitchen but are wary about getting too bold with colors. For example, black-stained maple cabinets paired with white painted raised panels look pretty spectacular in kitchens that incorporate other shades of gray into their design. Either way you choose to go, there are endless options when it comes to using black cabinetry in contemporary spaces.
Love the look of dark raised panel kitchen cabinets? Shop the York Driftwood Gray cabinet line!
Black Rustic Cabinets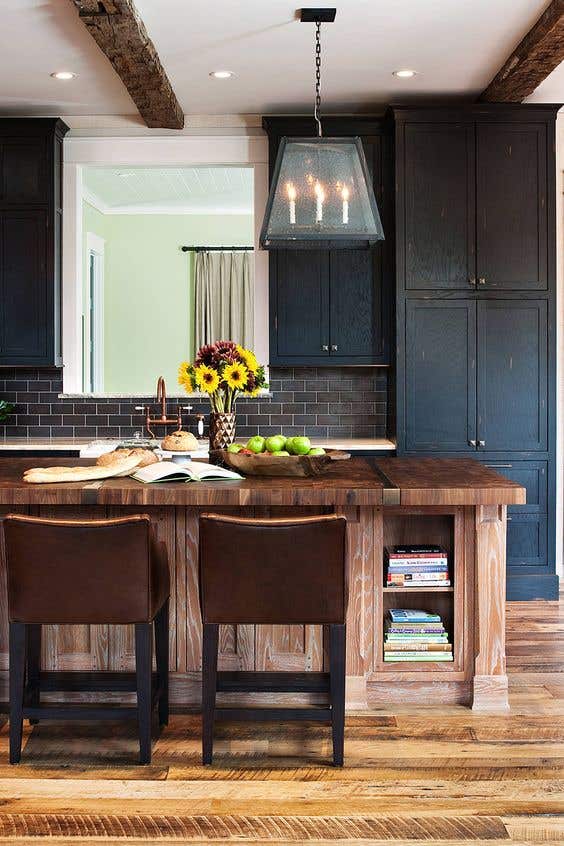 Who says black cabinets have to be plain? Try rustic black cabinets with a white granite countertop and stainless steel appliances to achieve a look that's equally urban and natural. Wood flooring will complement your rustic theme while providing much-needed warmth underfoot. If you want to add some more color in your kitchen without painting everything, play with decor pieces like plants or art—just don't overdo it! When in doubt, stick with neutral colors that won't clash with your décor. Once you've gotten all of your style tips together, your kitchen will look stunning!
Recommended for you: Guide For The Perfect Rustic Kitchen: 15 Ideas + Tricks
Black Minimalist Cabinets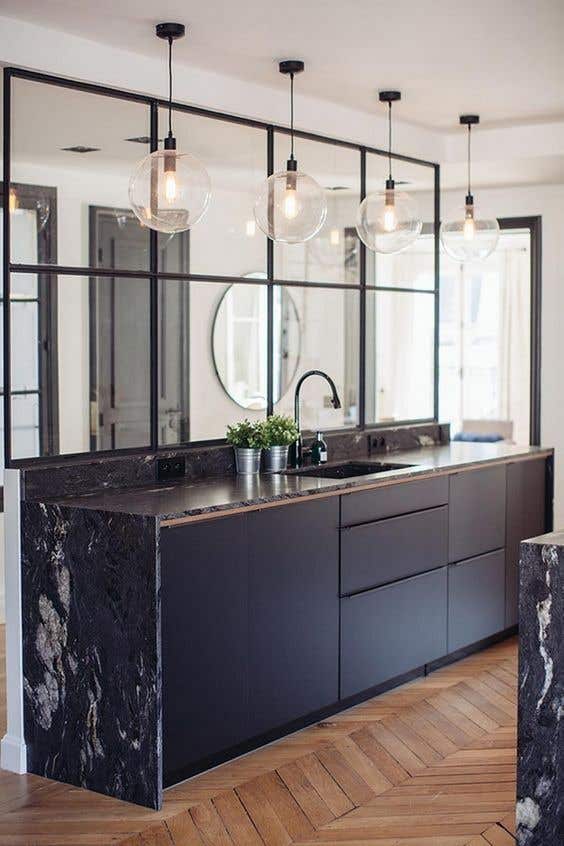 One of our favorite types of kitchens is a black and white minimalistic kitchen, where all of your focus and attention are on what's inside. With sleek, discrete kitchen cabinets, it opens up the possibility to present numerous other types of stylistic elements. This can be anything from eccentric countertops, fun backsplashes to unique flooring. This look creates an open, airy feeling that helps to elevate even a modest kitchen into something spectacular.
Recommended For You: Which Cabinet Door Style Is Right For Your Kitchen?
Painting Existing Cabinets Black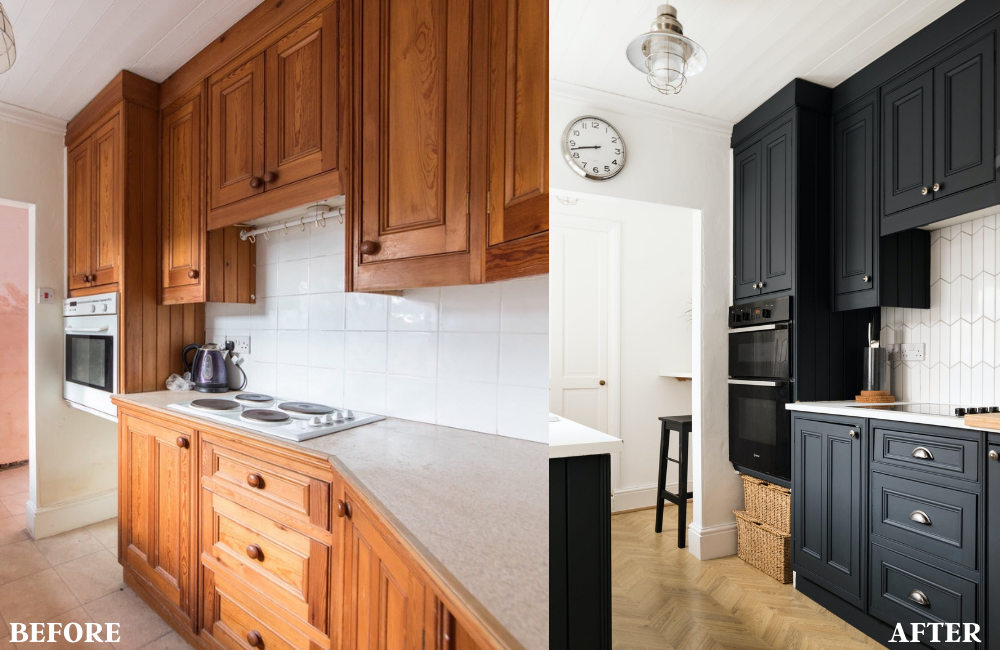 Start with a simple and inexpensive can of spray paint in an enamel finish. Apply several light coats rather than one heavy coat, as heavy coats often result in bubbles that need to be smoothed out before more paint is applied. Wait until each coat dries thoroughly before applying another layer.
After all coats are dry, use sandpaper or steel wool to remove any remaining rough spots on your cabinets. You may also want to add new hardware such as cabinet knobs and drawer pulls or handles at this time; remember these will contrast with black so choose accordingly. Finally, wipe down your cabinets after they've dried completely—even if they look perfect—to ensure no smudges remain; doing so will help protect them against scratches in the future.
Checkout: Step-by-Step Guide on How to Paint Kitchen Cabinets
Wall Color Options For Black Kitchens
What color should you paint your walls with black cabinets? Whether you're going with a traditional shaker-style cabinet or a rustic raised panel cabinet, there are several things to consider when choosing wall colors that look great with black cabinets. From lighting and flooring options to paint colors, these tips will help you create a stunning kitchen design. Let's start by looking at some different paint colors to compliment your black kitchen cabinets.
White Walls With Black Cabinets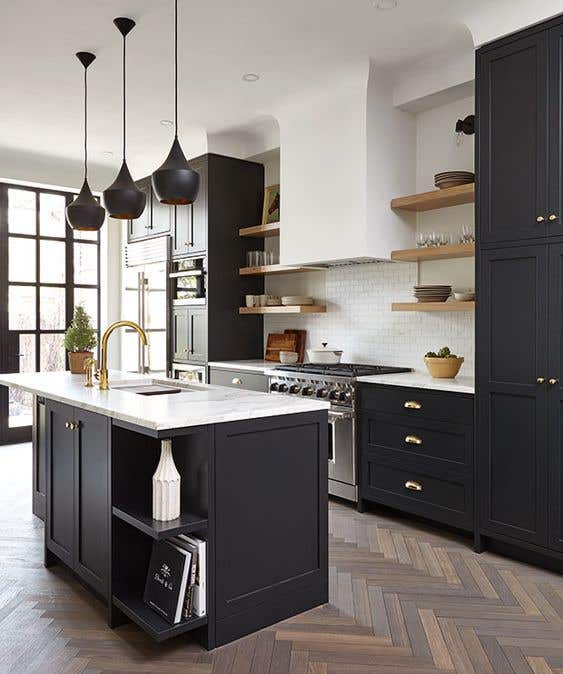 White walls are a perfect backdrop for black cabinets. Matching your wall color to your cabinets is a simple way to make a major style statement. Plus, black cabinetry tends to look best when paired with light colored tiles and flooring (think travertine or marble) so choosing neutral wall tile or color will provide contrast between both elements of your design. For those on a budget, painting your existing wall color is an affordable way to freshen up your kitchen without having to completely overhaul it.
Check out Lily Ann's huge selection of cabinet hardware!
Gray Walls With Black Cabinets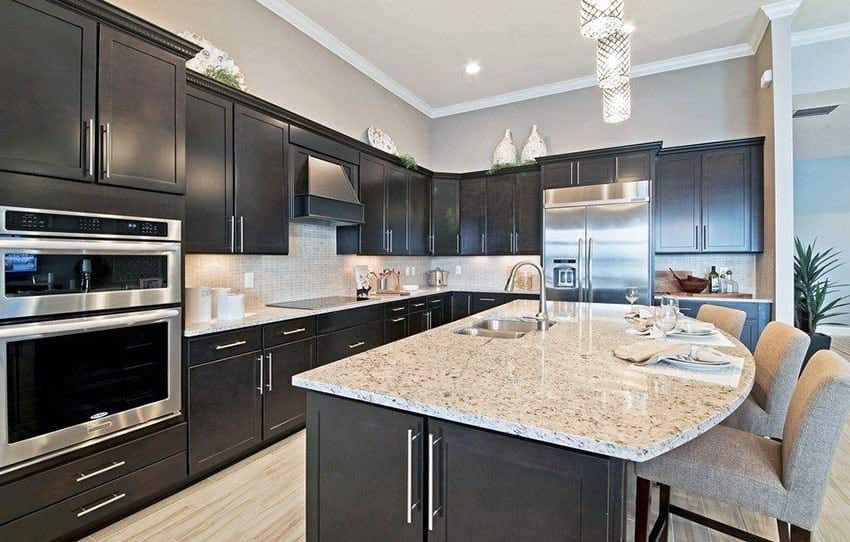 Whether you're looking to take a modern approach or want a traditional feel, you can't go wrong with gray walls and black cabinets. If you have cream, white or tan cabinets, choosing a wall color that contrasts will make them stand out even more—which is exactly what you want in your kitchen!
Brown Walls With Black Cabinets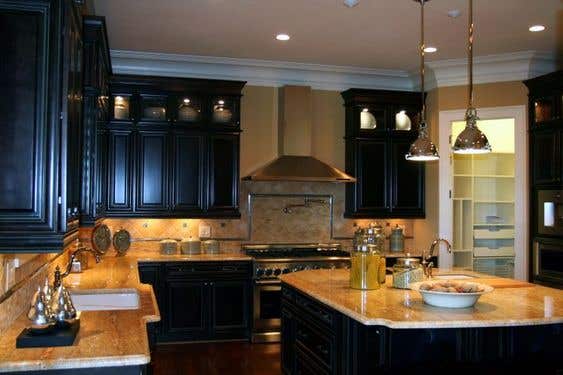 Maybe black and brown isn't your first choice when you think of a kitchen color scheme. It doesn't have to be, either! Brown walls and black cabinets can really make your space feel cozy and relaxed, so long as you use plenty of wood accents and warm lighting.
Green Walls With Black Cabinets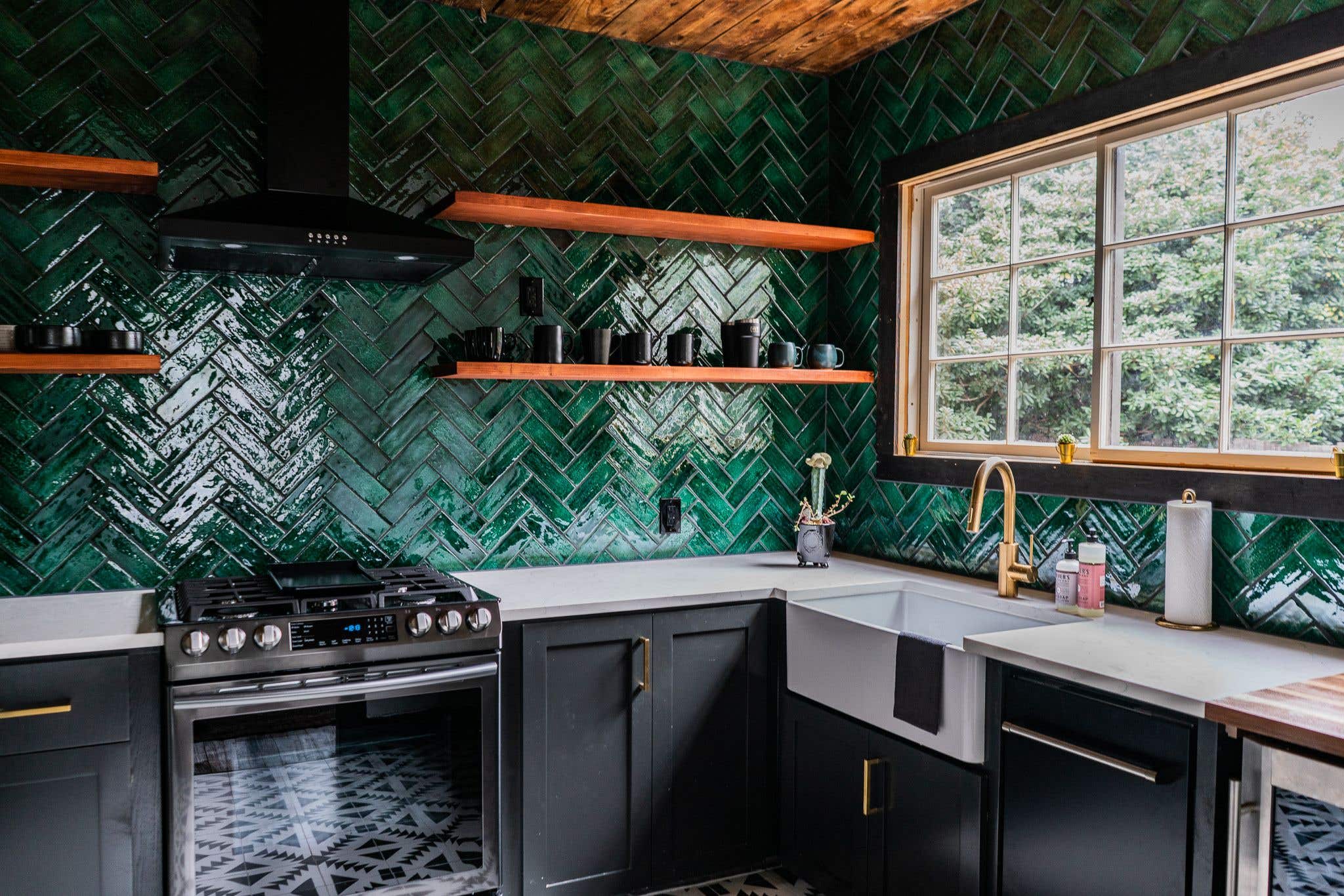 If you're not opposed to taking a risk, green walls are a fun way to add color and freshness to any kitchen. If your cabinets aren't white (or if you plan on painting them black), start with a light green hue that won't clash with darker-colored doors and drawers. Accent one wall or do an entire accent wall—this can be totally up to you! Have fun with it!
Black Hardware on Black Cabinets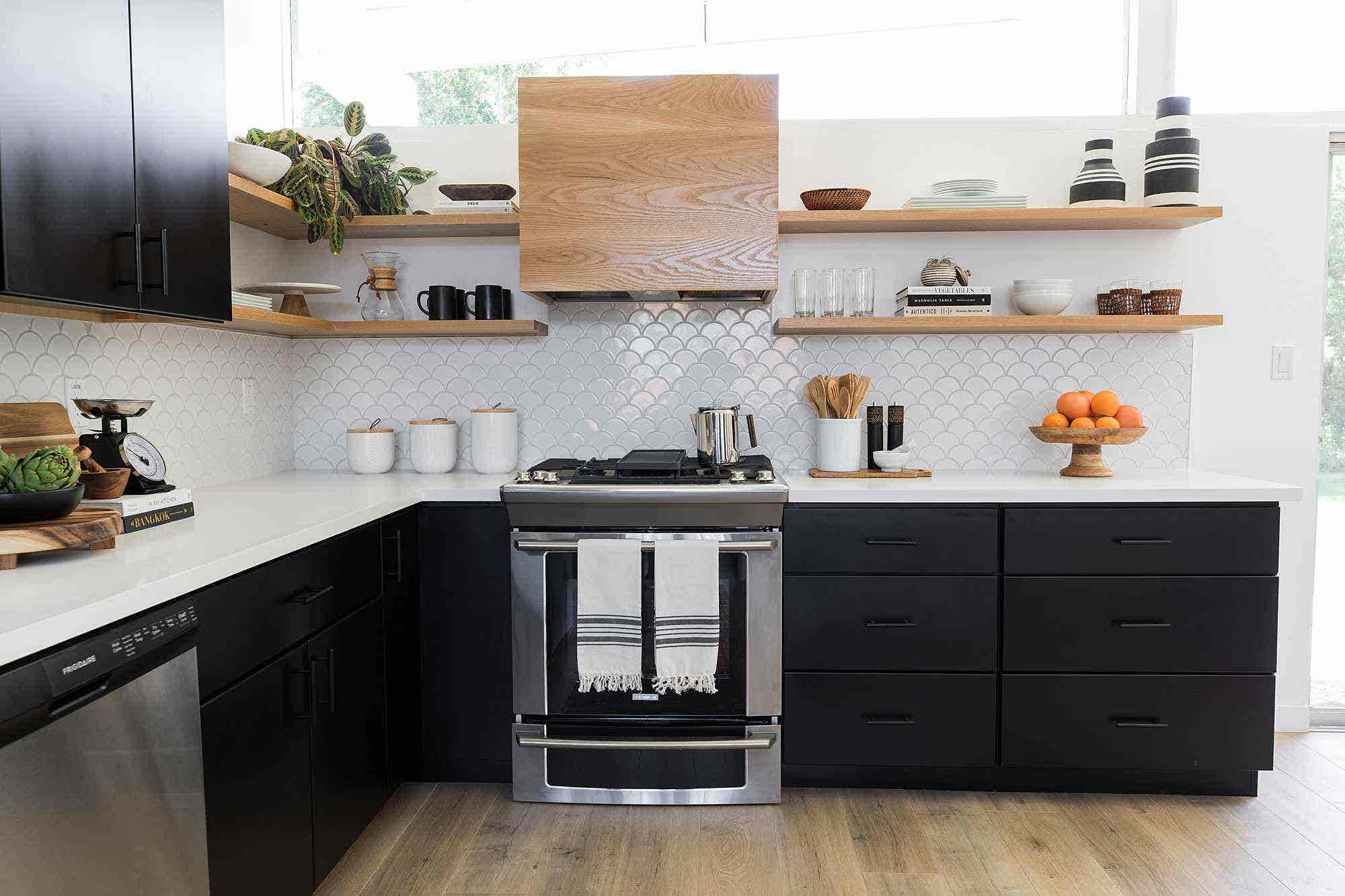 Let's face it—while black cabinets are very popular, they can be a bit stark and harsh. To help soften them up, many homeowners opt to use black hardware on their kitchen cabinets. The effect is absolutely stunning. By doing so, you allow your beautiful marble countertops or natural wood floors to shine even brighter (if that's possible).
Gold Hardware on Black Cabinets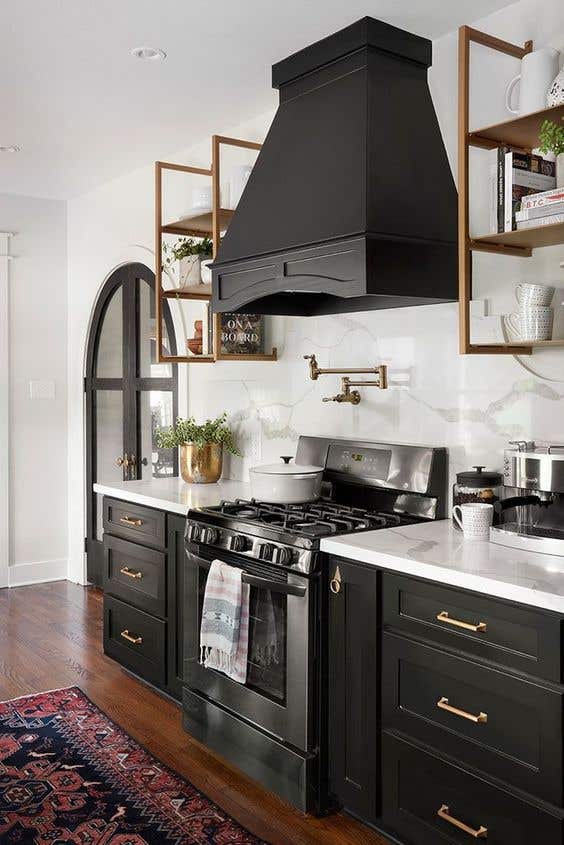 Gold accents on black cabinets help liven up darker spaces, and can even make an otherwise dull kitchen feel rich and warm. This is a very popular style in modern homes. It's no wonder why: Gold fixtures work beautifully against dark walls, giving your space a rich, earthy appeal. You can add a touch of elegance to virtually any room with gold hardware on black cabinets!
Silver Hardware on Black Cabinets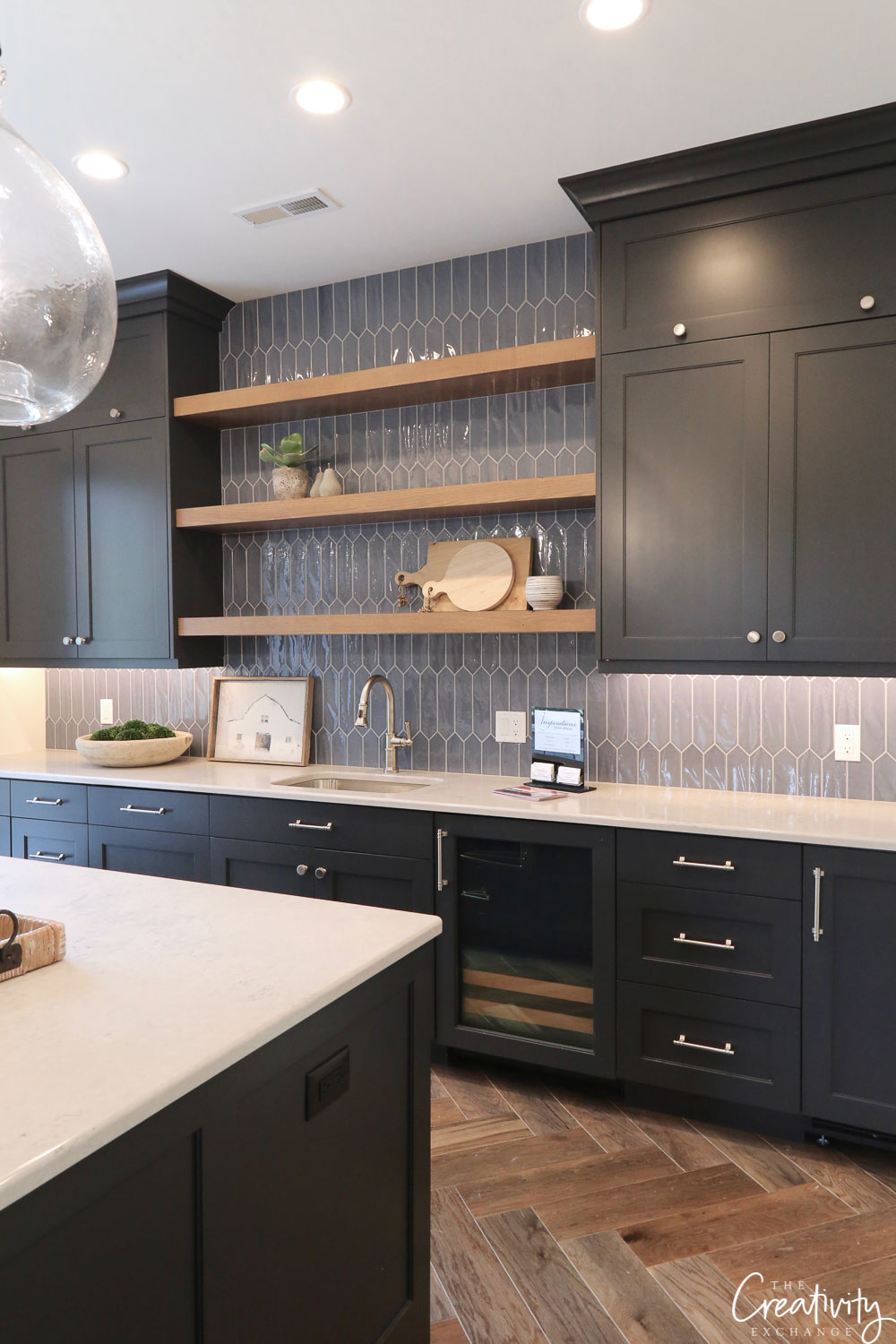 Silver hardware and black cabinets are a classic look that never goes out of style. It's a timeless pairing, perfect for nearly any décor theme. When selecting silver hardware, make sure you pick hardware in a similar style (shaker or clean lines) so it doesn't stand out too much. While you can use any silver hardware on your black kitchen cabinets, if you have an eclectic or farmhouse design theme going on you may want to opt for a more rustic-looking option.
The Best Appliances For Black Kitchen Cabinets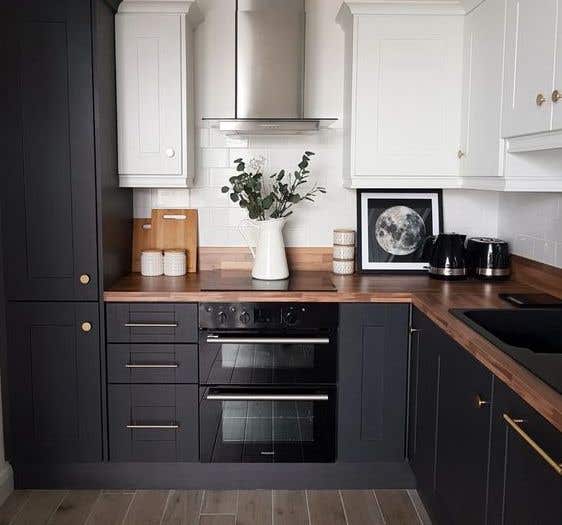 When choosing appliances for your kitchen remodel, it's important to keep in mind their aesthetic appeal. Black cabinets can look particularly striking with black appliances. Keep in mind that black is just one option among a sea of colors—whether you're going more neutral or flashy, stainless steel, black, and sleek white appliances are all potential options.
The Best Flooring Options For Black Kitchen Cabinets
Laminate, tile, and hardwood flooring are all excellent options. Laminate is less expensive but not as durable; tile and hardwood are more long-lasting but also pricier. Tiles are an especially attractive option in kitchens with black countertops because they complement each other well. Remember that if you go with a darker color of laminate or tile, it's best to choose a lighter shade of wall color so that your kitchen doesn't end up feeling too dark and dreary.
Shop affordable porcelain tile flooring at Lily Ann Cabinets!
The Best Countertops For Black Kitchens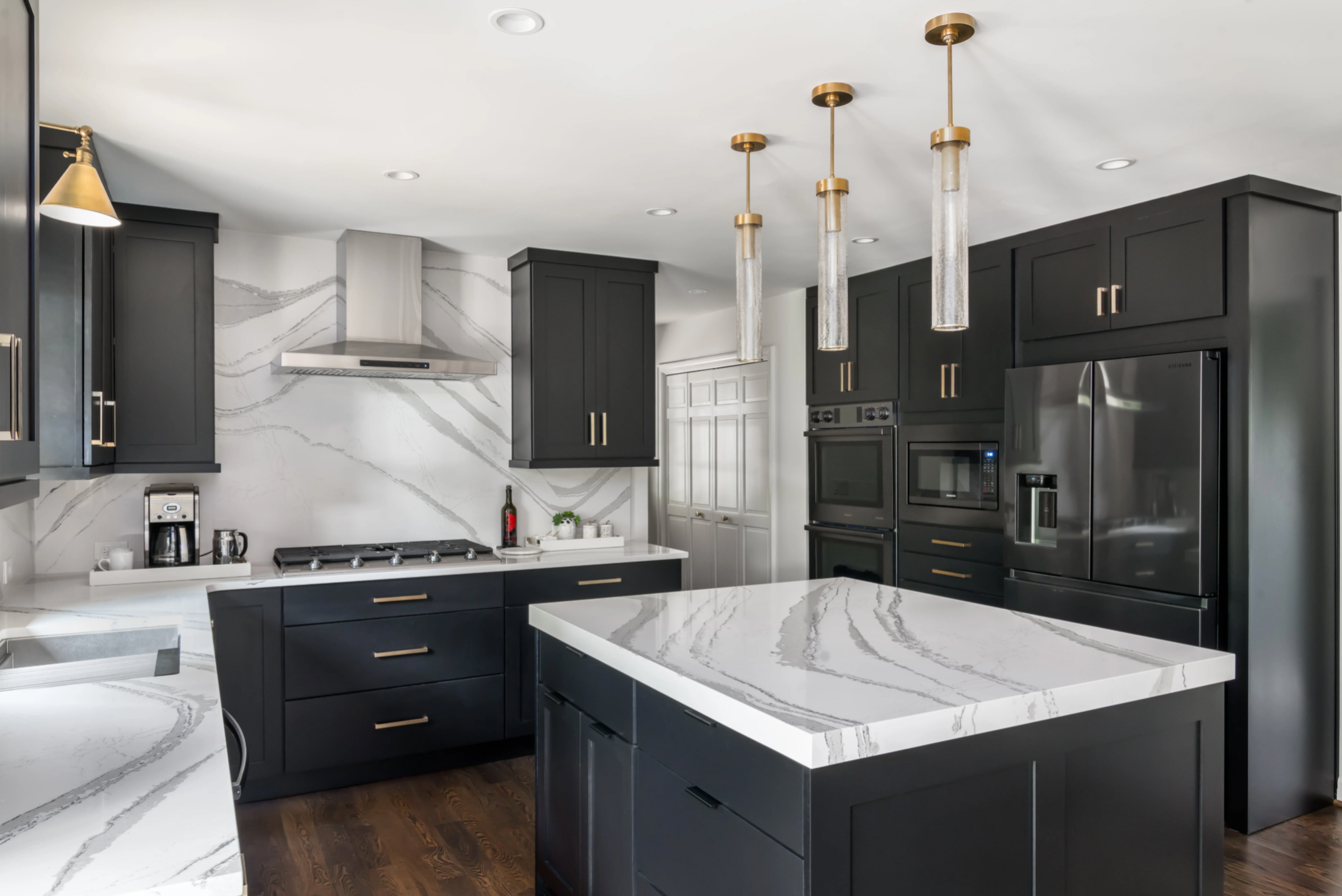 If you're planning to paint your kitchen cabinets black, you'll probably want to update your countertops as well. White or lighter colors like gray and beige will contrast perfectly with dark cabinets. If a lighter countertop color isn't an option, use white backsplash tiles to create contrast instead. When choosing between glossy and matte finishes, choose matte to avoid distracting reflections on glossy surfaces—your glossy (black) cabinets need all of the spotlight they can get! Black cabinets look beautiful when paired with quartz or marble countertops. Lastly, consider using materials other than solid wood for your countertops; porcelain tile is another great option that provides elegance without sacrificing durability or price point.
Create Your Dream Kitchen With Lily Ann Cabinets
We offer a wide selection of premium cabinetry, hardware, shelving and more to help you create a room that stands the test of time. Pick from our large array of kitchen and bathroom cabinetry, including white shaker cabinets that come with soft-close hinges. Our professional designers are on standby to work with you — we offer FREE samples and FREE design and quote. Visit our FREE 3D design tool to get started today!
FAQs
What are good hardware options for black kitchen cabinets?
Hardware for black kitchen cabinets can realistically be anything depending on the style of space that you are going for. Gold hardware is great for warming up the space, silver is timeless, black will be hardly noticeable against black cabinets (that may be a look you are going for), and brass is perfect for a vintage/rustic feel.
What are good colors to go with black kitchen cabinets?
Colors that go well with black kitchen cabinets are shades of green, blue, grays, white, and tans.
Where can I buy inexpensive kitchen cabinets?
You can purchase inexpensive yet durable kitchen cabinets here. Lily Ann Cabinets sells RTA (Ready-To-Assemble) cabinets at up to 50% off box store pricing and has numerous different cabinet styles to choose from!