The kitchen is often considered the heart of the home, and for good reason. It's a place where we not only prepare meals but also gather with friends and family to create lasting memories. With such a central role in our lives, it's essential that your kitchen not only functions well but also looks fantastic. One of the most effective ways to elevate your kitchen's design is through the power of paint.
Whether you're looking to make a bold statement or create a cozy and inviting atmosphere, the right paint color for kitchen walls can transform your space. In this blog, we'll explore 37 kitchen paint ideas for kitchen walls and cabinets that will help you take your design game to the next level.
1. Classic White
First on the list of kitchen paint ideas is classic white. This color of paint creates a timeless and clean look, making your kitchen feel bright and spacious.
One of our bestsellers, Colorado White Shaker is the perfect choice to create this classic white look.
2. Navy Blue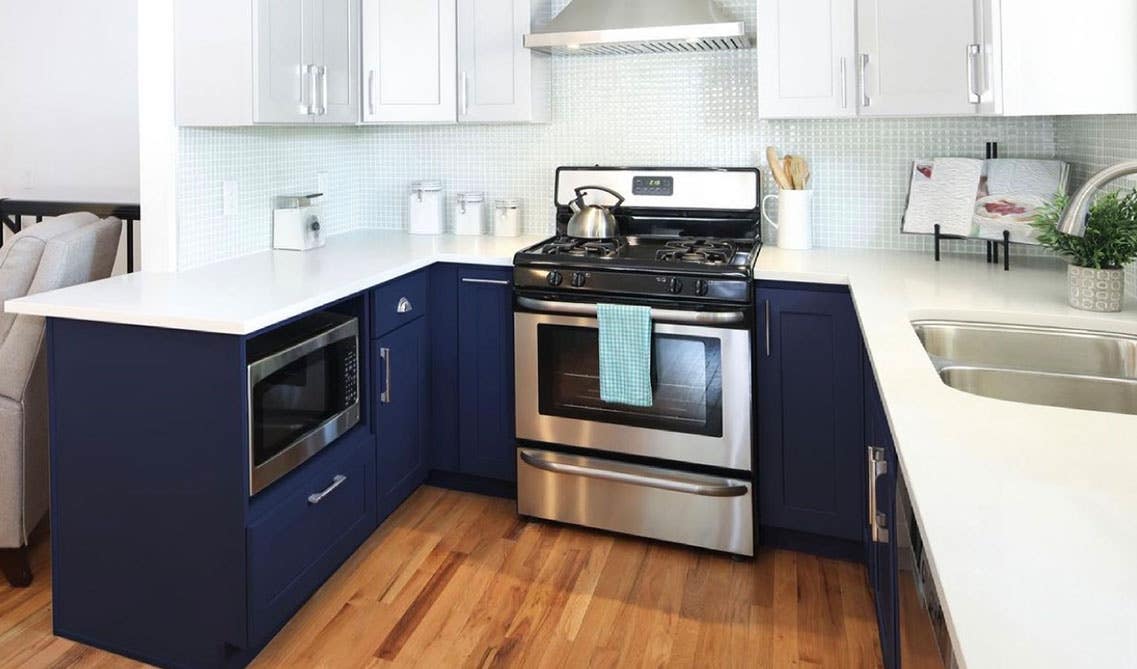 Navy blue offers a sophisticated and elegant vibe, providing depth and contrast to your kitchen design.
If you love the color of navy blue cabinets, then lucky for you, we have a Navy Blue Shaker cabinet you will also love.
3. Mint Green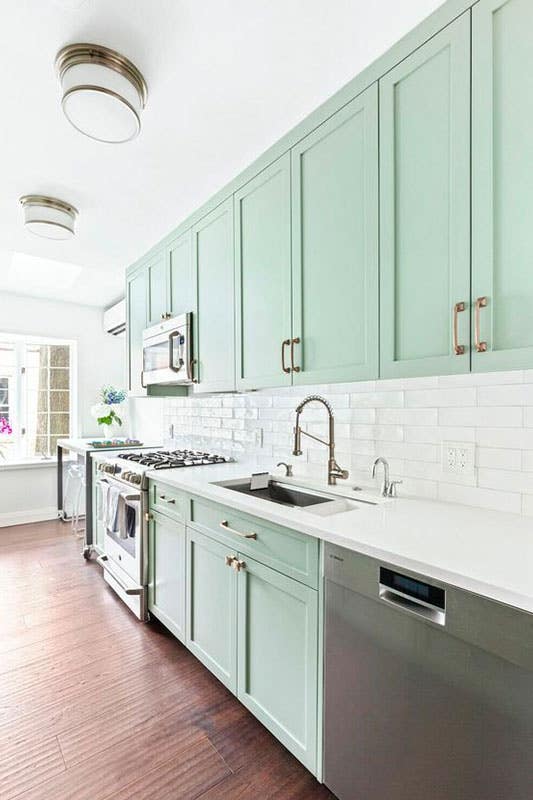 Mint green adds a refreshing and calming ambiance to your kitchen, evoking a sense of serenity.
Checkout: 20 Green Kitchen Ideas: Stylish Inspiration for a Vibrant Cooking Space

4. Light Gray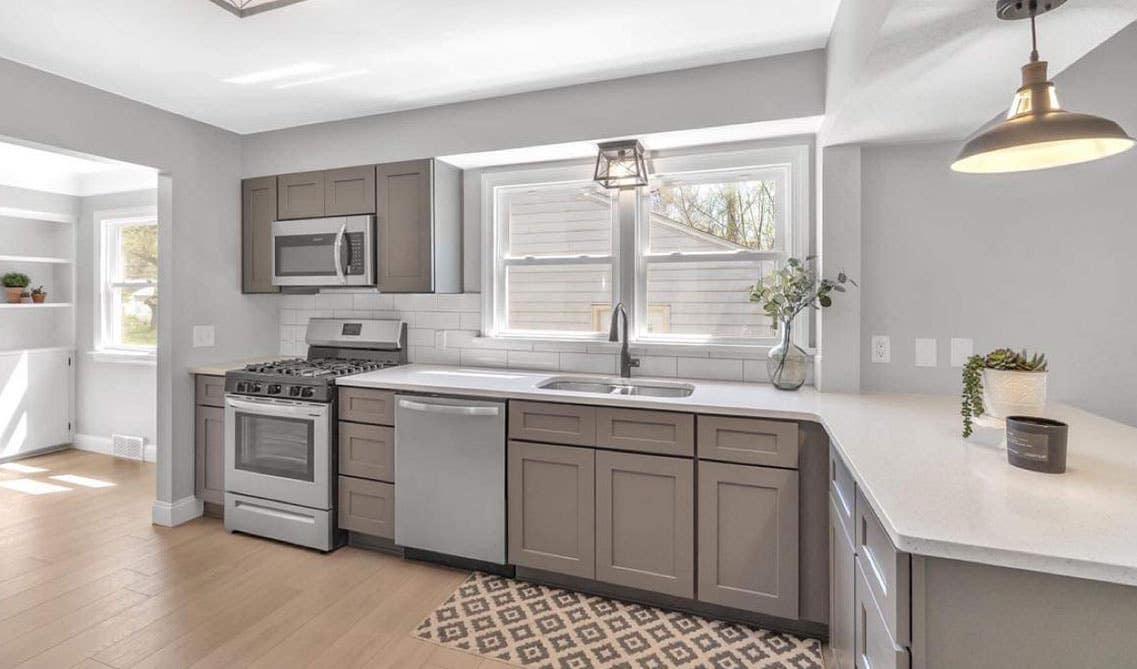 Light gray is a trendy choice that brings a modern and sleek look to your kitchen, complementing various decor styles.
5. Pastel Pink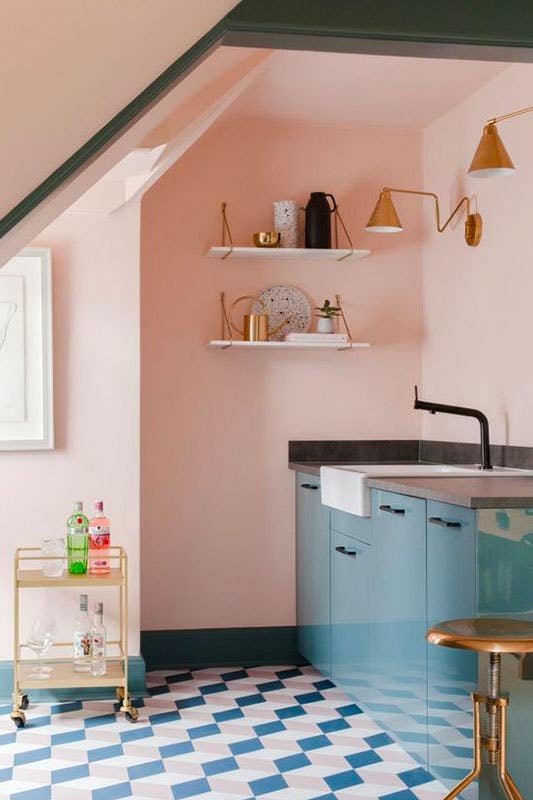 Pastel pink adds a touch of femininity and elegance, creating a soft and charming atmosphere in your kitchen.
6. Mustard Yellow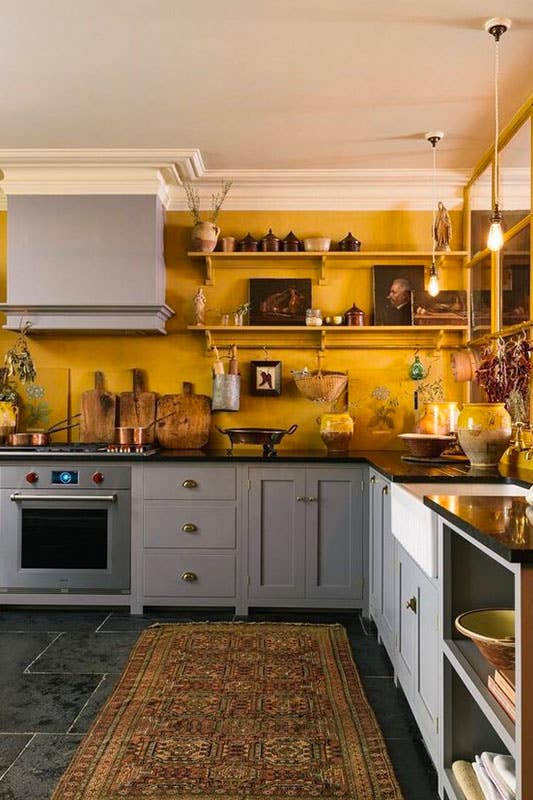 Mustard yellow infuses warmth and vibrancy into your kitchen, making it an inviting and energetic space.
7. Cool Teal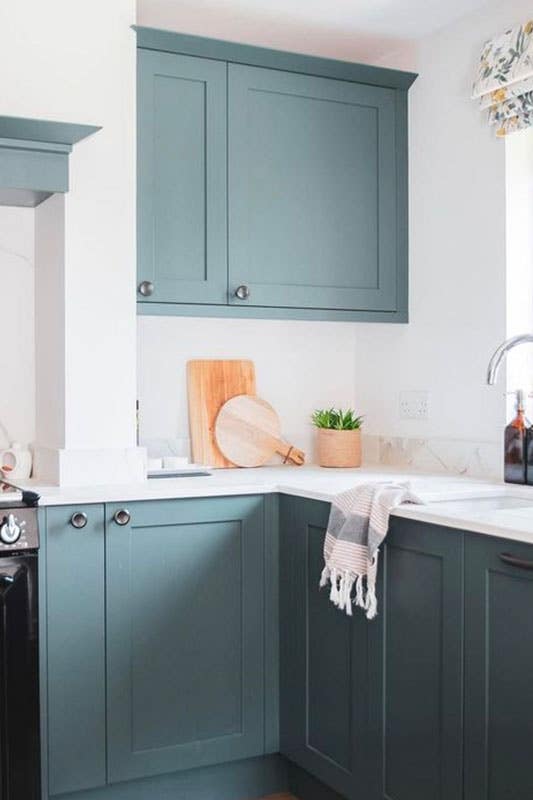 Cool teal makes a bold statement with its rich, striking color, adding character and vibrancy to your kitchen.
8. Sunny Yellow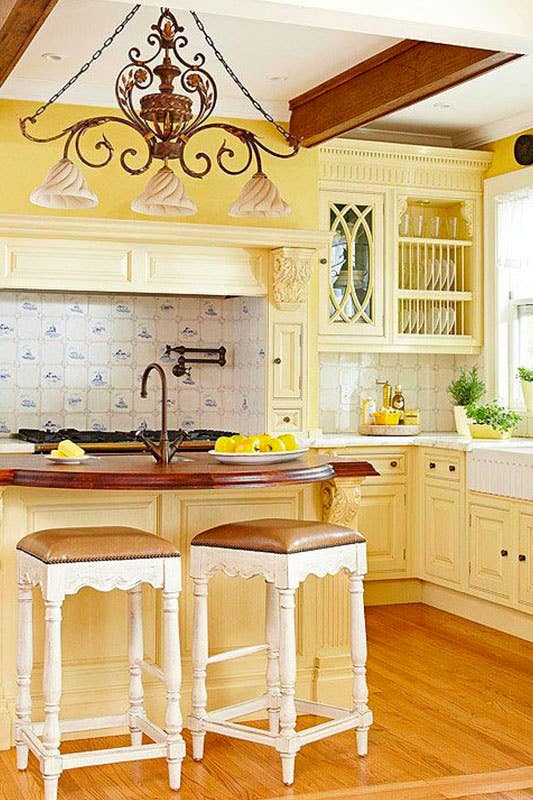 Pinterest
Sunny yellow creates a cheerful and bright atmosphere, making your kitchen feel warm and inviting.
9. Olive Green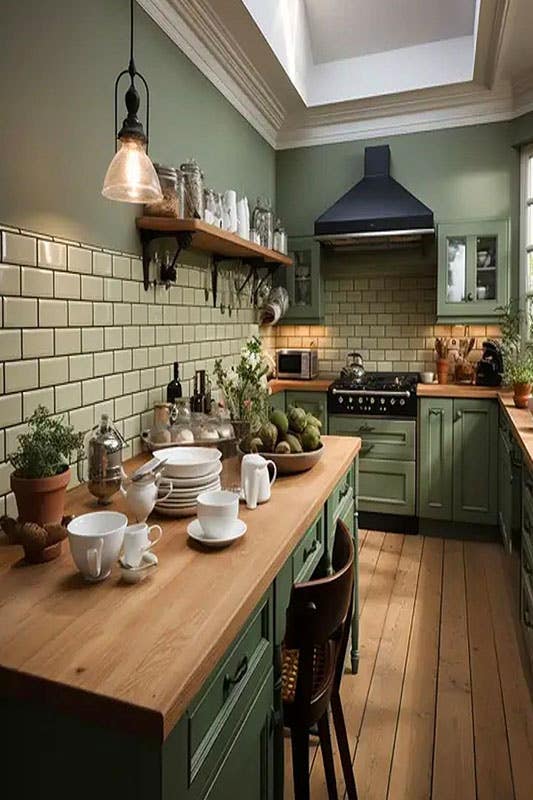 Olive green is a sophisticated choice that complements wooden accents beautifully, creating an earthy and elegant feel.
10. Sky Blue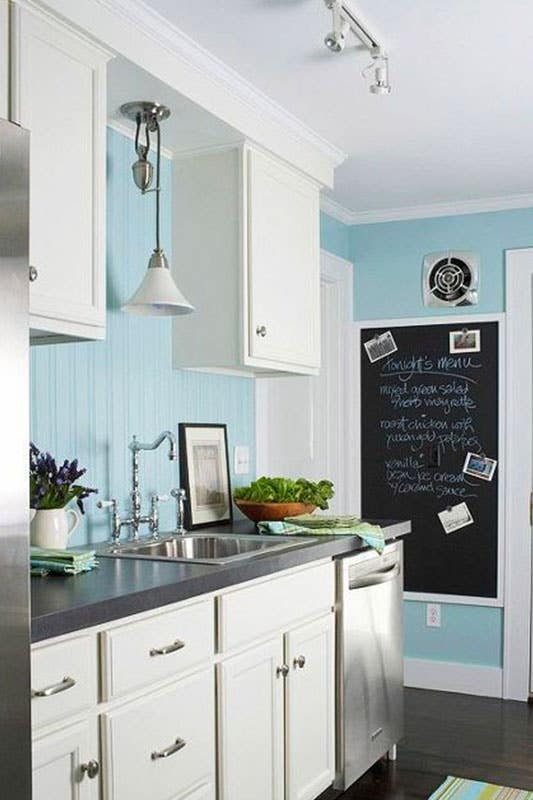 Sky blue imparts a sense of openness and tranquility, giving your kitchen a light and airy ambiance.
11. Black and Blush Pink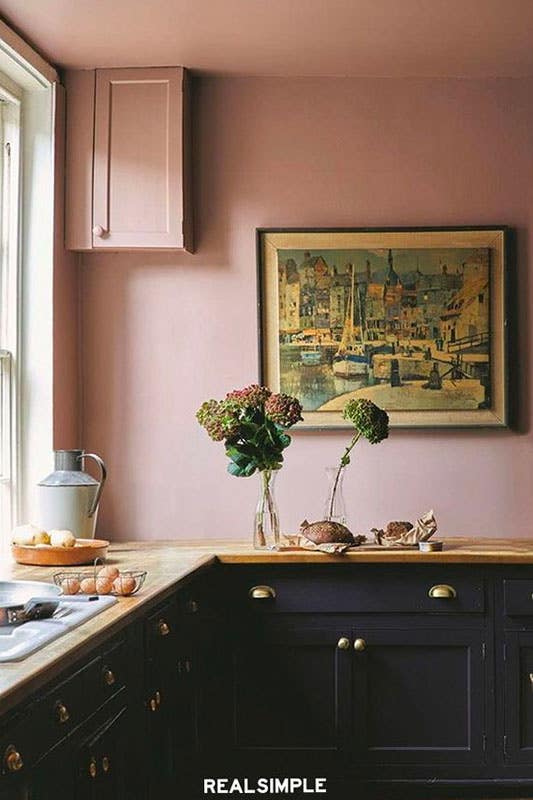 The fusion of black and pastel pink creates a striking yet delicately balanced kitchen design, offering a contemporary and elegant look with a touch of whimsy.
13. Gray and White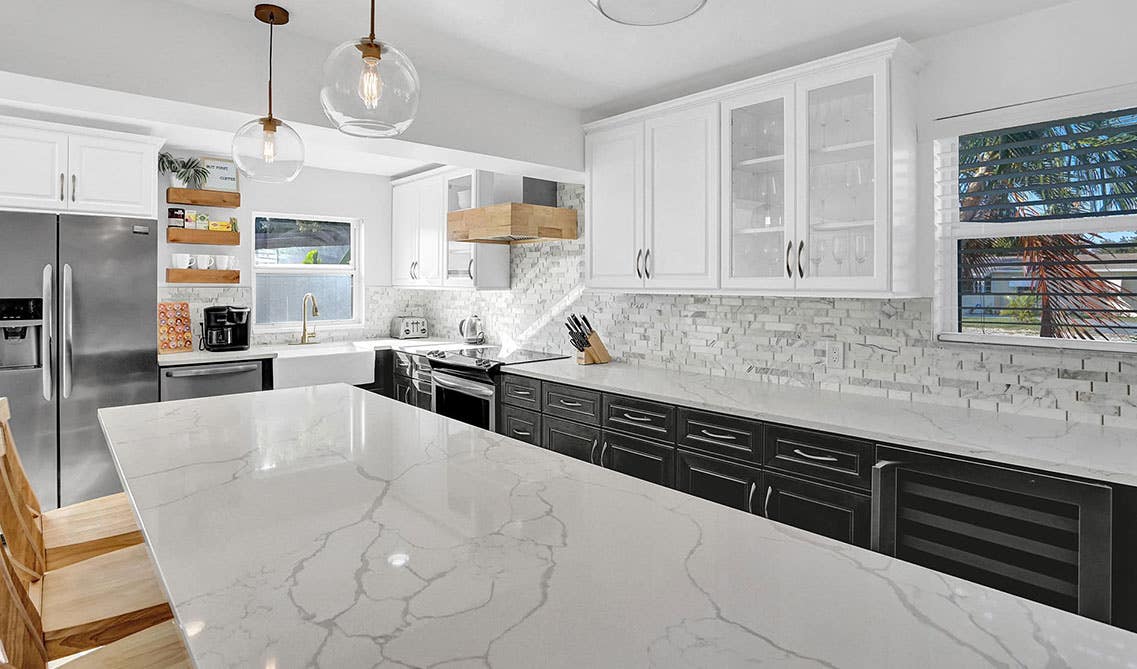 The combination of white and gray offers a modern contrast, creating a sophisticated and balanced look.
If you want to recreate this look in your home, order our York Driftwood Grey and Key Largo White to create the ultimate combination in your home!
14. Light Purple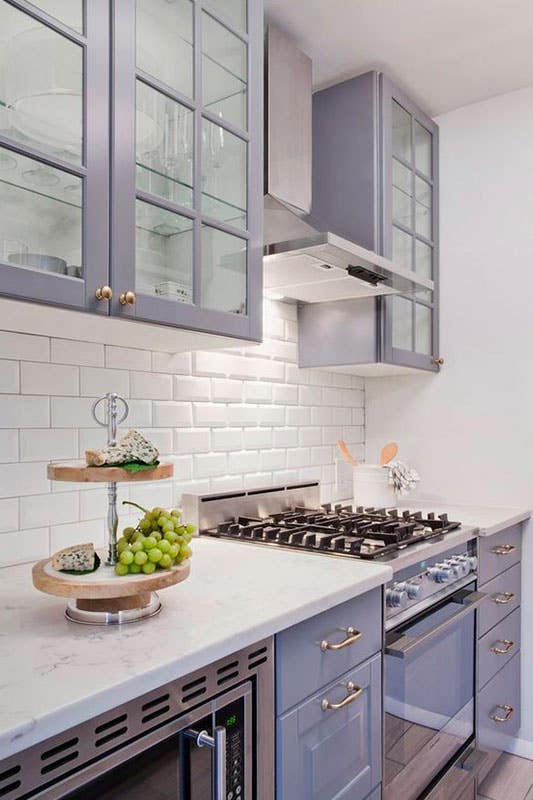 Light purple creates a serene and soothing kitchen environment, with soft, calming hues.
15. Creamy Beige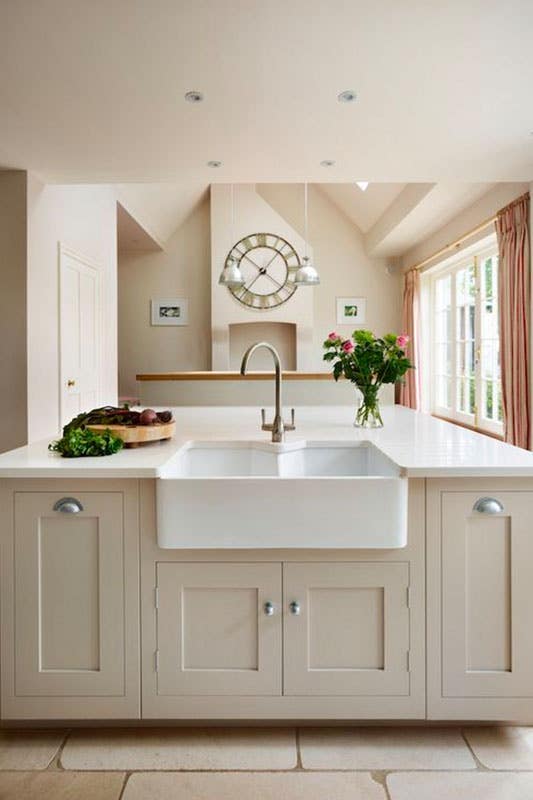 Next on the list for kitchen paint ideas is creamy beige. This color achieves a neutral backdrop that works well with various decor styles, creating a cozy and versatile space.
15. Coral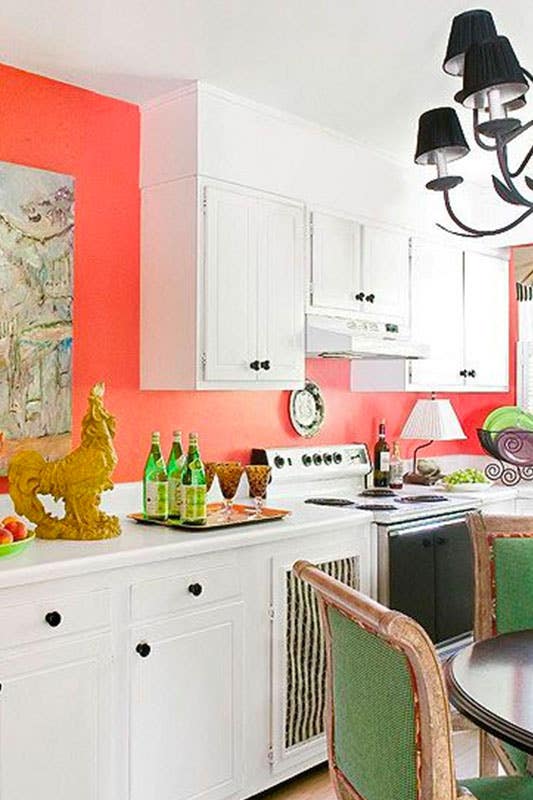 Coral infuses energy and vibrancy into your kitchen with lively and bold tones, making it a dynamic and cheerful place.
16. Rich Espresso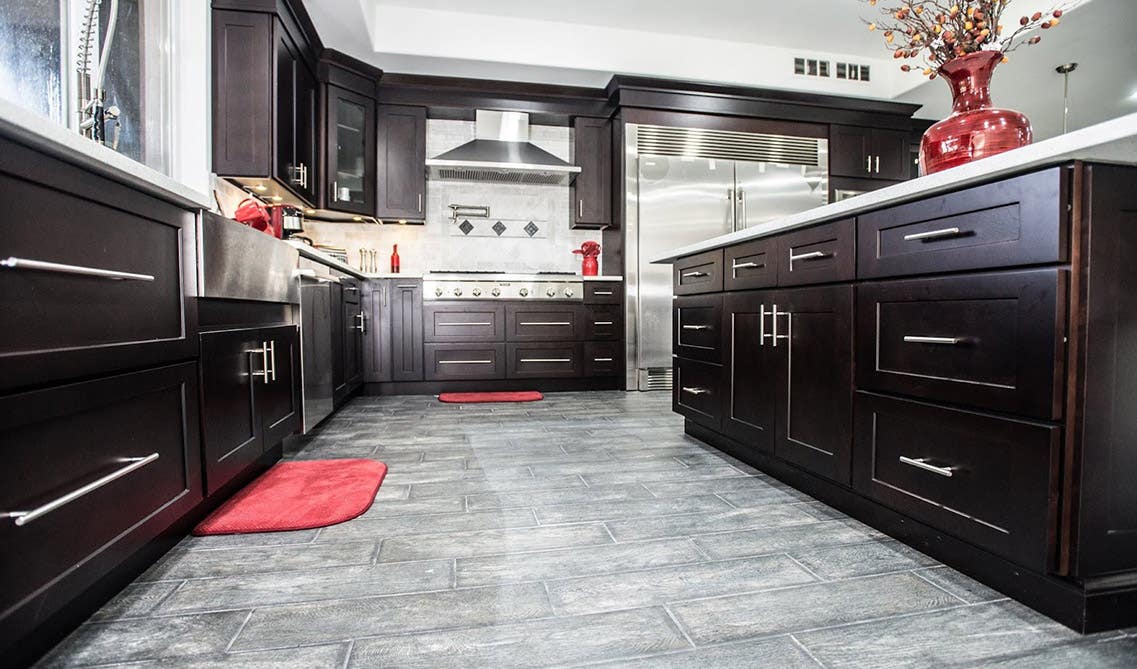 Rich espresso brown creates a luxurious atmosphere, adding depth and elegance to your kitchen.
If you are looking for darker cabinets, enrich your kitchen with our gorgeous Shaker Espresso cabinets.
Checkout: 14 Amazing Color Schemes for Kitchens with Dark Cabinets
17. Cobalt Blue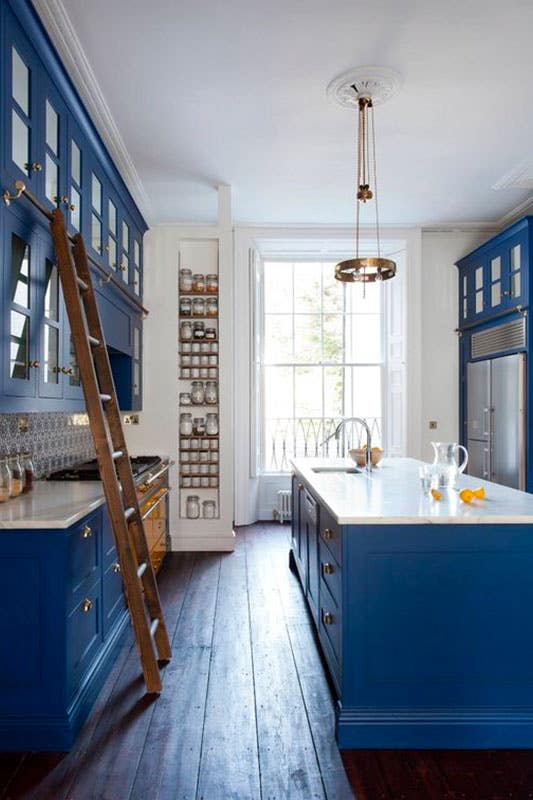 Cobalt blue makes a bold statement with its striking color, adding a vibrant and eye-catching element to your kitchen.
18. Barn Red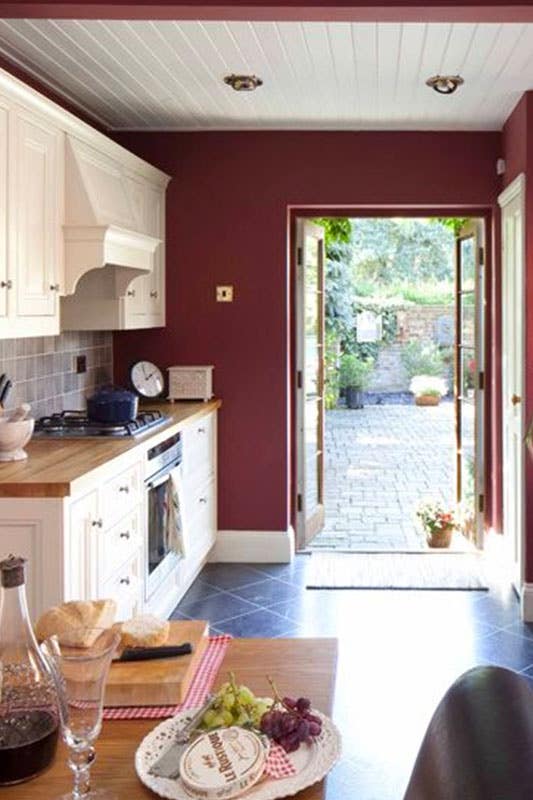 Barn red is a warm and nostalgic hue that evokes the rustic charm of traditional country kitchens with its rich, deep red tones.
19. Olive and Cream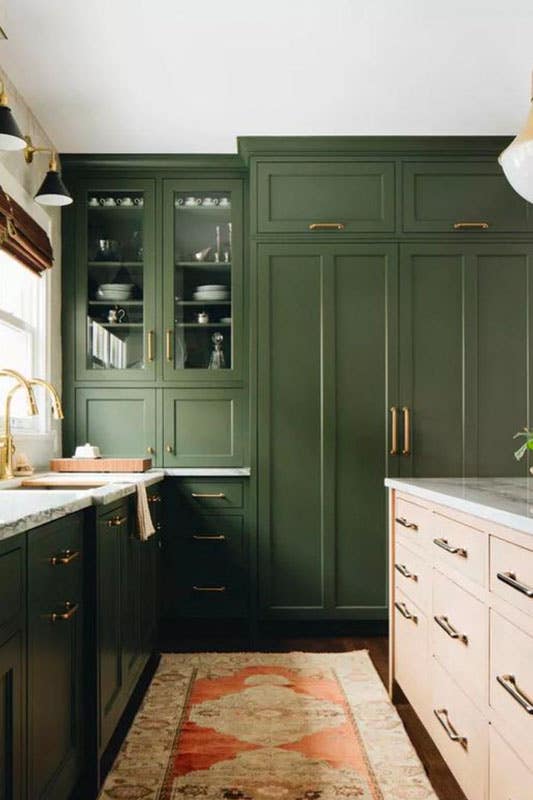 Olive and cream tones combine for an earthy and inviting feel, creating a warm and comfortable atmosphere in your kitchen.
20. Deep Plum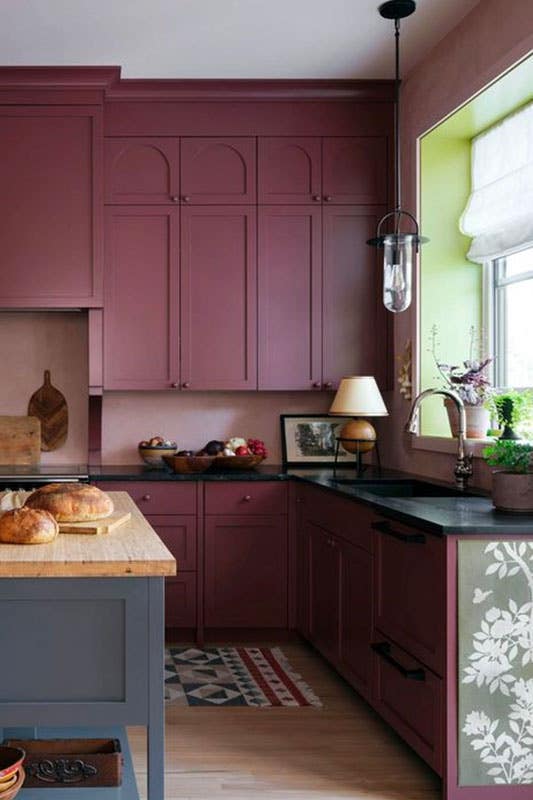 Deep plum adds drama and sophistication, infusing a rich and luxurious atmosphere into your kitchen.
21. Terracotta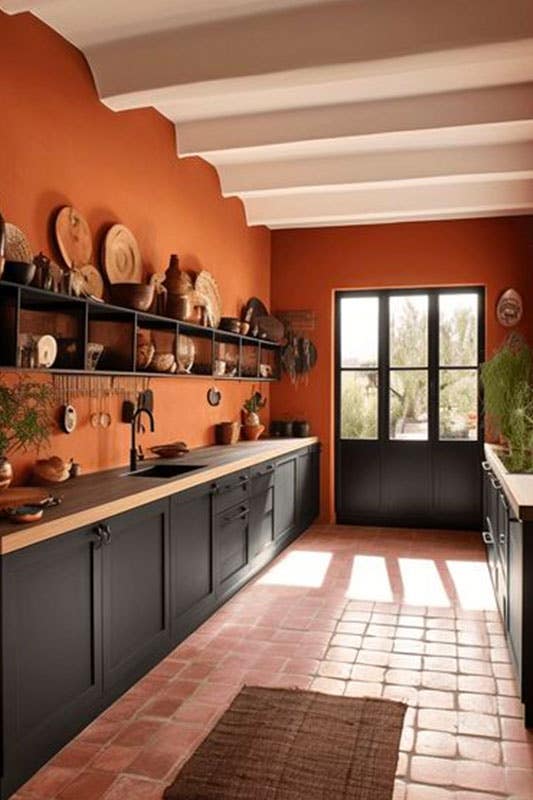 Terracotta creates a warm and Mediterranean feel, with rich, earthy hues that evoke a sense of tradition and coziness.
Related: Top 10 Wall Paint Colors To Elevate Your Kitchen Space
22. Turquoise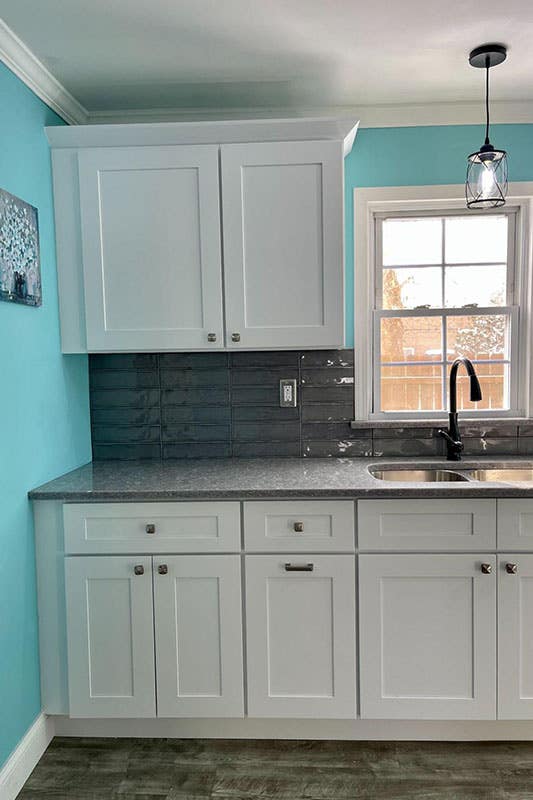 Turquoise brings your kitchen a coastal and beachy vibe, with vibrant and refreshing shades.
These turquoise walls are accompanied by our classic White Shaker Elite cabinets.
23. Warm Peach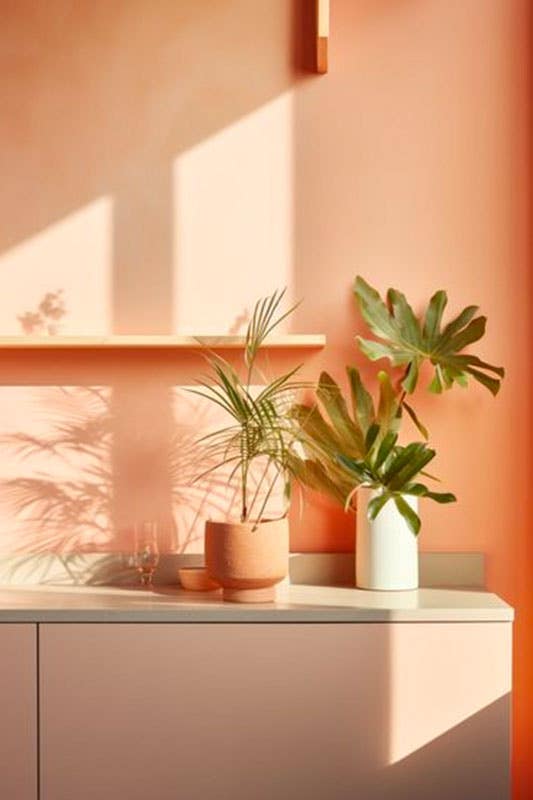 Warm peach infuses your kitchen with a sense of warmth and personality, making it inviting and vibrant.
24. Mint and White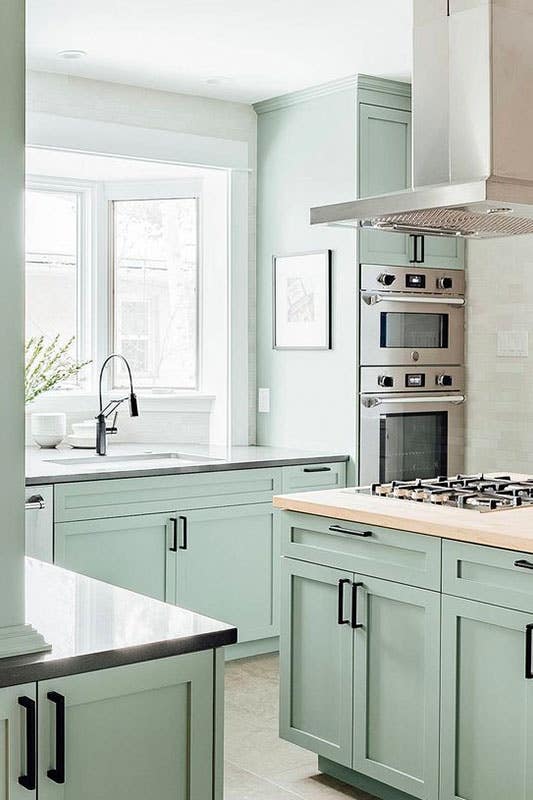 The combination of mint and white creates a clean and refreshing atmosphere with a modern twist.
25. Olive Green and Pink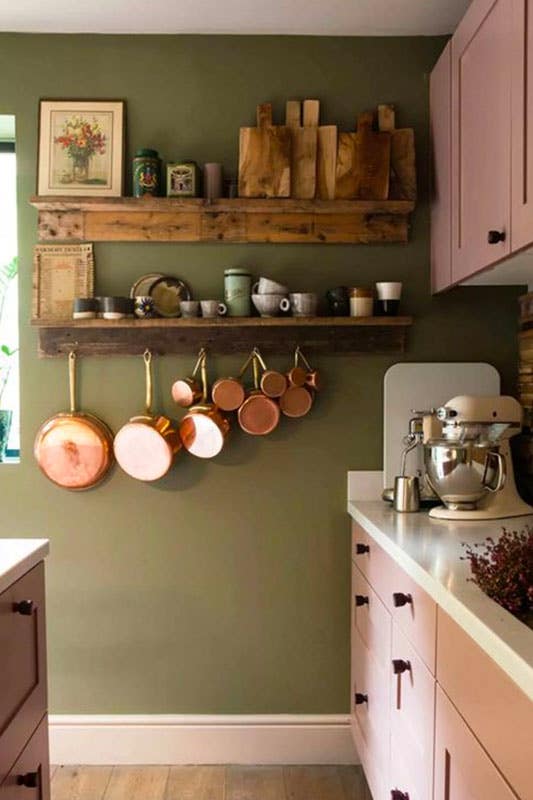 Combining olive green and pink offers a unique and balanced kitchen design, infusing a touch of natural and playful elements for a harmonious atmosphere.
26. Ocean Blue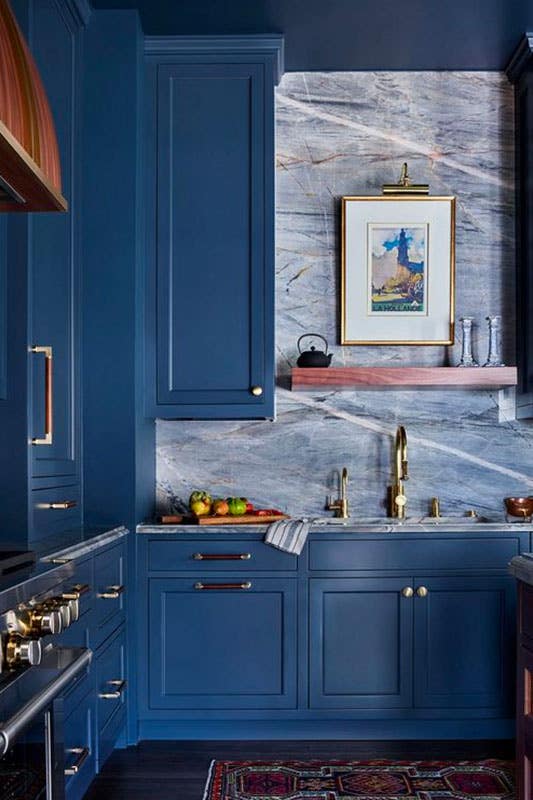 Ocean blue infuses the serenity of the sea into your kitchen, with calming and peaceful shades.
27. Tangerine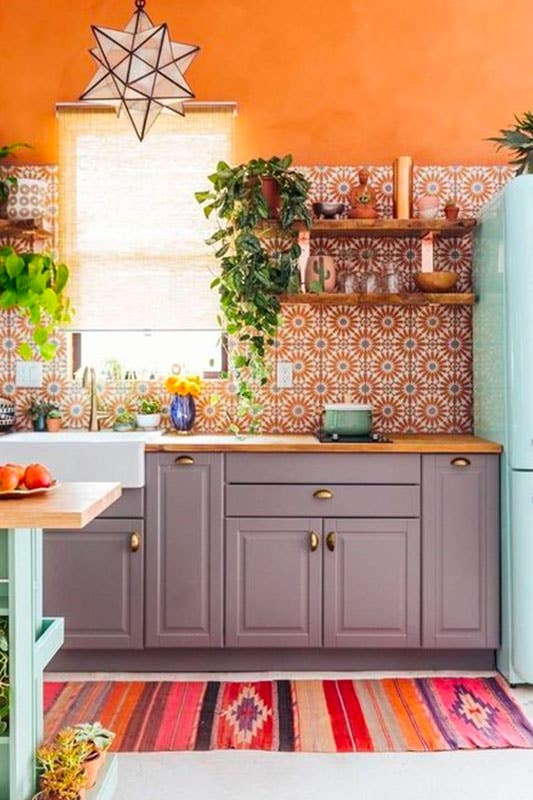 Tangerine adds a bold and lively atmosphere to your kitchen, making it vibrant and dynamic.
28. Soft Yellow and Pink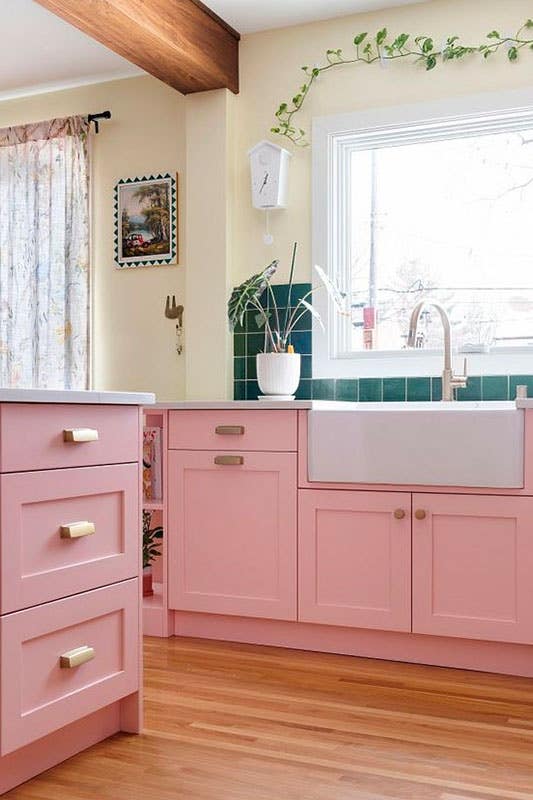 The combination of pink and soft yellow creates a charming and cheerful kitchen space, offering a playful and inviting atmosphere.
29. Dusty Blue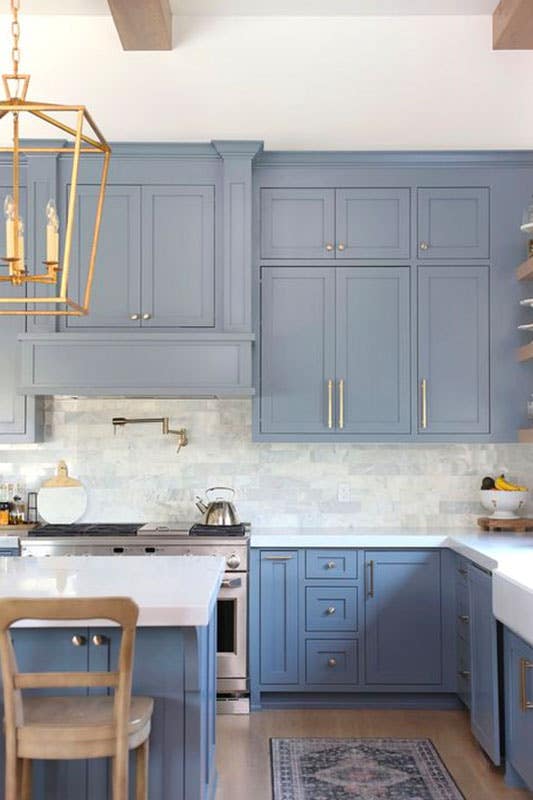 Dusty blue achieves a calm and relaxed ambiance, creating a soothing and tranquil space in your kitchen.
30. Earthy Brown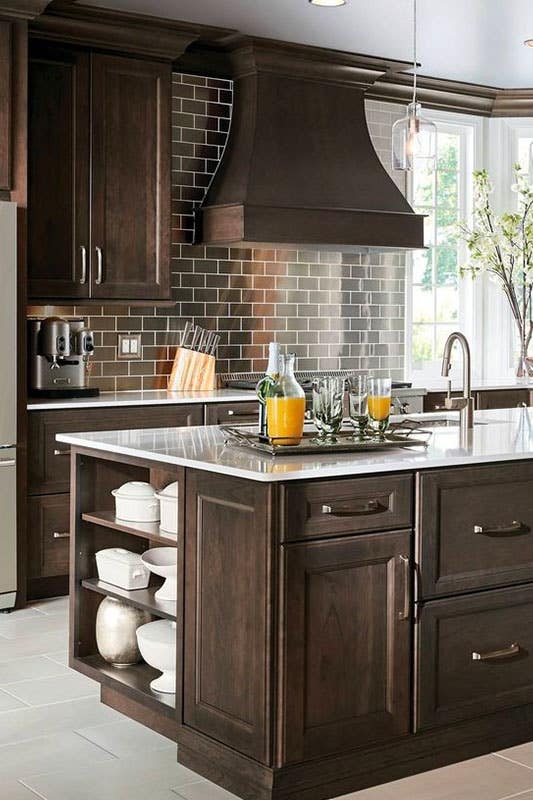 Earthy brown evokes a rustic and cozy feel, infusing warmth and comfort into your kitchen.
31. Teal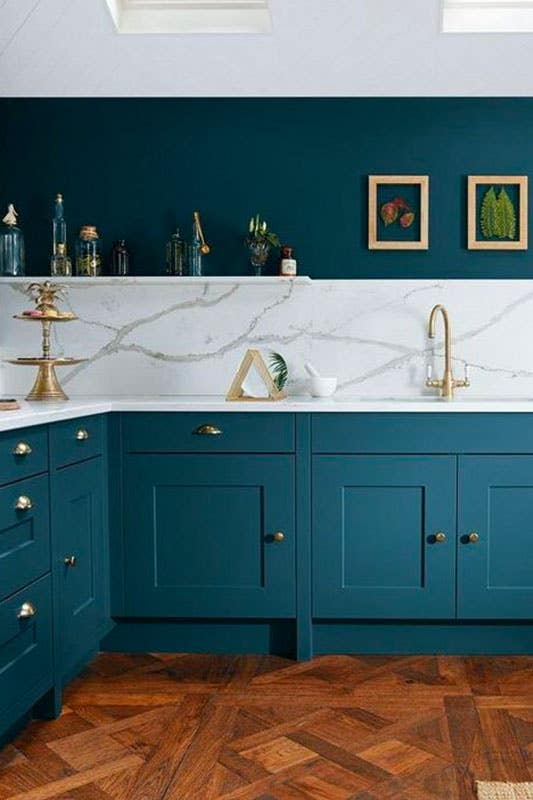 Combining the richness of teal with the elegance of gold hardware creates a luxurious and striking kitchen space.
32. Yellow and Light Turquoise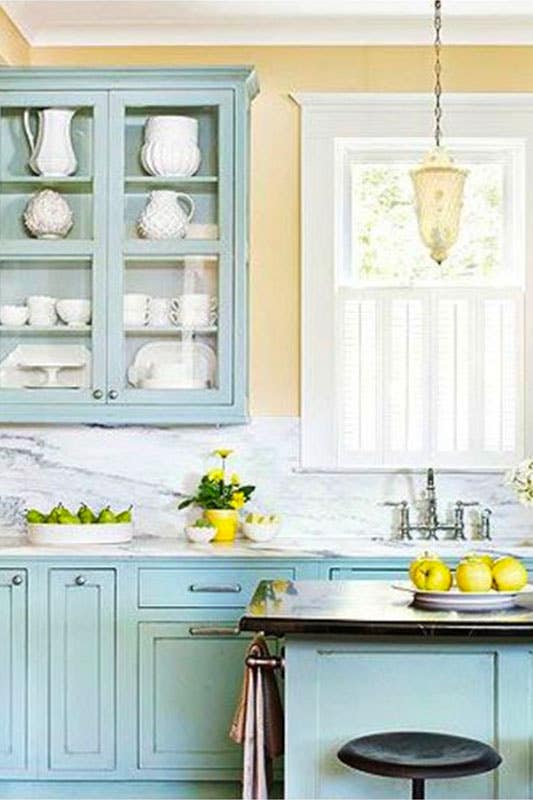 The blend of yellow and light turquoise brings a lively and refreshing atmosphere to your kitchen, creating a vibrant and cheerful space with a touch of coastal charm.
33. Cream and Mint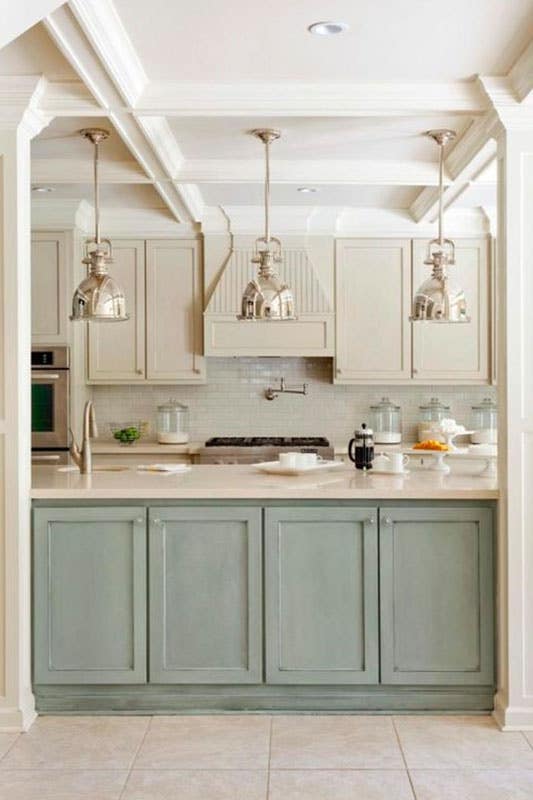 Cream and mint color schemes combine for a vintage-inspired kitchen with a refreshing and timeless look.
34. Muted Red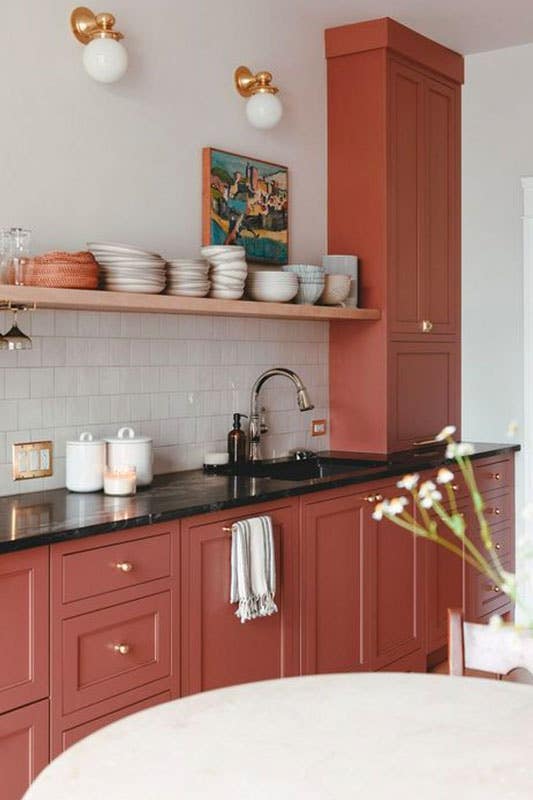 Muted red offers a subdued and mature look, infusing warmth and character into your kitchen.
35. Black and White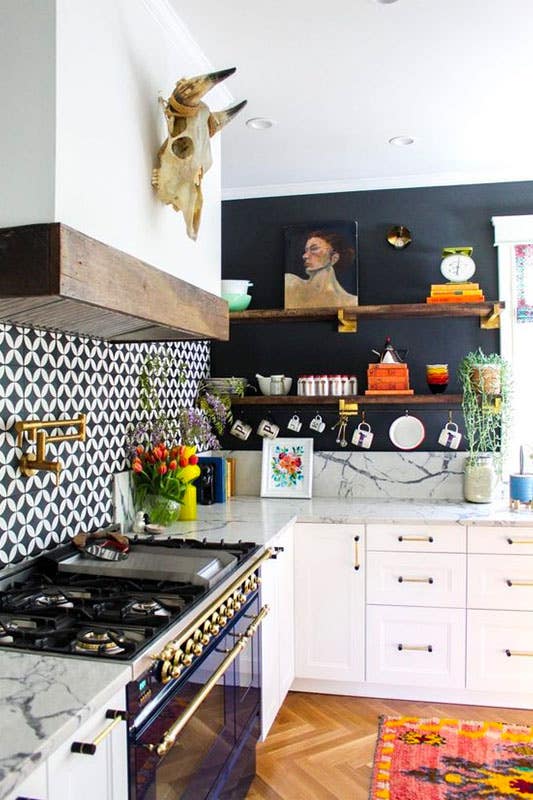 Black and white create a timeless, sophisticated, and always-in-style kitchen design.
36. Espresso and White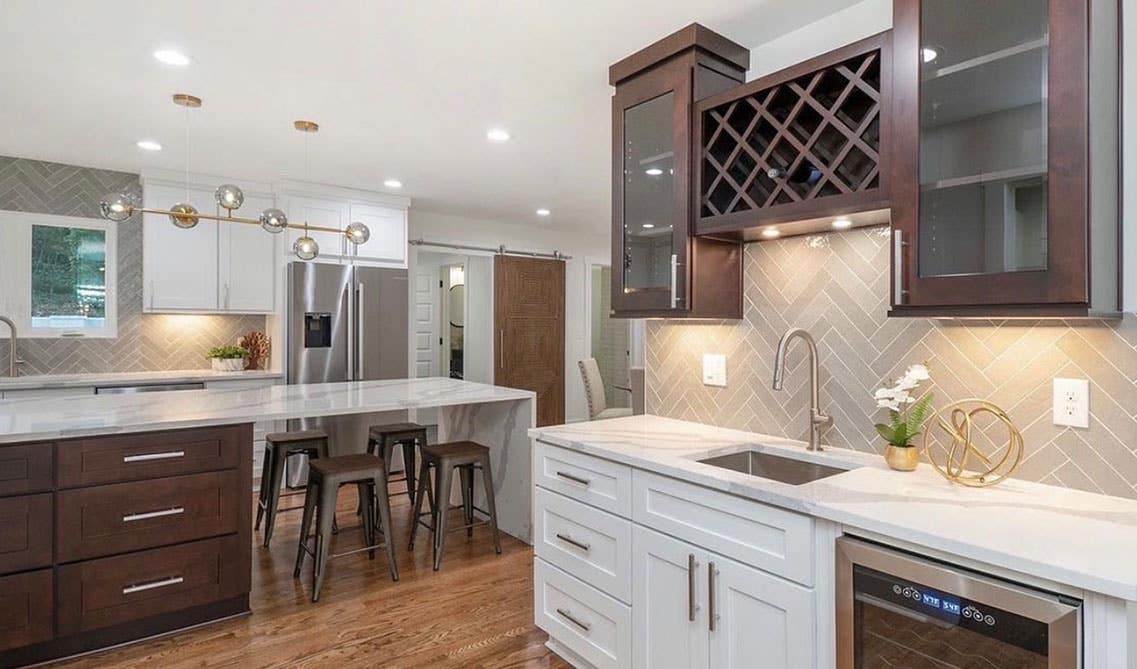 Two-tone cabinets involve experimenting with contrasting colors for upper and lower cabinets, creating a unique and eye-catching kitchen design.
Checkout: Two Cabinet Styles, One Kitchen: How to Work Two Tone Kitchen Cabinets into Your Renovation
37. Black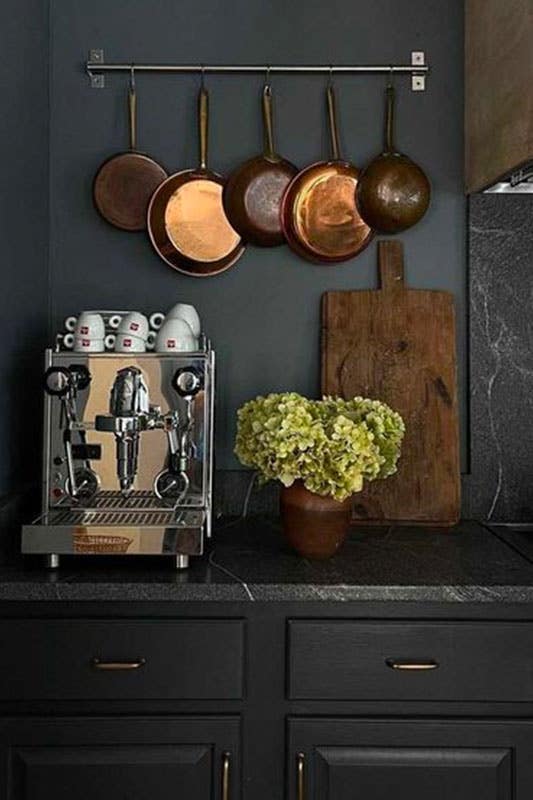 The last on the list of kitchen paint ideas is black which creates a bold kitchen design, offering a sleek and contemporary look with a touch of sophistication. Pair will black cabinetry and countertops for an even more dramatic feel.
In Conclusion…
Choosing the perfect paint color for kitchen walls can transform your entire space and set the tone for your home. Whether you prefer a classic, modern, or eclectic style, these 37 paint color ideas for kitchen walls and cabinets offer a diverse range of options to spark your creativity.
Remember to consider your kitchen's lighting, size, and the overall ambiance you want to create when making your final choice. With the right color, your kitchen can become a place where cooking, dining, and entertaining are all the more enjoyable. So, go ahead and let your kitchen's personality shine through the paint you choose!
Our cabinetry is designed with your family in mind so shopping at Lily Ann Cabinets is a decision you won't regret. As a trusted family brand, we prioritize your satisfaction and offer an unmatched shopping experience. Our commitment is evident through our dedication to customer service, including FREE samples and FREE 3D designs.
We're here to make your kitchen or bathroom renovation as smooth and enjoyable as possible. Join our family and experience the Lily Ann Cabinets difference today!
Checkout: The Ultimate Guide to Kitchen Color Combinations
FAQs
1. What is the most popular paint color for kitchens?
Neutral colors like white, off-white, and gray have consistently been popular choices for kitchens. These shades create a clean and versatile backdrop that works well with a variety of kitchen styles and allows for easy integration of other colors and decor elements.
2. Which paint is best for the kitchen?
The best paint for the kitchen is typically a high-quality, semi-gloss or satin finish latex paint. These finishes are durable, easy to clean, and resistant to stains and moisture, making them ideal for the kitchen's high-traffic and potentially messy environment.
3. What colors make a kitchen look bigger and brighter?
Colors that can make a kitchen look bigger and brighter include light and neutral shades such as white, soft gray, pale yellow, and light blue. These colors reflect more light, creating a sense of spaciousness and airiness in your kitchen. Additionally, good lighting and the use of mirrors can further enhance the feeling of a brighter and more open space.