With careful planning, an island can become the aesthetic and functional center of your kitchen. Installing a Kitchen Island can allow you to make use of the space in new ways while also serving as the focal point of your kitchen's style.
A kitchen island installed without careful planning, however, can bungle the entire design of the space. Perhaps its style doesn't match that of its surroundings, or maybe it doesn't allow enough room for easy passage and the opening of kitchen cabinets. Either way, the result is that the addition of an island has actually made your kitchen less enjoyable to be in. Not to worry, though - mishaps of this nature can be easily avoided so long as you keep the following factors in consideration.
Space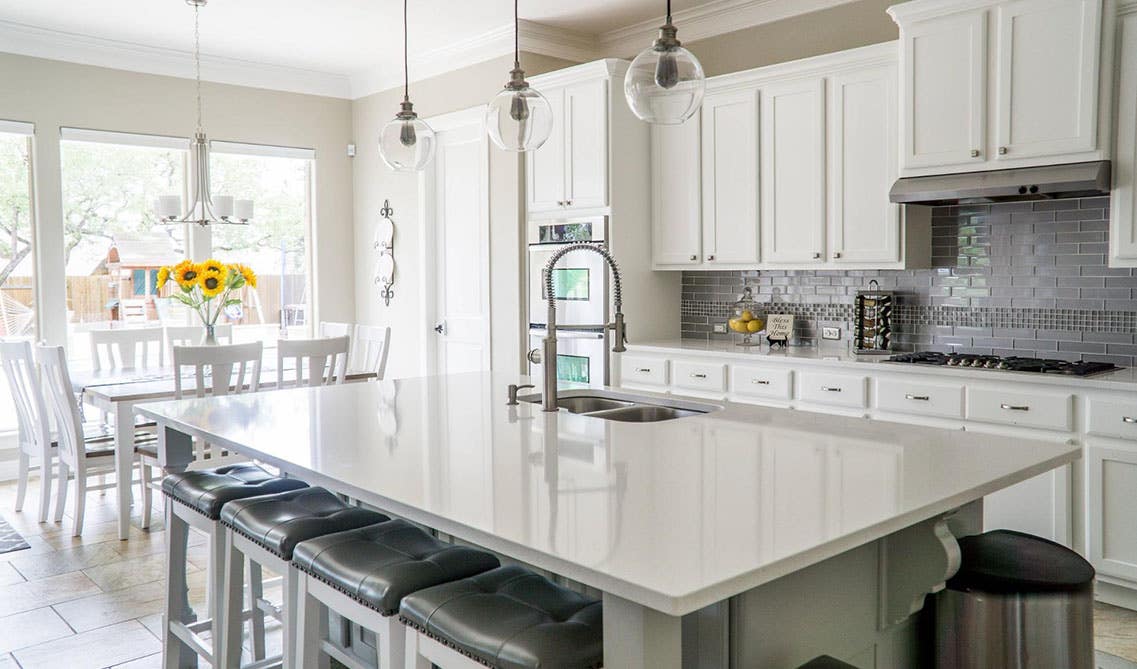 If you're considering installing an island, you need to decide whether your kitchen is big enough to support one. That decision, however, goes beyond merely seeing whether the island will fit in the space. You'll also need to figure out whether there'll be enough clearance space in your kitchen after installation to allow for easy and unencumbered movement.
Generally speaking, you'll want there to be three feet of room between your island and the cabinets/walls/appliances/etc. that surround it. Keep in mind, however, that every kitchen and every homeowner is different. If your existing kitchen cabinets make use of wide doors (i.e., the kind that might bang against the island's cabinet doors when both are open), you may need to leave more space to account for that. Likewise, if your kitchen is typically full of activity - or if those who work within it are on the larger side - you'll appreciate the extra breathing room given by the additional clearance space.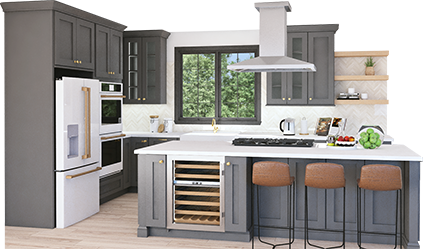 Get your FREE 3D kitchen design today!
Start Now
Design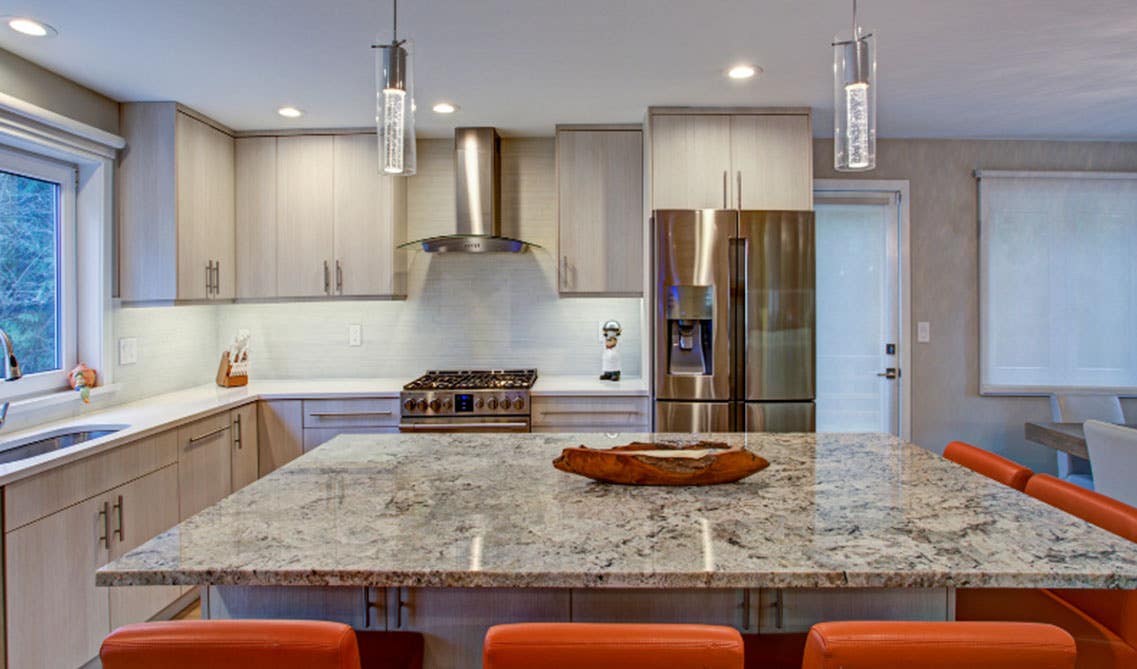 Though perhaps not as important as space considerations, the design of your kitchen island will have a tremendous impact on the overall style of the room. That's because an island is almost always located in the center of the kitchen, where the eye is naturally drawn. A successfully-designed island can tie together a space's aesthetic; an unsuccessfully-designed one can make its aesthetic muddy or confused.
The considerations you'll have to make in this area will be highly dependent on whether you're designing a kitchen from scratch or adding an island to an existing space. If it's the former, you may consider using a more expensive and/or striking material for the countertop of the island and a less expensive yet complementary material for the countertops that surround it. As mentioned, onlookers' eyes are going to be drawn to the island anyway. If you use the best material on the countertop that will garner the most attention, you can save a great deal of money on the material used on those in the background.
If you're adding an island to an existing kitchen, your first priority should be integration. The material you choose for the island's countertop and the styling of its cabinetry should both be determined by what best complements the existing decor. There is, of course, nothing wrong with using a top-quality countertop material in this scenario. Just be certain that said material works with your kitchen's style and that it's not chosen simply because it's expensive. Be sure to give the smaller details of your island (such as its trim or the hardware of its cabinets) their due consideration, too. Though they may seem unimportant in the grand scheme of things, they'll stick out like a sore thumb if they clash with the details of your existing decor.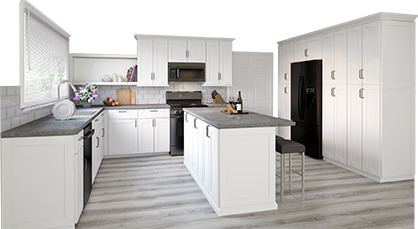 3D Kitchen Visualizer Tool
Bring your dream kitchen to life with our free kitchen visualizer!
Design Now
Functionality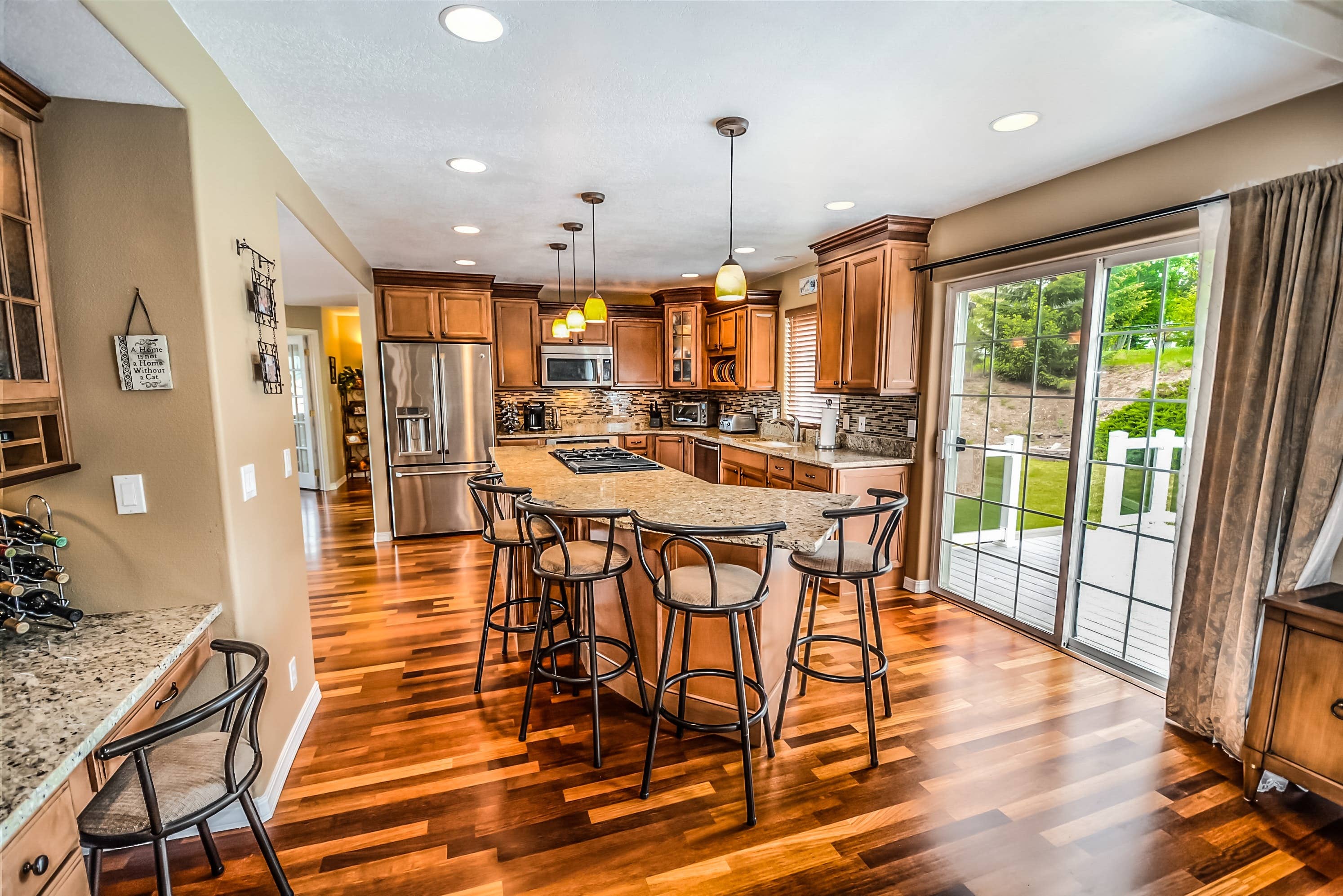 Adding an island to your kitchen means more than just adding to its design - it means boosting the functionality of the space. Perhaps you'd like an additional stovetop to aid in the creation of bigger meals, or maybe you just need a comfortable space for friends and family to gather. This is a consideration that you'll have to make in concert with the decisions regarding space as described above, as islands can take up more or less room depending on what they've been outfitted with.
An island dedicated to cleaning, for example, will typically hold a sink, dishwasher, and space for dishes to dry. Combined, those elements take up significantly more room than those common to a cooking island (typically, just a stovetop and a landing space).
By comparison, installing a kitchen island simply to provide entertaining space allows you more flexibility in sizing that island. There are, however, still a few important guidelines that should be kept in mind when deciding on width, height, and depth. Expert designers recommend providing 24 inches of width for every chair you plan on pairing with the island to ensure that every person who sits at its counter gets plenty of personal space. The depth of the overhang, meanwhile, is dependent on the height of your counter. Those same experts recommend a depth of 18 inches for a 30-inch-high counter, 15 inches for a 36-inch-high counter, and 12 inches for a 42-inch high counter.
When choosing counter height, consider the typical reason why you'd have guests gathered at the island. If it's meant to be used as a breakfast nook, a shorter counter is a better choice as it makes eating more comfortable. If it's meant to spur socialization, a taller counter is likely a superior option as it will allow your guests to easily put up their elbows and otherwise lean as they like.
Design Your Kitchen Island Today
A kitchen island is an exciting addition to a home, one that can add tremendous value both financially and aesthetically. Though the installation and design process has its share of pitfalls that first-time designers often fall into, we're confident that this guide gives you the information you need to create an island that will perfectly suit the needs and style of your kitchen.
If you have any further questions regarding kitchen design, please feel free to get in touch with one of our friendly and helpful customer service representatives. We would also be happy to provide a free 3D kitchen design to help you visualize your new kitchen space.
Related Blogs:
FAQs
1. Does a kitchen island have to be attached to the floor?
Usually, they are connected to the floor to prevent them from toppling over while in use. 
2. How much does it cost to add a kitchen island? 
Kitchen islands are usually around $6,000. 
3. Can you add an island to an existing kitchen?
Yes! Adding an island to an existing kitchen is simple. You can two-tone the cabinets or use the same cabinets as your uppers and lowers. 
4. Does an island have to line up the cabinets?
Yes! Kitchen islands should line up to the cabinets.