When it comes to bathroom design, one trend is currently stealing the spotlight: floating bathroom vanities. These sleek and stylish fixtures not only add a touch of modern elegance to your bathroom but also offer practical benefits like space-saving and easy cleaning. 
If you're looking to elevate your bathroom's aesthetic and functionality, you're in the right place. In this blog, we'll explore 9 floating bathroom vanity ideas that are making waves in the world of interior design.
1. Wooden Wonders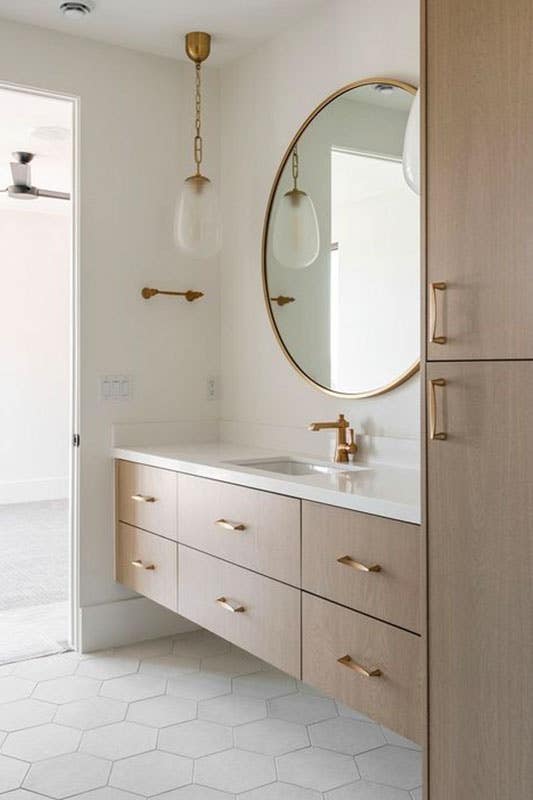 Wooden floating vanities bring warmth and natural beauty to your bathroom. Whether you opt for rich, dark wood or light, airy tones, wooden vanities create a timeless and inviting atmosphere.
Pairing the wood vanity with gold hardware makes this bathroom even more beautiful. Want to incorporate gold hardware into your home? Take a look at Lily Ann Cabinets' selection of gold knobs and pulls that you can purchase today!
2. Double Trouble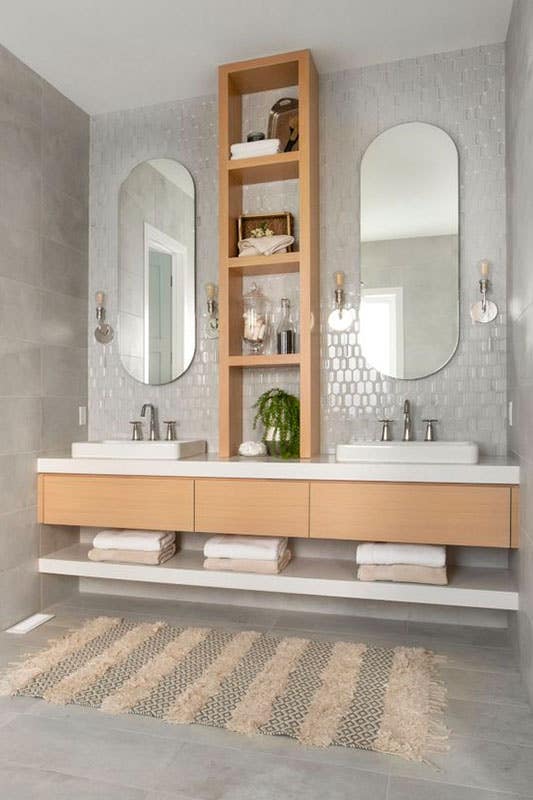 For larger bathrooms or shared spaces, consider a double floating sink vanity. It provides ample storage and countertop space while maintaining the trend's modern appeal. A double floating sink vanity is perfect for large families with multiple people who need to get ready.
Related: 6 Bathroom Vanity Ideas for 2023- Stylish and Functional
3. Concrete Countertops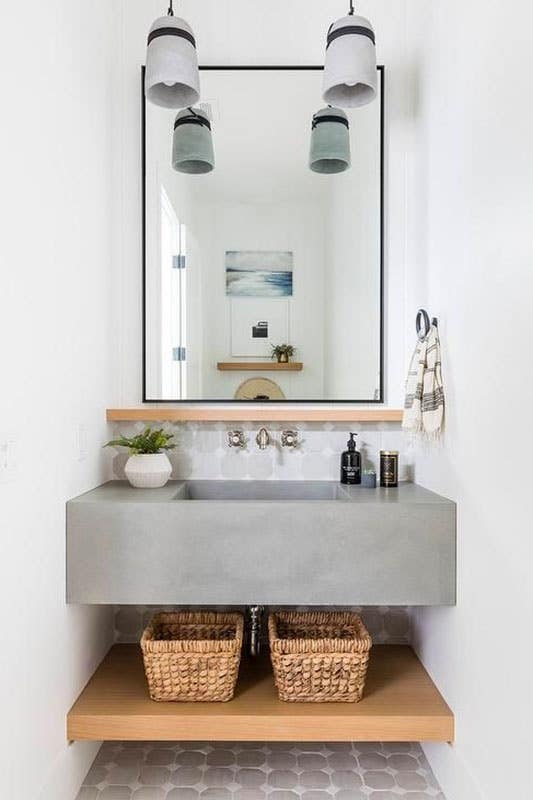 For an industrial-chic vibe, consider a floating bathroom vanity with a concrete countertop. It adds a modern edge to your bathroom while providing durability and a unique aesthetic. The wooden shelf underneath creates a gorgeous contrast in colors while also providing a space for extra storage.
4. Flat Cabinet Doors
The sleekness of flat cabinet doors complements the floating sink vanity concept beautifully. This design choice emphasizes clean lines and a contemporary aesthetic while also providing a hidden storage solution.
5. LED Lights Underneath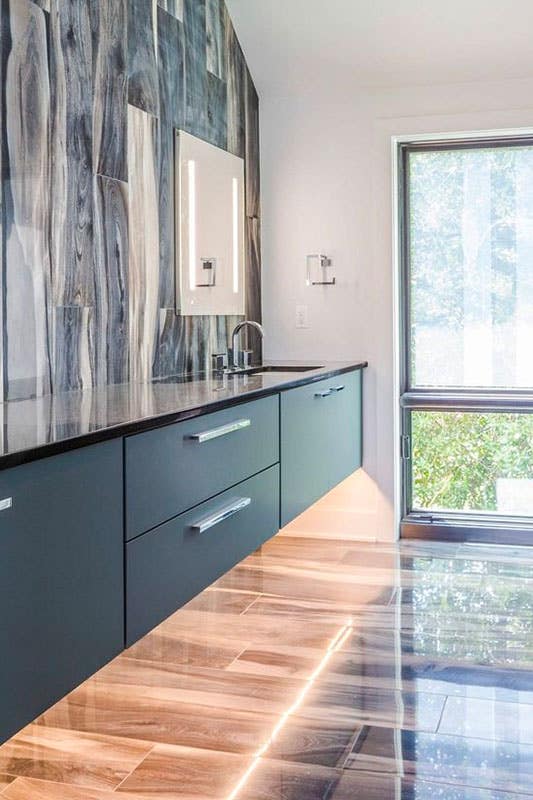 Illuminate your bathroom in style with LED lighting installed underneath your floating bathroom vanity. It not only looks stunning but also provides functional lighting for your daily routines.
Whether you are looking for under-cabinet lighting for your bathroom or kitchen, check out Lily Ann Cabinets' under-cabinet lighting fixtures.
6. Marble Countertop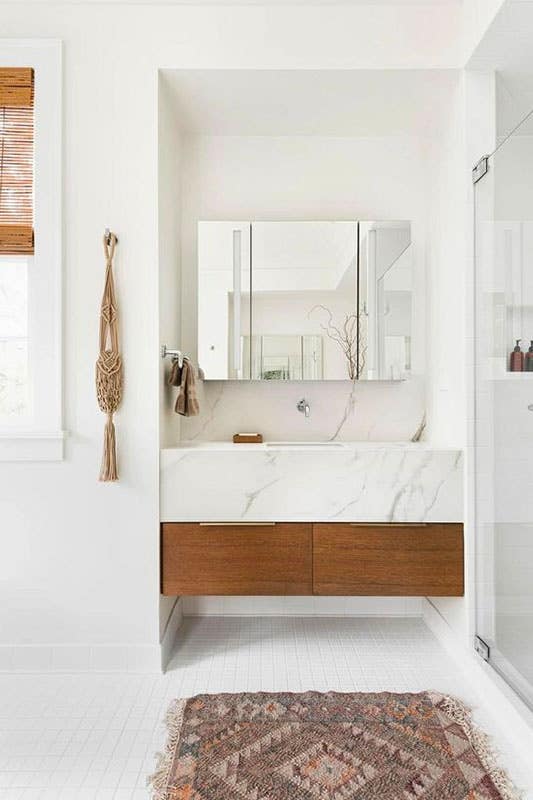 Elevate your bathroom's luxury factor with a floating sink vanity topped with a stunning marble countertop. The combination of wood and marble adds a touch of richness to your space.
Checkout: Bathroom Cabinet Ideas – 13 Smart Designs That are Practical and Pretty
7. Reclaimed Wood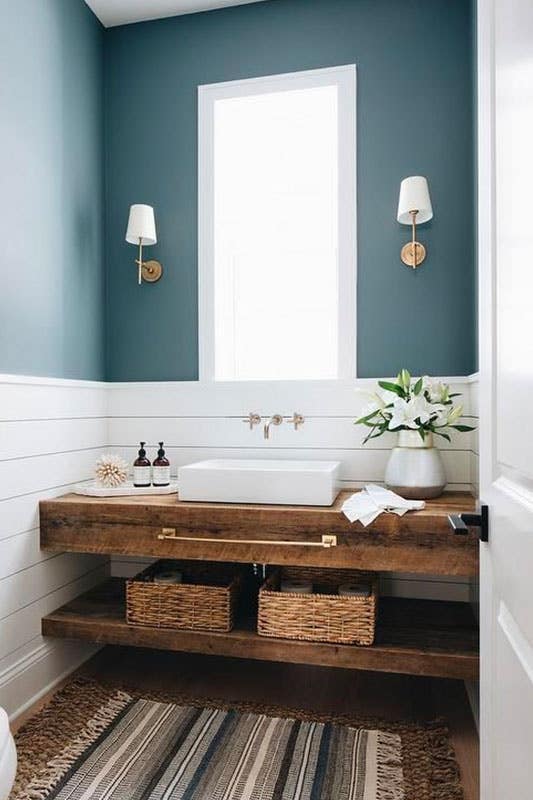 Embrace sustainability and character by choosing a floating sink vanity crafted from reclaimed wood. Each piece tells a story, making your bathroom truly unique. Paired with shiplap and blue walls, this bathroom just exudes beauty.
Checkout: 9 Inspiring Blue Bathrooms That Will lighten up your Space
8. Mirror Panels for Cabinet Doors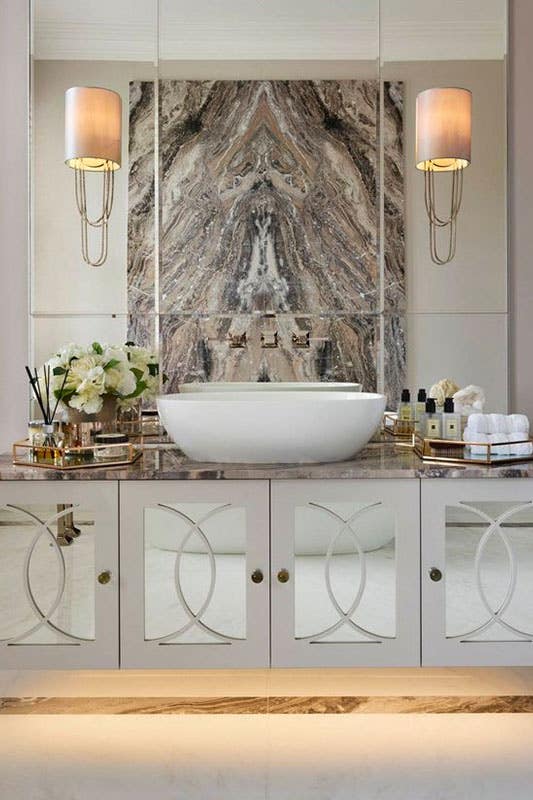 Reflect on this innovative idea – inserting mirror panels into your cabinet doors. The mirrors help make the space feel even bigger than it is. This not only enhances the sense of space but also adds a touch of glamour to your vanity area. 
Checkout: 8 Renovations Tips For Your Bathroom That Are Under $100
9. Simple Yet Elegant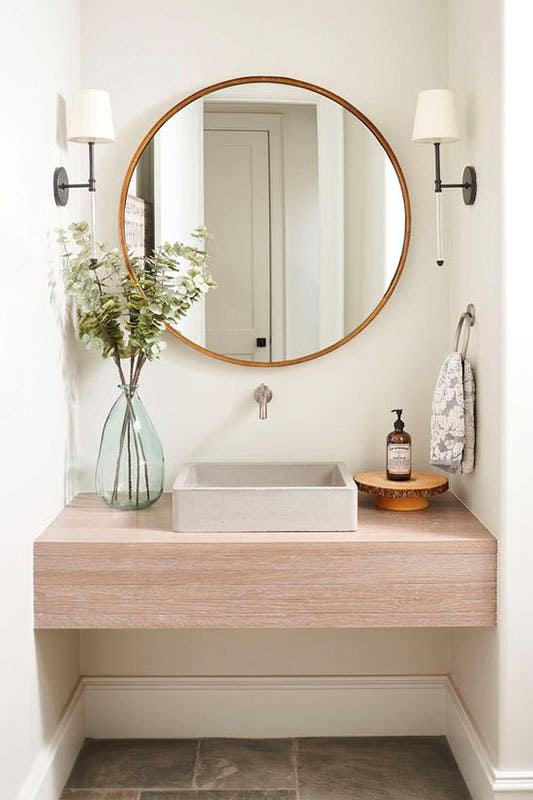 Sometimes, less is more. A slab of wood for the counter along with a minimalist sink creates the perfect base so that you can add decorations to make the space even more inviting. Simplicity and elegance go hand in hand.
In Conclusion…
These nine floating bathroom vanity ideas are indeed stealing the spotlight in the world of interior design. Whether you prefer the natural charm of wood, the luxury of marble, or the modern simplicity of concrete, there's a floating bathroom vanity style to suit every taste and bathroom size. So, why not elevate your bathroom's style and functionality with one of these innovative designs? It's time to make a splash with a floating sink vanity that will leave your guests in awe.
Whether you're envisioning your dream bathroom or kitchen, Lily Ann Cabinets is your trusted partner every step of the way. Our commitment to your project starts with offering FREE 3D design services, allowing you to visualize your space before making any decisions. We understand the importance of quality, which is why we provide FREE samples to ensure your complete satisfaction with our cabinetry.
Our dedication to excellent customer service means we're here to address your questions and concerns, guiding you through the entire process. And with competitive prices, we make it possible to achieve your dream space without breaking the bank. At Lily Ann Cabinets, we're not just selling cabinets; we're helping you create the home you've always dreamed of for you and your family.
Related Blogs: 
FAQs
1. Are floating vanities a good idea?
Yes, floating vanities can be an excellent idea for modernizing and maximizing space in your bathroom. They create a sleek and stylish look, offer an illusion of more floor space, and can be easier to clean underneath.
2. What do you put under a floating bathroom vanity?
Homeowners typically leave the space underneath the vanity open for a clean, uncluttered look. Some use this space for decorative items like baskets or plants, while others may install shelves or storage units for towels, toiletries, or cleaning supplies.
4. Do floating vanities need extra support?
Floating vanities are designed to be sturdy and capable of supporting the weight of sinks, countertops, and other bathroom essentials. However, it's essential to ensure proper installation, including securing the vanity to wall studs or using appropriate brackets, especially for heavier vanities with stone countertops.