When it comes to remodeling any space, flooring might not be the first thing that comes to mind. However, it is a crucial aspect that should not be overlooked. The right flooring material can transform the look of any space, there are endless benefits like improving functionality, quality, and comfort.
Flooring can also have a significant impact on your overall design and lifestyle. In this blog post, we will compare Laminate vs Vinyl flooring providing you with a comparison guide to help you make the right choice.
Laminate vs. Vinyl Flooring Pros & Cons
Laminate Flooring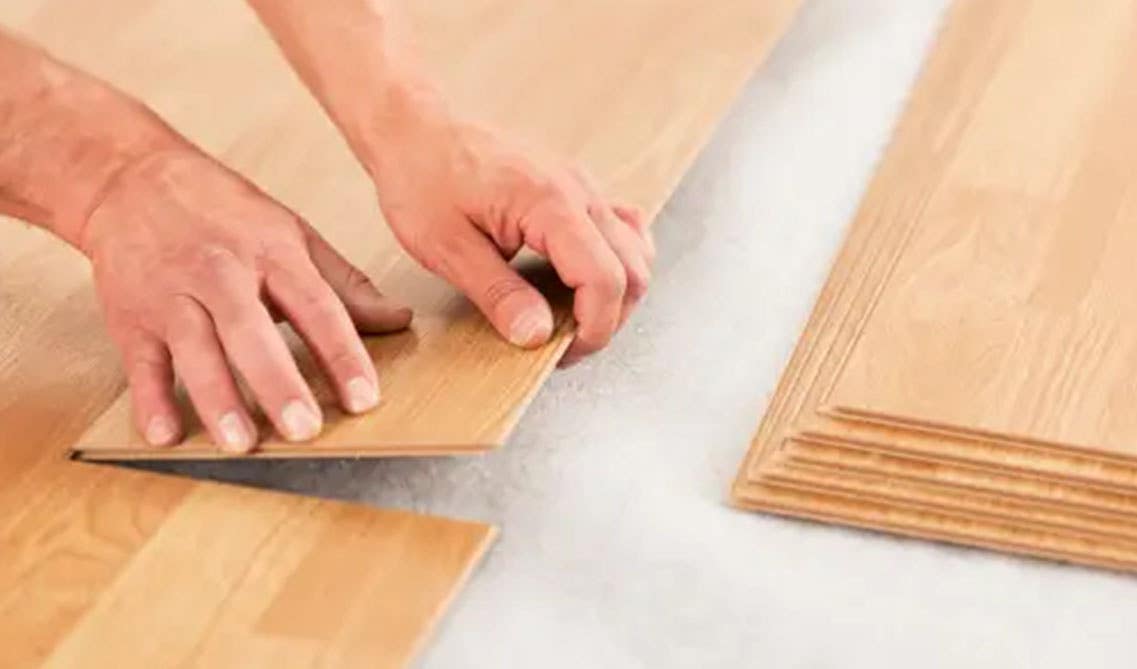 Laminate flooring is known for its ability to closely mimic the look of natural materials, such as hardwood or stone. Advanced printing technologies and embossing techniques are used to create realistic textures, grains, and patterns. The quality of the laminate flooring can vary, with higher-quality options providing a more authentic and detailed appearance.
Pros: 
1. Laminate flooring often mimics the look of natural materials such as hardwood or stone. 
2. It is highly durable and resistant to scratches, dents, and fading. It's a good choice for high-traffic areas or homes with active children and pets.
Cons:
1. Laminate flooring is not recommended for areas with high moisture levels, such as bathrooms or basements, as water can seep between the planks and cause swelling or warping.

2. While laminate is durable, it can be challenging to repair if it gets damaged. In most cases, damaged planks need to be replaced entirely.
Vinyl Flooring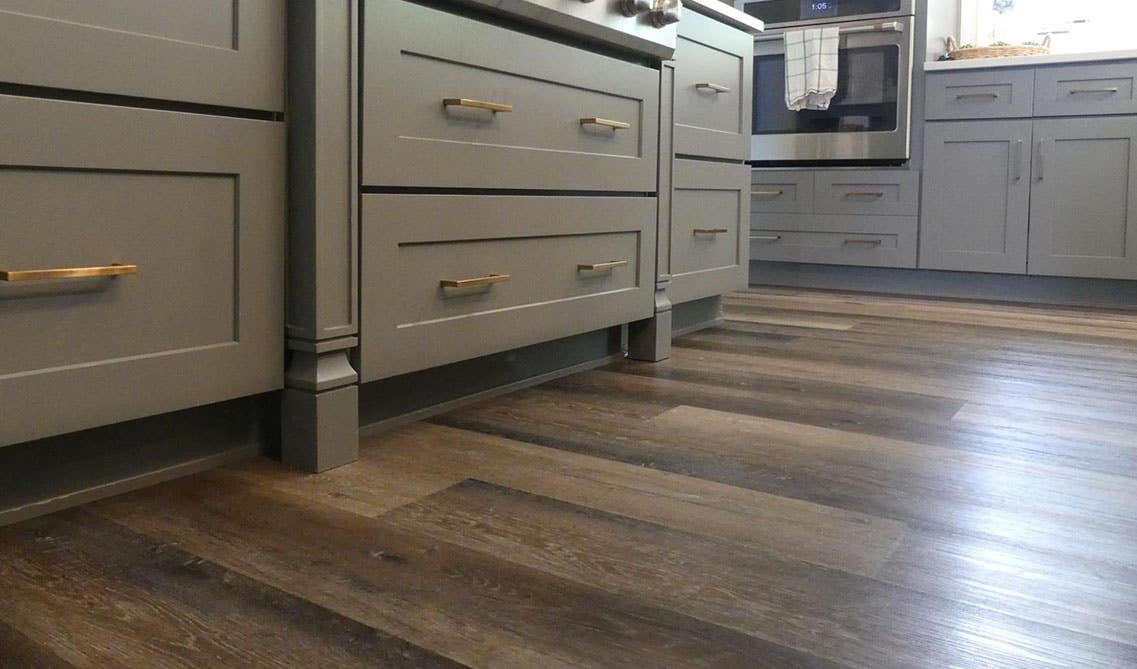 Vinyl flooring can also closely resemble hardwood, offering various wood species designs with realistic wood grain textures and colors. The vinyl planks often have embossed textures that enhance the authenticity of the wood look. Vinyl flooring often features embossed textures and surface effects that add depth and realism to the design. For example, it can mimic the feel of grain or natural stone textures, enhancing the overall visual appeal. 
Pros: 
1. Vinyl flooring is highly resistant to moisture, making it suitable for areas prone to spills, such as kitchens, bathrooms, and basements. It can withstand water without warping or damage.
2. Vinyl flooring comes in a wide range of styles, colors, and patterns. It can imitate natural materials like wood or stone, offering plenty of design options to suit different aesthetic preferences.
3. Vinyl flooring has a softer and more cushioned feel underfoot compared to laminate or hardwood. It provides a comfortable surface to walk on and can absorb noise, making it ideal for homes with children or in multi-story buildings.
Cons:
1. Similar to laminate flooring, vinyl can be challenging to repair if it becomes damaged. In many cases, damaged sections may need to be replaced entirely.
Comparing Costs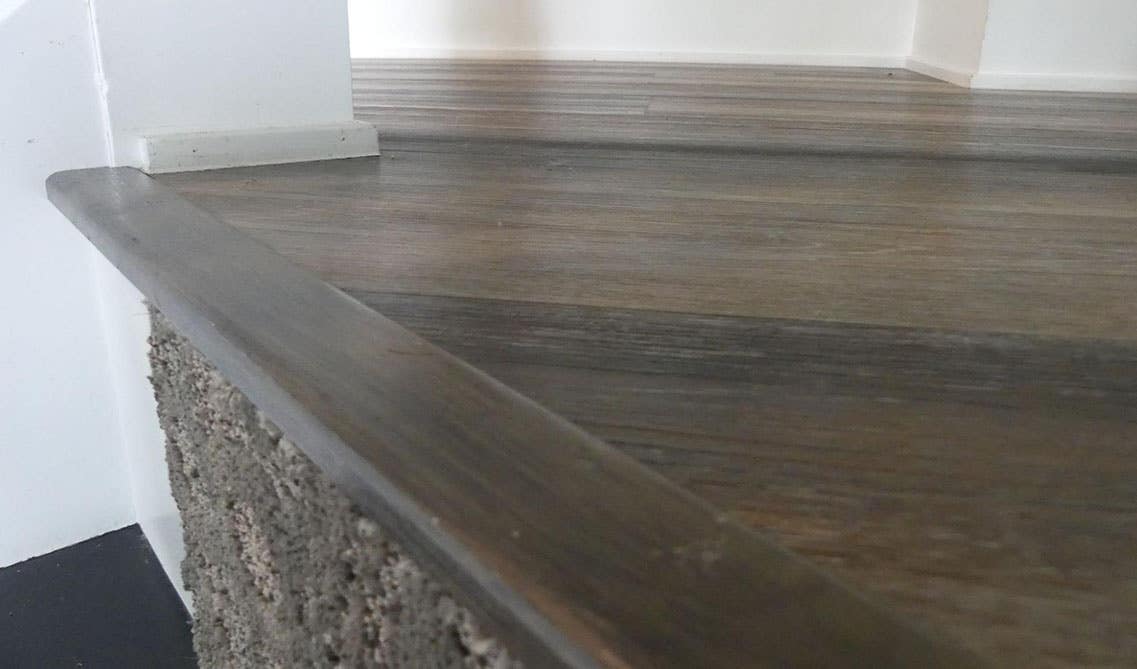 To give a general idea of the price range, laminate flooring can cost between $1 to $5 per square foot for materials. However, higher-end or premium laminate options can be more expensive, ranging from $3 to $7 per square foot. Vinyl flooring can typically cost anywhere from $2 to $10 per square foot for materials. This includes both sheet vinyl and luxury vinyl flooring options. 
Lily Ann Cabinets offers premium flooring for only $3.50 per square foot. This means you get the highest quality flooring for the best price. An additional benefit is their being 100% waterproof, our SPC flooring is the best option on the market. They will stand the test of time, whether you have a full house of kids or pets! Additionally, If hiring a contractor or professional is not in the budget, buying SPC vinyl flooring is not only affordable, the push-click system makes it easy for anyone to install themselves!  
Lily Ann Cabinets SPC Vinyl Flooring
At Lily Ann Cabinets we offer three different styles of vinyl SPC flooring to choose from. These floors are 100% waterproof, which makes them great for kitchens, bathrooms, and basements. This flooring is engineered for durability and designed for fashion. The IXPE underlayment provides multiple benefits as well as underfoot comfort.
This vinyl flooring will not mold or deteriorate, it is abrasive resistant, easy to clean, fire resistant, and lastly impact resistant. Don't forget this flooring is affordable and will be sure to fit your budget. The advantages are endless making SPC flooring perfect for any space in your home.
White Oak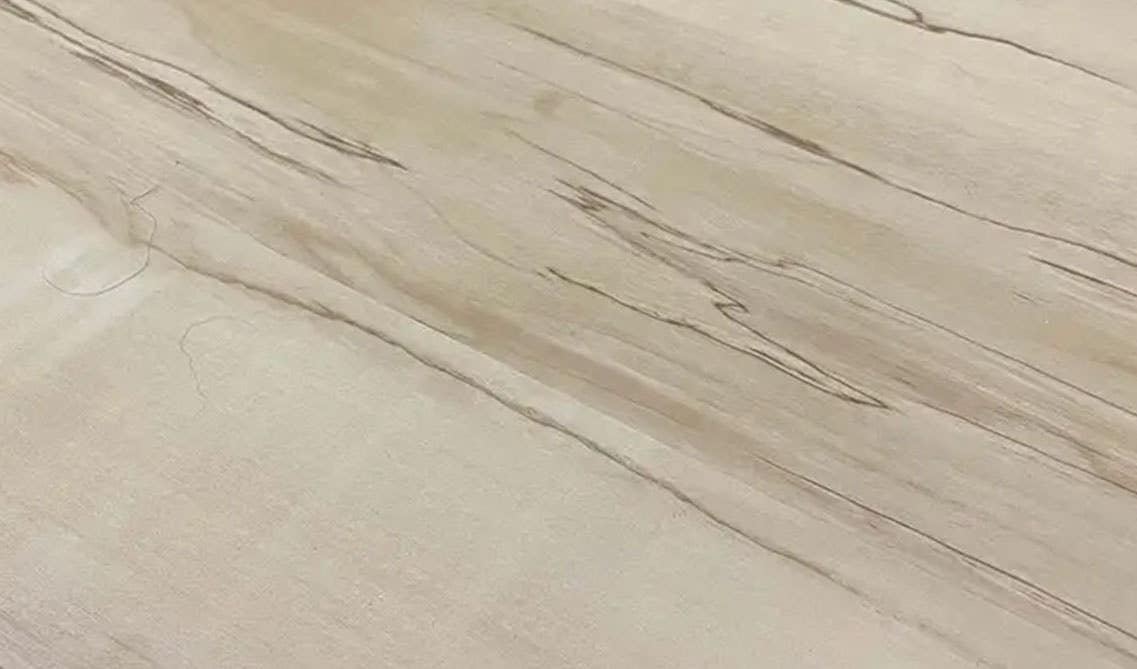 White oak flooring is a popular choice for many homeowners due to its durability, timeless appearance, and versatility. White oak is known for its light color with a subtle pattern. This can be complemented with a variety of interior styles. We usually recommend pairing dark cabinetry with this flooring to easily tie in the colors. 
Rustic Brown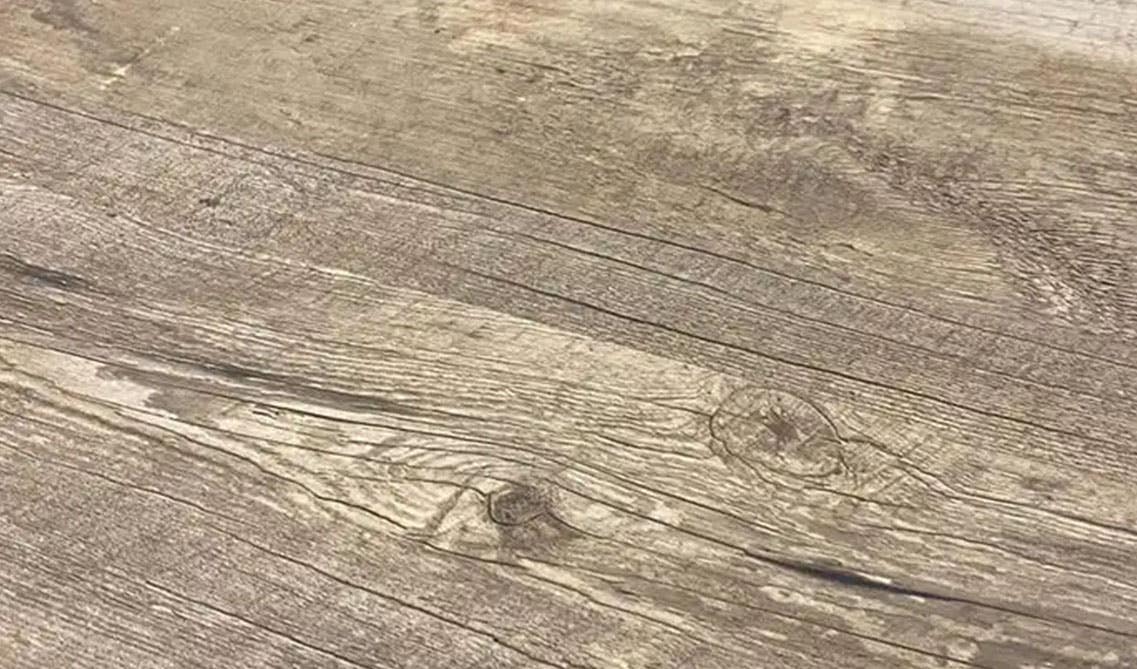 Rustic brown flooring is another popular choice for homeowners who desire a warm and inviting atmosphere with a touch of natural beauty. This type of flooring features a brown color palette with varying tones and textures, often highlighting the natural characteristics and imperfections found in wood. The best part about rustic brown flooring is that it pairs well with any color cabinetry and makes all spaces stand out. 
Chestnut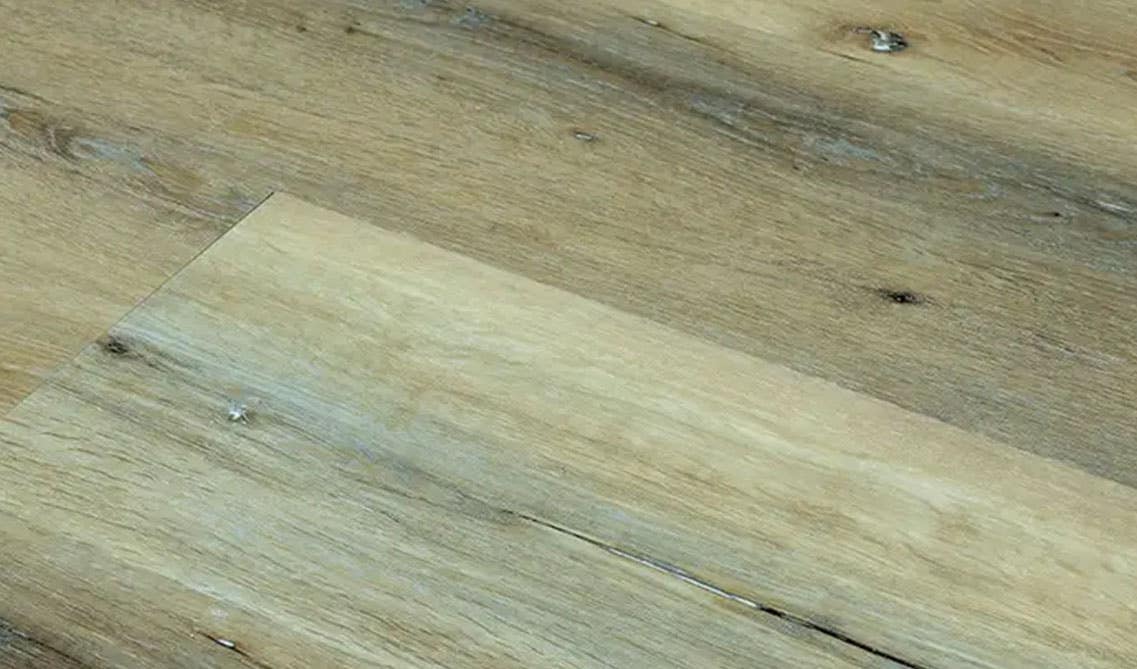 Chestnut flooring is a classic and timeless choice that adds warmth and elegance to any space. Chestnut is another beautiful choice known for its rich color with hints of brown undertones. Its distinctive grain patterns and occasional knots add character and charm to any part of your home. This is another one of Lily Ann cabinet flooring options that pair well with any style of cabinetry, making it a perfect choice for you.

Installation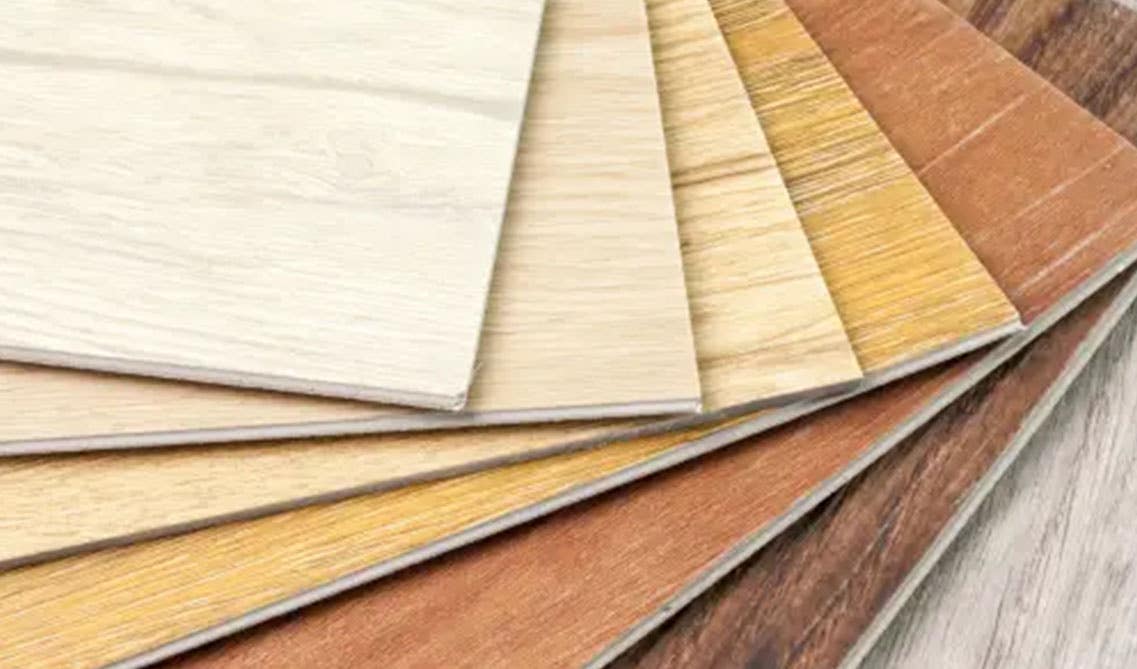 SPC flooring is easy to install with little to no subfloor prep, can be installed over any standard underlayment, and has a patented push-click system. The 30 mils UV-coated wear layer will ensure that these floors will last a lifetime longer! With the patented push-click system, installing flooring has never been so easy.
Related Blogs: 
FAQ's
1. Which is more durable laminate or vinyl flooring?
Both laminate and vinyl flooring are known for their durability, however, vinyl flooring is more resistant to moisture than laminate flooring.
2. Is laminate cheaper than luxury vinyl?
Both have around the same price range, however, Lily Ann cabinets offer premium luxurious vinyl flooring for only $3.50 per square foot.
3. What's the best flooring for dogs?
Lily Ann Cabinets SPC flooring is the best choice for dogs, they are extremely durable and waterproof being perfect for high-traffic areas in the home.
4. What Are Other Kitchen Flooring Materials?
Ceramic or porcelain tiles are a common choice for kitchen floors, along with Hardwood flooring which is also durable but can be susceptible to water damage.