Browsing the web for ideas on how to style your rustic kitchen? There are plenty of options available, from Cabinets, and hardware to flooring and everything in between! Check out these 15 options that will help you create the rustic kitchen look you've been dreaming of, no matter what your personal tastes may be.
What is Rustic Style?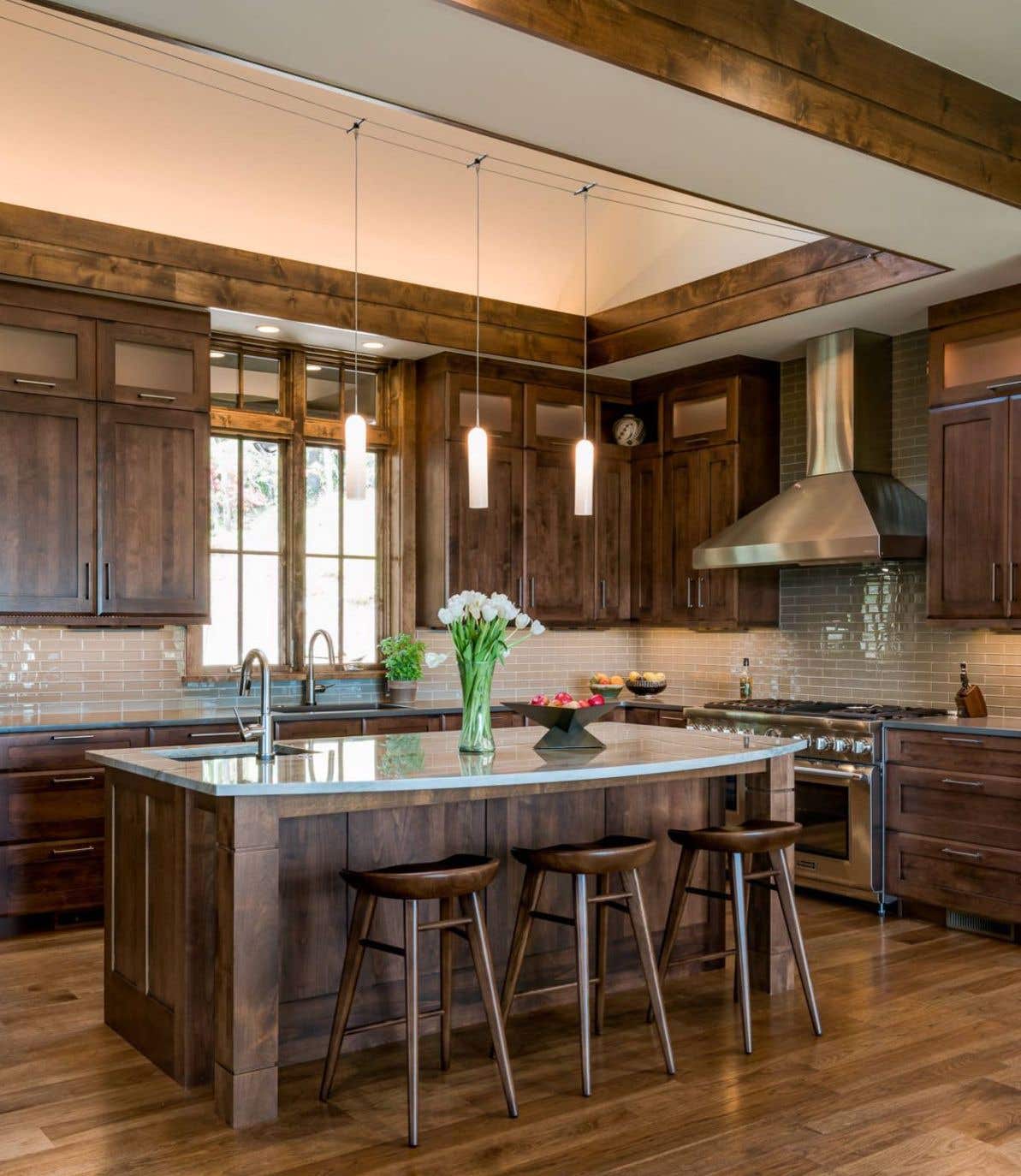 The look is a combination of rugged and elegant, woodsy and modern. It's a popular aesthetic that extends beyond cabinets and into kitchen counters, backsplashes, tables, and appliances. For an attractive blend of old-school character and fresh style, choose rustic colors such as reds and browns mixed with light wood tones such as beige or white. If you prefer something brighter, try painting your cabinets in shades of cream or pale yellow to capture a rustic vibe without going overboard on earthy hues.
Here are some other ways to give your kitchen an instant rustic-style facelift.
Popular Colors For Country Style Kitchens
Country style kitchens are instantly recognizable because of their attention to rustic details. Cabinets are typically made from wood, often stained or painted a bold color to really make them stand out. If you're looking for inspiration for your country kitchen, look no further than these popular colors. There's something for everyone, whether you want to stick with one color across all cabinets or break it up with bold hues.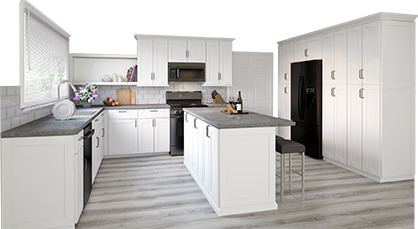 3D Kitchen Visualizer Tool
Bring your dream kitchen to life with our free kitchen visualizer!
Design Now
1. Gray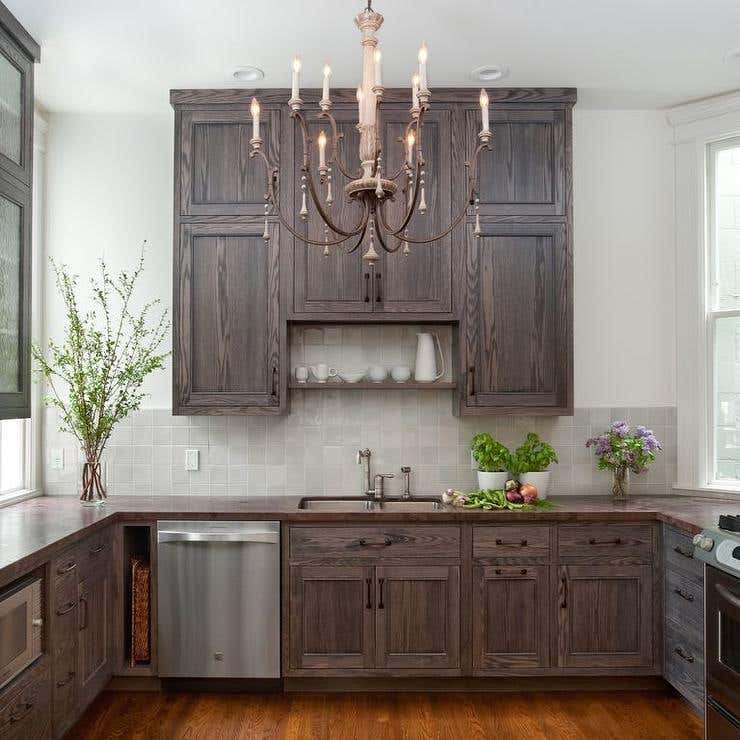 Gray is an excellent option if you don't want too much attention drawn to your cabinets but still want a hint of color in your space. Look for lighter greys if you prefer more of a soft palette and darker greys if you like stronger tones. A greyish brown cabinet is another option for a kitchen space that will present a stunning, rustic look like the kitchen above.
Browse York Driftwood Grey kitchen cabinets at Lily Ann Cabinets for up to 50% off box store pricing!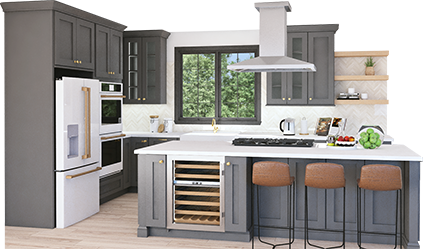 Get your FREE 3D kitchen design today!
Start Now
2. Blue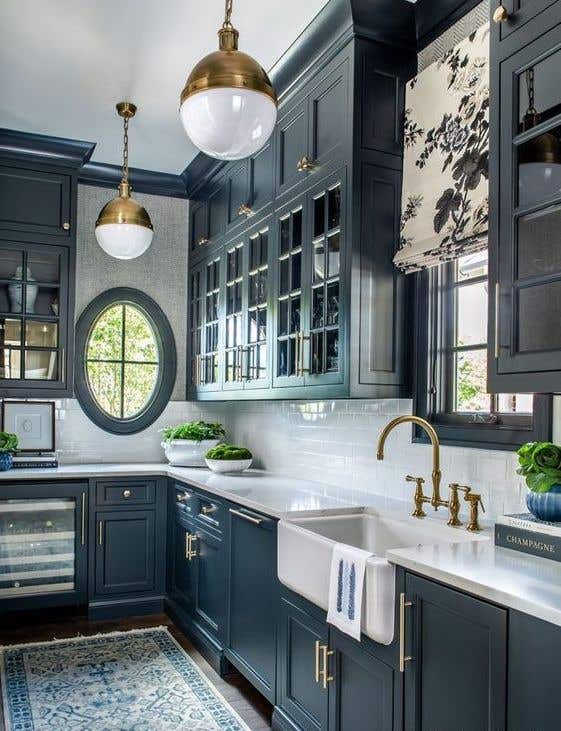 Blue is one of those colors that goes well in most spaces and looks great with nearly any style of furniture. You can even use bright teal blues or deep navy blues; just try not to go so dark that they become black as they'll overwhelm other design elements. If you choose a dark blue cabinet like the ones shown above, using bright elements in the rest of the kitchen will give off a stunning, elegant look in the space. These homeowners chose to do white countertops, paired with a white backsplash and gold accents to brighten and warm up the dark rustic cabinets.
Browse our popular Navy Blue Shaker cabinet line today!
3. Yellow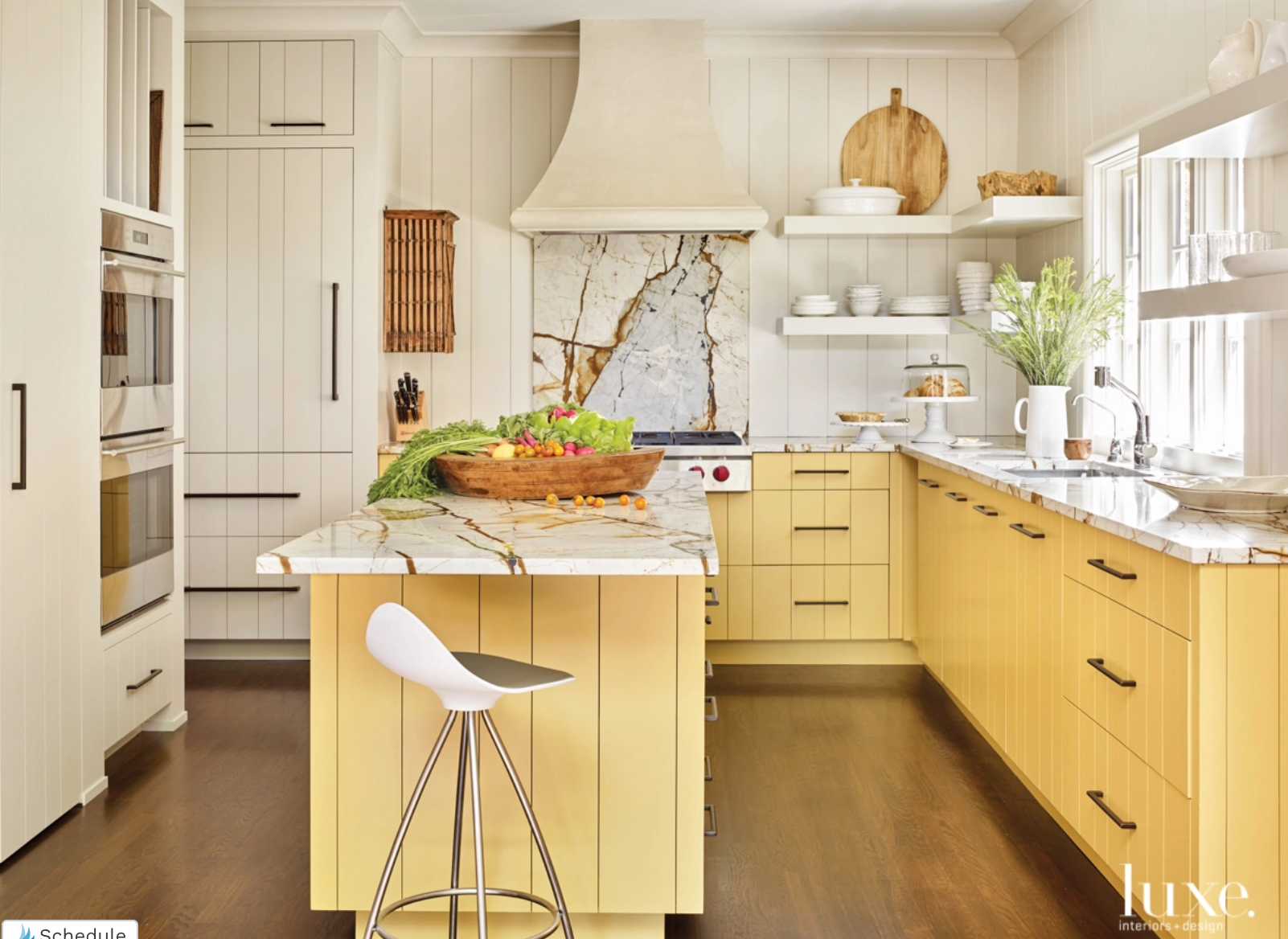 Yellow isn't usually thought of as a traditional kitchen color, which makes it perfect for bringing some interest into your space without making it too busy or flashy. The right shade of light yellow works wonders at complementing other rich hues found in cabinetry and flooring. For the perfect rustic look, try pairing the rustic yellow cabinets with another color of cabinetry.
4. Red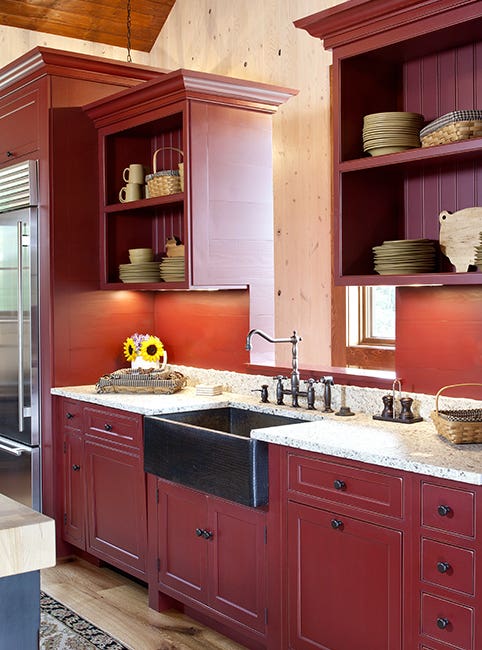 Red kitchens may be synonymous with Italian-style restaurants, but they also work well for creating a cozy, inviting atmosphere within your home. Pick brighter reds if you want extra drama or deeper reds if you prefer something more understated. For less of a statement in the space, pairing the red cabinets with another color of kitchen island cabinets is a great way to do so.
Shop affordable rustic red kitchen cabinetry at Lily Ann Cabinets!
5. Pink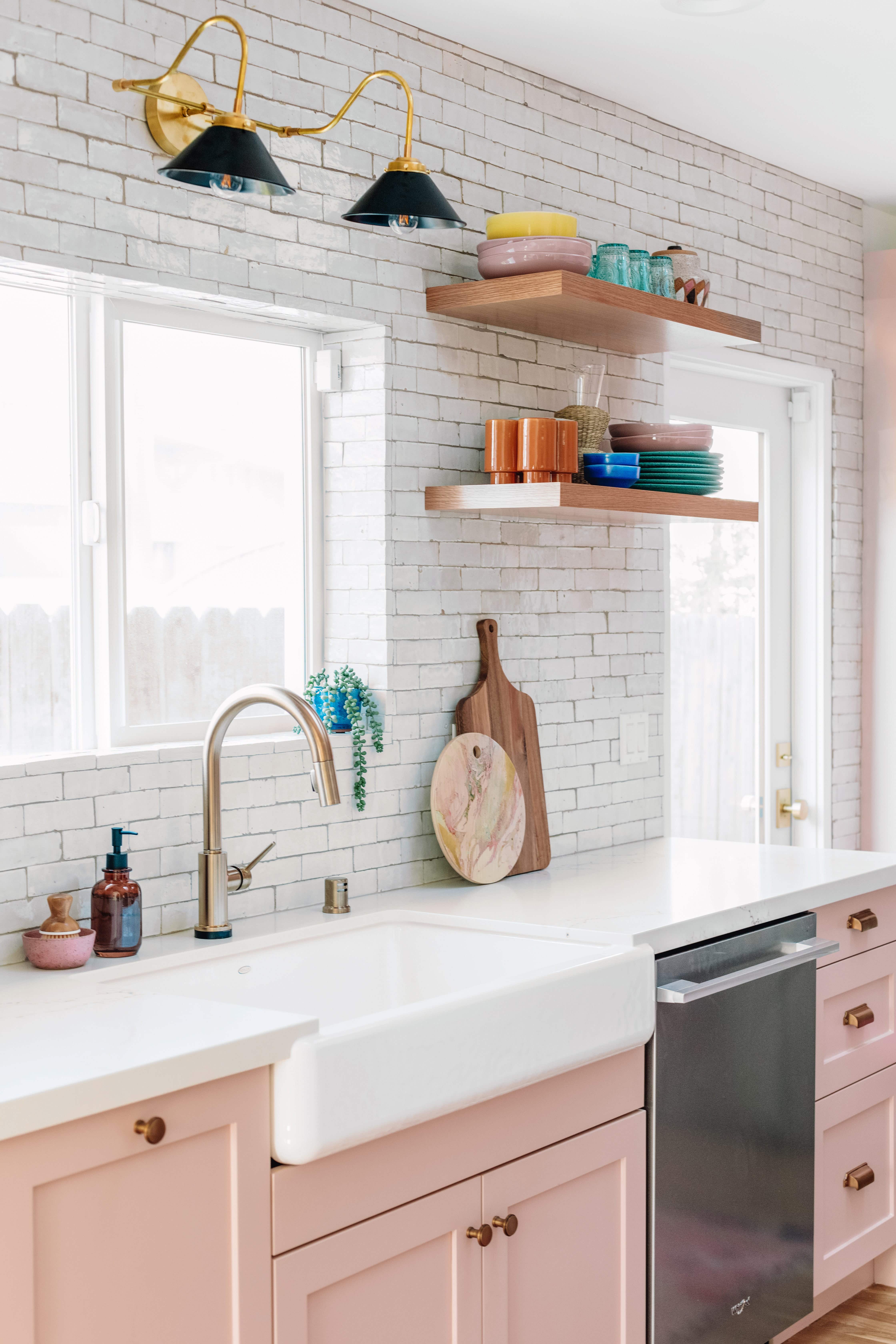 Pink was once considered an odd choice for kitchen cabinets, but many homeowners now love using it as part of their decorating scheme because it's feminine without being too girly—perfect for creating an elegant yet warm ambiance. Light pinks will blend nicely with farmhouse décor while bolder shades will give a retro feel.
6. Green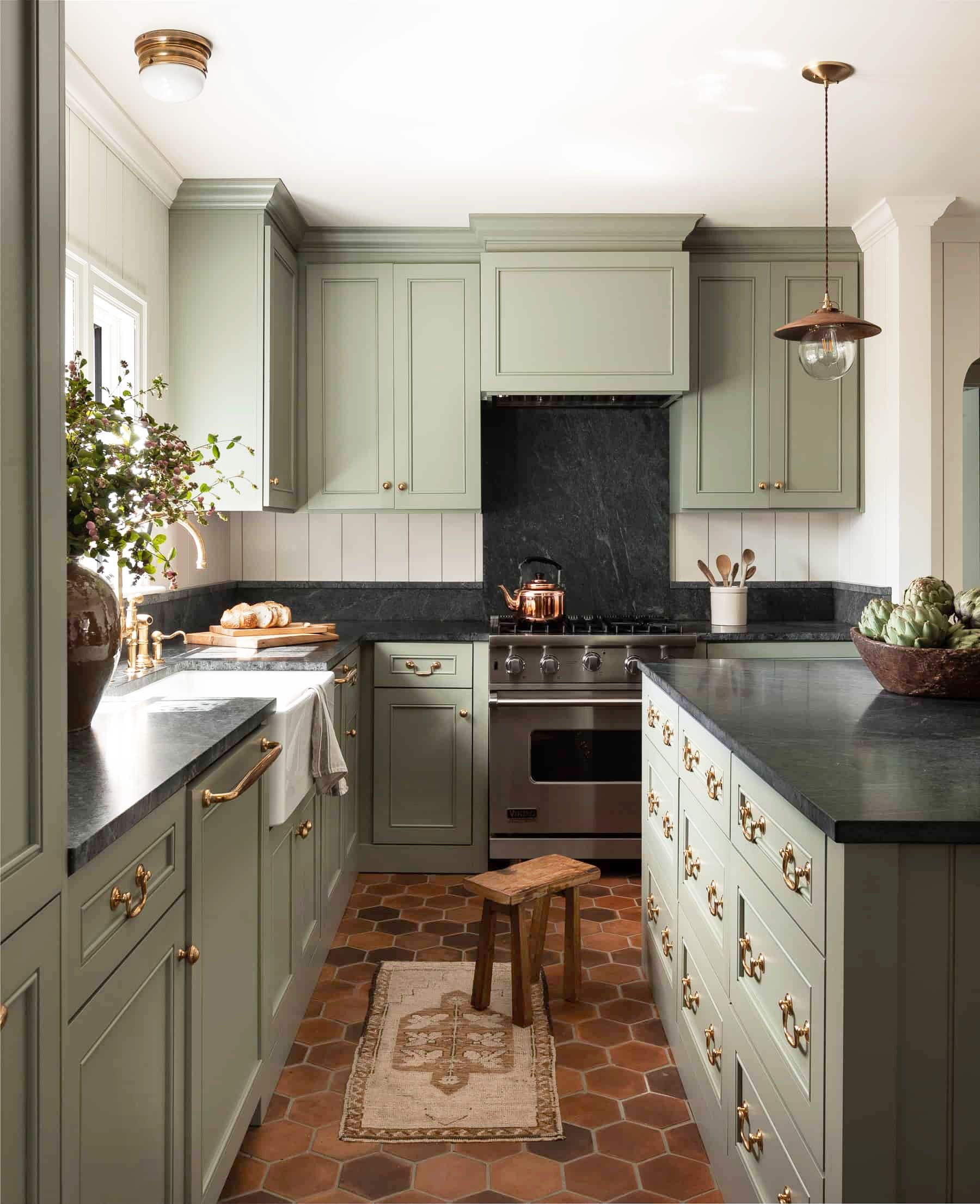 Green is another unexpected choice that can bring energy into any kitchen space, particularly if you choose a vibrant hue such as lime green or electric green. Depending on what other elements you have going on in your room, these colors could potentially clash with anything else inside your house, so do some planning before choosing a shade!
Browse our popular Lily Green Shaker Cabinets today!
7. Orange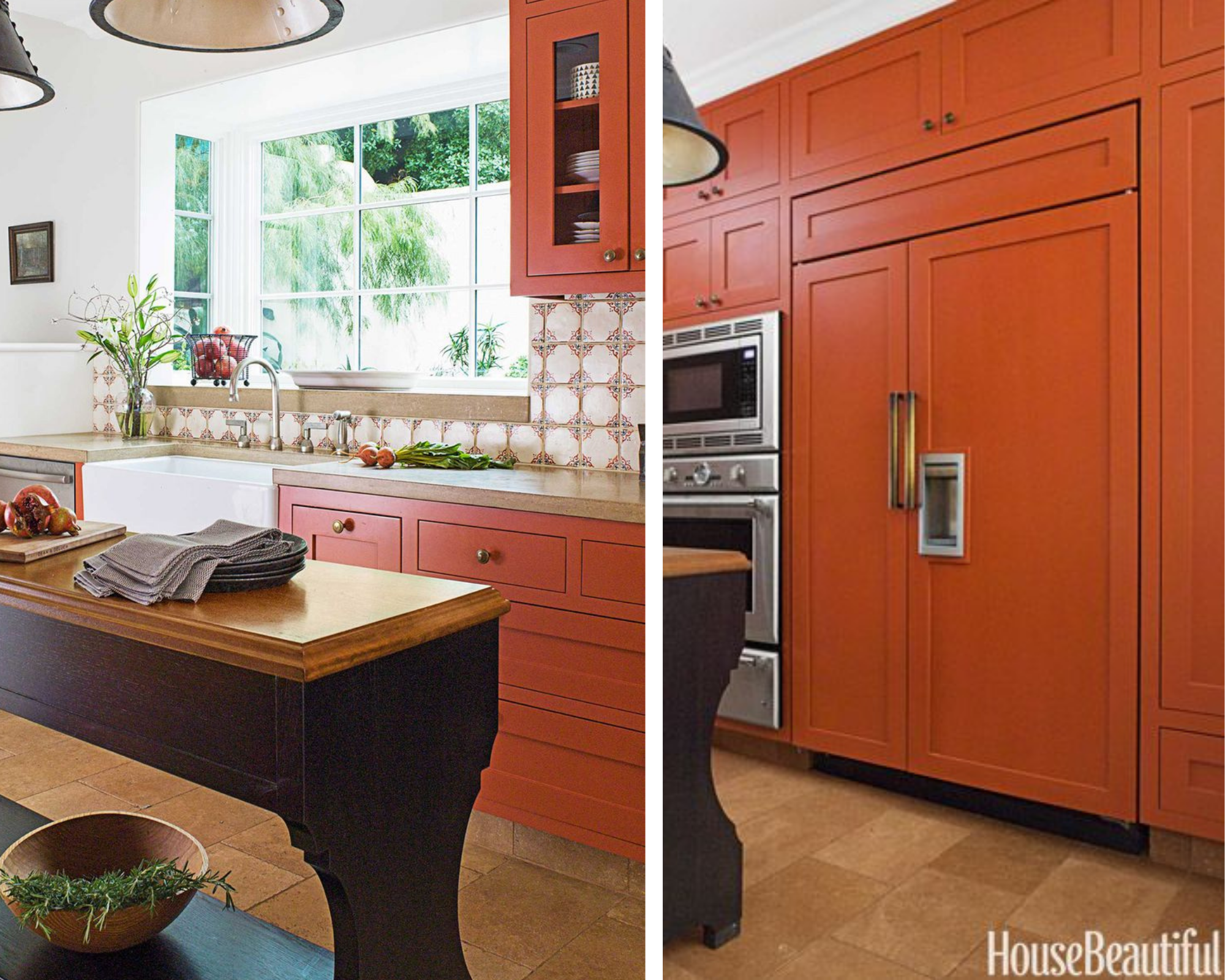 Orange kitchens aren't quite as rare as they used to be thanks to bold trends taking over homes everywhere. That being said, you should still proceed carefully when selecting an orange tone—go overboard and you risk looking tacky instead of stylish. Use a bright accent wall instead if you want your décor to pop but don't want a full-on orange kitchen. Burnt orange cabinets, like the cabinets pictured above, is a great way to have an orange-colored kitchen without it looking tacky.
8. White/Cream/Beige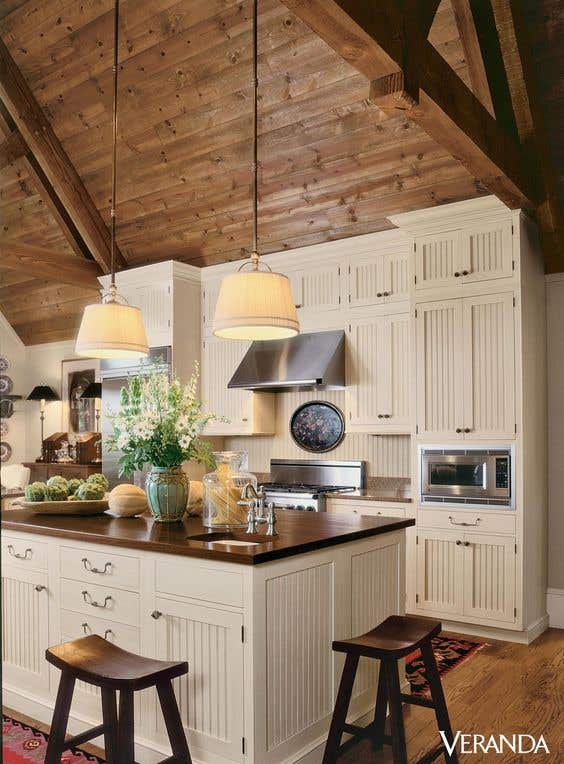 White, cream, and beige are timeless neutrals that provide a blank canvas for letting other elements speak louder than your cabinets. They tend to appear larger in size compared to doors clad in richer colors because there isn't anything standing out about them--and there's nothing wrong with that either way!
Love the look? Check out our York Linen cabinet line!
Choosing The Best Design
Before heading to the store, it's best to narrow down your design options. Even if you choose a straightforward cabinetry style, there are still many choices that will affect your kitchen's functionality and aesthetics. You should decide whether you want ready-to-assemble or pre-assembled cabinets (Lily Ann Cabinets offers both!).
Then look at customization options for things like finishes, hardware, and countertops. Don't forget about other elements such as wall treatments and flooring – they can be just as important as cabinet selection in setting an aesthetic tone for your space.
Check out Lily Ann's Ready-To-Assemble kitchen cabinets!
Styling Tips
If you're building your own kitchen cabinets or renovating, don't forget to take into account what style of cabinetry best suits your kitchen. Don't worry—if you're not a cabinet-making master, many styles are available ready-made for you to install.
Some of these options can go more rustic than others—keep that in mind as you look through them all. For example, if your space is very rustic already, stick with something more contemporary instead. Likewise, if it's modern and minimalistic, there's no need to add extra elements to make it rustic. The general rule here is to know your space and its aesthetic before making any decisions.
Backsplashes can often be overlooked in favor of making sure all other areas are extra fancy—but don't forget about yours! A great backsplash can add just as much to a room as almost any other part, so spend some time figuring out what would look best and most suitable.
Backsplash Ideas
Many people choose to tile their backsplash, which is a great option for those who want a relatively inexpensive yet stylish option. The material you choose depends on your overall vision and budget. Make sure to take into account all the other small details that complement what's above your cabinets, like knobs and handles, hanging pot racks, and wall art. Backsplashes provide an interesting way to play around with textures and colors, so feel free to get creative!
Consider these backsplash options for a rustic kitchen below:
Glazed Tile Backsplash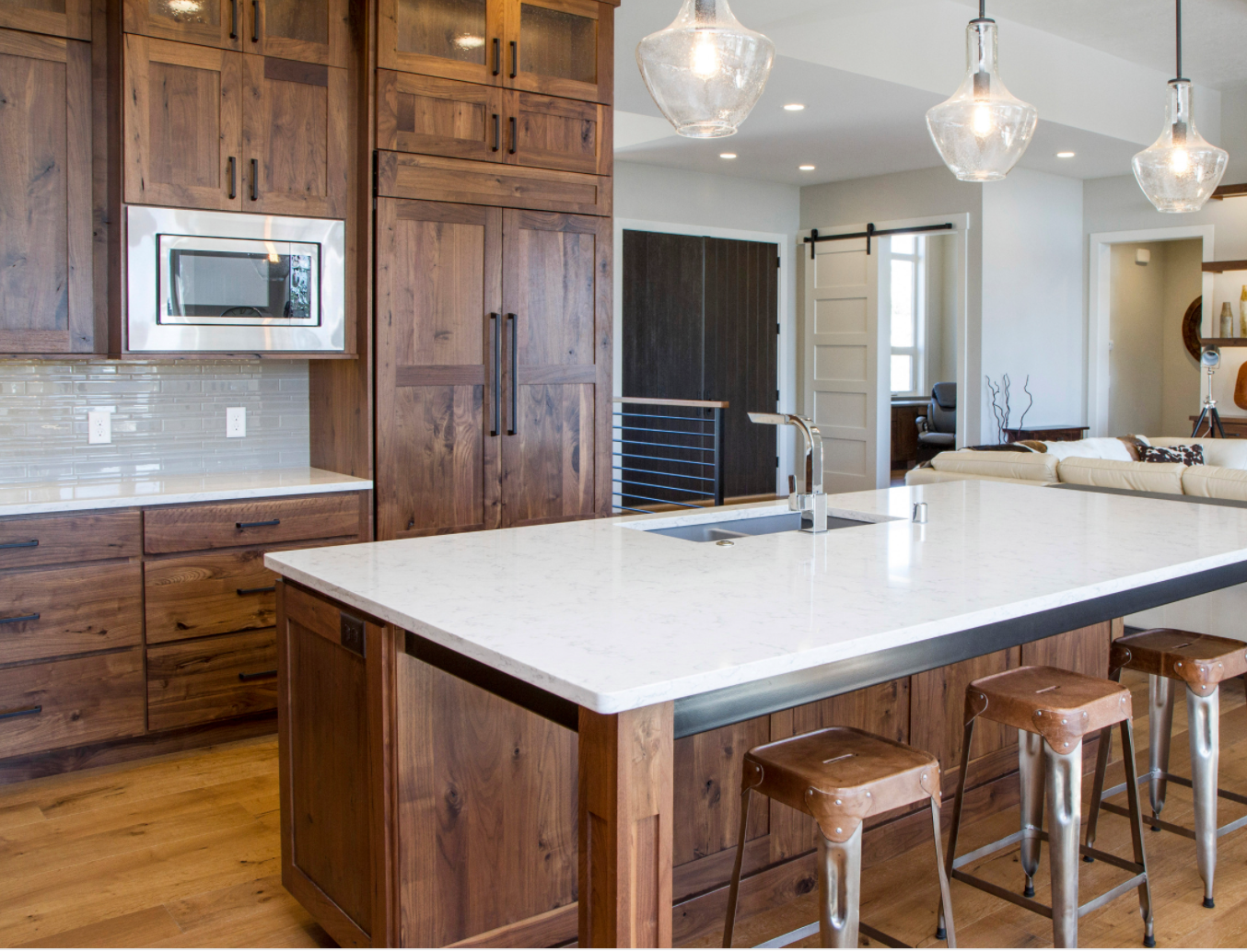 Glazed tile is a type of backsplash that surely will never go out of style. When paired with dark rustic cabinets, these tiles bring more of a modern feel to the kitchen space. If you don't want your rustic kitchen to look too country or farmhouse style, a bright and modern glazed tile backsplash will do just the trick!
View affordable, stylish backsplash options.
Checkout: 11 Rustic Kitchen Backsplash Ideas for Timeless Charm

Rustic Brick Backsplash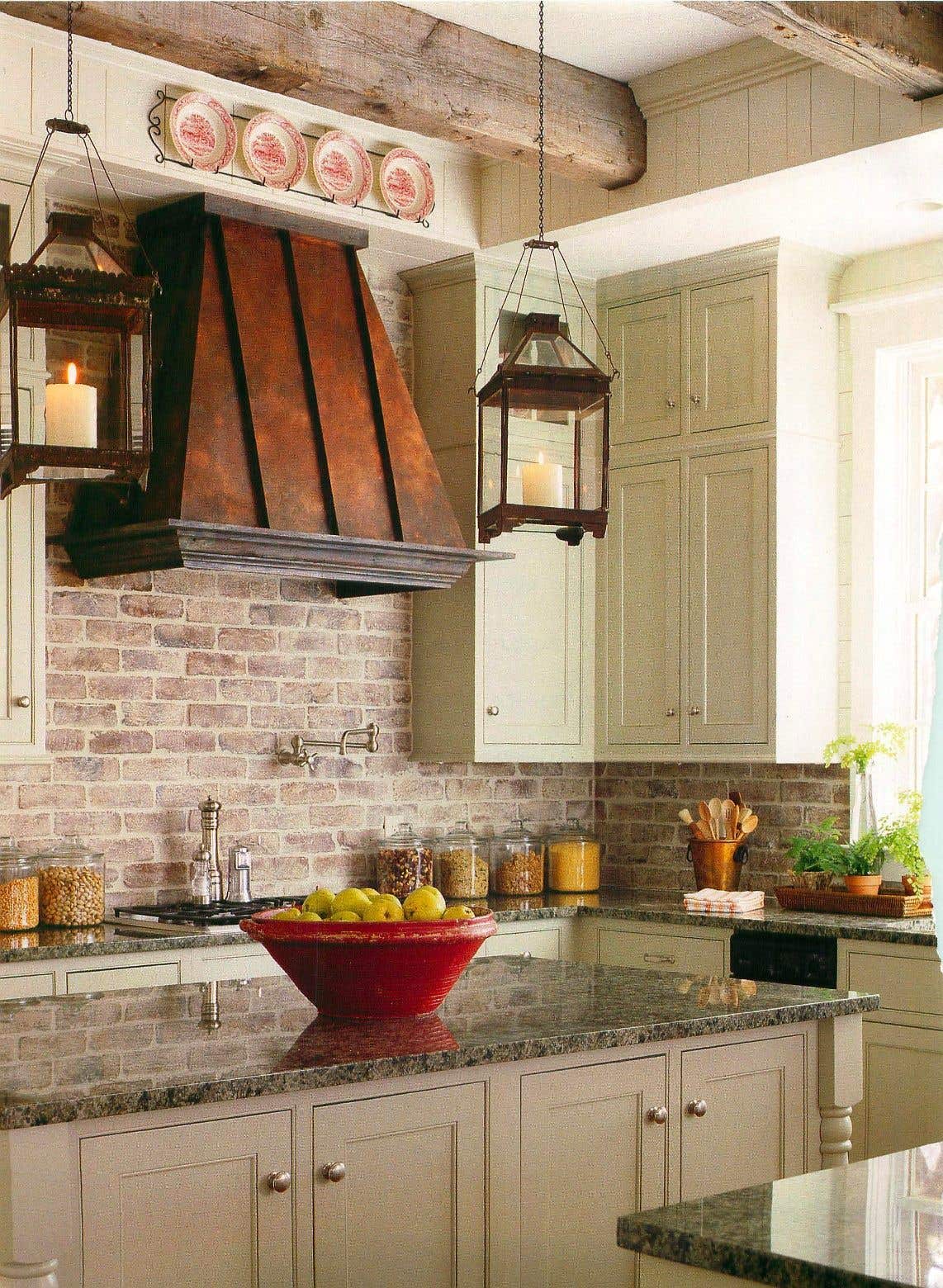 For a stunning rustic look, a brick backsplash is the perfect option for your kitchen. They aren't too bold, not too subtle, and do the trick of adding another rustic element to the space. Natural brick backsplashes come in all colors, shapes and sizes, making them great for any rustic style kitchen!
Natural Stone Backsplash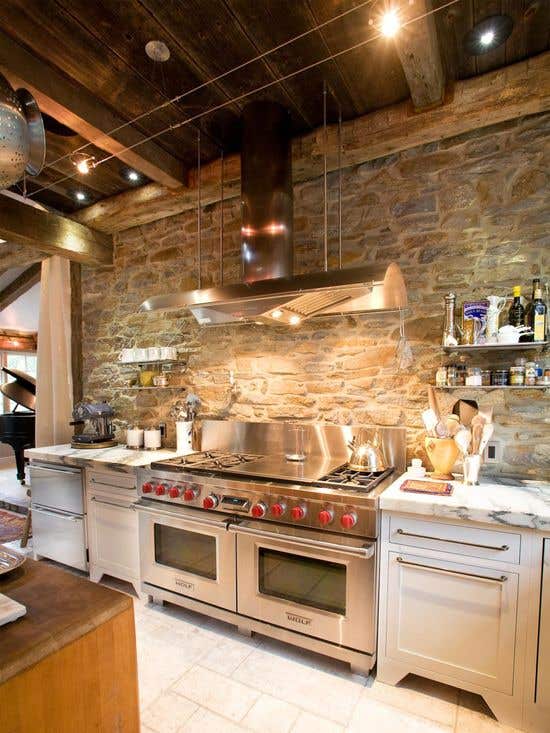 If you are looking to create the ultimate rustic kitchen, a natural stone backsplash (or entire wall) would make your kitchen space look magazine-ready. Not only is this type of backsplash extremely durable, but you can find hundreds of different and inexpensive options. Bringing outdoor elements indoors is a big part of the rustic style, therefore a natural stone backsplash is a great way to incorporate an outdoor element in your kitchen.
Hardware Style Ideas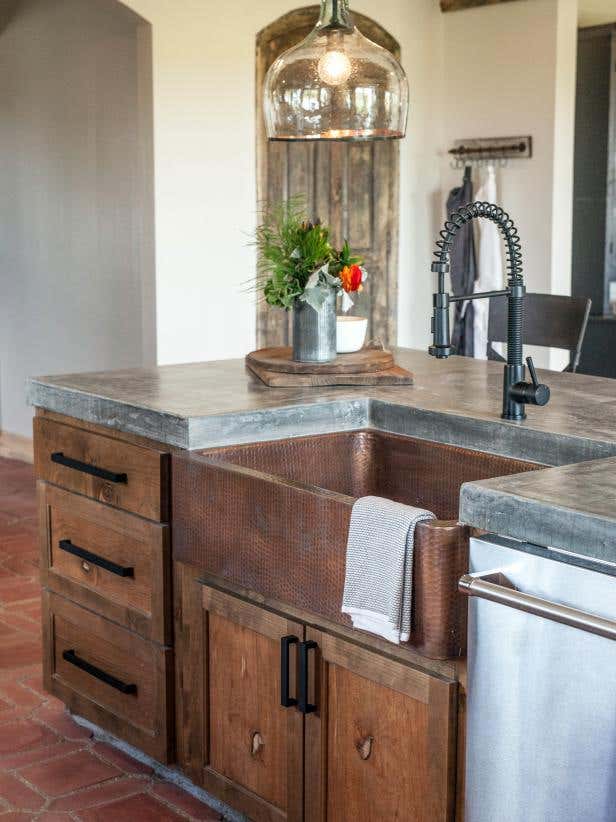 If you're looking to add a little rustic charm to your kitchen cabinets, consider picking out custom cabinet hardware for your next remodel. The idea might seem daunting, but rest assured there are plenty of styles available that are both inexpensive and simple to install. From hinges to knobs, pulls, and latches, take some time today to explore all your options. And before you know it, you'll have found something to suit every design need!
Rustic Kitchen Cabinet Styles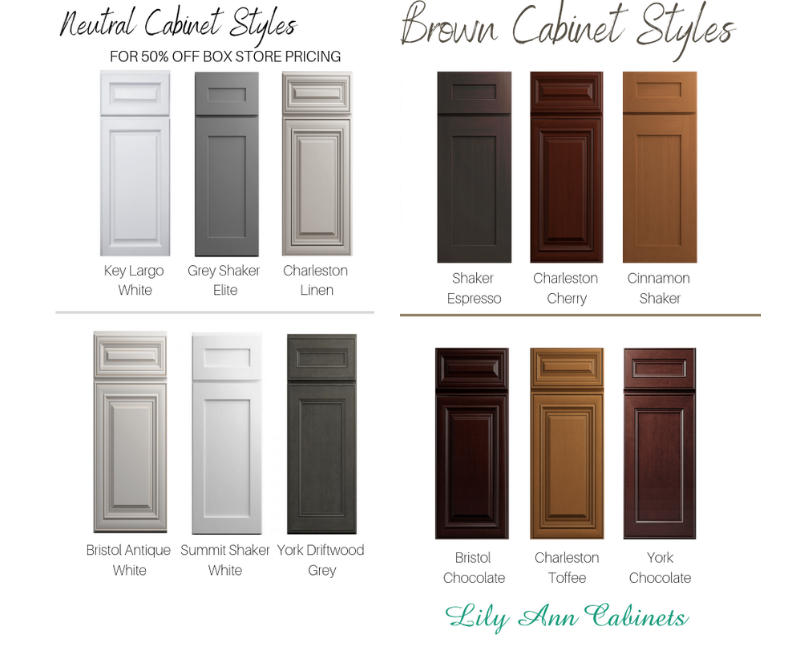 There are many different styles of rustic kitchen cabinets to choose from. In addition to these popular styles, you may want to consider having a custom kitchen cabinet made as well. What kind of style do you have in mind? If you're not sure, have a look at our inspiration gallery for some ideas on rustic kitchen cabinets. You might be surprised how versatile they can be. From low-key shaker-style cabinets to more modern takes on cabinetry, there are so many options available. Although most wood-paneled kitchens tend to take on a farmhouse vibe with their original design, cabinets that have been refinished or refreshed into an updated appearance will produce completely new looks that aren't too far off from what comes naturally to handcrafted furnishings.
No matter which route you decide on when selecting a style of kitchen cabinetry for your rustic kitchen design, creating an overall cohesive feel is important. Look at all of your decor and make sure it's something that will work with that. Otherwise, you might find yourself in an unplanned mismatch of styles and aesthetics.
Shaker Cabinets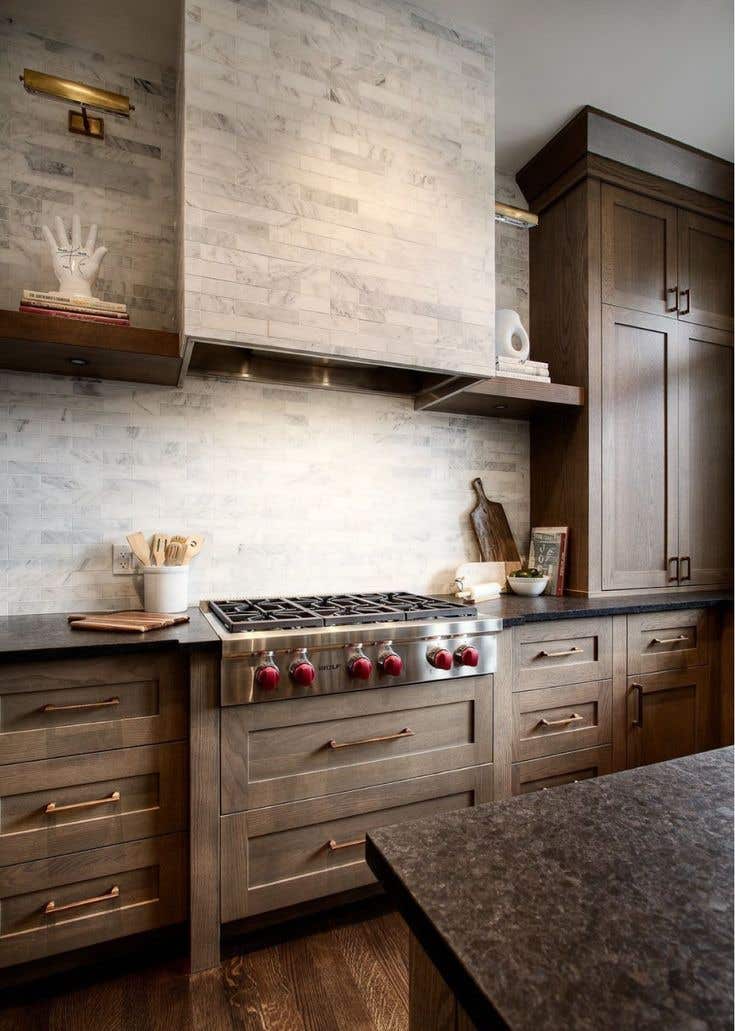 Shaker-style cabinets are well-known for being a modern style of cabinet. Therefore, for the perfect modern yet rustic look, shaker cabinets will do just the trick. They come in all colors and finishes, making them versatile to whatever color palette your rustic kitchen is. The beautiful brown shaker cabinets shown above perfectly encapsulate both a modern and rustic feel.
Shop RTA brown shaker cabinets at up to 50% off box store pricing!
Raised Panel Cabinets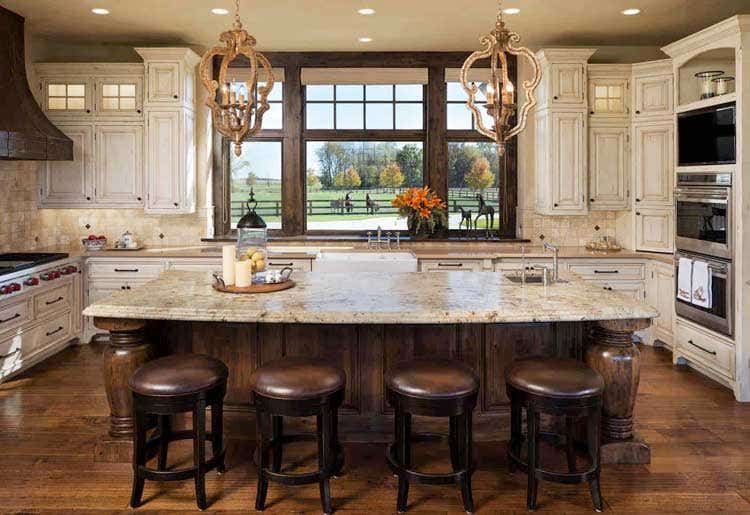 For the ultimate rustic look, raised panel cabinets are a great option. Raised panel cabinets come in all colors, finishes, and glazes, so they surely will match whatever your rustic color palette is. If you choose to incorporate raised panel cabinets, colors like white, beige, brown, and stained wood will look stunning amongst the other rustic elements in the space.
Love this look? Lily Ann Cabinets' York Linen Off White and Charleston Saddle raised panel cabinets will give your kitchen the perfect rustic facelift!
Minimalist Cabinets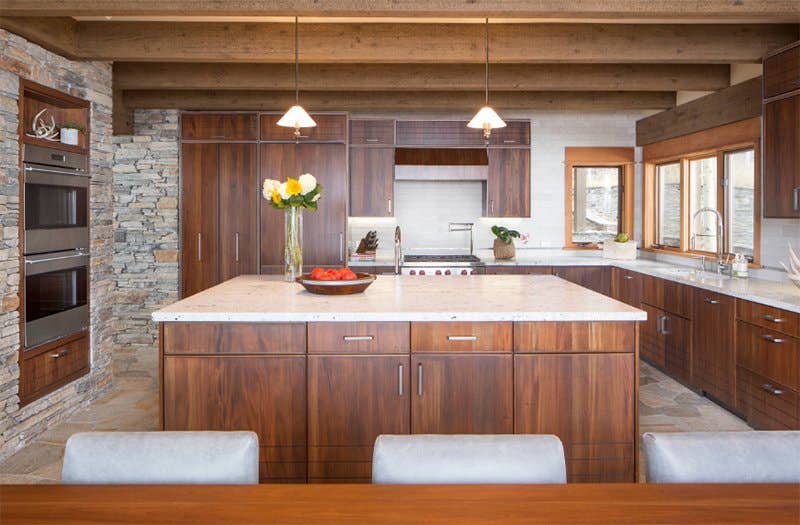 If the traditional rustic look is not your style, and you want more of a modern flare while still having a taste of rustic, then minimalist cabinets are the perfect type of cabinet to incorporate in your kitchen. Slab doors present a minimalist look, but depending on the finish they can give off more of a rustic aesthetic. The cabinets pictured above are a beautiful brown color with honey accents, paired with the rustic stone feature wall and natural wood beams, forming a stunning modern-rustic space.
Create Your Dream Kitchen With Lily Ann Cabinets
We offer a wide selection of premium cabinetry, hardware, shelving and more to help you create a room that stands the test of time. Pick from our large array of kitchen and bathroom cabinetry, including white shaker cabinets that come with soft-close hinges. Our professional designers are on standby to work with you — we offer FREE samples and FREE design and quote. Visit our FREE 3D design tool to get started today!
Related Blogs: 
FAQs
1. What is a good style of cabinet for a rustic kitchen?
Styles of cabinets for a rustic style kitchen depend on what kind of flare you want. For more of a modern-rustic kitchen look, slab or shaker cabinets will do the trick. For a traditional-rustic kitchen look, raised panel cabinets are the perfect option.
2. What colors go along with a rustic style kitchen?
Beiges, white, grey, browns, and greens are all colors that pair perfectly with a rustic style. The rustic style is all about bringing outdoor elements indoors, therefore your color palette should also represent outdoor elements.
3. What is an inexpensive way to incorporate rustic kitchen cabinets?
An inexpensive way to incorporate rustic cabinets in a kitchen is to refinish your existing cabinets. Re-stain or paint them, and slightly sand the cabinets to give them a rustic look. Another inexpensive way to incorporate rustic cabinets in a kitchen is to order RTA (Ready-To-Assemble) cabinets, which is an inexpensive way to order your kitchen cabinets.