Modern rustic kitchens blend contemporary design elements with rustic charm to create a warm, inviting atmosphere. Here are some ideas to inspire and create your own modern rustic kitchen:
1. Use natural materials: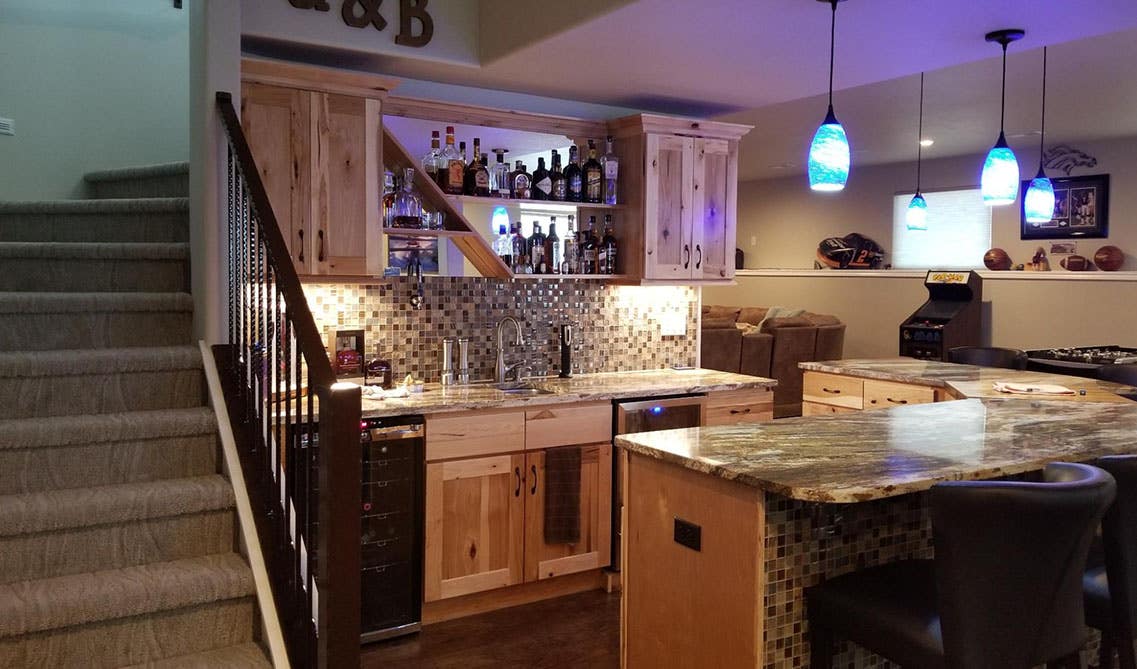 Lily Ann Cabinets: Hickory Shaker Cabinets
 Incorporate natural materials such as wood, stone, and brick to create a rustic feel. For example, you could use reclaimed wood for your flooring, or install a stone backsplash.
2. Mix and match styles: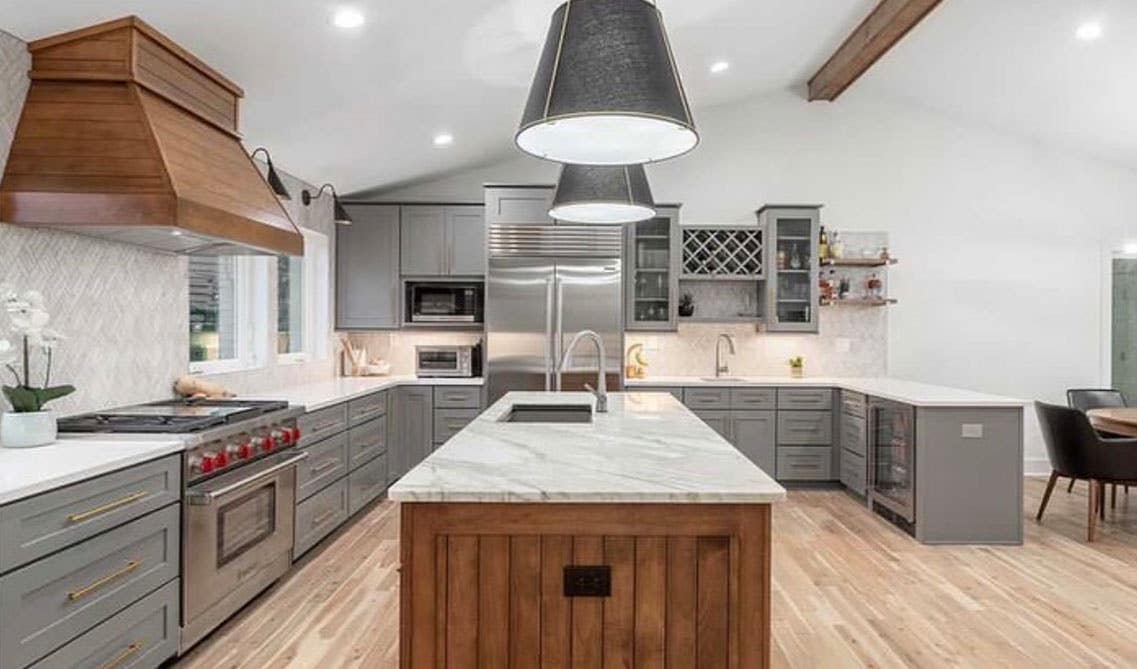 Lily Ann Cabinets: Grey Shaker Elite Cabinets
  Combine modern and rustic design elements to create a unique look. For instance, you could use sleek, modern cabinets alongside a farmhouse-style sink to portray a beautiful rustic modern farmhouse kitchen look.
Combinations of wood and marble, wood with black detail, stone and marble, white with browns, grays and wood tones can all pair great with different backsplashes such as brick, mosaic, wooden, stone, and window backsplashes to create the perfect modern rustic kitchen to complete your home!
3. Add industrial touches: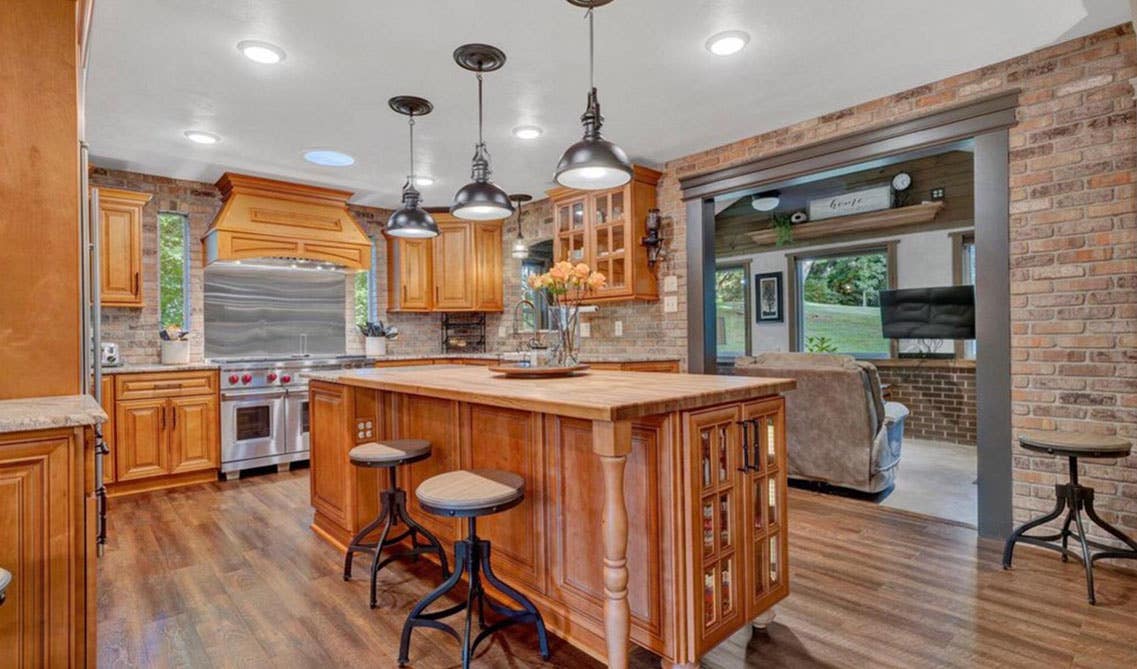 Lily Ann Cabinets: Charleston Toffee Cabinets
 Industrial accents, such as metal light fixtures or exposed ductwork, can add a touch of modern edge to a rustic kitchen.
4. Incorporate open shelving: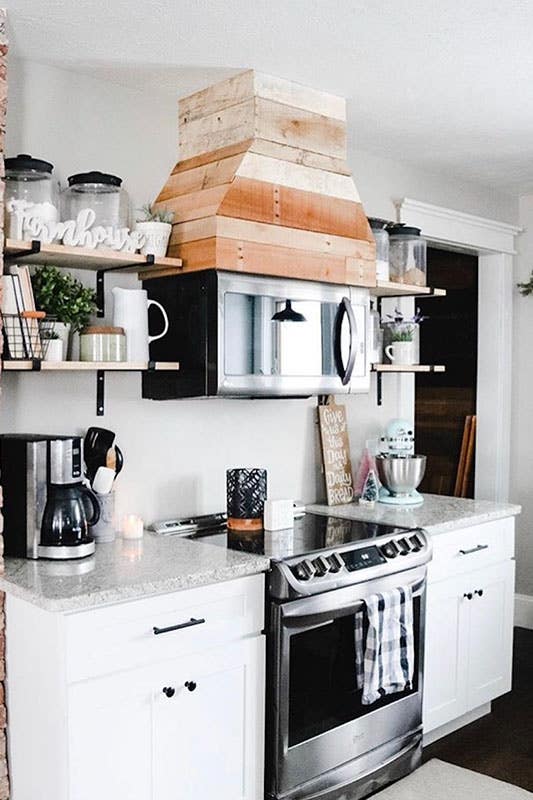 Lily Ann Cabinets: Summit Shaker White Cabinets
Open shelving can showcase rustic, handmade pottery or vintage dishware, while also creating a more open, modern feel.
5. Embrace natural light: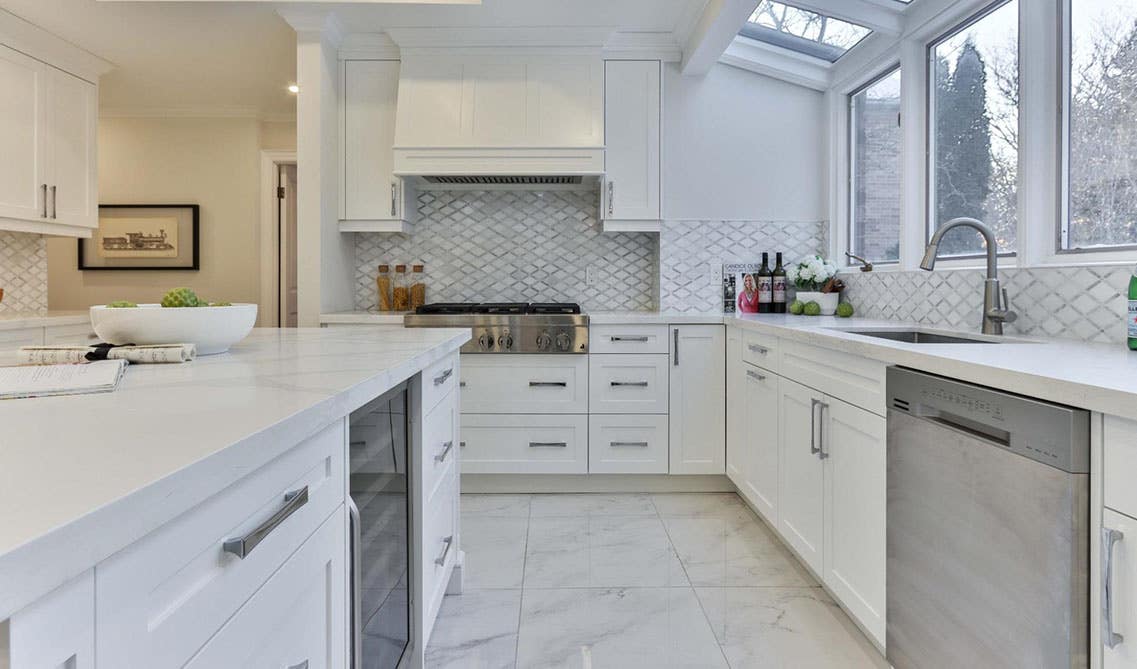 Allow natural light to flow into your kitchen by using large windows or skylights. This will create a warm and inviting atmosphere.
6. Use earthy colors: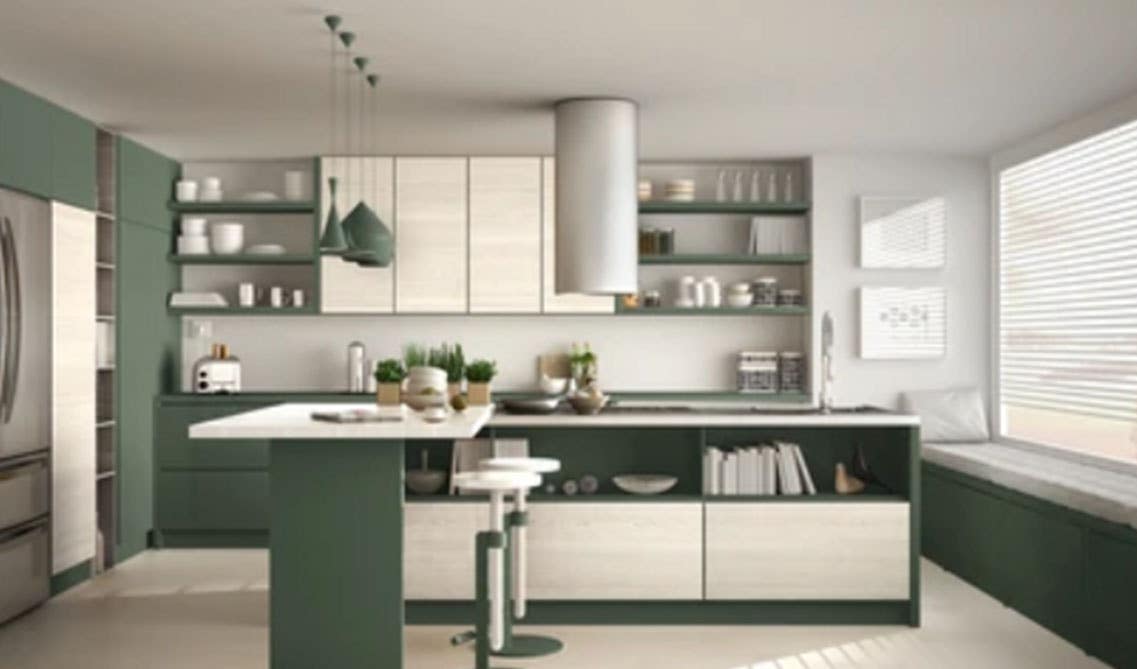 Choose a color scheme that incorporates earthy tones, such as warm browns, greens, and oranges. This will help create a natural, rustic feel.
Add touches of green throughout your kitchen to essentially bring the outside into the inside, which is one of the most important things to remember when making your modern kitchen look more rustic. Satisfy this look by adding green paint or backsplash, or plants and leaves throughout your kitchen.
7. Incorporate a statement piece: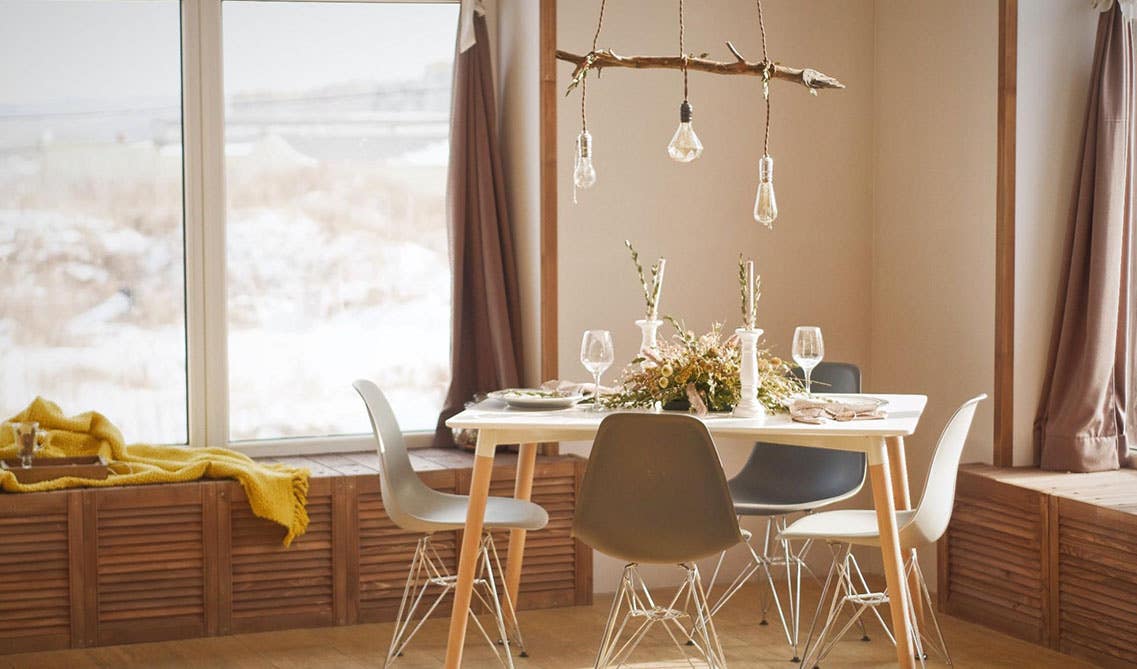 Add a statement piece, such as a large farmhouse table or a vintage chandelier, to create a focal point in your kitchen.
             8. Countertops: Any kind of countertops can help give you the rustic look in your kitchen when done so correctly. 
A. White countertops: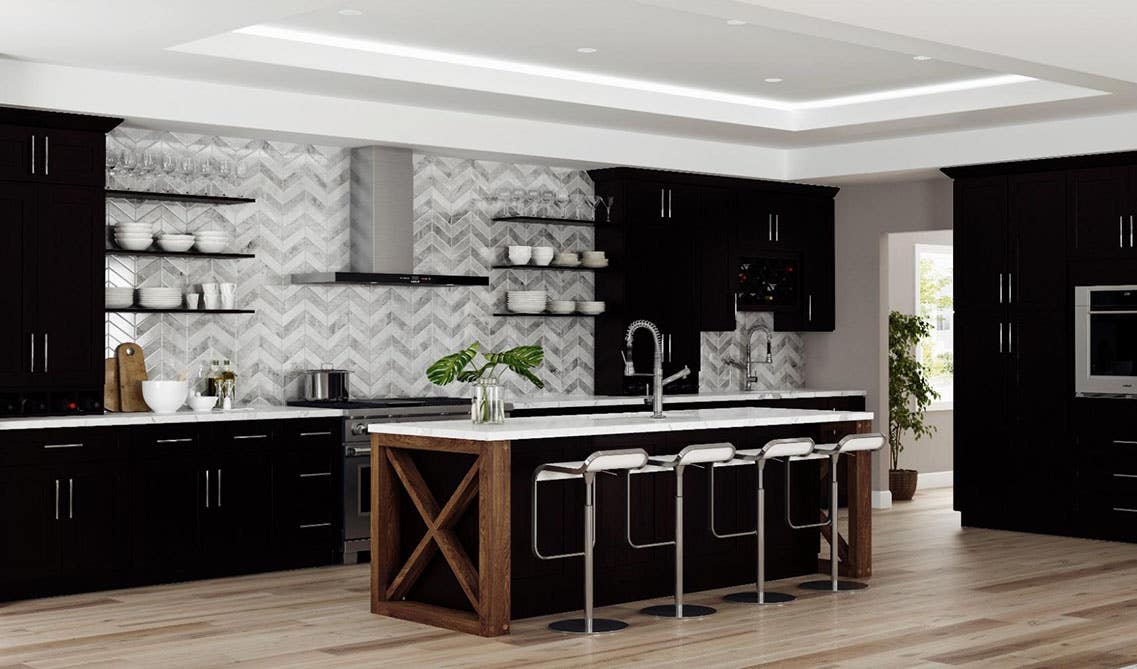 Lily Ann Cabinets: Shaker Espresso Cabinets
 Dark cabinets with stone backsplash, finished off with white countertops are a perfect pair together! Our Shaker Espresso Cabinets are a great option for a solid toned dark cabinet.
B. Granite Countertops: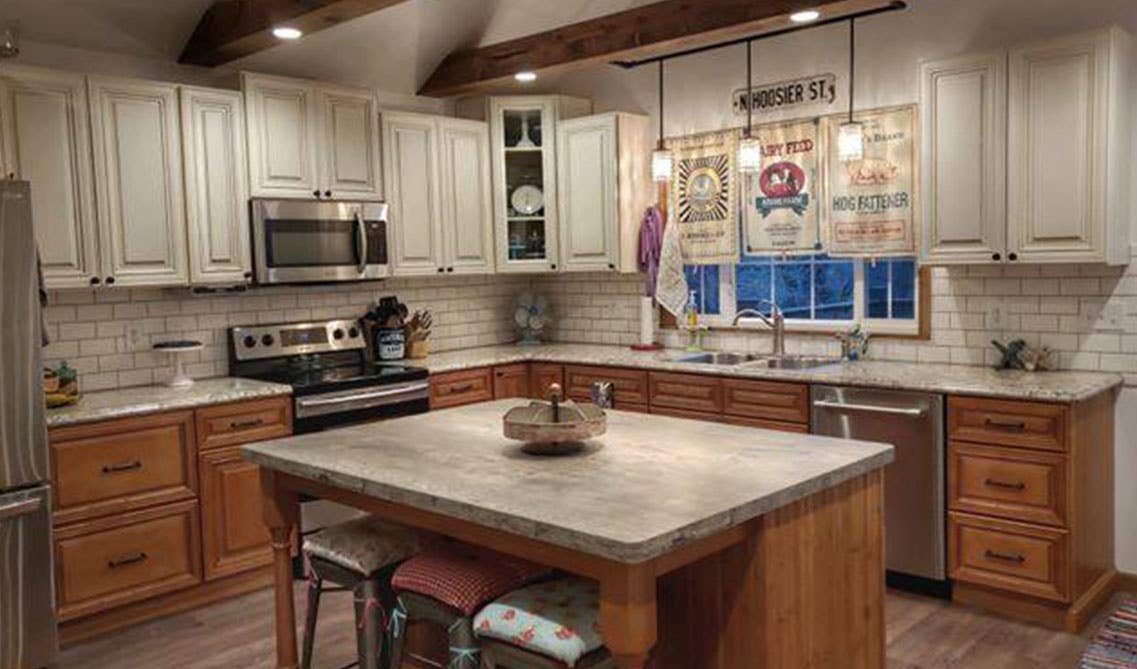 Lily Ann Cabinets: Charleston Linen Cabinets
Light gray granite countertops, with wooden cabinets, and a darker gray backsplash pair well together for a rustic look. Our Grey Porcelain Mosaic Subway Tile is a great option for backsplash to complete this look!
C. Marble Countertops: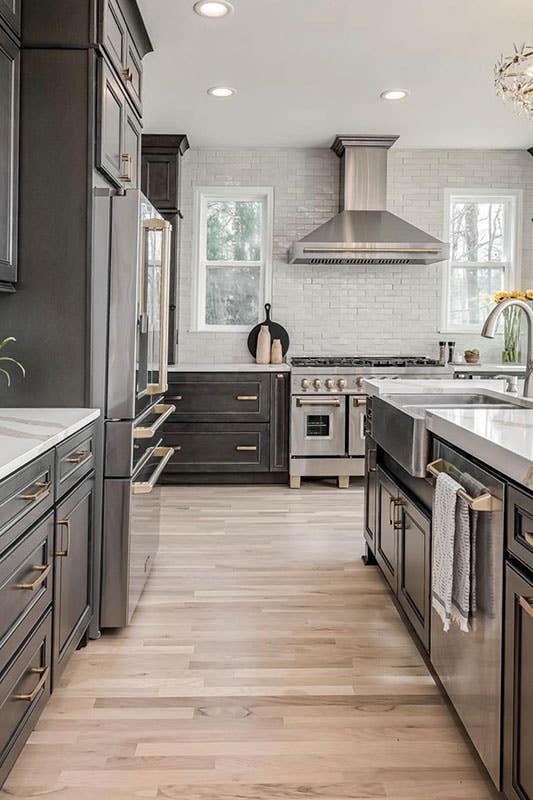 Lily Ann Cabinets: York Driftwood Grey Cabinets
 Dark-toned marble countertops are best paired with dark rustic wood tones, black features such as a mix and match of overhead black cabinets and black base cabinets, blended with other black features like a black window sill.  Add some dark grey or brown backsplash to match the wooden tones!
D. Concrete Countertops: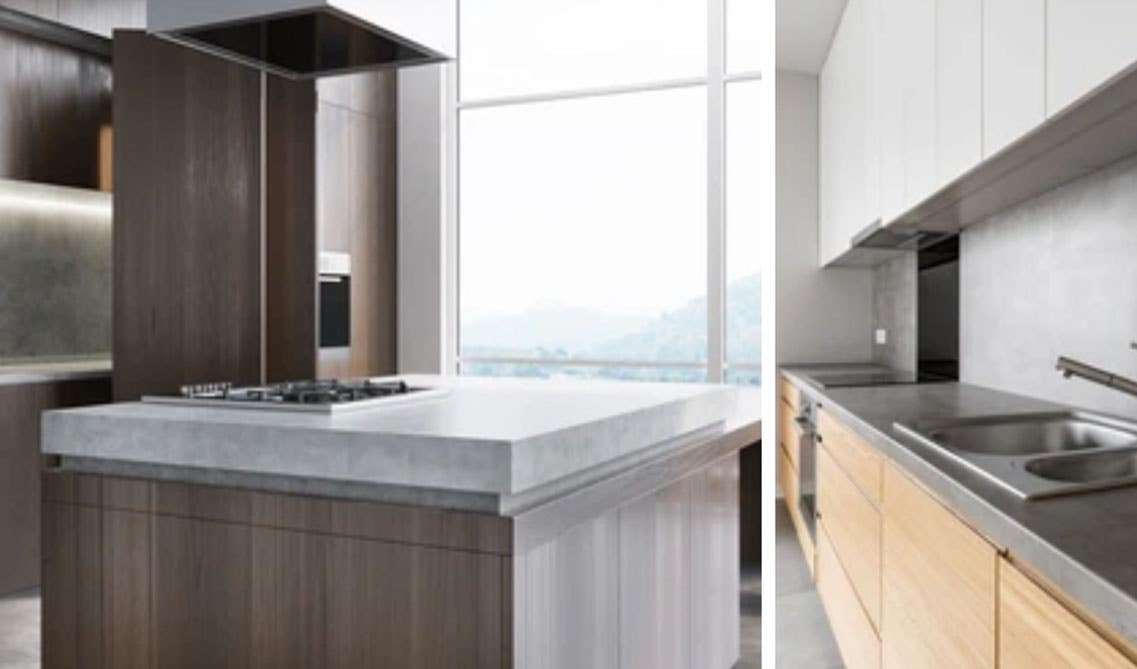 A less commonly seen countertop, but beautiful and unique way to design a contrasting and distinctive rustic kitchen. With lots of natural light distributed throughout the kitchen with split windows for more of a countryside feel. With dark wooden cabinets and stone backsplash, this is the perfect approach to separate your rustic kitchen from others.
Modern rustic colors focus more on solid design versus patterned. They are a combination of earthy and contemporary tones that evoke a warm, cozy, and natural feel while incorporating elements of modern design. Contemporary neutral colors commonly seen include tones of whites and lighter-toned colors whereas earth tones include browns, tans, greys, and greens. 
Choosing your colors: 
1. Neutral Tones:
Start with a base of neutral colors such as beige, taupe, ivory, or cream. These tones create a warm and inviting backdrop that complements other rustic elements.
2. Warm Grays:
Incorporate warm gray tones, which are slightly warmer than cool grays and have hints of brown or beige. These colors add depth and sophistication to the rustic palette.
3. Earthy Greens:
Deep, rich greens like olive, moss, or sage can bring a touch of nature indoors and add a fresh, organic feel to a modern rustic space.
4. Warm Browns:
Choose warm shades of brown, such as caramel, chestnut, or walnut. These colors mimic the tones found in natural wood and help create a cozy, rustic ambiance.
5. Deep Reds:
Rich, deep reds like burgundy or rust can bring a sense of warmth and elegance to a rustic space, particularly when used as accent colors.
6. Natural Whites:
Use shades of white that have warm undertones, such as off-white, cream, or linen. These colors contribute to the rustic aesthetic and create a clean, airy feeling.
Modern and rustic are two distinct design styles that have their own characteristics and aesthetics. While modern design emphasizes sleekness, simplicity, and a contemporary aesthetic, rustic design embraces warmth, natural materials, traditional elements, and a cozy atmosphere. The choice between modern and rustic styles depends on personal preferences, desired ambiance, and the overall look and feel one wants to achieve in their space.
Remember, the key to a successful modern rustic kitchen is to balance modern design elements with rustic charm to create a warm, inviting space.