Spending time outdoors is a great way to relax and unwind, especially when you can enjoy delicious meals cooked right in your own backyard. If you're looking to take your outdoor cooking game to the next level, consider designing an outdoor kitchen that will help you get cooking in style. Here are 10 outdoor kitchen ideas designed to get you cooking.
1. Choose the Right Location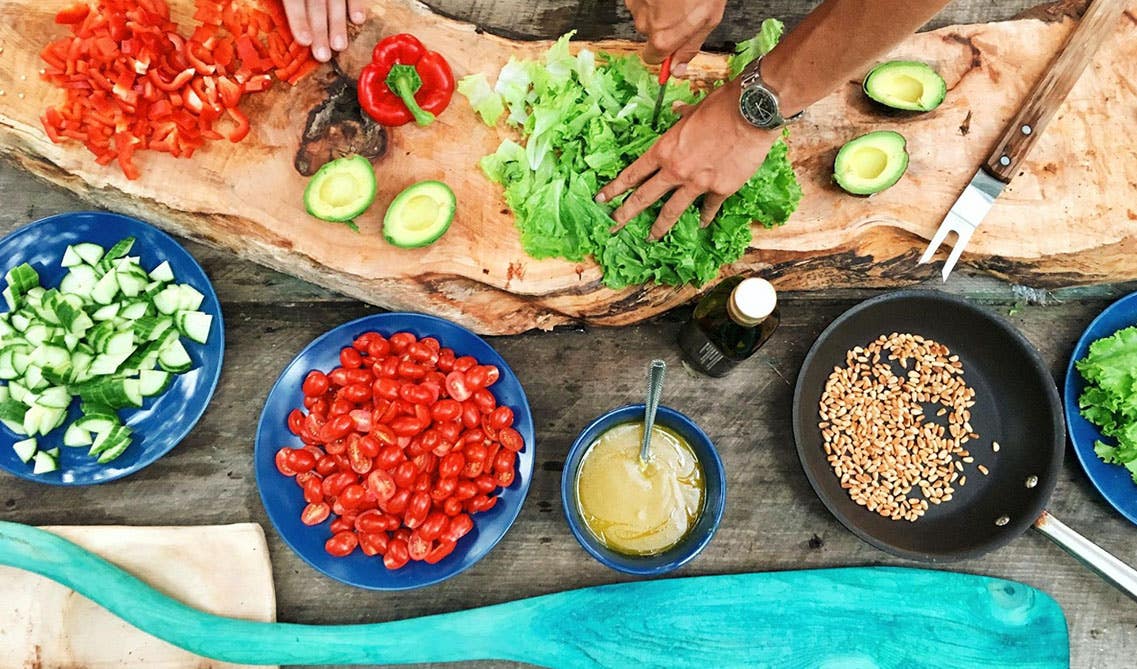 Ideas for outdoor kitchens begin with choosing the perfect location. Choosing the right location for your outdoor kitchen is crucial in ensuring that you'll get the most out of it. First and foremost, you'll want to choose a location that is convenient for cooking and entertaining. You'll want to be close to your indoor kitchen so that you can easily transport food and supplies, but also far enough away to avoid smoke and odors.
Additionally, you'll want to choose a location that is well-ventilated and has easy access to electricity, gas, and water. This will allow you to install the necessary appliances and features, such as a grill, sink, and refrigerator. Finally, you'll want to consider the overall layout and flow of your outdoor space, making sure that your outdoor kitchen fits seamlessly into your backyard or patio design. By choosing the right location for your outdoor kitchen, you'll be able to cook and entertain with ease, making the most out of your outdoor space.
2. Add a Grill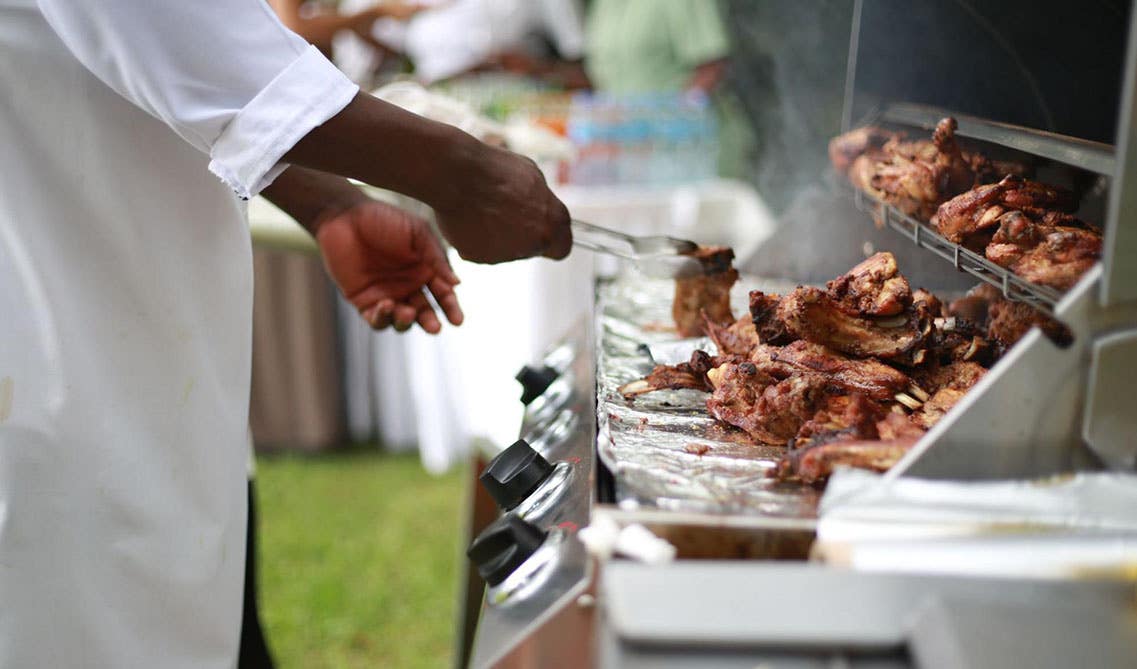 Adding a grill to your outdoor kitchen can significantly increase your motivation to cook and make outdoor entertaining more enjoyable. With a grill, you can cook a wide variety of foods, from burgers and hot dogs to steak and vegetables, and experiment with different flavors and seasonings.
Additionally, having a grill in your outdoor kitchen means you don't have to run back and forth to your indoor kitchen, which saves time and makes cooking and entertaining more convenient.
3. Consider a Pizza Oven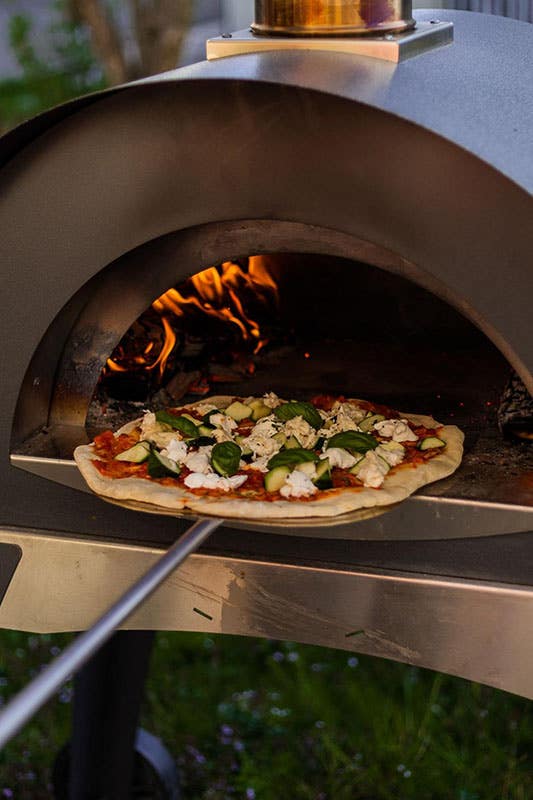 Pizza ovens are versatile and can be used to cook a wide variety of foods in addition to pizza, such as bread, roast meats, and vegetables. They also provide a unique and fun cooking experience, allowing you to experiment with different types of dough, sauces, and toppings.
Having a pizza oven in your outdoor kitchen can also take advantage of the outdoor space and enjoy the fresh air and beautiful scenery while cooking. Plus, the delicious aroma of freshly baked pizza wafting through your backyard is sure to attract friends and family, making your outdoor kitchen a popular gathering spot.
4. Install a Sink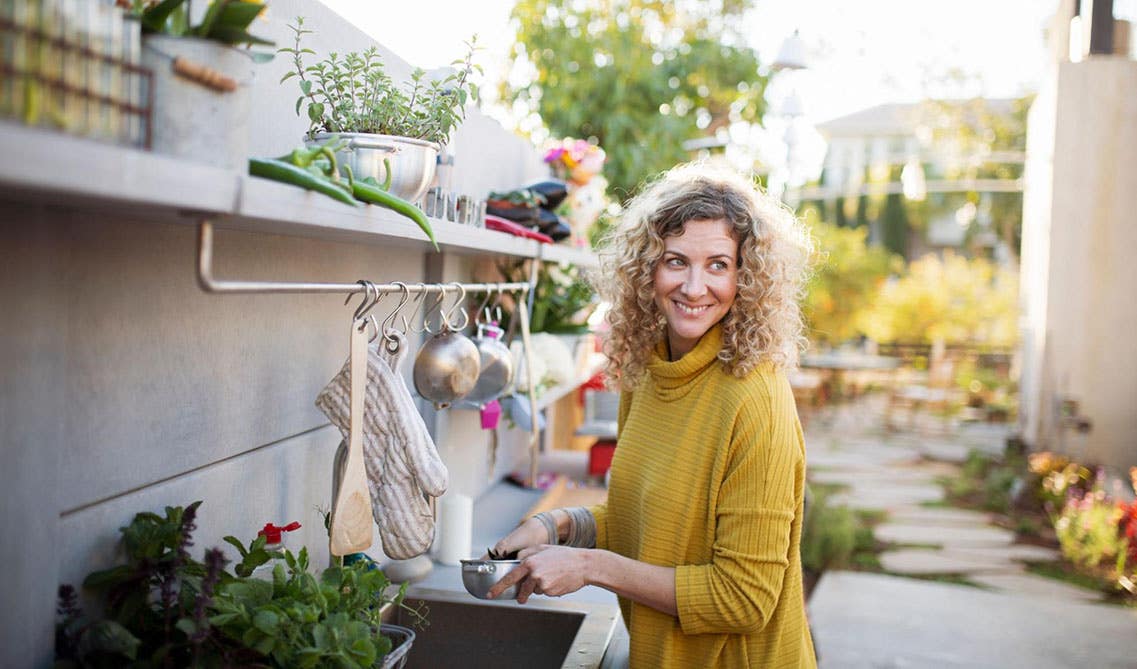 Installing a sink in your outdoor kitchen can make outdoor cooking much more convenient and enjoyable. With a sink nearby, you can easily wash your hands, rinse fruits and vegetables, and clean up after cooking without having to run back and forth to your indoor kitchen. This can save you time and make outdoor cooking a more seamless experience.
Additionally, having a sink can make it easier to prepare food outside. You can fill up pots with water for boiling, or use the sink to clean grilling utensils and plates. Adding a sink to your outdoor kitchen can help streamline your outdoor cooking process and make it more efficient.
5. Add Storage Space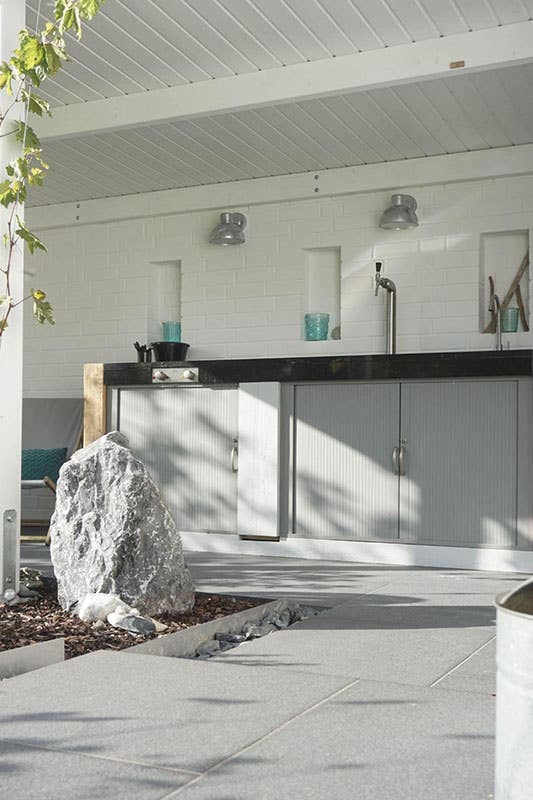 Next on the list of ideas for outdoor kitchens include adding storage. With the right storage solutions, you can keep all your cooking tools, utensils, and ingredients within easy reach which saves time and energy. Plus, having a designated place for everything can help you stay organized and focused while cooking.
You can choose from a variety of storage options, such as built-in cabinets, shelves, or even a kitchen island with storage underneath. By maximizing your storage space, you can create a functional and well-organized outdoor kitchen that will inspire you to cook and entertain outside more often.
Checkout: 3 Clever Spice Storage Solutions
6. Add Seating and Dining Space
Adding seating and dining space to your outdoor kitchen can have a significant impact on your cooking habits. It creates a comfortable and inviting atmosphere that encourages you to spend more time outside and cook more meals. With the addition of seating, your family and guests can watch as you prepare meals, or even lend a hand. It also creates a space for everyone to gather and enjoy a meal together.
Additionally, having a designated dining area can inspire you to try new recipes and experiment with different cooking techniques. Overall, adding seating and dining space to your outdoor kitchen is just one of the many backyard kitchen ideas to help you create a fun and memorable outdoor cooking experience.
7. Install lighting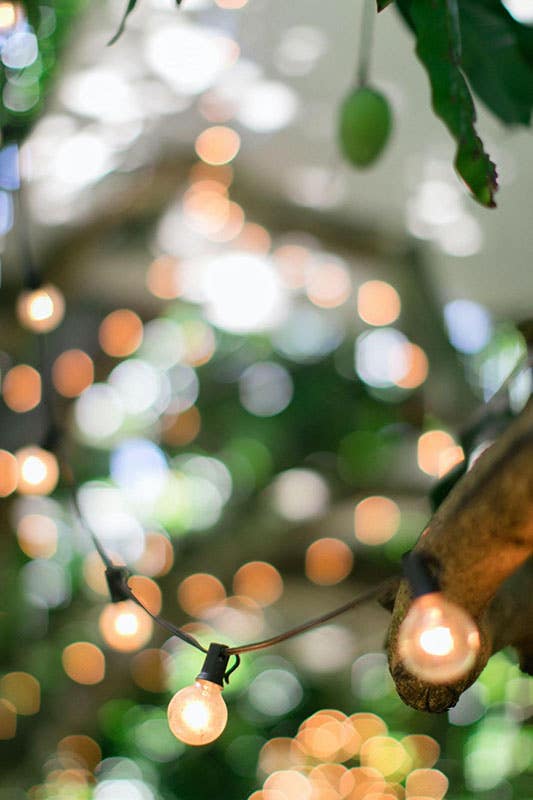 Having the proper lighting can increase your visibility while cooking, making it easier and safer to handle food and utensils. Outdoor lighting can also create a warm and inviting atmosphere for you and your guests, extending the use of your outdoor kitchen well into the evening.
Additionally, it can make it easier to clean up after cooking and ensure that you are able to enjoy your outdoor space for longer periods of time. With the right lighting in place, you'll be able to cook more comfortably and confidently, ultimately getting you cooking more often.
Checkout: How to Install Outdoor Lighting
8. Outdoor Fireplace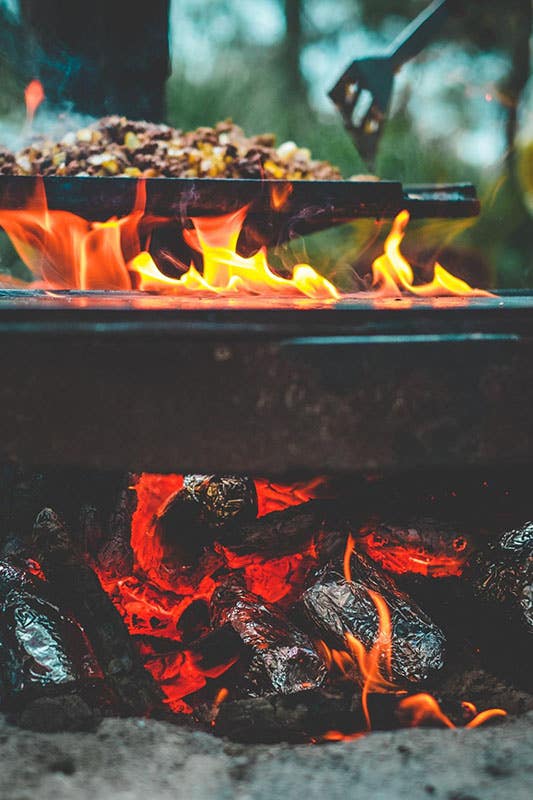 Installing an outdoor fireplace in your outdoor kitchen can have several benefits that can encourage you to cook and entertain outside. First, an outdoor fireplace can provide warmth and comfort on chilly nights, allowing you to enjoy your outdoor space for longer and making it a cozy gathering place.
Secondly, the fireplace can serve as a cooking area itself, allowing you to cook foods like skewers, roasted marshmallows, and even pizzas. Additionally, the fireplace can serve as a focal point in your outdoor kitchen, making it a more attractive and inviting space for both cooking and entertaining.
9. Beverage Center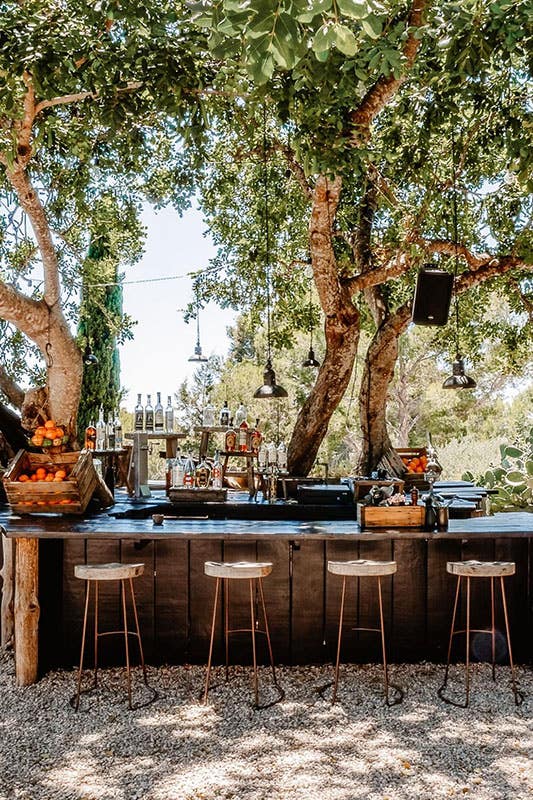 With a beverage center, you can keep your drinks cold and easily accessible, making it more convenient to serve cold beverages to your guests while you cook.
Additionally, having a beverage center can also allow you to serve a wider variety of drinks, such as fresh lemonade, iced tea, and even cocktails, which can make your outdoor cooking and entertaining more fun and enjoyable. By adding a beverage center to your outdoor kitchen ideas, you can create a more complete and functional space that is perfect for cooking, dining, and entertaining.
10. Outdoor Kitchen Island
More ideas for outdoor kitchen include additional surfaces like an island. An outdoor kitchen island provides additional counter space, storage, and functionality, allowing you to prepare and cook food with ease.
The island can house a built-in grill, sink, and even a mini fridge, making it easier to keep ingredients and cooking utensils organized and within reach. The extra counter space also allows you to prep food, chop vegetables, and season meats without having to shuffle dishes around or work in a cramped space.
Checkout: What Type of Kitchen Island Fits Your Home?
In Conclusion…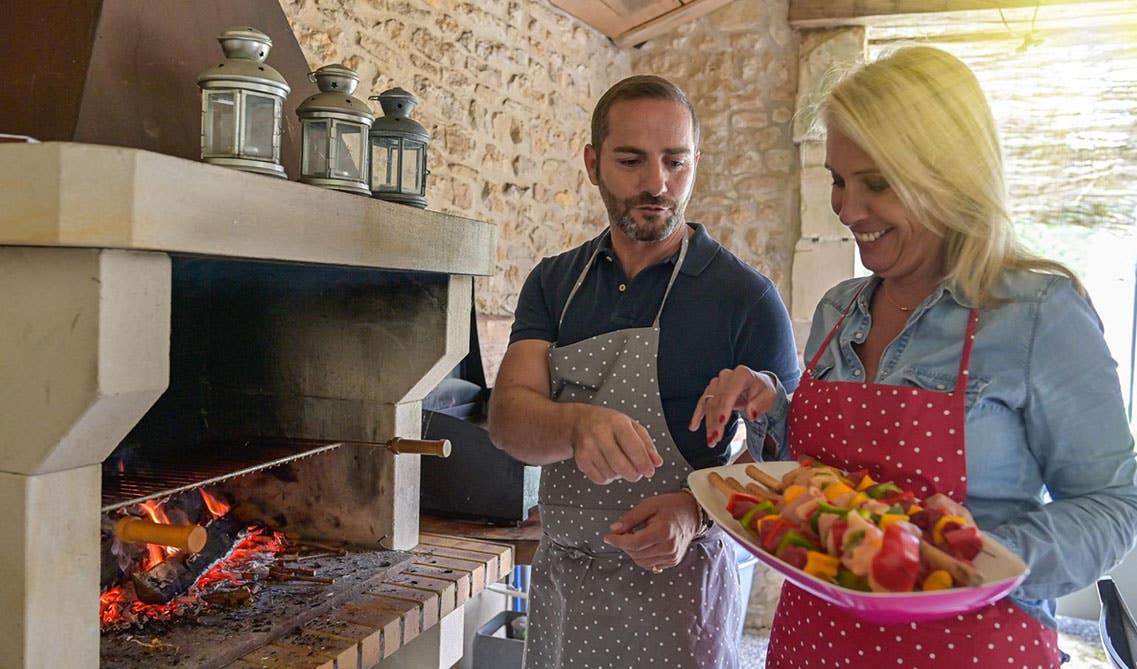 In conclusion, implementing these backyard kitchen ideas can be a game-changer for anyone who loves to cook and entertain guests. With the right design, you can create a beautiful and functional space that allows you to enjoy the great outdoors while preparing delicious meals for your family and friends.
From adding a pizza oven to incorporating a barbecue grill or installing a sink and refrigerator, these outdoor kitchen ideas can help you transform your backyard into a culinary oasis. So get ready to fire up the grill and enjoy the warm weather with your loved ones in your new outdoor kitchen!
When it comes to designing the perfect space for your home, look no further than Lily Ann Cabinets. Our cabinets are built with solid wood, dovetail joints, and soft-close hinges, ensuring durability and longevity.
With quality cabinetry at low prices, quick shipping times, and excellent customer service, you will not want to shop anywhere else. Order FREE samples today and work with one of our expert designers to create the 3D design space of your dreams. Choosing Lily Ann Cabinets can provide you with beautiful and functional cabinetry that will enhance your home for years to come.
FAQs
1. What is the cheapest way to build an outdoor kitchen?
One of the cheapest ways to build an outdoor kitchen is to use a prefabricated island or grill station, which can be purchased at a relatively low cost from home improvement stores or online retailers. Another option is to use affordable materials like cinder blocks or concrete to create the structure and then finish it off with inexpensive countertops, such as concrete or tile. Additionally, choosing a smaller footprint for the kitchen and using fewer appliances can also help keep costs down. By being strategic with your design choices and shopping around for affordable materials and appliances, you can create an outdoor kitchen that fits your budget without sacrificing style or functionality.
2. What is the average cost of an outdoor kitchen?
Generally, a basic outdoor kitchen with a grill, countertop, and some storage can cost anywhere from $2,000 to $10,000. However, if you opt for high-end appliances, custom cabinetry, and luxury finishes, the cost can easily exceed this. It's important to set a budget and work with a professional to create an outdoor kitchen design that meets your needs and fits within your price range.
3. 
What do you really need in an outdoor kitchen?
When it comes to creating a backyard kitchen ideas list, it's important to focus on functionality and practicality. The essential elements of an outdoor kitchen include a cooking area, storage space, and a place to dine. Depending on your cooking preferences, you may want to add a grill, a smoker, or a pizza oven. A sink and a refrigerator are also useful additions, allowing you to clean up and store food easily. Additionally, ample counter space and a comfortable seating area are crucial to make the outdoor kitchen a comfortable and inviting space.