Welcome to Lily Ann Cabinets! We have a variety of linen-style cabinets that are sure to bring a touch of class to your kitchen.
Our cabinets are constructed with the finest materials and attention to detail to provide you with a stunning and durable product. All at a low cost too! Whether you're looking for a traditional or contemporary look, we have something that will meet your needs and exceed your expectations. With Lily Ann Cabinets, you can be sure to find a cabinet style that will enhance the aesthetics of your kitchen. Read on to learn why our York Linen cabinets would make a great addition to your home.
Why Choose York Linen Cabinets?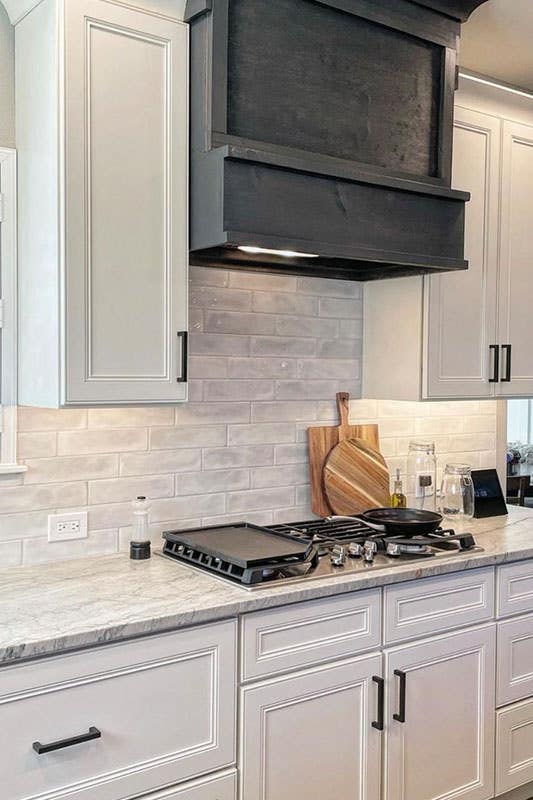 Lily Ann Cabinets' York Linen gives you something that you won't find anywhere else. Not only does it have a timeless look and feel, but it also provides you with quality craftsmanship backed by customer support from start to finish. With beautiful off-white colors and traditional detail, you can be sure that your cabinets are designed to last. Moreover, the custom-crafted components provide ample space and durable construction which will give you a luxurious look and feel in your kitchen or bathroom.
Our collection of cabinetry offers many advantages to those looking to update their home. This cabinet style consists of full-overlay doors with recessed center panels constructed from solid birch wood and comes with a dovetail assembly. This ensures your cabinets will withstand everyday use while still adding character to the space. Features include full extension, soft close under-mount drawer glides, and hinges.
With a 12-step finishing process, our cabinet colors are durable and long-lasting. Want to see this cabinet up close? Order a free cabinet door sample today so you can see how it will look and feel in your home. With this kind of quality, why shop at big box stores when you can purchase directly from Lily Ann Cabinets for half the price?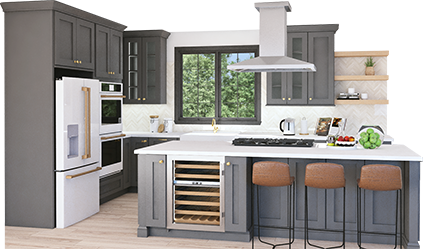 Get your FREE 3D kitchen design today!
Start Now
York Linen Popularity
Lily Ann Cabinets' York Linen Collection is one of our best selling lines of antique white cabinets. Homeowners wanting to keep a contemporary feel in their kitchen and bathroom may choose this style because of its sophisticated design and excellent craftsmanship. This collection provides quality and affordability and can be easy to customize to fit any family's desired style.
Checkout: 3 Antique White Kitchen Cabinets For A Timeless Kitchen

Choosing Which Handles To Pair With York Linen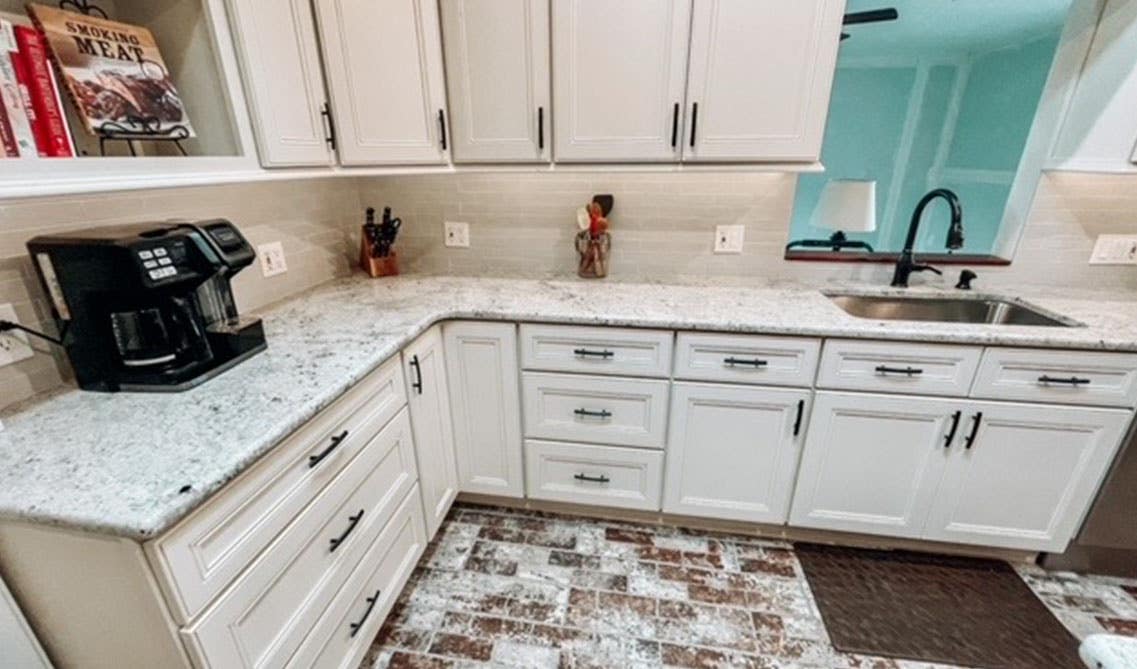 The York Linen Collection gives you the opportunity to select the perfect handle that will look great with your cabinets. For a more modern and sleek look, try our Satin Brass Contemporary Steel or our Champagne Bronze Contemporary Metal Pull. 
Traditional hardware gives cabinets a timeless touch making them ideal for those looking for a cozy atmosphere in their kitchen. To incorporate this style of hardware, try our Brushed Nickel Traditional Metal Knob or our Matte Black Transitional Metal Pull. With great options like these, you can't go wrong with whichever option you choose for your York Linen cabinets.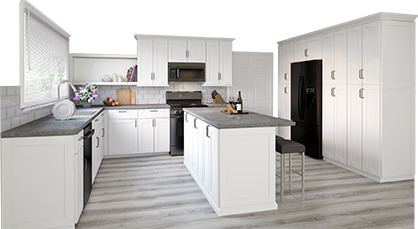 3D Kitchen Visualizer Tool
Bring your dream kitchen to life with our free kitchen visualizer!
Design Now
How You Can Incorporate Two-Tone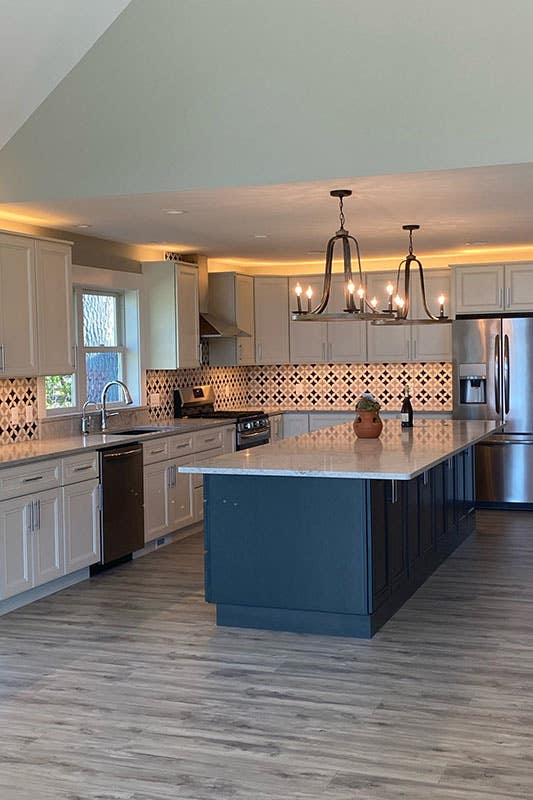 Two-tone cabinets are a great way to add style and visual interest to your space. The York Linen cabinets' off-white color makes them so versatile. With Lily Ann Cabinets' wide variety of cabinet shades, you are sure to find one that pairs well with York Linen. 
A deeper cabinet color like our York Driftwood or York Chocolate (which is also 50% off big box stores right now) will look striking when paired with York linen cabinets. It will bring contrast and richness to your kitchen.
A navy blue cabinet like our Navy Blue Shaker gives a unique yet modern look that can elevate any kitchen. The deep tones in the navy cabinets will look amazing with the subtle tones of the York Linen cabinets creating a more dramatic, and chic design. The combination of the two colors will create a classic and timeless look that never goes out of style.
What Countertop and Backsplash Go Well With York Linen Cabinets?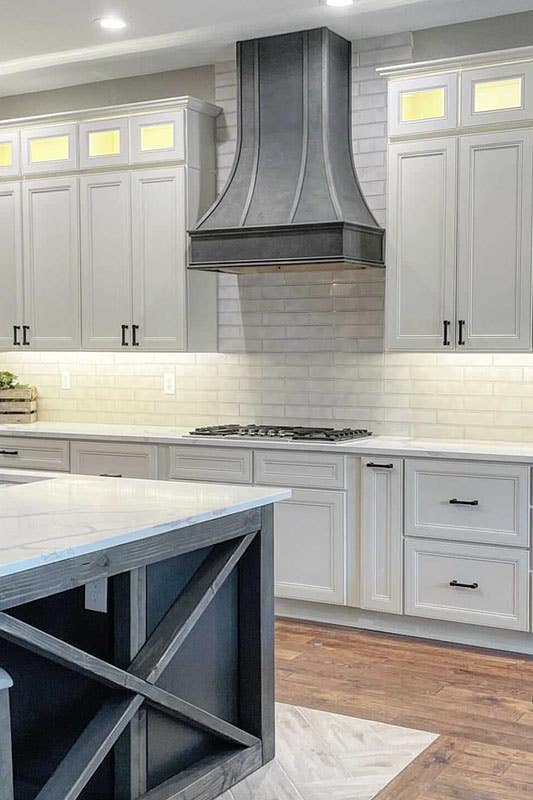 When picking out your cabinets, it is important to consider which backsplash and countertops you are going to choose to tie the look together. To bring your space to life, try pairing the York Linen Cabinets with a light marble backsplash and contrasting dark granite countertops. This combination creates a highly sought-after look that manages to stand the test of time. 
York Linen Cabinets can also be paired with our White Porcelain Mosaic Subway Tile. This backsplash enhances the beauty of the kitchen and complements Lily Ann Cabinets' superior craftsmanship. The porcelain is highly durable and easy to clean, meaning it can withstand everyday use and remain to look pristine.
To add texture to your kitchen and make it feel more modern, pair the York Linen cabinets with our Moonlight Pebble Stone Mosaic backsplash and watch as your dreams of a beautiful kitchen become reality. A quartz countertop, especially one with earthy tones can be incorporated as well to bring the look together.
Checkout: Tips To Choose The Perfect Backsplash For Your Kitchen
In Conclusion
Lily Ann Cabinets are a great option for anyone looking for a cabinet that is both aesthetically pleasing and has a budget-friendly price tag. Not only are their cabinets crafted from quality materials, but they also come with many customization options, allowing you to choose the perfect cabinet to fit your individual needs and style. Moreover, their York Linen Cabinets are a great option as they are soundly constructed using premium wood and feature beautiful fully engineered doors.
If you are still unsure if York Linen cabinets are for you, try out our FREE 3D Kitchen Visualizer and see how great this contemporary style will look in your space. When you decide that these cabinets are the right choice for your home, you'll be happy to know that they are in stock and will ship out within 72 hours after ordering or you can pick them up the same day. With customer care, extremely low prices, and high-quality materials, you can trust Lily Ann Cabinets to deliver a cabinet experience like no other.