14 beautiful pantry ideas that will make you want to organize your kitchen right now.
Cover photo via Jackson Design and Remodeling
The kitchen is the heart of the home. And as we all know, it can also be the hardest room to keep organized. Between food, cookware, dishes, and other miscellaneous items, the kitchen can quickly become cluttered, especially in homes with busy families. One solution to the dreaded kitchen mess is a walk-in pantry. If your home has enough space, a walk-in pantry can make a huge difference in the functionality and cleanliness of your kitchen space.
We are often asked about pantry layouts, organization ideas, and the best cabinets for a pantry. To keep things simple, we're adding all of our best kitchen pantry ideas to one blog. If you've been dreaming of a perfectly optimized pantry, read on. We're sharing 14 of our favorite kitchen pantry cabinet design ideas to keep your home's busiest room organized and clutter-free.
#1. Find The Right Storage Solutions
The key to creating a perfectly organized pantry is using uniform containers and jars to not only store food easily, but to create an aesthetic look. If all of the containers are mismatched, a fully stocked pantry can easily appear disorganized. We recommend stocking up on your favorite BPA-free containers and glass jars from your local grocery store, or in bulk from Costco or IKEA.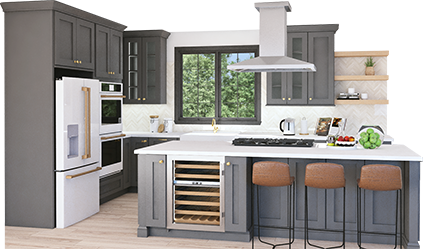 Get your FREE 3D kitchen design today!
Start Now
#2. Maximize Space With Added Shelving
Use extra shelves, like this white-tiered shelf, to make sure all of your food is visible. There's nothing worse than a pantry shelf stuffed with various jars and containers, making it impossible to see what's in the back. Especially for homes with children, this pantry hack can make it easier for shorter kids to see and access available snacks.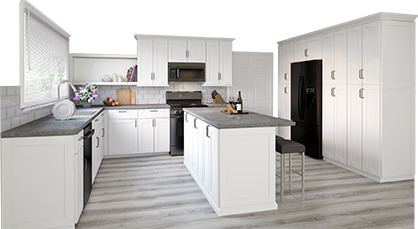 3D Kitchen Visualizer Tool
Bring your dream kitchen to life with our free kitchen visualizer!
Design Now
#3. Take Some Time To Label
Pinterest
Although it may take some extra effort, adding labels to your pantry items can make a huge difference and save you a lot of time in the future. Plus, it's usually better to store bulk foods in glass than in their original packaging. Not only does it look better, but it also eliminates the potential of BPA or other chemicals leaching into the food during storage.
#4. The Pantry's Not Just For Food
If you have the space, use additional pantry space to store your favorite cookbooks. If you really want to go the extra mile, you can color-code them like this ultra-organized pantry by the Neat Method. Walking into this gorgeous pantry every day would be like a breath of fresh air! Don't feel as if the pantry should only be used for food—if there's extra space, feel free to add whatever miscellaneous items you want to keep organized in your home.
#5. Find The Perfect Cabinets
We get the following question quite often:
Should your pantry cabinets match your kitchen cabinets?
In short, we typically recommend that you keep your cabinet consistent throughout your kitchen and pantry. Although it's fine to mix and match, using the same cabinets throughout creates a nice uniformity that adds value when it comes time to resell.
Another question our customers ask is:
Which cabinets are best for a pantry?
Lily Ann Cabinets' premium ready-to-assemble cabinets are the perfect option for pantries because they are very affordable and highly customizable. We also offer a wide selection of convenient cabinet organizers that will soothe your Type-A soul.
#6. Keep It A Secret, If You'd Like
This clever walk-in pantry is disguised behind a chalkboard and faux cabinet. If you have the space, this is a creative way to keep your food storage separate and out of sight. Plus, it would be fun to have guests over and show them your kitchen's secret! To "hide" the door, you can purchase faux cabinet doors, a chalkboard (or more cabinet doors), and secure them to the pantry door.
#7. Create A Family Command Center
The pantry is the perfect place to add a family command center that's accessible and out of plain sight. Add a chalkboard, calendar, grocery lists, files, and more to keep your loved ones organized and on schedule.
#8. Store Your Cookware
Not enough space for cookware in your cabinets? Use wall hangers to add extra storage space for spare pots and pans. If you have matching cookware, they can even function as additional decor. The top of pantry shelves is also a great place for mixing bowls and extra dishware that is only needed occasionally.
#9. Keep Extra Appliances In The Pantry
If your main kitchen area is short on space, your pantry can also function as a station for appliances. This gorgeous all-white pantry features a built-in microwave, mini-fridge, as well as extra counter space for a few extra appliances. Keeping your appliances tucked away also leaves more room for extra cabinet storage in your main kitchen area.
#10. Conceal It With Farmhouse Doors
Farmhouse doors are a great way to effortlessly conceal a walk-in pantry. If the pantry has a wide opening, two sliding farmhouse doors work like a charm. Especially for rustic-style kitchens, this beautiful pantry door idea is a must-have.
#11. Add A Pop Of Color
Although the monotone look is in, it can be refreshing to add a pop of color to an otherwise all-white kitchen. This mini butler's pantry in the corner of the kitchen was painted navy to bring a nautical feel to the design. Since there is no pantry door, it creates a nice contrast against the white shaker cabinets. If you have an exposed pantry in your kitchen, consider painting it a contrasting color. It doesn't take long to paint such a small space, so it can be a time and cost-effective kitchen project.
#12. Prioritize Lighting
When considering your pantry design, don't neglect to light. Pantries are difficult to navigate without proper lighting, especially deeper walk-in pantries. Although a window is ideal, make sure to add a light (or several) to keep things bright. You may also opt to add LED cabinet lighting strips, which are easy to install and very affordable.
#13. Get To Those Hard-To-Reach Places
Tall pantry? No problem! Adding a ladder facilitates easy access to those hard-to-reach shelves on top. A ladder can also add a lovely vintage look to any pantry space.
#14. Make Use Of Pantry Windows
If you have a window in your pantry, it can also be a great place to grow some herbs. Instead of leaving the window as empty space, you can put it to use and harness that extra sunlight. For homeowners with a green thumb, this is also a great way to continue growing plants year-round without taking up extra counter space in the main kitchen.
Create Your Dream Kitchen Pantry With Lily Ann Cabinets
From designing the proper layout to choosing the perfect cabinets, Lily Ann Cabinets will help you create the pantry of your dreams. Choose from our extensive selection of premium ready-to-assemble cabinets, then order a free sample. Once you've found the right cabinets for your pantry, we'll create a FREE 3D design for you to help you visualize the space. Get started today! If you have any questions, feel free to email us at info@lilyanncabinets.com or give us a call at 800-551-1438.