A walk-in kitchen pantry is a dream come true for as it offers numerous benefits that can significantly enhance the functionality and organization of your kitchen. Not only does it provide ample space to store groceries and kitchen essentials, but it also offers an opportunity to showcase your style and creativity. In this blog, we'll explore 20 walk-in kitchen pantry ideas that combine functionality with stylish design, making your kitchen storage a sight to behold.
1. White Metal Wire Shelves for Small Walk In Pantry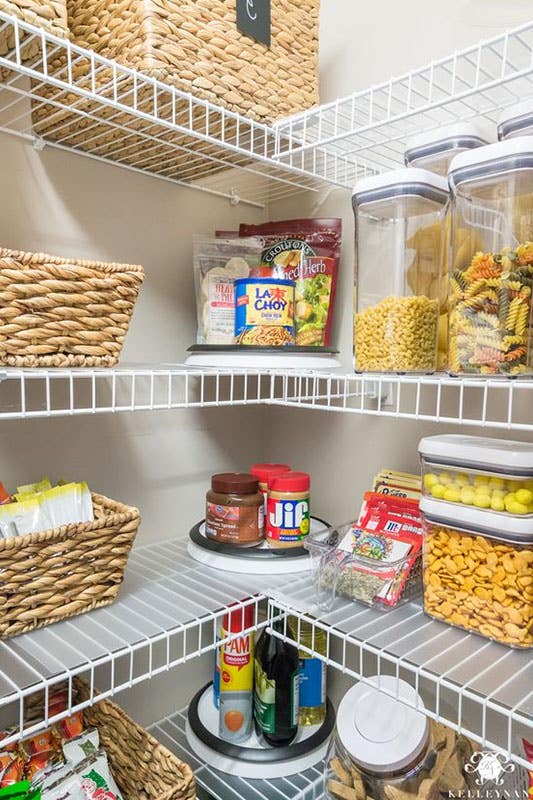 The first walk in kitchen pantry idea is to incorporate white metal wire shelves. They are lightweight, making them easy to install and move around. Despite their lightness, they are also sturdy and durable, making them capable of holding a substantial amount of weight. Additionally, compared to solid wood or custom-built shelves, white metal wire shelves are generally more budget-friendly. This affordability makes them an attractive walk in pantry idea, especially for those looking to maximize their pantry storage without breaking the bank.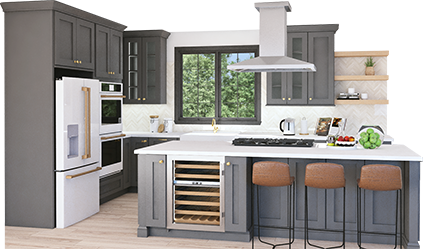 Get your FREE 3D kitchen design today!
Start Now
2. White Built-in Shelves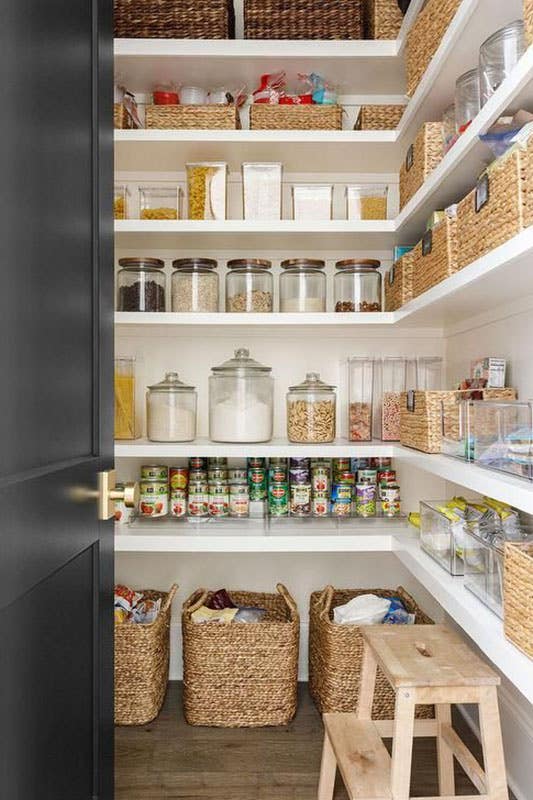 White built-in shelves give your pantry a clean and fresh look, creating a bright and inviting space. The neutral color also complements various interior design styles, making it easy to integrate into any kitchen decor. Built-in shelves also maximize the use of available space in your pantry. They can be designed to utilize every nook and cranny, including corners and awkward spaces, ensuring that no space is wasted. This efficient use of space allows you to store more items in an organized manner.
3. Stained Wood Pantry Shelves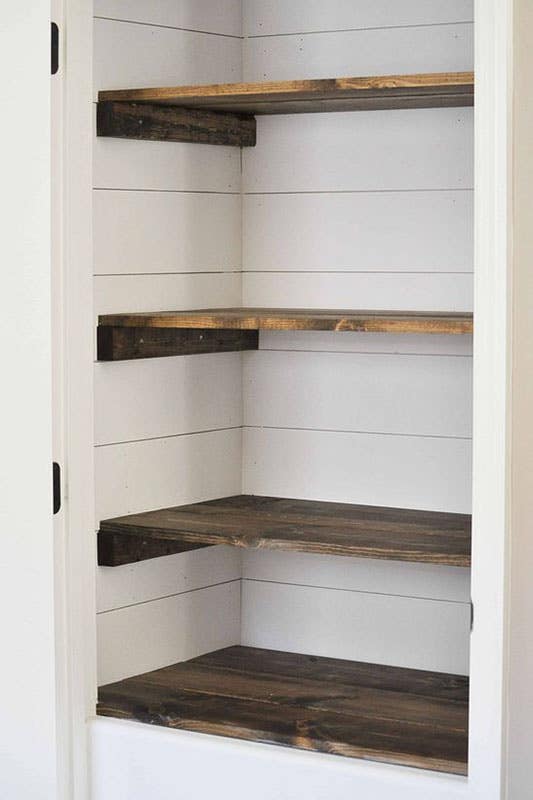 Stained wood finish in a pantry gives off a warm and inviting farmhouse look. The natural wood grain and rich hues add character and authenticity to your pantry, creating a cozy and welcoming atmosphere that complements the farmhouse style. When it comes to quality, stained wood shelves are durable and built to withstand the test of time. Properly treated and maintained, they resist wear and tear, making them a reliable storage solution for your pantry items.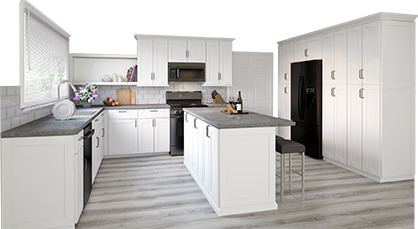 3D Kitchen Visualizer Tool
Bring your dream kitchen to life with our free kitchen visualizer!
Design Now
4. White Pantry Shelves with Woven Baskets
White pantry shelves create a clean and bright backdrop for your pantry items. When paired with woven baskets, they add a touch of texture and visual interest, enhancing the overall aesthetics of your pantry space. This is a popular walk in pantry idea since  Their earthy texture and warm tones bring a natural and organic feel to your pantry, giving it a beautiful appearance.
5. U-Shaped Kitchen Pantry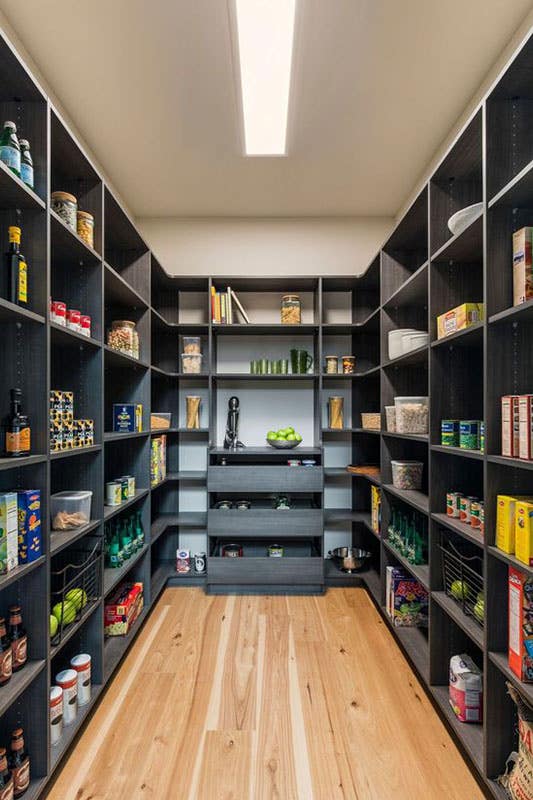 Another amazing walk in pantry idea is the U-shaped layout. This can be adapted to fit different kitchen sizes and configurations. Whether you have a small kitchen or a spacious one, a U-shaped pantry can be tailored to suit your specific needs. In a U-shaped kitchen pantry, you can incorporate countertops along the three walls. This extra counter space provides room for meal prep, temporary storage, and even a space for small appliances. Its layout contributes to a more functional and aesthetically pleasing kitchen, making it a valuable addition to any home.
6. Rustic White Pantry with Barn Door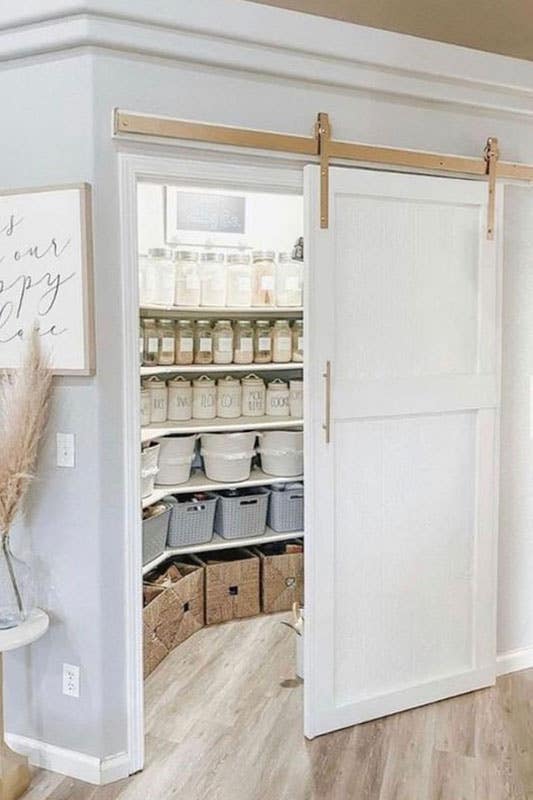 A rustic white pantry with a barn house door is a charming and stylish addition to any kitchen. This design combines the rustic appeal of a barn door with the clean and bright aesthetics of a white pantry. A barn door slides along the wall, eliminating the need for extra space to accommodate the door's swing, making it ideal for smaller kitchens or tight spaces. You can customize the barn door's design, such as the type of wood, finish, and hardware, to match your kitchen's style and your personal preferences. This design choice not only enhances the aesthetics of your kitchen but also provides functional benefits.
7. Wrap-Around Shelving System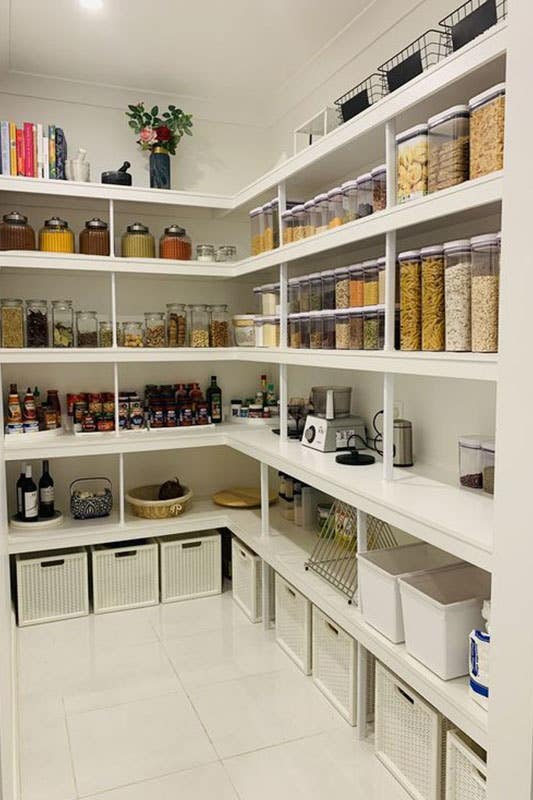 A wrap-around shelving system is an awesome walk in pantry idea. It is a versatile and efficient storage solution that maximizes the available space along the walls. This design involves installing shelves that go around the perimeter of the pantry, creating a continuous and seamless storage area. The continuous shelves create a well-organized and clutter-free pantry. You can categorize and group items on different shelves, making it easier to find what you need quickly and efficiently. It's an excellent choice for creating an efficient and well-designed pantry in your kitchen.
8. Pocket Door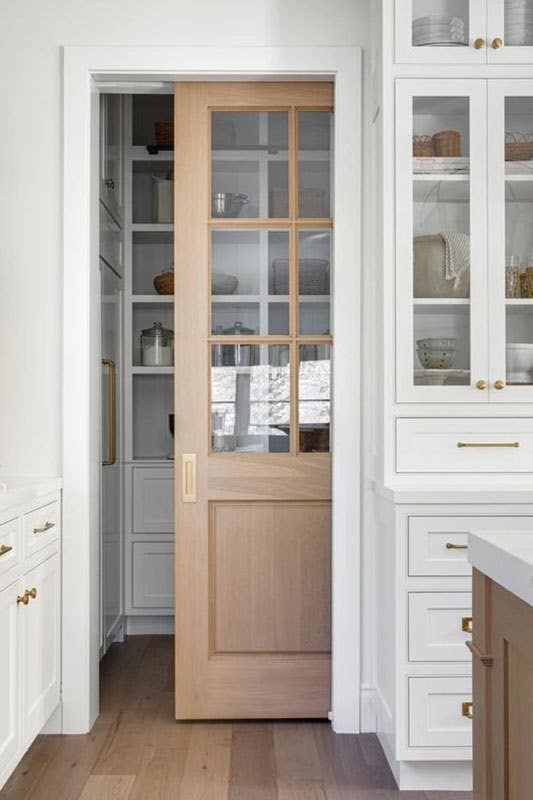 A pocket door is a great pantry idea that is a space-saving and functional addition that offers several benefits. A pocket door is a type of sliding door that slides into a hidden compartment within the wall when opened, rather than swinging on hinges like a traditional door. A pocket door can be designed to blend seamlessly with the surrounding wall, creating a concealed storage area when closed. This can give your kitchen a clean and uncluttered appearance, especially if the pantry is visible from other parts of the house. 
9. Incorporate Lazy Susans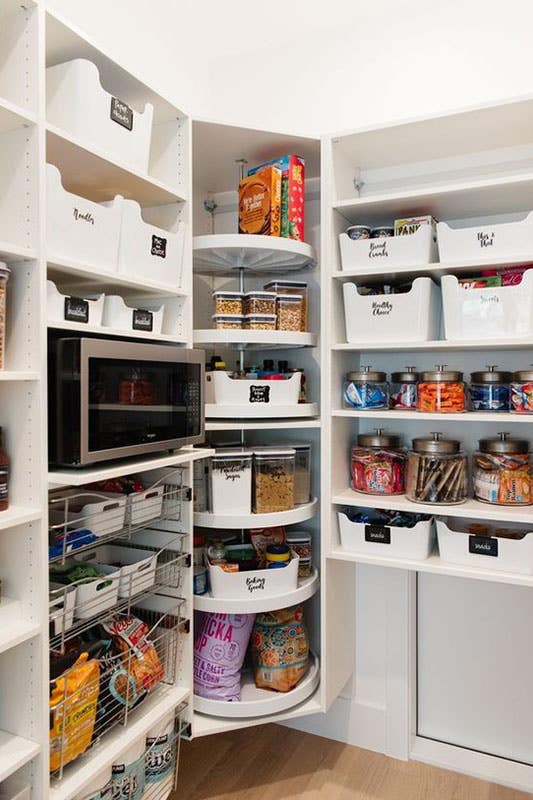 Lazy Susans come in various sizes, shapes, and materials, allowing you to choose the ones that best fit your pantry's dimensions and style. You can opt for full-circle or half-circle Lazy Susans, depending on your pantry's layout. With a quick spin, you can access items on a Lazy Susan without the need to reach to the back of the pantry. This feature ensures that items stored on the trays are easily visible and accessible, making it convenient to find what you need.
10. Add Cover Shelves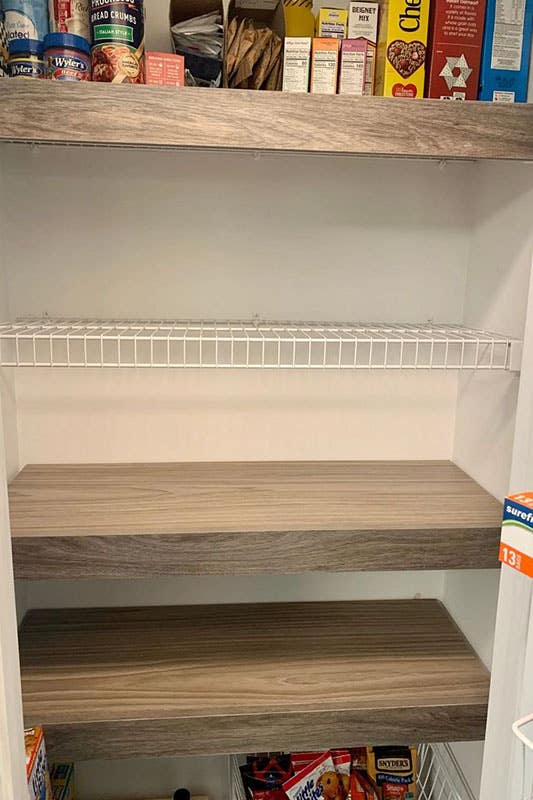 Adding cover shelves in a pantry is a practical and visually appealing way to enhance storage and organization. Cover shelves are used to cover wire shelving to make them more visually appealing. They come in a variety of styles giving you many options to choose from. 
11. Utilize the Back of the Door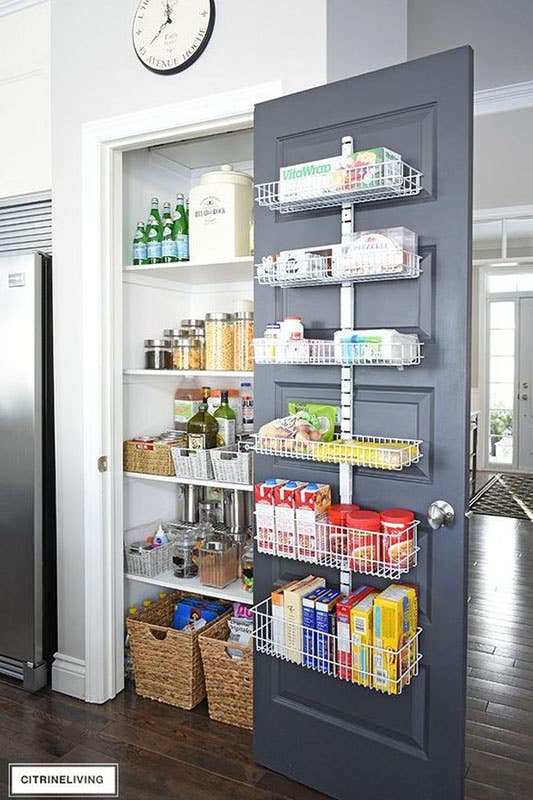 Install over-the-door organizers with pockets or shelves to store small items like spices, condiments, snacks, or kitchen tools. These organizers keep items easily accessible and prevent clutter on pantry shelves. By utilizing the back of the door in a pantry, you can make the most of every inch of space and create a more organized and functional kitchen storage area. These ideas allow you to keep frequently used items within easy reach and declutter pantry shelves.
12. Clear, Stackable Food Storage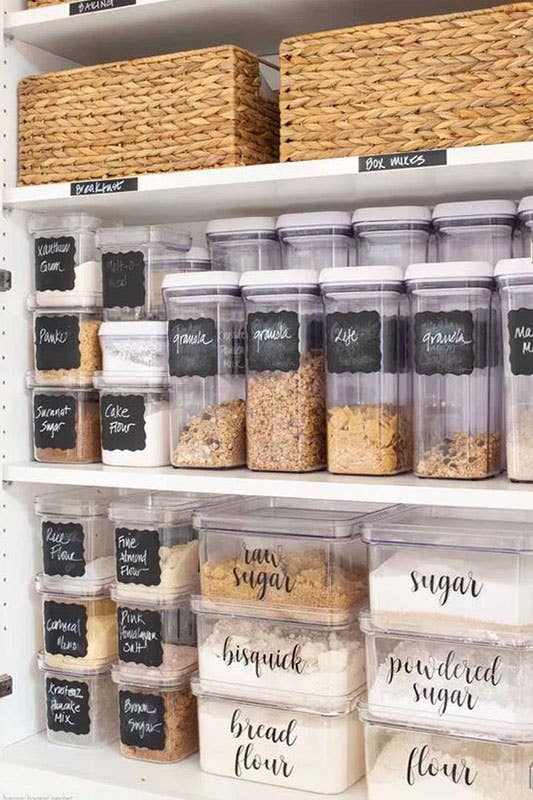 Stackable containers make efficient use of vertical space for walk in pantry shelves. By stacking containers on top of each other, you can utilize the entire height of the shelves, maximizing storage capacity. Stackable food storage containers also come in various sizes, making them suitable for storing a wide range of pantry items, including pasta, rice, snacks, nuts, dried fruits, and more. In conclusion, clear, stackable food storage containers are a practical and visually appealing solution for organizing your pantry. They offer enhanced visibility, and space-saving benefits, helping you maintain an efficient and tidy pantry. 
13. Add A Cart for Mobile Storage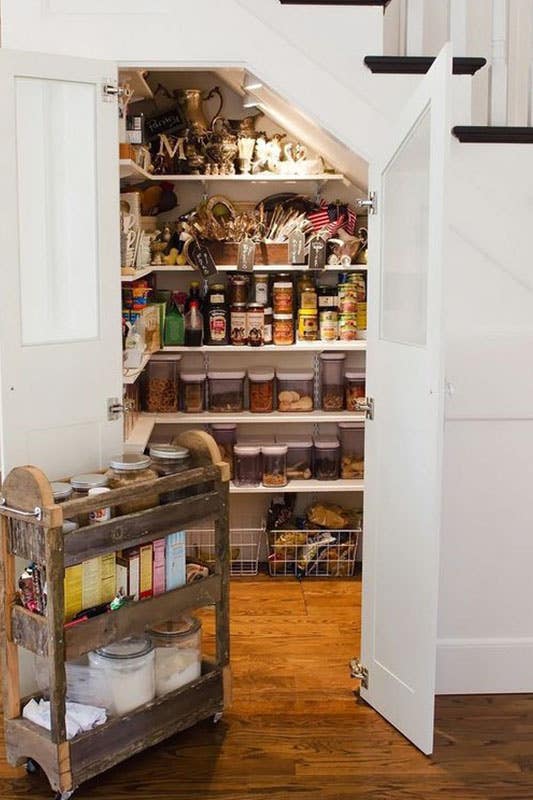 A mobile cart can serve various purposes in the kitchen. You can use it to store snacks, canned goods, baking supplies, small appliances, or even as a portable beverage station. The cart can be moved around the kitchen, allowing you to have essential pantry items close at hand while you're cooking or preparing meals. The cart can be used to hold different categories of pantry items, and you can customize the cart's organization based on your needs. 
14. Walk In Pantry with Sliding Ladder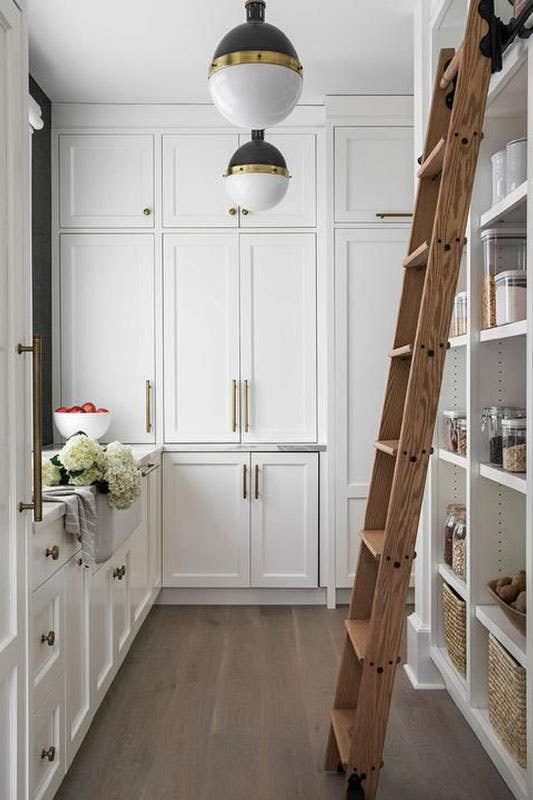 A walk-in pantry often has tall shelves, and a sliding ladder allows you to make full use of the vertical space. You can easily access items placed on higher shelves without the need for step stools or climbing. A sliding ladder becomes a striking focal point in the pantry, drawing attention and becoming a conversation piece for guests and family members alike. A walk-in pantry with a sliding ladder offers a functional and stylish storage solution. It optimizes vertical space, enhances accessibility, and adds a touch of luxury to your pantry. 
15. Butler's Pantry with Wine Fridge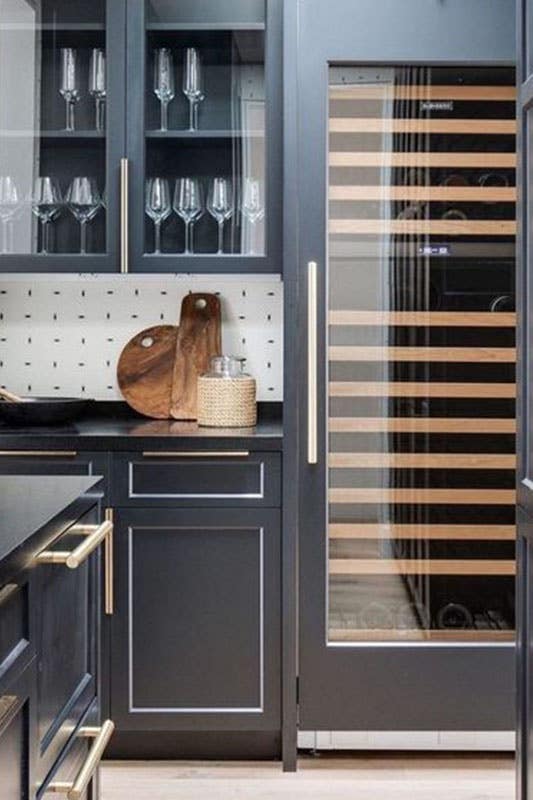 A Butler's pantry with a wine fridge is a luxurious and practical addition to any home. A Butler's pantry is a smaller, separate space adjacent to the kitchen that serves as a functional area for storage, preparation, and serving. Including a wine fridge in the Butler's pantry elevates its functionality and adds a touch of sophistication to the home. The Butler's pantry, with the addition of the wine fridge, offers a well-organized storage area for various kitchen essentials, including glassware, serving dishes, small appliances, and pantry items. You can customize the design and layout of your Butler's pantry with a wine fridge to suit your preferences and needs, creating a space that reflects your style and enhances your lifestyle.
16. Walk In Pantry With Cabinets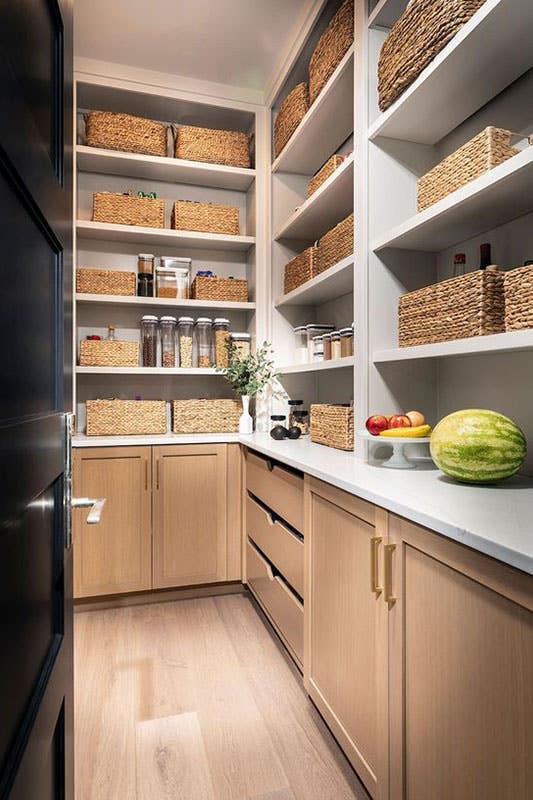 Cabinets in a walk-in pantry provide plenty of storage for pantry items, kitchen essentials, and household supplies. They can accommodate a wide range of items, including dry goods, canned goods, kitchen appliances, cleaning supplies, and more. Cabinets provide concealed storage, which helps maintain a clean and uncluttered appearance in your kitchen. You can store items behind closed doors, keeping the pantry space visually appealing as well. A well-designed walk-in pantry with cabinets can add value to your home, as it is a desirable feature for potential buyers and enhances the functionality of your kitchen. Whether you have a small or spacious walk-in pantry, cabinets are a valuable investment that will keep your kitchen well-organized and efficient.
17. Farmhouse Walk In Pantry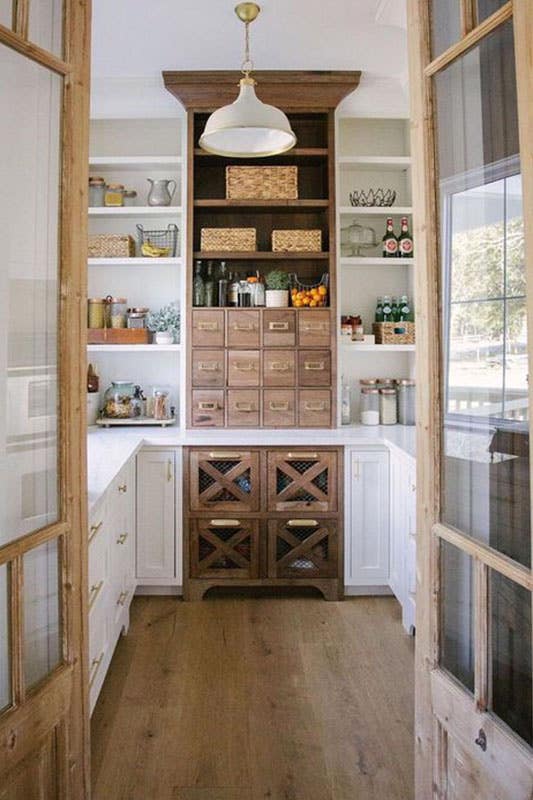 Use rustic wooden shelves for an authentic farmhouse feel. Stained or distressed wood can add character and warmth to the pantry. You can use mason jars to store dry goods like beans, rice, pasta, and spices. Mason jars contribute to the farmhouse aesthetic and keep pantry items well-organized and easily visible.  Hang vintage or farmhouse-inspired signs on the walls to add a nostalgic touch to the pantry decor. A farmhouse walk-in pantry combines rustic elements, vintage-inspired decor, and functional storage solutions. It exudes a cozy and inviting atmosphere while providing ample space to store and organize pantry items. The farmhouse style is all about embracing simplicity and warmth, making it a perfect theme for a practical and charming walk-in pantry.
18. Double Doors for Pantry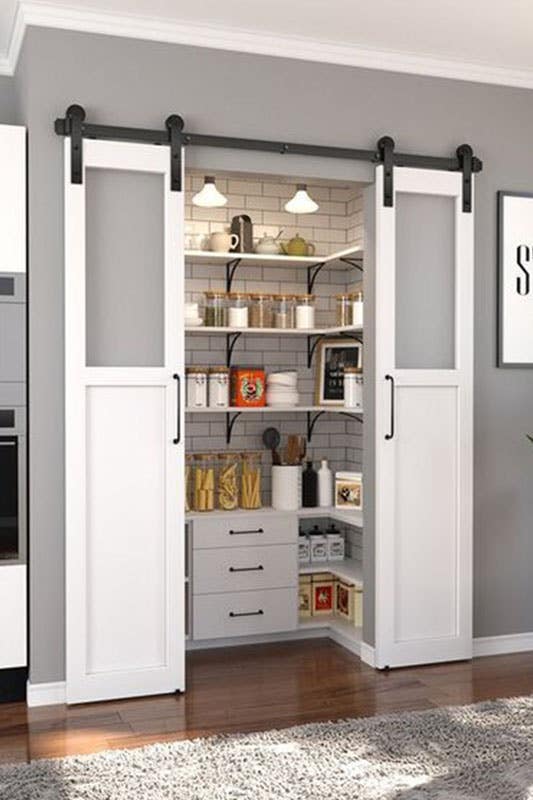 Double doors provide a wider opening, allowing for easy access to the pantry. This is especially beneficial if you have a large family or frequently use the pantry to store a variety of items. Double doors can add an elegant and sophisticated touch to the pantry. They can be a focal point of the kitchen, especially if they have decorative glass or unique handles. If you have a spacious walk-in pantry, double doors are an excellent choice as they can make the most of the wide opening and provide a grand entrance to the pantry.
19. Walk-in Pantry with Black Door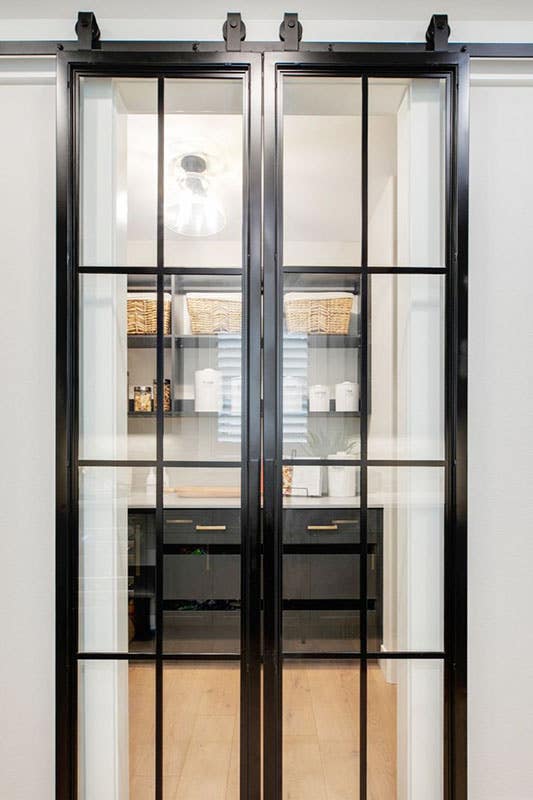 The black door creates a bold contrast against the surrounding walls and cabinetry, adding visual interest and making the pantry stand out as a statement piece in your kitchen. Black is a classic and timeless color that can blend well with various design styles, including farmhouse, industrial, and minimalist aesthetics. Whether you have a small or spacious walk-in pantry, a black door can add a touch of elegance and sophistication to your kitchen space.
20. Industrial Walk In Pantry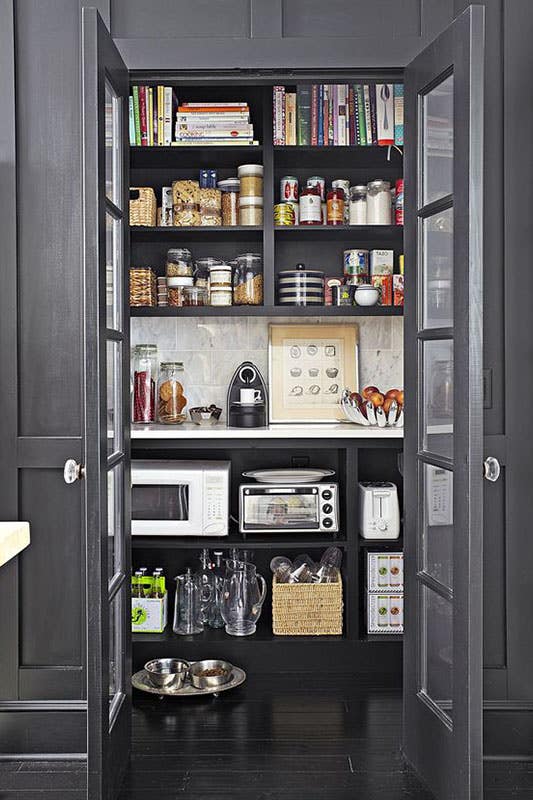 The last walk in pantry idea is an industrial-style walk-in pantry. It can bring a unique and edgy vibe to your kitchen, combining elements of raw materials, exposed finishes, and utilitarian design. Use metal shelving units for a rugged and industrial look and choose hardware with an industrial look for cabinets and drawers in the pantry. Black or aged metal handles and pulls can enhance the overall industrial feel. Also, use wire baskets and crates for storing pantry items, adding to the industrial charm while also providing practical and accessible storage. Remember to balance the rawness with warm elements like reclaimed wood and incorporate practical storage solutions to create a functional and aesthetically pleasing industrial walk-in pantry.
Related Blogs: 
FAQ's
1. What should be included in a walk in pantry?
A well-equipped walk-in pantry should feature shelves to maximize storage, storage containers for organization, and a step stool or a sliding ladder for convenience.
2. Difference between walk in vs butler pantry?
The primary purpose of a walk-in pantry is to provide additional storage space for dry goods, canned goods, kitchen essentials, and other pantry items. The main purpose of a butler's pantry is to facilitate serving and entertaining. It typically includes storage for serving ware, glassware, dishes, and sometimes a sink or small appliances. It acts as a staging area for preparing and serving meals during formal gatherings.
3. Does a walk in pantry add value to a home?
Many homebuyers consider a walk-in pantry as a desirable feature in a home. Having a dedicated space for storage and organization of pantry items is seen as a practical and convenient asset. Overall, a well-designed walk-in pantry can positively contribute to a home's value and market appeal.