Are you ready to transform your kitchen and update your backsplash? There are many different options and designs available to give you your dream modernized kitchen, so we understand the process can be difficult! Popular styles include patterned, simple and solid colored, marble, stone, different styles of tiles and more!.
A kitchen backsplash is a fantastic opportunity to add style and personality to your kitchen while protecting your walls from splatters and stains. Some other more specific modern kitchen backsplash ideas that are commonly seen and can transform the entire space include:
1. Subway Tiles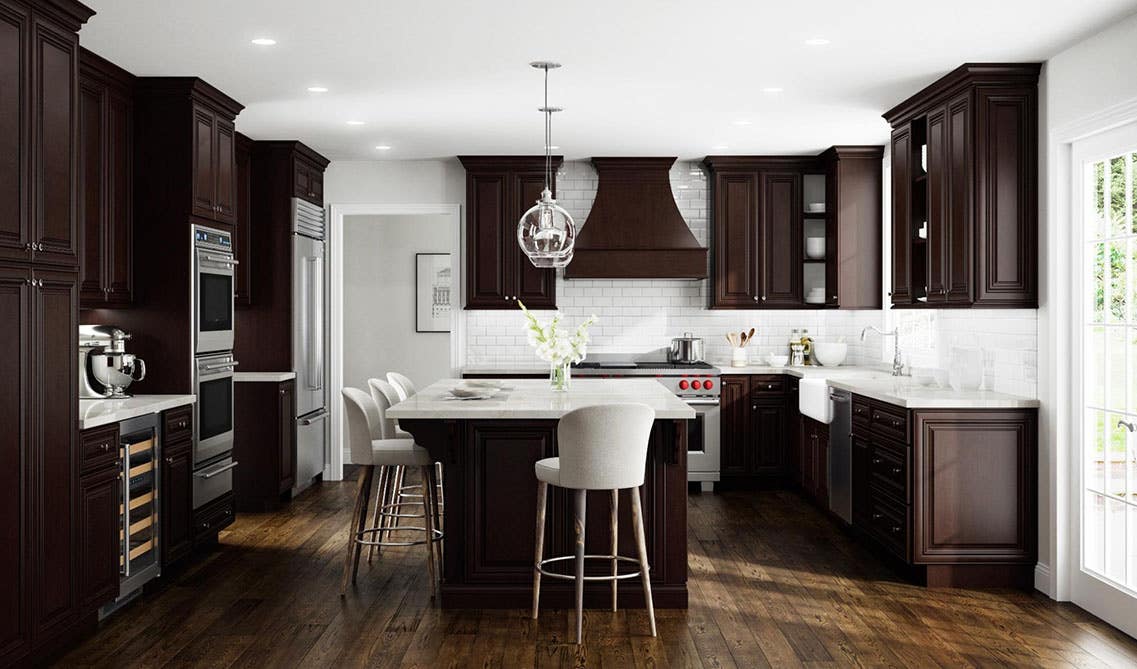 Lily Ann Cabinets: Bristol Chocolate
 Subway tiles have a timeless appeal and work well in both traditional and contemporary kitchens. Opt for a classic white subway tile for a clean and minimalist look, or choose colored or textured subway tiles for a more unique and eye-catching design. At Lily Ann Cabinets, we have a white porcelain Mosaic subway tile, as well as a gray porcelain shade for darker kitchens which give more tone! Each of these options are perfect for any kitchen as they are low maintenance and easy to clean.
2. Geometric Patterns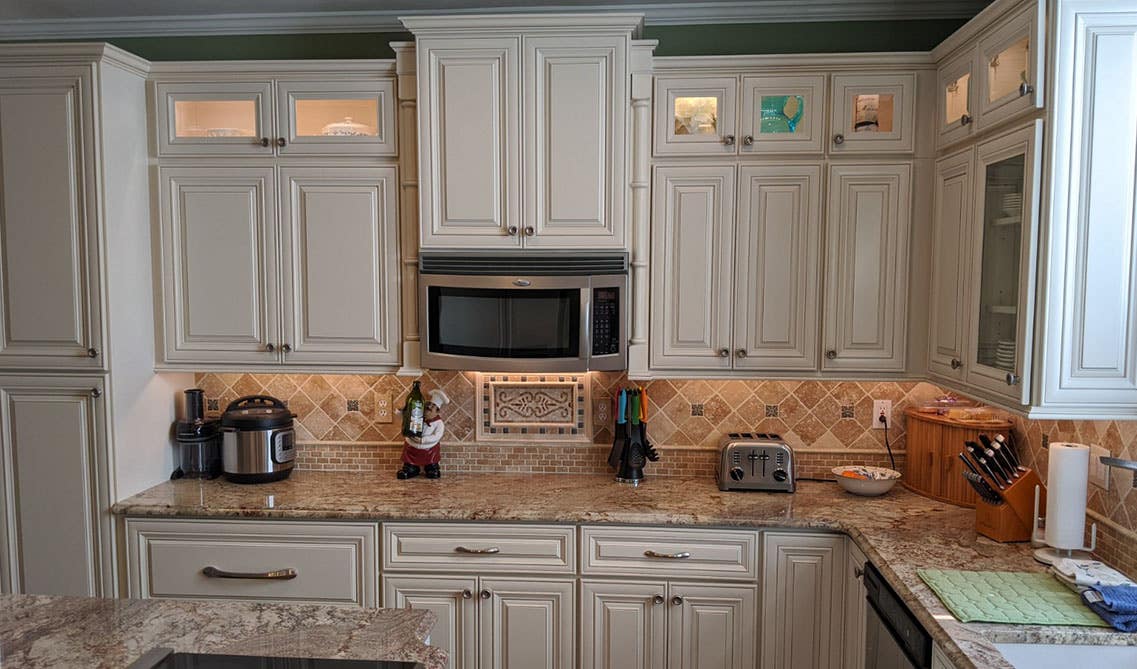 Lily Ann Cabinets: Bristol Linen
Geometric patterns can add a modern and playful touch to your kitchen backsplash. Consider using hexagonal or Moroccan-inspired tiles in various colors to create an interesting and dynamic pattern. One of the key advantages of geometric patterns for backsplashes is their versatility. With a wide range of design options, you can find a pattern that perfectly complements your existing decor or serves as a striking focal point. Whether you prefer a modern, minimalist look or a more intricate and detailed design, geometric patterns can be tailored to suit your personal style and preferences.
3. Glass Backsplash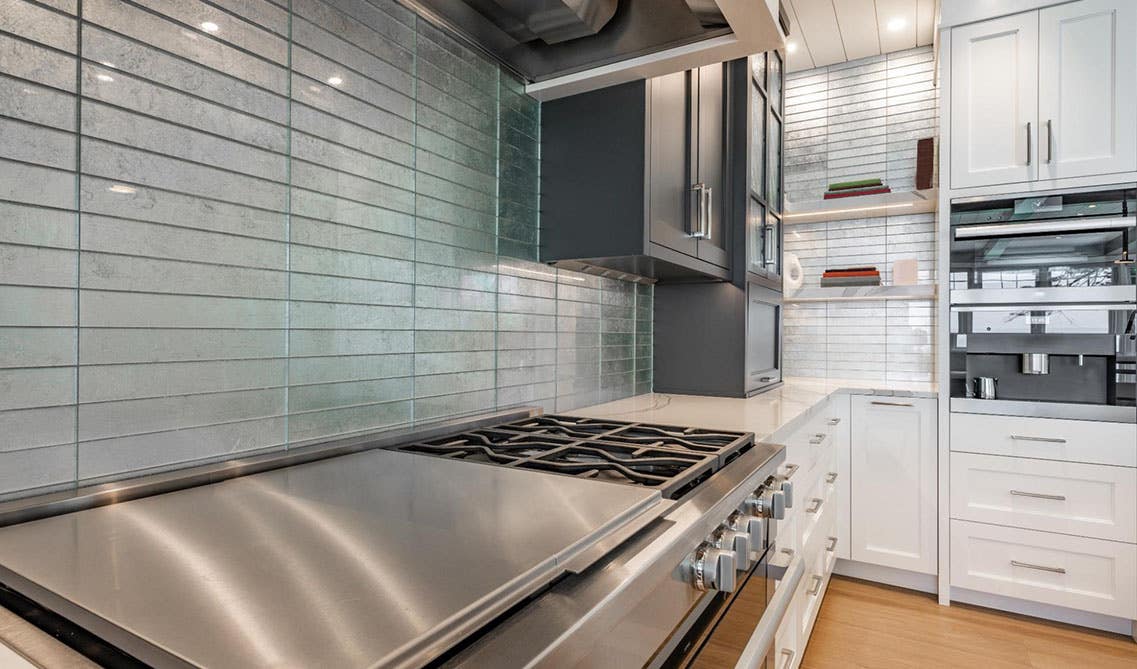 A glass backsplash can create a sleek and modern look in your kitchen. It's easy to clean and adds a reflective surface that can make your kitchen feel more spacious. You can choose clear glass for a minimalist look or go for colored or frosted glass for added visual interest. You can customize your own glass backsplash by painting it to match your kitchen's color scheme. Back-painted glass is a sleek and modern option and it provides a seamless and glossy look while protecting your walls.
4. Mirrored Backsplash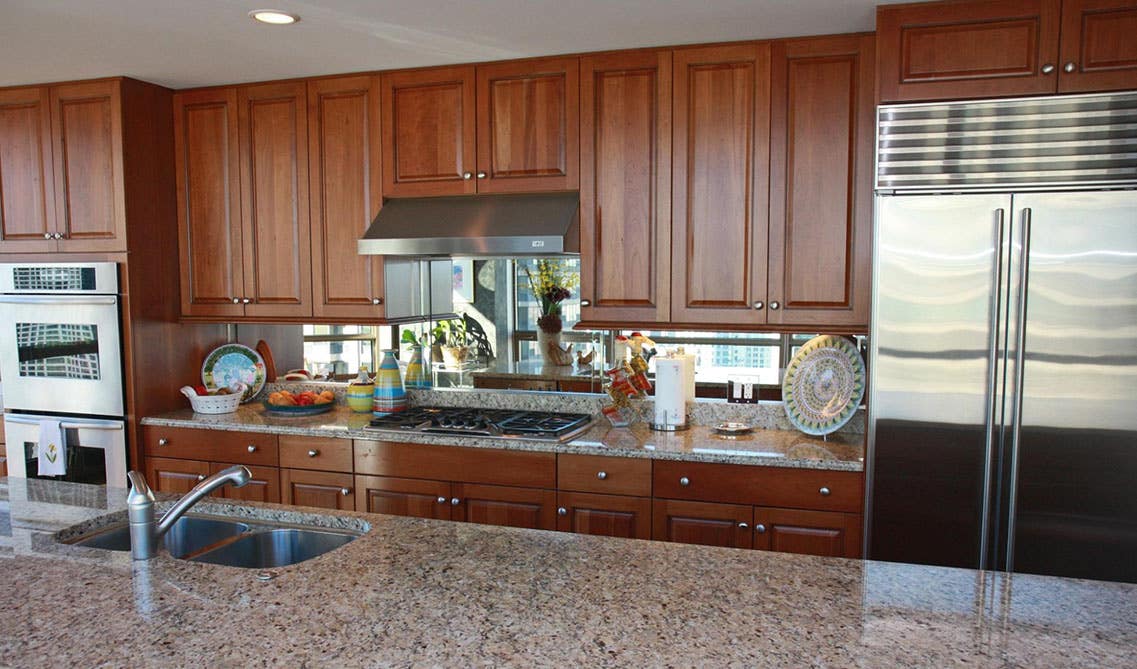 Mirrored backsplashes are a bold and glamorous choice. They can reflect light and make your kitchen appear larger. Remember to be mindful of the maintenance of glass and keeping them clean as they tend to show fingerprints and smudges more easily.
5. Patterned Tiles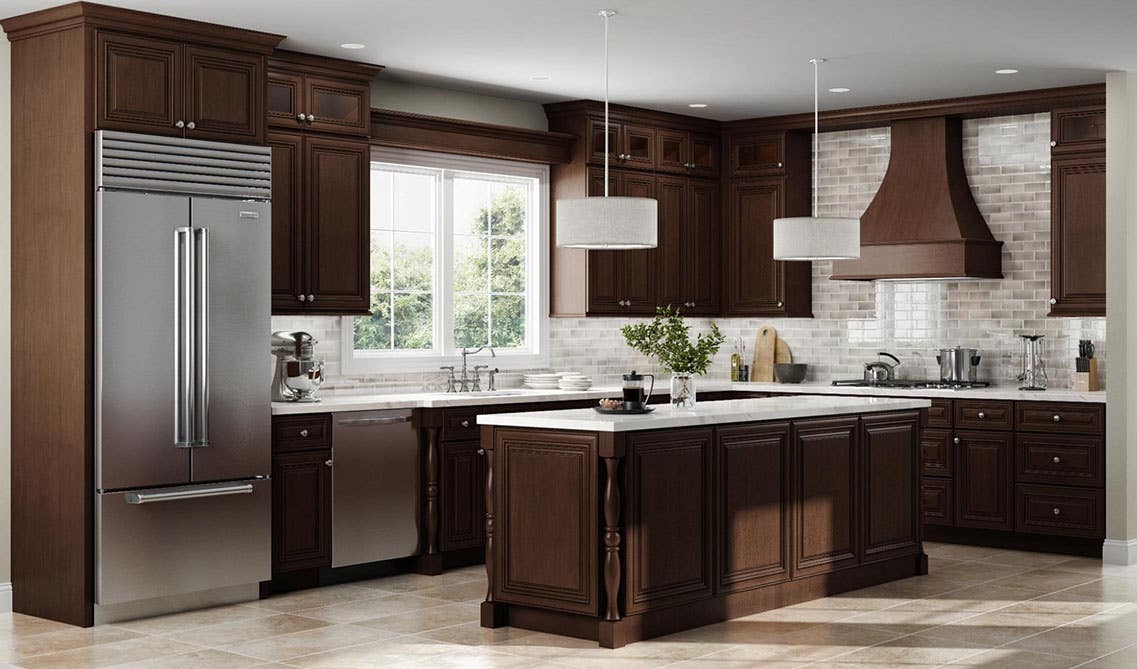 Lily Ann Cabinets: Charleston Saddle
Experiment with patterned tiles to create a focal point in your kitchen. Moroccan, Mediterranean, or encaustic tiles with intricate patterns can add a vibrant and artistic touch to your space. Ceramic tiles are the one of the most popular choices for kitchen backsplash. They are resistant to moistures and spills, and they are versatile as they come in many different shapes, sizes, and colors suitable for any kitchen.
6. Natural Stone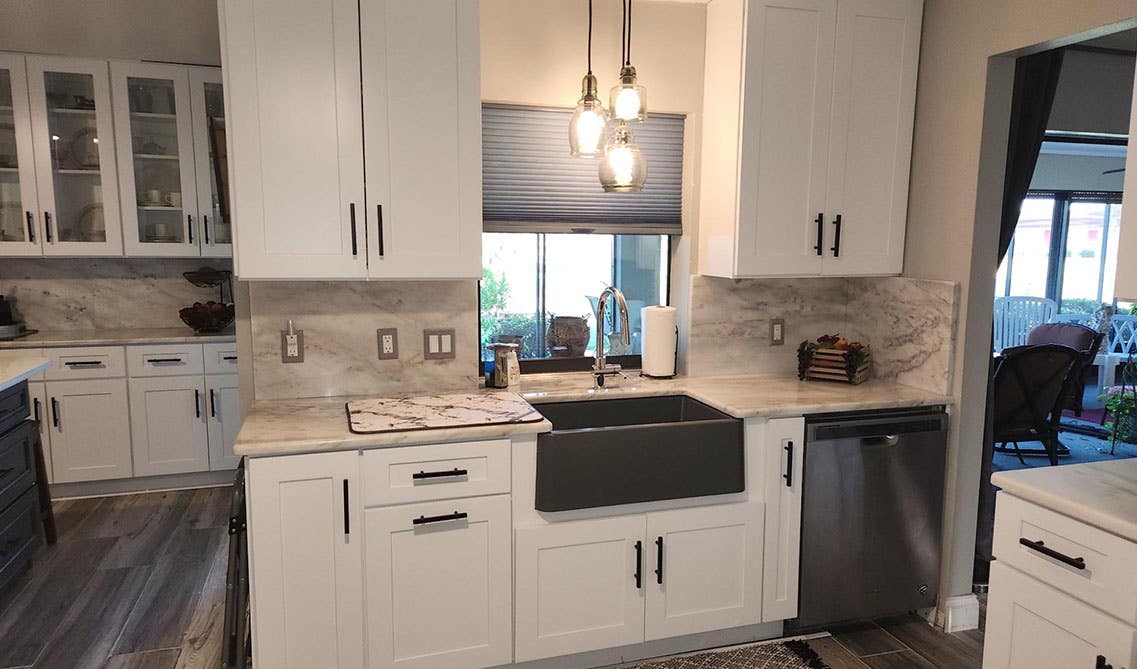 Lily Ann Cabinets: Colorado White Shaker
Choose natural stone, such as marble, granite, or travertine, for a luxurious and elegant kitchen backsplash. The unique veining and textures of natural stone can add depth and character to your space while offering a variety of different colors and patterns to best suit your ideal style.
7. Reclaimed Wood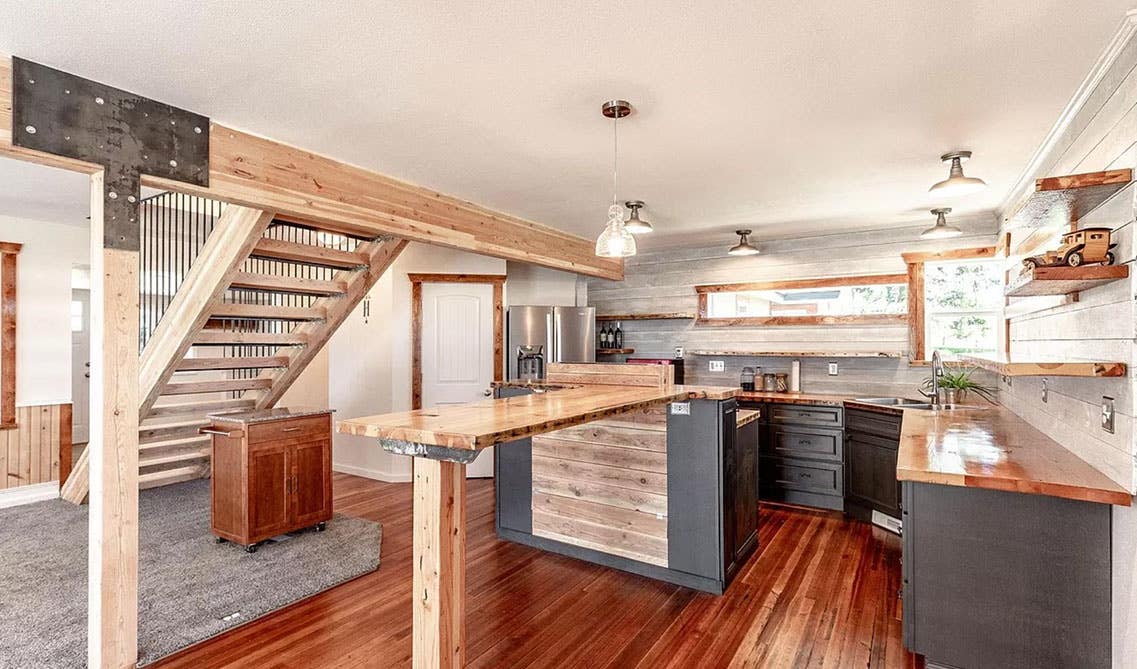 Lily Ann Cabinets: York Driftwood
For a rustic and warm look, consider using reclaimed wood as a backsplash material. It adds a touch of natural beauty and texture while creating a cozy atmosphere in your kitchen.
8. Brick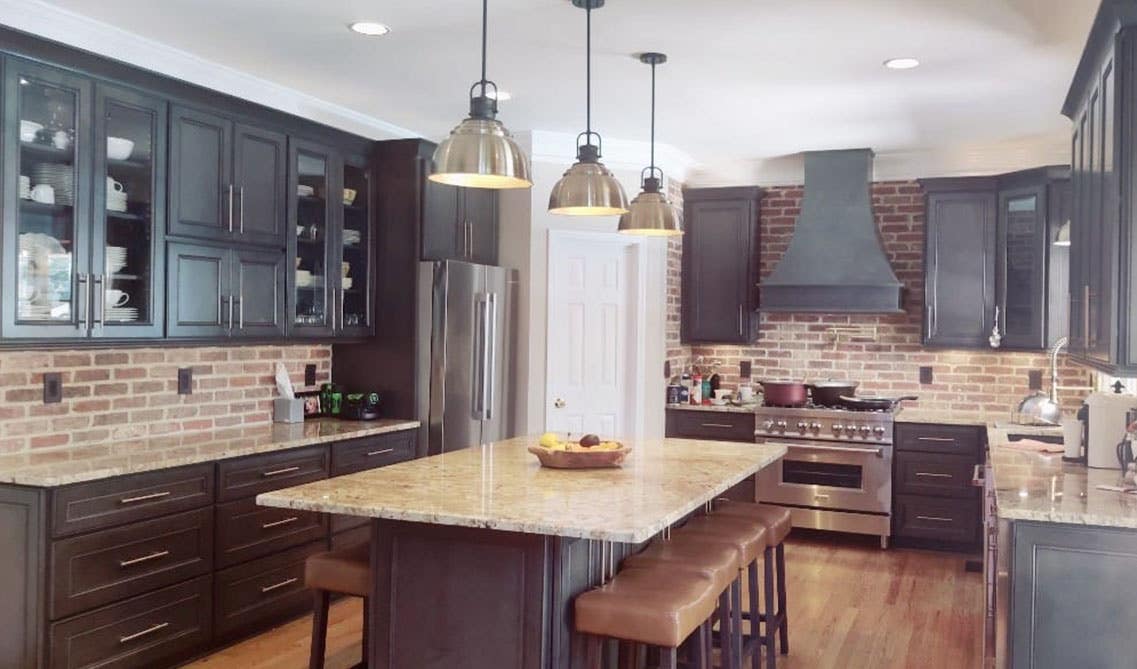 Lily Ann Cabinets: York Driftwood Gray
Brick backsplash can be more difficult to clean as it has a rough surface. However, it is a great modern and homely choice while it adds texture and warmth into your kitchen, and can add a farmhouse style design. For a more modern and personalized brick look, you could paint the brick all black or white for a cleaner and more slick design. 
9. Contrast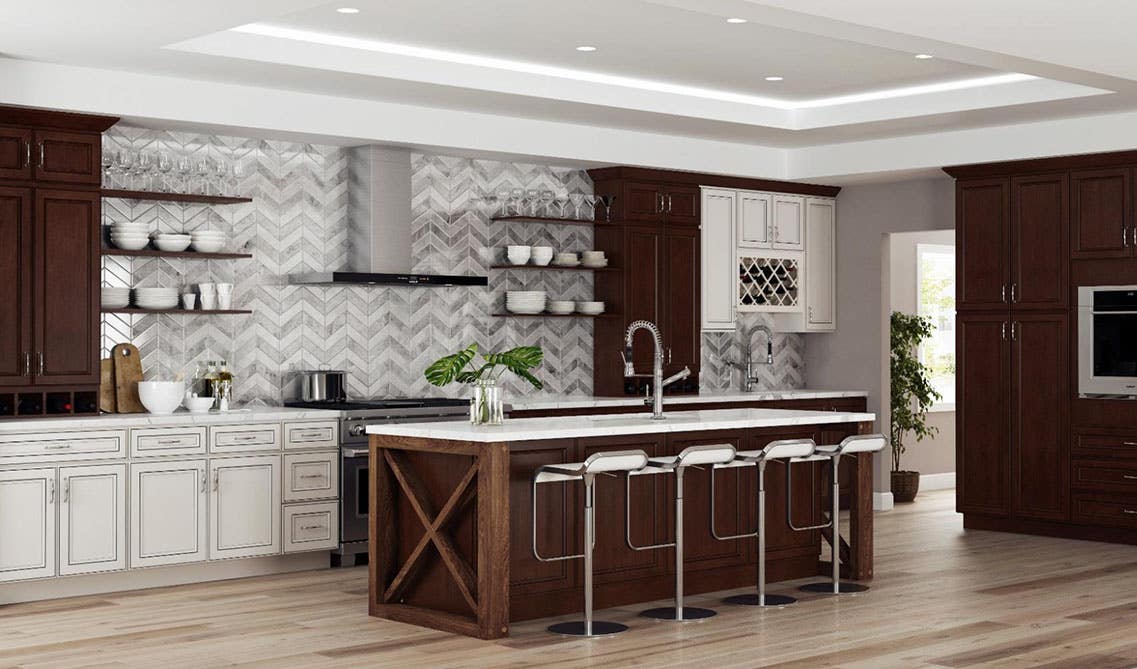 Lily Ann Cabinets: York Saddle
If you prefer a high-contrast look, you can choose a backsplash color that is either significantly lighter or darker than your cabinets. This creates a visually striking effect and can add depth and visual interest to your kitchen.
10. Cohesion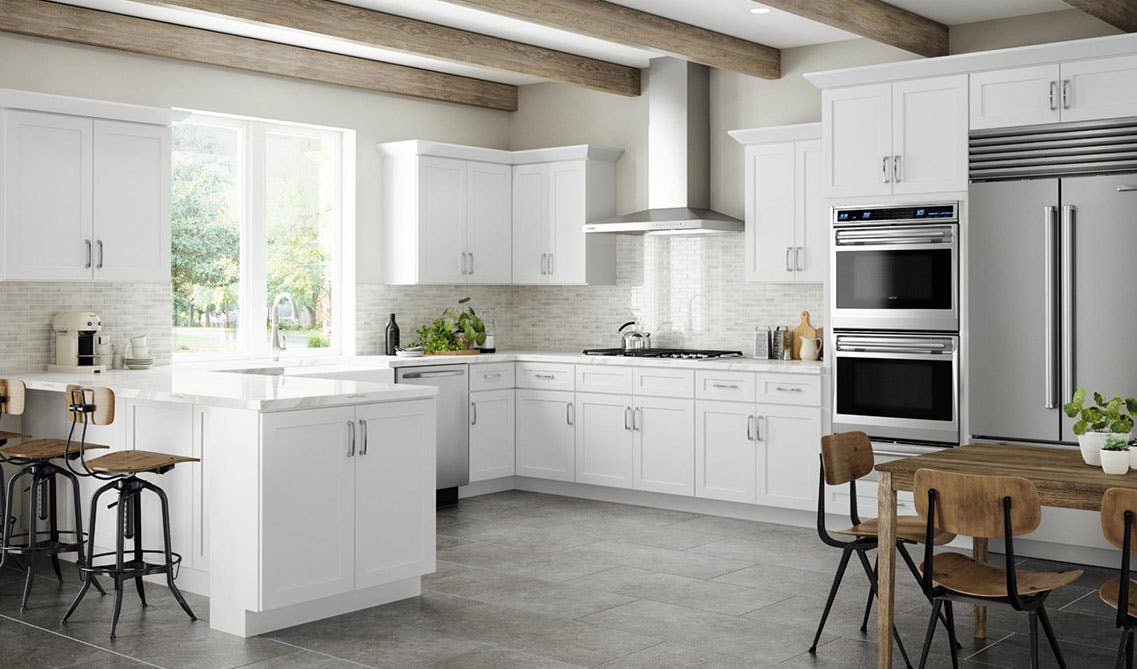 Lily Ann Cabinets: Summit White Shaker
On the other hand, if you want a more cohesive and unified look, you can opt for a backsplash that is similar in color to your cabinets. This creates a seamless and balanced appearance, particularly if you have a monochromatic or neutral color scheme.
11. Focal Point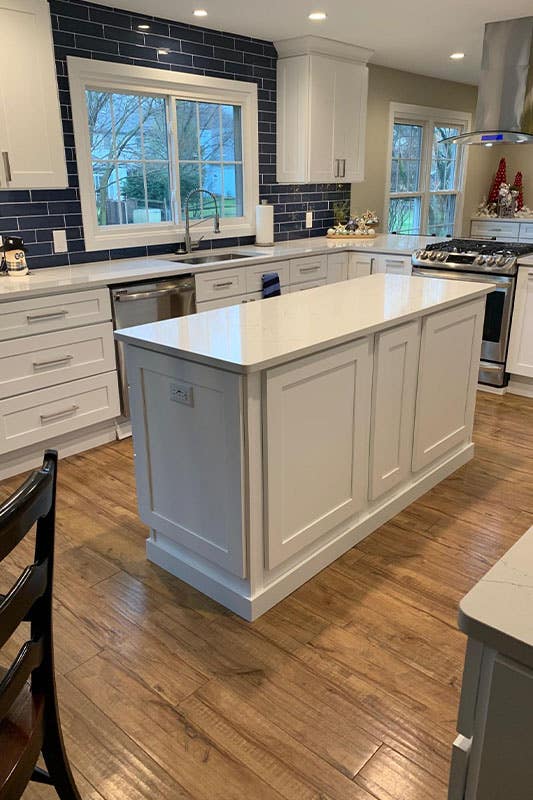 Lily Ann Cabinets: White Shaker Elite
If you want your backsplash to be a focal point in your kitchen, selecting a contrasting color can help draw attention to it. A darker backsplash against lighter cabinets or vice versa can create a stunning focal point that becomes a visual centerpiece in the space.
12. Visual Balance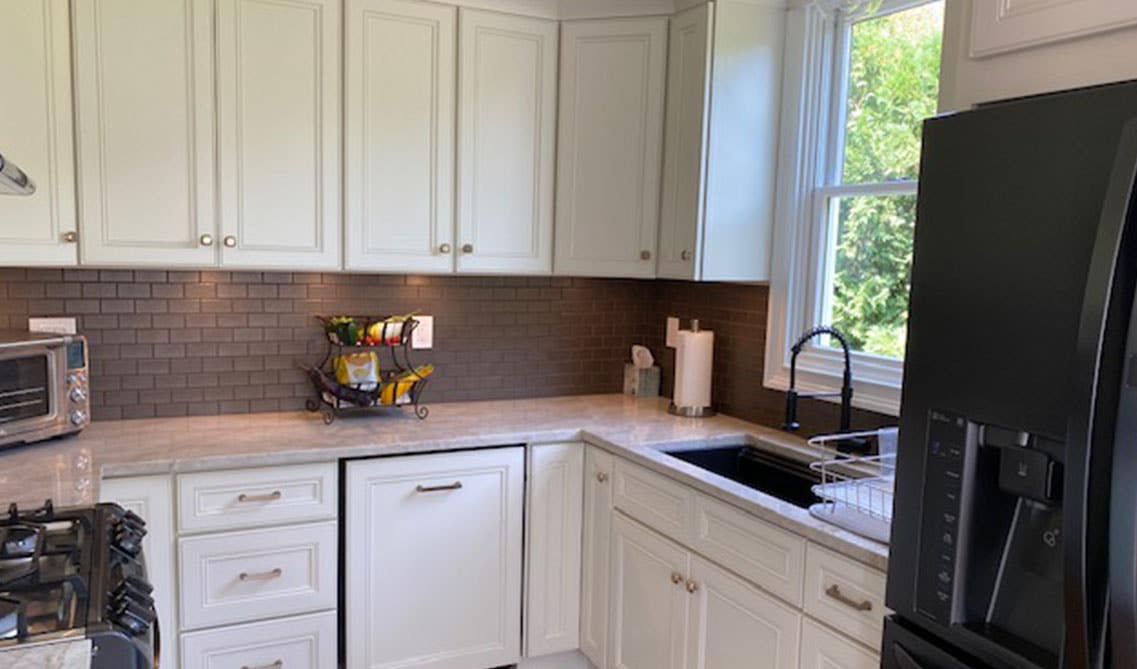 Lily Ann Cabinets: York Linen
Consider the overall balance of your kitchen design. If you have darker cabinets and countertops, a lighter backsplash can help to balance the visual weight and prevent the space from feeling too heavy, and vice versa.
13. Style and Aesthetics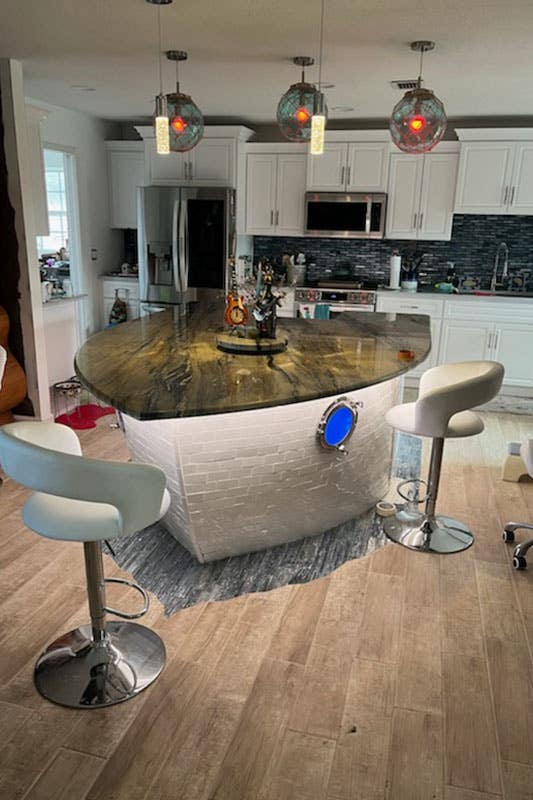 Lily Ann Cabinets: Key Largo
The style and aesthetic you want to achieve in your kitchen should also influence your decision. For example, in a contemporary kitchen, contrasting colors between the backsplash and cabinets can create a modern and edgy look. In a more traditional kitchen, a more harmonious color scheme may be preferred.
When it comes to determining the color of your kitchen backsplash, any color that complements the tones of the rest of your kitchen is a great option. However, if you are stuck on choosing a color, white is the most popular color for backsplash. It is the easiest color to maintain as it is the easiest to clean, it is simple and looks great in any kitchen.
When choosing a backsplash, it's essential to consider the overall style and color scheme of your kitchen to ensure a cohesive and harmonious look. Select a design that reflects your personal taste and complements the rest of your kitchen's aesthetics.
At Lily Ann Cabinets, we offer mosaic tiles, in a moonlight pebble stone, as well as a flat gray pebble stone. This style offers a unique and beautiful appeal to any kitchen as each stone is placed in a different pattern based on size, shape, and color. Before jumping into your new renovation project, be sure to consult with one of our experts to ensure you the best and most ideal design to fit your needs and have a clear vision of your final project
If you still have questions regarding which style would look best with your kitchen design, please feel free to reach out to us and speak with one of our professionals, or check out your free 3D design!
Related Cabinets: