Lily Ann Cabinets: York Driftwood Grey
In the world of interior design, details matter. And when it comes to transforming a room from ordinary to extraordinary, few details are as impactful as crown molding. This architectural element not only adds a touch of sophistication but also elevates the overall aesthetics of a space. Join us as we embark on a journey of discovery, exploring kitchen cabinet crown molding ideas for your kitchen.
1. Cabinet Crown Molding to the Ceiling: Reaching New Heights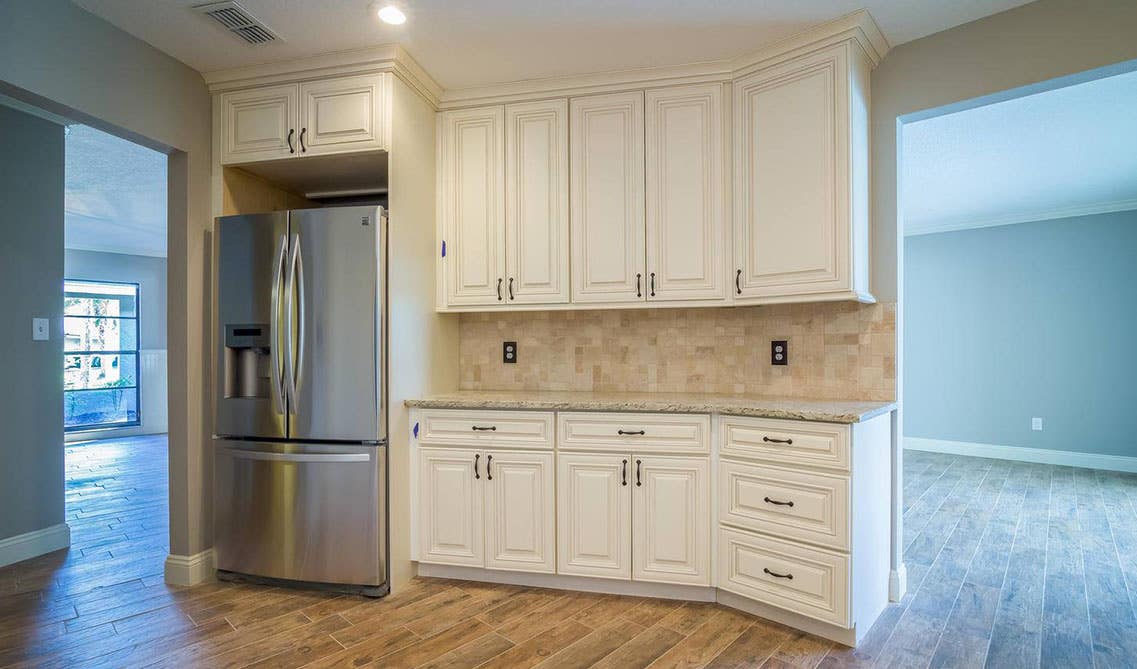 Lily Ann Cabinets: Bristol Linen
For an elegant and seamless look, consider cabinet crown molding that connects to the ceiling. This design eliminates the visible gap between your cabinets and ceiling, creating a continuous line that draws the eye upwards. The result is a cohesive and polished appearance to your kitchen.
Shop our Bristol Linen here!
2. Thin Gap Between Cabinet and Ceiling: Subtle and Sleek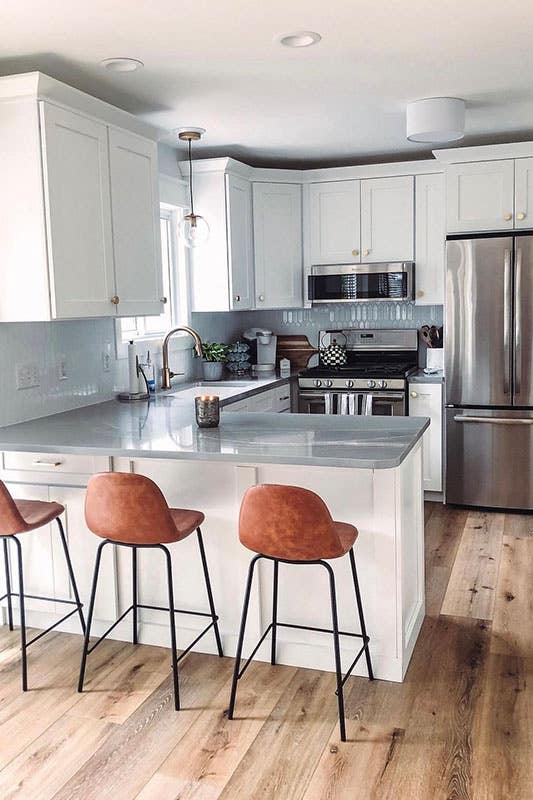 Lily Ann Cabinets: White Shaker Elite
For those who appreciate a seamless transition, consider a thin gap between the cabinet and ceiling crown molding. This minimalist approach creates a sleek and understated effect, adding a touch of elegance without overwhelming the space.
Our White Shaker Elite line is a very popular option because of its timelessness and ability to work well with other colors. To create the look above, combine our White Shaker Elite cabinets with a knob or pull from our brass group. 
3. Large Gap For Decorations: Showcase Your Style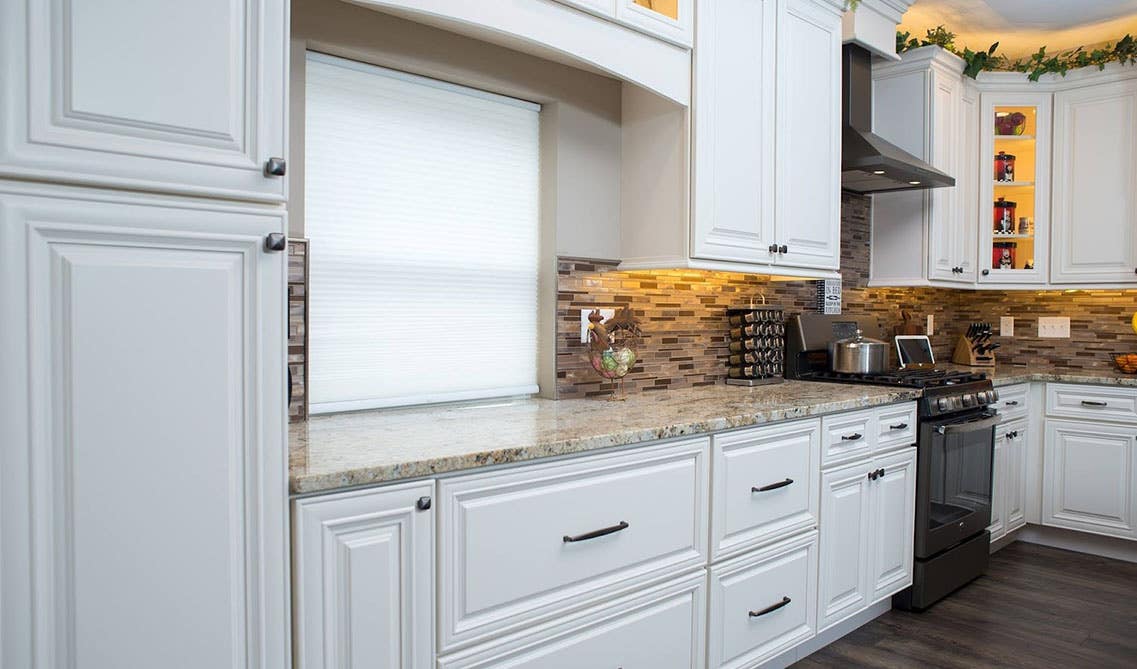 Lily Ann Cabinets: Charleston Linen
Embrace the opportunity to display your decorative prowess by leaving a larger gap between the cabinet crown molding and ceiling. This space offers a platform for showcasing charming decorations, whether it's charming plants, exquisite china, or captivating artwork.
Shop our Charleston Linen here!
4. All White Kitchen: Timeless Elegance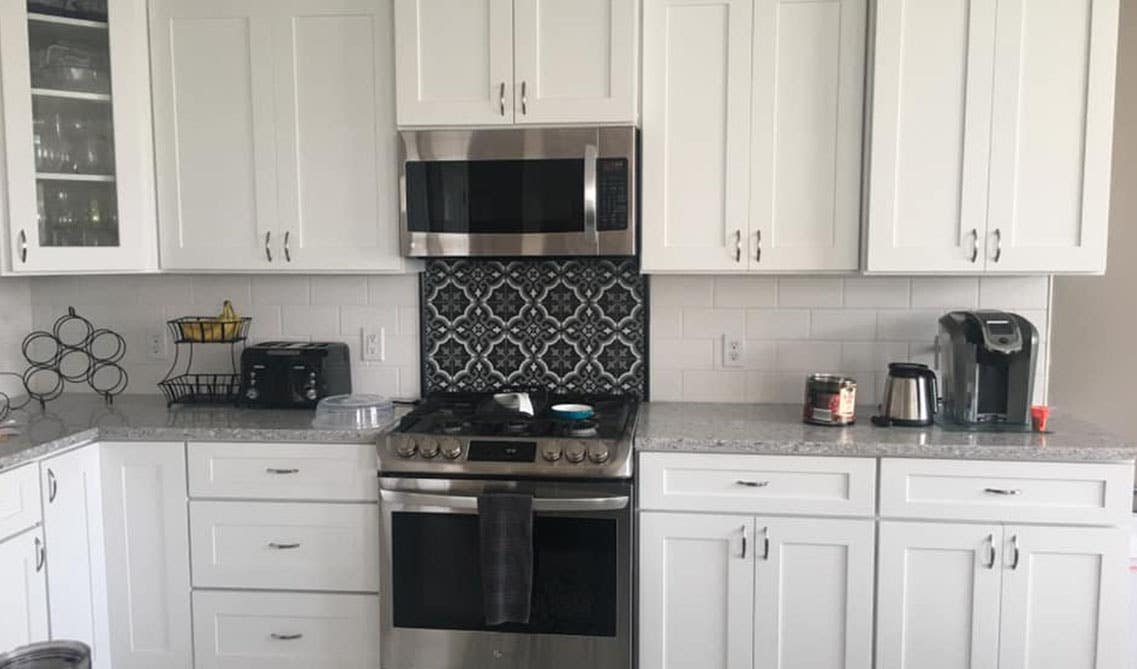 Lily Ann Cabinets: Summit Shaker White
In an all-white kitchen, crown molding takes on a role of subtle distinction. White crown molding against white cabinets and ceilings creates an atmosphere of timeless sophistication, enhancing the overall purity and brightness of the space.
Shop our Summit Shaker White here!
5. Dark Trim and Light Cabinets: Bold Contrast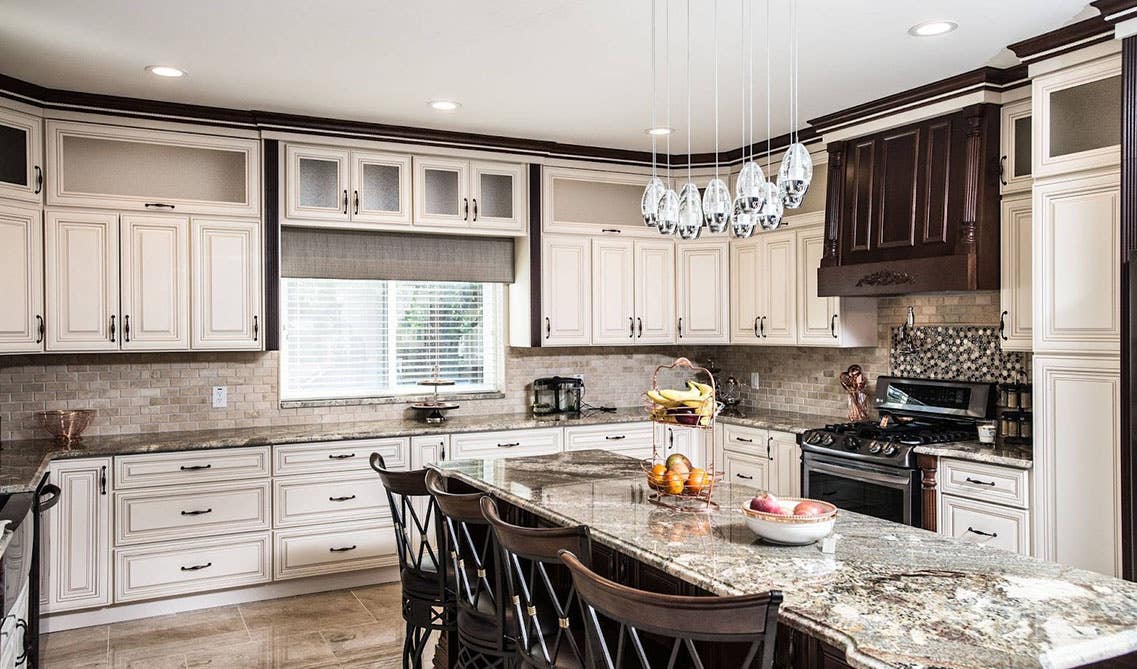 Lily Ann Cabinets: Charleston Linen
Light cabinets, with a bright and timeless feel, provide the perfect canvas for dark crown molding to shine. A stark contrast between the molding and the cabinetry can create a striking visual impact, adding depth and character to the room. You can match your dark trim to your island which is seen in the picture above which creates an even more dramatic look.
Checkout: Which crown molding would you choose for your kitchen?
6. Two-Tone Crown Molding: Even More Contrast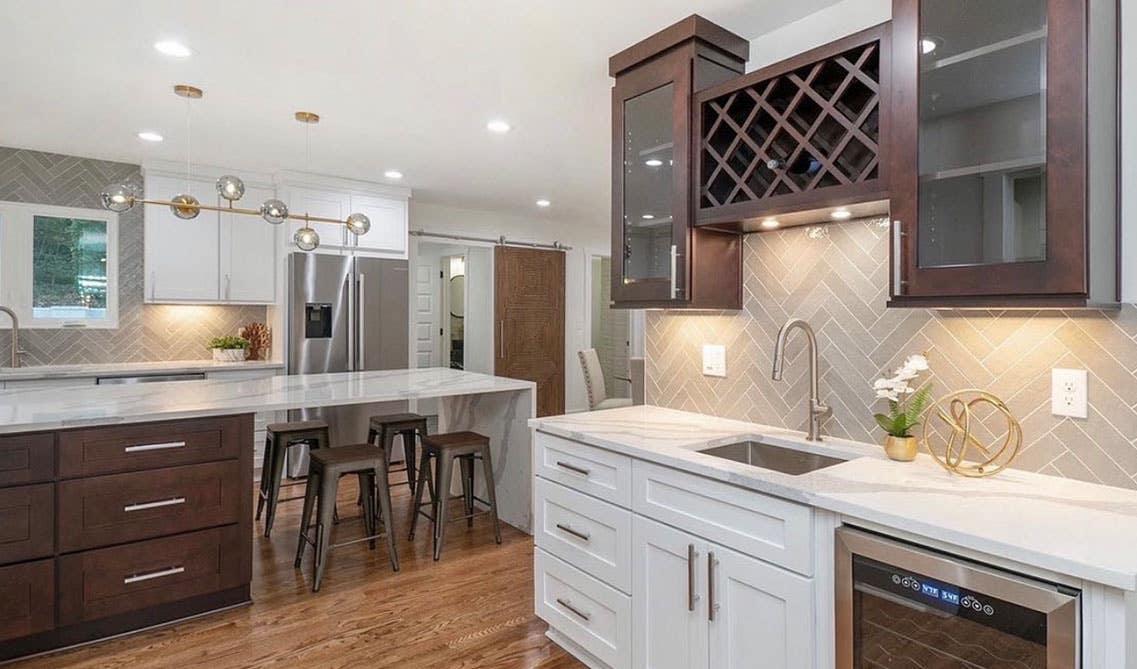 Lily Ann Cabinets: White Shaker Elite and Shaker Espresso
Why settle for one color when you can play with contrast? Two-tone crown molding introduces a captivating visual effect, drawing attention to the exquisite lines and profiles of the molding while adding depth and dimension to your cabinets.
Shop our Shaker Espresso here!
7. Different Height Cabinets: Variations in Elevation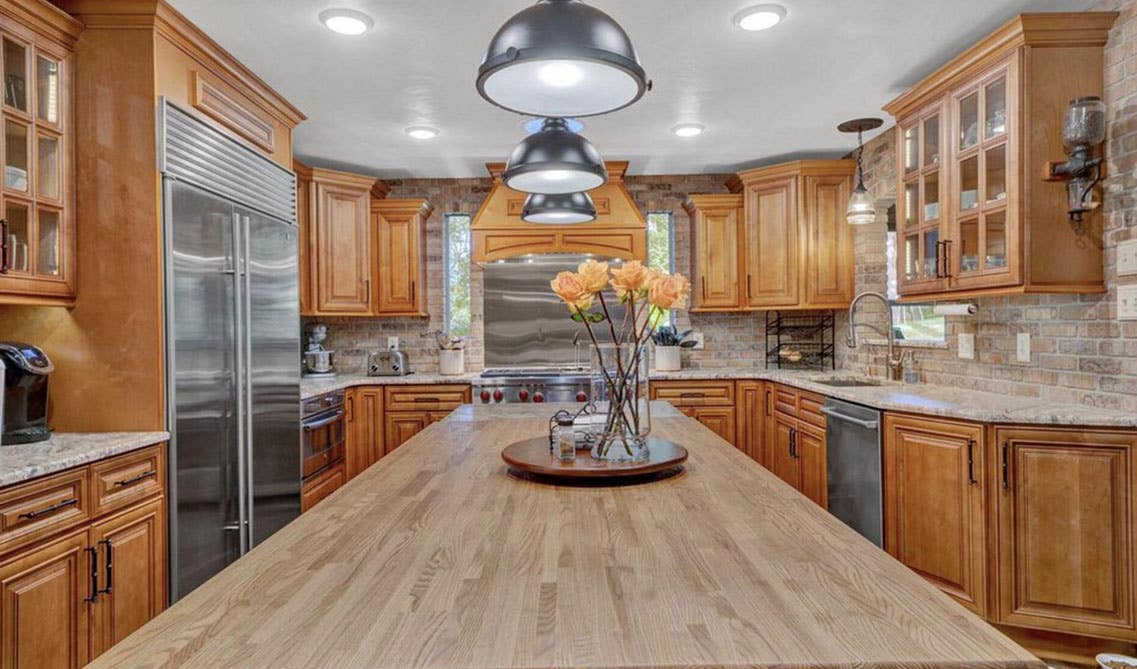 Lily Ann Cabinets: Charleston Toffee
If your kitchen boasts cabinets of varying heights, consider matching crown molding to each cabinet's respective height. This choice creates a harmonious transition that emphasizes the unique characteristics of each cabinet while maintaining an overall cohesive look.
Shop our Charleston Toffee here!
8. LED Lights Above Crown Molding: Illuminate With Style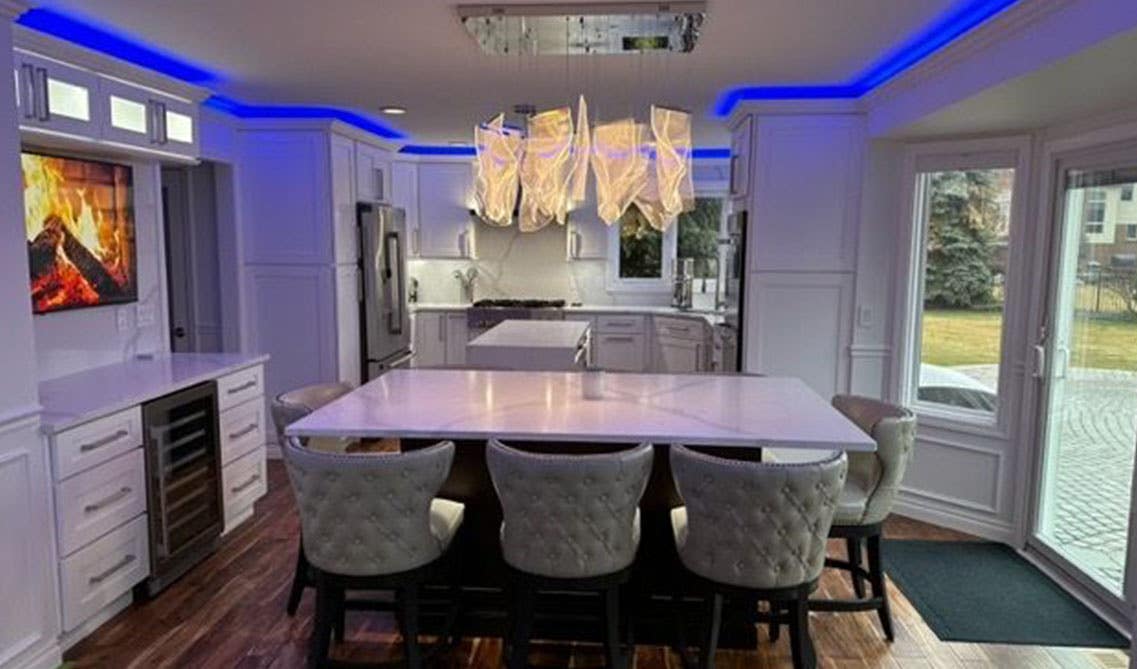 Lily Ann Cabinets: White Shaker Elite
One of the most innovative ways to enhance the impact of your kitchen cabinet crown molding is by adding LED lights above it. This creates an ambient glow that not only highlights the molding but also casts a warm radiance throughout the room. The play of light and shadow adds a mesmerizing layer of depth, transforming your kitchen into a welcoming and inviting space.
9. Thin Line of Cabinet Crown Molding: Delicate Detailing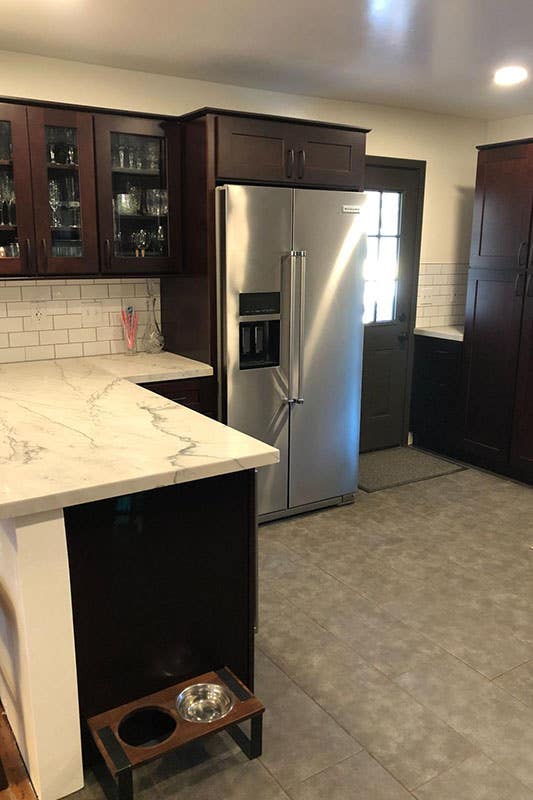 Lily Ann Cabinets: Shaker Espresso
Sometimes, it's the delicate details that leave the most lasting impressions. A thin line of crown molding can add subtle texture and dimension to your cabinets, infusing your kitchen with a touch of refined elegance.
10. Cove Crown Molding: Subtle Curve of Charm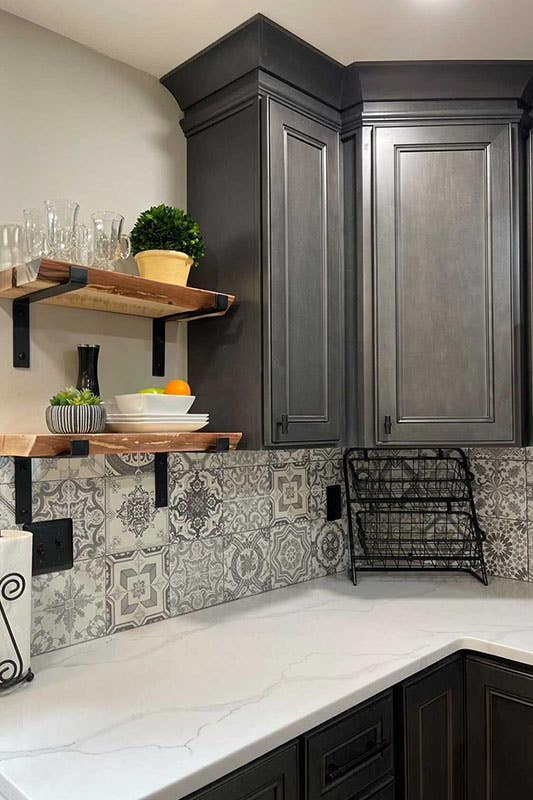 Lily Ann Cabinets: York Driftwood Grey
Next on the list of kitchen cabinet crown molding ideas is cove crown molding. Cove crow molding introduces a gentle concave curve that adds a soft and elegant touch to your kitchen. This style creates a seamless flow between cabinets and ceilings, bringing a sense of continuity and grace to the space.
One of our trending cabinet colors is our York Driftwood Grey as shown above. You can add this cabinet to your home here!
11. Cabinet and Ceiling Crown Molding: A Unified Look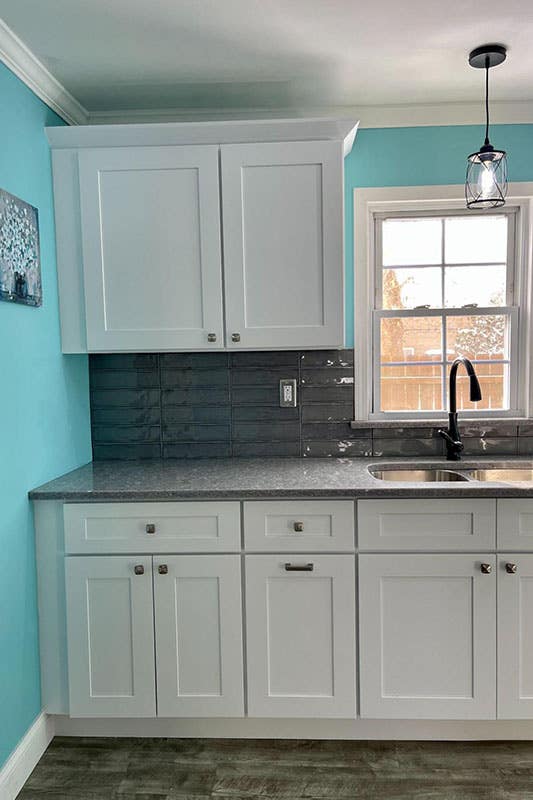 Lily Ann Cabinets: White Shaker Elite
Why settle for one style of crown molding when you can have two? Different crown molding profiles for your cabinets and ceiling create a layered effect that's visually captivating. Pair a simpler crown molding for your cabinets with a more ornate style for the ceiling, amplifying the overall sophistication of your kitchen design.
How to Build Up Your Crown Molding 
In Conclusion…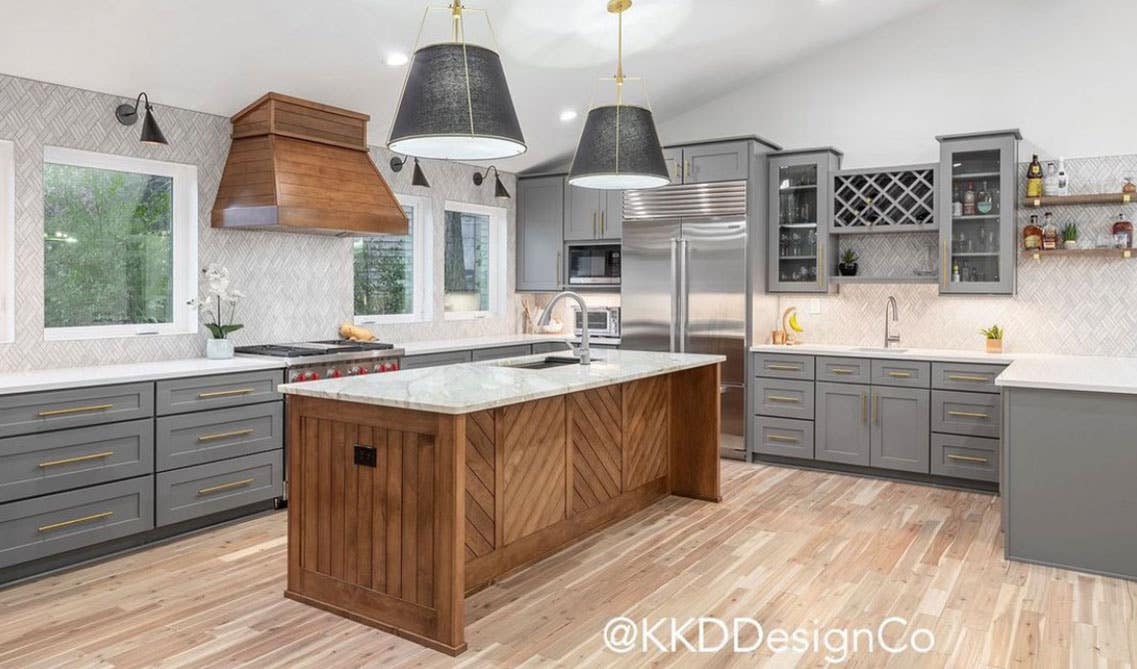 Lily Ann Cabinets: Grey Shaker Elite
Crown molding isn't just a decorative afterthought – it's an opportunity to infuse your kitchen with personality, style, and a touch of artistry. Whether you opt for LED lights to create an enchanting glow or experiment with different molding profiles for a layered effect, each idea holds the promise of transforming your kitchen into a space that's not only functional but truly captivating. With these creative kitchen cabinet crown molding ideas, your kitchen will undoubtedly become the heart of your home, where aesthetics and functionality harmonize.
Not sure if crown molding is right for your kitchen? Work with our design professionals to get your FREE 3D Design and see what crown molding will work with your cabinet choice. If you need help deciding on a cabinet choice as well, order your FREE samples and see the amazing quality of our cabinets up close. For any other questions or concerns, feel free to reach out to our customer service. We are a family owned company that wants to provide exceptional service to each and every customer from start to finish. Shop Lily Ann Cabinets today!
Checkout These Blogs:
Two Cabinet Styles, One Kitchen: How to Work Two Tone Kitchen Cabinets into Your Renovation
Antique White Kitchen Cabinets- 6 top design Ideas
10 Key Kitchen Hardware Trends For 2023
Fall Decor Ideas to Make Your Home More Festive for the Season
FAQs
1.
What type of molding is best for top of kitchen cabinets?
Crown molding is a popular choice as it offers a timeless and elegant look, seamlessly bridging the gap between cabinets and ceiling. Styles of crown molding include cove molding, dentil molding, or even a simple scribe molding which can work well depending on the design theme you're aiming for. It's essential to consider the existing elements in your kitchen and choose molding that complements the overall ambiance.
2. Should I do crown molding on cabinets?
Adding crown molding to cabinets is a design choice that can greatly enhance the overall look of your kitchen. It's an excellent way to elevate the aesthetics of your space and add a layer of architectural detail. Whether you choose to go with classic crown molding or a more modern profile, incorporating crown molding on cabinets can contribute to a polished and refined appearance in your kitchen.