Intro: In the world of kitchen design, trends come and go, but some elements have an enduring appeal that stands the test of time. One such element is antique white cabinets. These classic and elegant cabinets have a unique charm that can transform any kitchen into a timeless haven.
1. Rustic Charm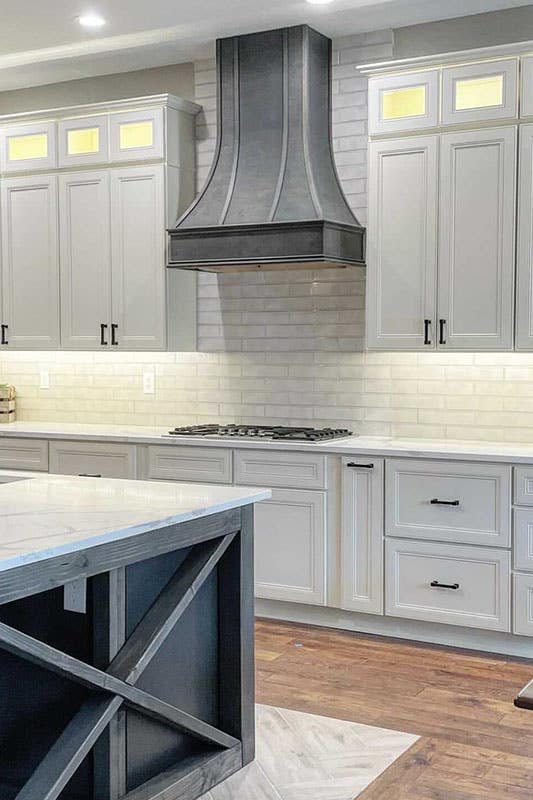 Rustic kitchens often incorporate natural elements such as wood, stone, and sometimes exposed brick. Combine Lily Ann Cabinets York Linen with grey cabinets to create a farmhouse-style design. Add a distressed finish to the cabinets and pair them with warm wood accents, such as wood flooring or a rangehood. Rustic charm style is known for its timeless quality. It transcends trends and can maintain its appeal for years to come. This makes it a great investment as it won't go out of style quickly. 
2. Add Paneling For A Vintage Vibe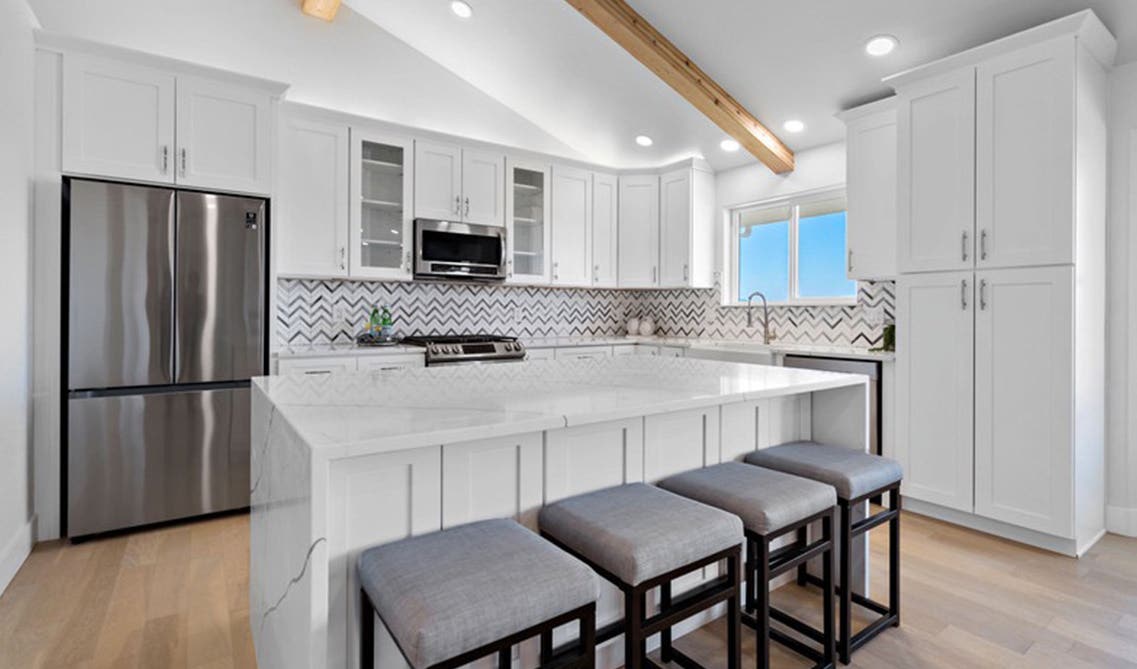 Adding paneling to the kitchen can make the space beautiful and elevate its overall aesthetic. When paired with antique white cabinets, paneling adds depth and texture to the walls, creating visual interest and enhancing the overall appeal of the space. Whether you choose beadboard, shiplap, or raised paneling, the added dimension brings a sense of vintage character and charm to the kitchen. Paneling can serve as architectural detail, giving the kitchen a more polished and refined look. It can be applied to various areas, such as the ceiling, island, or even the entire wall. 
3. Modern Style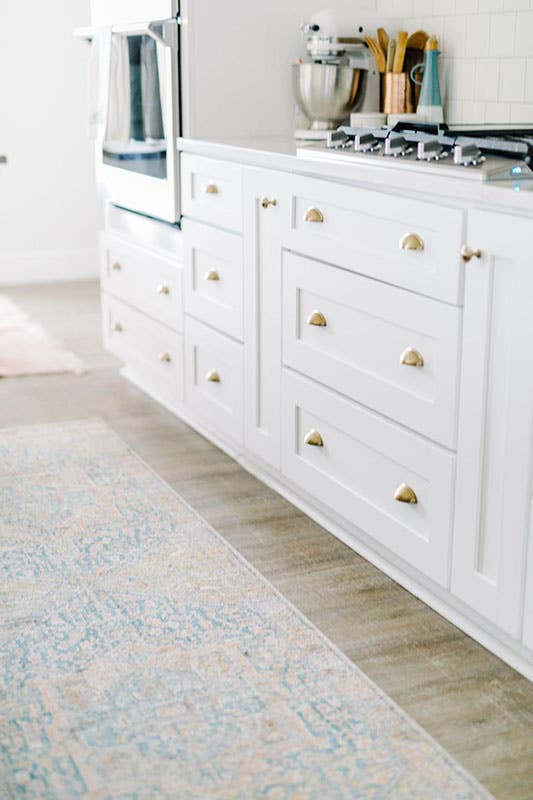 Create a sleek and contemporary kitchen by combining Lily Ann Cabinets antique white shaker cabinets with light countertops and stainless steel appliances. This color scheme adds a modern touch to the traditional cabinets. This style is highly versatile and can be adapted to various design preferences. Whether you prefer a minimalist approach with sleek hardware and clean lines or a more industrial-inspired look with metal accents, the modern contrast style allows for personalization and customization. Get a free cabinetry sample from our website today!
4. Timeless Traditional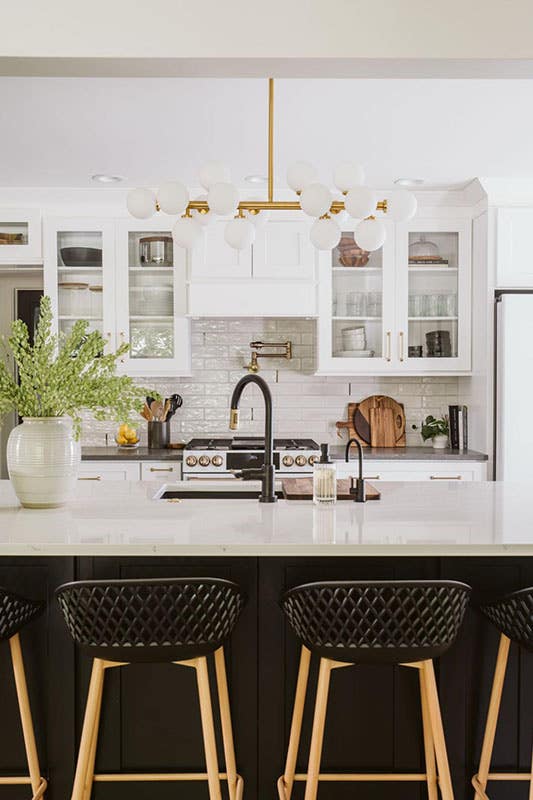 Embrace the classic appeal of antique white cabinets by keeping the overall design traditional. Incorporate details like crown molding, glass-front doors, and decorative accents to enhance the elegance. Timeless traditional style kitchens with white shaker cabinets offer a classic and enduring appeal that never goes out of style. The benefits of this style are plentiful. White cabinets provide a clean and neutral foundation that allows for endless design possibilities. They create a timeless backdrop that can be easily complemented with various colors, finishes, and decorative elements. This versatility ensures that your kitchen can evolve and adapt to changing trends and personal preferences over time. 
5. French Country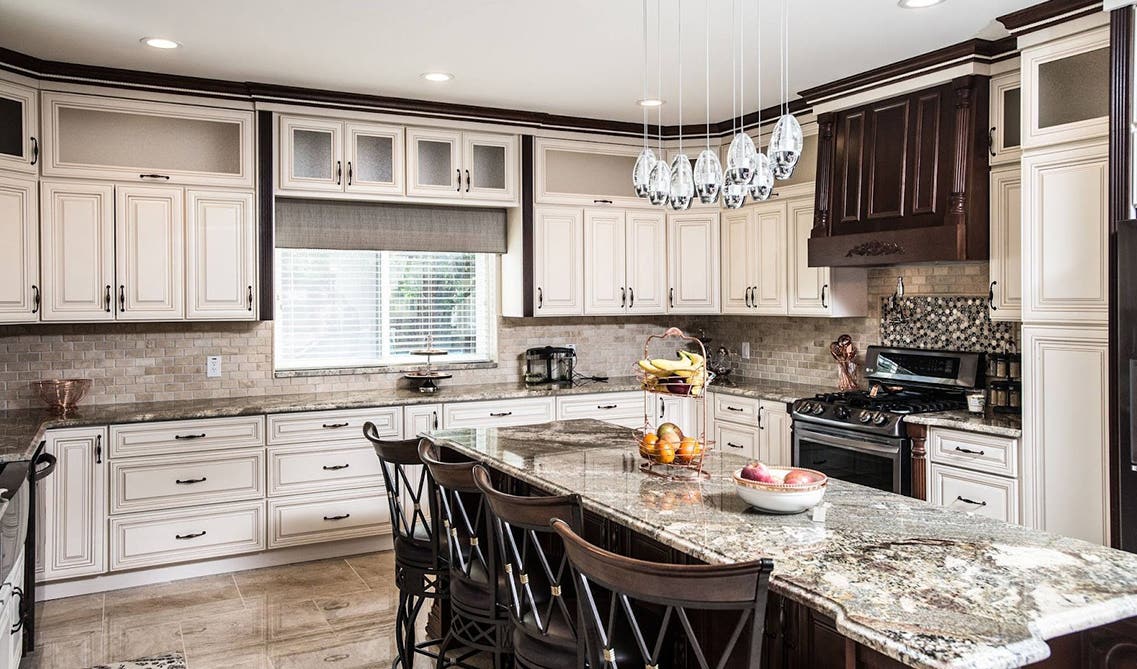 Using Lily Ann Cabinets Charleston Linen, capture the charm of a French countryside kitchen by pairing your antique white cabinets with warm-toned countertops, such as butcher block or honed granite. Add open shelving with vintage dishware and incorporate soft pastel accents. French country style kitchens with white cabinets offer a combination of elegance, warmth, and practicality. This style creates a space that is not only visually appealing but also functional and inviting. With its rustic charm and timeless beauty, a French country kitchen is a place where you can enjoy the pleasures of cooking and gathering with loved ones.
6. Cottage Chic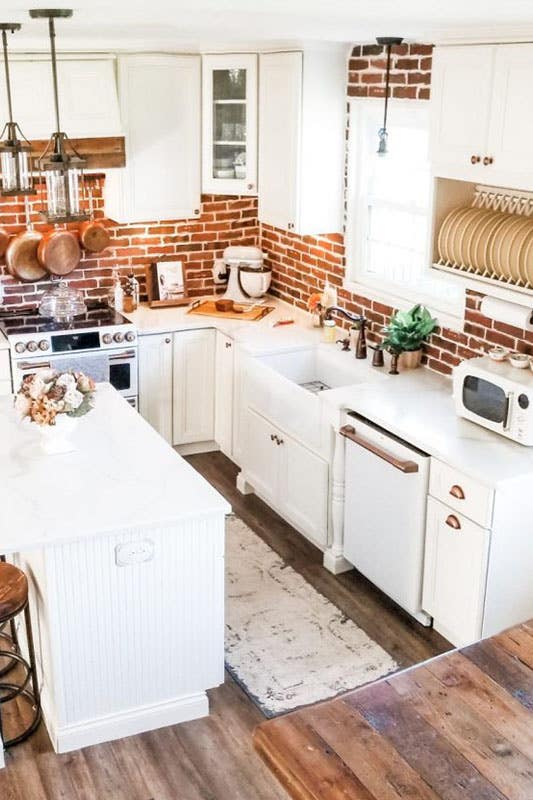 Create a cozy and inviting kitchen with antique white cabinets and shabby-chic details. Use distressed finishes, floral patterns, and vintage-inspired accessories to achieve a cottage-style ambiance. The benefits of this style are plentiful. Firstly, the combination of white cabinets with cottage-inspired elements creates a light and airy atmosphere. The white cabinets serve as a clean and neutral backdrop, allowing other design elements such as distressed finishes, floral patterns, and vintage-inspired accessories to shine and enhance the overall charm of the space. 
Remodeling your kitchen may seem stressful, but our professionals at Lily Ann Cabinets are here for you every step of the way. We recommend starting your kitchen renovation off with getting a sample of the cabinetry you plan to use so you can see the color and quality of the cabinet for yourself in your space. We also recommend getting a professional 3D design. A professional designer may think of things you did not and will be able to show you exactly how your new kitchen will look. At Lily Ann Cabinets, we know that a kitchen remodel is expensive, so we offer our samples and professional 3D designs, and quotes for FREE! All you need to do is send us your kitchen measurements and any ideas you may have and our award-winning designers will create a functional and beautiful kitchen for you to enjoy for the years to come. 
FAQ's
1. Is white a good color for kitchen cabinets?
You can never go wrong with white. The most popular color for kitchens is white because they give a timeless look to any space.
2. What colors go with antique white cabinets?
Dark and light tones pair well with antique white cabinets, you can create a french country style or a more modern look depending on what works best for you.
3. How to get antique white kitchen cabinets?
We recommend starting your kitchen renovation process with a sample of the cabinetry you plan to use so you can see the color and quality of the cabinet for yourself in your space.