What is an accent wall?
An accent wall can be a different color than the other walls, or it can be decorated with a different pattern or texture. The purpose of an accent wall is for it to stand out from the other walls. Accent walls are often used to highlight a particular feature in a room, such as a fireplace or a piece of art, or even windows. Nothing beats a gorgeous kitchen accent wall, whether it's simple or unique, you can't go wrong with one. 
Are Accent Walls Worth It?
Whether you're looking to add a pop of color or simply want to create a more inviting space, an accent wall can be a great way to achieve that. However, with so many kitchen accent wall ideas out there, it can be hard to simply begin. We recommend researching before and checking out inspirational pictures like these for help. Everyone is different and some might not like any of these options. Luckily, we have a Lily Ann Cabinets Pinterest account full of amazing inspiration.
1. Stone Accent Wall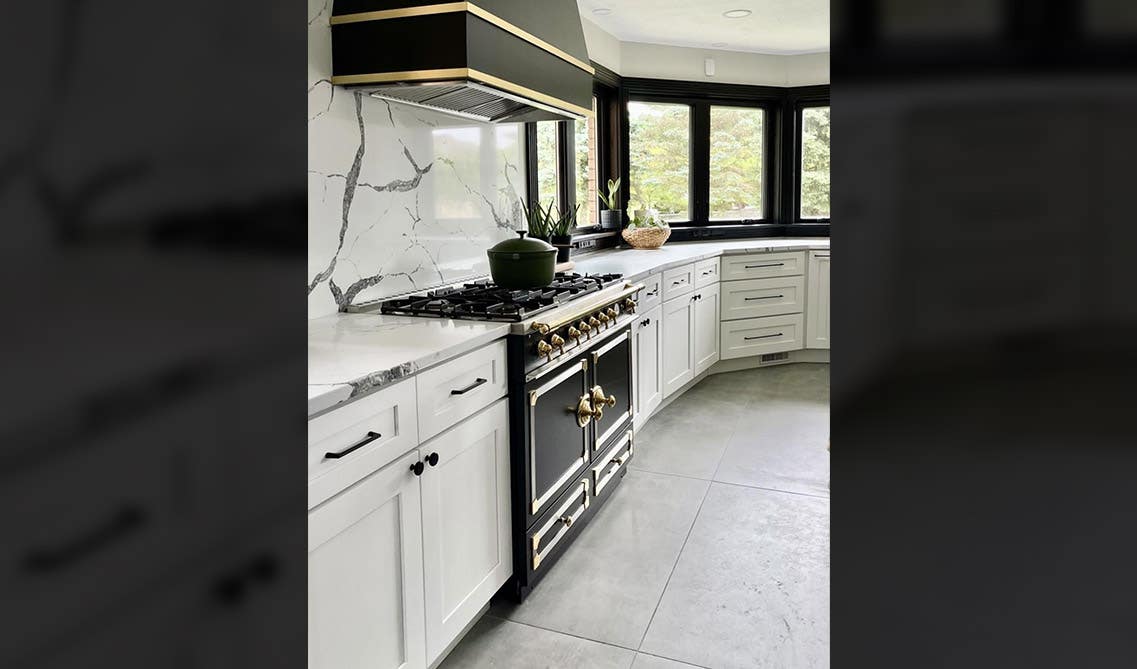 A stone accent wall in the kitchen can give your space a rustic and dramatic look. You can use accent kitchen wall ideas to add visual interest to your cooking space. If you're looking for something unique, try a stone kitchen accent wall. Accent walls in kitchens are a great way to add color and texture to your space. If you're looking for an easy way to update your kitchen, consider implementing an accent wall.
2. Gray Accent Wall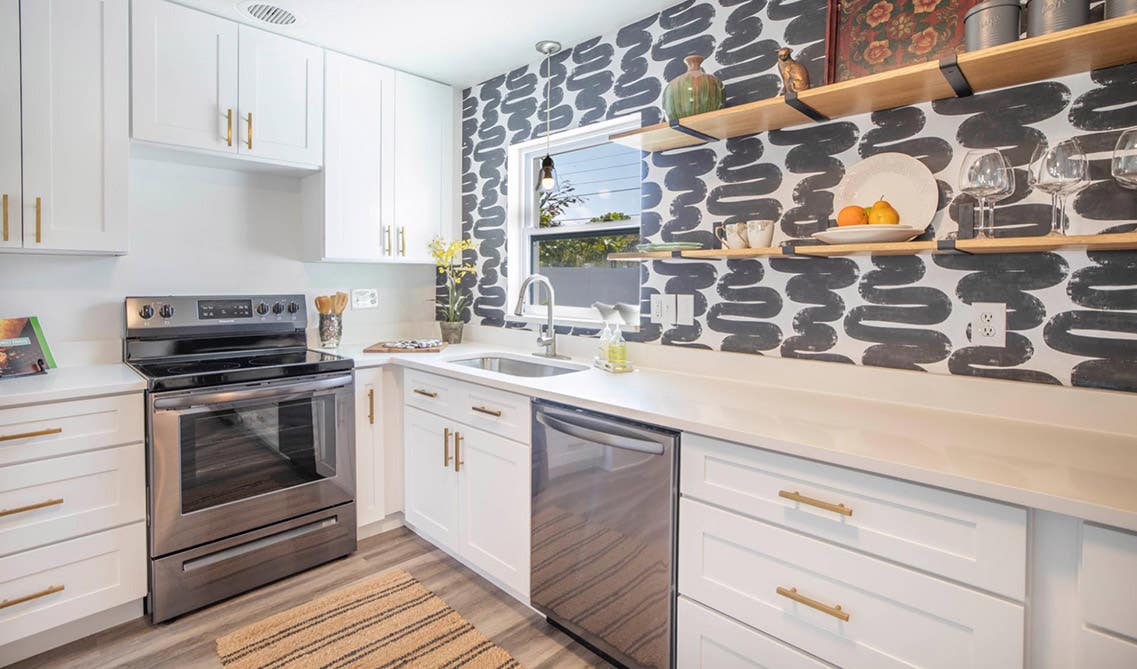 Another popular kitchen accent wall color is gray. A gray accent wall can help to brighten up a kitchen, especially if the rest of the walls are a bit darker. If you're not sure what color to paint your other walls, a light gray can go with just about anything. And if you want to add a bit of interest to your kitchen, you can always get cabinets or appliances in a different color. 
3. Pattern Accent Wall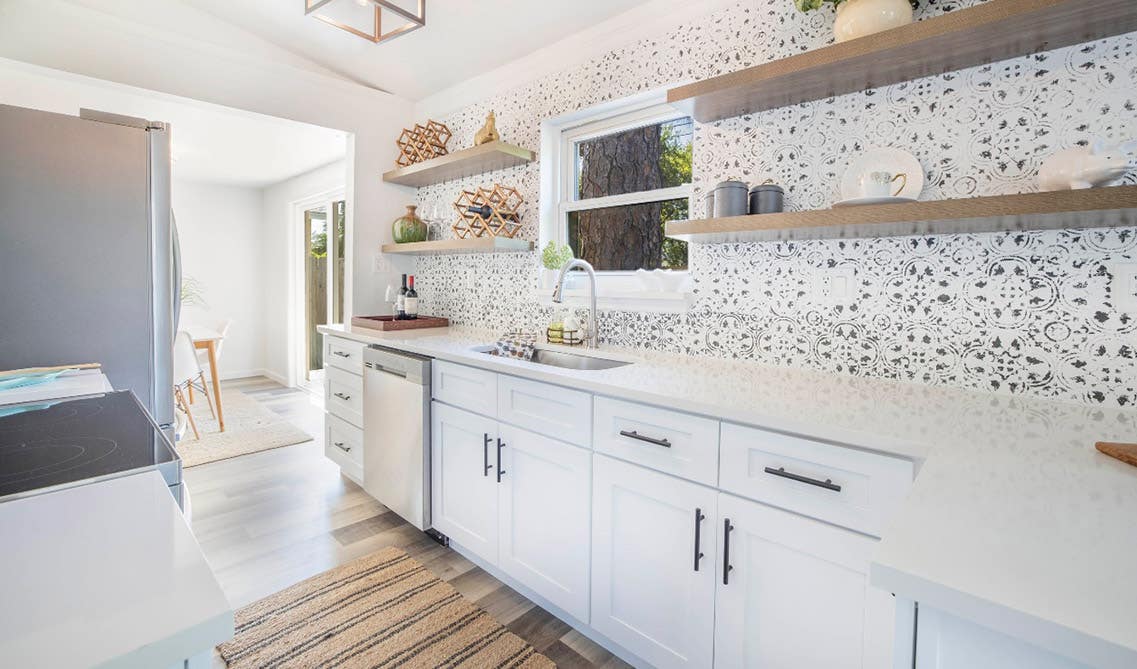 One popular kitchen accent wall decorating idea for 2022 is to create or use a patterned accent wall. You can do this by painting the wall a base color and then using stencils or stamps to create a pattern in a contrasting color, or you can purchase a patterned wallpaper to use. This is a great way to add interest to an otherwise bland kitchen.
4. Coral Accent Wall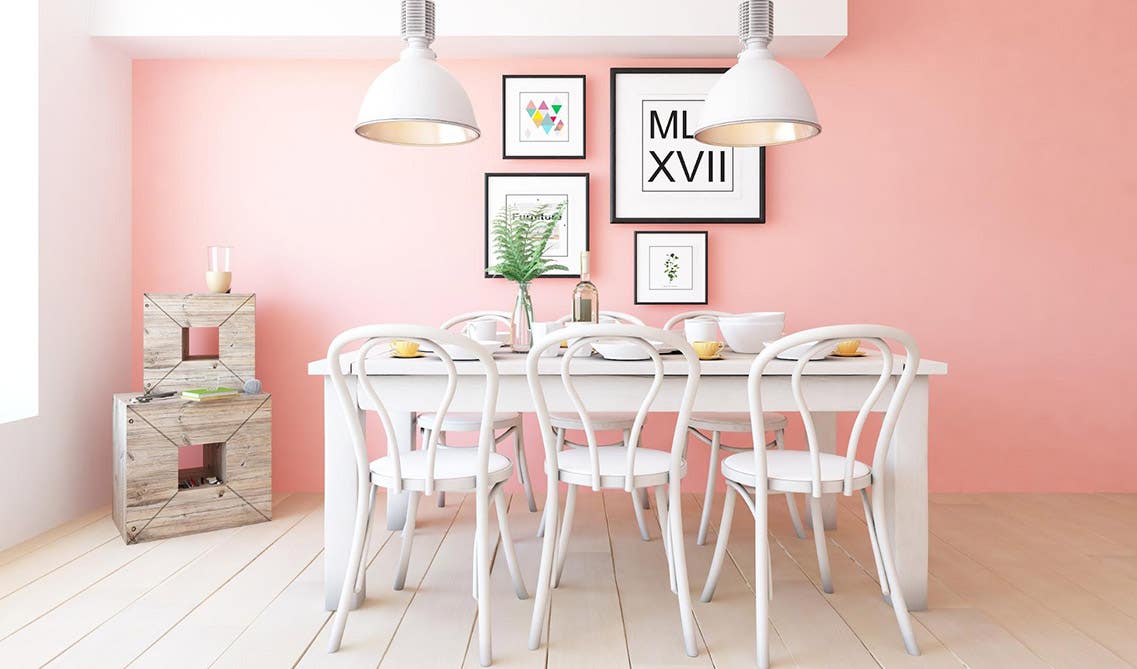 Coral is a great color for an accent wall in the kitchen. It's perfect for adding a pop of color to an otherwise neutral space. Plus, it can help reflect light and make the room feel brighter and more cheerful. If you're looking for kitchen accent wall ideas, coral is a great option. Making a space lighter makes the room appear more open and welcoming. We think pairing this coral-colored accent wall with our white shaker cabinets would make the space pop and look perfect! 
5. Blue Accent Wall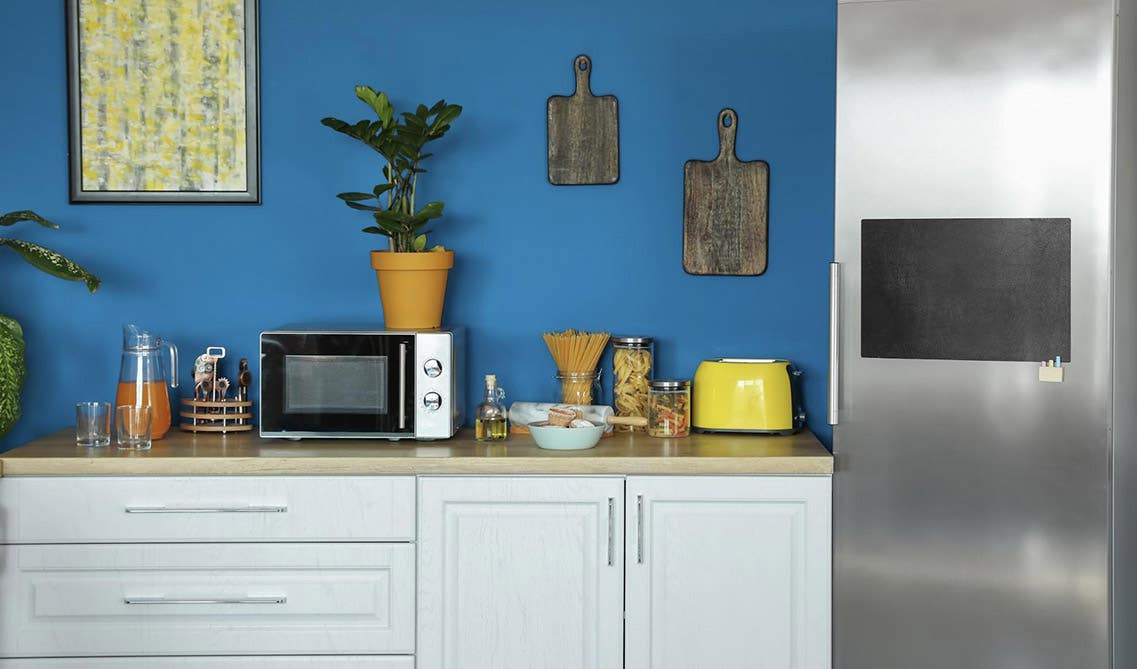 One of the most popular kitchen accent wall ideas is to use blue. Blue is a calming color that can help to create a relaxing atmosphere in the kitchen. Plus, it can also help to make the space feel larger and more open. If you're looking for a unique way to add a pop of color to your kitchen, consider painting one of the accent walls a shade of blue. 
6. Green Accent Wall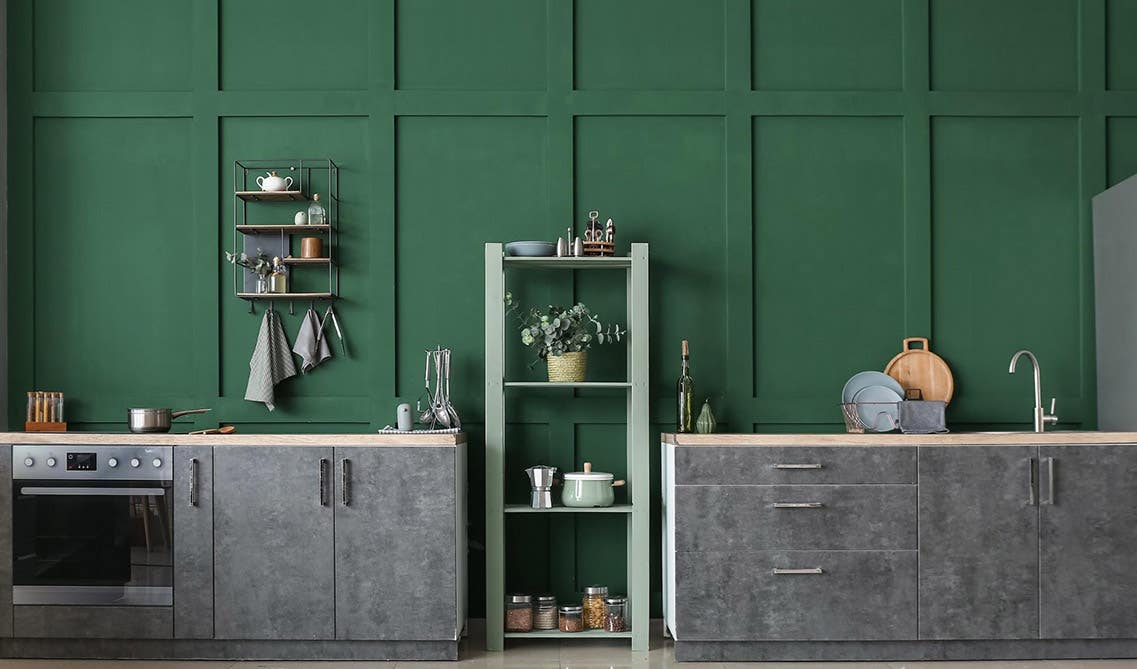 Green is also one of the most popular accent colors for kitchens. It can add a refreshing and lively touch to any kitchen space. Plus, it's a great way to bring in some of nature's beauty into your home. If you're looking for kitchen accent wall decor ideas, consider a shade of green for your accent wall. You could paint it a light green for a serene feel or a dark green for a more dramatic look. You could also add some greenery by hanging plants or putting herb gardens on shelves. 
7. Wood Accent Wall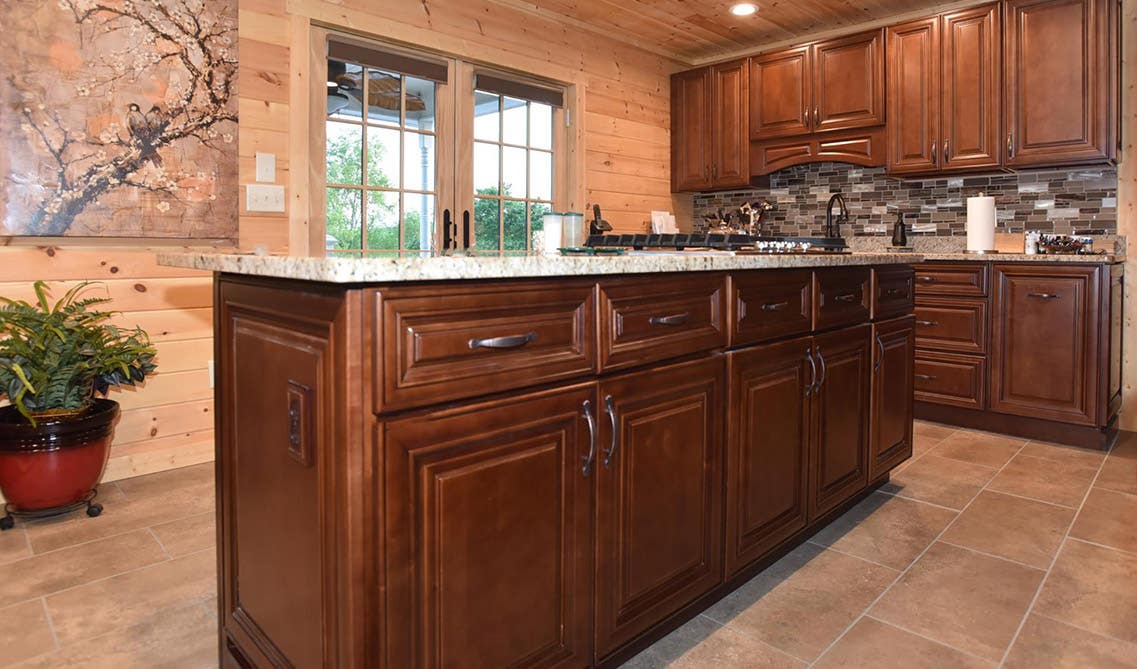 Adding a wood accent wall to your kitchen is a great way to add some extra warmth and character to the space. You can use reclaimed wood for a rustic look, or opt for something more polished like bamboo or cork. Adding an accent wall is a quick and easy way to give your kitchen a facelift, and it can be done on a budget. If you're not sure where to start, check out these kitchen accent wall ideas for inspiration.
8. Shiplap Accent Wall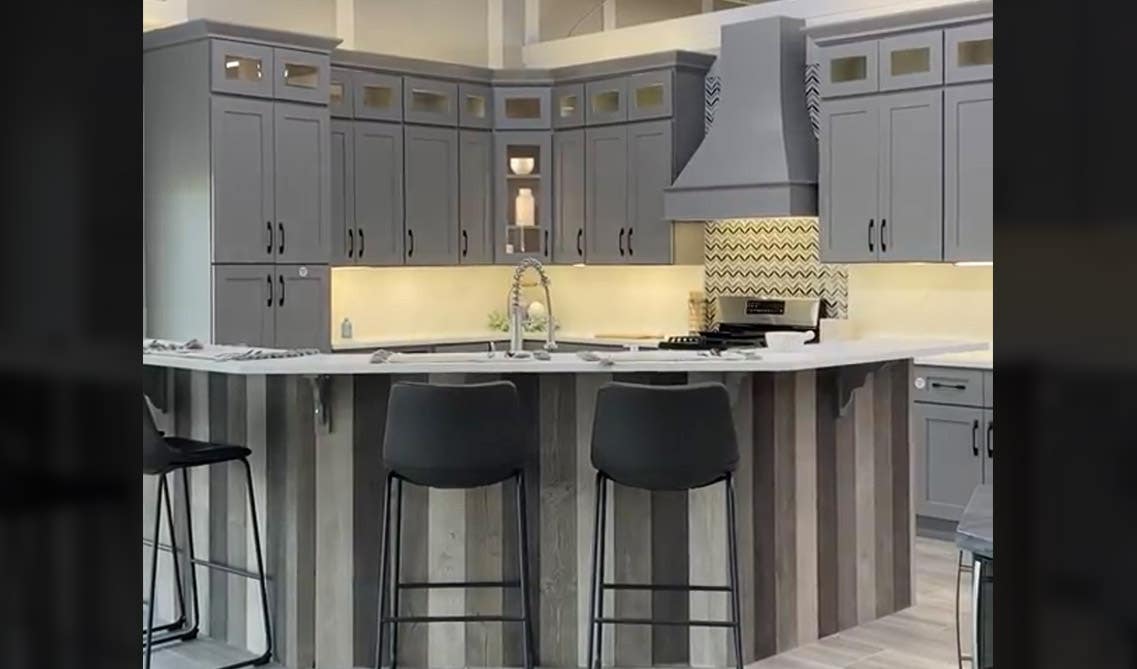 Shiplap is used for island in the photo**
A shiplap accent wall in the kitchen is a unique and stylish way to add character to your space. You can use this type of accent wall to create a focal point in the room or to simply add some extra texture. If you're looking for kitchen accent wall decor ideas, consider using shiplap to create an accent wall in your kitchen. This material is easy to work with and can be found at most home improvement stores.
Outro:
Hopefully, this blog helped guide you to finding the perfect accent wall! If you're looking to lighten up your kitchen, this is one of the best ways. Inject some new life into your space without having to undertake costly or time-consuming renovations! 
FAQ's
1. How to choose an accent wall in the kitchen?
Any walls in your home with windows or French doors make good accent walls, any wall can make a good accent wall if it's the first thing you see when you walk in.
2. How to paint a kitchen accent wall?
Check out this simple video on how to DIY your wall!
3. Which wall should be the accent wall in a kitchen?
Any wall you want, but be sure you like the wall you choose and it catches the attention of the eyes as soon as you walk into the space.