Stained wood cabinets are the perfect option for anyone who wants to highlight the look of natural wood details in their kitchen. Not only do stained cabinets bring a rustic look to the home, they're also durable and affordable. Stained cabinets are typically cheaper than painted, and are easier to touch up as well. But which cabinet stain colors will look best in your home? Keep reading to learn more about the most popular kitchen cabinet stains and how to best implement them in your home.
Natural
Going with lighter, natural cabinet stains like Madison Toffee can give your kitchen a more traditional look. Stained wood cabinets in lighter colors are great for small kitchens because they brighten up the room and make it appear larger. Depending on the wood grain, natural stains can also give your kitchen a rustic look. For example, Lily Ann Cabinets' Carolina Hickory cabinets are popular for their prominent grain patterns that bring a cabin-y feel to any space.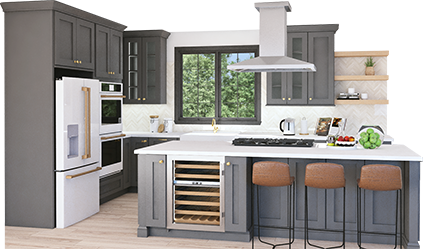 Get your FREE 3D kitchen design today!
Start Now
White
If you want to brighten up your kitchen but don't want the rustic look, choose white! White is one of the most popular kitchen cabinet stains because it complements appliances and is easy to match with other kitchen decor. As with other light-colored stains, white is great for small spaces. Plus, this stain can be used in almost any kitchen style. If you're going for farmhouse chic, try out Lily Ann's elegant Bristol Antique White cabinets. If modern is more your style, our sleek White Shaker Elite cabinets bring a simple yet high-end look to any kitchen.
Chocolate
Chocolate stained wood cabinets have risen in popularity due to their versatility. They look beautiful in bold contrast to stainless steel appliances, especially in modern and traditional kitchens. Chocolate toned cabinets should be limited to larger kitchen spaces, as they can easily make the room feel small or crowded. However, if you have the space for it, they make an elegant addition that brings richness to any kitchen. There are many gorgeous shades of chocolate cabinet stain colors to choose from, ranging from cool tones to warm colors like cherry.
Dark
Even richer than chocolate are darker colors like espresso or black. As with chocolate stained wood cabinets, it's important to remember that darker colors make a space feel smaller. But, if your kitchen is large enough, dark colors create a sense of grandeur and richness that lighter tones can't pull off. Our favorite dark stained cabinet look is Lily Ann's deep ebony Espresso Shaker cabinets. Use them in a modern kitchen to achieve the sleek finish you're looking for.
Colored
Want to go bold? Try out colored stained wood cabinets! Although fairly rare, colored stains like green, blue, red and yellow are another unique way to make a kitchen pop. Just make sure to keep the rest of the kitchen palette neutral so attention isn't drawn away from your colorful cabinets.
Shop Stained Wood Cabinets at Lily Ann Cabinets
At Lily Ann Cabinets you will find a premium range of stained wood kitchen cabinets to suit your home's needs. Our extensive line of RTA cabinets has all the cabinet stain colors you need to perfect your dream kitchen. Need some help visualizing your space? Check out our FREE 3D kitchen design tool and get a quote from one of our design team professionals.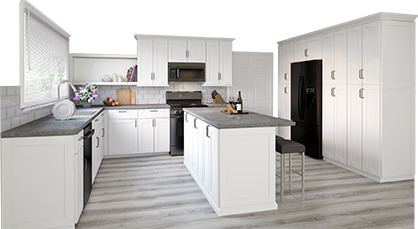 3D Kitchen Visualizer Tool
Bring your dream kitchen to life with our free kitchen visualizer!
Design Now