Mudrooms don't necessarily need to be messy! It is not impossible to find space for all those shoes, coats, hats, and other miscellaneous items, while also looking cute. There are plenty of ways to decorate and organize your mudroom so it feels more homey and welcoming. Here's a list of 10 ways to make your mudroom less muddy!
1. Keep The Mess Behind Closed Doors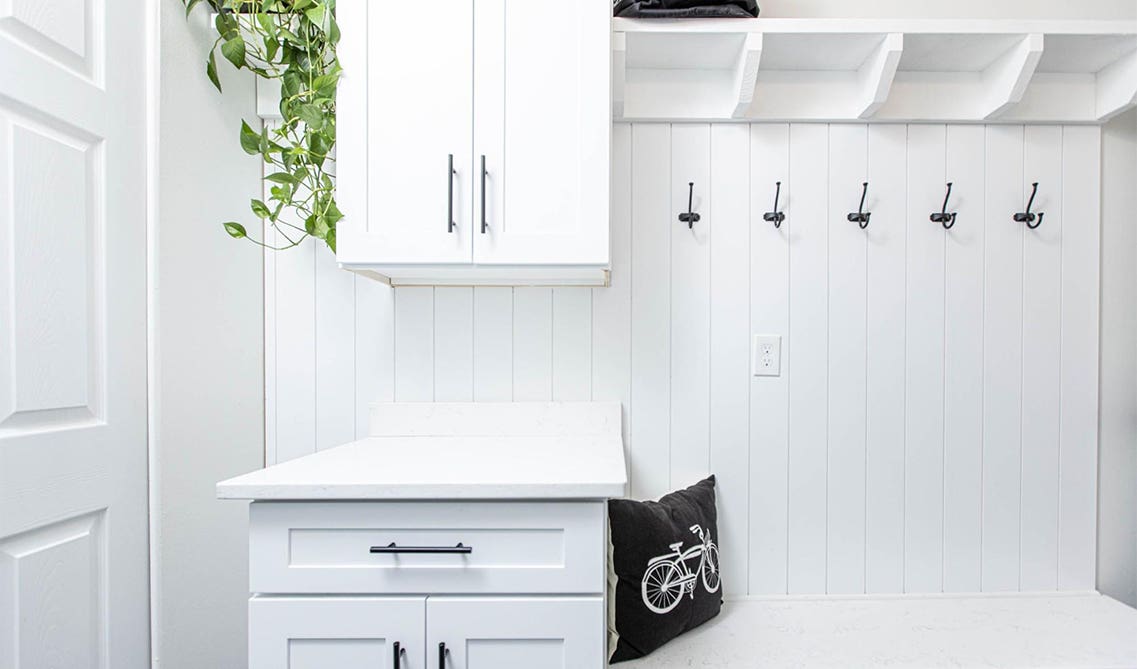 Drawers and built-in cabinets are a great way to conceal the messiness of a mudroom. Cabinets and drawers come in all shapes, sizes, and colors, making them easy to customize to your liking.
Checkout: All About Mudrooms & Entryways- Home organization

2. Use Hooks for Convenience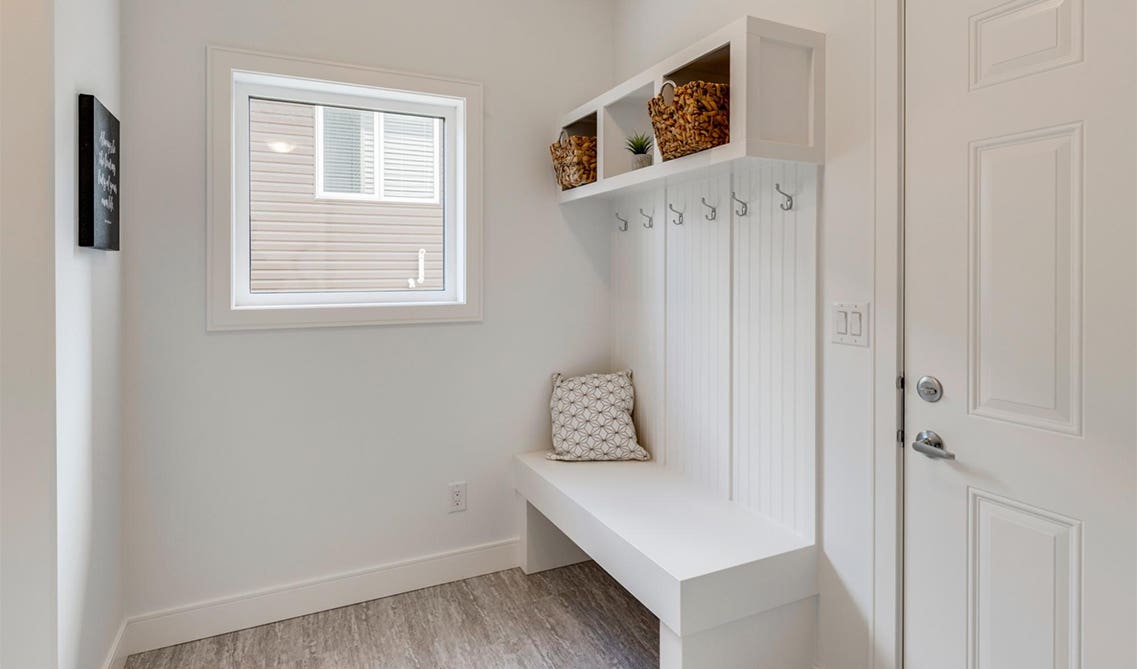 Since mudrooms are a place for coats, bags, scarves, and hats, having a dedicated space is handy. Hooks are the perfect solution for families on the go. It is easily accessible and makes the area look neater when items are hanging rather than being thrown on the ground or a bench. Command hooks are a great option for this, they are affordable and durable.
3. Basket Inserts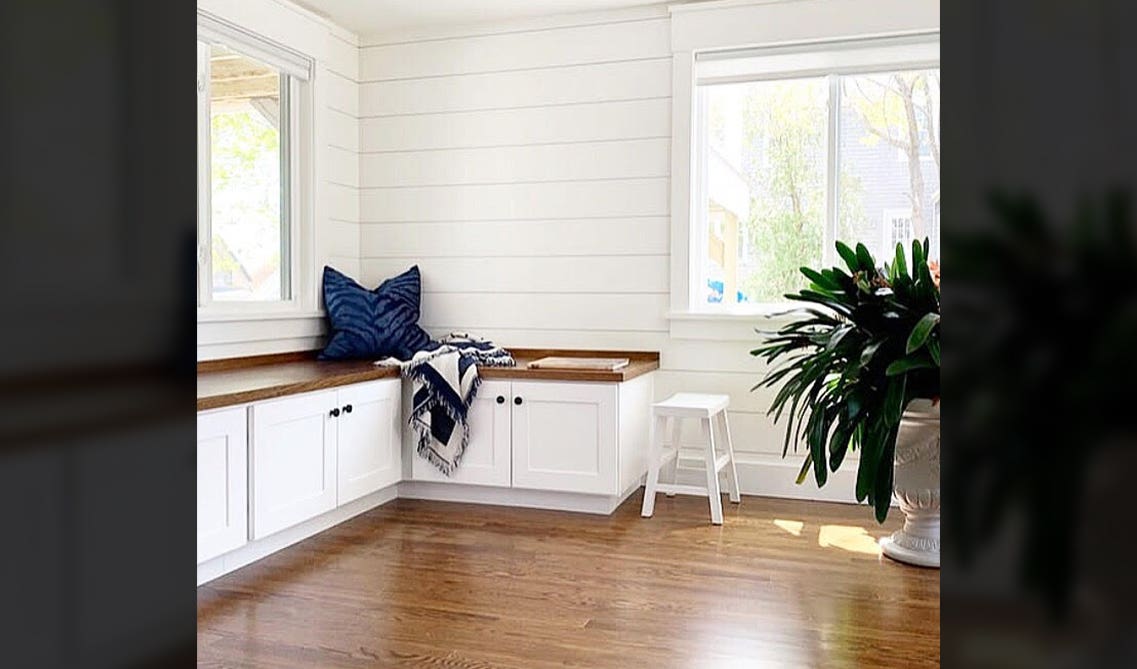 If you have shelves that house clutter and mess, baskets are a great way to organize that. Baskets are easily accessible and make the space look good. Baskets come in all different shapes, sizes, and colors making it easy to decorate and organize your mudroom aesthetically. Target has some great options for baskets and storage.
4. Benches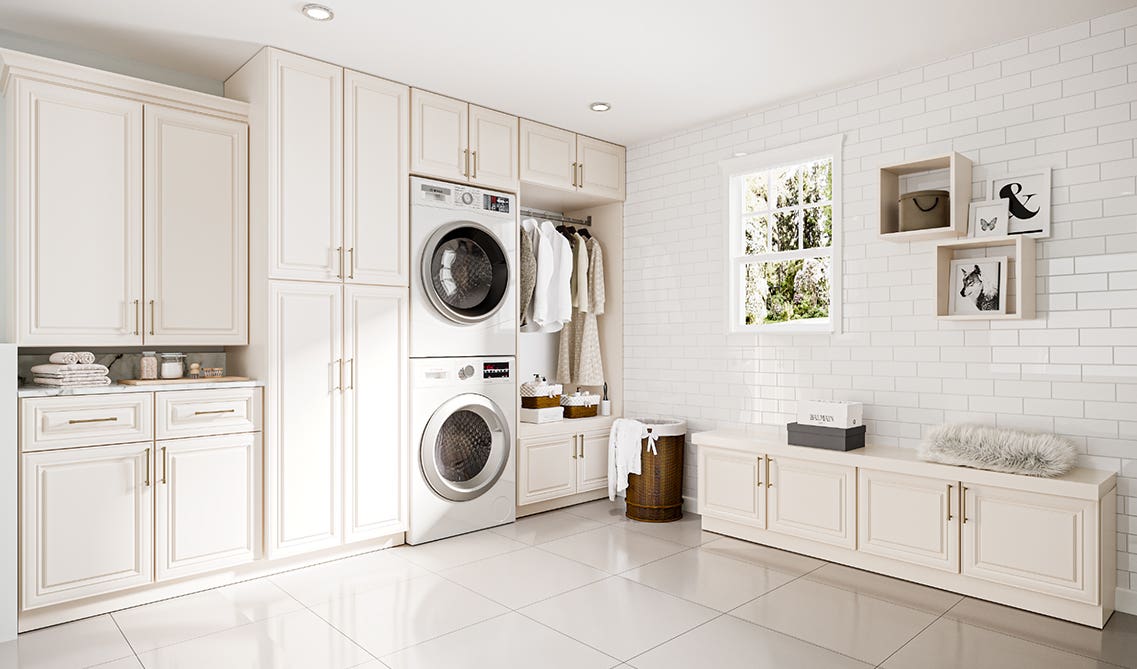 Having a seat that can hold things inside of it is an important consideration when decorating a mudroom. A bench is a great place to sit to put your boots on instead of sitting on the ground. It can be multi-functional making it easy to hide your items. Benches are also customizable and you can even decorate them with festive pillows and blankets for the holidays.
5. Give Each Household Member Their Own Space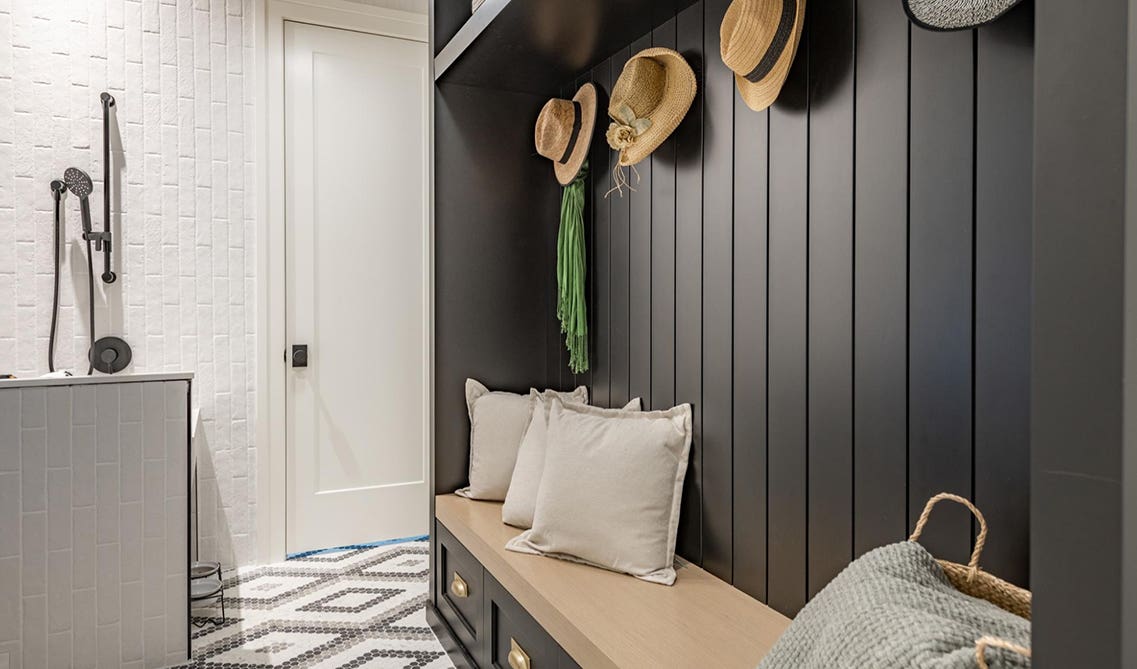 Making sure everything has its own place is key to keeping your space clean and organized. If you have the space, give each member of your household a hook or nook for them to put their things. This will help kids be responsible for their mess and helps the whole family find their things easier when in a hurry.
6. Create Your Own Storage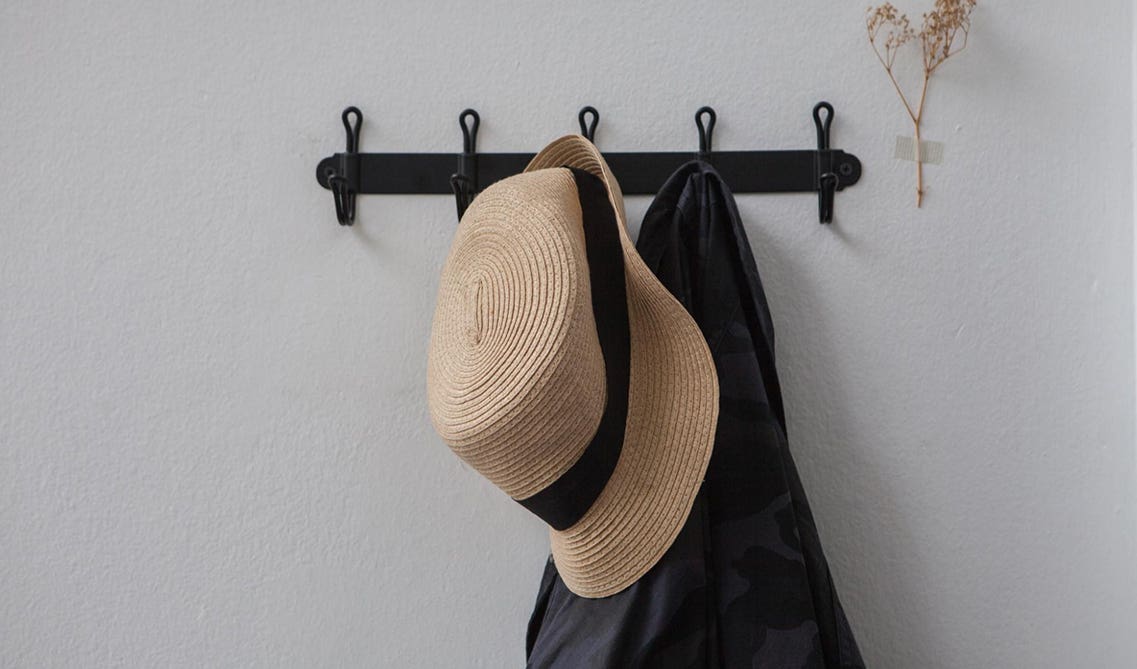 If your house does not have a designated mudroom or storage space in the entryway, make your own! Consider zoning an area in your home to act as a dedicated place for shoes and coats. This can be done easily by putting hooks on walls or using a piece of furniture, like a dresser, for storage.
Checkout: 5 creative ways to Maximize the Storage in Your Mudroom
7. Get an All-In-One Unit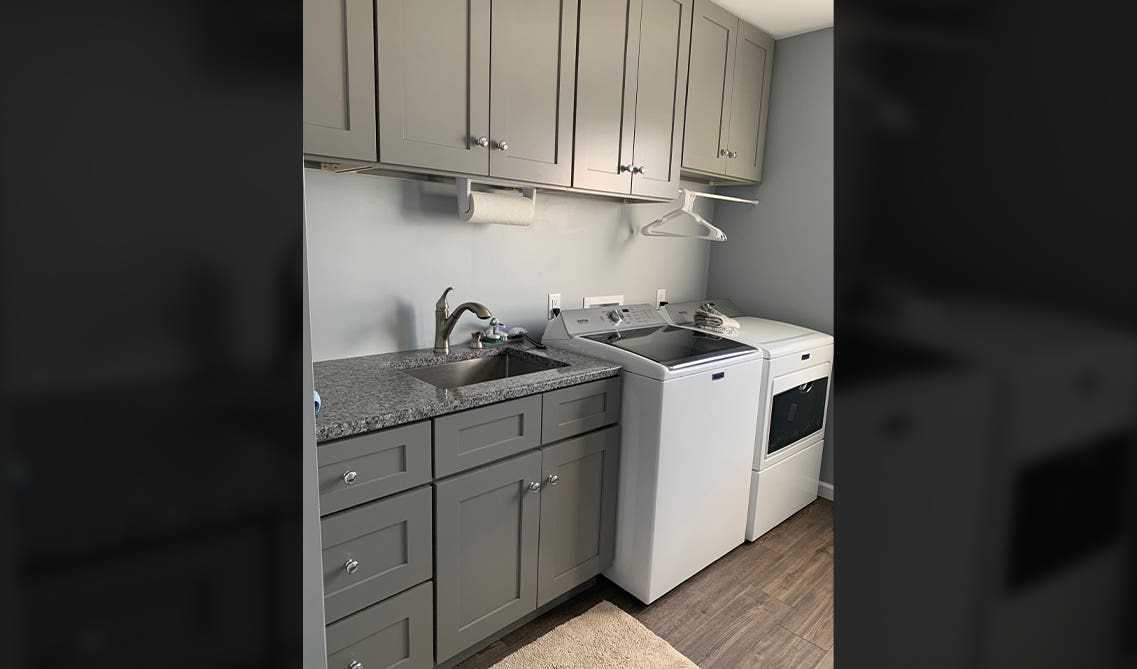 If built-in storage isn't an option, find a furniture piece that does it for you. Some pieces have hooks, a mirror, a bench, and a storage unit all in one. These pieces are practical and create an accessible place for your stuff.
8. Overhead Cabinets
Installing overhead cabinets above a sitting area makes the space aesthetically pleasing as well as provides tons of storage for clothing. It may not be the most practical, but if you can afford it, it can liven up your space and make it feel more like a room rather than a place to dump your stuff.
9. Utilize the Garage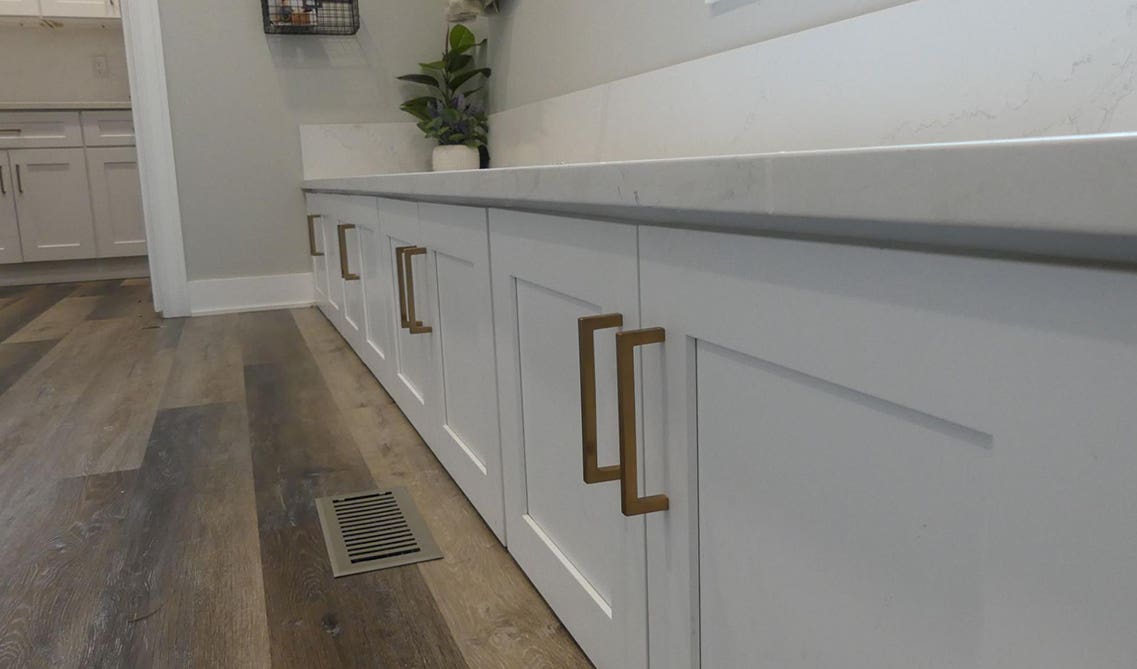 If you don't have a mudroom or a designated space for shoes and coats, utilize your garage! Put hooks, a shelving unit, and bins against a wall and you have the perfect place to put shoes and coats without them being all over the house.
10. Small Spaces
If you have a small space or corner in your house that you can't figure out what to do with, turn it into a tiny mudroom space! Find small storage pieces that are practical and take up the space.
We hope these ideas give you some inspiration for your mudroom. Anything can be customizable and made to your liking, you just need to figure out what works best for you and your space!
Check out more Lily Ann Cabinets blogs for kitchen and home inspiration and DIYs. If you're looking to redecorate or renovate your kitchen, check out some great hardware, lights, and cabinets here, and let us be part of your remodeling!
FAQ
1. What is a mudroom in the house?
A mudroom is a space in the home, usually located at the rear or front entrance of the home, where shoes, bags, and other outerwear can be taken off and organized before entering the central part of the home.
2. What's the difference between a foyer and mudroom?
A mudroom is a less formal space within the home normally located at the rear entrance where items can be stowed away, whereas a foyer is a formal entrance at the front of the home that is a statement room for guests to admire as they enter. Think of a mudroom as a working room and the foyer as a walkthrough space.
3. What should a mudroom include?
According to Better Homes and Garden, a mudroom should include key features like storage cabinetry, bench seating, and lighting. All of which can be found at Lily Ann Cabinets!
4. How much does a built in mudroom cost?
The average cost of a built in mudroom can be anywhere between $8,000-$16,000. If you are looking for a quote to design a mudroom in your home contact one of our Lily Ann Cabinets designers today!
5. How wide should a mudroom cabinet be?
The cabinetry for a mudroom should at least be 5 feet wide by 11 feet in length to give you enough room for cubbies, drawers or any other features you want to include.