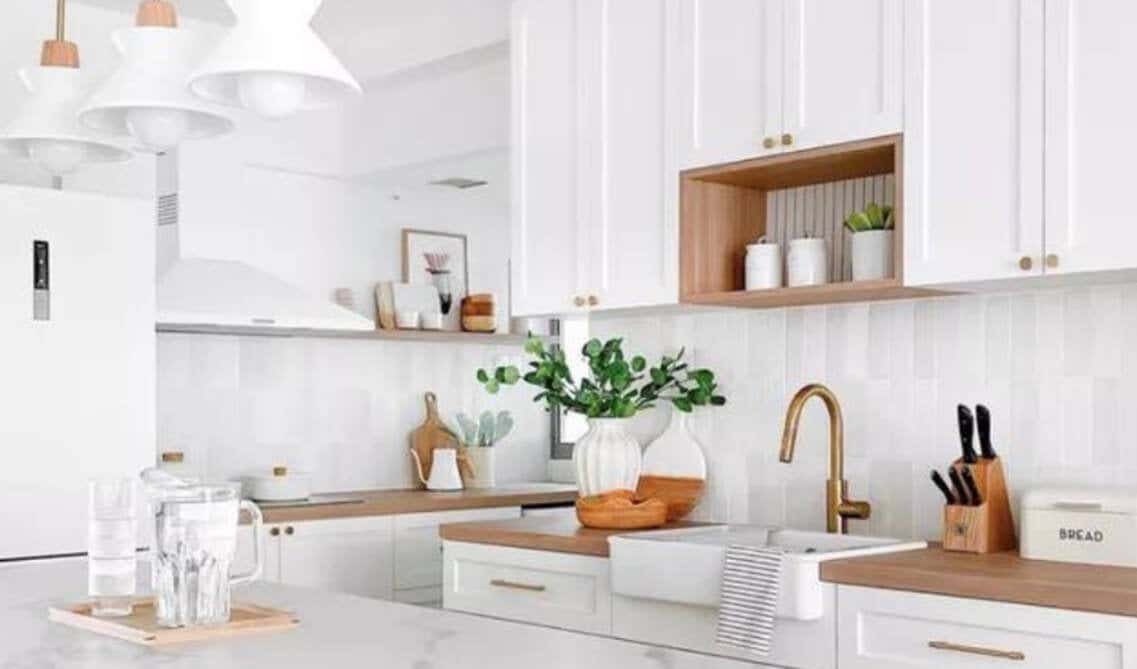 House of Chais
Whether you have 600 square feet or 60 square feet available for your kitchen space, there are some ways to maximize your space and make the most of your small kitchen design ideas. In this article we'll explore 10 different design ideas that will help you get the most out of your small kitchen space. These are all helpful tips to guide you in the right direction, no matter your budget!


Recommended For You: 15 Creative Tile Ideas to Bring Your Space to Life
1) Choose a Monochromatic Color Scheme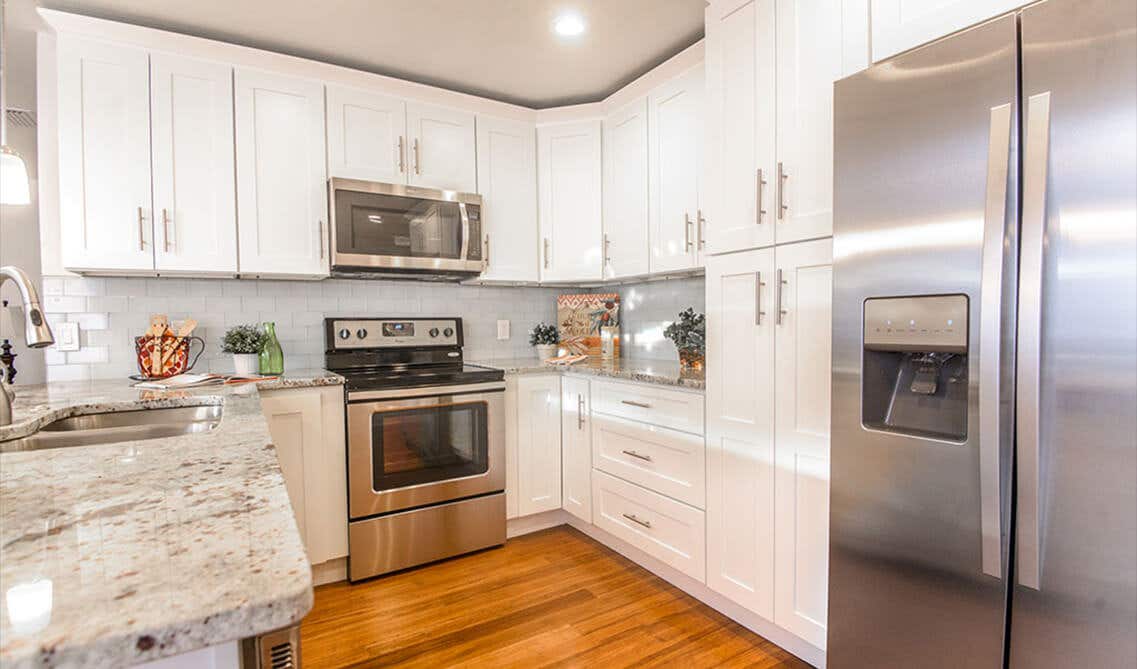 Lily Ann Cabinets – White Shaker Elite Cabinet
Monochromatic, light and bright color schemes can look surprisingly striking, especially in tiny kitchen spaces. They help to create an illusion of space, with clean lines and a single cohesive aesthetic from front to back. Also take advantage of light wood cabinets throughout to pair alongside the lighter color scheme. White kitchen cabinets are just as effective—especially when contrasted with bolder elements such as black hardware or a modern oven hood vent. A monochromatic color scheme will make your small kitchen feel bigger than it is without taking away from any sense of style.
Looking for the perfect white cabinet? Check out the Summit Shaker White cabinet which is durable, stylish, and up to 50% off box store pricing!
2) Small Kitchen Lighting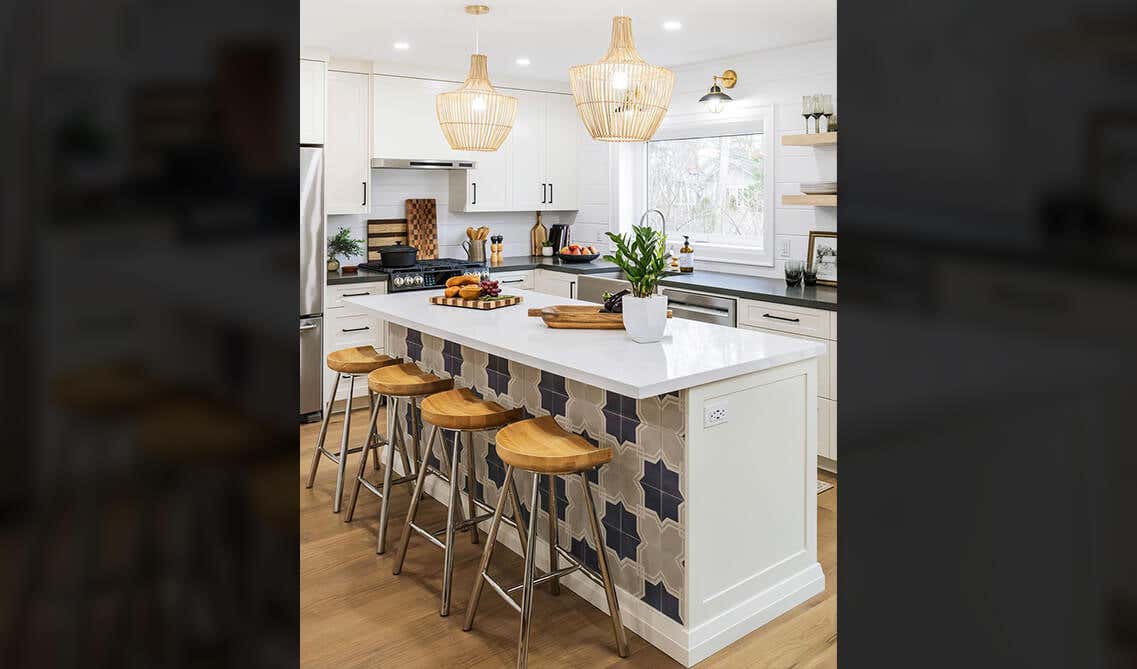 Good Housekeeping
Even though you're working with a small space, there are plenty of great design ideas to pull from. The trick here is finding smart ways to create the illusion of more space. Small kitchens feel bigger when there aren't any dark corners or dead zones that have no purpose. Make sure your kitchen has plenty of lighting options because the brighter the space is, the better the illusion that the area is larger than it actually is. Recessed lighting is great for the entire kitchen space due to its ability to illuminate an entire area without being noticeable or taking any needed space away. If you have an area that can incorporate pendant lighting, rattan lights or glass-enclosed lights are the best option to keep the flow of the space feeling open.
3) Backsplash Options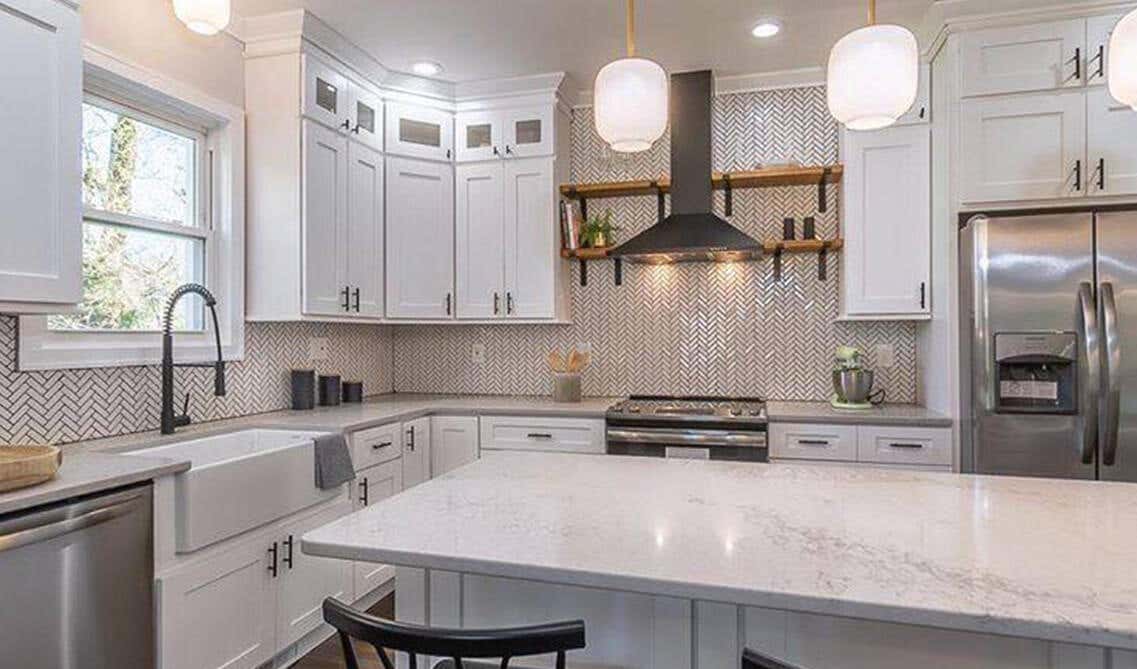 Lily Ann Cabinets – York Linen Cabinet
In smaller kitchens, backsplashes don't have to be bold or eccentric in order to bring a wow factor. It might sound obvious, but starting your search with clean lines and minimal textures will help you find a kitchen backsplash that will feel like they were custom made for your space. The trick is to look for tile shapes and colors that complement instead of compete with each other. For example, if one section of wall has white cabinets and another has taupe cabinetry, neutralizing it with white subway tiles or herringbone patterns in a shade of gray will make sure nothing distracts from your gorgeous cabinetry while giving it a subtle texture.
Recommended For You: Backsplash at up to 50% off box store pricing!
4) Opt For A Functional Kitchen Island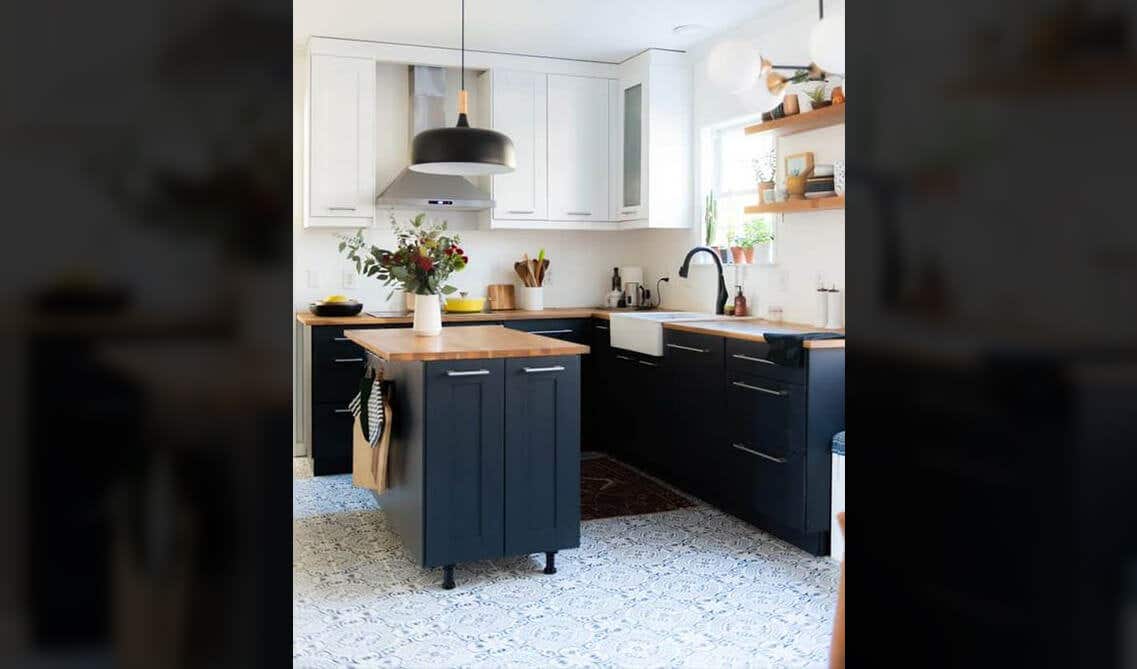 Daily Dream Decor
If your kitchen is a small space, that doesn't mean you should eliminate your kitchen island. This simple design element gives you extra cabinet storage and extra kitchen workspace. A functional kitchen island also provides you with a way to add additional seating during parties, which is especially helpful if your home has a limited number of other dining options. Your kitchen's layout will play a role in determining how much cabinet or countertop space you can allocate for it, but take advantage of any opportunity to make more room for eating and cooking activities when designing yours.
5) Kitchen Cabinet Options For Small Spaces
The easiest way to change up a kitchen's look and feel is with new cabinets. If you have a small space but still want style, don't settle for boring paint jobs or generic style cabinets. To get the most out of your little kitchen, consider these easy-to-implement cabinet design ideas:
Open Shelving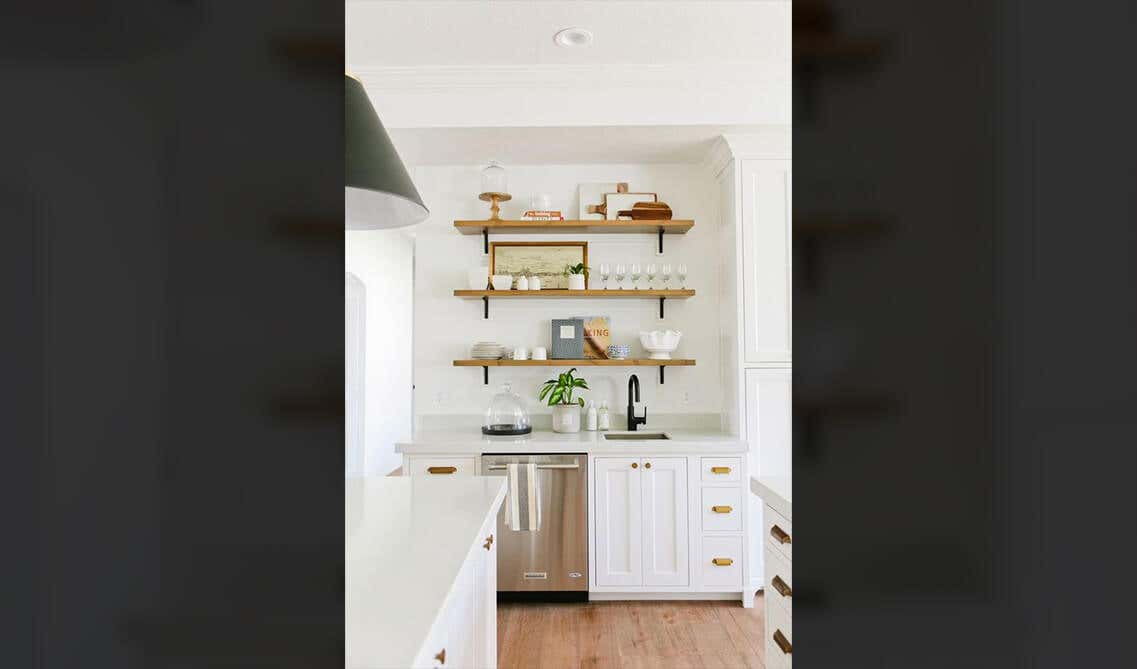 Jane at Home
With so much wall space, it can be tempting to go overboard with hanging shelves and knickknacks, but keep it minimal and attractive with open shelves in neutral tones or wood. Purchase dishware and kitchen items that are attractive and stylish, yet still functional for everyday use to place on your open shelving.
Get RTA kitchen cabinets at up to 50% off box store pricing, along with matching floating shelves!
White Cabinets
Whether you pick traditional wood cabinetry or choose white lacquer for an upscale look, cabinet doors and drawer fronts with clean lines and all white will give your kitchen a look that's timeless without being too stuffy or boring.
Two-Toned Cabinets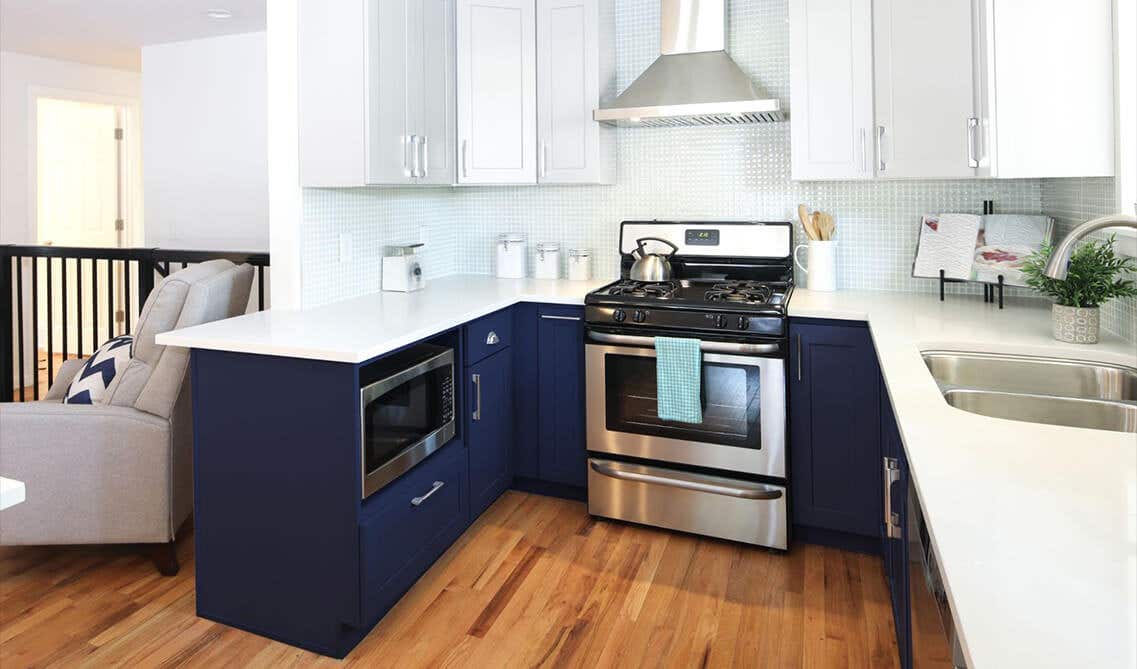 Lily Ann Cabinets – Navy Blue Shaker Cabinet
Another easy way to make your small kitchen look bigger is with two-toned cabinets. With white on top and dark wood or a deep color below, you'll instantly make your kitchen feel more spacious and airy.
Install Continuous Cabinets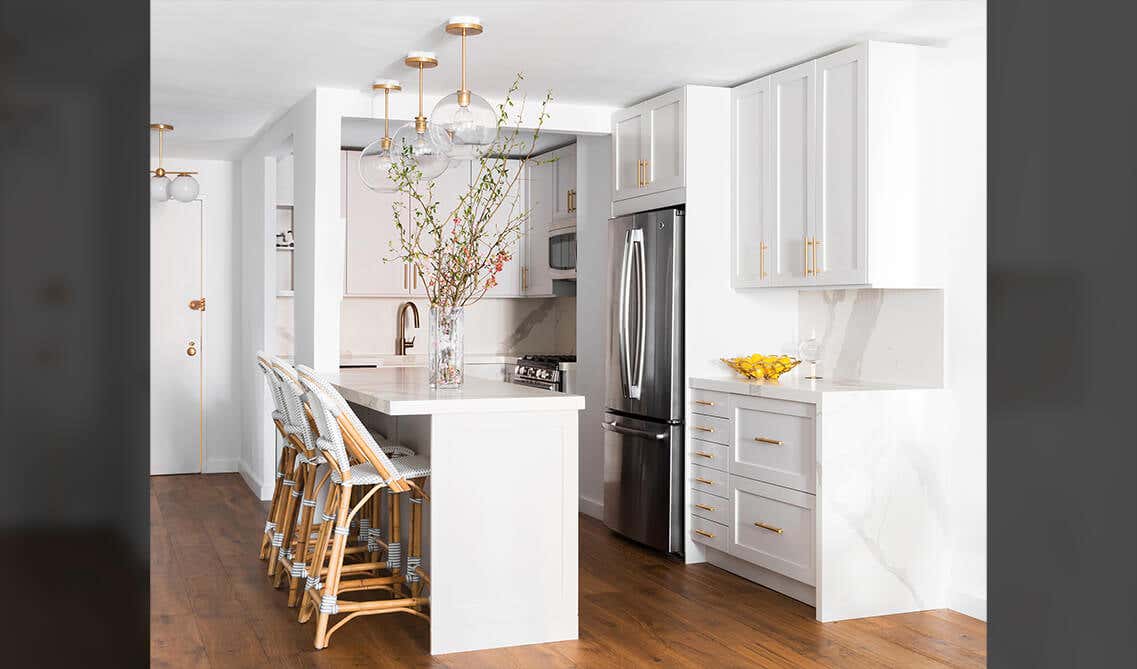 Semi Stories
A perfect small kitchen design idea is to draw the eyes upwards. To do this, have your upper kitchen cabinets reach all the way to the ceiling. Whether you have tall ceilings or not, this will draw people's eyes upwards and make the space seem larger.
6) Add Wallpaper or a Patterned Backsplash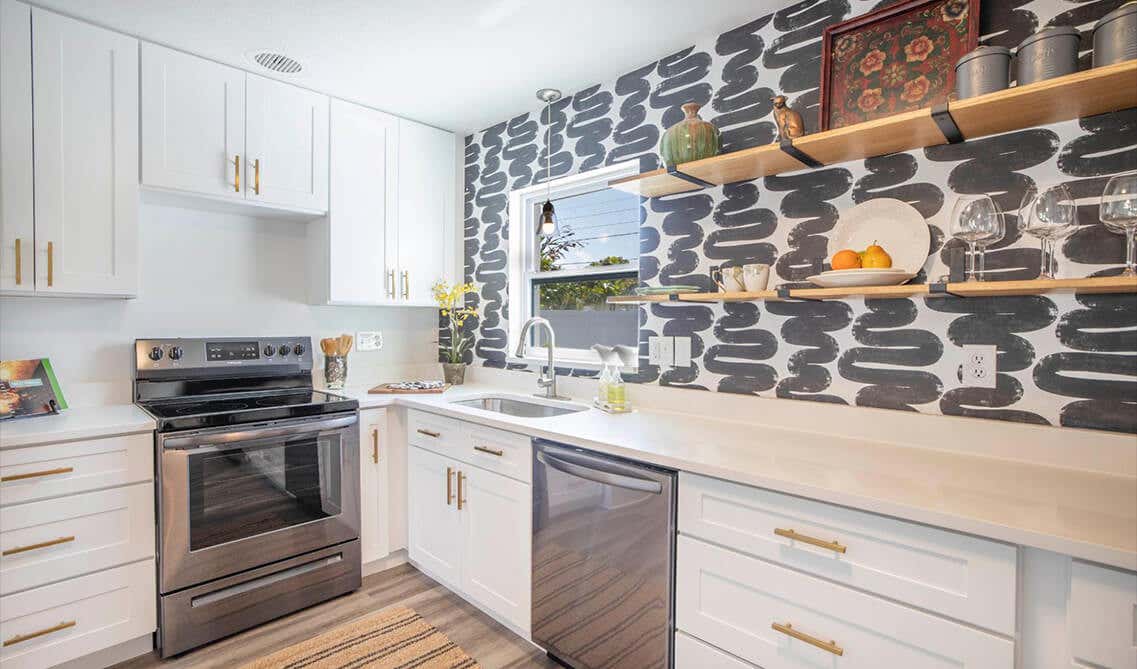 Lily Ann Cabinets – White Shaker Elite Cabinet
If you're in need of modern kitchen design ideas for a small space, consider using wallpaper or adding a patterned backsplash. These two options present the opportunity of drawing eyes to the wallpaper or backsplash rather than the smallness of the space. You can choose from an extensive variety of patterns and colors, which will transform your kitchen instantly. Patterned wallpaper is inexpensive and easy to apply; some types can be textured, some are very smooth and easy to clean, and come in an array of different colors and patterns. A patterned backsplash can give off the same effect in a small kitchen space.
Gold kitchen cabinet hardware is a great choice for keeping the space light and bright
7) Install Tiles & Flooring Strategically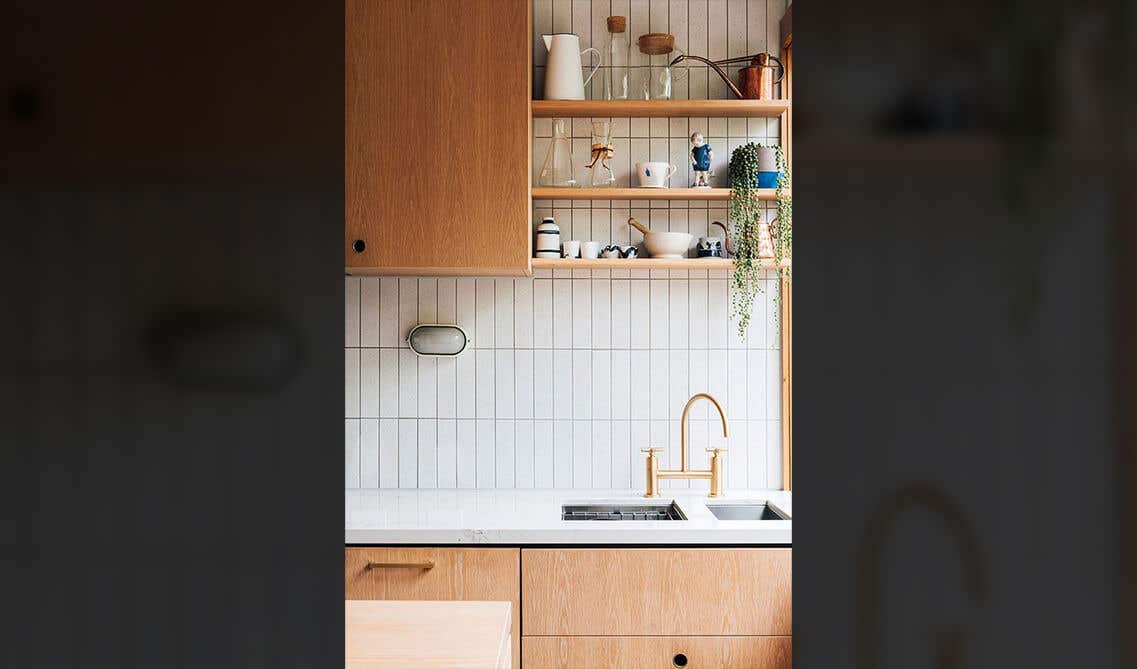 Unfold
A small kitchen design idea that any space can pull off is laying tile and the flooring in a strategic way to change the feel of the room. For tile, lay it vertically to create an illusion of height or horizontally to make the room seem wider. Flooring works the same way, whether you decide to install hardwood, tile, or any other form of flooring. Tiling and flooring sometimes are a kitchen feature that tend to be overlooked, so don't miss out on this opportunity to give your kitchen the illusion of being larger!
8) Mirrors Help To Open Up The Space
Use mirrors to help create the illusion of a larger space in a small kitchen. You can also use mirrors to make it seem like there's more than one light source in a dark room. This modern kitchen design idea is not only unique and adds a sense of style, but is also functional to the purpose of creating the illusion of more space in a room. If you have no wall space to add a mirror or two, consider installing mirror-paneled kitchen cabinets into your space for an even better effect!
9) Built-In Storage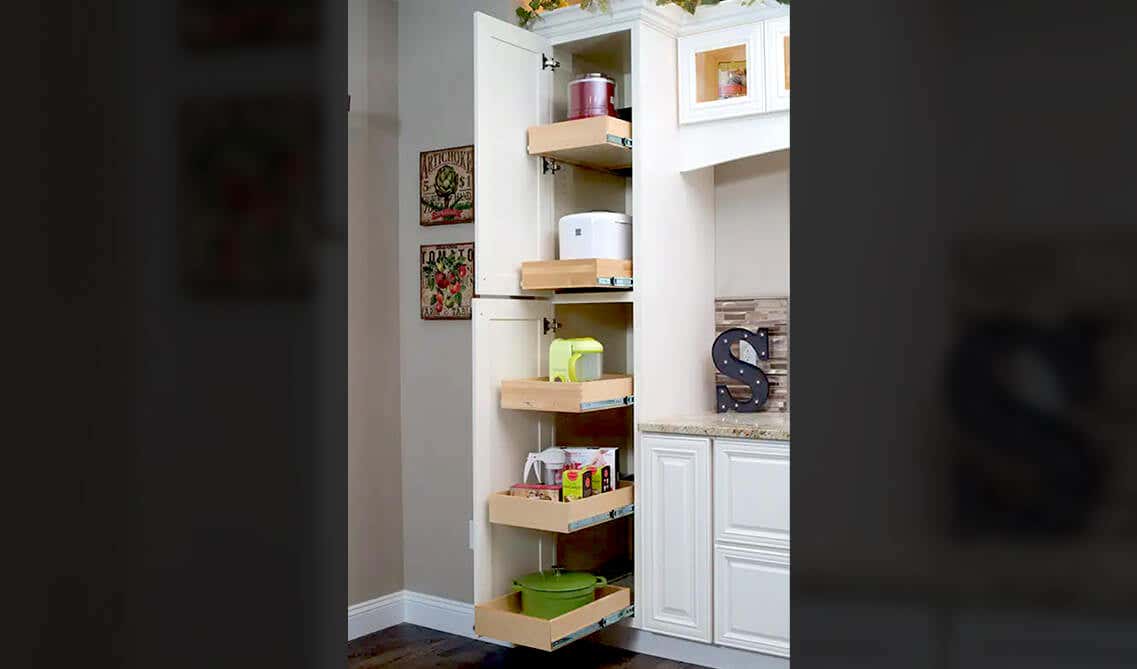 Lily Ann Cabinets – Bristol Linen Cabinet
Built-in storage means you can get a lot of extra storage and more organization without having clutter on your countertops. This is especially helpful if you live in a small space with very little closet and cabinet space—or if you just want to make your kitchen look more elegant and clean. Built-in storage can be built out over counters, inside cabinetry, along walls, or on top of appliances like fridges and stoves.
Find every type of built-in cabinet organizers, from pull-out trash cans to spice racks here!
10) Consider A Removable Kitchen Island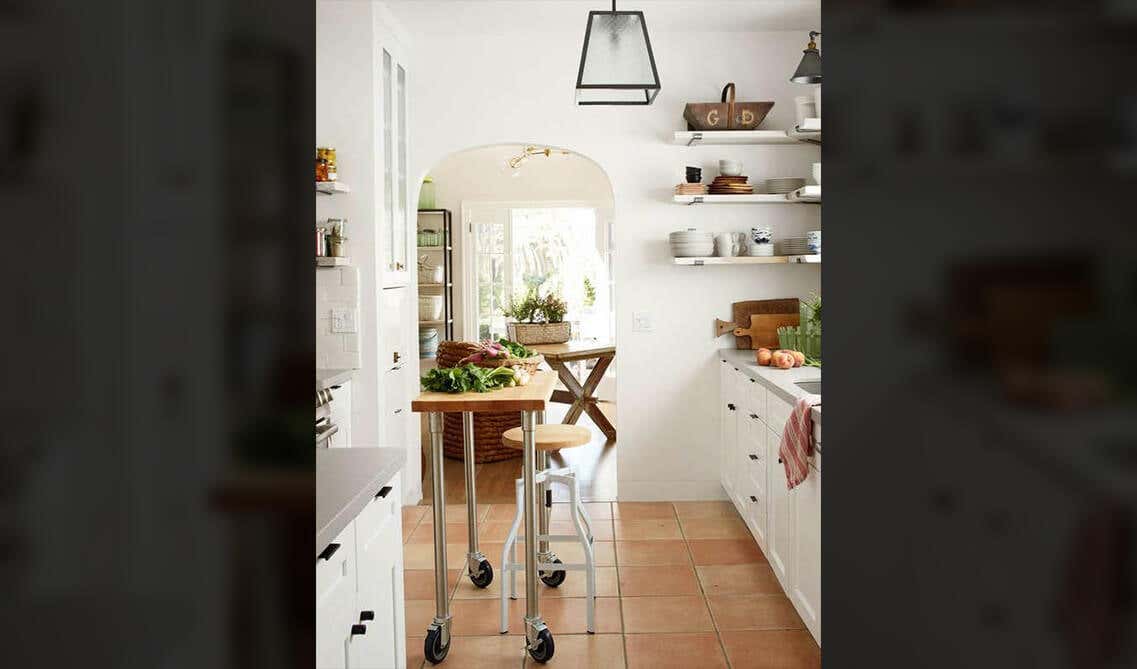 Bob Vila
Kitchen islands not only add character and charm to your kitchen, but they also allow you to use more of your kitchen space. A removable kitchen island gives you an extra counter or workspace as needed, but can be moved out of sight when not in use to allow for more space. Best of all, they come in many different designs and finishes so you can choose one that fits with your style.
Create Your Dream Kitchen With Lily Ann Cabinets
We offer a wide selection of premium cabinetry, hardware, shelving and more to help you create a room that stands the test of time. Pick from our large array of kitchen and bathroom cabinetry, including white shaker cabinets that come with soft-close hinges. Our professional designers are on standby to work with you — we offer FREE cabinet door samples and FREE design and quote. Visit our FREE 3D design tool to get started today!
FAQs
What are the basic kitchen plan layouts?
There are 6 basic kitchen plan layouts: L-Shaped, G-Shaped, U-Shaped, Single Wall, Galley, and the Kitchen Island layout.
How do I design my kitchen ideas?
You can easily put your kitchen design ideas to test using a 3D kitchen visualizer, where you pick the layout of your kitchen, materials you want to incorporate, and measurements to see what your kitchen could look like.
Is there an app to design a kitchen?
There is an app available called RoomSketcher that can help you in designing a kitchen.
Is there a website to design kitchens?
Lily Ann Cabinets offers a FREE 3D kitchen visualizer that can help you envision what your space could potentially look like. Once you get your 3D design, you can get two FREE cabinet samples to help further your kitchen renovation process.
What is a 10x10 kitchen layout?
A 10x10 kitchen layout is generally a small to average sized kitchen space, where the cabinets are confined to one or two walls usually in an L-shape.
Which kitchen layout is the most functional?
An L-shaped kitchen tends to be the most functional use of space for a kitchen and can be done in the majority of kitchen spaces.
What is the kitchen triangle rule?
The kitchen triangle rule is based on the three main food prepping areas of the kitchen: the fridge, stove, and sink. Your layout should be based off of this rule in order to have a smoother cooking experience with no obstructions.