An L-shaped kitchen with an island is a popular layout that provides ample workspace, storage, and a central focal point. This layout incorporates an island into the L-shaped design. The island is placed in the open space, extending from one leg of the L. It can be used for additional countertop space, storage, and as a seating area.
L shaped kitchens with an island can be beautifully executed and add color to any kitchen by adding contrast to your design. This could be with a different toned countertop than all your other appliances, backsplash, island, cabinets, etc. Here are a few examples that you can personalize, to make your kitchen yours!
1. All White with a touch of black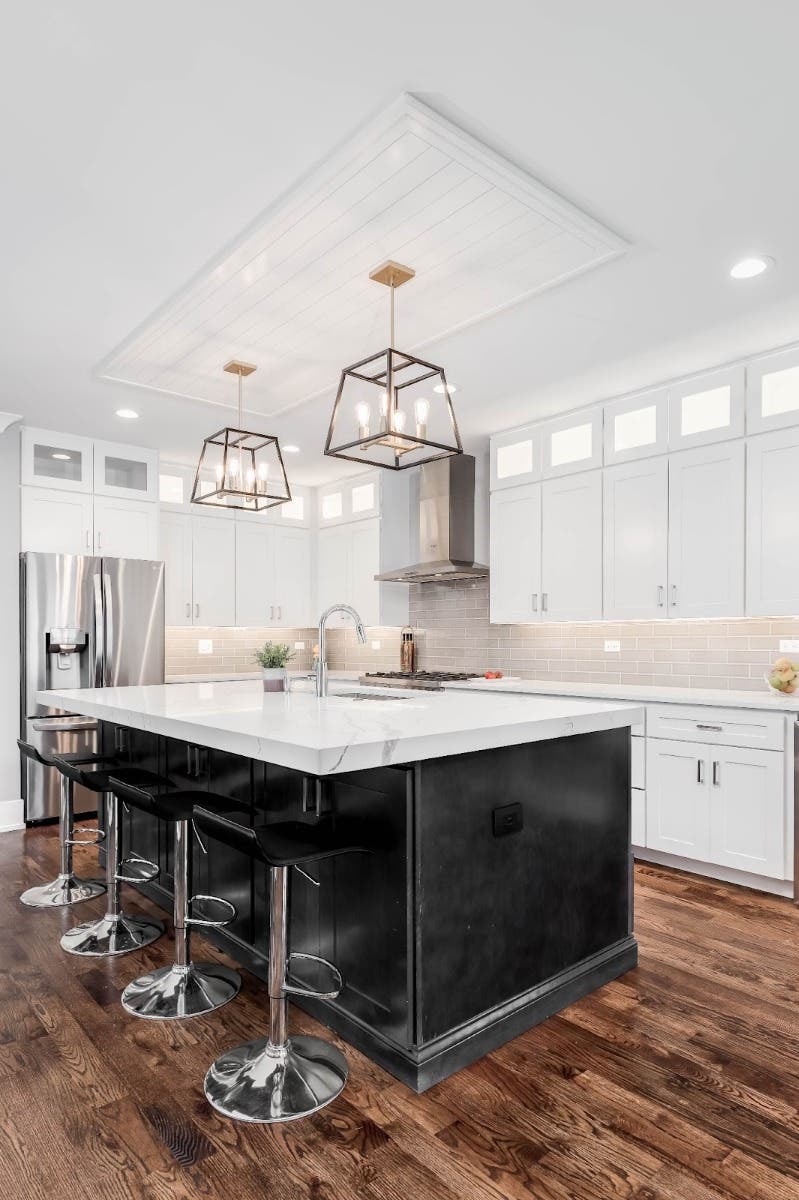 An all white kitchen with only a black island is guaranteed the first thing guests will notice when they enter your kitchen.  Black mixed with all white adds contrast and makes it easy to match any other color in your kitchen to give it an extra pop of brightness.
2. Wooden Island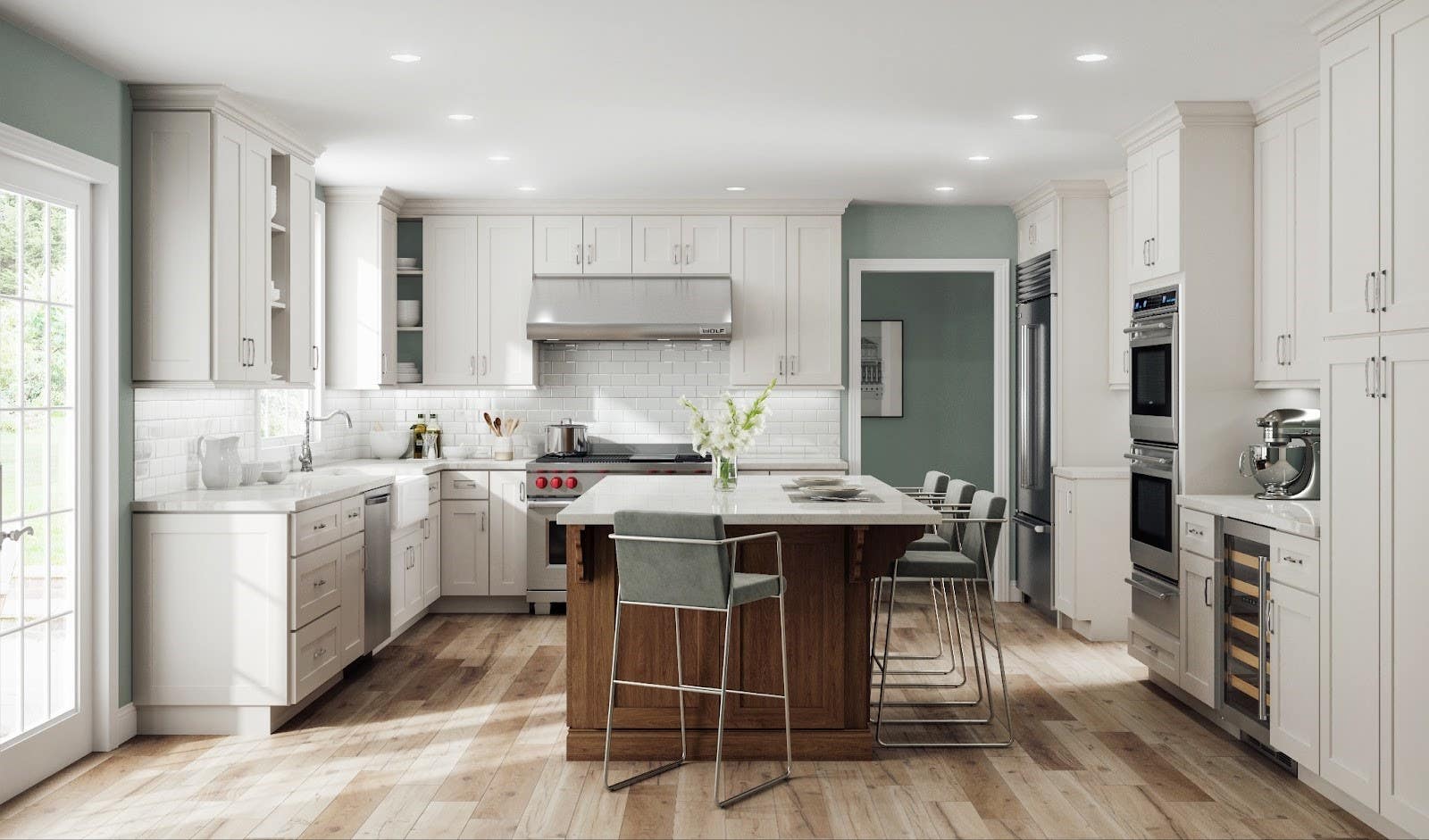 Lily Ann Cabinets: Colorado White Shaker
Adding a wooden fixture such as an island, adds a rustic feel to your kitchen and creates an eye catching island design!
3. Mix and match stools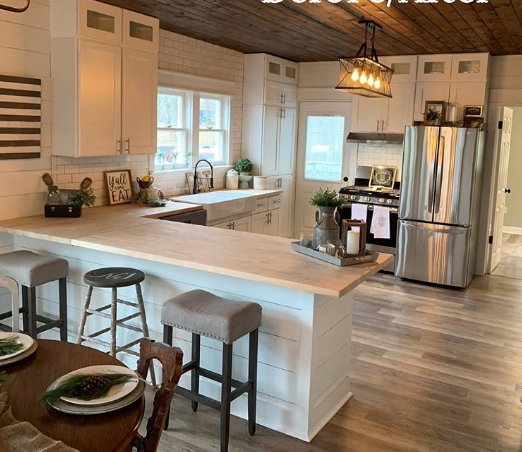 Lily Ann Cabinets: Colorado White Shaker
Adding mismatched bar stools to your island is a unique and creative way to add visual interest. Try to keep them somewhat similar to avoid clashing, and make sure they are all the same in terms of with or without a back. Bar stools without a back are most ideal for islands because they can easily be tucked under the lip of your countertop to keep them out of the way when they are not being used!
4. Two Tone Cabinets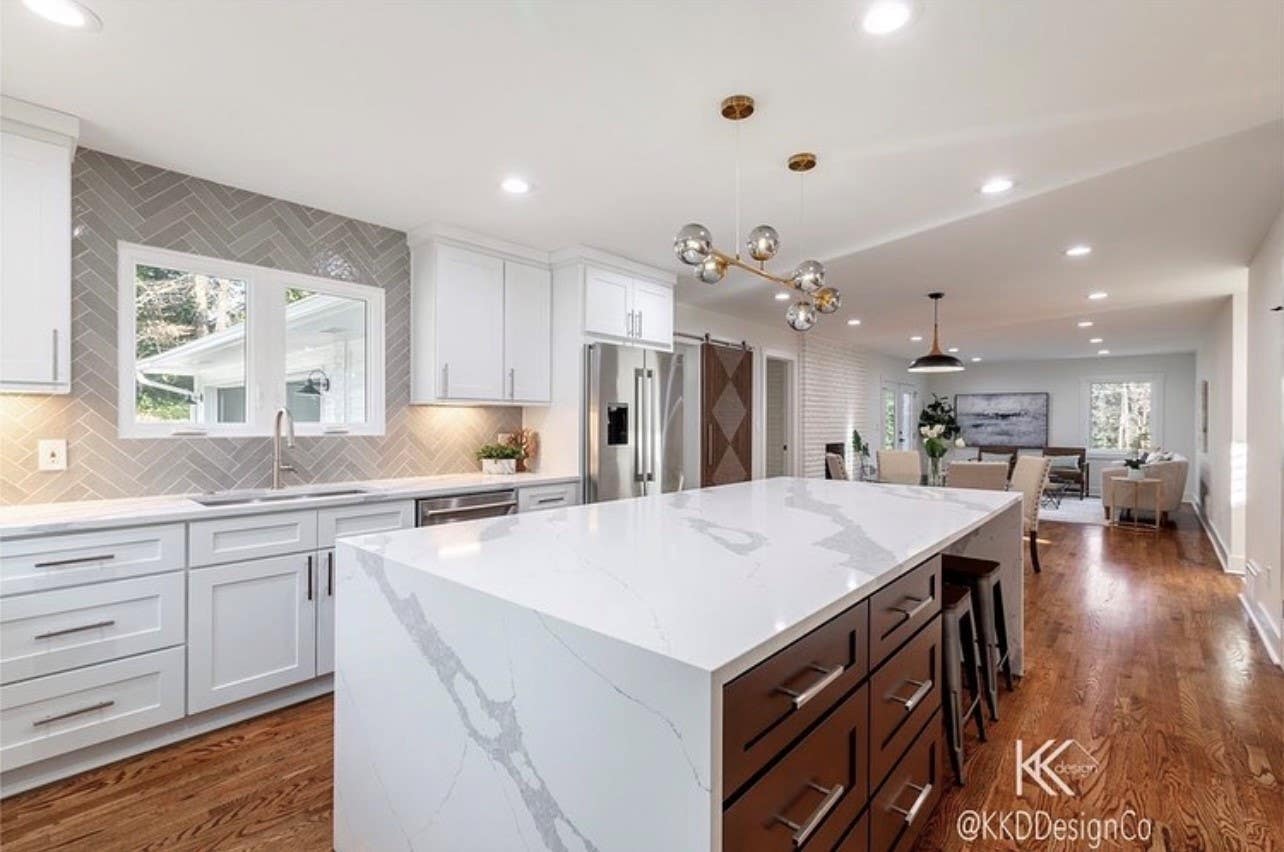 Lily Ann Cabinets: White Elite Shaker Cabinets
Choose a different toned cabinet for your island to contrast the cabinets throughout your kitchen. This creates a functional kitchen and is an easy way to make your island the focal point in the most popular room of your house.
5. Efficient Layout
Lily Ann Cabinets: Bristol Linen
Optimize the L-shaped layout by placing the island in the open space, forming the "L" shape. This arrangement allows for a smooth flow of traffic and easy access to different workstations.
6. Island Functionality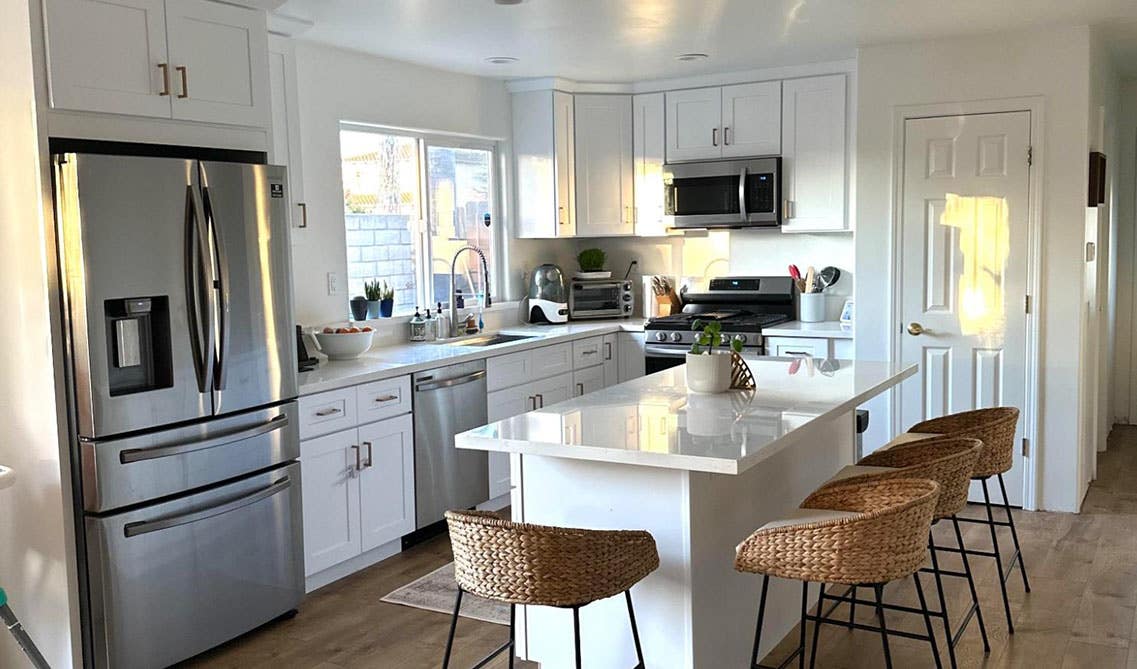 Lily Ann Cabinets: Colorado White Shaker
Determine the primary function of the island based on your needs. It can serve as a food preparation area, a cooking station with a built-in cooktop, a dining space with bar stools, or a combination of these functions.
7. Size and Shape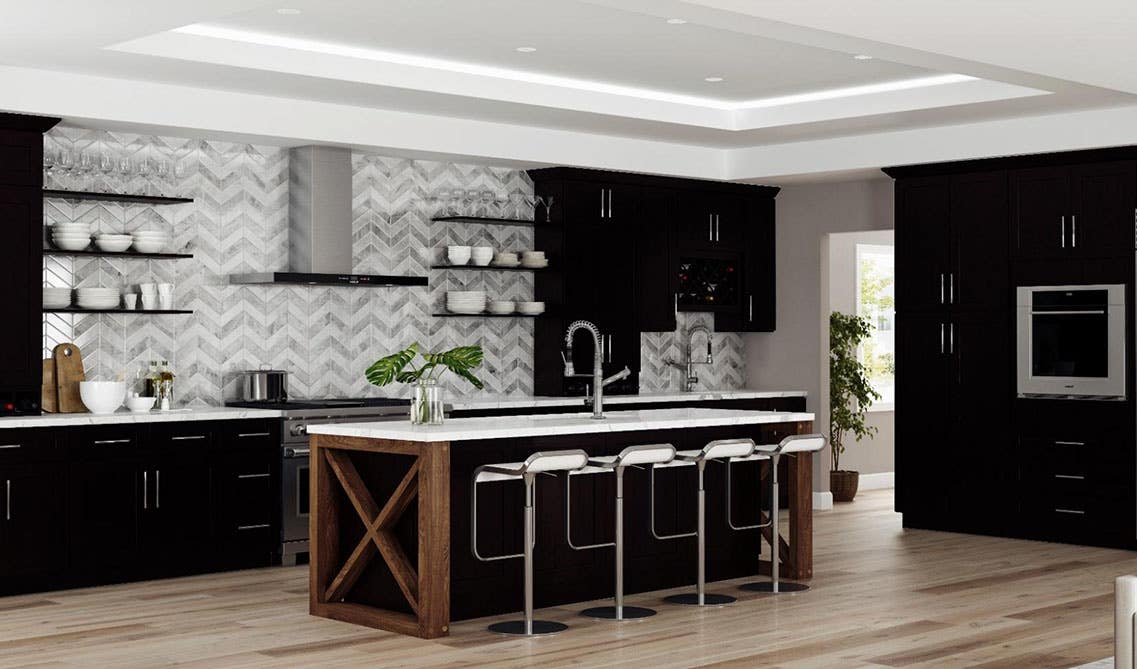 Lily Ann Cabinets: Espresso Shaker Cabinets
Consider the size and shape of the island in relation to the available space. Ensure there is enough room for people to move around comfortably and for the island to fit seamlessly into the kitchen design.​​The common island shapes include rectangular, square, and rounded or curved edges.
8. Storage Solutions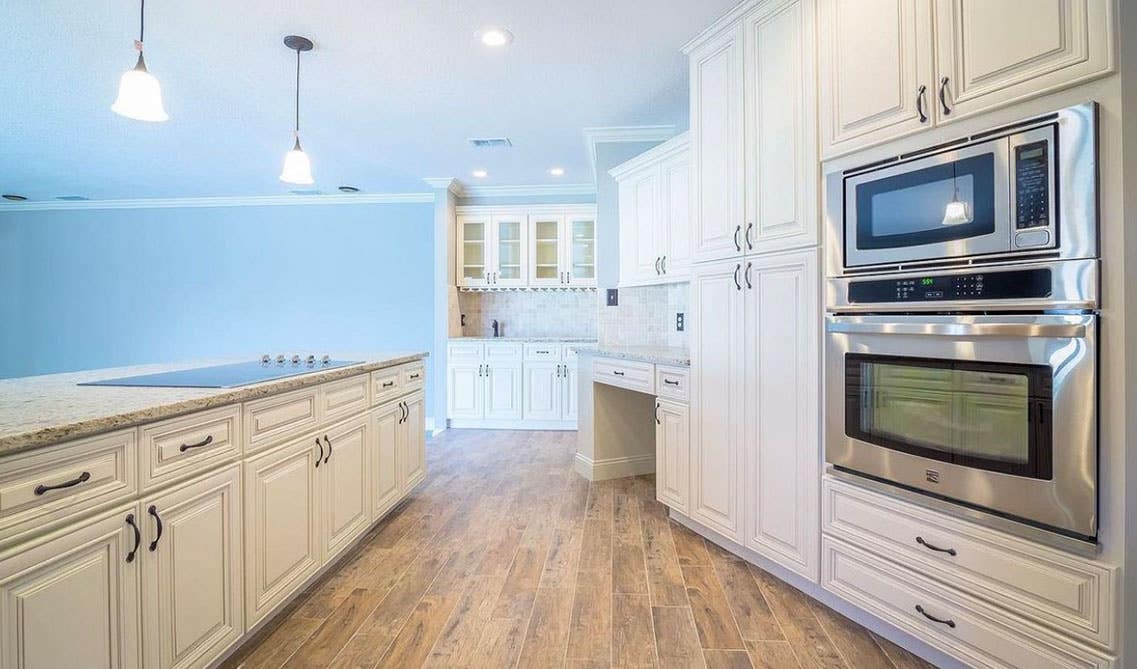 Lily Ann Cabinets: Charleston Linen
Incorporate ample storage options within the island. Include cabinets, drawers, and open shelves to accommodate kitchen utensils, cookware, and other essentials. This will help maximize functionality and keep the kitchen organized.
9. Seating Area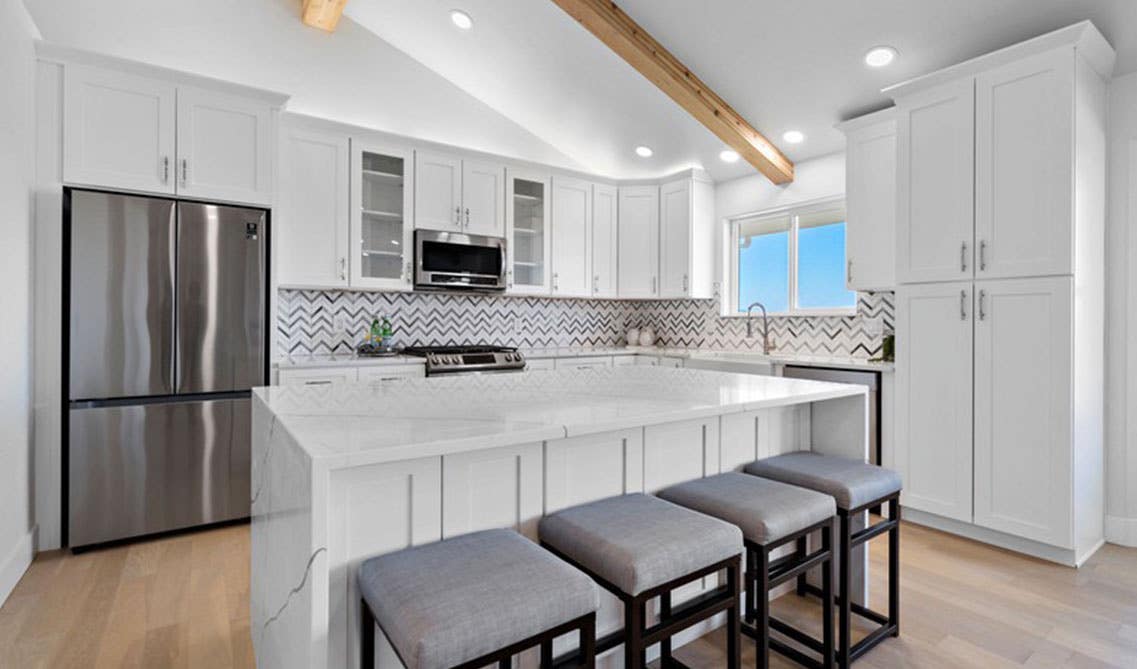 Lily Ann Cabinets: Colorado White Shaker Cabinets
If you plan to use the island as a dining or gathering area, ensure there is enough space for comfortable seating. Bar stools or counter-height chairs work well in this setting. Consider the height of the island and choose seating that complements the kitchen's style.
10. Split height island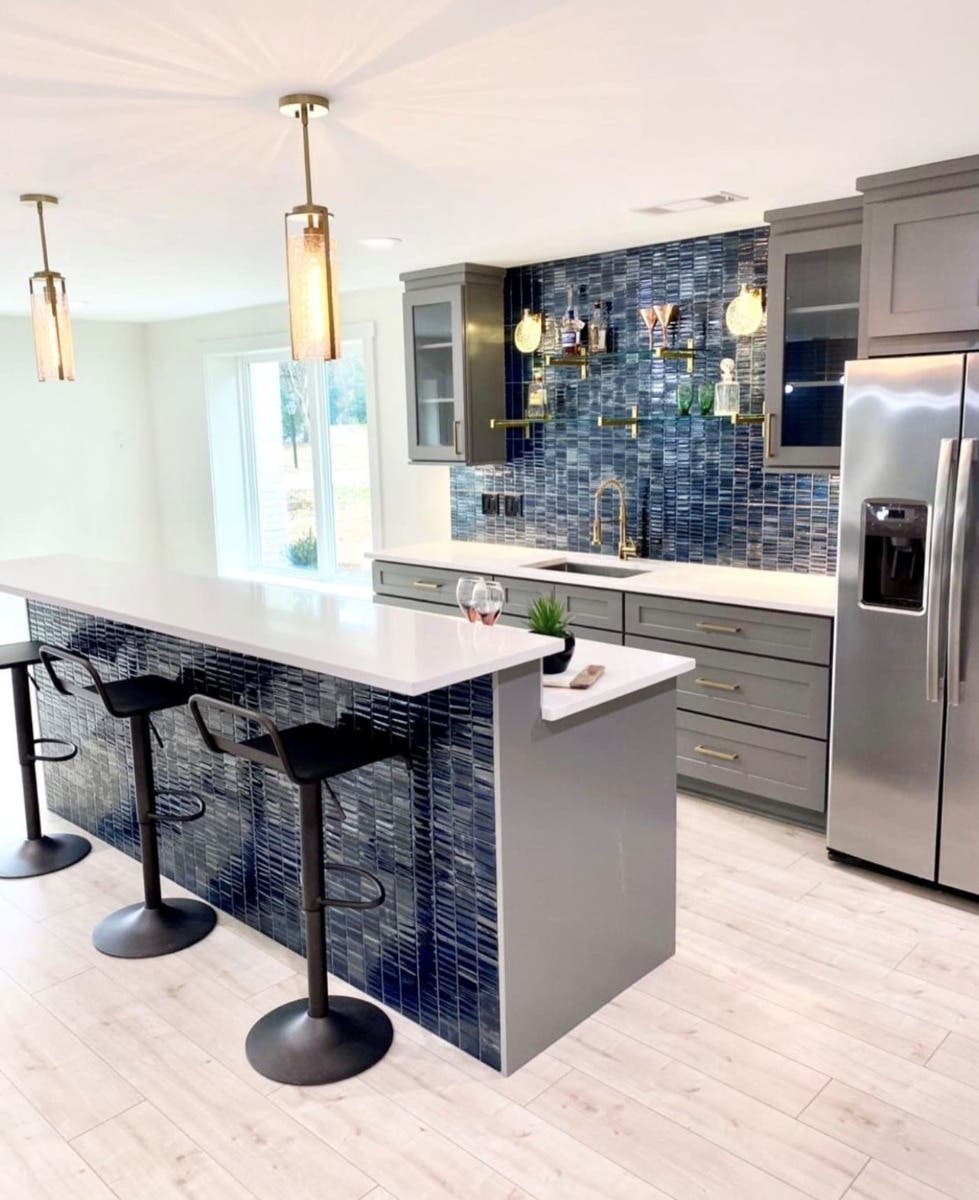 Lily Ann Cabinets: Grey Shaker Elite Cabinets
One island, two heights! This is the perfect set up for dinner preparation and cooking on one side of the island, while guests are able to sit on the other without interfering in the other's space!
Once you decide on your overall design for your L-shaped kitchen with an island you are ready to begin your building process! Lily Ann Cabinets professional designers are available at any time to help and show you how your layout will look and assist you in maximizing storage space and functionality. If you still have questions, please feel free to check us out and reach out for additional ideas and tips!
FAQ'S
1. Can you have an island in an L shaped kitchen? 
Yes, you can add an island in an L shaped kitchen, but it is important to first take the measurements of your kitchen into consideration when determining the size and dimensions of the island.
2. What is the disadvantage of the L shaped kitchen? 
While the L-shaped kitchen layout offers many advantages, there are a few potential disadvantages to consider. For example, limited space, traffic flow, storage and counter space, cost, placement limitations, and communication and visibility. Functionality can become an issue with the spacing due to the difficulty of more than one person cooking at a time and corner appliances such as cabinets may be more difficult to manage.
3. What is the best size for an L shaped kitchen with an island? 
It is recommended that L-shaped kitchens are around the size of at least 115 ft since the island should be no less than 4 feet in length and 2 feet in width. Remember to consult with one of our experts through a real-time experience to design your kitchen and to ensure that your L-shaped kitchen with an island meets your specific needs and maximizes the available space in your home.
4. What is the best layout for an L shaped kitchen? 
The layout rule to remember for any L-shaped kitchen is the triangle rule. This means that the kitchen sink, refrigerator, and stove are all within easy reach of each other. This provides easy access and maximizes functionality for your kitchen and appliances.