If you're considering a kitchen remodel, a peninsula can be a great addition to your space. A peninsula is a type of kitchen island that is attached to a wall or cabinets on one end, creating an L-shaped layout. Here are 6 gorgeous and functional kitchen peninsula ideas to inspire your kitchen remodel:
   1. Rustic Wood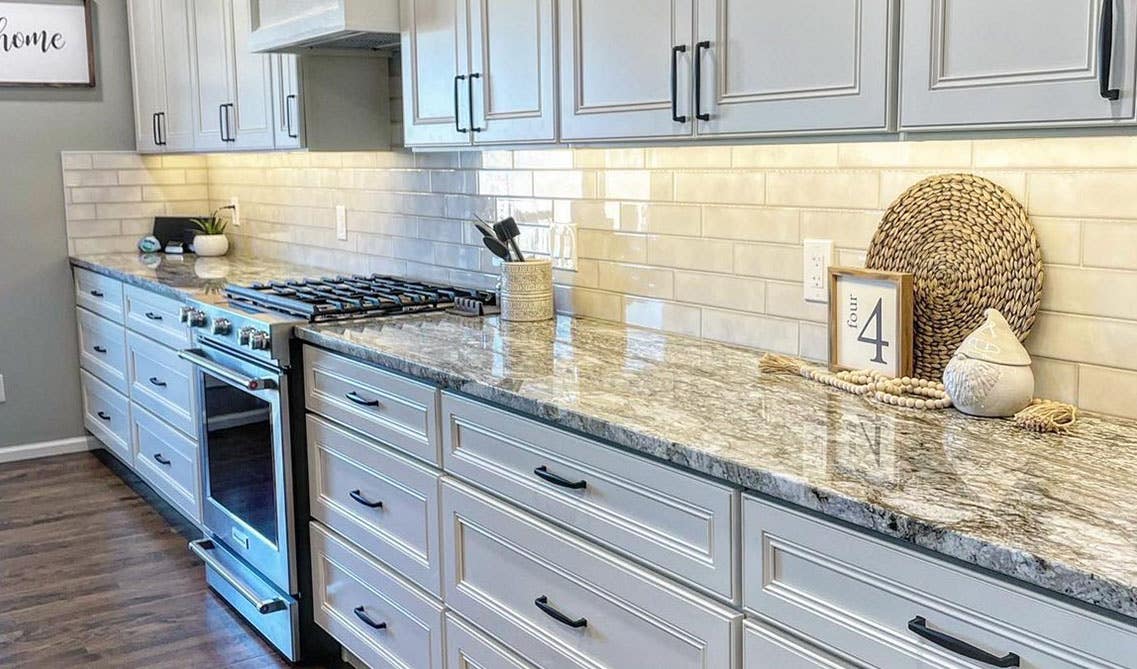 A rustic wood peninsula can add warmth and character to a kitchen. Pair it with complementary wood accents and a neutral color palette for a cozy and inviting look.  Using rustic wood for a peninsula can be a sustainable choice, as it is a renewable resource that can be responsibly harvested and sourced locally. Wood is also a strong and durable material that can withstand the wear and tear of daily use. With proper care and maintenance, a rustic wood peninsula can last for many years. Rustic wood can be less expensive than other countertop materials, such as granite or quartz. This can make it a cost-effective option for homeowners who want a unique and attractive look without breaking the bank.
   2. Marble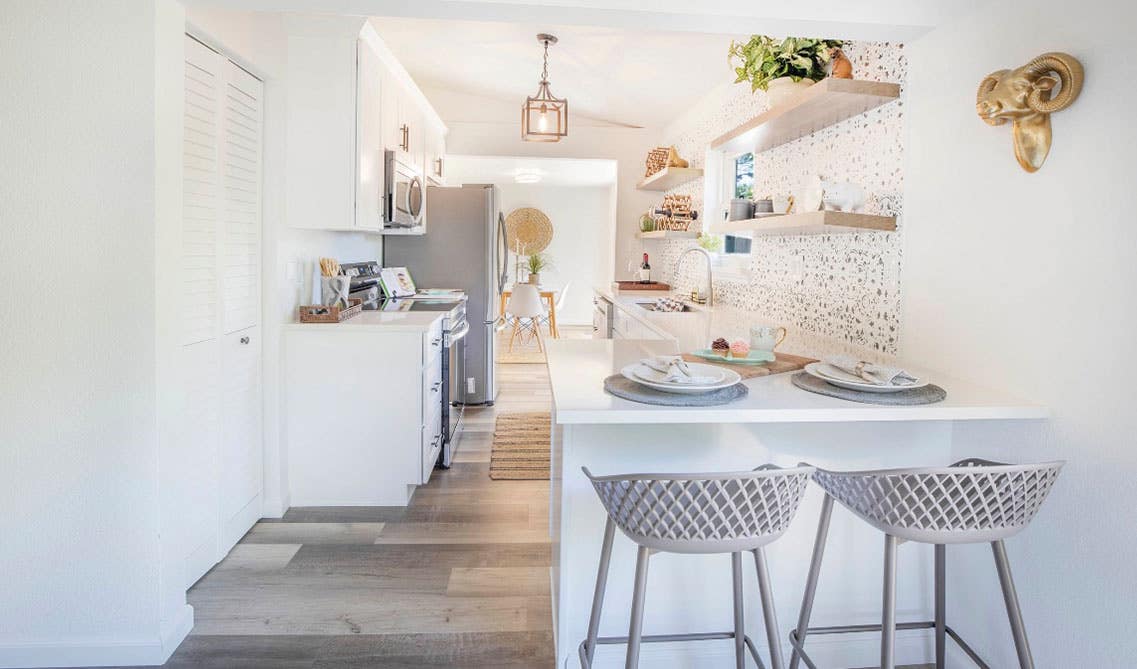 Marble is a beautiful and elegant natural stone that can add a luxurious and sophisticated look to a kitchen. It comes in a variety of colors and patterns, so homeowners can choose the perfect style to match their design preferences. A marble-topped peninsula can add elegance and sophistication to a kitchen. While marble is a relatively soft stone, it is still durable and resistant to scratches and heat. With proper care and maintenance, a marble kitchen peninsula can last for many years. Pair it with sleek white cabinetry and a pop of color for a timeless and chic look.
   3. Built-In Seating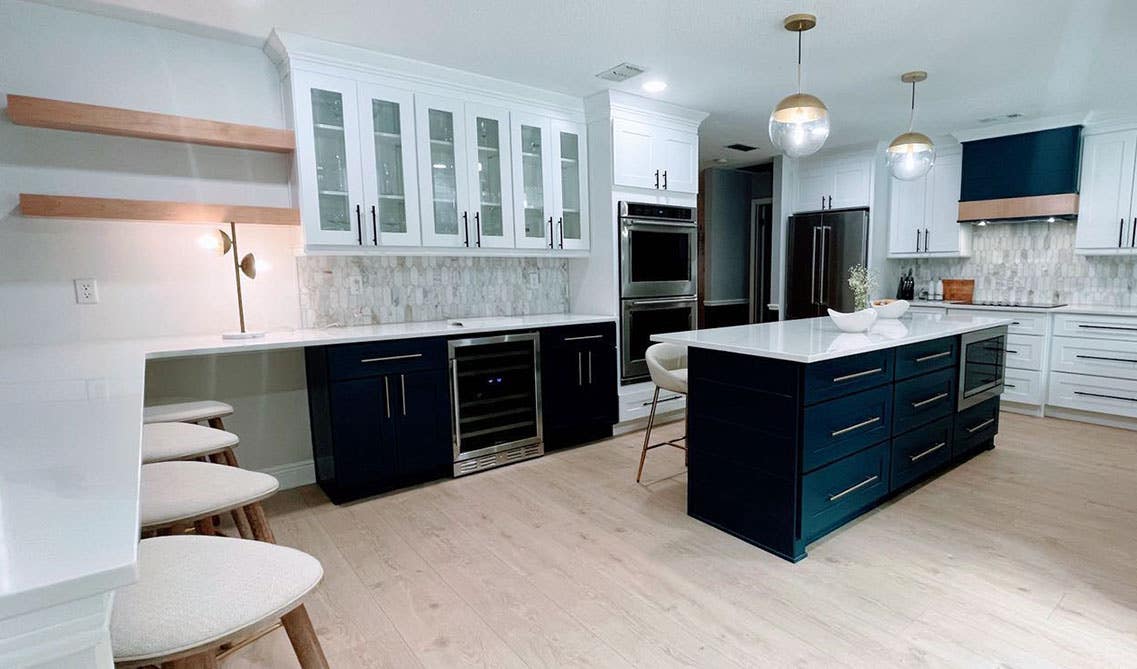 A peninsula with built-in seating can provide a functional and stylish dining space. Use bar stools or chairs to create a comfortable seating area that's perfect for entertaining. A peninsula with built-in seating can be a space-saving solution for smaller kitchens or open-concept living areas. It can eliminate the need for a separate dining table and chairs, freeing up more floor space for other purposes. A peninsula with built-in seating can add a stylish and modern touch to a kitchen. It can come in a variety of materials, such as wood or stone, and can be customized to match the design and color scheme of the space.
   4. Peninsula with Sink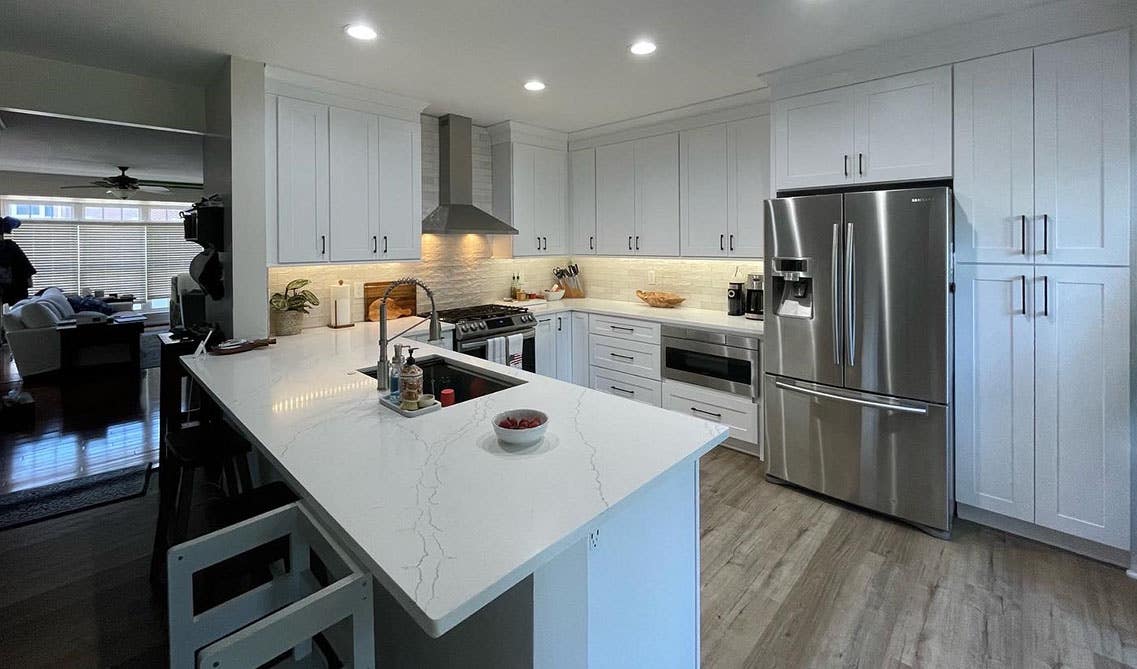 Having a sink in the peninsula creates a separate workstation for food preparation and cleanup, allowing for a more efficient workflow. It eliminates the need to walk back and forth between the sink and the main kitchen area, saving time and effort. The sink in the peninsula adds functionality to the space by providing a convenient area for washing and rinsing dishes, fruits, vegetables, and other food items. It also serves as a prep station for tasks such as peeling, chopping, and cleaning ingredients. A peninsula with a sink creates a clear separation between the cooking area and the cleanup zone. This separation is beneficial when multiple people are working in the kitchen simultaneously, as it allows for better organization and prevents congestion.
   5. Hidden Storage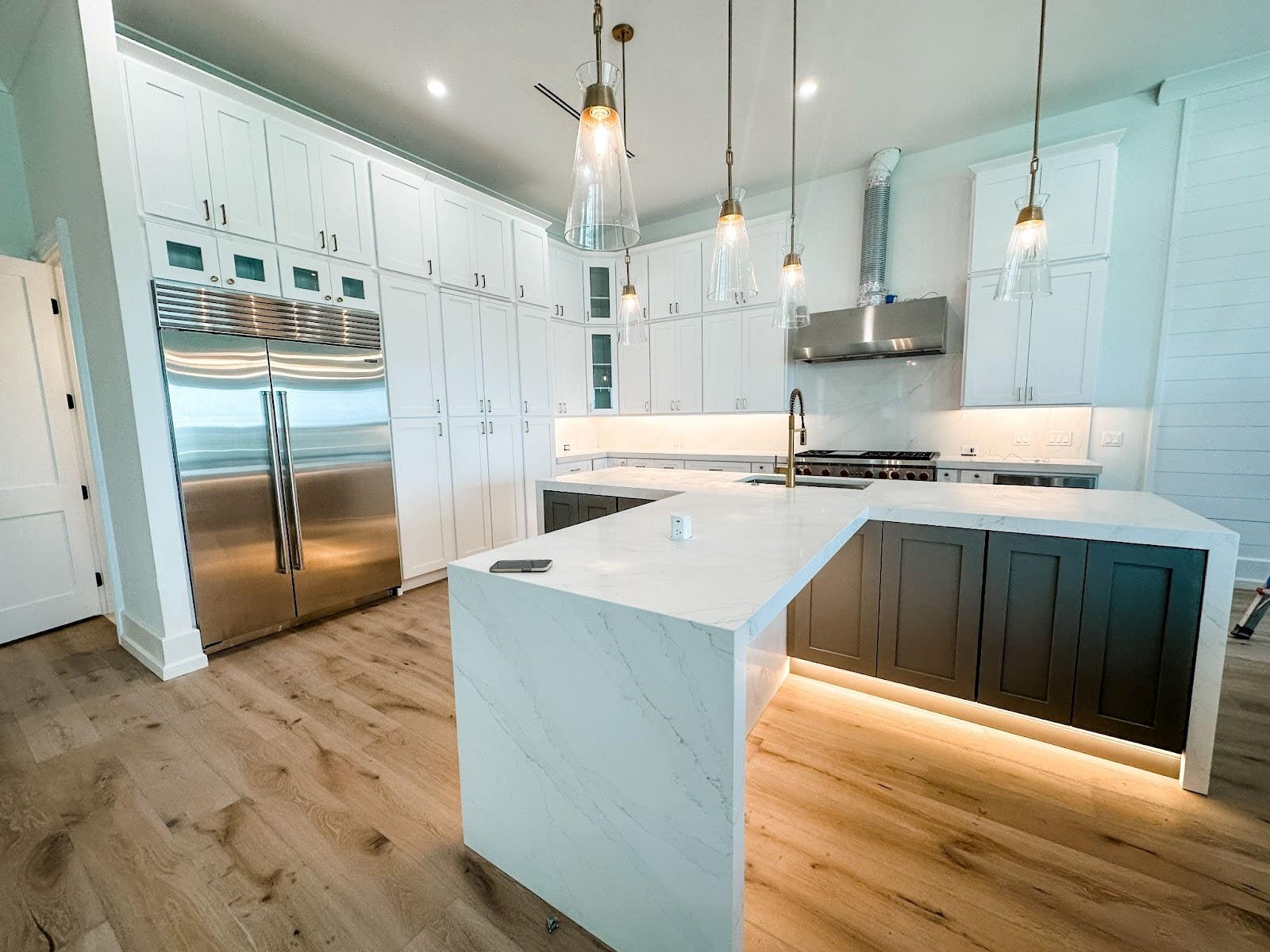 A peninsula with hidden storage can provide a sleek and minimalist look. Use push-to-open drawers and cabinets for a seamless and clutter-free finish. Hidden storage can be used to store a variety of items, such as small appliances, baking sheets, and pots and pans, providing easy access to these items when needed. This can save time and reduce frustration when cooking or preparing meals. Hidden storage can also help to keep a kitchen organized by providing a designated place for dishes, glasses, and other kitchenware. This can help to reduce clutter and make the space look neater and more aesthetically pleasing.
At Lily Ann Cabinets, we offer many sizes of premium cabinets to make your new kitchen look custom. We can also add organizers into your peninsula and kitchen to give you more storage with a seamless look. 
6. Raised Bar Peninsula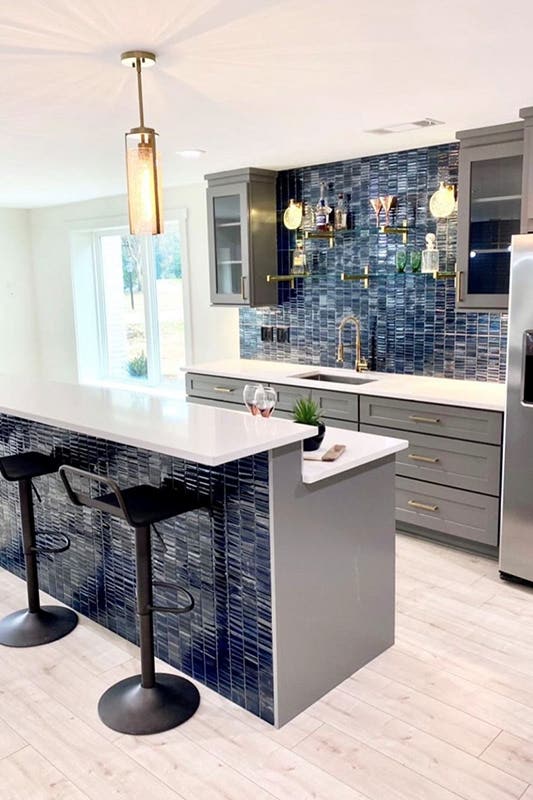 The raised bar provides a surface for setting up a buffet-style meal or displaying dishes for serving. It allows guests to serve themselves and creates a designated The raised bar peninsula serves as an informal dining option, eliminating the need for a separate dining table in smaller kitchens or homes with limited space. It provides a convenient spot for breakfast, snacks, or an area for placing food trays or serving platters. The raised bar acts as a visual and physical separation between the kitchen workspace and the dining or living area. It helps define distinct areas in an open floor plan, creating a sense of organization and structure.
In conclusion, a kitchen peninsula can add both style and function to your kitchen. Whether you prefer a rustic wood look or a sleek and modern design, there are endless options to choose from. Consider your personal style and needs to create a kitchen peninsula that's perfect for you.
If you are looking to see how a peninsula would look in your space, head to the Lily Ann Cabinets website to get a FREE professional 3D design. Our award-winning designers can help you visualize exactly how your new kitchen will look before you purchase a thing! We also offer over 20 different cabinetry styles, so you are sure to find a premium and durable cabinet that will fit your taste without breaking the bank. 

FAQ's
1. What is a peninsula in a kitchen?
A peninsula is similar to an island, as it provides additional counter space in your kitchen.
2. Is a kitchen peninsula dated?
No! We believe that peninsulas are still in, it functions the same as an island but saves space.
3. Is a kitchen island or peninsula better?
Depending on the size of your kitchen, you might want to consider both options. Peninsulas are space savers so they will work well if you have a smaller sized kitchen. However if you have a big family and a bigger kitchen you might want to consider a kitchen island.