Are you tired of looking at your outdated and lackluster kitchen cabinets? Do you dream of a fresh and inviting space where you can create culinary masterpieces and host unforgettable gatherings?
In this blog, we'll showcase 5 awe-inspiring cabinet makeover ideas that will ignite your creative spirit and leave you yearning for a kitchen transformation of your own. Get ready to be inspired by the stunning before and after photos that highlight the magic of Lily Ann Cabinets.
1. From Traditional to Transitional:
Before:                                                                                          After: Lily Ann Cabinets' White Shaker Elite
Lily Ann Cabinets has the perfect solution for those craving a cabinet makeover from a traditional kitchen to a more modern and transitional style. Say goodbye to ornate details and darker wood tones, and embrace clean lines and neutral palettes for a timeless look.
Before: A traditional kitchen filled with old cabinets, darker colors, and outdated appliances give off a dated feel.
After: With Lily Ann Cabinets' White Shaker Elite cabinetry, the kitchen now boasts a bright and inviting atmosphere. The subtle addition of contemporary hardware you can also purchase from Lily Ann, completes the transformation. It creates a stunning balance between classic and modern aesthetics.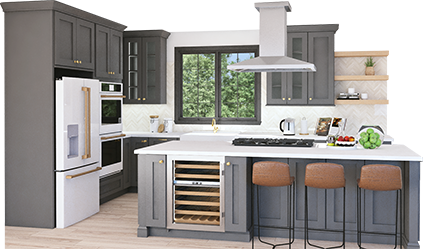 Get your FREE 3D kitchen design today!
Start Now
2. Bold and Beautiful: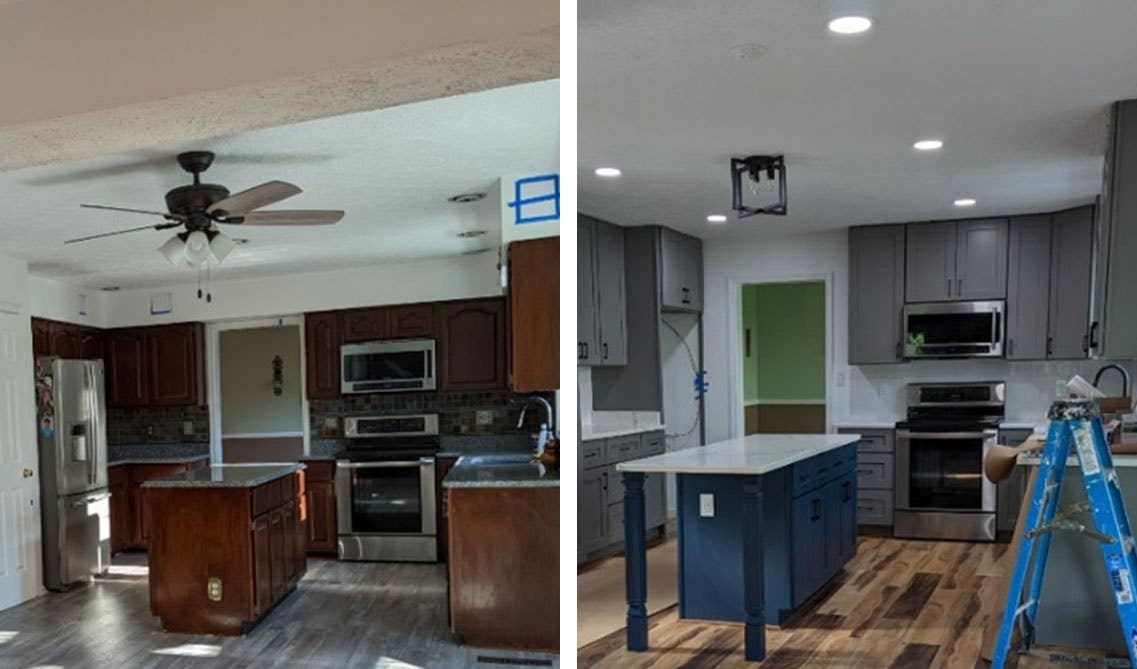 Before                                                                                       After: Lily Ann Cabinets' Grey Shaker Elite and Navy Blue Shaker
If you're an adventurous soul who craves bold statements and unique designs, Lily Ann Cabinets has got you covered too!
Before: A bland and uninspiring kitchen with lackluster cabinets that make the room feel dated.
After: Lily Ann Cabinets' eye-catching Grey Shaker Elite with a Navy Blue Shaker island injects personality and vibrancy into the kitchen. The bold contrasting color choice combined with the sleek and modern design creates an extraordinary space that is sure to impress anyone who enters.
Related: Two Cabinet Styles, One Kitchen: How to Work Two Tone Kitchen Cabinets into Your Renovation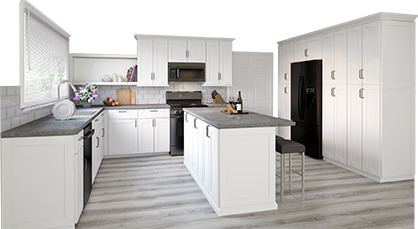 3D Kitchen Visualizer Tool
Bring your dream kitchen to life with our free kitchen visualizer!
Design Now
3. Modern Chic Redefined: Sleek Dark Grey Tones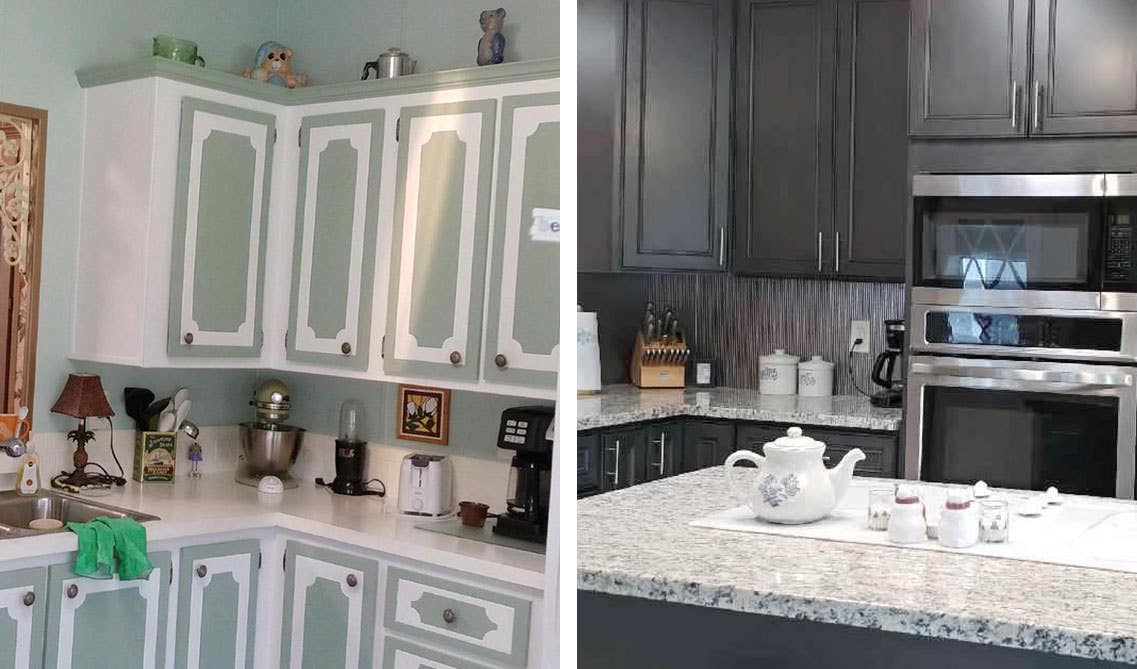 Before                                                                                       After: Lily Ann Cabinets' York Driftwood Grey
Want to eliminate clutter and change the overall aesthetic of your kitchen to a more modern design? Take a look at this cabinet makeover.
Before: The kitchen was stuck in the past, with its old-fashioned cabinets that had seen better days. The lack of storage space made it challenging to keep the kitchen organized and clutter-free.
After: Another one of our cabinet makeover ideas that were turned into a reality was the introduction of Lily Ann's York Driftwood Grey cabinets into this space. They instantly brought the kitchen into the modern era. This stylish color paired with a new backsplash and sleek new hardware creates a sophisticated look. With the updated cabinetry and aesthetic, clutter is a thing of the past.
4. From Secluded to Bright and Open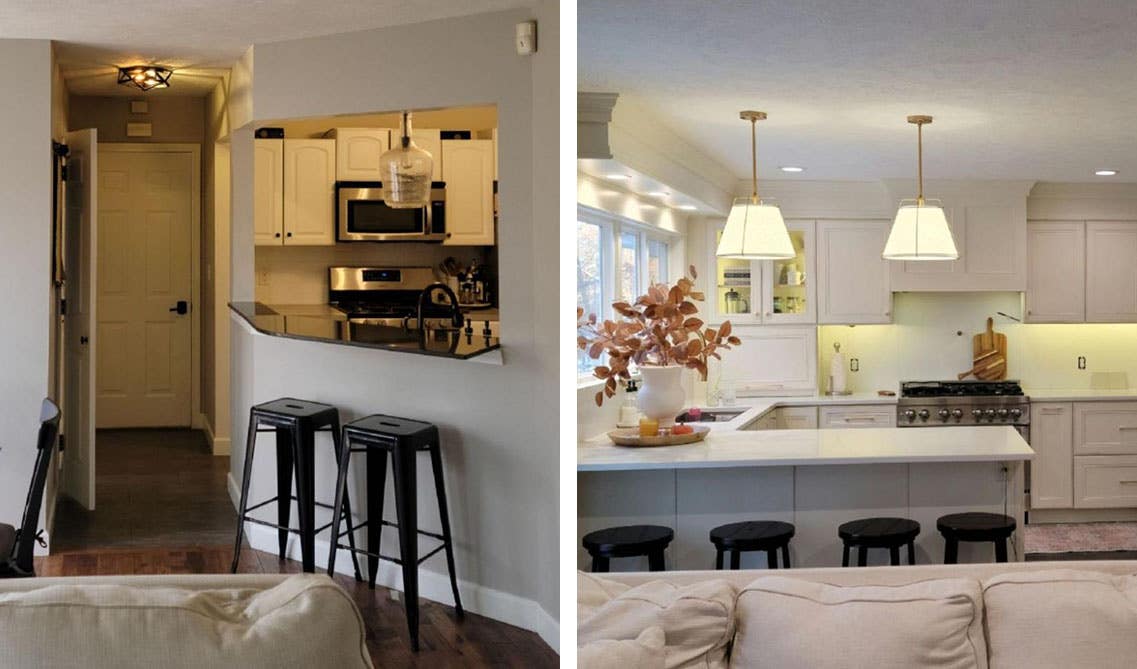 Before                                                                                        After: Lily Ann Cabinets' York Linen
Want to brighten your kitchen and need a light-colored cabinet to help make it feel more open? Shop from our white cabinetry line.
Before: The warm lighting choices and a kitchen that was secluded from the rest of the living space made the area and cabinetry look outdated and cramped. The layout was functional, but the aesthetics left much to be desired.
After: Opening up the space and adding in Lily Ann's York Linen has modernized the kitchen and given it a fresh feel. The natural lighting and the addition of lighting underneath the cabinetry really brightened the room, making it less uninviting. The increased storage and addition of glass panels to showcase decor bring a new sense of functionality 
Checkout: 10 Luxurious Kitchen Ideas with White Shaker Cabinets
5. Total Makeover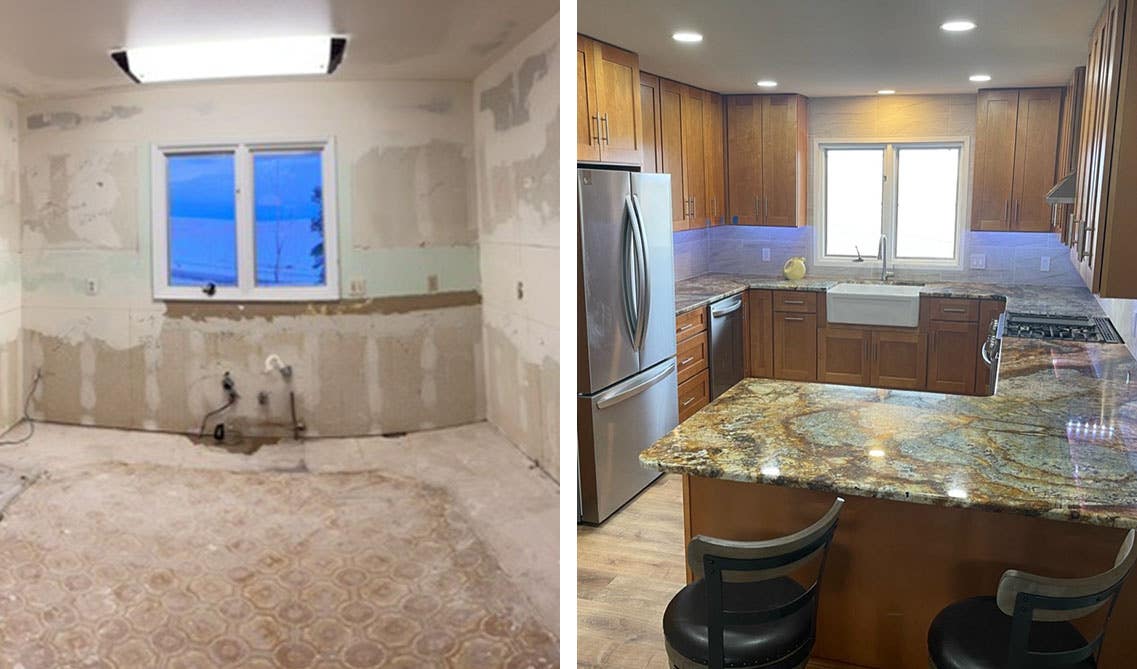 Before                                                                                         After: Lily Ann Cabinets' Shaker Cinnamon
If you are looking for a total kitchen and cabinet makeover, Lily Ann Cabinets can turn your space into your dream kitchen!
Before: A completely gutted kitchen that was desperately looking for inspiration since it had the potential to be an amazing space.
After: Lily Ann Cabinets stepped in to create a breathtaking transformation. Shaker Cinnamon cabinets were installed, offering a warm and cozy feel when paired with this gorgeous countertop. The addition of under-cabinet lighting, a range hood, and a farmhouse sink added a touch of rustic elegance. A wrap-around kitchen island with additional storage and seating has great entertainment potential. The result was a stunning, rustic kitchen that now serves as the heart of the home. 
In Conclusion: 
Lily Ann Cabinets has proven to be a source of inspiration for countless homeowners looking to transform their kitchens from drab to fab. These before and after photos showcase the immense impact of our quality products and diverse range of styles. Whether you seek a subtle update with new lighting and hardware or a complete overhaul with striking colors and designs, Lily Ann Cabinets can turn your cabinet makeover ideas into a reality. Are you ready to embark on your cabinet makeover journey? Let these transformations ignite your imagination and inspire you to create the kitchen you've always envisioned!
With FREE samples to see how our cabinetry will look in your space and FREE 3D designs to help bring your ideas to life, you will not want to shop anywhere else for cabinetry other than Lily Ann Cabinets. We take pride in our exceptional customer service and affordable prices that you won't find at big box stores. Shop Lily Ann Cabinets today!
FAQs
1. How do you modernize old kitchen cabinets?
First, consider repainting or refinishing the cabinets with a fresh coat of paint or stain in a contemporary color. Replacing outdated hardware, such as knobs and handles, with sleek and modern options can also make a significant difference. You might also explore replacing cabinet doors altogether for a more modern style.
2. What is the cheapest way to resurface cabinets?
The most budget-friendly way to resurface cabinets is by using paint or a new stain. Sanding down the existing finish, applying a primer, and then adding a coat of paint or stain can create a fresh appearance. Another cost-effective option is to apply adhesive-backed veneer or laminate sheets to the cabinet surfaces. Keep in mind that while these methods are cheaper, they may not provide the same durability or longevity as more comprehensive renovation options.
3. Is it cheaper to paint or replace kitchen cabinets?
Painting kitchen cabinets is generally more cost-effective than completely replacing them. The cost of painting includes sanding, priming, and painting materials, along with labor if you hire professionals. On the other hand, replacing cabinets involves the expense of new cabinet units, hardware, installation, and potential changes to countertops and other elements that interact with the cabinets.