Lily Ann Cabinets: Summit White Shaker
Are you considering creating a more coastal-style kitchen and looking to maximize functionality? If so, then Lily Ann Cabinets has you covered! With our variety of different colored cabinets, backsplashes, flooring, and assistance, you are just a few steps away from executing your ideal coastal kitchen!
Coastal kitchens are known for their bright, open, airy, and relaxed environment. They often incorporate natural elements, light colors, and functional designs. Here are some coastal kitchen ideas to make your mealtime a breeze:
1. Light and Neutral Colors: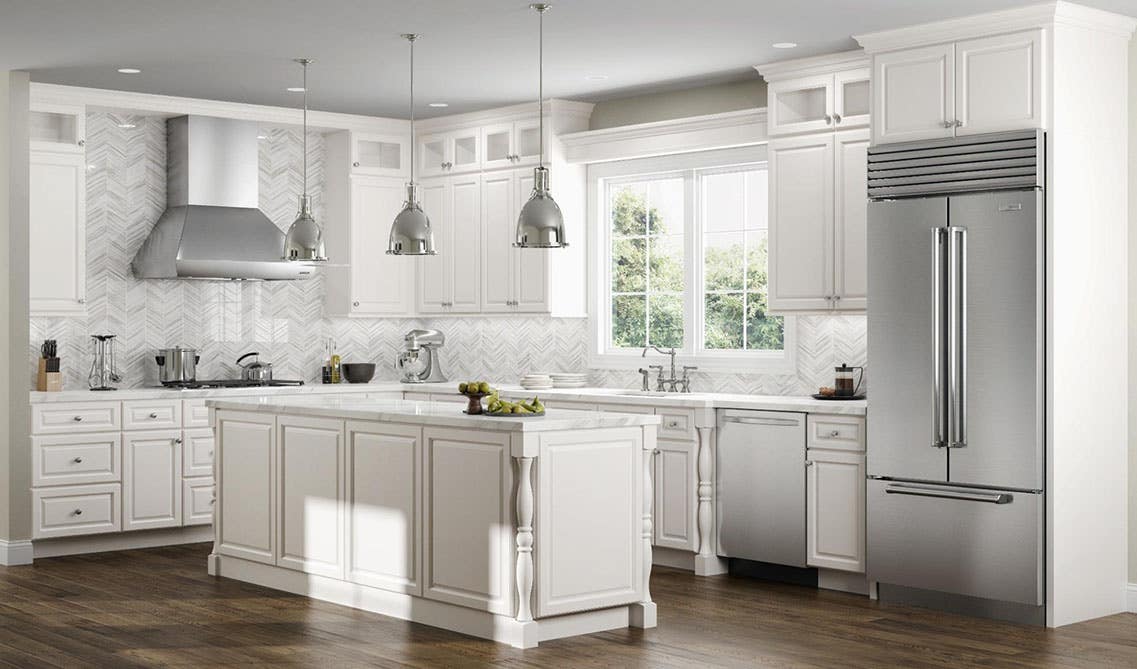 Lily Ann Cabinets: Charleston Linen
Since coastal kitchens are popular with lighter tones, look for light and neutral colors like whites, creams, and pastel shades to create a fresh and open feel in your coastal kitchen. These colors help reflect natural light and make the space appear larger and resemble a beachy atmosphere. An all white kitchen is popular among coastal kitchens as it is simple and minimalistic.
 2.
Natural Materials: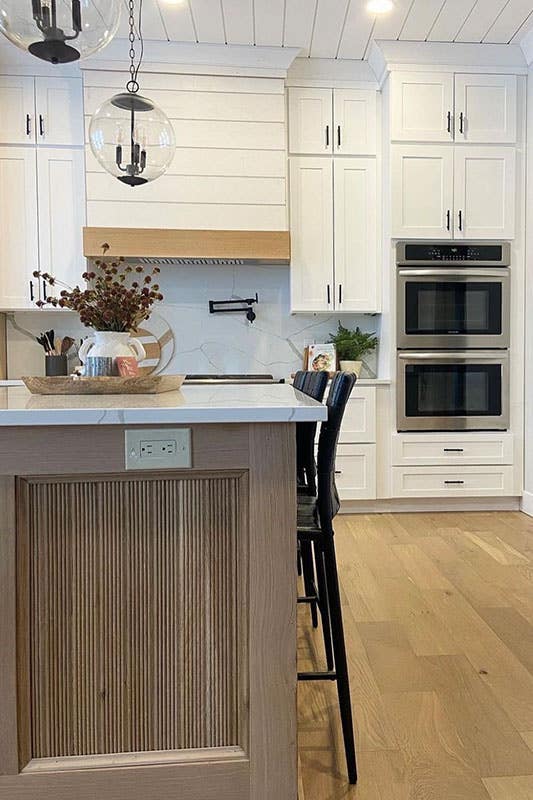 Lily Ann Cabinets: White Shaker Elite
Incorporate natural materials such as wood, rattan, and bamboo into your kitchen design. Consider using these materials for cabinets, countertops, flooring, or bar stools. They add warmth and a touch of nature to the space. Incorporating shiplaps into your kitchen, whether it be on your cabinets or walls will also provide a coastal feel.
3. Open Shelving: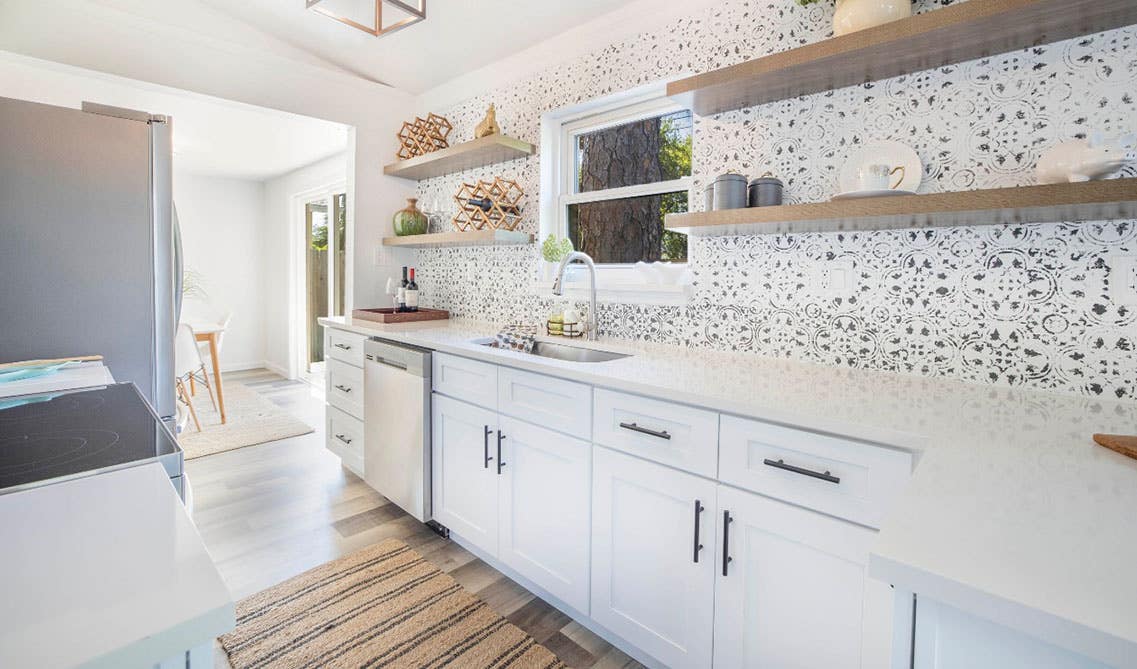 Lily Ann Cabinets: Colorado White Shaker
Replace some upper cabinets with open shelving to showcase your coastal-themed dishware, glassware, and decorative items. It adds a casual and breezy look to the kitchen while also providing easy access to frequently used items. At Lily Ann Cabinets, we have many different shades for our open shelving to match any kitchen. Add our white elite floating shelf to add to the theme of light colors or one of our tan or brown floating shelves, such as the charleston linen floating shelves to continue with the wooden fixture.
4. Beachy Backsplash: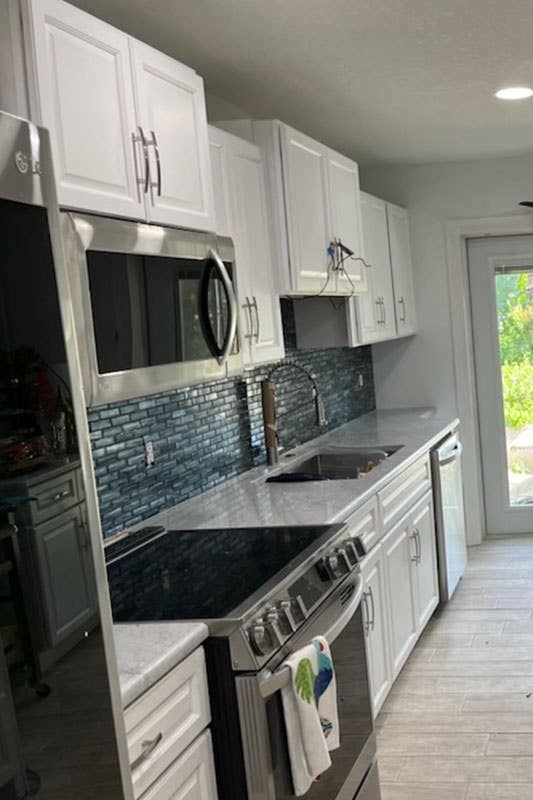 Lily Ann Cabinets: Key Largo
Choose a backsplash that reflects the coastal theme. Consider options like subway tiles in soft blue or green hues, glass mosaic tiles reminiscent of seashells, or a weathered wood backsplash that resembles driftwood. At Lily Ann Cabinets, we offer both subway tiles and mosaic tiles to help satisfy this look. Try adding either our gray pebble stone mosaic backsplash, or the moonlight pebble stone mosaic create the illusion of sand or shells. Or, if you prefer a complement to your other decor and colors in your kitchen, try our white or gray porcelain subway tiles for a more simple backsplash.
5. Light and Airy Window Treatments: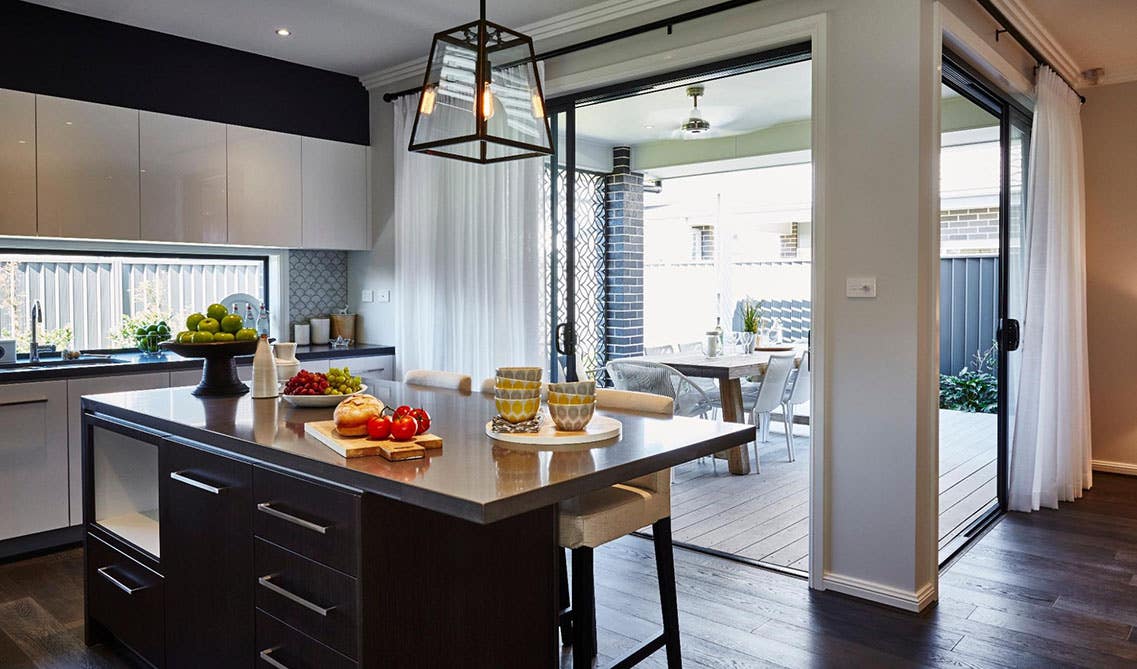 Sheer curtains or natural woven blinds over slider doors and windows allow ample natural light into your coastal kitchen. These window treatments maintain privacy while creating an airy and relaxed ambiance.
6. Nautical Accents: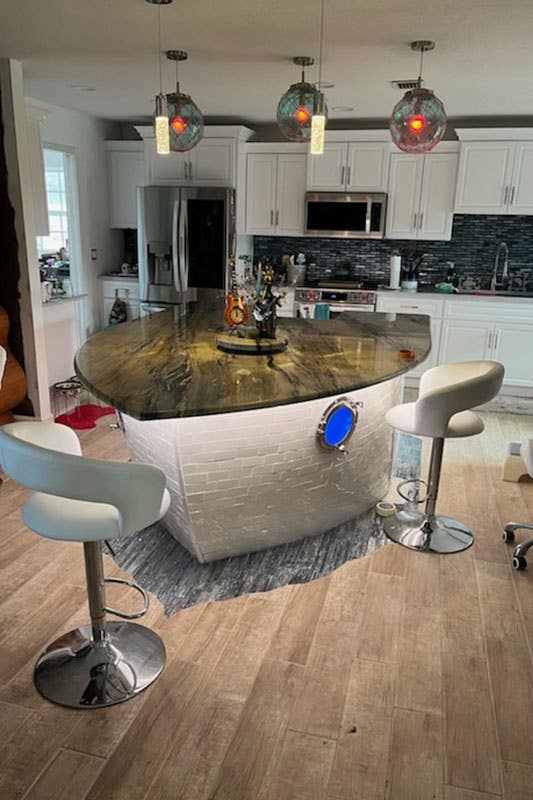 Lily Ann Cabinets: Key Largo
 Add nautical and marine accents to enhance the coastal theme. Incorporate elements like ropes, anchors, or boat-shaped decor items as wall hangings or decorative accessories. A ship's wheel or a collection of seashells displayed in glass jars can also add a charming touch. Or, you can incorporate this look into your overall design with appliances such as adding a ship shaped table along with some decor to implement a nautical look.
7. Efficient Storage: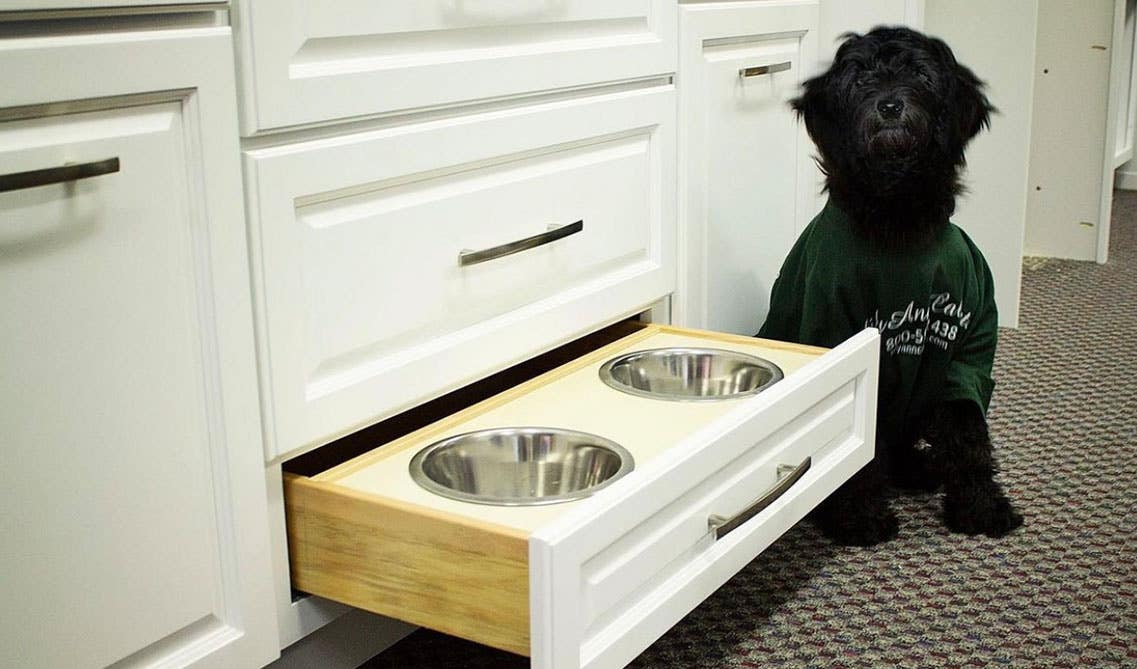 Lily Ann Cabinets: Key Largo
To make mealtime a breeze, ensure your coastal kitchen has efficient storage solutions. Use drawer dividers and organizers for utensils and cutlery, install pull-out shelves for easy access to pots and pans, and include a pantry or open shelving for food storage. This makes your kitchen more functional as it is easy to navigate all your utensils, ingredients and other necessities without making a mess while you cook. At Lily Ann Cabinets, we have everything you need from pull out trash cans, cutlery organizers, lazy susans, pull out pot and pan organizers, base door storage organizers, and more!
8. Celebrate Cabinets: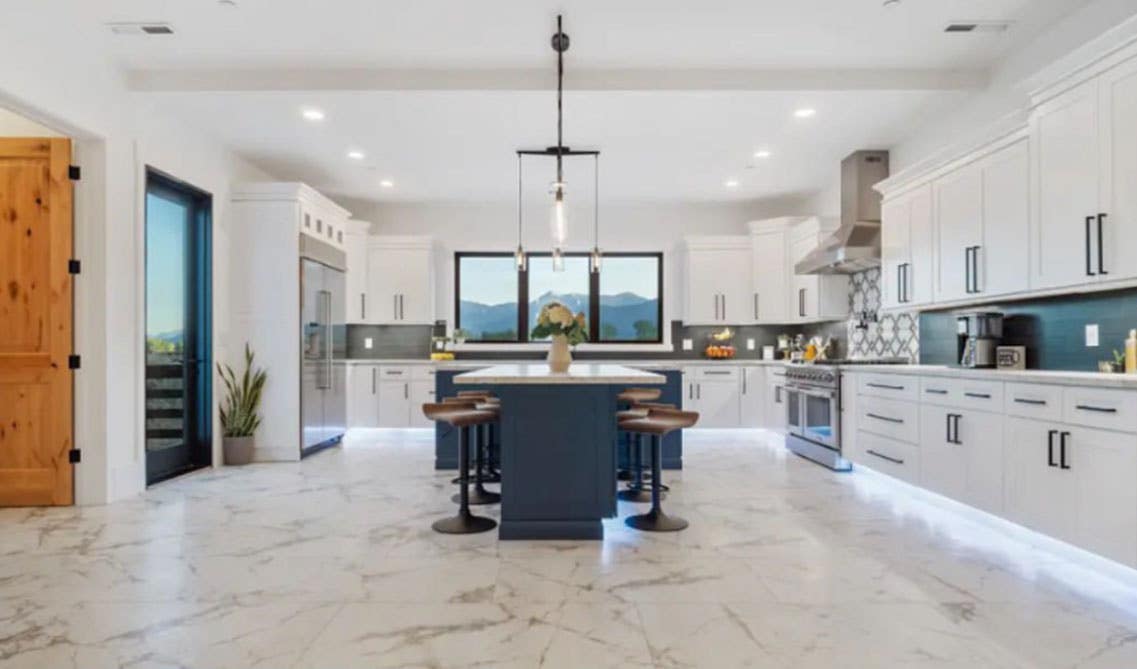 Lily Ann Cabinets: Navy Blue Shaker Cabinets 
Your cabinets can also play a big part in your design. Light cabinets such as white can help give that open and airy feel. At Lily Ann Cabinets, our white shaker cabinet would be perfect to accomplish that look. If you prefer a tan, off-white cabinet, consider our linen cabinets such as our york linen or bristol linen tones to resemble the sand. Although coastal designs usually consist of light tones, navy blue cabinets are also a great option to add to your marine style. 
9. Practical Layout: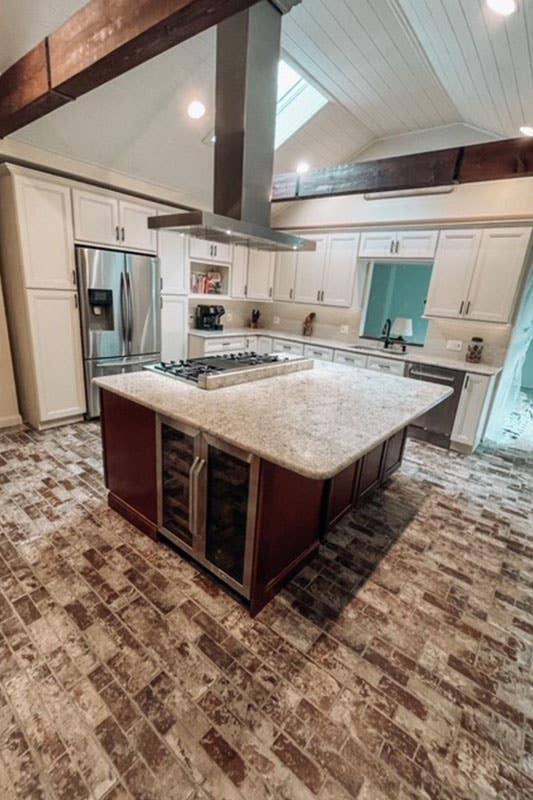 Lily Ann Cabinets: York Saddle
Consider a functional layout that allows for easy movement and efficient meal preparation. The classic work triangle, connects the refrigerator, sink, and stove, is the most popular choice. It ensures a smooth workflow while cooking. Our experts are eager and ready to help you with your practical layout with your free 3D design of your own kitchen to ensure you have maximum functionally with your new kitchen before you begin remodeling. 
10. Coastal-inspired Lighting: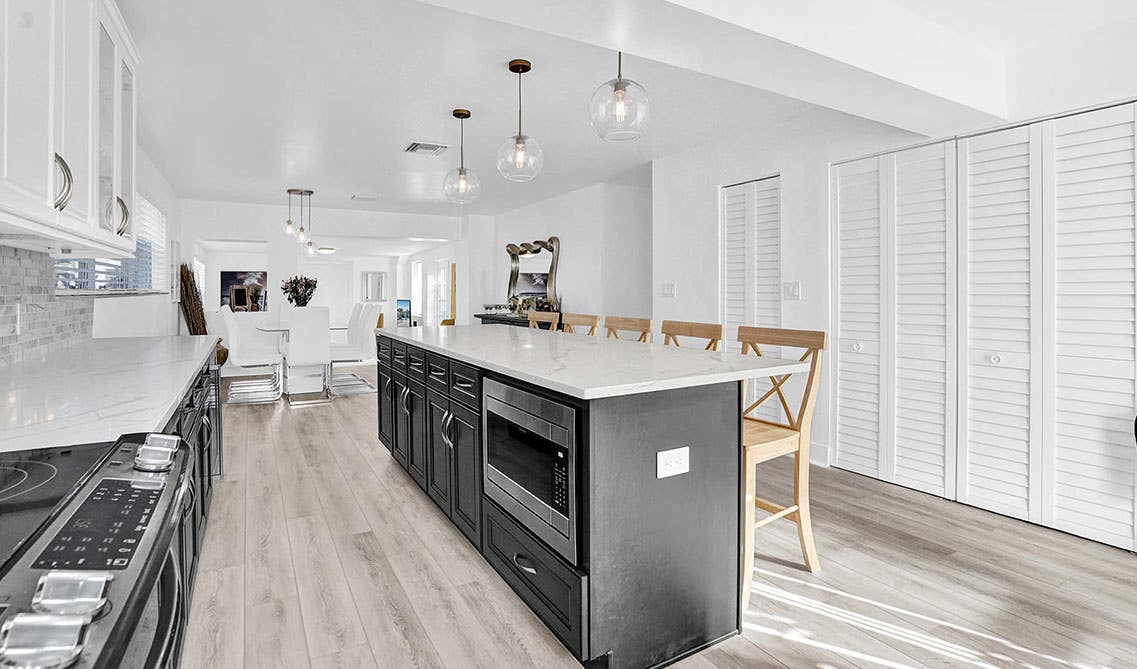 Lily Ann Cabinets: York Driftwood Grey
Incorporate lighting fixtures that complement the coastal theme. Consider pendant lights in a round shape to resemble beach balls, seashell-inspired chandeliers, or woven rattan pendant lights. Soft and warm lighting adds to the relaxed and cozy ambiance. Along with your pendant lights, be sure to also incorporate cabinet lighting to keep your kitchen looking bright, even when it's dark outside.
11. Outdoor Connections: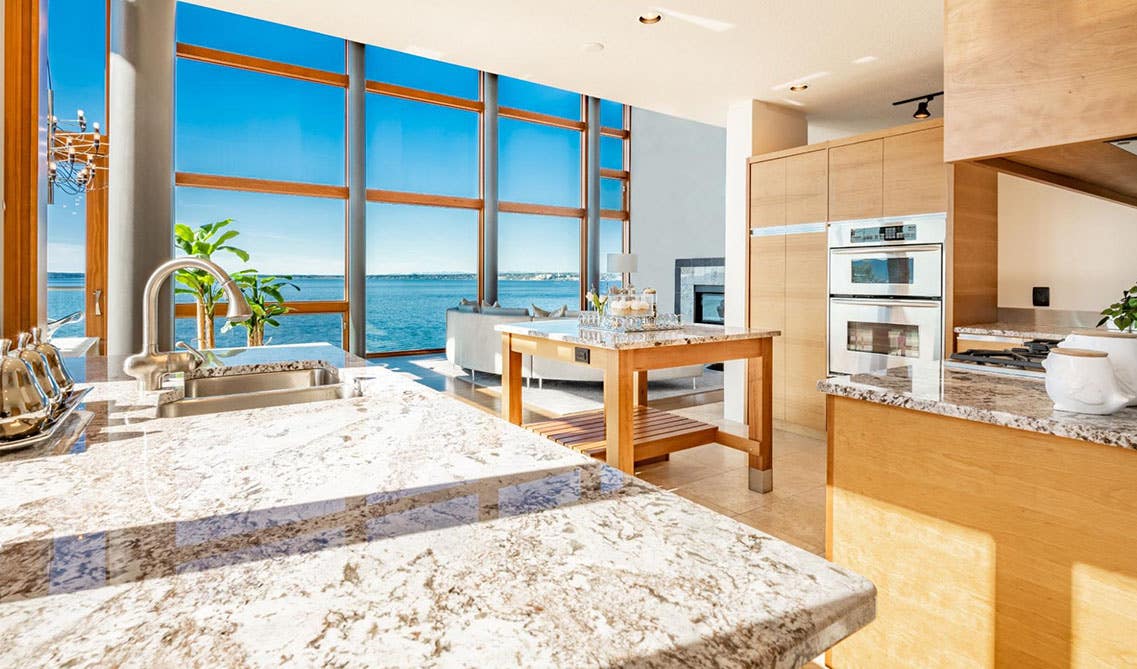 If your coastal kitchen opens to an outdoor area, maximize the connection by installing large glass doors or windows. This creates a seamless transition between the indoor and outdoor spaces and allows for easy entertaining and enjoying coastal views.
Coastal kitchen designs are all about creating a soothing and laid-back atmosphere. Take these ideas as inspiration to design your kitchen to your personal style and preferences while embracing the coastal aesthetic. Please feel free to reach out to us or speak with one of our experts if you still have questions about your future coastal kitchen design, or receive your free 3D design and free samples to visualize your future kitchen today!
FAQ's
1. What makes a coastal kitchen?
Coastal kitchens are known for their open and airy appeal with ocean decor and light tones inspired by the beach. Coastal kitchens have lots of natural light and often incorporate wooden fixtures.
2. What is coastal vs farmhouse style?
Coastal kitchens can commonly be mistaken for more of a farmhouse style if the approach is more subtle. However, farmhouse kitchens tend to incorporate the older and newer designs, and are usually more earthy tones, while also including wood, similar to a coastal style. A coastal style also adds factors of the sea and the colors that make the style up are lighter toned. Adding a touch of farmhouse style to your coastal design is a perfect mix, and can be done so with the touches of wood and blues!
3. What are the most popular coastal colors?
The most popular coastal colors are light and neutral tones such as white or beige. Adding a touch of navy to this look can help tide the coastal idea together as a resemblance of the water.