Are you considering updating the outdated cabinets in your home? If so, Lily Ann Cabinets has over 20 cabinet door styles to choose from to guarantee the best cabinet choice to fit your preferences! Don't believe us? Check with one of our professional designers before you make any decisions. They will be able to show you the visualization of your kitchen with a 3-D design before you start the process.
With the help of our team, you will be able to create a beautiful and practical kitchen with the combination of your kitchen desires and our professional's expertise. When you narrow down which cabinet color you want, be sure to get a free Door sample to first compare to the rest of your appliances before you buy!
1. Shaker Cabinet Doors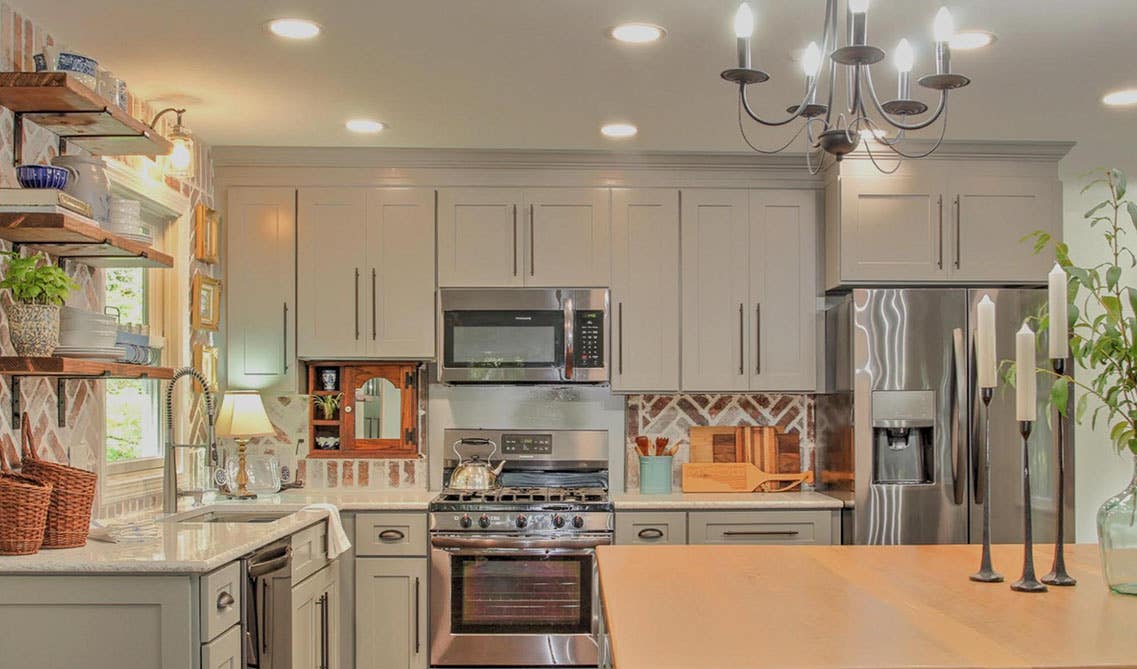 Lily Ann Cabinets: Grey Shaker Elite Cabinets
Shaker-style cabinet doors are characterized by their simple and clean lines. They typically have a recessed center panel with square or rectangular frames. This timeless and versatile design is popular due to its ability to complement various kitchen or bathroom aesthetics.
At Lily Ann Cabinets, we offer seven different shaker style cabinets. If you prefer white cabinets, we have three White Shaker Cabinets including: Colorado White Shaker Cabinets, Summit White Shaker Cabinets, and the White Shaker  Elite Cabinets. White cabinets are a classic and timeless choice for kitchens and bathrooms. They offer a clean, fresh, and versatile look that can complement various design styles. 
2. Raised Panel Cabinet Doors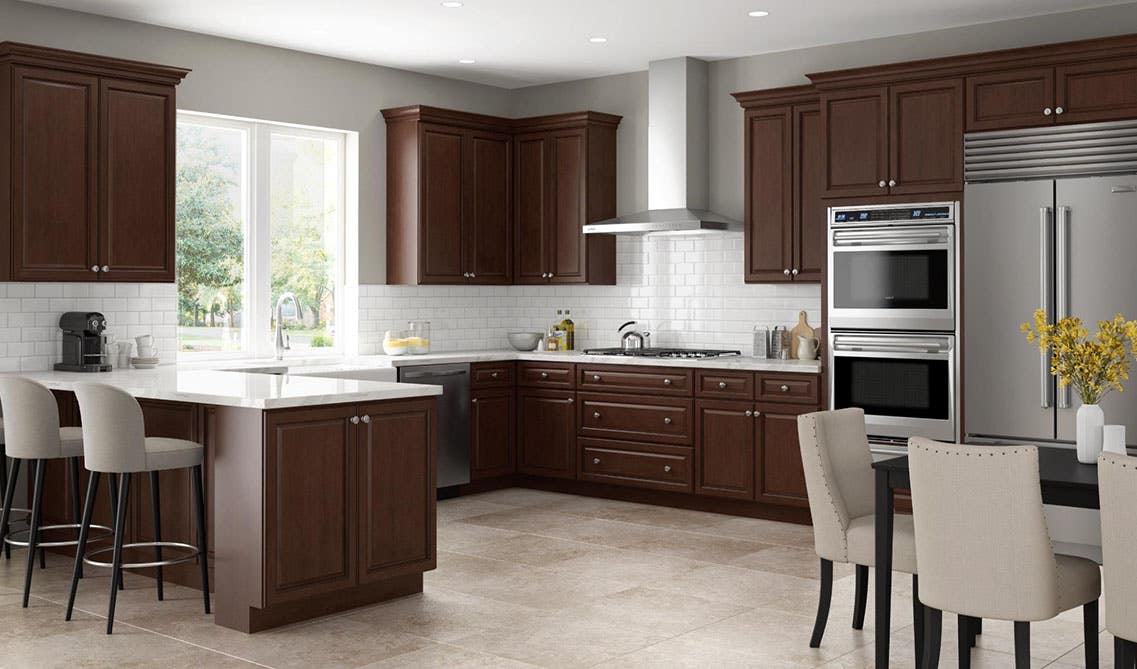 Lily Ann Cabinets: Madison Chocolate
Raised panel cabinet doors feature a center panel that is raised with a surrounding frame. This style adds dimension and a traditional look to cabinets. The details on the raised panel can vary, with options ranging from intricate designs to more subtle profiles. Raised Panel Cabinets is often associated with more traditional or formal kitchen designs, offering an elegant and sophisticated look.
All of our cabinet door styles are a Raised Panel style. Add on a handle or knob to your cabinets to personalize your own and best match your preferred style and your kitchen!
3. Flat Panel Cabinets Door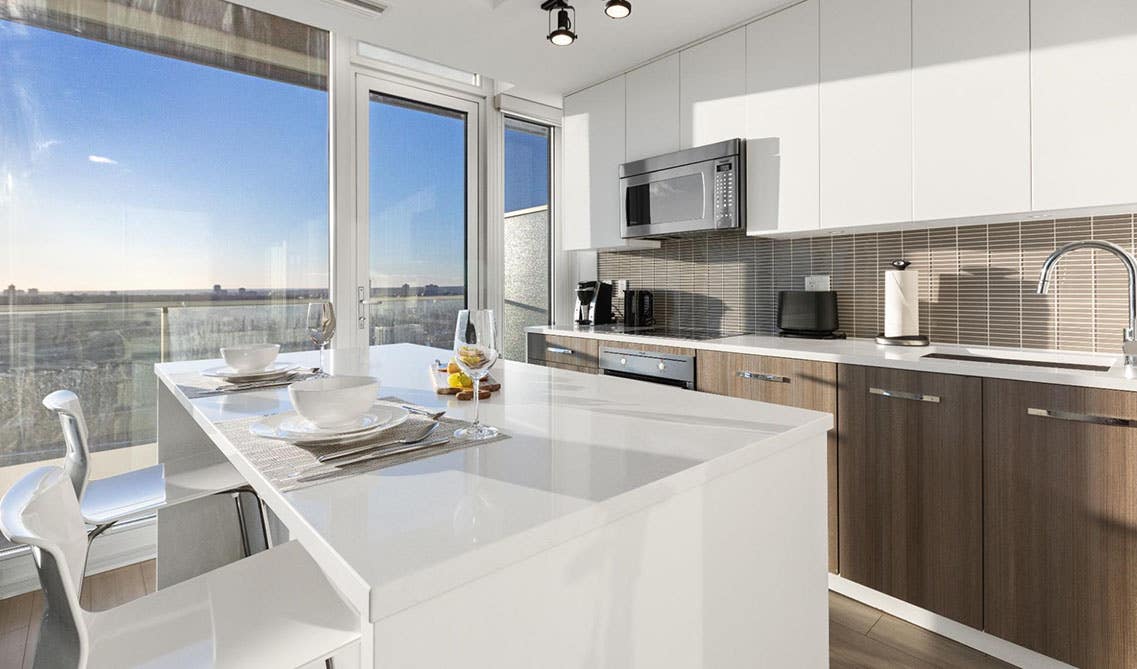 Flat panel, or slab-style, cabinet doors have a flat and smooth surface without any embellishments or raised elements. This minimalist is known for its contemporary and modern appeal. It can create a sleek and streamlined look in kitchens or bathrooms.
4. Glass Front Cabinets Doors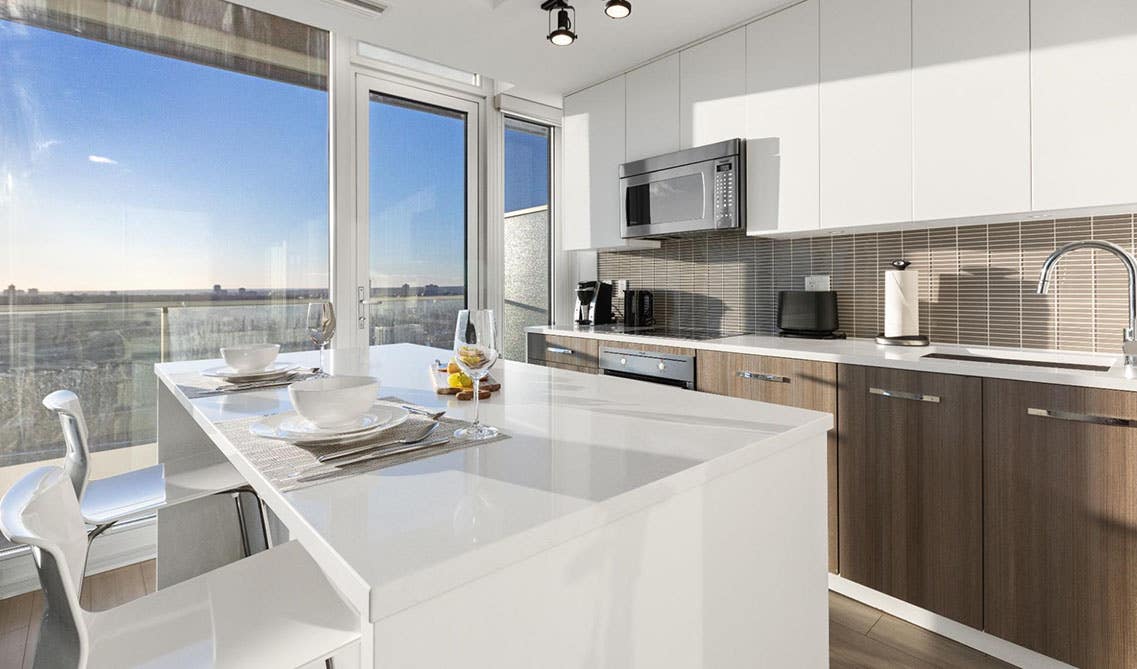 Lily Ann Cabinets: Colorado White Shaker
 Cabinet doors with glass inserts or full glass panels are popular for displaying dishware or decorative items. They can be combined with other door styles like shaker or raised panel to create a mix of open and closed storage, adding visual interest to the cabinets.These doors feature glass panels that allow for display or showcase of items inside the cabinets, making them popular for showcasing dishware, collectibles, or decorative pieces.
At Lily Ann Cabinets, you can make any of our cabinets a glass front with our customizations. Choose between clear glass and glazed glass, if you prefer to keep your items more discreet, then choose your desired size!
In addition to your glass front cabinets, include cabinet lighting. In-cabinet lighting is installed inside the cabinets to illuminate the contents and make them more visible. It can be useful for cabinets with glass doors, providing a soft glow to showcase dishes, glassware, or decorative items.
5. Open Shelving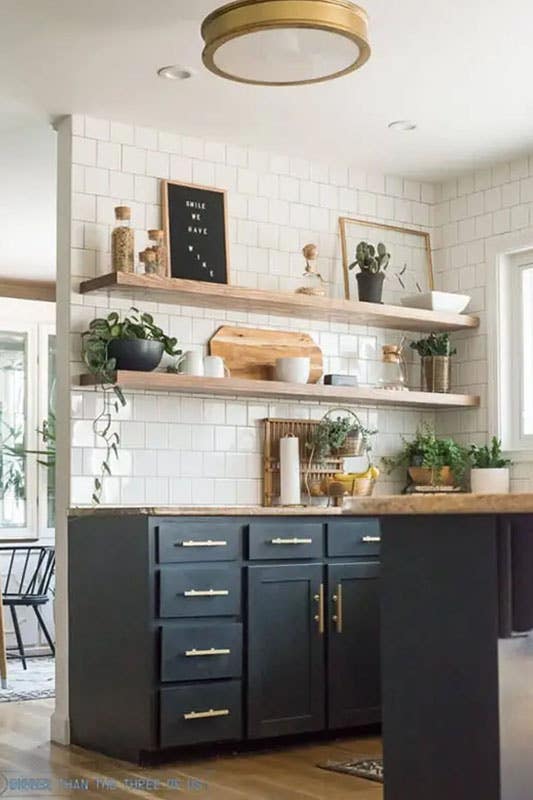 While not a traditional cabinet door style, open shelving has gained popularity in recent years. It involves removing cabinet doors altogether and leaving the shelving exposed. This style creates an open and airy feel, allowing for easy access to frequently used items and an opportunity to showcase decor or dishware.
6. Sliding Cabinet Doors
Sliding Cabinet Doors have been growing in popularity over the recent years. They save space in your kitchen, while hiding appliances to keep your kitchen looking neat and well put together. They feature doors that slide along a track, and can be a statement piece in kitchen designs.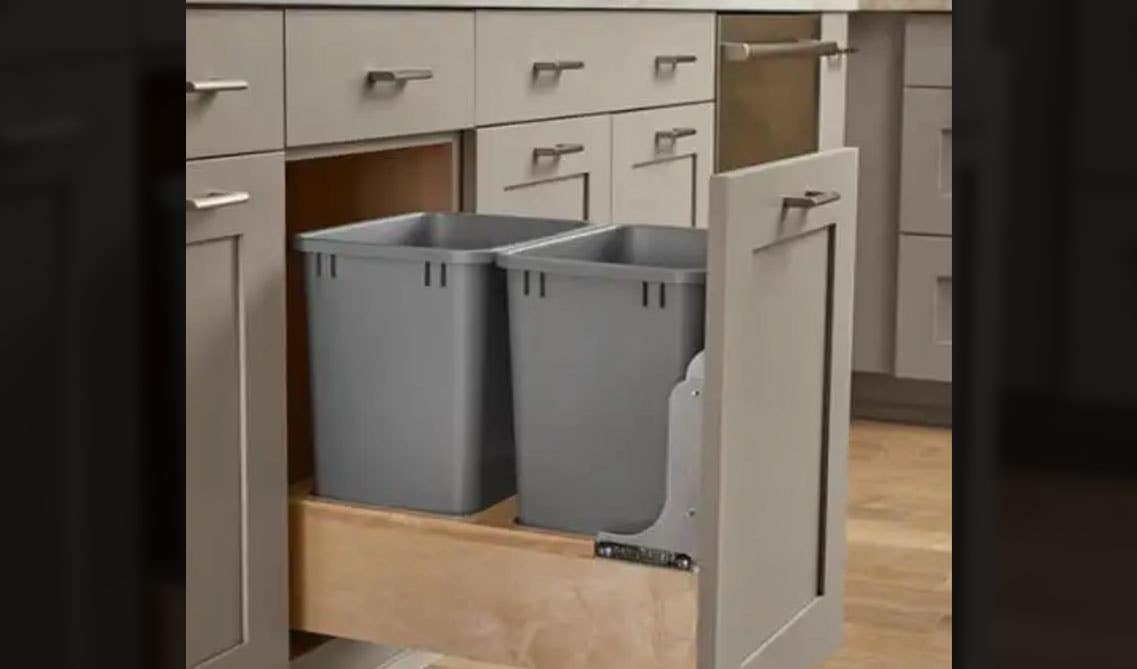 One of the most commonly seen usages for sliding cabinet doors is for the use of trash cans. It keeps your trash hidden and out of the way from the kitchen floor and provides easy access to the trash can when needed. 
Another commonly seen use of sliding cabinet doors is for cooking needs such as spices. This makes cooking easy as all your necessities and spices are handy and easy to find, rather than digging through a cabinet to find the spice you're looking for in the back.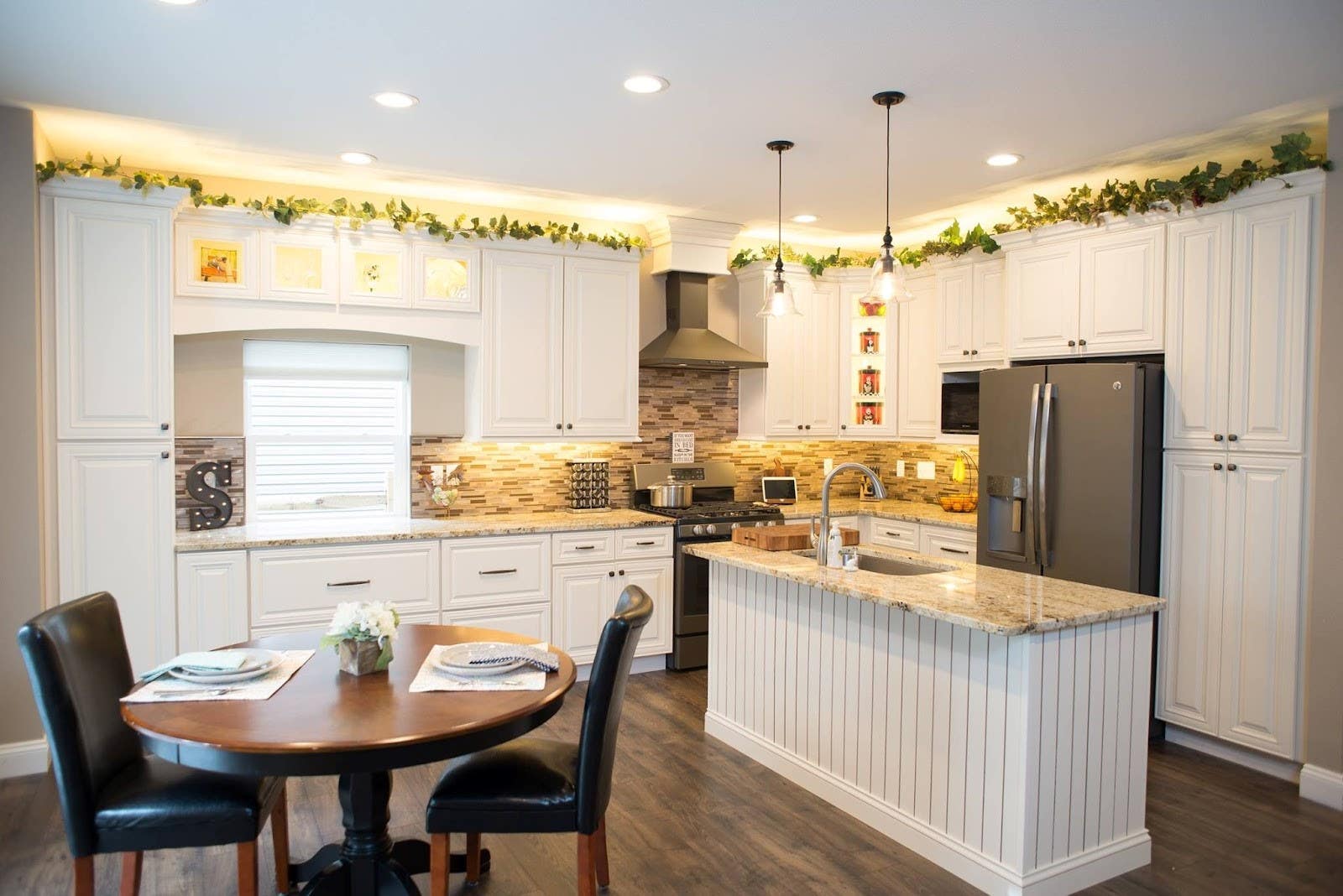 Lily Ann Cabinets: Key Largo
Deciding which styles best suit you can be an overwhelming process. Remember, Lily Ann Cabinets is here to help! With prices 50% lower than big box stores and free shipping on all orders over $2499, you are getting high quality products for a low cost, delivered within 2 weeks! Our experts are always eager to help you with any questions or ideas you have regarding your design.