Are you considering incorporating a range hood into your next kitchen renovation? Check out these kitchen range hood ideas for some inspiration!
Kitchen Range Hood Ideas for Your Next Renovation
Range hoods are becoming more than just another appliance in the kitchen. They're getting a major facelift and becoming the centerpiece of your kitchen area as the statement piece that completes your overall design aesthetic!
It can be challenging to narrow down the kitchen range hood ideas that you've got at your fingertips with so many kitchen designs. But don't worry, we're going to offer you some of our top modern range hood ideas.
But, before we jump into these useful ideas, we're going to first detail the types of hoods that you've got to choose from. With that being said, let's get cooking!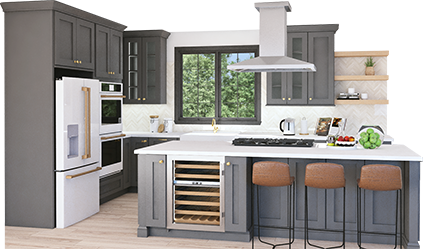 Get your FREE 3D kitchen design today!
Start Now
Types of Hoods
If you thought that there was only one type of hood for you to choose from, you're wrong, but in the best way. Having hood options gives you the ability to truly choose a look that will work well within the dream that you have in your head when it comes to renovating your kitchen.
Island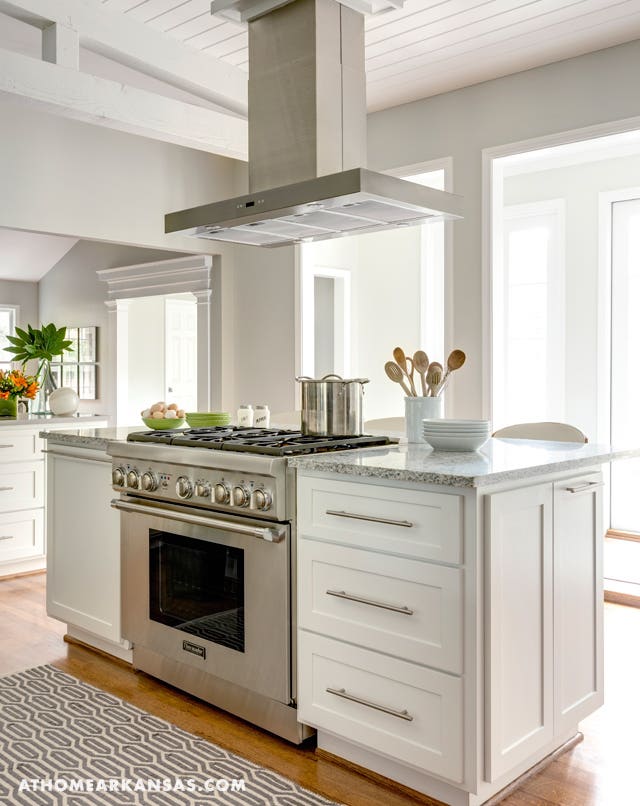 While most stovetops are against the wall, the island hood is somewhat of a floating hood.
It seems to be floating because it's hanging over the island where the stovetop is present. This type of hood uses a chimney-like system when removing the fumes from the air while you're cooking.
Looking for the perfect range hood for your kitchen? Browse our selection of discounted range hoods today!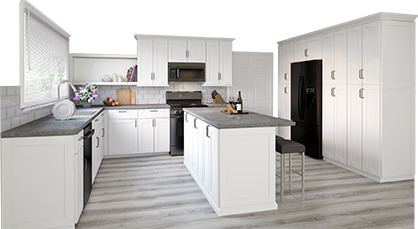 3D Kitchen Visualizer Tool
Bring your dream kitchen to life with our free kitchen visualizer!
Design Now
Chimney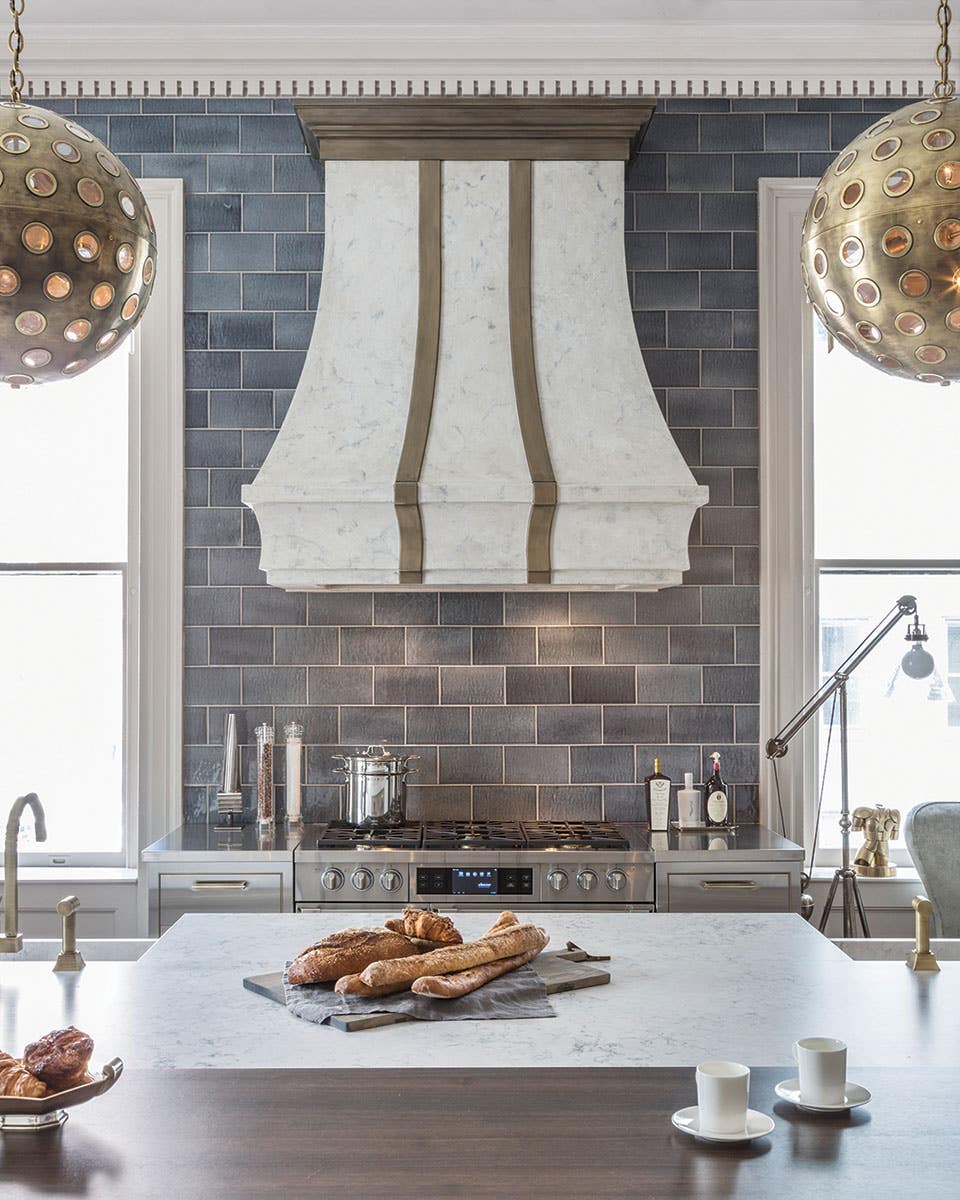 If you don't have kitchen cabinets surrounding your kitchen wall where the stovetop is, a chimney hood will work for you. This type of hood is attached directly to the wall.
Depending on how you want things to look, you could have the hood reach completely to the ceiling, or you could design it to have the same look and texture as the other cabinets in your kitchen.
Concealed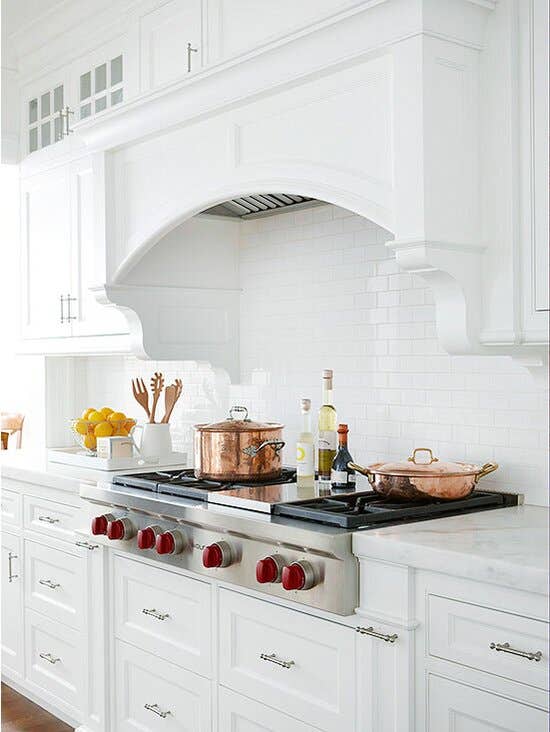 Some people prefer the hood to be completely hidden. If that's the case, the concealed hood would be the best option for you. A concealed hood will be installed so that it's hidden by hanging cabinets.
This type of hood is useful when you need to make the most of your kitchen space, and it also offers the opportunity for more storage when you don't have as much.
Mantle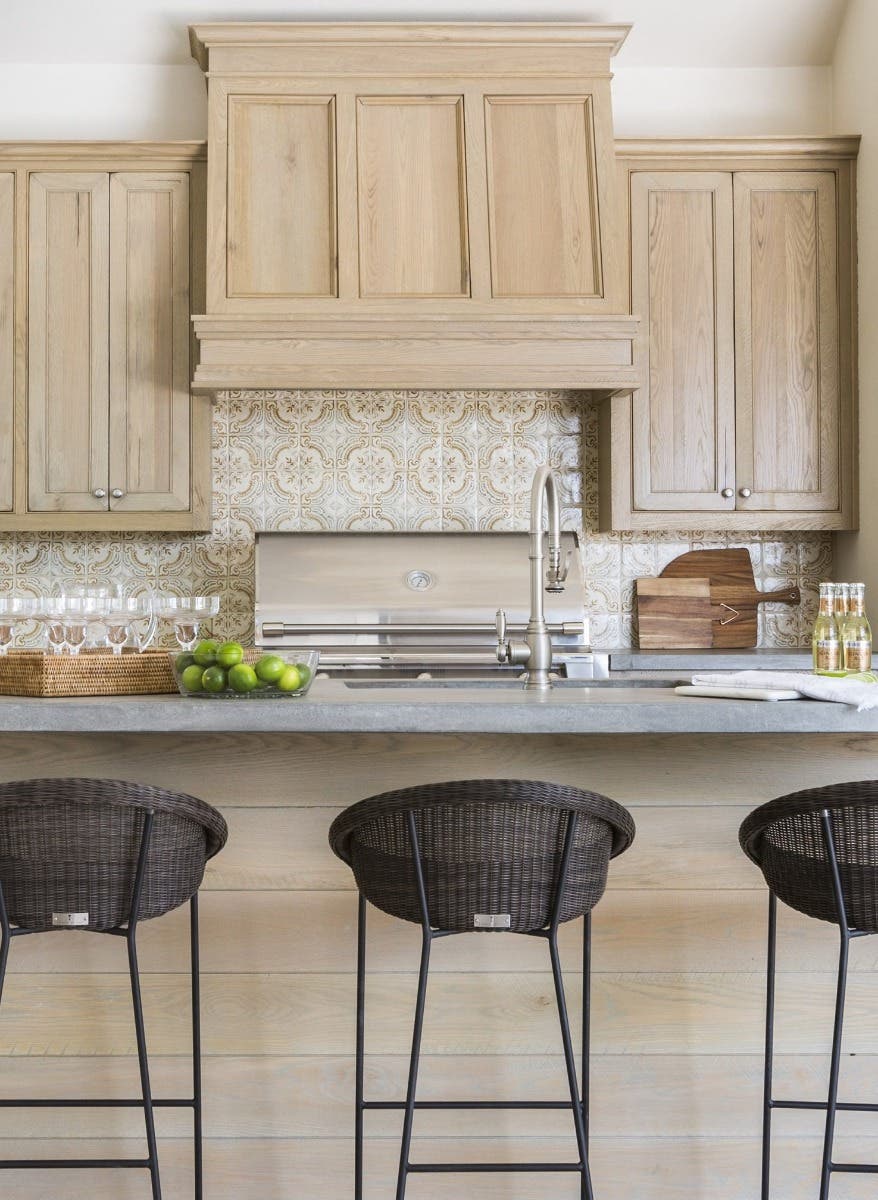 This is when you can truly take the customization of your hood to the next level! A mantle hood gives you the ability to design a hood that fits in with the other design elements in your kitchen.
A mantle gives you the freedom to make the hood a key component of your kitchen renovation without having to sacrifice any piece of the overall design. Keep in mind this hood type gives you design freedom that you might not get with the other types of hoods that we've featured above.
Love this look? Browse natural wooden range hoods today!
Downdraft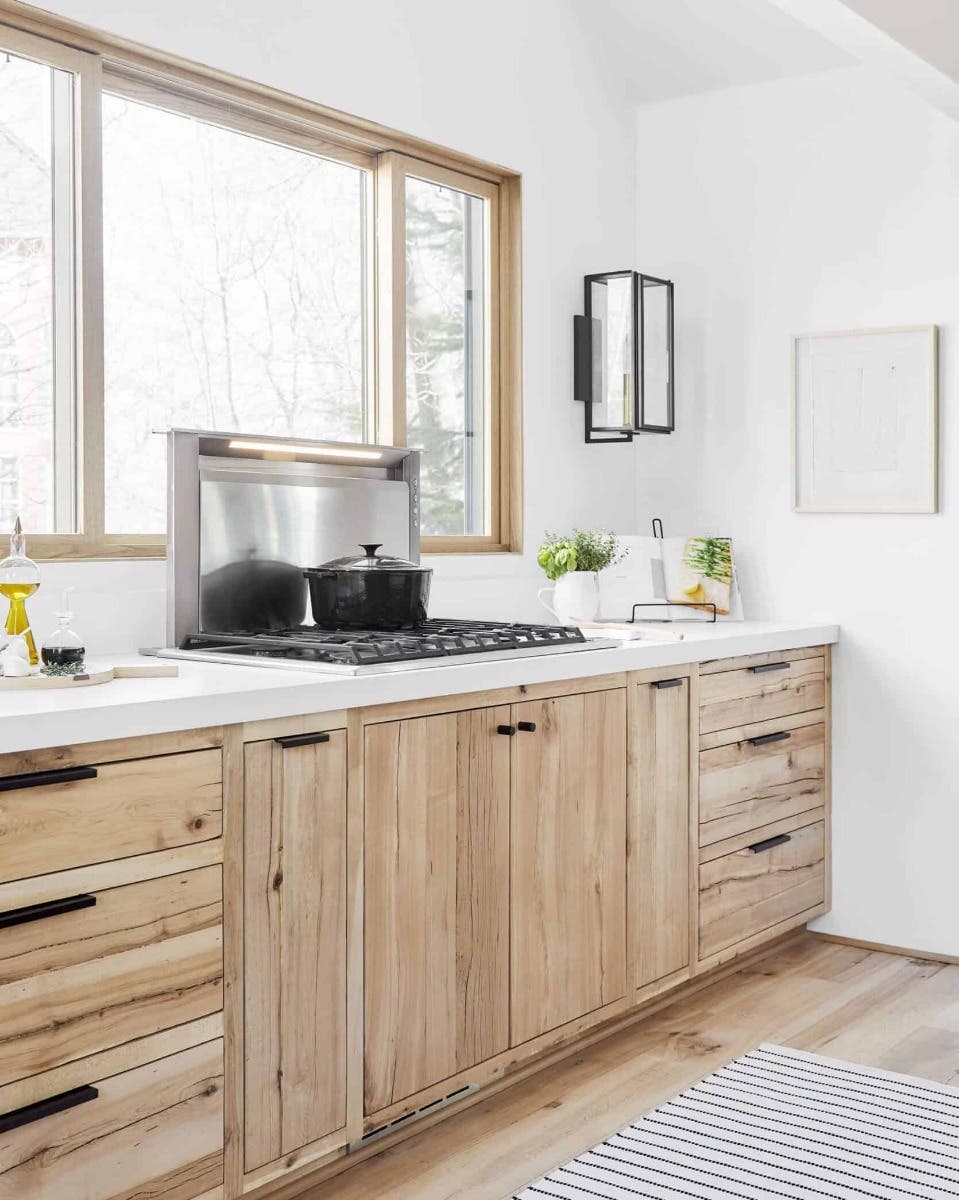 This type of hood isn't the typical hood you're used to seeing because it is connected to the stovetop's back. While some people don't consider this to actually be a range because of the way that it's been installed on the stovetop, it is, in fact, a hood.
This is the best option if you're a minimalist and enjoy being able to put something away when it's not being used.
Range Hood Ideas
Now that you know what type of hood you're going to use, the next thing you need to think about is the hood's design. Do you want to keep things simple? Or are you looking to truly make a statement with a unique range hood design?
Regardless of the type of hood that you choose, these ideas will help you to solidify the next step in your renovation plans.
Stainless Steel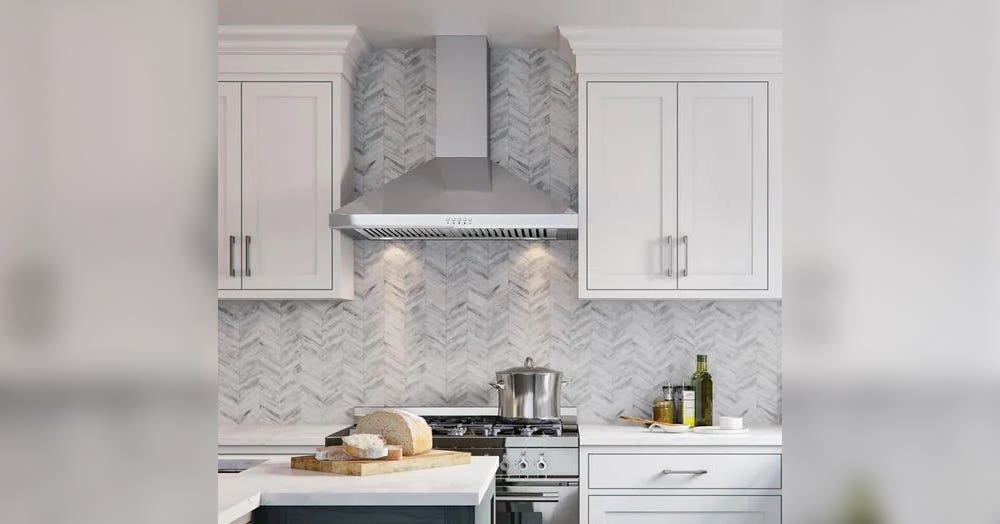 Do you love uniformity when it comes to your appliances? Then you're going to love this stainless steel hood idea. While keeping the hood stainless steel doesn't seem all that exciting, it's all about the backsplash with this look.
When you keep the hood simple, it gives you the freedom to go crazy with the backsplash you use. You could choose a vibrant color or try out a fun and exciting pattern.
Related: 11 Fresh Kitchen Backsplash Ideas for White Cabinets
The colors and the pattern that you use will further help the hood and the stove area pop as the main attraction of the kitchen. Stainless steel gives a clean and sleek look to the kitchen while keeping things modern.
Go Bigger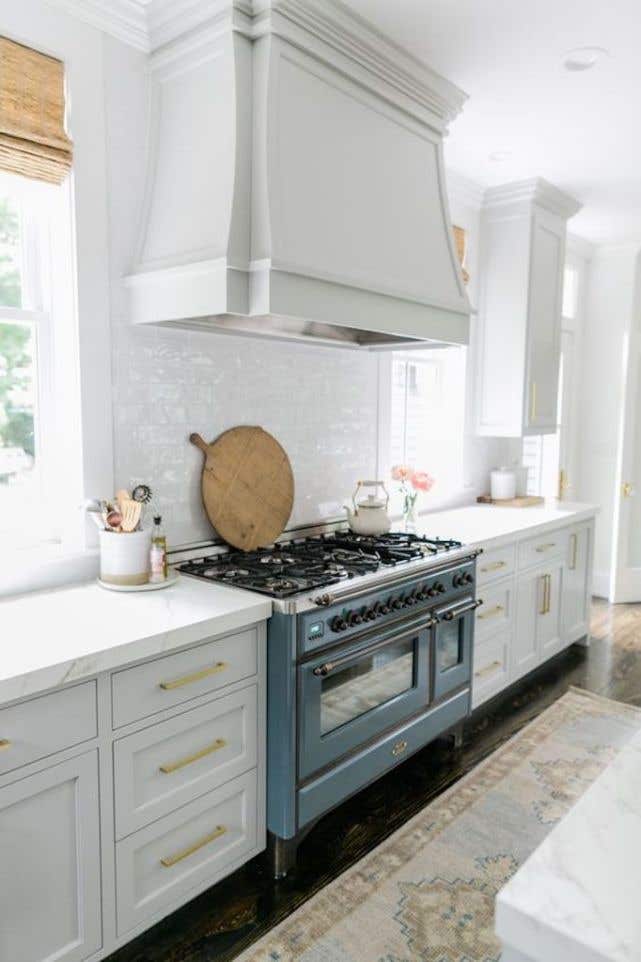 Commonly you'll see range hood ideas that feature a smaller hood, but we think that there are times where a larger hood is the way to go. With this idea, we are thinking more so about the functionality of things.
If you aren't a fan of hearing the kitchen hood's hum, a bigger hood would be the best option for you. A larger hood means that the fans are working more efficiently and at a slower speed.
Because of this, the noise that is usually made by the hood will be reduced drastically. And a wider range makes the kitchen space appear more open and spacious, which is helpful in smaller kitchens.
Black Elegance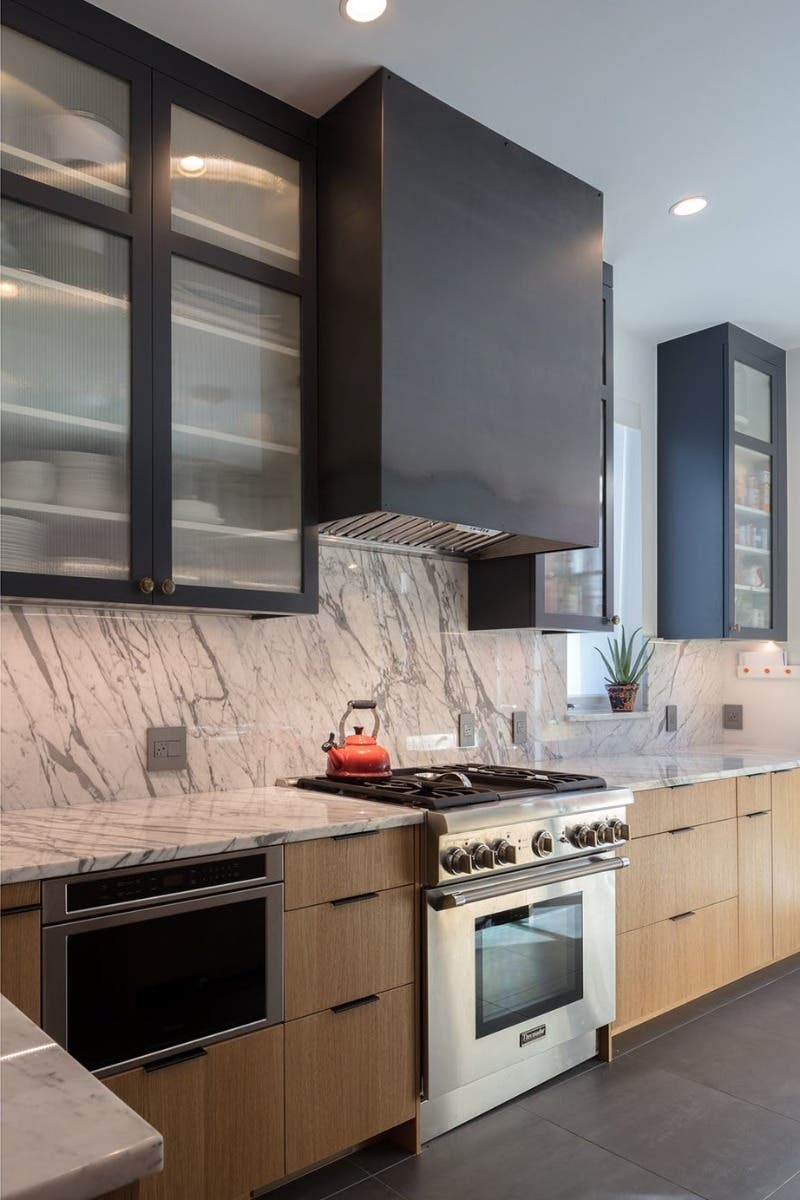 There's something about a black range hood that truly brings new meaning to modernism.
A black range hood will stand out without overwhelming all the other kitchen elements. If the kitchen is an area that you spend a lot of time in when entertaining, you're going to love the way your hood becomes the topic of conversation during your next dinner party.
Rustic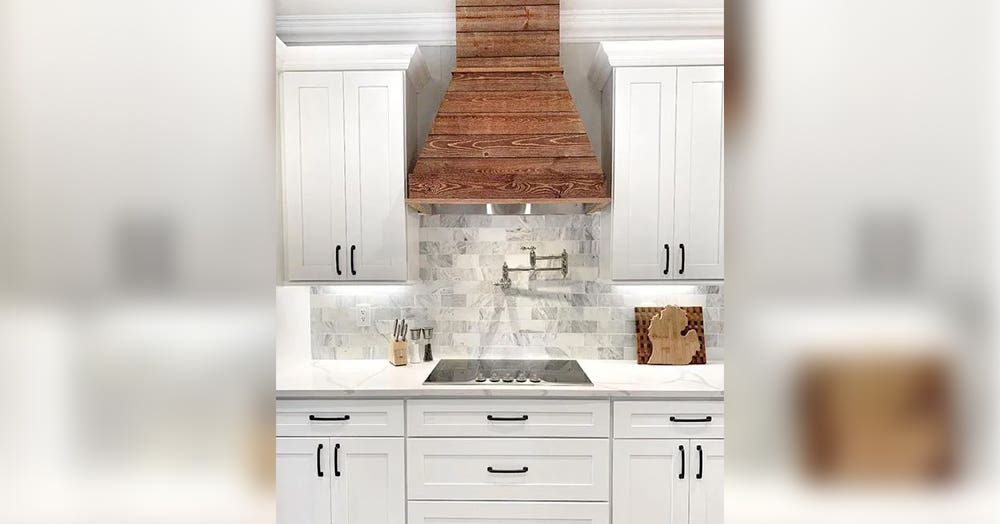 Etsy
Some of us enjoy the simpler things in life, and for some, that means going with a rustic design. A rustic hood will blend in with your farm chic aesthetic and create a beautifully finished hood.
There are tons of directions that you can take a rustic design in without sacrificing the simplicity of the overall design. You could even use various colors on this hood and remain within the rustic theme you're looking for.
DESIGN TIP: Recreate this look by staining one of our affordable unfinished arched hoods!
Industrial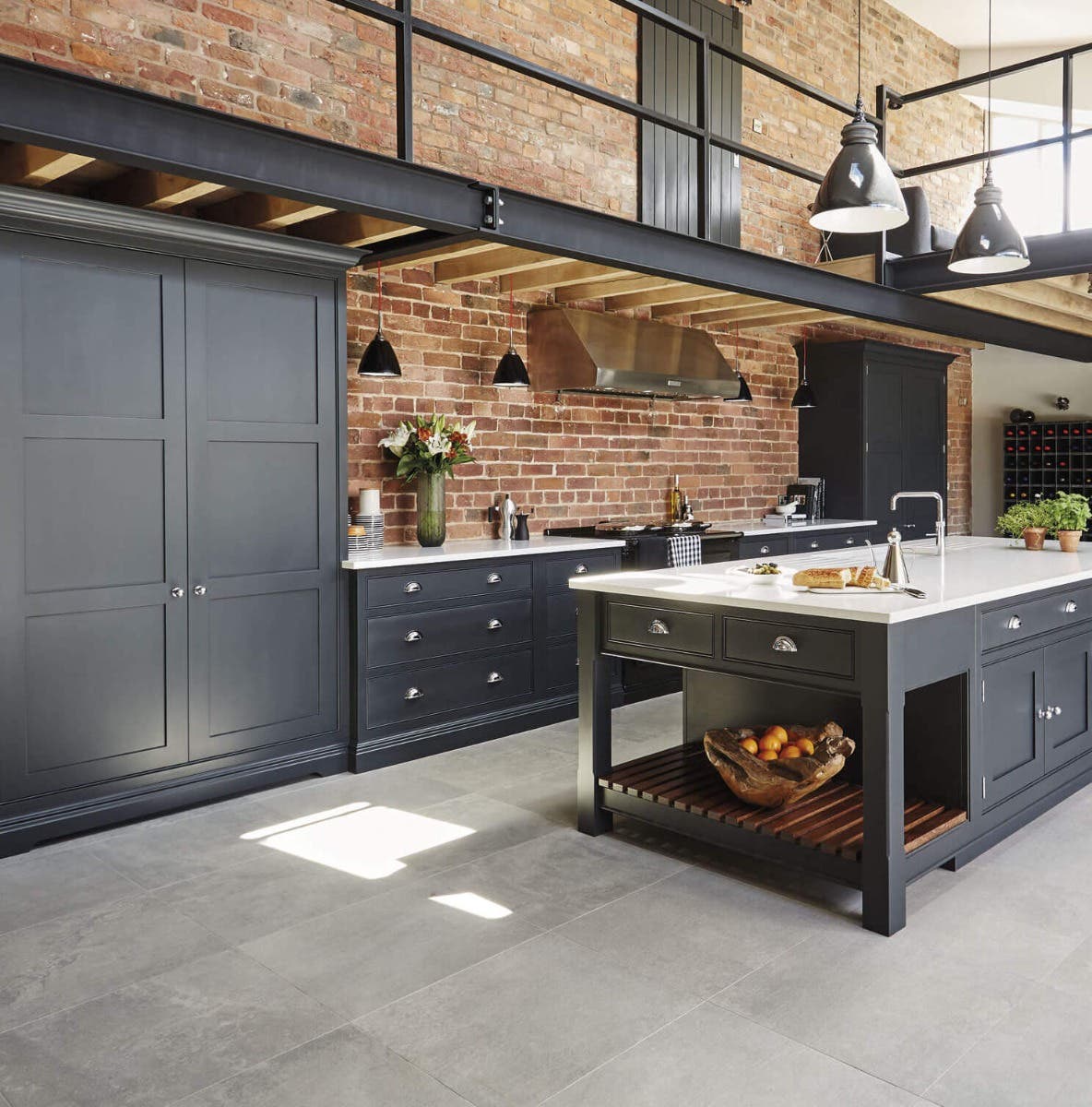 Industrial design is making a comeback right now, and rightfully so. There's something refined and beautiful about the architecture that comes with anything industrial.
If you choose the industrial route for your hood design, consider the backsplash you're going to use. You might want to select an exposed brick backsplash to further add to the industrial feel of your hood.
Or you might want to push the boundaries of the industrial aesthetic and play around with some contrasting colors or patterns. If you're not a fan of using color or pattern on your hood, you can always have the hood carved to your liking.
A custom carved hood allows you to design a hood with the right amount of drama without being too overbearing and without sacrificing the hood's functionality.
Go For Drama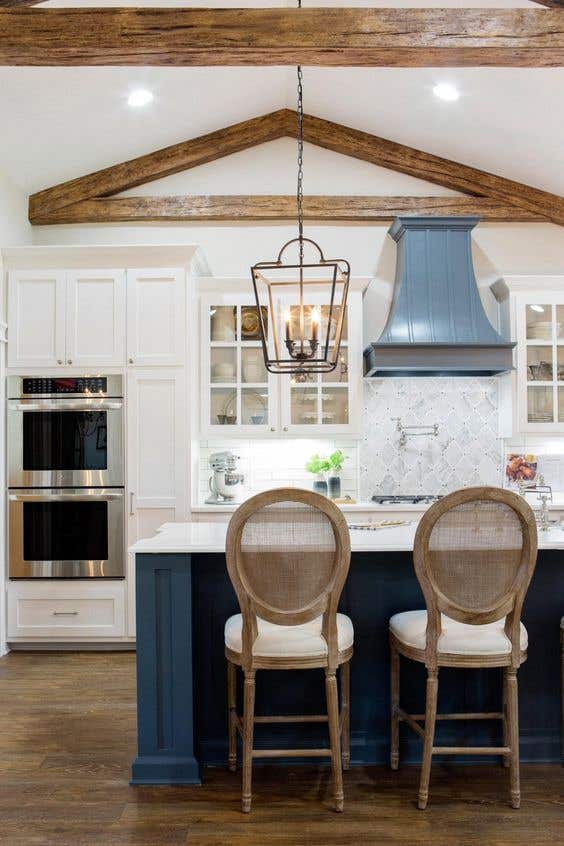 If the hood is going to be the center point that draws the eye of everyone that enters your kitchen, then you might want to bring the drama. When creating drama in the kitchen, you'll want to consider painting your hood a color that stands out.
Or, if you've already selected a color that's used throughout the kitchen, we recommend choosing a pattern to accentuate the hood. There's something about using a tiled pattern to complete the kitchen renovation.
DESIGN TIP: Create your own custom-colored hood by painting one of our unfinished range hoods.
Kitchen Range Hood Ideas: Which One Should I Choose?
We hope these kitchen range hood ideas will help you decide which hood is right for you. Whether you want to keep the hood understated or go with a more eyecatching design, there are plenty of options to choose from!
One thing that you can't forget after choosing your kitchen hood is your cabinets. If you're looking for a trusted and reliable company that knows what they are doing as far as cabinetry, contact us today!
We have been in the business since 2004 and know what it takes to create a kitchen that you're going to want to spend time in making delicious meals for you and your family for years to come.
Create Your Dream Kitchen With Lily Ann Cabinets
Rustic or modern, large or small, we're here to help you create the kitchen of your dreams. We offer a wide selection of premium range hoods, cabinetry, hardware, shelving and more to help you create a timeless kitchen that stands the test of time. Our professional designers are on standby to work with you — we offer FREE samples and FREE design and quote. Visit our FREE 3D design tool to get started today!