When renovating your home, cabinet details can be a difficult thing to navigate. Between all the sales jargon and marketing lingo, it's easy to get confused or distracted while shopping for RTA kitchen cabinets. Don't worry, we're here to break it down for you! Today, we're going to highlight which kitchen cabinet details make the biggest difference in your home and why.
Soft-Close Hinges And Drawers
If you have the room in your budget, soft-close hinges and drawers are a worthy investment when it comes to cabinet details. Soft-close hinges not only save you from the unpleasant noise of drawers and cabinets slamming shut but they also preserve the quality of your cabinets and drawers. Without soft-close hinges, the momentum of drawers swinging shut can split the drawer head with repeated impact. Additionally, if you have children in your home, fast-close drawers can be of concern as it's incredibly easy to get fingers caught between the drawer and counter when it shuts. Soft-close hinges and drawers eliminate both of these issues in your home.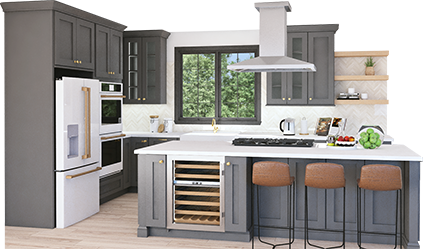 Get your FREE 3D kitchen design today!
Start Now
Full Extension Drawers
When installing drawers, there are multiple extensions to choose between. Different extensions provide different amounts of drawer access. Full extension drawers allow the drawer to open the full length of the slide, offering better access and allowing you to store more inside. Consider what you will be using the drawers for before deciding which extension you want. If you need easy access to the rear of the drawer, full extension drawers will be the best option for your home. However, if you don't have a preference or want to save money, don't stress! Full extension drawers are not an absolute necessity.
Durable Finish
If you are planning on purchasing wood cabinets, the cabinet finish is one of the most important cabinet construction details to consider. Not only does a high-quality finish enhance the overall look of your cabinets, but it also protects the cabinet wood from the moisture, heat and chemicals commonly found in your kitchen. The most common cabinet finishes are paint, stain, varnish, lacquer and glaze. Any of these options will protect your cabinets from general wear-and-tear as long as they are high quality. Do your research on any finish before deciding if it's right for you and the design of your kitchen.
Dovetail Assembly
Compared to other common methods of construction, such as the use of cam locks, dovetail is far superior. Cam locks are often made of plastic, meaning they bend and break easily. Additionally, they only provide two or three points of support for the joints of your kitchen cabinet walls. Dovetail assembly creates a point of contact along the entirety of the cabinet's joints, providing better support (especially for hanging cabinets) and preventing separation over time.
Many big box stores will use cheap cam locks for both their pre-constructed and RTA cabinets. The price might be tempting, but you can get cabinets that are stronger and just as affordable from a wholesaler like Lily Ann. You'll be glad in a few years when your cabinets are just as sturdy as the day you built them.
Adjustable Shelves
When it comes to cabinet details, adjustable shelves are an amazing feature. Adjustable shelves allow you to change your cabinet storage space easily based on what you need to store. With these shelves, you can quickly customize your cabinet space for tall or small items and maximize storage. Although they aren't a necessity, adjustable shelves make kitchen storage much easier.
Visibility Of Fasteners
Exposed screws and fasteners on cabinets can be an eyesore. The best way to keep these fasteners out of sight is to locate them where they can't be seen, like the underside or back of a cabinet. For unavoidable visible screws, you can consider ways to hide them. For example, the fasteners may be covered with a length of molding or another part of the cabinet. Visibility of fasteners is always important to consider, so keep this cabinet detail in mind before starting any cabinet installation.
Glazing
Glaze is a transparent or semi-transparent coat that is applied on top of painted or stained cabinets. Glazing accentuates cabinet details, highlights cabinet color and adds depth. There are multiple shades of glaze on the market including mocha, vanilla and caramel. Since glaze must be hand painted onto cabinets, it will add extra cost to your reno project. However, we highly recommend glazing for anyone looking to add a chic, rustic look to their kitchen.
Full Overlay
Full overlay cabinets are a great option for those looking to maximize their kitchen storage space. A full overlay cabinet only has ¼ inch of space between doors and drawers, providing extra storage and creating a more custom look. Since the doors are so close together, full overlay cabinets require cabinet hardware in order to open. Many people opt for full overlay cabinets because the double door cabinets do not have a vertical face frame stile in between the two doors. This means there is greater access to the cabinet to store larger items like pots and pans. Full overlay cabinets are a luxury to have but are not a necessity. The decision between standard or full overlay cabinets is entirely up to your preferences, budget and storage needs.
Perfect Your Kitchen Cabinet Details With Lily Ann Cabinets
At Lily Ann Cabinets, you'll find a variety of quality RTA kitchen cabinets. If you still have questions about which cabinets are right for you and your home, our professional design team is happy to help. Contact us today to learn more about our premium RTA cabinets and other services!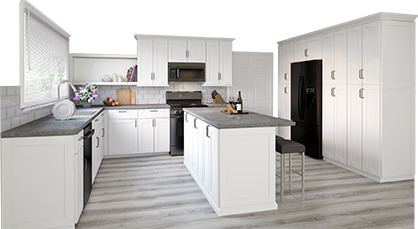 3D Kitchen Visualizer Tool
Bring your dream kitchen to life with our free kitchen visualizer!
Design Now